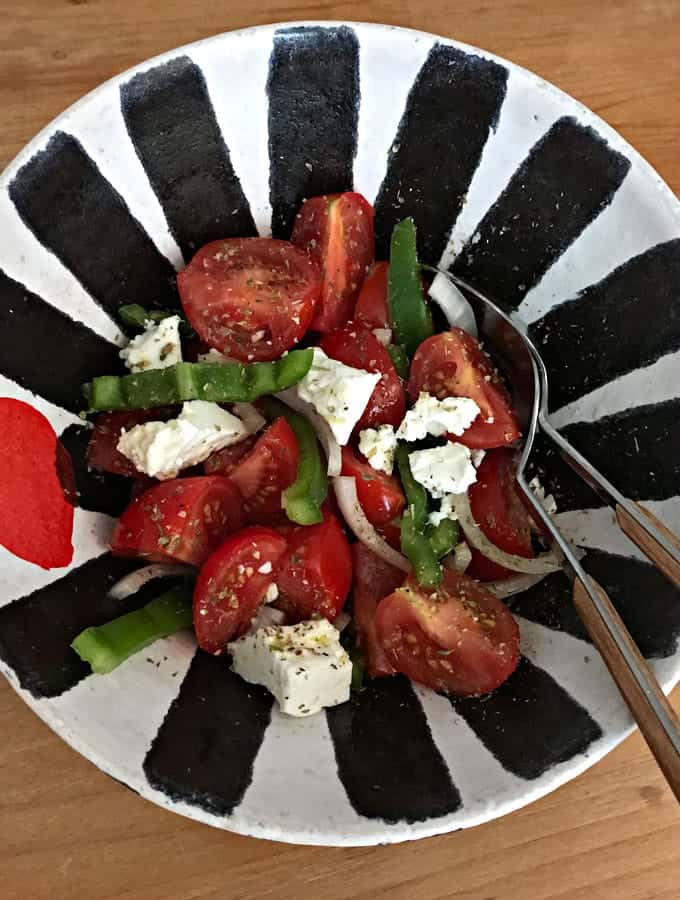 If I had to choose which salad I would take with me in a desert island I would, no question, pick the one and only Greek peasant salad. It beats every other for me, even a good Caesar. It is so fresh, simple and unpretentious. It represents carefree Greek summers, full of sunshine, sand and lazy afternoons. You need good tomatoes for a succesfull result and that can be tricky depending on which side of the world you are. I live in the New York area, and being Greek I am very picky with my tomatoes. Nothing is good enough for me. Even in the summer, when all the beefsteak/heirlooms flood the farmers markets, I go sniffing around all the tomatoes, seeking the perfect one. Not many have the fresh tomato scent and taste I am looking for. But! I discovered that campari tomatoes come very close to what I like. For some reason, they smell terrific and taste sweet like a good Greek tomato.
The traditional Greek peasant salad can include sliced cucumber. I usually opt out on the cucumber, I just prefer the salad without it.
This recipe is good for 3-4 people, using the salad as a side.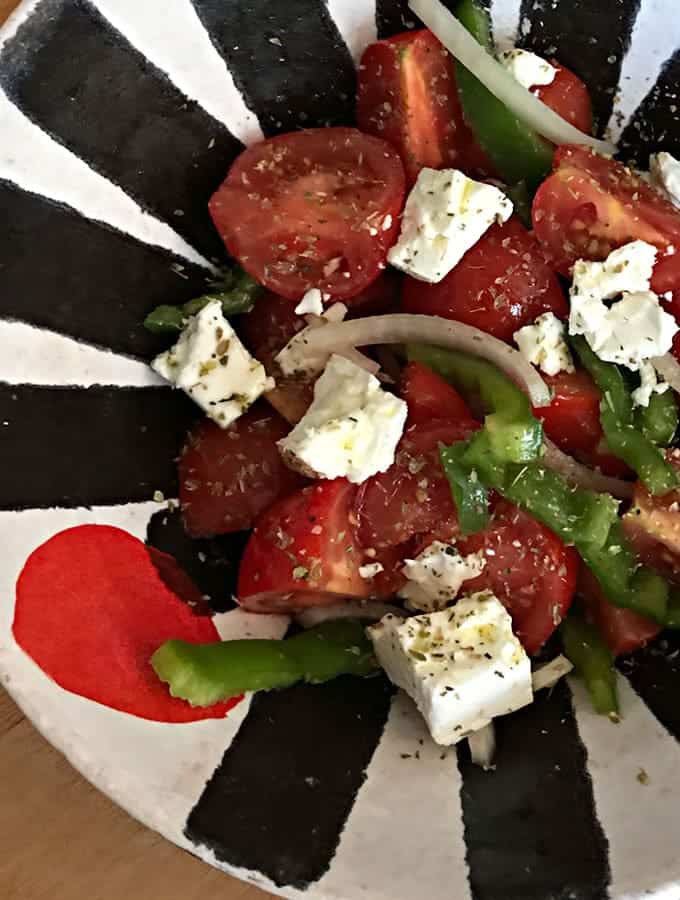 you need
8-9 campari tomatoes cut in quarters. Campari are small so if you use heirlooms for example you probably need 3 or 4 depending on the size. Use your judgement on how thick to slice them.
Tip: Never store your tomatoes in the fridge. Place them on a plate upside down, avoid touching each other in room temperature.
1/3 red onion, in an 1/8 of an inch slices.
A green pepper, nol seeds and white parts, cut in half and then cut in 1/4 inch slices (twice the width of the onion)
1/2 cup (or more, I love feta!) good Greek feta cheese in 1/2 inch cubes. I cut them using my hands, not a fan of a precise knife cut for feta. I like Dodoni
A handful of olives (or more, it's up you)
1 tsp red wine vinegar
1/2 cup extra virgin olive oil
Sea salt
Dried Greek oregano
you do
Mix the tomatoes, peppers, onions in a large bowl. Season with sea salt and a pinch or two of oregano. Add the feta cheese. Add the olives. Add the vinegar and the olive oil. Sprinkle some fresh basil leaves on the top. Gently, mix everything together. Let everything sit for 30 min. That gets all the tomato juices come out and mingle with everything else and create magic.
The traditional Greek salad can stand on it's own as a dish, just have a nice piece of bread to dip in the sauce! It can be a great side to a steak, burger, roasted chicken and of course fish. Enjoy!
The fabulous ceramic bowl is by Greek artist Eleni Vernadaki.