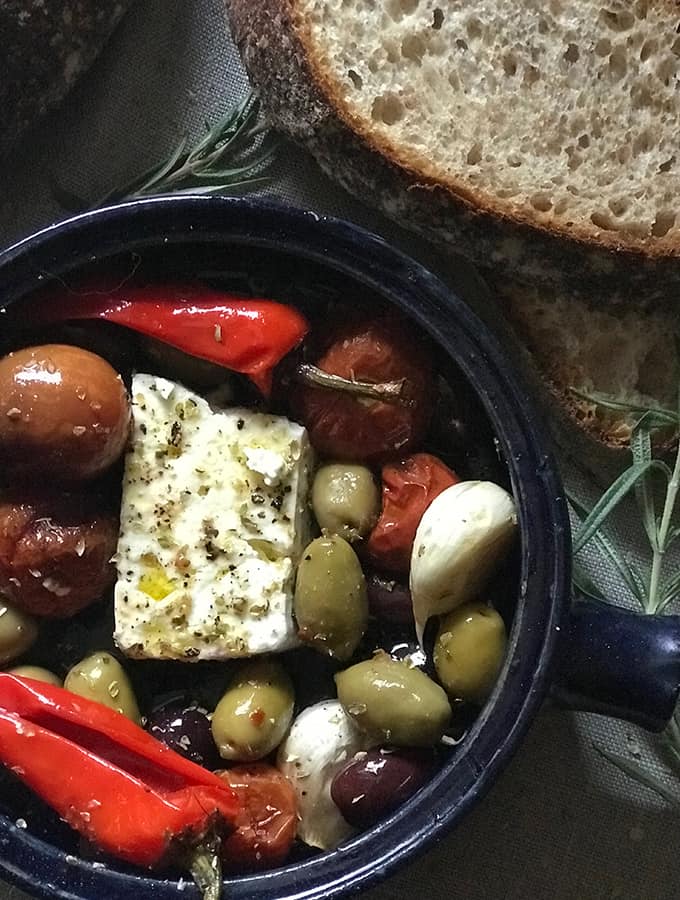 Imagine it is a sunny, warm and breezy Saturday afternoon. You are meeting a couple of good friends in the center of Athens specifically at the district of Plaka to go to a mezedopolio for a glass (or two) of ouzo and lovely meze (tapas or appetizers in Greek). You will sit at the tables outside probably by some ancient ruins, under a huge pine tree.
Before I moved to the United States I used to go out with my friends on Saturday afternoons, enjoy earthy lovely food and drink fragrant ouzo. I remember when Daryl (before he became my husband) visited me in Athens and we went for a meze and a drink to Plaka. Afterwards we walked around the Acropolis. All the eateries and mezedopolia were full of people enjoying food and drink just like we had. Daryl turned around to me and said " Are you sure you want to move to the United States? Because if this is what you are used to you won't find it there.
Well, I never regretted moving but occasionally I am homesick. One sure remedy for that is cooking the Greek flavors I know and love so much. When I make this meze, the fragrant vegetables and olives mixed with the rosemary and olive oil bring me close to Athens and the lifestyle I left behind.
Jump to Recipe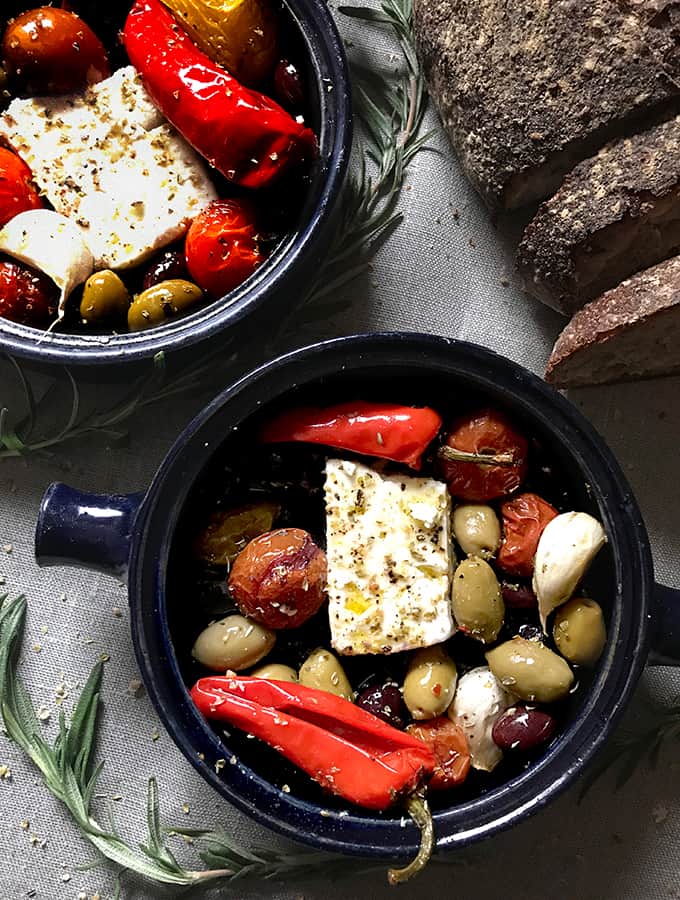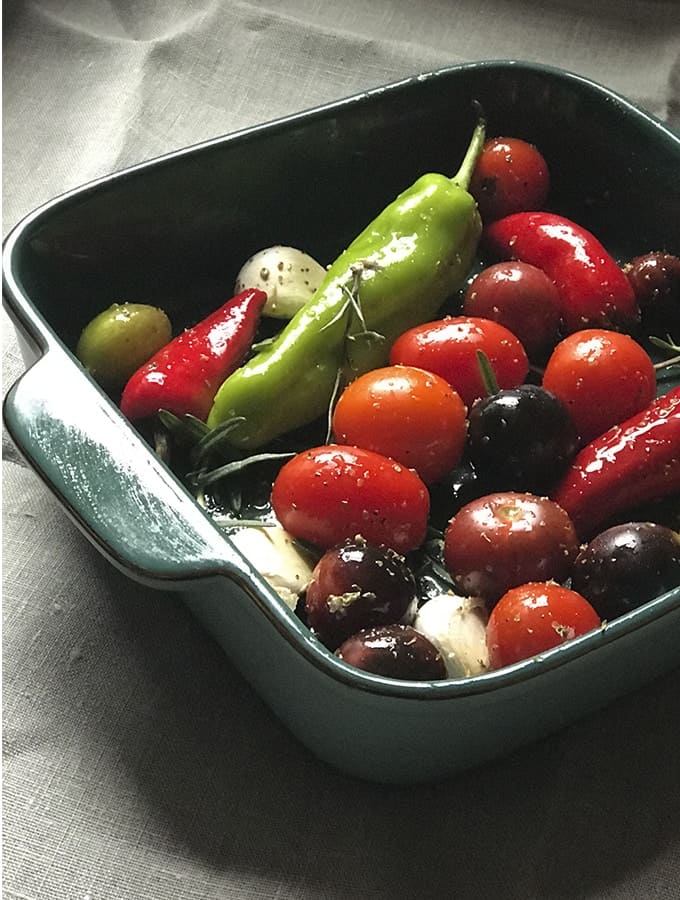 Print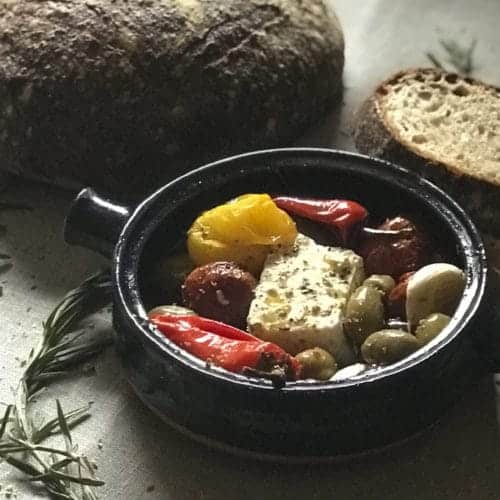 FETA, OLIVES AND ROASTED VEGGIES MEZE
Ingredients
1/2

cup

extra virgin olive oil

sea salt

to taste

fresh ground pepper

to taste

1-2

tbsp

oregano

2

cups

Greek feta cheese like Vikos or Dodoni

1

cup

Greek olives

2-3

peppers

I used red chili peppers for the lovely color and spice. Use the kind you prefer.

1 1/2

cup

small tomatoes

2-3

whole garlic cloves

2-3

sprigs

rosemary
Instructions
Preheat the oven to 400 F.

Place the tomatoes, peppers, garlic and rosemary in a medium size baking pan. Add the olive oil, oregano, sea salt and freshly ground pepper to taste. Mix gently but gently. Bake for 30 min or until veggies are soft and lightly brown on the top.

When veggies are ready, transfer to a serving dish, add the feta cheese, the olives and drizzle all over the remaining liquid from the baking pan. Serve with warm, crusty bread and a glass of Greek ouzo.
Recipe Notes
Full disclosure. I used red hot chili peppers for two reasons. The lovely color and the fact that Daryl loves spicy food. The spicier the better. I, on the other hand am the complete opposite. Can eat mild spicy flavors and have to mix them with a neutral starch like rice to tone them down more. So, please be cautious in case you want to use red hot chili peppers and can't tolerate spicy food..