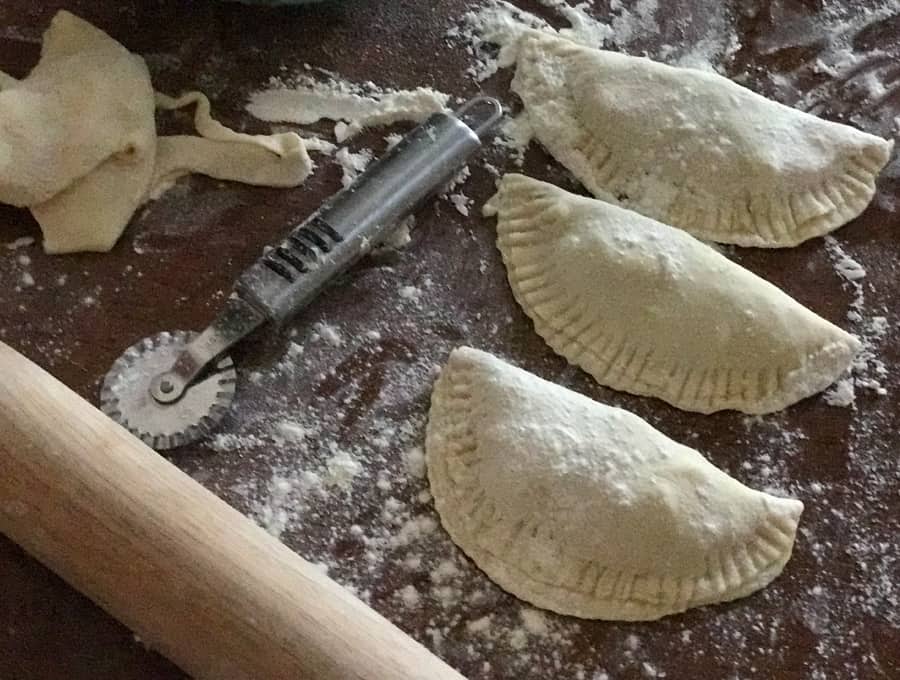 One of my fondest memories as a child was helping my Cretan grandmother make a bunch of these babies. In my mind it's always summertime when I think of kaltsounia. I spent almost all my childhood summers in Crete and I really love this special place.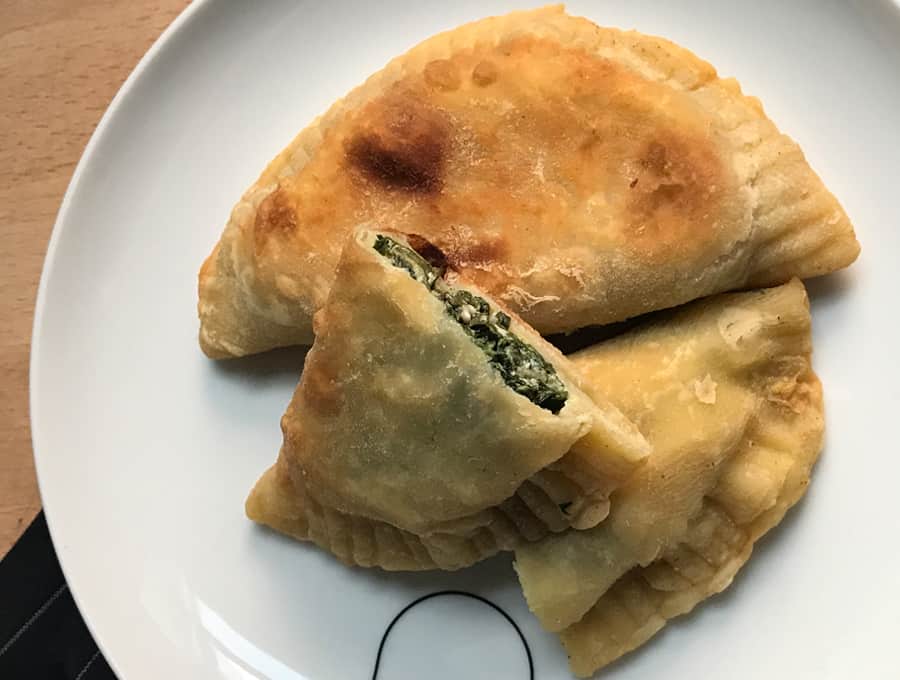 CRETE
According to Wikipedia Crete is the largest and most populous of the Greek islands, 88th-largest island in the world and the fifth-largest island in the Mediterranean Sea, after Sicily, Sardinia, Cyprus, and Corsica. It was once the centre of the Minoan civilization (c. 2700–1420 BC), which is currently regarded as the earliest recorded civilization in Europe.
Crete is a unique place, blessed with beauty and kindness. Cretans are quite different from the rest of the Greeks. A little rough around the edges but gracious and very hospitable. I will never forget driving with friends from Chania to go to my aunt's house in Kakodiki (the tiniest village up in the mountains in West Crete). We stopped at Kandanos town to shop for supplies and the owner of the tiny supermarket graciously offered us tsikoudia, fruit and nuts as a welcome. And that's not all. This is before GPS and Google maps and I was going there for the first time in 15 years so naturally we got lost. We stopped along the way to a few houses to ask for directions and each one of the people offered us something to eat and drink. I was so impressed by the hospitality and kindness of all these Cretan villagers. They didn't know us and had no ulterior motive for their offerings. They were just generous, lovely people.
THE RECIPE
To cure my homesickness I decided today to make kaltsounia. Had to substitute some of the ingredients with their closest "relatives" but I think overall my kaltsounia came out pretty close to the original.
Crete is a wild exceptional beauty. Hard and rough, with gorgeous beaches and breathtaking gorges. I can write about that blessed place for ever and ever but it's best to keep it short and give you this link if you would like to find out more.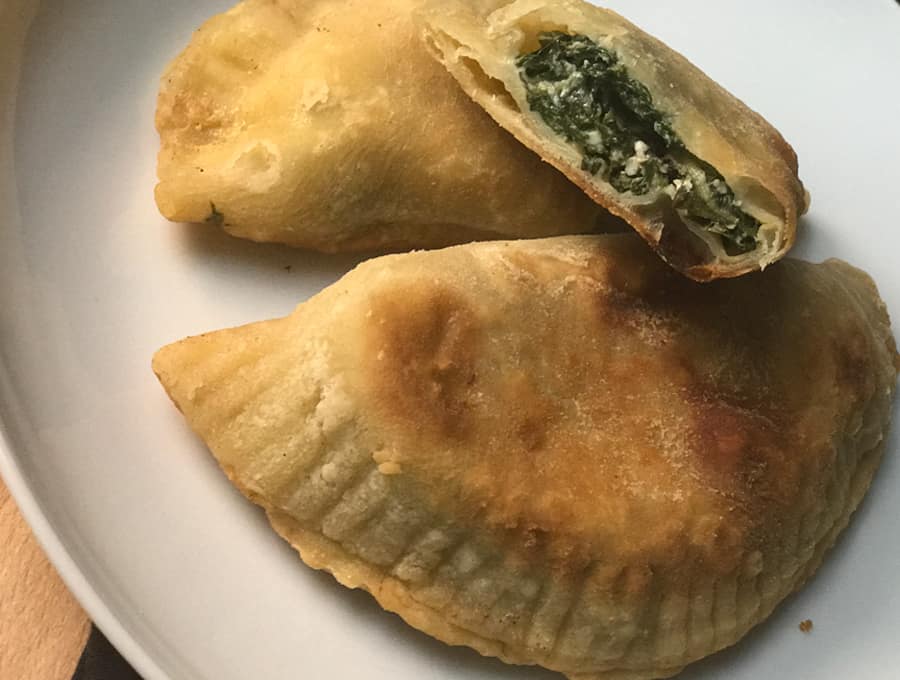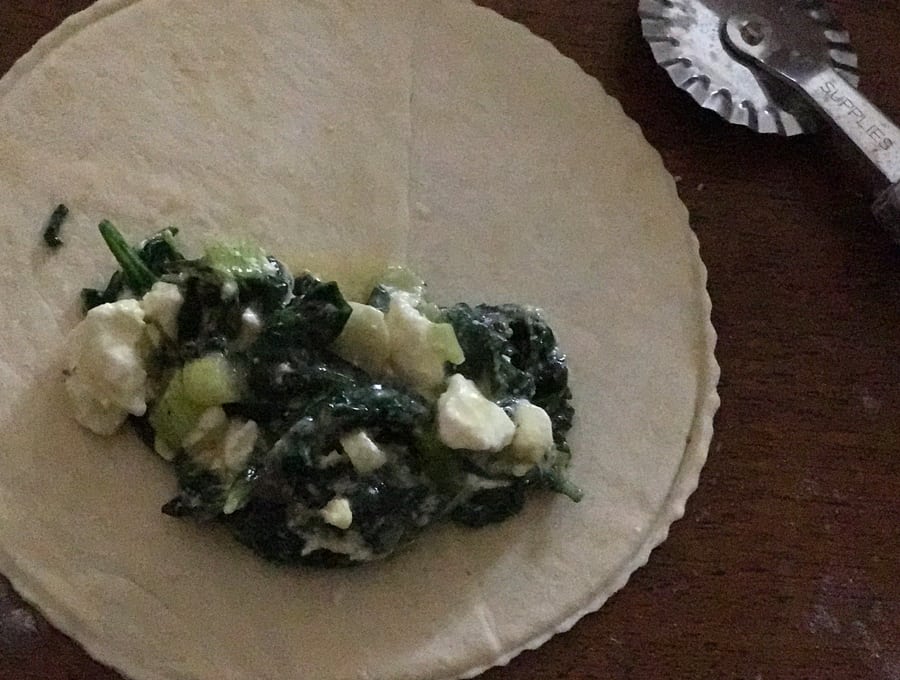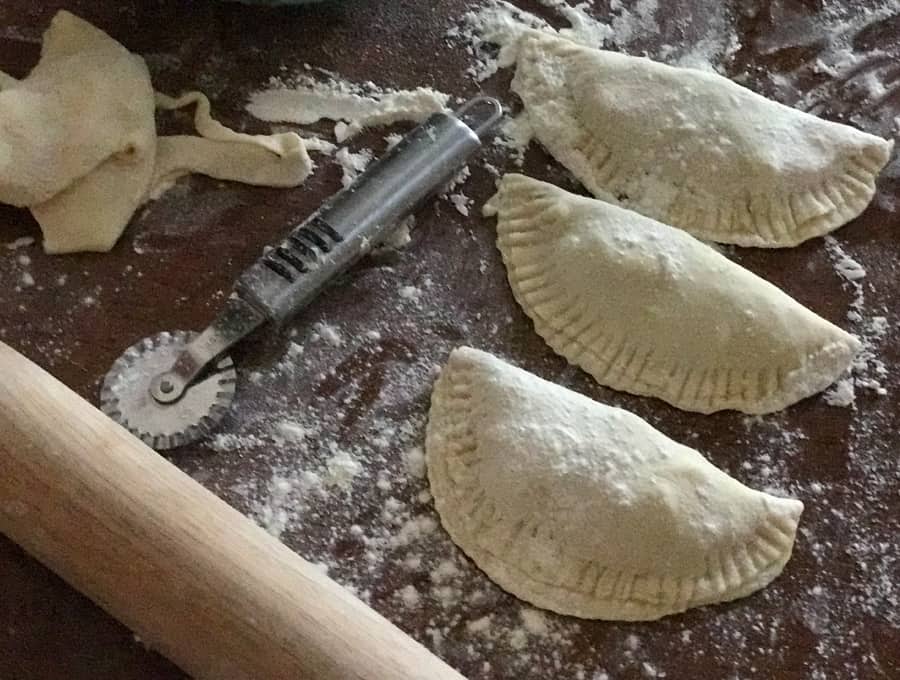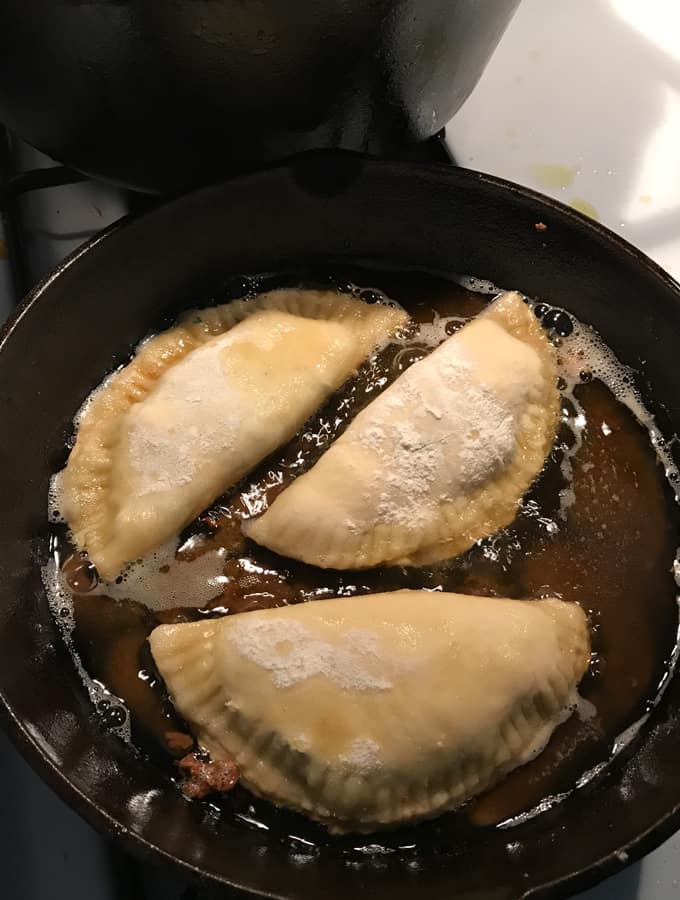 The filling
you need
about 10 oz of little steamed baby spinach. Cretans use local greens for their filling but when in Rome we use Spinach 🙂
2 cups or so Greek feta cheese, crumbled. (if you live in the USA Trader Joe's, Fresh Direct and Whole Foods have good Greek feta. My local supermarket in Hoboken has Dodoni and Mt Vikos). I do not care for any feta cheese made in Wisconsin or Bulgaria 🙂
4 scallions
a handful of fresh mint, roughly chopped
a handful of fresh basil, roughly chopped
2 eggs
sea salt to taste
fresh ground pepper to taste
mix all ingredients well. Set aside to make the dough.
the dough
you need
about 2 cups of all purpose flour
sea salt
2-3 tbs of extra virgin olive oil
about 1.5 cup water
optional: You can add a shot of ouzo or tsikoudia to the dough mix if you like. I, unfortunately did not have any in hand so no alcohol for me today.
you do
Place the flour in a large bowl and add the olive oil and a pinch of salt. Slowly, add the water and knead until you get a soft dough that does not stick to your hands. Wrap it in plastic film and leave it for half an hour to rest.
Open the dough on a floured surface, not too thin and cut round pieces with the help of a small plate and a pastry cutter wheel. Place a little filling (1.5 tbs or so) on one side of the round dough piece, fold and press around with slightly wet fingers to close. Use a fork to seal the opening and make little parallel marks on the dough for a fun finish.
Fry the kaltsounia in hot, light olive oil, turn them often till they have a nice golden brown color on both sides. Enjoy!