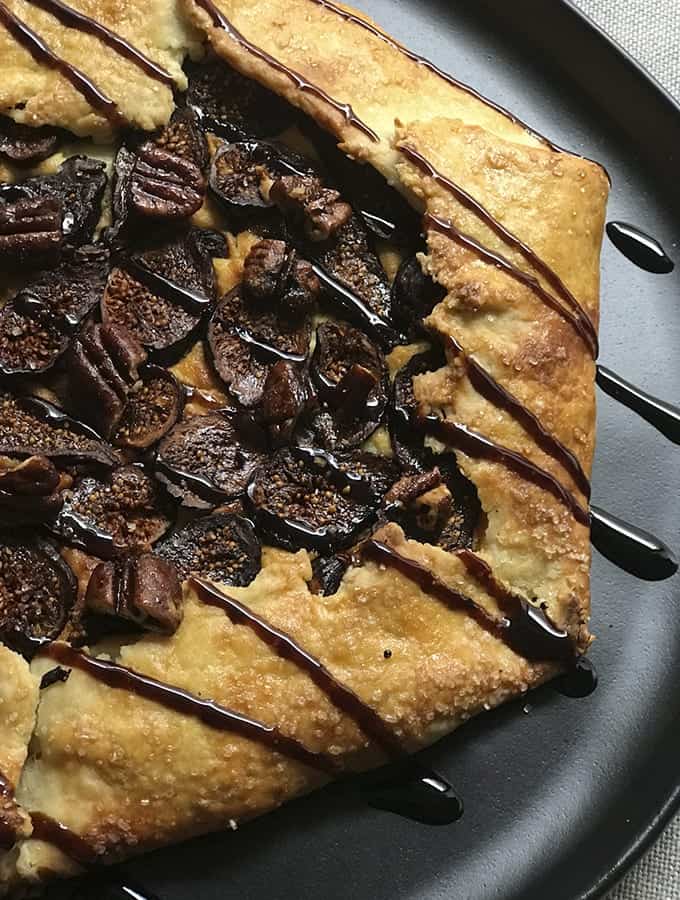 The fig and goat cheese galette came out delicious, not too sweet and not too savory. It is true, I have been obsessed with making galettes lately. My new creation happened after a frantic snack search in my pantry for something that would be sweet and savory, crunchy and soft while comforting, all at the same time. I only had dried mission figs on hand but the recipe would work just as well (or even better) with fresh ones.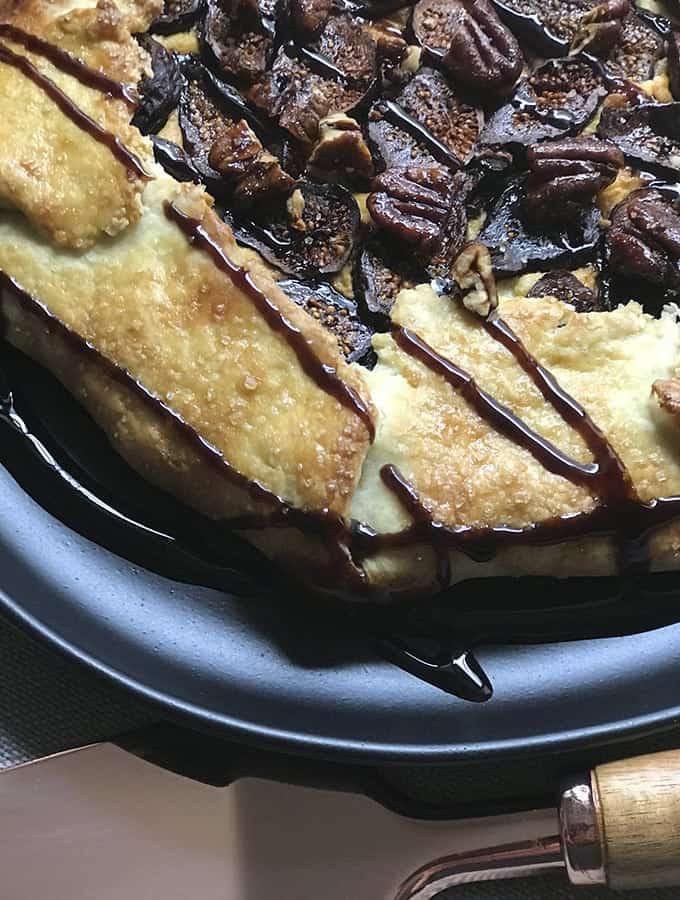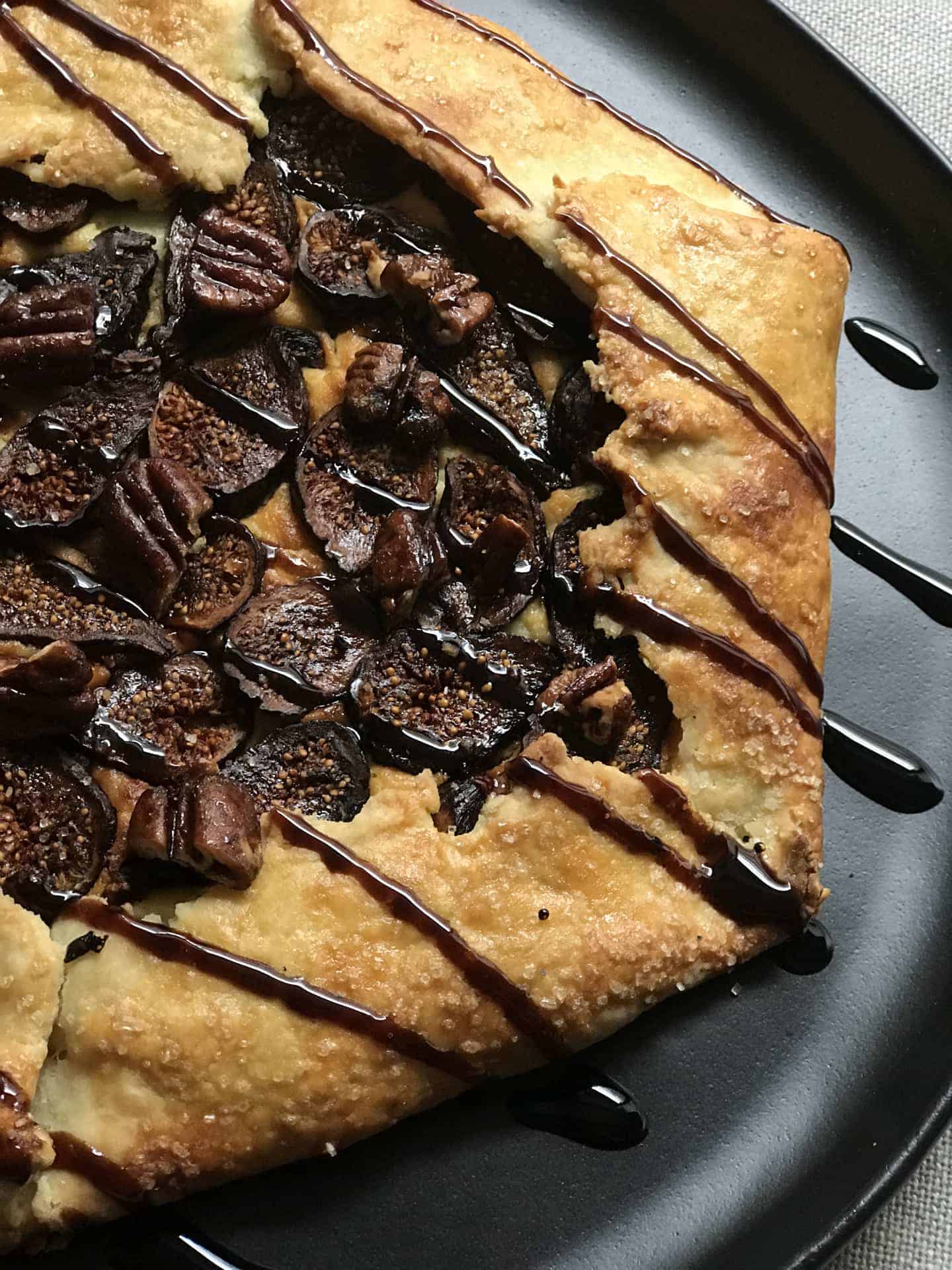 Resting time at least:
1
hour
Ingredients
for the dough
1

cup

all-purpose flour

1

tbsp

granulated sugar

1/2

tsp

salt

1/2

cup

unsalted butter, frozen
for the filling
5 oz

goat cheese, room temperature

2

tbsp

good quality honey

2

cups

sliced dried mission figs

(you can also use fresh figs when in season)

1

tbsp

water

2

tbsp

granulated sugar

2-3

tbsp

balsamic vinegar glaze

1/2

cup

roughly chopped caramelized pecans

(optional)
Instructions
make the dough
In a bowl, stir the flour, salt and sugar together with a whisk.

Grate the butter with a box grater and add to the flour. Using your fingers, begin to work the butter into the dough until you have coarse crumbs.

Stir in the water little by little, and slowly incorporate it into the dough. Don't over work it you want bits of butter in the dough, and it's ok if it will still feel not fully formed.

Turn the dough out onto a lightly floured surface and form it into a ball. Again, don't overwork it. It is absolutely fine if it feels loose and kind of crumbly.

When it is pulled together, wrap it in a piece of plastic wrap, flatten it into a disk, and refrigerate for at least an hour or overnight.
make the galette
Preheat the oven to 400 °F.

Using a roller, roll the dough on a sheet of parchment paper into a 10-inch circle about 1/4-inch thick.

In a bowl, mix the goat cheese and 2 tablespoons of honey together. Gently spread the cheese starting at the center of the dough, leaving a 2-inch perimeter. Arrange the figs on top of the goat cheese, then fold the edge of the dough up, pleating as you make your way around.

Whisk together the egg and water. Lightly brush the dough with the egg wash, and sprinkle the dough with sugar. Transfer the galette with the parchment paper onto a heavy baking sheet and off to the oven.

Bake for about 30 minutes, or until the crust is golden brown. Remove from oven and drizzle with the balsamic glaze, and sprinkle the pecans all over.

Let it sit for about 5 minutes before slicing. Enjoy while warm.