This sweet & savory pie is super easy to make with phyllo, feta, and extra virgin olive oil and it makes a delicious light summer lunch.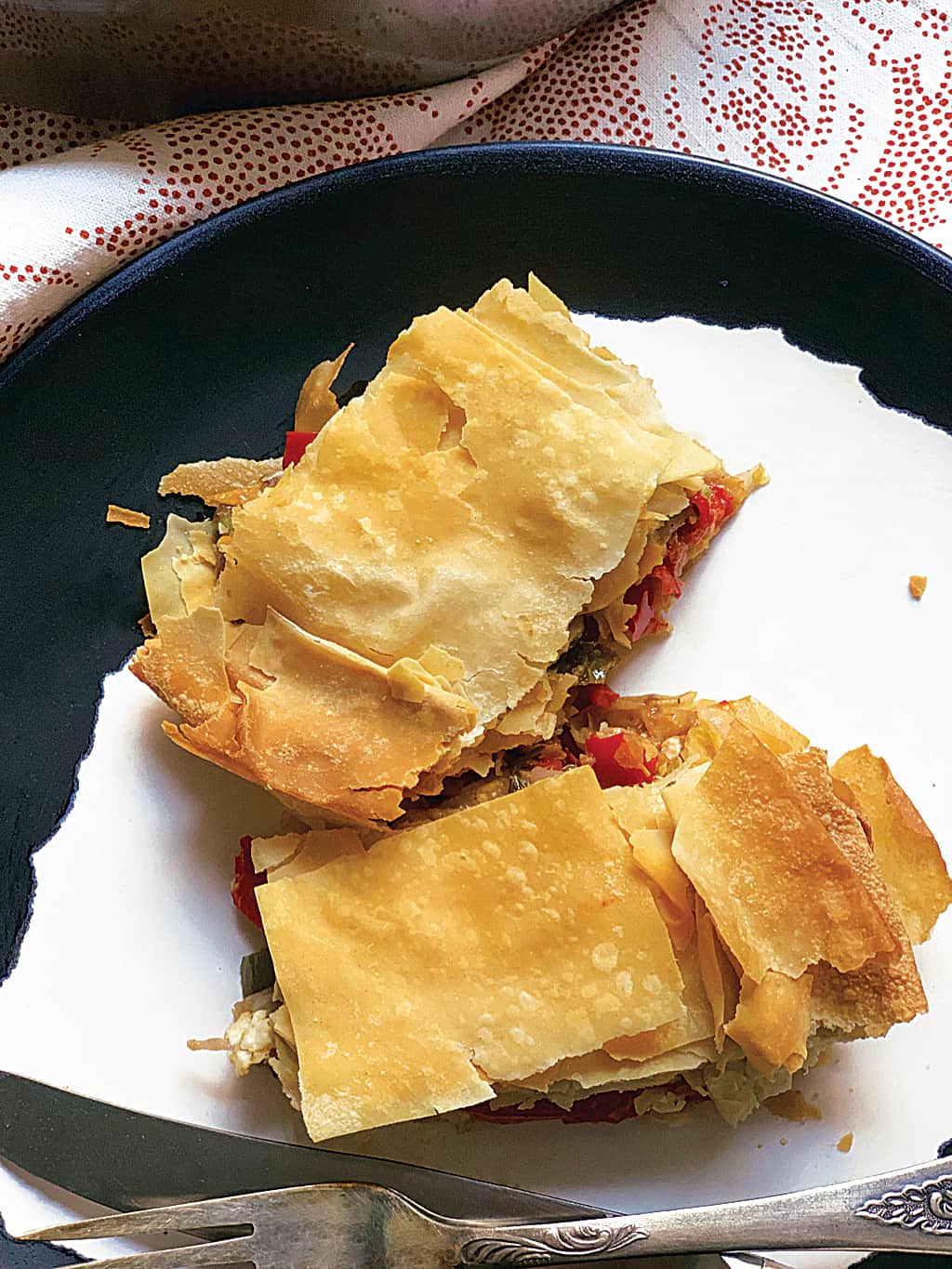 This Greek bell pepper pie recipe is one of the gifts I got recently from my family. Katie, my godmother, gave it to me. She is one of the best cooks I have ever encountered, just like her mom was, grandma Evgenia. So the minute I saw the recipe in my inbox, I knew it would be a good one. Katie promised to send more recipes over; she has some from grandma that are delicious and precious. My goal is to present them to you as best as I can and do them justice.
This sweet & savory pie is super easy to make, and it does not require many ingredients. You need a box of phyllo sheets, bell peppers, good quality feta cheese, and extra virgin olive oil.
It is also a light and low calorie savory pie.
I love how fresh it is. The bell peppers combined with feta and extra virgin olive oil are a classic Mediterranean flavor.
Tips & tricks
You can easily turn it into a vegan Greek pie recipe by not adding the feta cheese.
You can choose to use one kind of bell peppers. If you choose green, the pie will be less sweet and tangier. All red or yellow, it will be sweeter. There are many combinations for you to try and tailor it to your liking.
It can be served as an appetizer as well as a main. Pair it with a green salad or roasted veggies, and it's a meal. Cut it into smaller pieces, and it can be an easy appetizer.
This pie can be enjoyed warm or at room temperature due to the use of olive oil.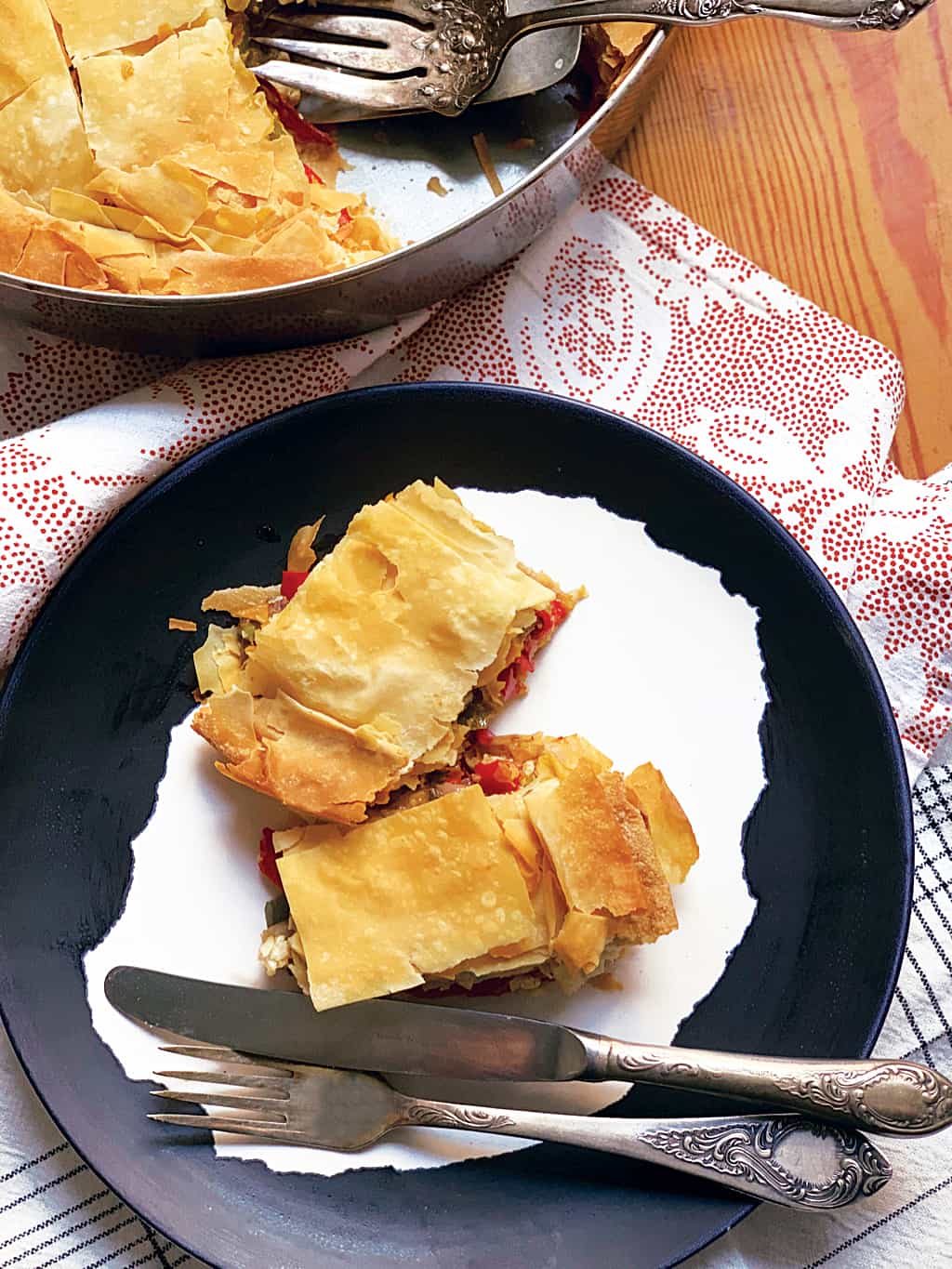 More Greek savory pies please!
If you liked this savory pie recipe try this Greek cheese pie – Tiropita, the most popular pie in Greece.
The traditional pie with pastourma & kasseri is delicious and a great appetizer.
The classic spinach pie – spanakopita, is a real winner and will leave everyone satisfied.
Check out my Greek pantry staples
Cooked this? Rate this recipe! You can also leave a comment below. I love hearing from you!
WANT TO EAT LIKE A GREEK? Subscribe to my newsletter and follow me on Facebook, Pinterest, and Instagram for all of the latest updates.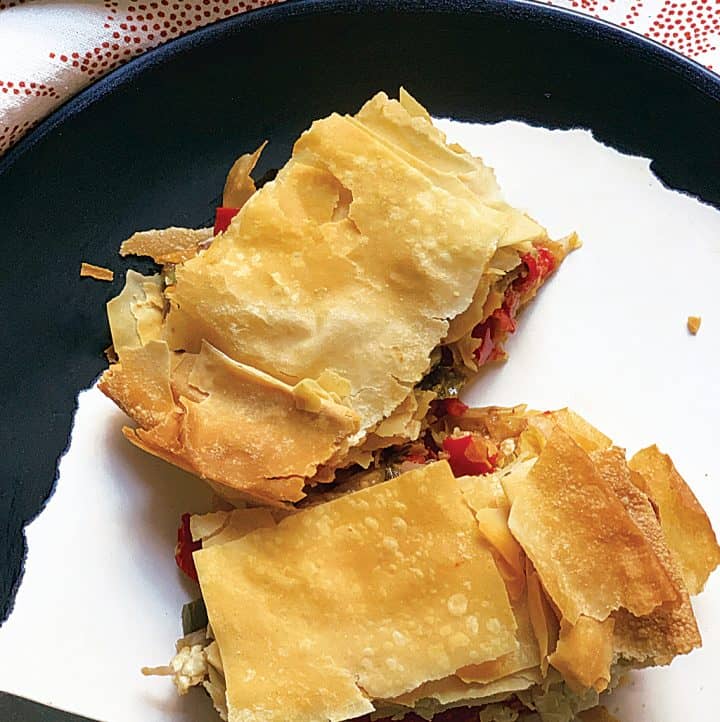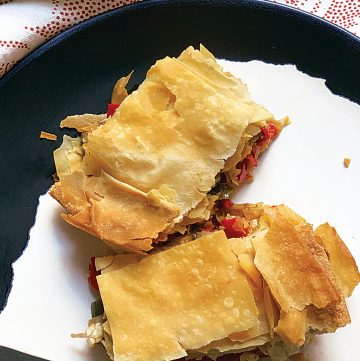 Greek Bell Pepper Pie
A sweet and savory pie recipe with bell peppers, phyllo, feta & extra virgin olive oil.
Ingredients
2

red bell peppers

julienne

2

yellow bell peppers

julienne

2

green bell peppers

julienne

2

medium red onions

1

cup

feta cheese

3-4

scallions

sliced, only the white bits

½

cup

parsley

roughly chopped

1

tablespoon

bread crumbs

1

box phyllo sheets

1

cup

extra virgin olive oil

total, you might need less

salt

freshly ground pepper

red pepper flakes
Instructions
In a large sauté pan in medium heat add 1-2 tbs olive oil. Add the onions and the scallions. Season with salt and pepper. Sauté until they are soft. Place them in a large mixing bowl when done and set aside.

Add the peppers to the pan. Add 1 tbs olive oil if you think it is needed. Season peppers with salt and pepper and sauce until they are soft. Add peppers to the onions.

Break the feta into crumbs and add it to the onion pepper mix. Add the breadcrumbs, the parsley and season with salt and pepper to taste. Add 1 tbs of chili pepper flakes. Gently mix everything together well.

I used a 11 inch pan

Preheat oven to 350 F,

Using a paper towel or pastry brush lightly oil the bottom and sides of a large baking pan. 

Lightly oil one phyllo sheet and place it at the bottom of the pan. Oil another and add it on top in a criss cross way, that way all sides of the pan is fully covered all over.

Oil a phyllo sheet and scrunch it up . Add it on the pan. Repeating the same process add another sheet right next to it. Add a third if you need more to cover the whole pan bottom. 

Spread evenly the pepper mixture on top of the scrunched up sheets.

Cover the mix with two or three phyllo sheets using the same scrunched up method. Don't forget to oil lightly every single sheet, you don't want them to dry out. Keep phyllo sheets covered with a towel while you are working. 

Oil a phyllo sheet and add it the top covering everything. Add another on top in the same criss cross way you did with the bottom sheets.

Star rolling in the excess phyllo to create a border so to speak. Alternatively you can cut the excess phyllo and tuck it in al the sides.

Lightly oil the top and score it gently.

Bake for 50 min or until it is light golden on top. 

Pie can be enjoyed warm or in room temperature due to the use of olive oil.
Notes
Nutritional Info – Please keep in mind that the nutritional information provided is only an estimate and can vary based on the products used.
Nutrition
Calories:
127
kcal
Carbohydrates:
14
g
Protein:
4
g
Fat:
6
g
Saturated Fat:
3
g
Cholesterol:
14
mg
Sodium:
268
mg
Potassium:
148
mg
Fiber:
1
g
Sugar:
2
g
Vitamin A:
797
IU
Vitamin C:
62
mg
Calcium:
92
mg
Iron:
1
mg
Tried this recipe?
Mention @thegreekfoodie__ or tag #thegreekfoodie__