Today is Greek Easter and the best time for my family to enjoy this lovely recipe. Easter is the biggest religious holiday in Greece. After a very dark and spiritually charged Holy week, Easter Sunday is a day of celebration. People compete by cracking red eggs* drink lots of wine and feast on roast lamb, lemon potatoes and other Greek delicacies. All this while dancing with loud Greek music. I haven't been to Greece for Easter in such a long time. Celebrating with roasted lamb on this day each year makes me feel closer to home.
*From Wikipedia: In the Greek Orthodox Church, Easter eggs are dyed red to represent the blood of Christ, with further symbolism being found in the hard shell of the egg symbolizing the sealed Tomb of Christ — the cracking of which symbolized his resurrection from the dead.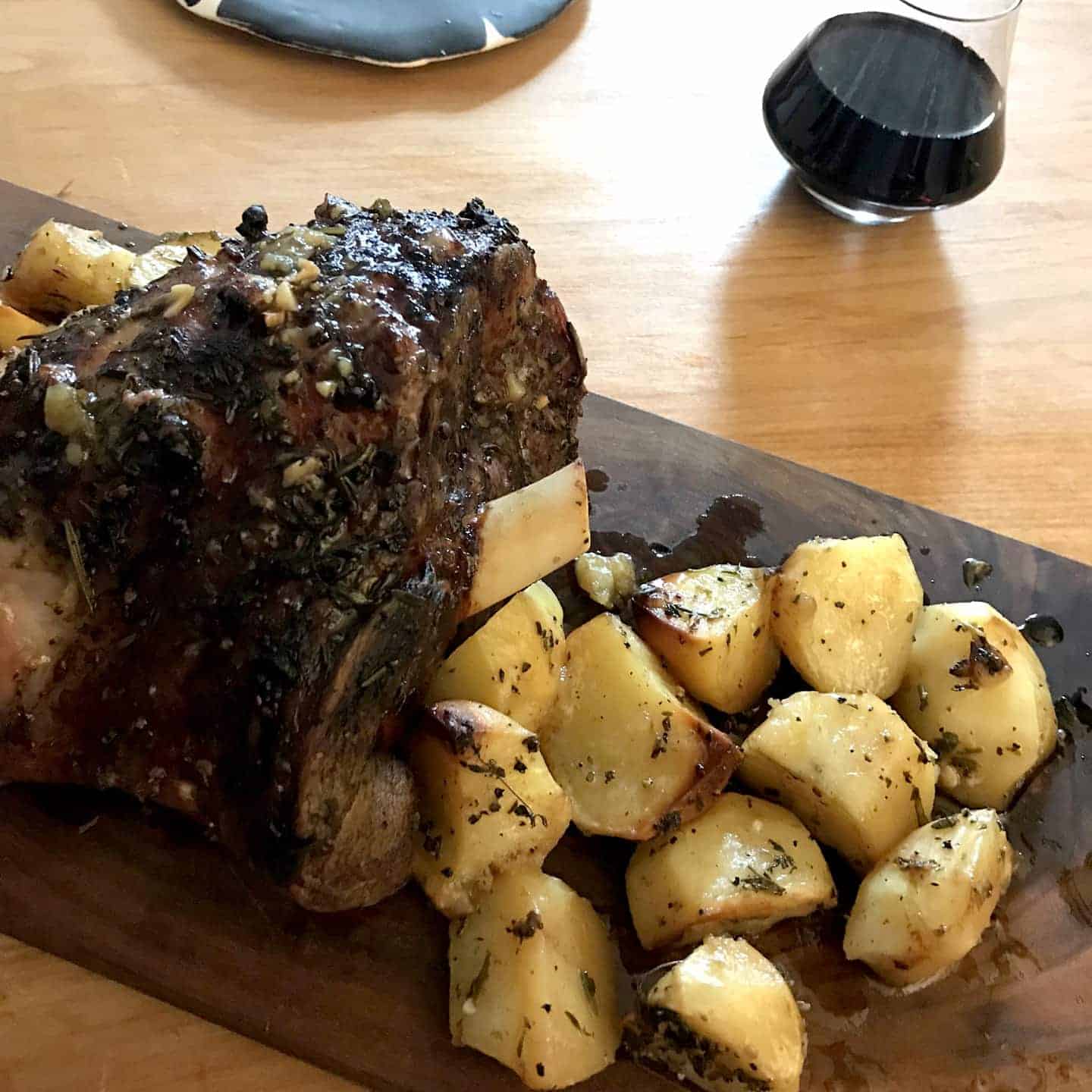 Cook Time:
1
hour
30
minutes
Ingredients
4 lbs

a leg of lamb with the bone in

3-4

cloves of garlic

3-4

sprigs fresh rosemary roughly chopped

3-4

sprigs fresh thyme roughly chopped

1/2

cup

extra virgin olive oil

1

organic bouillon cube such as Kalo. It can be chicken or veggie.

2 1/2

lbs

potatoes cut in 1 inch pieces

sea salt

fresh ground pepper

dried Greek oregano
Instructions
the lamb
Preheat oven to 180* C (350* F) Fan.

Place the leg of lamb on a large roasting pan (I like to place whatever herb I have left over under the lamb). Cut small slits in the meat in various places.

Thinly slice 3 cloves garlic and tuck them in the slits you created in the meat.

In a bowl, add 2-3 tablespoons of olive oil and the bouillon cube. Mash with a fork until the cube dissolve completely. Add 3/4 of the chopped rosemary, 3/4 of the chopped thyme and 3/4 of the chopped sage, mix well, add fresh ground pepper and pour all over the lamb. Rub it all over until meat it is completely coated. Pour the 2 cups of water into the baking pan and cover securely with parchment paper and then with aluminum foil.
the potatoes
Cut into 3-4 cm pieces and transfer to a bowl. Mince the remaining garlic.

Add 2 tablespoons of olive oil, the garlic, the rest of the chopped rosemary, thyme and sage, a pinch or two of oregano and the juice of the two lemons and salt and pepper. Mix well. Set aside.
after one hour
Remove the baking pan with the lamb from the oven, remove the coverings and add the potatoes.

Cover again and roast for another 1 1/2 hours. Uncover and cook for about another 1/2 hour or until meat is well browned and the potatoes are golden.

Serve with a traditional Greek maroulosalata, a salad of one chopped romaine lettuce, 2 thinly sliced scallions (including the green parts), about 2 tbs of chopped dill and a light vinaigrette.