Giouvetsi or chicken with orzo is one of those Greek dishes for which I have a specific memory.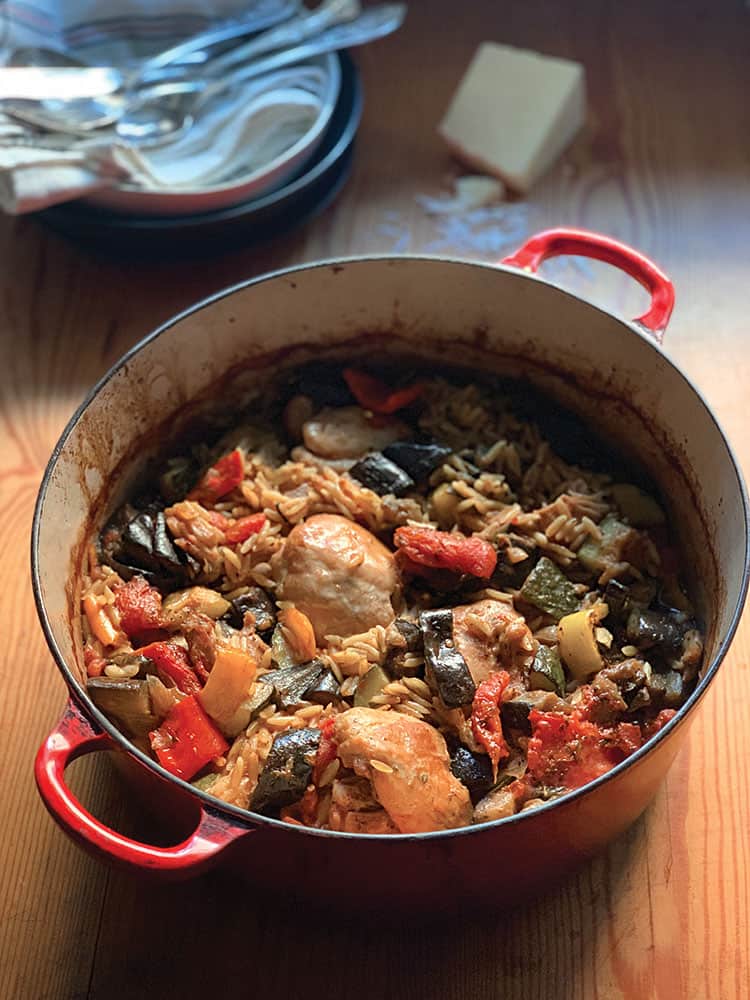 Greek When I was little at my Grandma's house I remember big pans of giouvetsi being prepared for a Sunday family lunch. The big pan would not fit inside grandma's oven so one of my uncles would take it to the bakery to bake.
Having perfect timing a little before the end the baker would add orzo into the broth to cook. And with some culinary magic the food would come out perfect every time. The whole family would gather around Grandma's table, joking and teasing each other while enjoying generous bowls of delicious giouvetsi. The grated kefalotyri cheese would flow freely and pieces of freshly baked bread would help create mouthwatering bites of orzo with chicken.
I absolutely love giouvetsi. It's delicious and comforting and very very Greek. It can be made with chicken, beef or kid goat. I like the chicken version as it is a little lighter and equally delicious. I chose to incorporate eggplant and zucchini in this recipe but they can certainly be left out.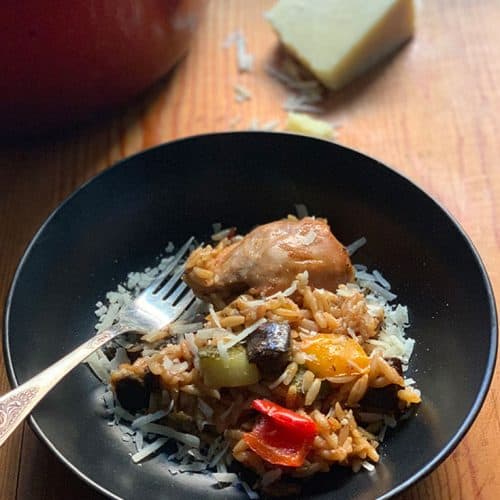 Ingredients
1/2

cup

olive oil

8

chicken thighs skinless and boneless

1

onion diced

3

cloves garlic smashed

1

eggplant cut in 1/2 cubes

1

large zucchini cut in 1/2 cubes

1

28 oz can of San Marzanno tomatoes smashed

dry oregano

2

cups

organic chicken broth

2 1/3

cups

orzo pasta

salt

fresh ground pepper
For serving
pecorino romano cheese grated
Instructions
Place the eggplant cubes in a colander sprinkle with salt and let them sit for an hour.
In a large oven sage pot add 2 tbsp olive oil. Sauté the eggplant cubes for about 5-6 min. Remove from pan and set aside.

In the same pot add 1 tbsp of olive oil. Add the zucchini cubes, a pinch of salt and pepper and sauté for about 1-2 min. Remove from pan and set aside.

Add 1/3 cup olive oil to the pot. Add the onions and garlic. sauté for about 2-3 min.

Season the chicken with salt and pepper. Place pieces in the pot making room among the onions. Brown chicken all over, about 2-3 min each side.

Add the eggplant, zucchini, smashed tomatoes and two cups of broth. Stir gently but well.

Cover and place pot in the preheated oven. Cook for 30 min.

Remove pot from oven. Add the orzo, stir gently but well and cover. Return to the oven and bake for an additional 30 min.

Uncover pot and cook in oven for 5 min.

Remove from oven, let it sit for 5 min and serve in bowls with lots of grated pecorino romano cheese and fresh ground pepper.
Notes
You can cook giouvetsi on the stove or in the oven. I chose to incorporate both methods, I start sautéing on the stove and when everything is combined it goes into the oven for a slow roast. It comes out perfect every time. I make a big pot of giouvetsi on a Sunday and enjoy leftovers for a few weeknight inners.
Pair it with a green, acidic salad, lots of grated kefalotyiri cheese and a glass of good cabernet.
Did you like this recipe?
Mention @thegreekfoodie__ or tag #thegreekfoodie__