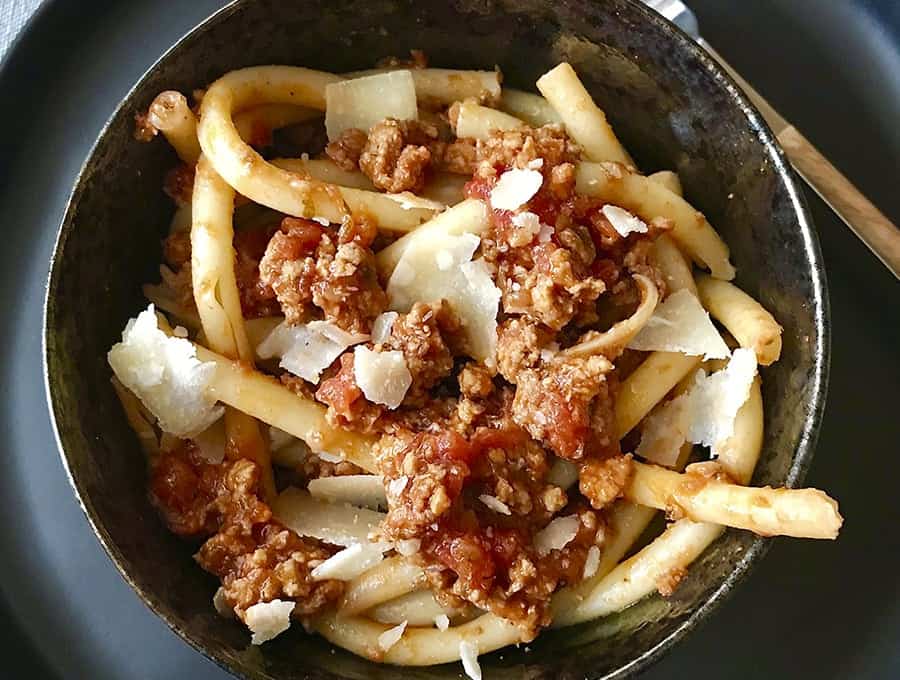 One thing is for sure. Few meals are as satisfying as a good pasta dish. Maybe a pizza or a good grilled cheese sandwich. Maybe. I had a longing today for spaghetti and decided to forgo my usual marinara for a rich and lovely bolognese sauce. Well, I make the Greek version or the one I learned from my mother. Sometimes I embellish it a little by adding pancetta or sausage to the recipe but not this time. It's is one my ultimate comfort foods. I never forget a good parmesan or kefalotiri cheese for serving. Oh, and a glass of red wine…
You need
1/4 cup Greek extra virgin olive oil
1 onion finely cut
2 cloves of garlic minced
16 oz grass fed ground beef
16 oz grass fed ground pork
28 oz can of diced tomatoes
6oz can tomato paste
1/4 tsp smoked paprika
1/2 tsp nutmeg
a pinch of cumin
sea salt
fresh ground pepper
you do
Put the olive oil, chopped onion and garlic in the pot and turn the heat on to medium. Cook and stir the onion until it has become translucent, for about 2 minutes.
Add ground meat, a large pinch of salt and a few grindings of pepper. Crumble the meat with a fork, stir well and cook until the beef has lost its raw, red color. Add the nutmeg, paprika and cumin. Add the tomato paste and stir thoroughly to coat all ingredients well. Add the tomatoes and 1/2 cup of water. Stir well. When it begins to bubble, turn the heat down so that the sauce cooks at the laziest of simmers, with just an intermittent bubble breaking through to the surface. Cook, uncovered, for 3 hours or more, stirring from time to time. Check the sauce often while it is cooking, add 1/2 cup of water whenever necessary. At the end, however, no water at all must be left and the fat must separate from the sauce. taste and add salt and pepper if necessary.
Toss with your favorite cooked and drained pasta and serve with freshly grated Parmesan.
a couple of notes
I have a little trick when I make ragu sauces like that. Because my stove top cooks food very unevenly when I want to slow cook something and it can be a pain. So I preheat my oven to 250 F and after the initial bubbling I place my pot in the oven and let it cook in there. I check it often and always finish it on the stove. Of course if you want to try this make sure your pot is suitable for oven use.
You can use all kinds of pasta with this sauce. My favorite is the thick macaroni pasta Greeks use for their famous pastitsio recipe. It reminds me of Crete and my childhood summers there.