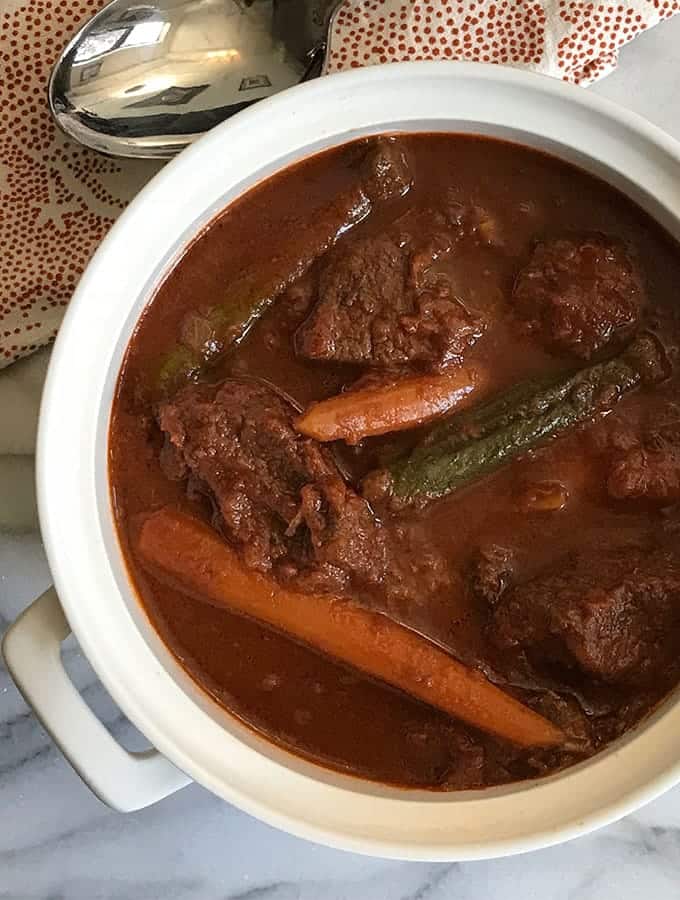 Greek beef stew-kokkinisto is a beloved classic dish. There are a few variations on how to cook it but the basics of the recipe stay the same. I like to take an influence from the French boeuf bourguignon and add beef stock and wine in my stew. I like braising it, cook it for hours in the oven in low heat and it literally falls apart by the touch of a fork. It can be paired with mashed potatoes or rice but I like to enjoy it with crunchy french fries and bread, because you have to dip your bread and your fries in this sauce!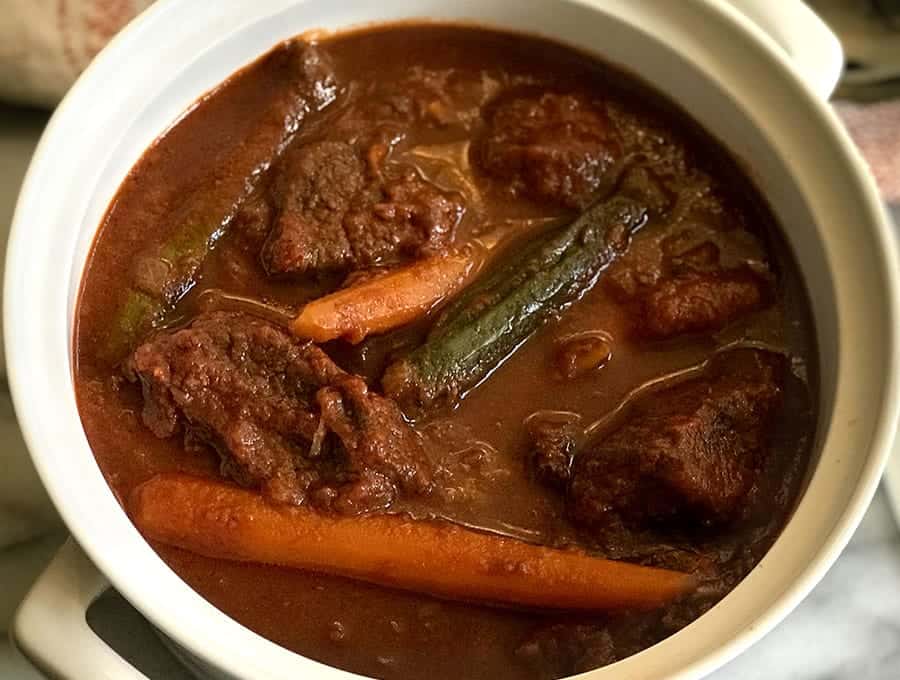 This recipe is good for 4-6 people.
you need
4 lb beef chuck cut in 1 inch cubes
1 large onion, sliced
1 12 oz can of tomatoes diced
2 carrots cut in ½ inch pieces
1-2 tbs tomato paste
2 1/2 to 3 1/2 cups beef stock
3 cups of good red wine
½ cup of olive oil
1 tbs grated nutmeg
1 bay leaf
2-3 sprigs of thyme
1 tbs dried Greek oregano
½ cup of all purpose flour
Sea salt
Fresh ground pepper
you do
Preheat the oven in 350 F or 185 C
Make sure the meat is in room temperature. Dry each piece well in a paper towel and lightly dust it with flour.
In medium heat, add the olive oil to your dutch oven and start adding the beef pieces without crowding them. Allow them to brown on each side then remove and set aside in a plate.
Add the onions to the pot, sauté until fragrant. Add the carrots and the meat. Stir gently. Add the tomatoes, the tomato paste and the stock and the wine.
Stuff a spice bag with the thyme and the bay leaf and toss it in the pot, add the oregano and season with sea salt and pepper.
The liquid should barely cover the meat and vegetables.
Bring to a light simmer on the stove, then cover and simmer in the lower part of the oven for 3 hours , or until the meat is easily pierced.
note: I find that cooking time depends always on your oven so check on your food often 🙂