These 30 Best Fall Dinners are perfect cozy weather comfort food. From oven-baked pasta and skillet pork chops to pumpkin curries and wholesome galettes, these are recipes you'll make again and again.
This creamy apple cider chicken skillet is an easy, delicious Fall dinner with sweet and savory flavors. We loved this served with mashed red potatoes with the easy pan sauce spooned over the top.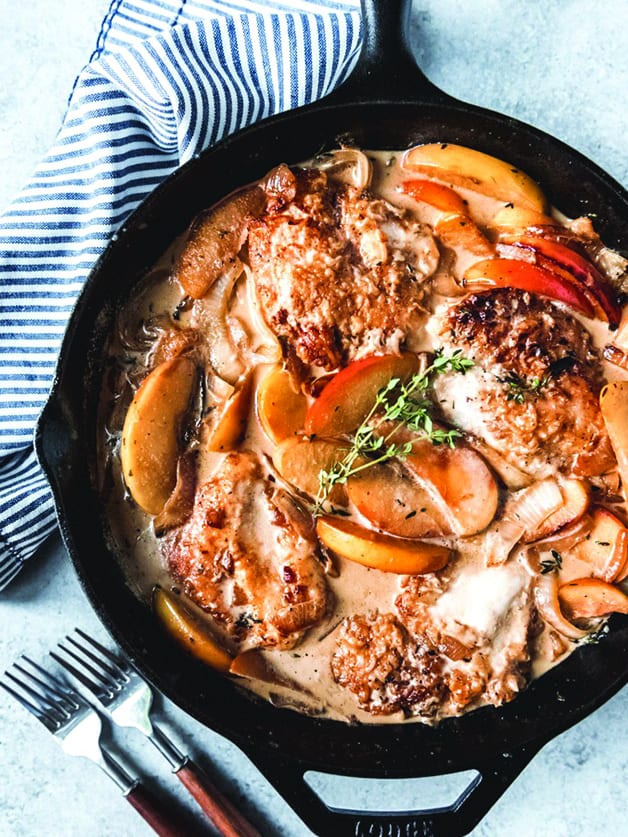 Bring dinner to the table in a single pan with these skillet pork chops. Glaze everything with a hard cider sauce (or sub traditional apple cider) for a restaurant-quality meal that YOU can make at home on a weeknight.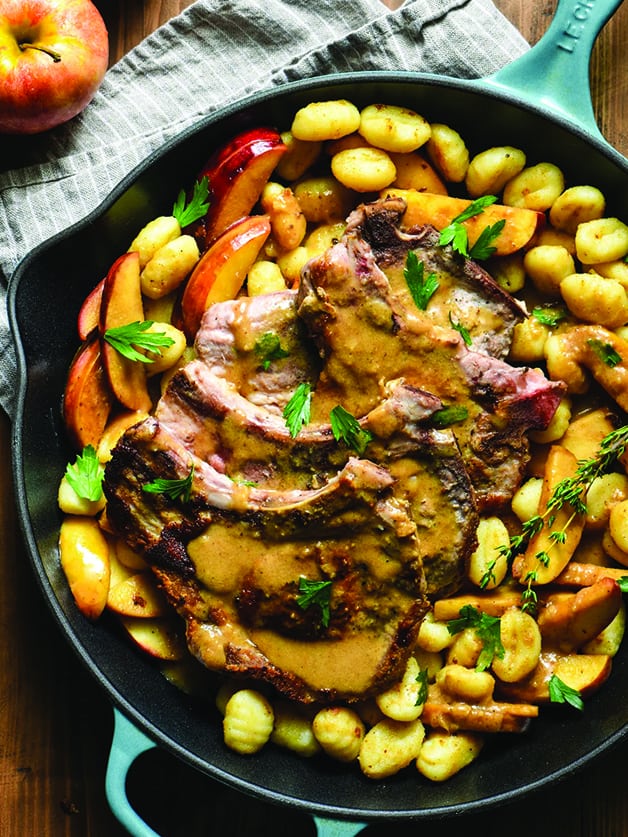 Pan-seared pork chops make a wonderful dinner. But if you want a 'surf and turf' twist on easy pork chops, considering adding shrimp! There are many meat dishes which also include seafood. Even if it doesn't sound like a good match, this shrimp and pork chops recipe works beautifully. The butter herbed shrimp are flavourful and this easy pork chops recipe will become a family favorite.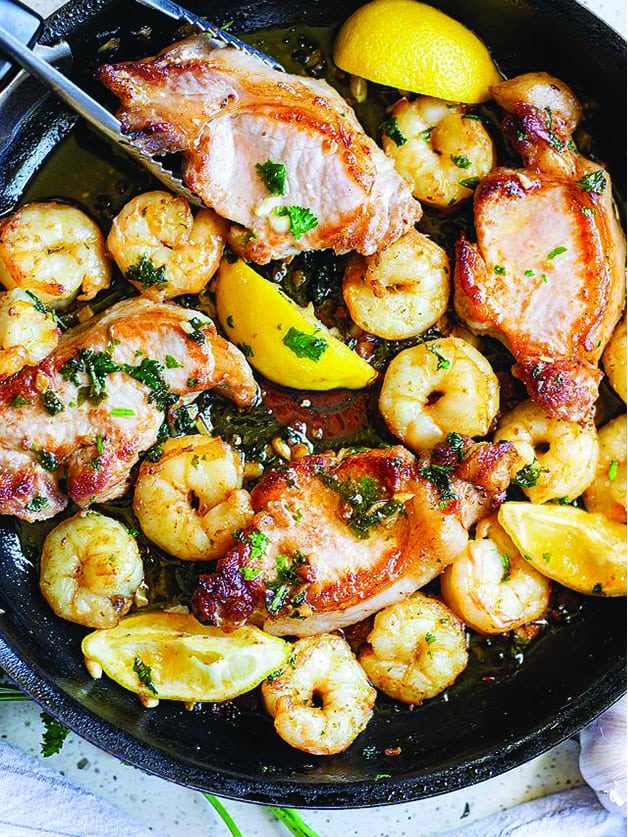 Perfectly roasted vegetables and gnocchi, covered in the most amazing brown butter sage sauce.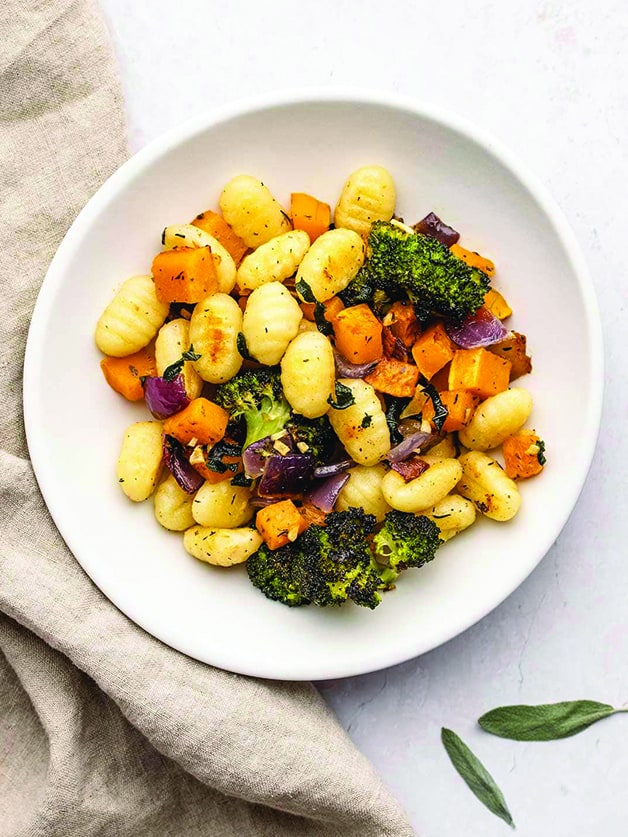 This creamy pumpkin ravioli recipe is an easy and indulgent dinner idea that takes only about 20 minutes to make! A great pasta recipe when you want to switch it up from traditional tomato sauce.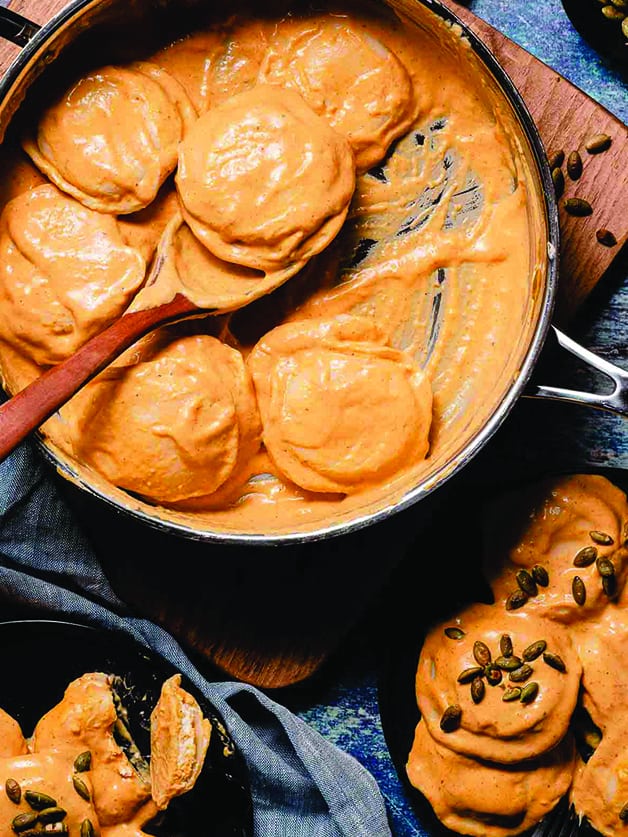 Traditional pasta e fagioli soup is a creamy and rich Italian dish full of flavor and ready in just 20 minutes!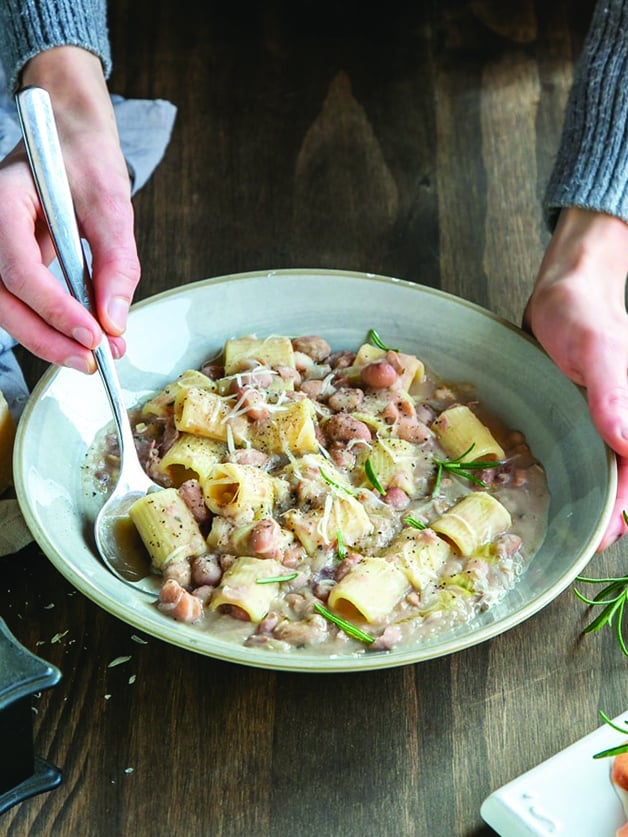 This vegan pot pie recipe is so easy and delicious! It is filled with succulent veggies and stuffed inside a deliciously flaky crust!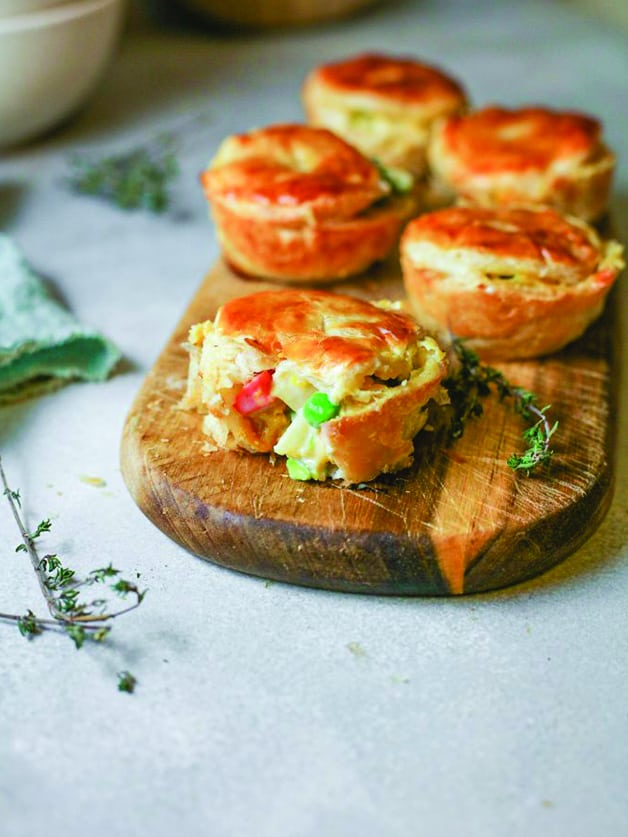 Is there anything more perfect than creamy mushroom pappardelle? That warm, earthy mushroom flavor paired with hearty pasta noodles, and bathed in a rich cream sauce…mmmm!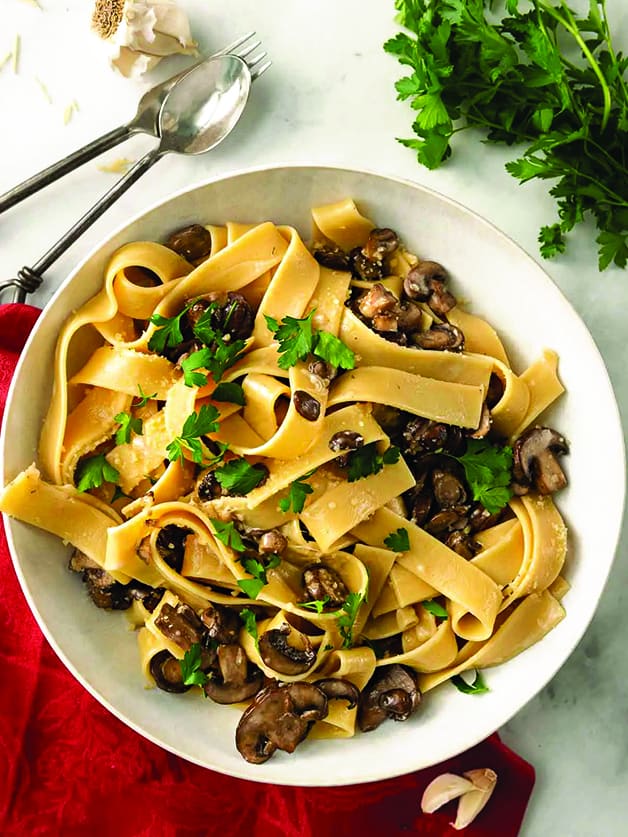 This Instant Pot stuffed pumpkin feast is the best thing that you can make in your Instant Pot this fall! A whole pumpkin stuffed with rice, steak, nuts, and cranberries is ready in just 1 hour!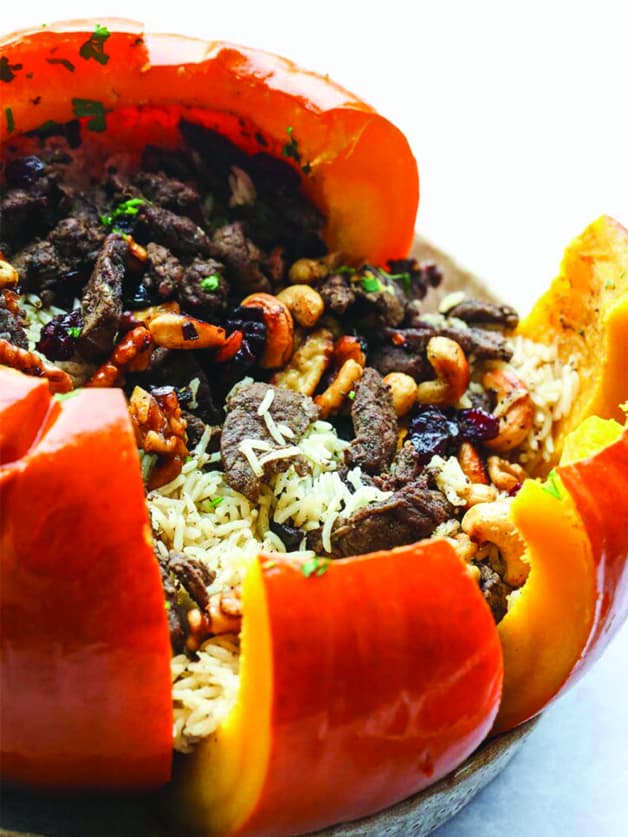 This rustic squash galette has a flaky buttery crust, a sweet-savory filling with goat cheese, prosciutto, and chestnuts, and is served with a drizzle of maple syrup.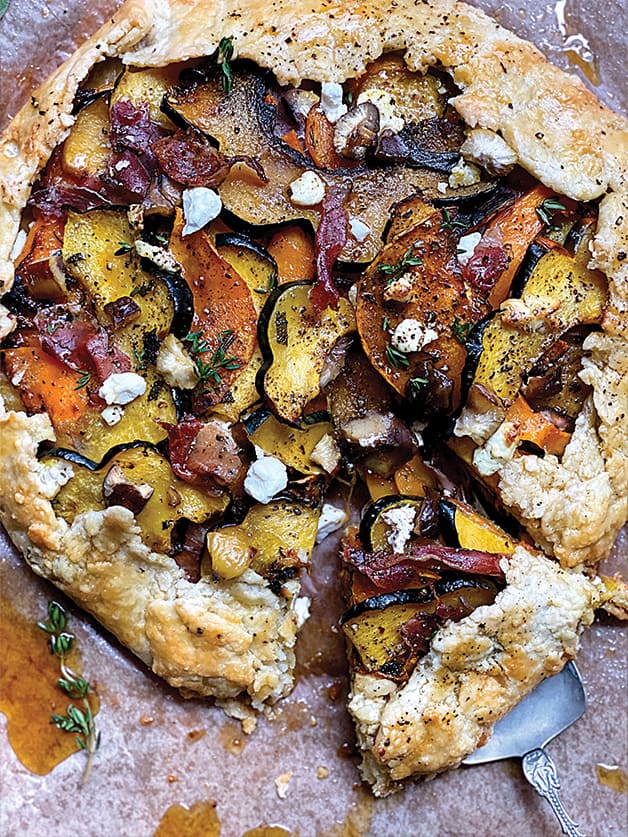 This delicious herby stew with cheezy dumplings is perfect for Fall. It's a comforting dinner that's great for the cooler weather.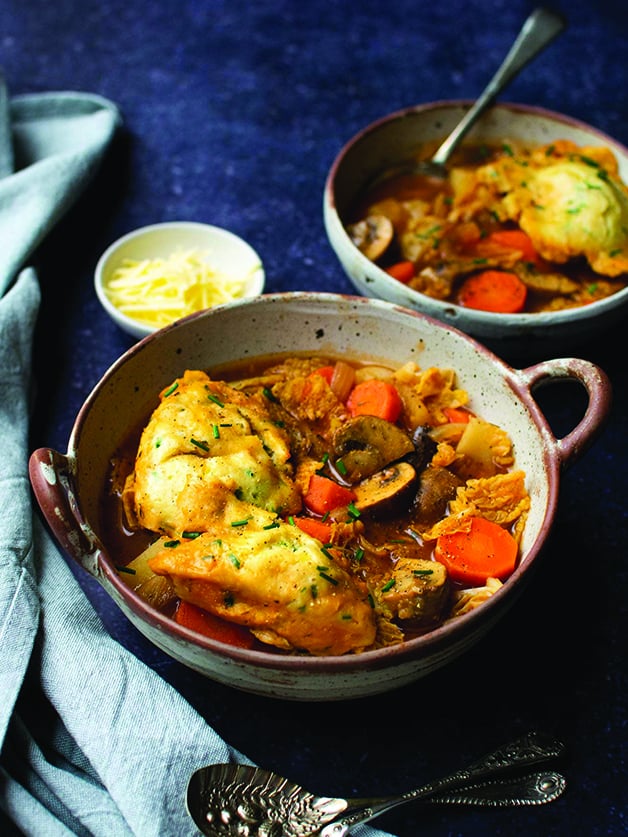 This Skillet Mac and Cheese with Bacon & Apples recipe can be made in a single skillet in 30 minutes flat. It's sure to become a weeknight favorite for the whole family!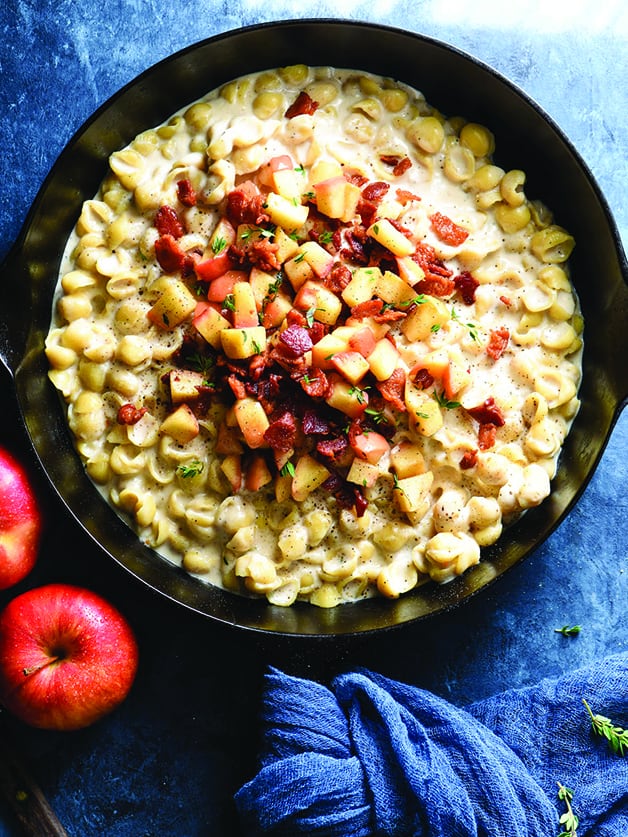 Stuffed Pepper Casserole is a cheesy and delicious one-pot meal full of vegetables, lean ground beef, and rice. It has the same great flavors as a classic stuffed pepper but is easier to make!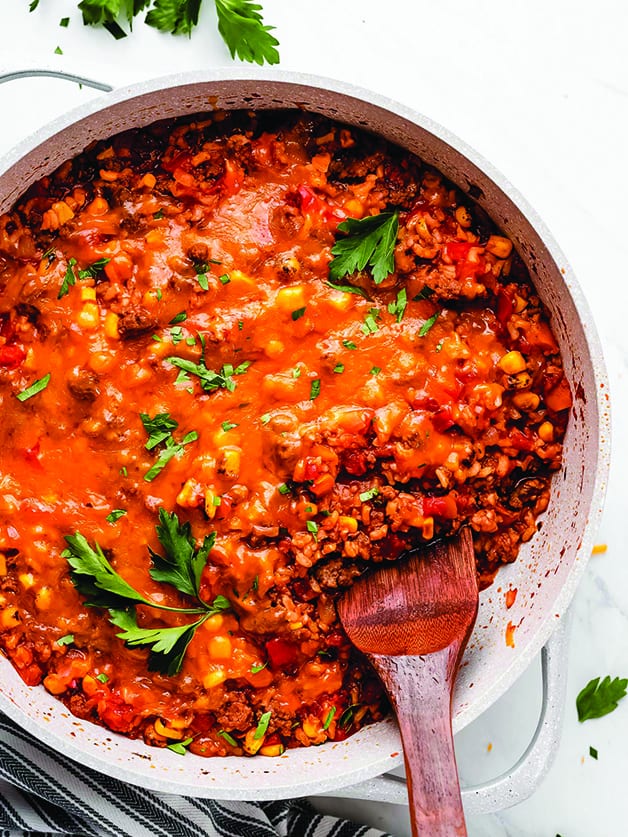 Zigni by End Of The Fork
Zigni is a delicious spicy & aromatic stew made with berbere seasoning. This recipe shows how to prepare it using beef, lamb, or goat meat.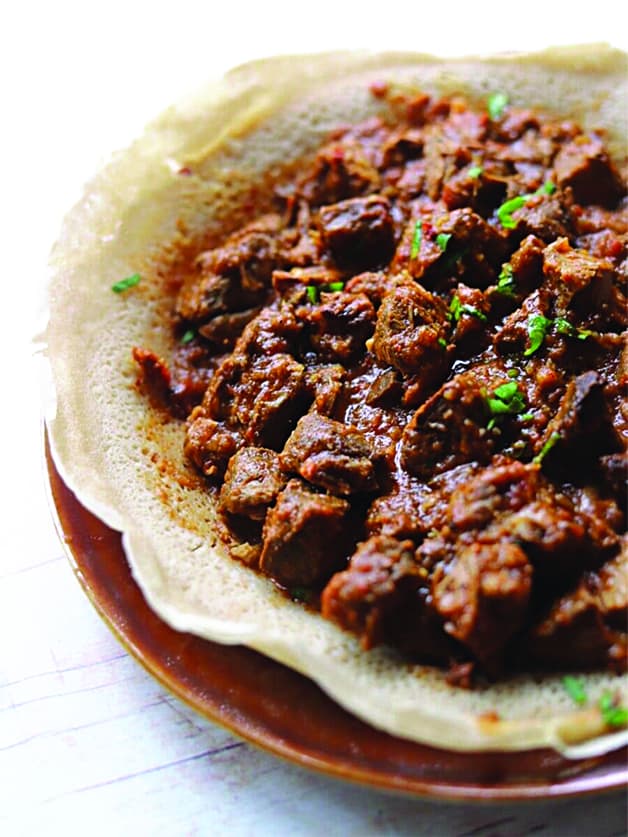 If you're in the mood for warm and comforting food this Autumn, this welsh lamb, and pumpkin pie should hit the spot. Make a big one for the family to share, or individual portions in your own little pie dishes.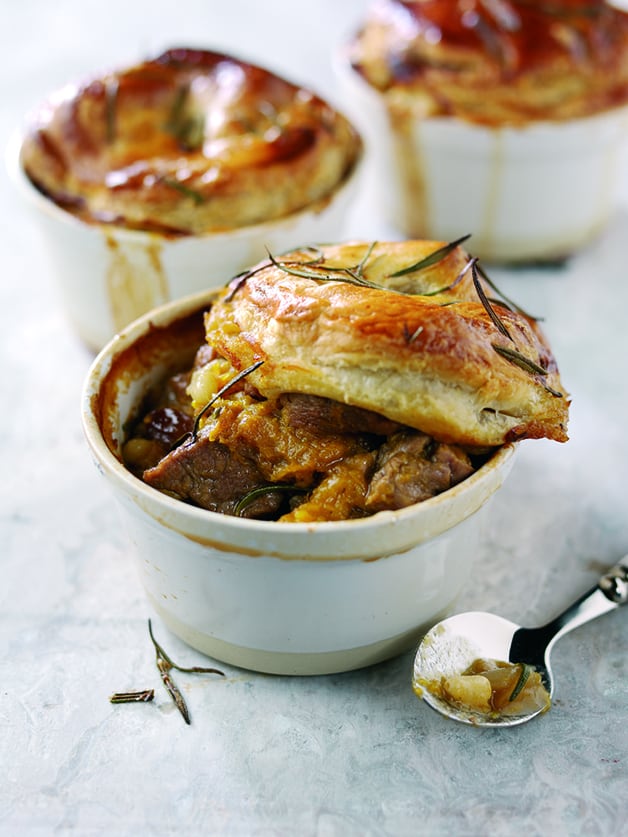 Put a fall spin on classic comfort food with these braised apple cider short ribs. After slowly cooking in apple cider with a medley of herbs, these short ribs come out fall-off-the-bone tender with the most incredible flavor.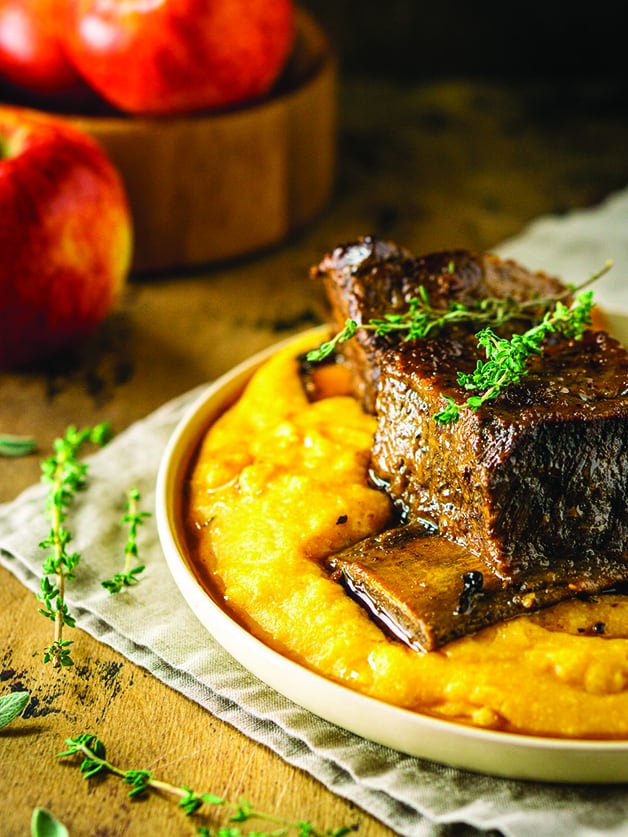 When it's dreary and cold outside, it's time to cook a comforting dinner for two! Learn how to make Stovetop Beef Stew For Two with potatoes, carrots, and peas plus learn which cut of beef is best for stews.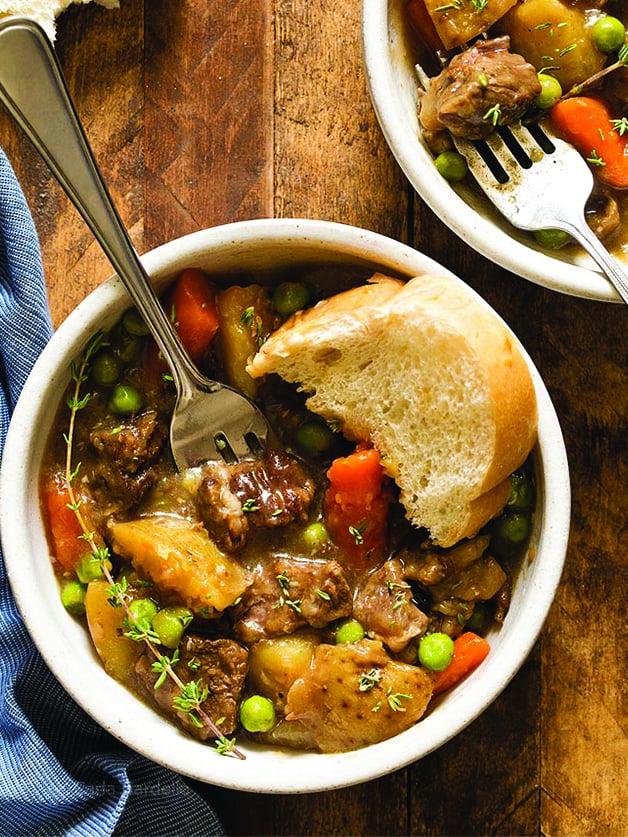 Enjoy this savory, comforting, vegan sweet potato casserole with black beans, kale, quinoa and roasted garlic sauce. It's easy to assemble and perfect to make ahead.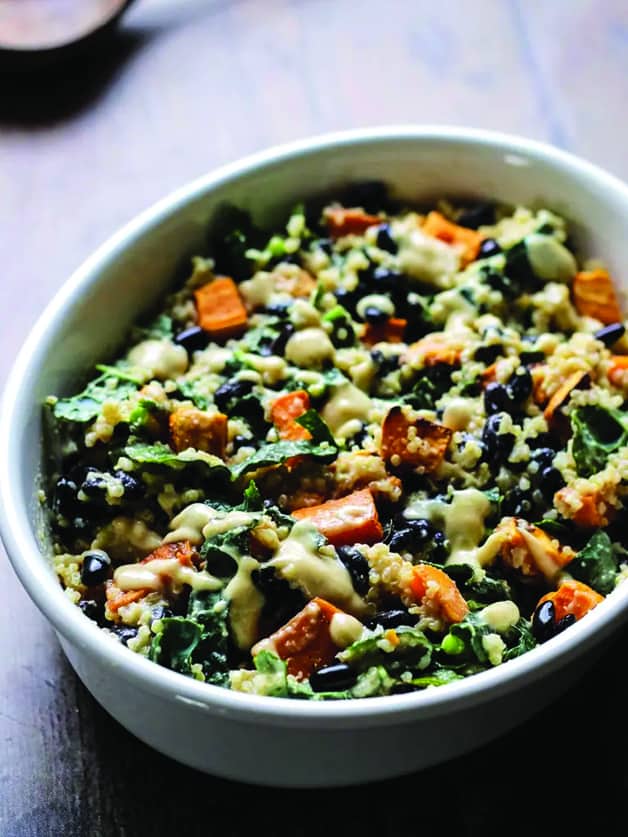 This spatchcock chicken recipe is the perfect fall meal. Covered in warm fall spices, this chicken is spatchcocked for a quicker, more even roasting and is finished with delicious cider gravy.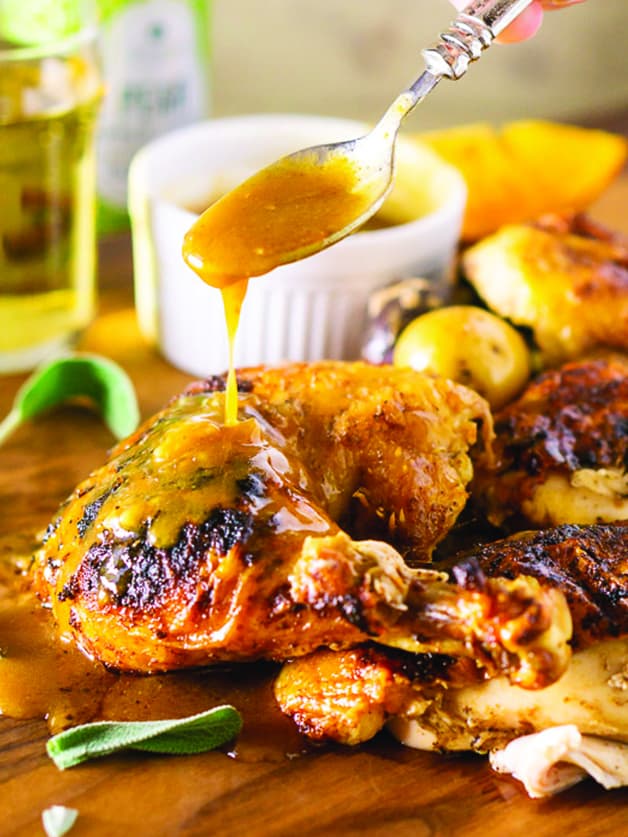 Roasted brussels sprouts, carrots, sweet potatoes, fresh greens, brown rice, quinoa, and pepitas all topped with a creamy chili dressing. These Fall Veggies & Rice Harvest Bowls are delicious and perfect for a healthy, easy lunch or dinner!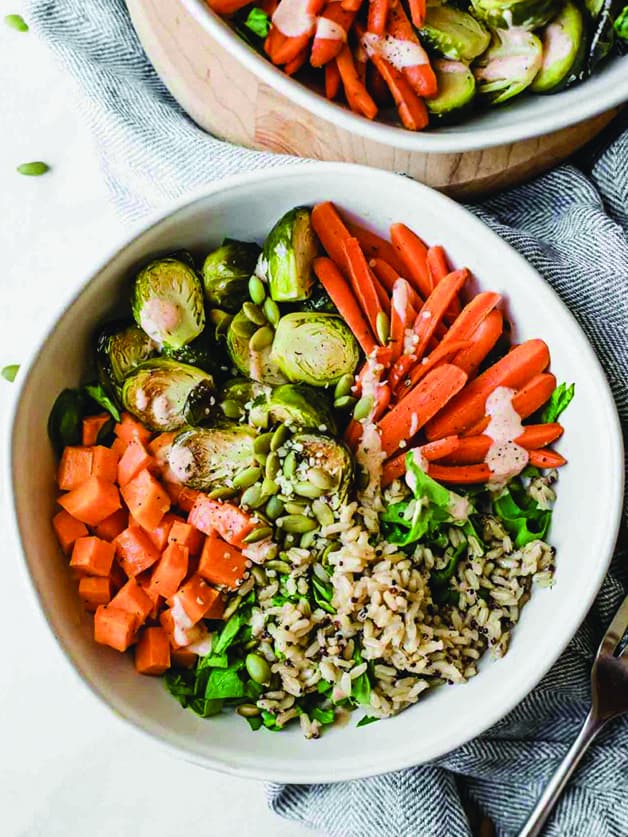 Italians call them crostatas while the French prefer galette. No matter what you call it, it's basically a free-form pie. Whether you use the homemade or premade crust for this Butternut Squash and Sage Ricotta Crostata, be prepared to love it. While you're at it, make two.
Delicious Creamy Sun-Dried Tomato Pasta Sauce with dill, and capers. This pasta dish is great on its own or with a choice of protein!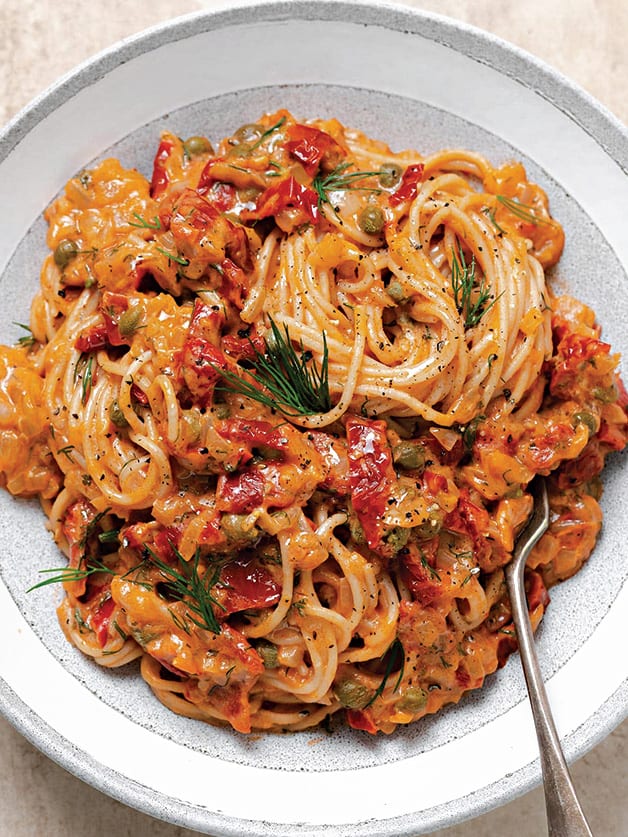 Does your family enjoy curry? We do! There's something about the strong spices that blend so well with all the ingredients to create a dish with heat and a kick. It warms you up from the inside out! This Pumpkin Curry with Chicken is full of fresh veggies and flavors with tender chicken in a creamy pumpkin sauce. Enjoy it!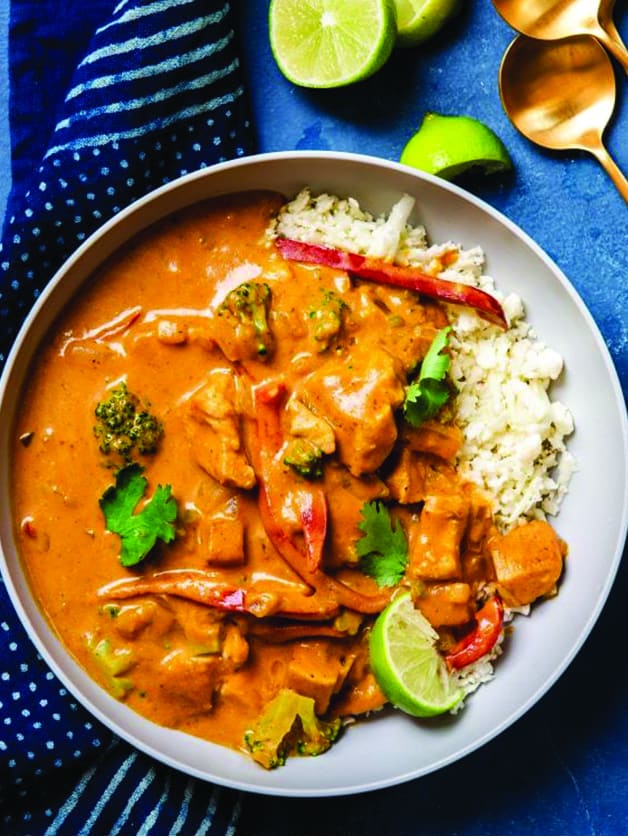 Tender, fall-apart chicken with a warm, spiced applesauce barbecue sauce and crispy apple cabbage slaw on soft pretzel buns make these Slow Cooker Applesauce Pulled Chicken Sandwiches THE sandwich for fall!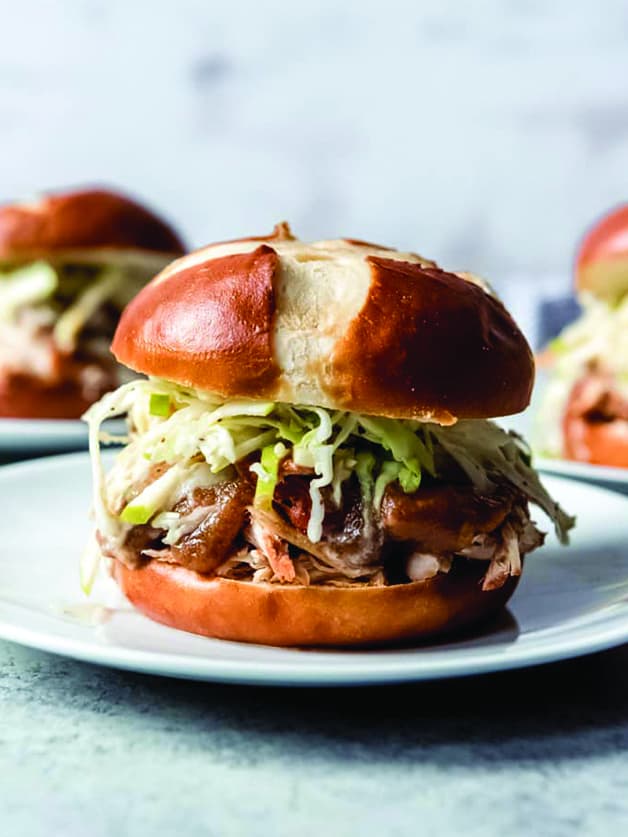 Simple to make and even easier to eat, this vegan pumpkin pizza will have everyone reaching for a second slice before they even finish the first!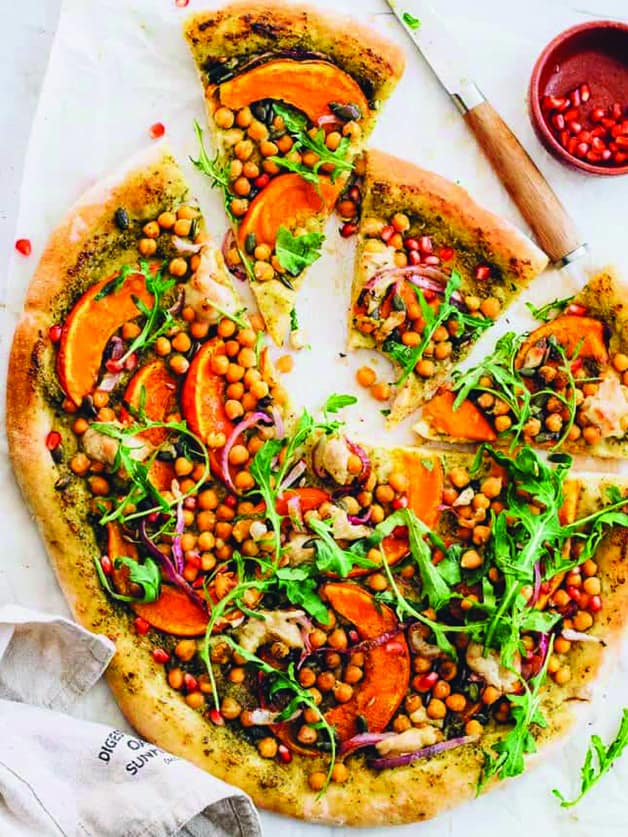 Pumpkin risotto is one of my favorite recipes when it comes to Autumn time. It's creamy, hearty and packed with flavor.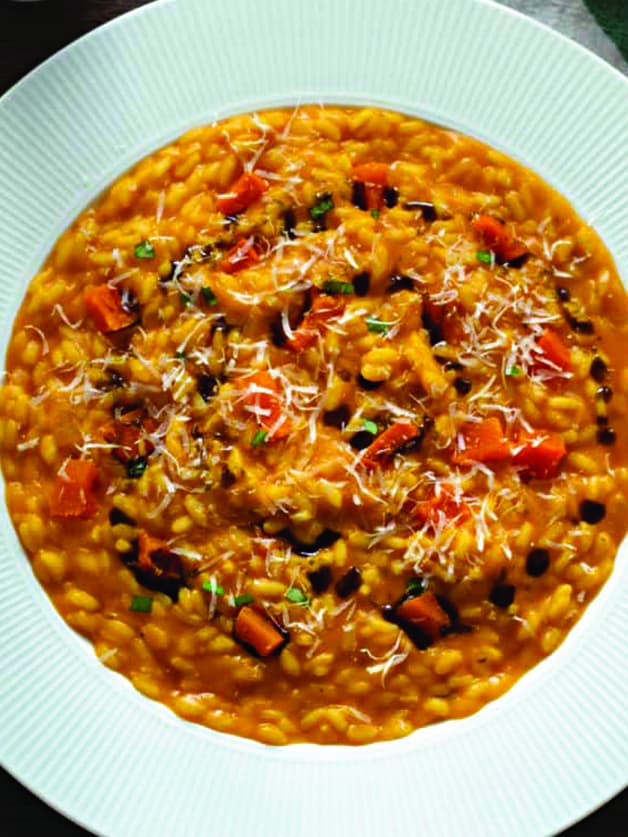 This simple, creamy homemade spicy vodka sauce is baked in the oven and then tossed with penne pasta and mozzarella cheese.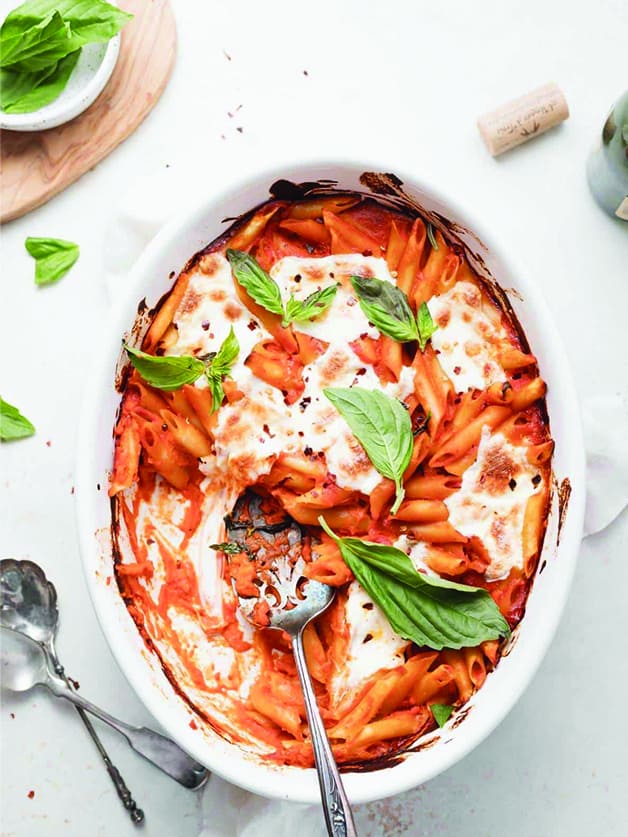 Roasted chicken is incredibly easy to make, with beautiful golden brown, crispy skin, brushed with a glaze full of amazing flavor. This simple-to-make whole roasted chicken is perfect for weeknights or a Sunday supper.
Roasted Pumpkin and Ricotta Stuffed Pasta Shells are such delicious comfort food. There are few things in the culinary world that are more satisfying than having a dish of baked pasta bubbling away in the oven. The edges of the pasta become crispy and brown whilst the filling remains rich and creamy. This is truly a crowd-pleasing meal!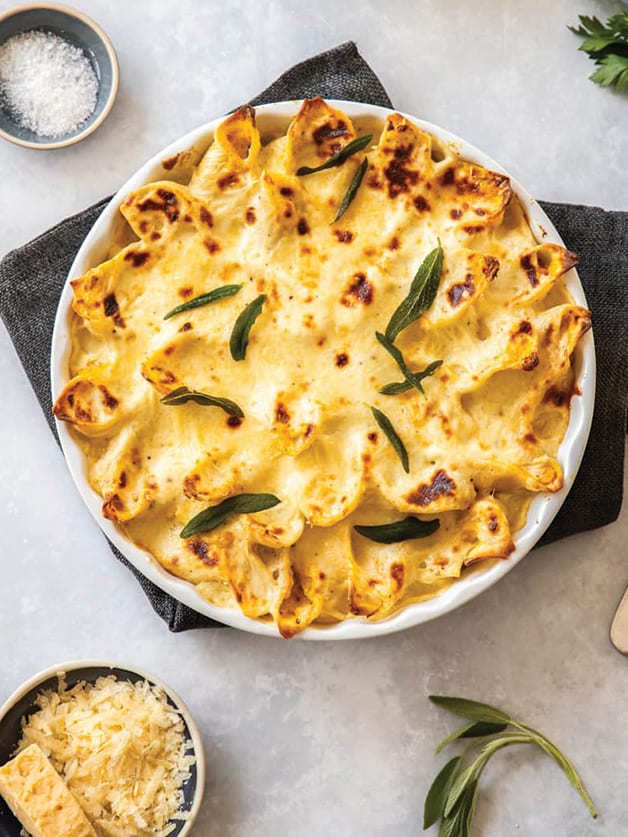 Comforting Pumpkin Chili is a perfect meal for the cold season. This beef chili is made with two types of beans, veggies, and a combination of fresh pumpkin and pumpkin puree.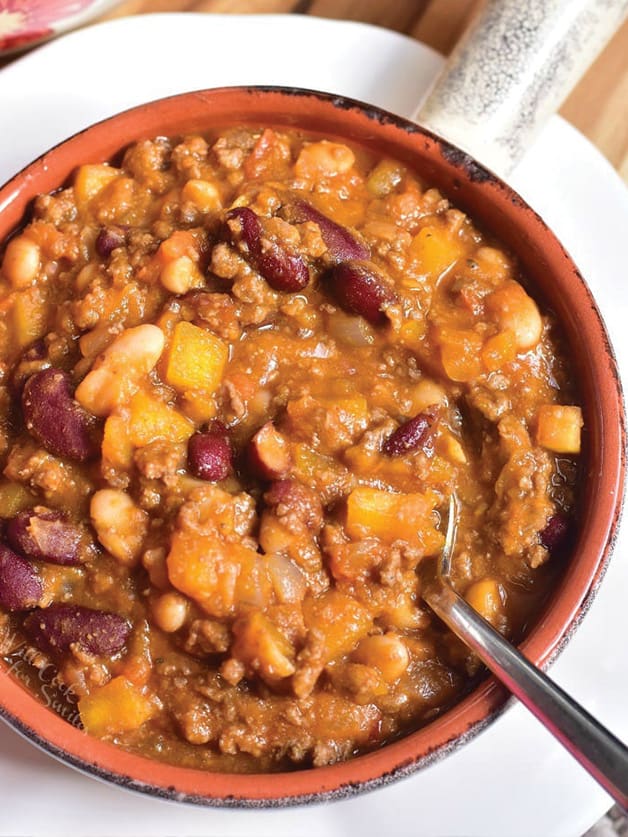 Check out my Greek pantry staples
WANT TO EAT LIKE A GREEK? Subscribe to my newsletter and follow me on Facebook, Pinterest, and Instagram for all of the latest updates.