This impressive savory galette with figs, prosciutto, and mizithra cheese is sweet and salty and wrapped in a rustic walnut crust. It can be an appetizer, side dish, or main course.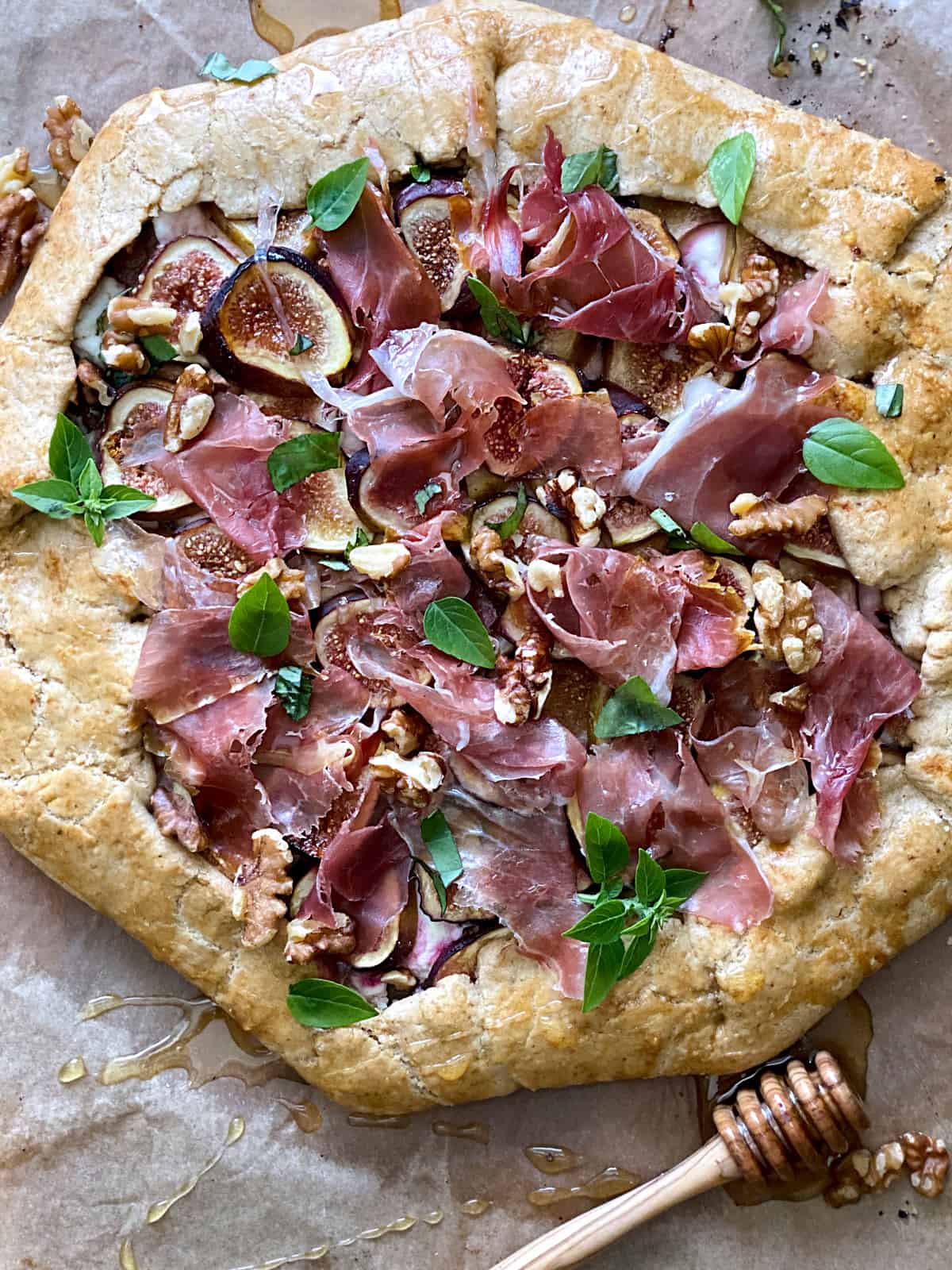 My favorite dishes always include some kind of buttery crust, cheese, and salty yet sweet notes. For example this savory galette with figs and prosciutto. It is perfect for any time of the day lunch or dinner and again the next morning for breakfast with coffee!
What kind of pastry is a galette?
A galette (in French cuisine) is a single crust, free-form pie with either a savory or sweet filling. They are easy to make, the galette crust edges fold over themselves and hold in all the filling.
If you've never made a galette before, know is they are quite simple to make. It does not require a special pie dish or tart pan. The crust is foolproof and it does not need to rest for a long time. Galette crusts can have ground nuts like pistachios or walnuts even grated parmesan cheese mixed in with the flour. Like this savory leek & potato galette, with a pistachio crust, it is delicate yet earthy. And this tomato galette with feta is one of my favorite summer dishes.
You can make a savory or sweet galette. For fillings, you can use combinations of anything you like.
A sweet galette can have fillings of seasonal fruits like apples and pears, all kinds of berries, peaches, plums, mangoes, etc. You can include jams, cheese like mascarpone, as well as caramel toppings and chocolate.
A savory galette is usually filled with a mix of vegetables, fruit, cheese like gruyère, taleggio, and feta, and meats like prosciutto, ham, etc. This squash galette with goat cheese & prosciutto for example has lovely fall flavors.
This is savory galette has a walnut crust and is filled with mizithra cheese, ripe figs, prosciutto, and a drizzle of honey with a touch of fresh basil.
Here is what you need: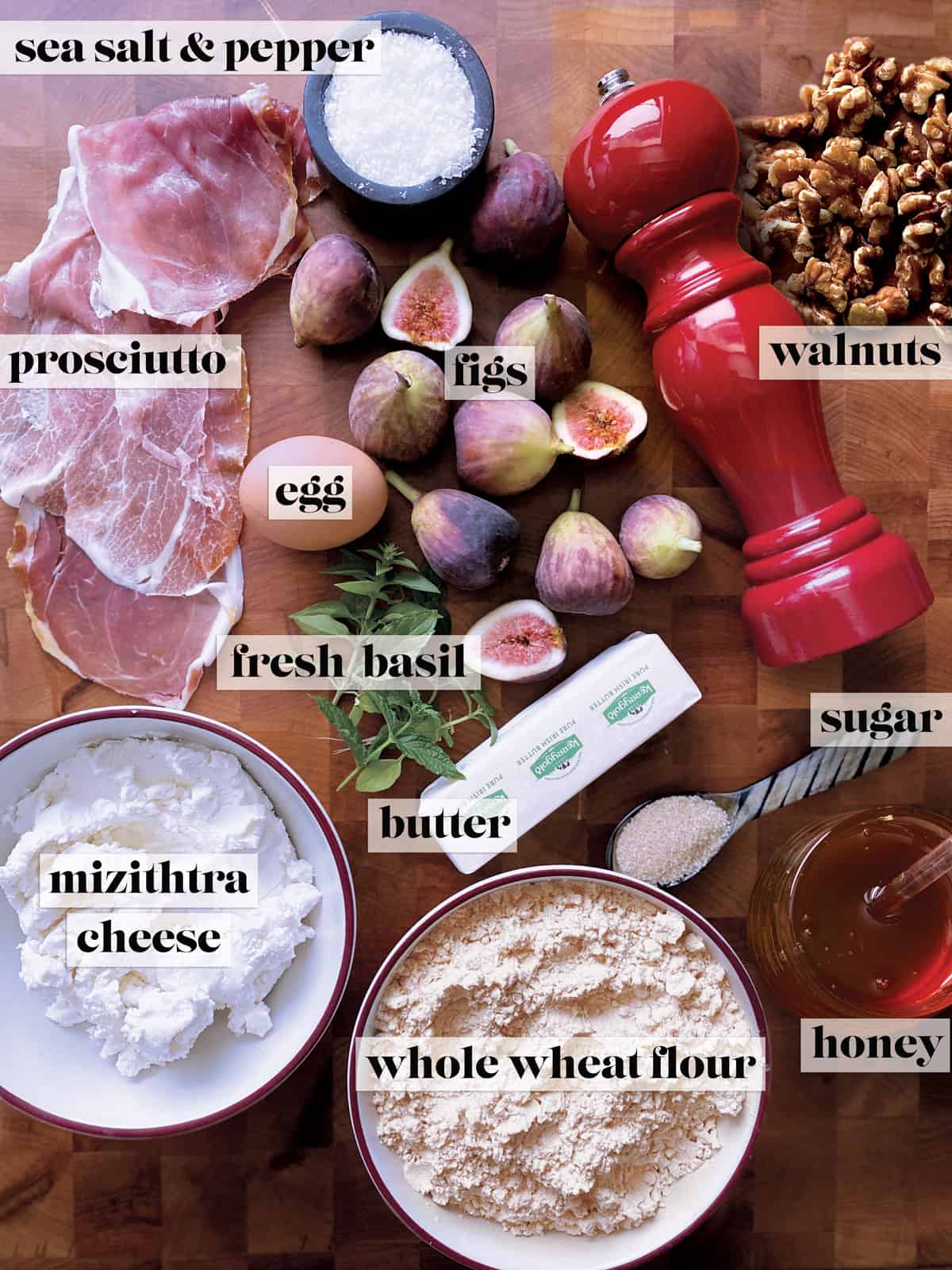 Whole wheat flour. I use an ultra-fine heritage whole wheat pastry flour from Sunrise Flour Mill. You can use all purpose flour, whole wheat or bread flour of your choice—whatever you have handy.
Walnuts. I grind them in the crust and also as a topping before serving.
Good quality butter. I always use salted butter. In case you have regular unsalted just add a teaspoon of salt when you mix the dough.
Mizithra cheese. This is a soft cheese primarily produced in Crete. There are two kinds, sour soft mizithra and regular sweet mizithra. I used the sour in this galette. I realise it is not easy to find so you can substitute with goat cheese or feta cheese mixed with a little ricotta. Please don't confuse it with dry mizithra, a cheese similar to ricotta salata. Check recipe notes.
Ripe figs. My favorites are mission and brown figs.
Proscuitto. You can't beat the combination of the thinly sliced Italian dry-cured ham with ripe figs, tangy cheese and honey.
Fresh basil. Herbs make any dish feel like fresh and bright.
Honey. A drizzle here and there is all you need for a sweet and savory flavor.
How to make this galette
Making galettes is as easy as baking a pie. It actually might be even more fun!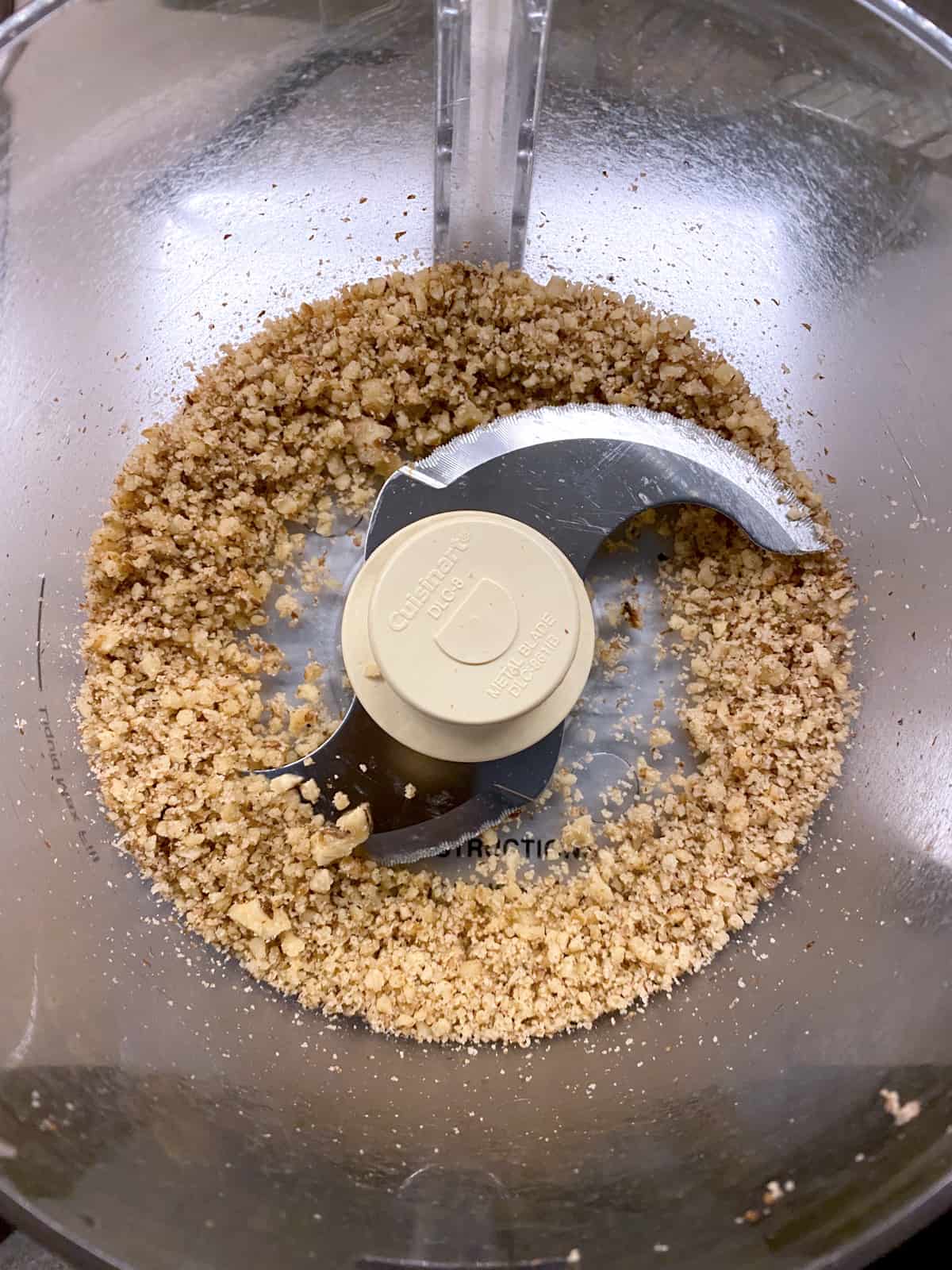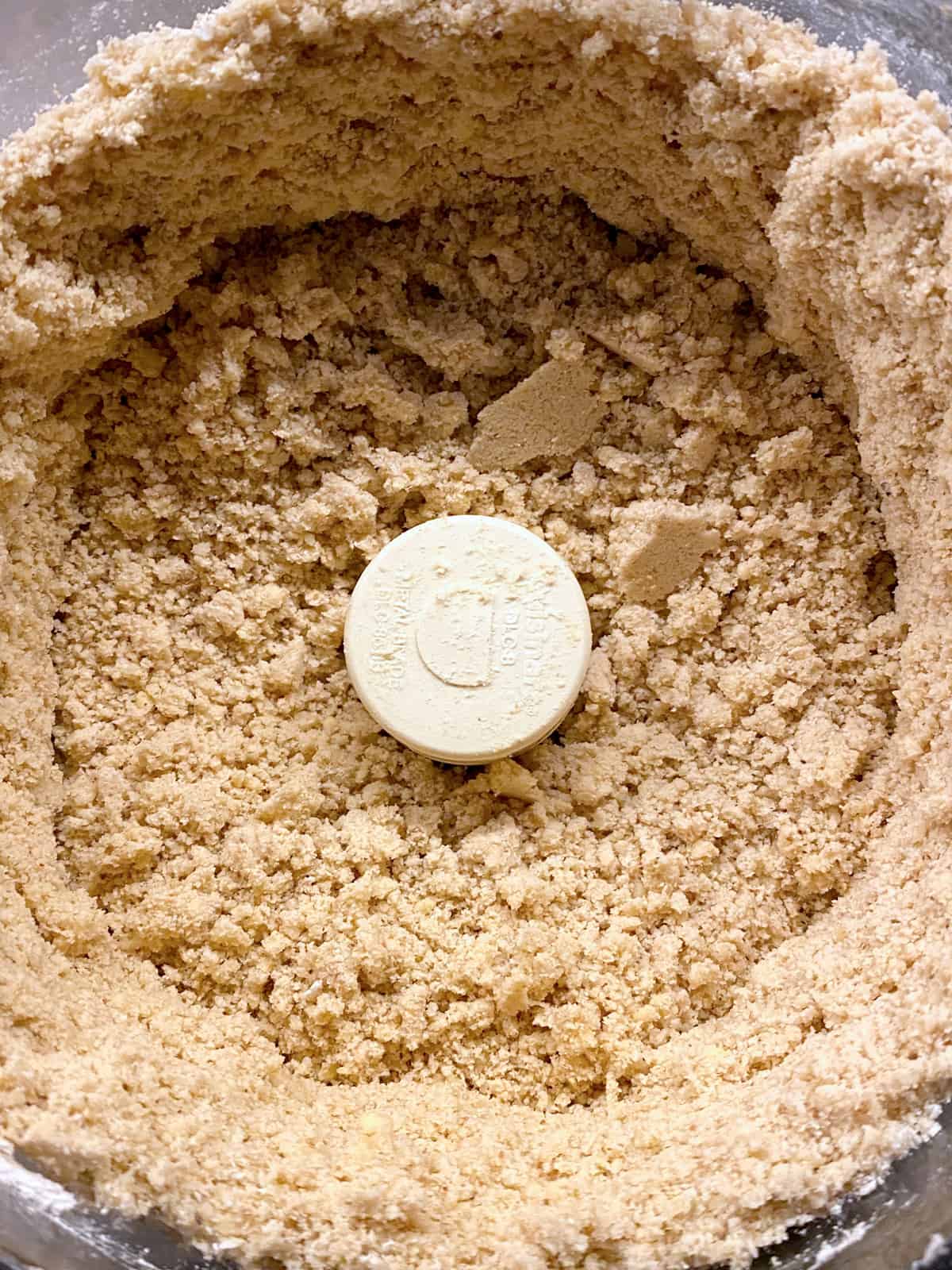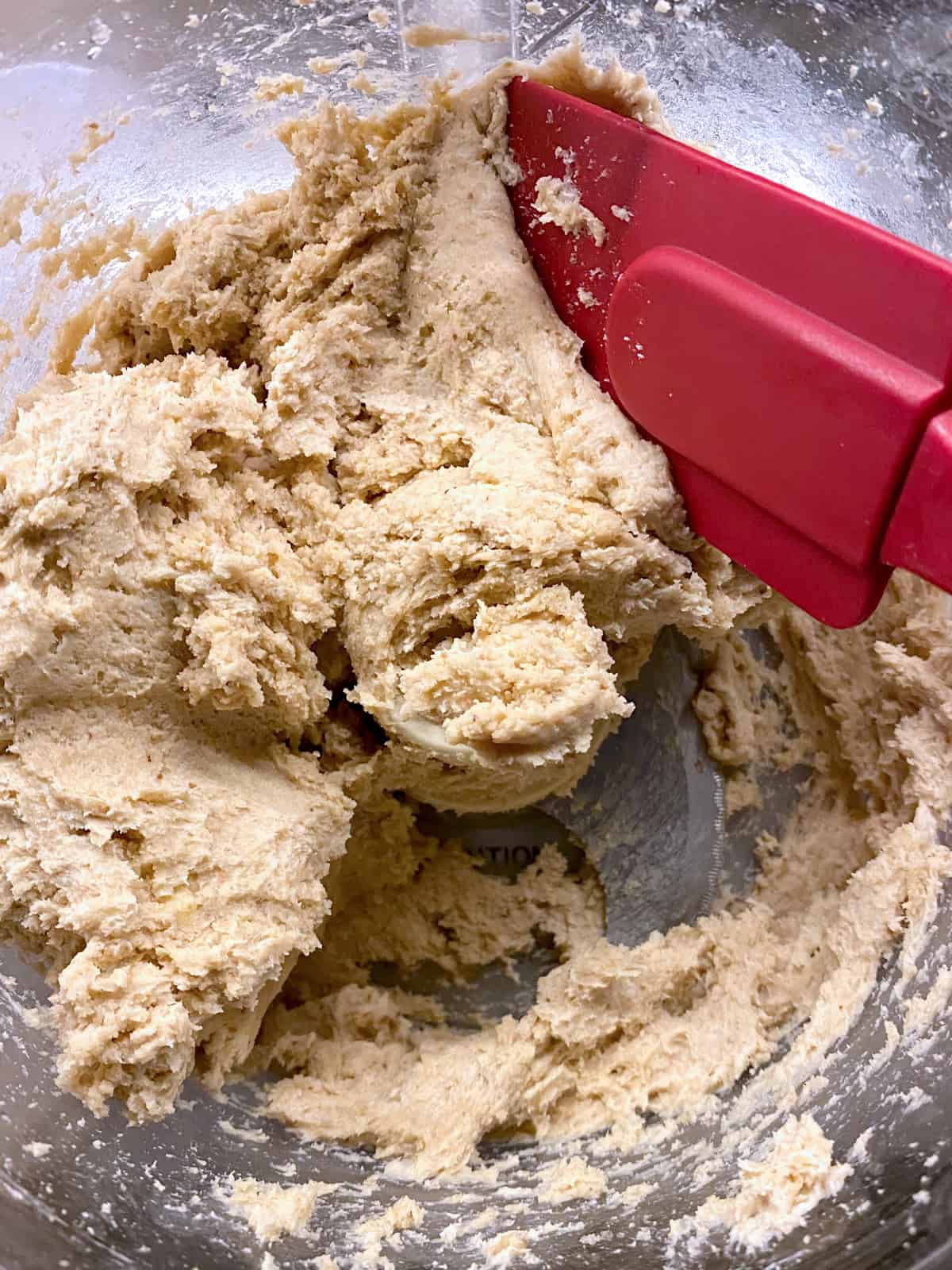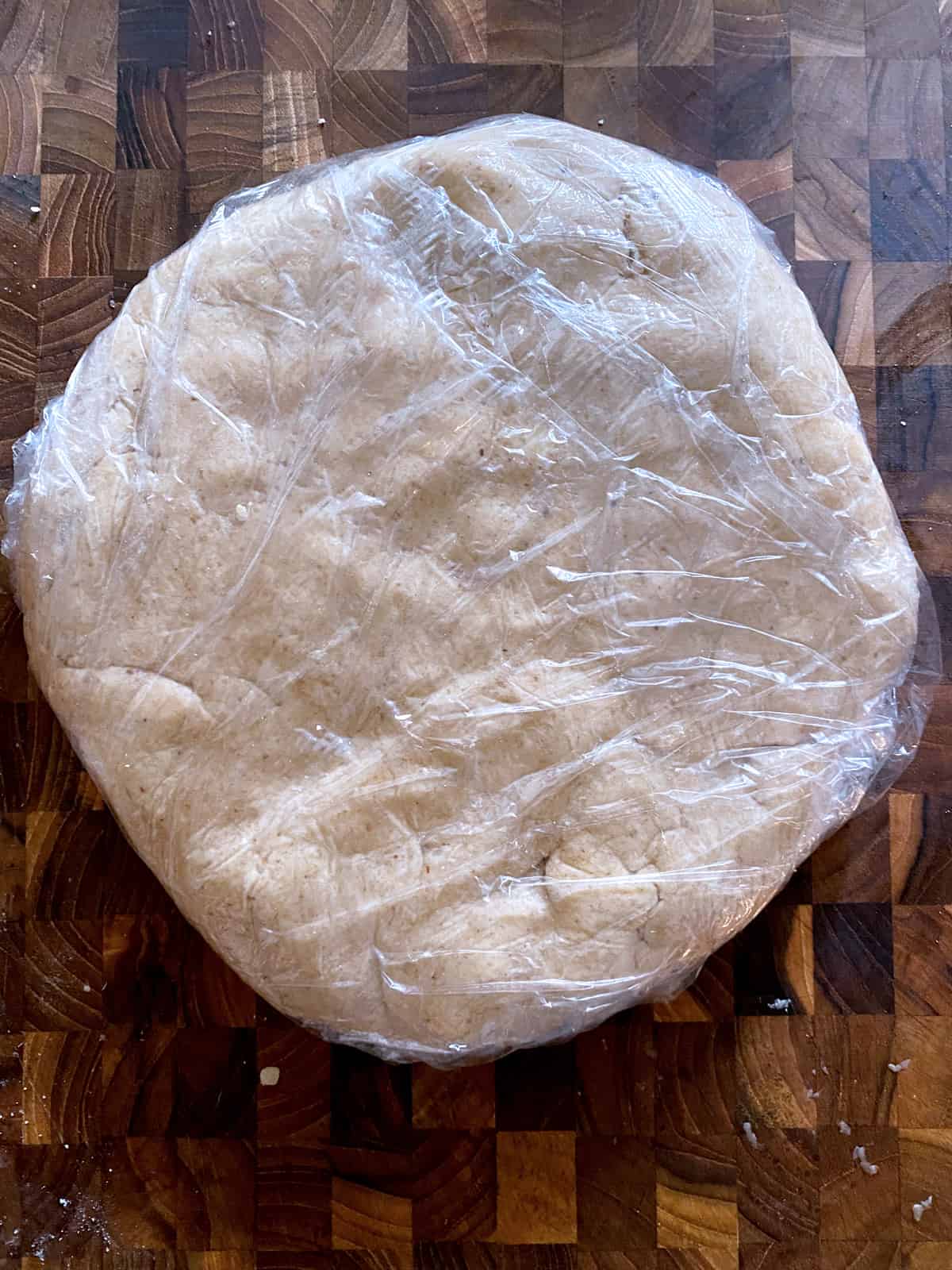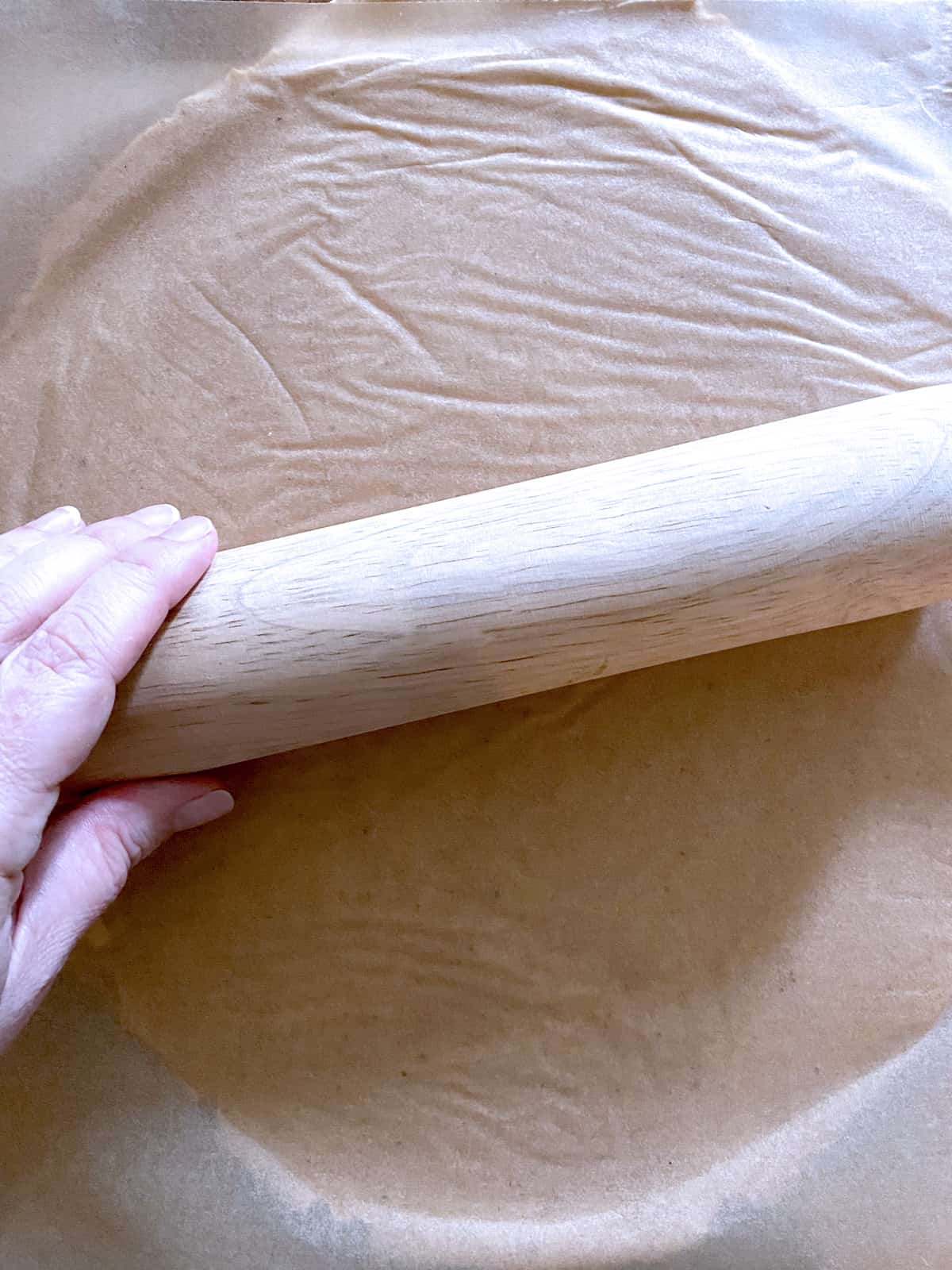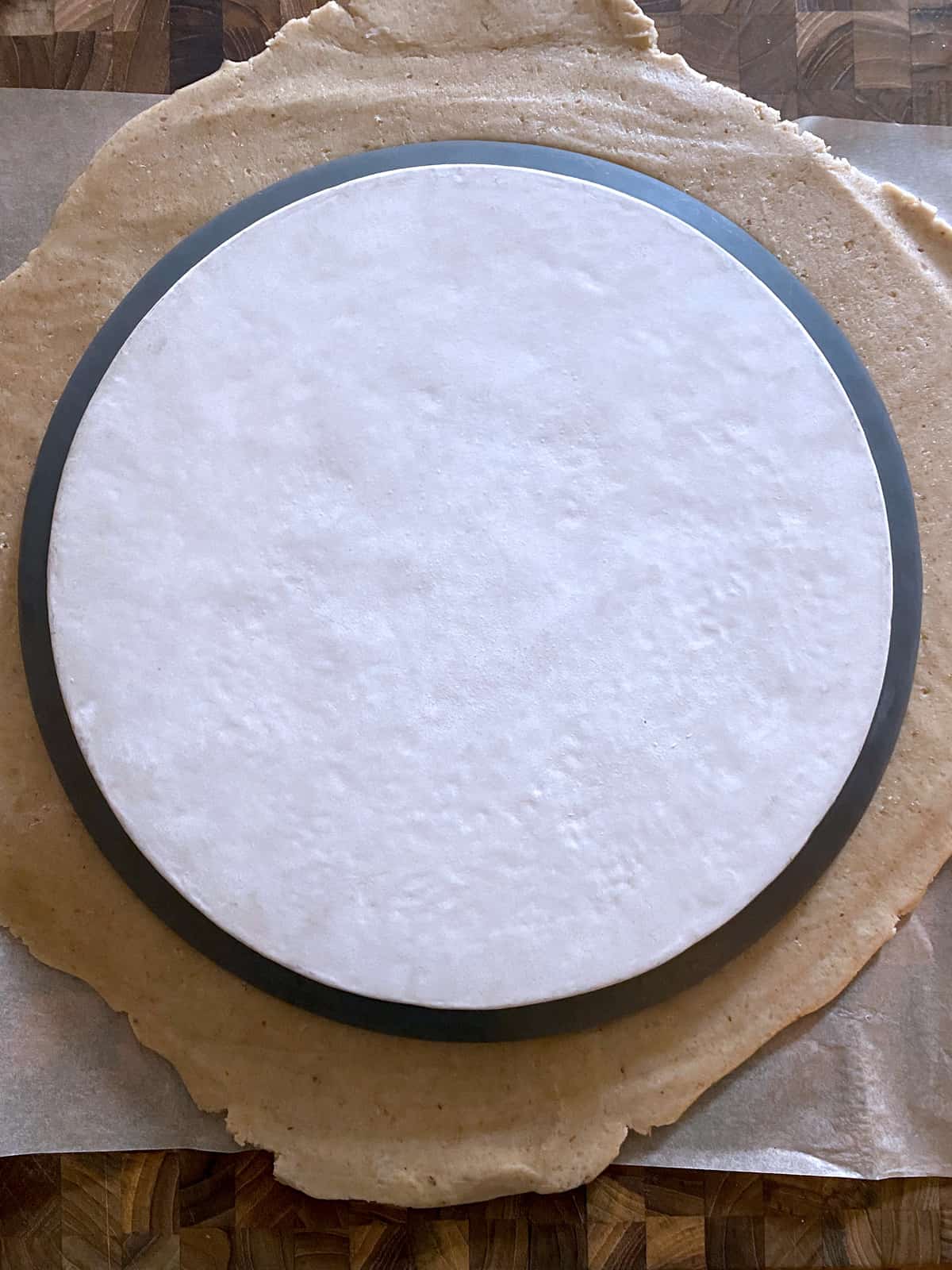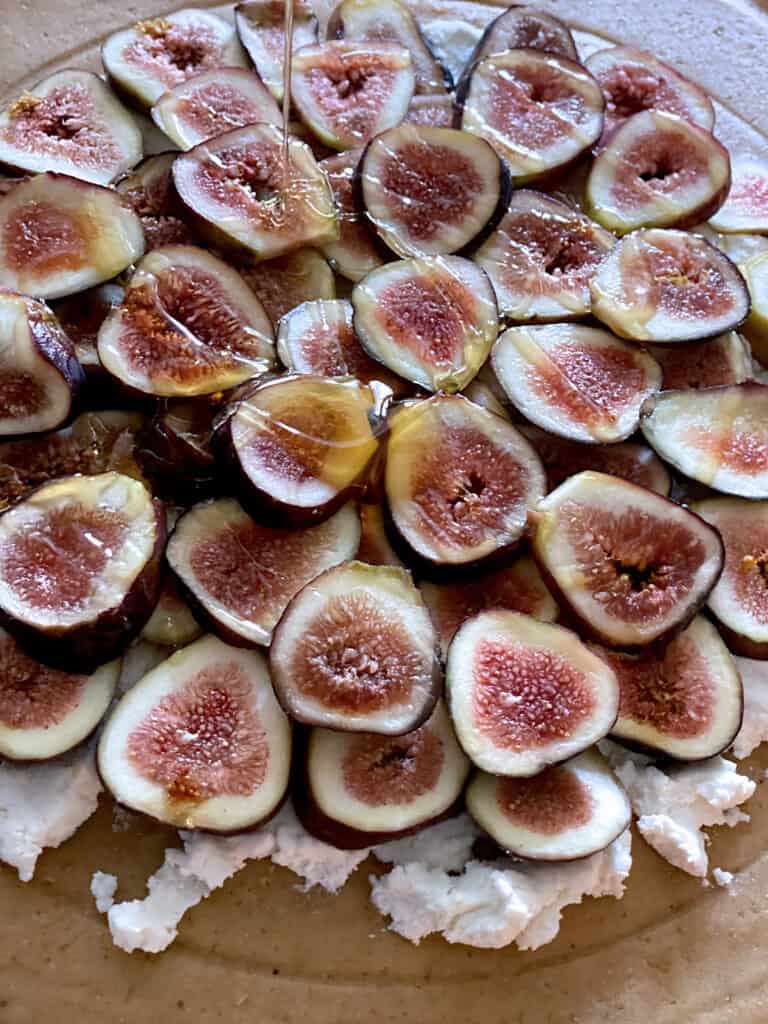 When the galette is out of the oven drizzle it with honey and add pieces of prosciutto and scatter some basil leaves all over the top and serve.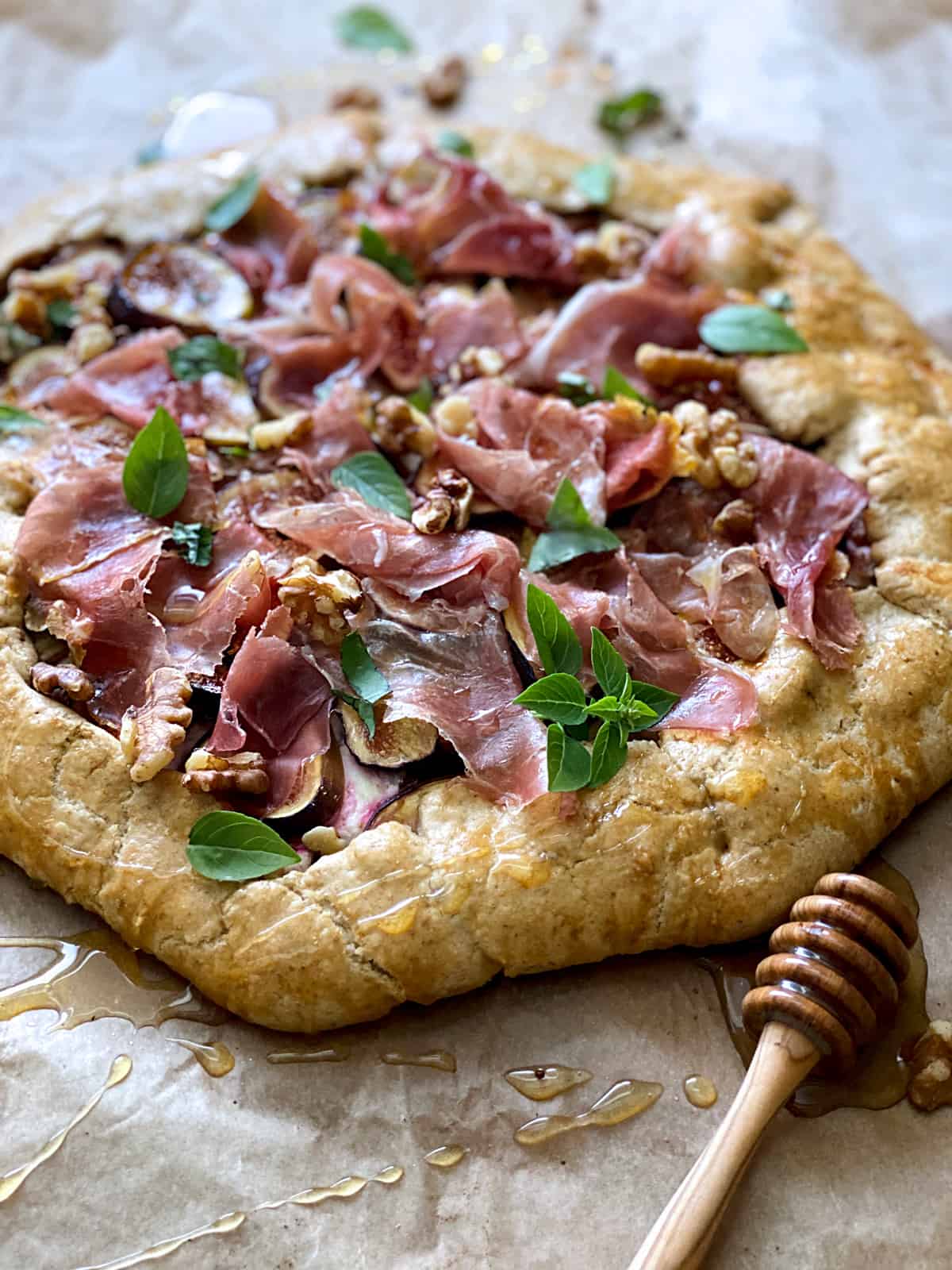 How to serve this galette
This savory galette can be the main dish next to a large green salad. I love pairing it with an arugula salad and a balsamic dressing. A classic Greek lettuce salad will work well also.
Apart from serving large slices of this galette as the main course, you can slice in smaller portions for a delicious appetizer. Other starters that go well with this galette are these cheese triangles - tiropitakia, eggplant fritters - melitzanokeftedes, and a delicious red kabocha squash soup.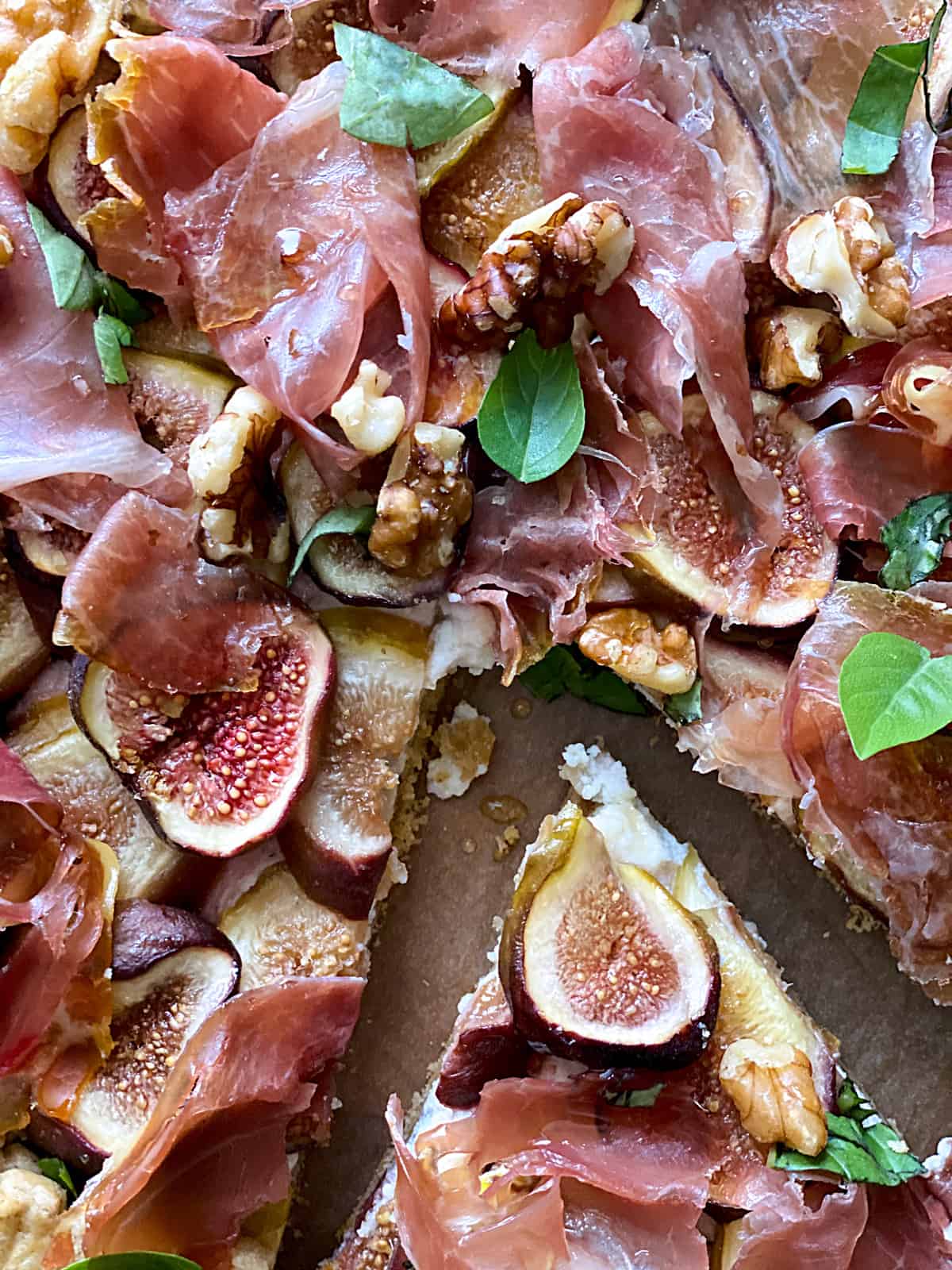 Helpful Q&A
What is heritage pastry flour? Is that a brand?
I am gluten sensitive and their grains are less likely to bother me. It is a high-quality less processed whole wheat flour. You can find helpful info at Sunriseflourmill.com.
I don't think I can get fresh figs now. Is there any worthy substitute, dried figs?
You can definitely use dried figs. They might be really sweet so adjust the amount of honey in the galette. Maybe skip one tablespoon?
You can also use fresh peaches, or fresh pears when in season, they should work well.
Can I use lard instead of butter?
You can substitute with lard, you can use the same amount as with butter. Lard will affect the texture of the crust, it might be a little more savory and drier with more crumble.
When you say in your recipes to always get Greek feta cheese, do you mean feta made from goat's or sheep's milk and not cow's milk or do you mean it must be Made in Greece?
Personally, I am Greek-born and raised can only allow myself to use Greek feta, Made in Greece. I really don't like the French fat-free feta, for example, fat-free feta does not exist in Greece. I also don't buy the crumbled feta in plastic containers sold in supermarkets, I find it too dry and flavorless.
My advice is: Always get a block of feta in brine. You can find good feta at Shoprite, Whole Foods, etc.
The Greek brands of feta I usually get are DODONI and MT VIKOS. Local Mediterranean grocery stores will have feta in brine. You can order online from Titan Market in Astoria NY. Bulgarian feta is also good and might be available in these markets.
Trader Joe's also has Greek feta block in brine.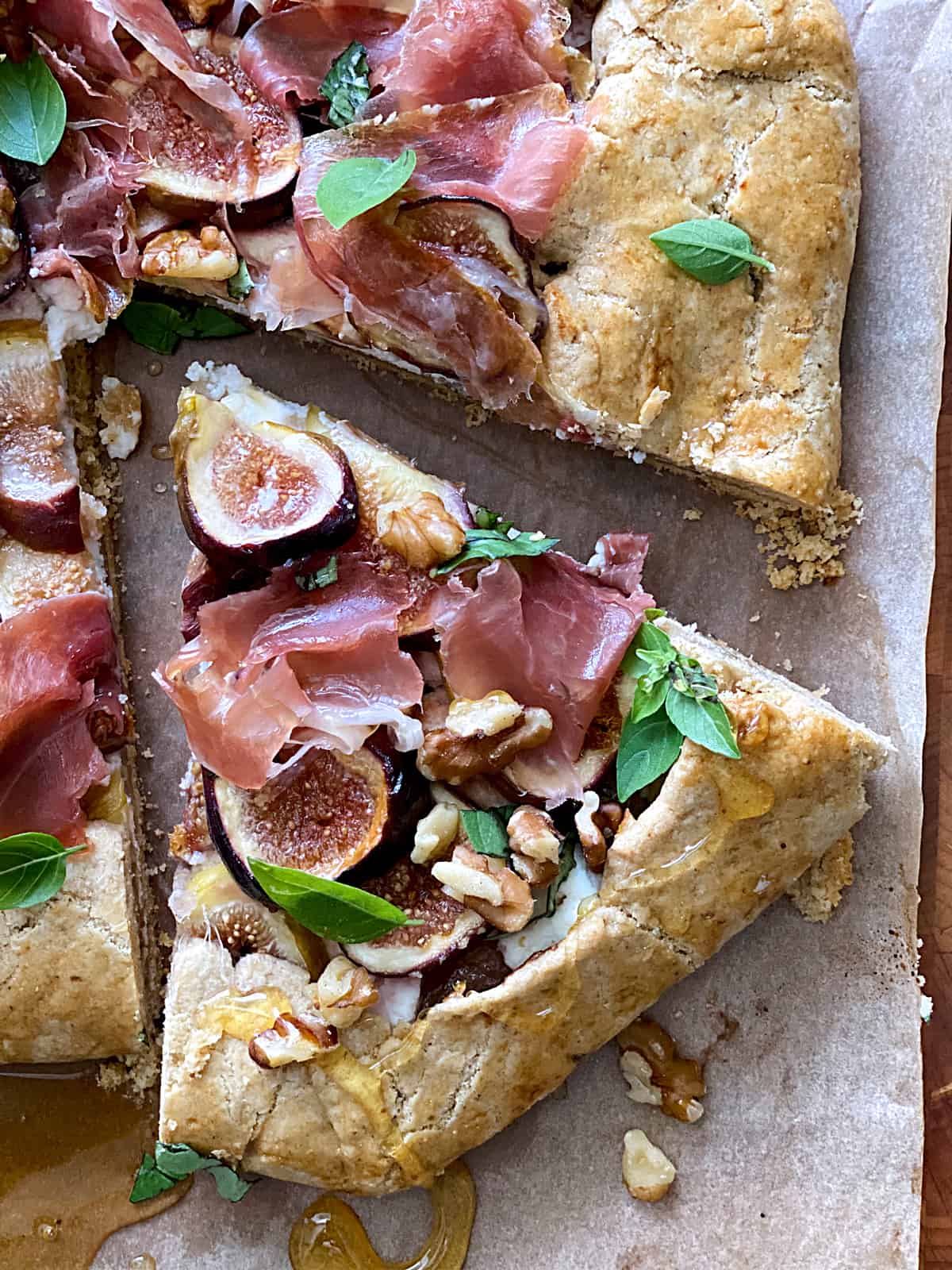 You can substitute gluten free all purpose flour for regular whole wheat flour. I had good results with Bob's Mill. If you use gluten free flour bake the galette for an extra 5 minutes.
You can make the dough one day ahead. Just keep it chilled.
Pecans can be a great substitute for walnuts.
The best substitutes for proscuitto are slices of black forest ham, cooked bacon and pancetta cubes, or a salami of your choice.
You may also like:
Check out my Greek pantry staples
Cooked this? Rate this recipe! You can also leave a comment below. I love hearing from you!
WANT TO EAT LIKE A GREEK? Subscribe to my newsletter and follow me on Facebook, Pinterest, and Instagram for all of the latest updates.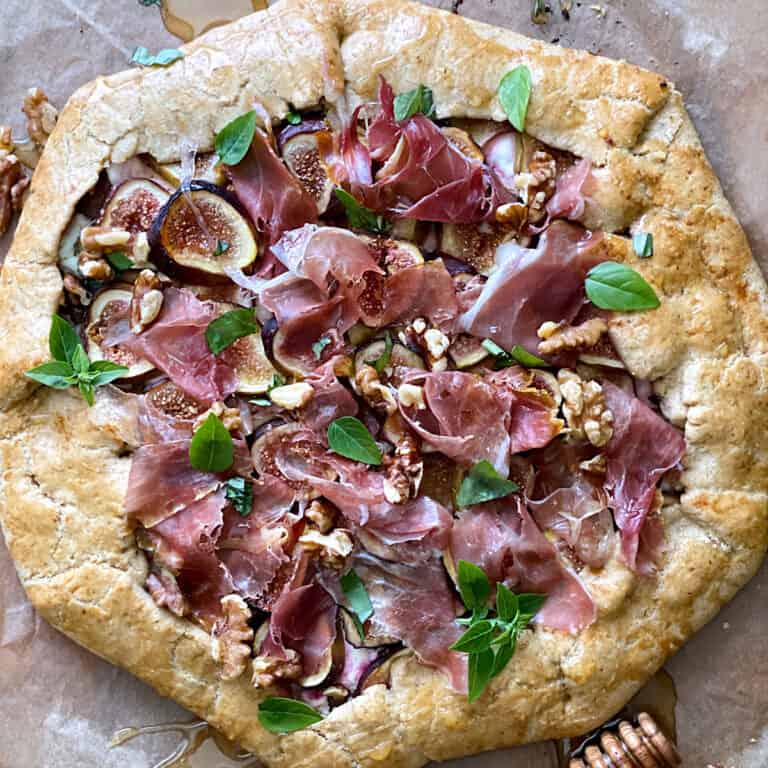 Savory Galette With Figs And Prosciutto
This galette is sweet and salty and wrapped in a rustic walnut crust.
Equipment
Food processor

Parchment paper

Rimmed baking sheet

A dinner plate (about 10 inches)

Compostable cling wrap
Ingredients
For the walnut crust
2

sticks

salted butter

cold, cut into small pieces

½

cup

walnuts

1

tsp

sugar

2½

cups

heritage pastry flour

or all-purpose flour

½

cup

ice water
For the filling
2

tbsp

honey

divided

13

oz

sour mizithra cheese

or soft goat cheese

12

fresh figs

or more, depending on the size. I like brown or missionc figs.
For serving
⅓

lb

prosciutto

⅓

cup

walnuts

½

cup

fresh basil leaves

coarsely chopped

1

tbsp

honey

for drizzling
For the egg wash
1

egg

beaten with a tablespoon of water
Instructions
Pulse the walnuts in the food processor until they are coarsely ground.

Add the flour and 1 tsp sugar to the food processor. Add the cold butter and pulse to combine, until the mixture resembles a coarse meal with some small clumps.

Keep the motor running and gradually add ½ cup ice water and process until the dough comes together. Don't overdo it.

Transfer the dough to your work surface, form it into a ball, then flatten it into a disk. Wrap it in cling wrap and chill for at least 30 minutes.

Heat oven to 400 degrees.

Place the dough on a large piece of parchment paper. Add another piece of parchment on top and roll out the dough to a 14″ round.

Take a dinner plate and place it upside down in the middle of the rolled-out dough. It will leave a trace. That is your guide for the filling. Add one tablespoon of honey all over that area.

Sprinkle the mizithra cheese on the dough, then lay the figs in a fan shape all over that circle. You can overlap them as you go.

Add a tablespoon of honey all over figs.

Gently fold the edges of dough over filling, tucking, and overlapping slightly as needed.

Brush galette crust with the egg wash.

Bake for 25 minutes.

When the galette is out of the oven drizzle it with honey and add pieces of proscuitto and scatter some basil leaves all over the top and serve.
Notes
The dough can be wrapped in plastic, then in foil, and frozen for up to 1 month.

I get my soft mizithra from a Greek market in Astoria NY. If you can't find soft sour mizithra at your local Greek grocer, substitute with goat cheese. Or you can mix 2 parts feta cheese mixed with one part ricotta. 
Nutritional Info – Please remember that the nutritional information provided is only an estimate and can vary based on the products used.
Nutrition
Calories:
707
kcal
Carbohydrates:
53
g
Protein:
18
g
Fat:
49
g
Saturated Fat:
25
g
Polyunsaturated Fat:
8
g
Monounsaturated Fat:
13
g
Trans Fat:
1
g
Cholesterol:
94
mg
Sodium:
499
mg
Potassium:
334
mg
Fiber:
4
g
Sugar:
20
g
Vitamin A:
1377
IU
Vitamin C:
2
mg
Calcium:
120
mg
Iron:
3
mg
Tried this recipe?
Mention @thegreekfoodie__ or tag #thegreekfoodie__