This impressive savory galette with figs, prosciutto, and mizithra cheese is sweet and salty and wrapped in a rustic walnut crust. It can be an appetizer, side dish, or main course.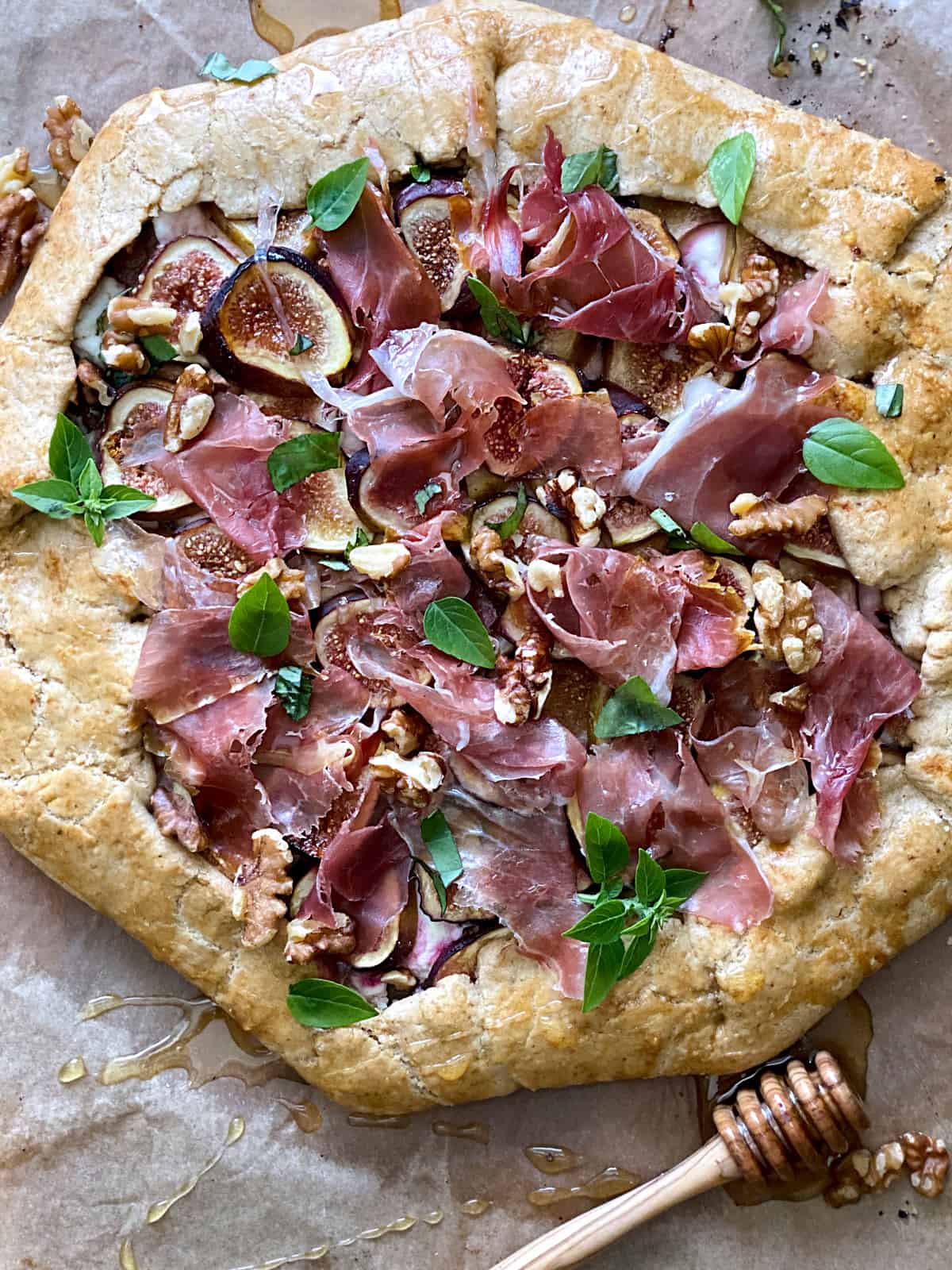 My favorite dishes always include some kind of buttery crust, cheese, and salty yet sweet notes. For example this savory galette with figs and prosciutto. It is perfect for any time of the day lunch or dinner and again the next morning for breakfast with coffee!
What kind of pastry is a galette?
A galette (in French cuisine) is a single crust, free-form pie with either a savory or sweet filling. They are easy to make, the galette crust edges fold over themselves and hold in all the filling.
If you've never made a galette before, know is they are quite simple to make. It does not require a special pie dish or tart pan. The crust is foolproof and it does not need to rest for a long time. Galette crusts can have ground nuts like pistachios or walnuts even grated parmesan cheese mixed in with the flour. Like this savory leek & potato galette, with a pistachio crust, it is delicate yet earthy. And this tomato galette with feta is one of my favorite summer dishes.
You can make a savory or sweet galette. For fillings, you can use combinations of anything you like.
A sweet galette can have fillings of seasonal fruits like apples and pears, all kinds of berries, peaches, plums, mangoes, etc. You can include jams, cheese like mascarpone, as well as caramel toppings and chocolate.
A savory galette is usually filled with a mix of vegetables, fruit, cheese like gruyère, taleggio, and feta, and meats like prosciutto, ham, etc. This squash galette with goat cheese & prosciutto for example has lovely fall flavors.
This is savory galette has a walnut crust and is filled with mizithra cheese, ripe figs, prosciutto, and a drizzle of honey with a touch of fresh basil.