This delicious baked feta pasta is quick and easy to make. The lovely tomato, fresh basil, and feta cheese sauce has all the Mediterranean flavors and aromas we love.
This baked feta recipe is a spin on the famous TikTok baked feta pasta. When I saw it, I realized it was just like the pasta dish we make at home all the time. My version has fresh herbs and I always add garlic to roasted tomatoes. Check this roasted tomato & olives appetizer, we make it often just for us to enjoy and it is our go-to whenever we have people over.
How to make this baked feta pasta
This is a super easy and delicious pasta dish.
I firmly believe the key to making simple food taste good is always the quality of ingredients.
You need:
Greek feta cheese
Tomatoes
Extra virgin olive oil
Garlic cloves
Fresh herbs
Dry oregano
Red pepper flakes
Freshly ground pepper
Sea salt
What is the best feta cheese?
There is a block of feta cheese in every Greek fridge. At the store, there are many different kinds to pick from. There is hard and soft feta, with salty and non-salty versions. In this list, we also have the different varieties per region. Feta from Northen Greece is not the same as the one you find in Crete, for example. In the United States, it is not as easy to find the best feta cheese as it is in Greece -obviously. Unless you have a greek or Mediterranean market close to you, you probably rely on your supermarket for feta cheese.
Please, I beg you, don't get the fat-free french feta that is widely available. Real good quality feta is never fat-free.
Try to get a block of feta in brine. There are a couple of Greek brands that are available in the US. I like both of them. Mt Vikos feta and Dodoni feta are available at most grocery stores, and they are both great. Trader Joe's also has good quality feta in brine.
The prepackaged feta crumbles are not ideal for this recipe, but you can use them if you need to. Gather the crumbles together in the middle of your pan to resemble a block of cheese. Follow the rest of the recipe as-is, and all will be well.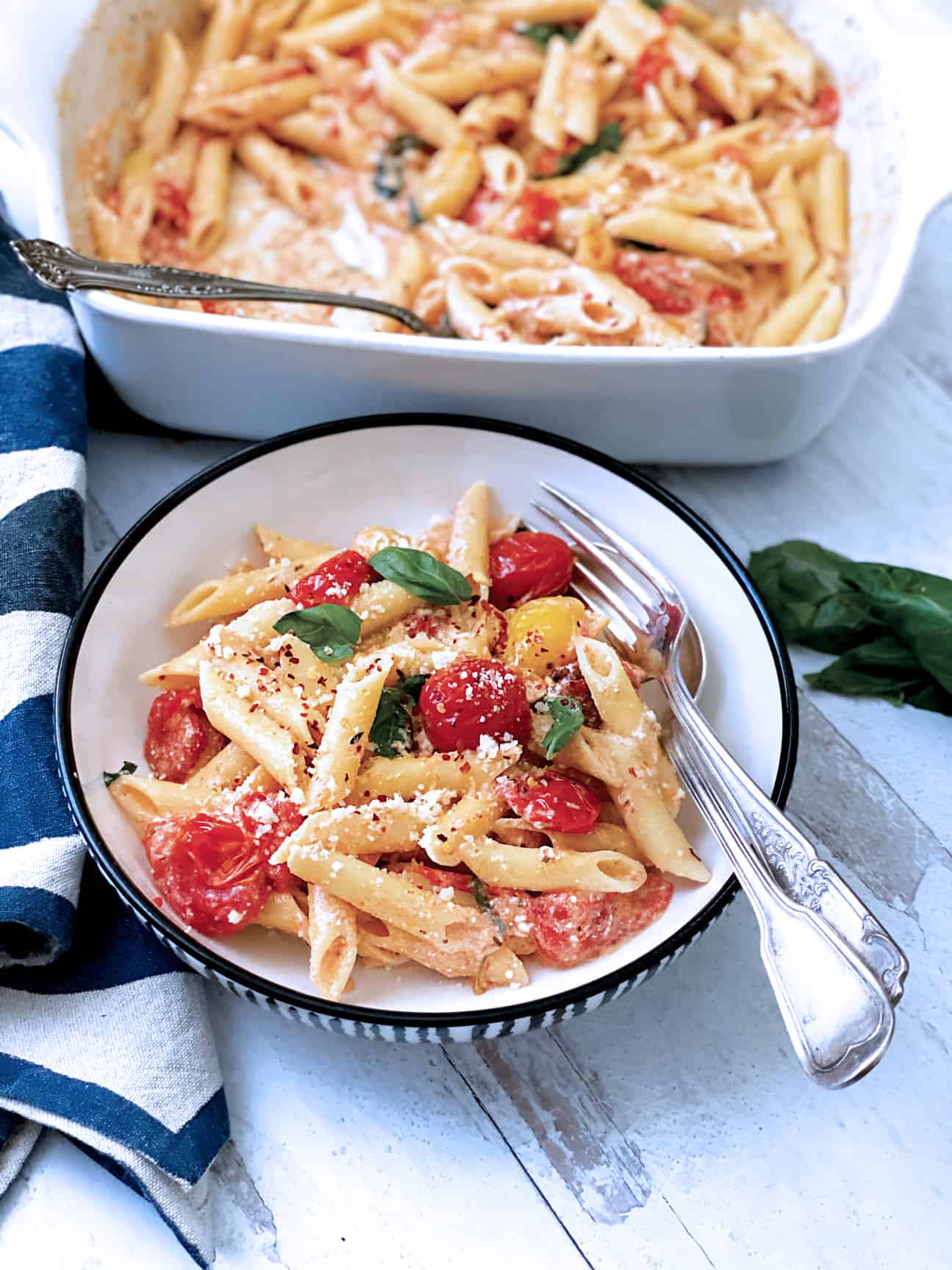 What tomatoes should I use for baked feta pasta?
You can use all varieties of small tomatoes. Cherry, mini heirloom (I am using them in this recipe), Sugar bombs, Campari, and Cocktail tomatoes.
If you use Campari or Cocktail tomatoes, cut them in half.
Pasta choices
Feel free to use your favorite pasta. I love short pasta for this recipe. Penne, fusilli, orecchiette, rigatoni, etc. That does not mean spaghetti or tagliatelle would not work! The creamy feta and tomato sauce will be amazing on any pasta you chose to make.
Herbs and garlic
This recipe calls for lots of fresh basil, fresh thyme, rosemary, and sage. I like to tuck in a few sprigs of fresh herbs in there, like thyme and rosemary. I also sprinkle a tablespoon of dry oregano all over and freshly ground pepper and red pepper flakes.
I also tuck 4-5 garlic cloves between the tomatoes. I cut them in half or in quarters. When the garlic roasts, it becomes very soft, like a paste. It is perfect, mixed with roasted tomatoes and feta.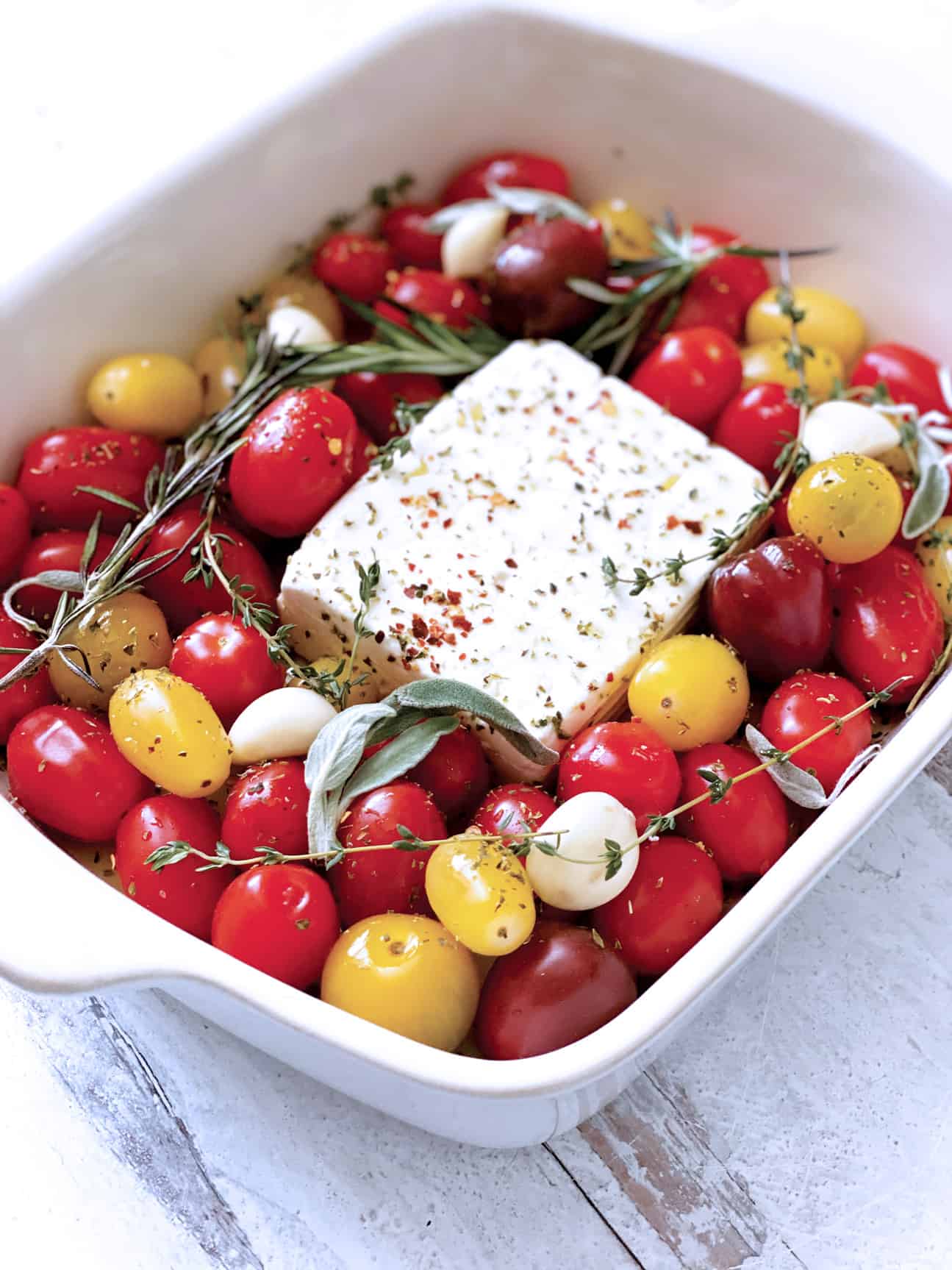 Place the block of feta in the center of the baking dish. Arrange the tomatoes and garlic cloves around the feta and tuck the sprigs of thyme, sage, and rosemary between tomatoes and garlic. Drizzle with olive oil. Add some dry oregano and season with freshly ground pepper.
Bake for 30 to 35 minutes at 400°F.
Once everything is baked, I remove the herb sprigs and mix the tomatoes, garlic, and feta gently with lots of fresh basil.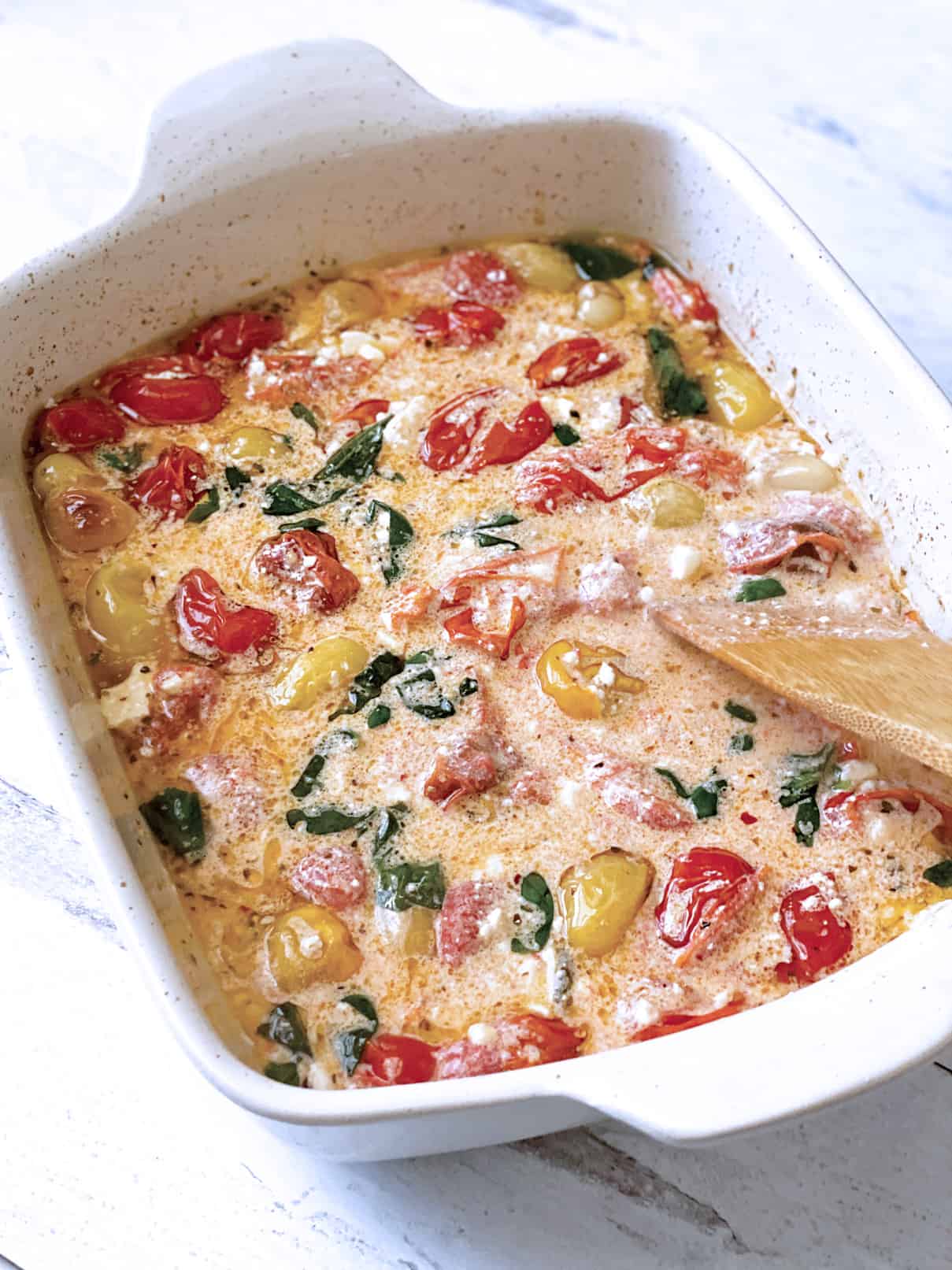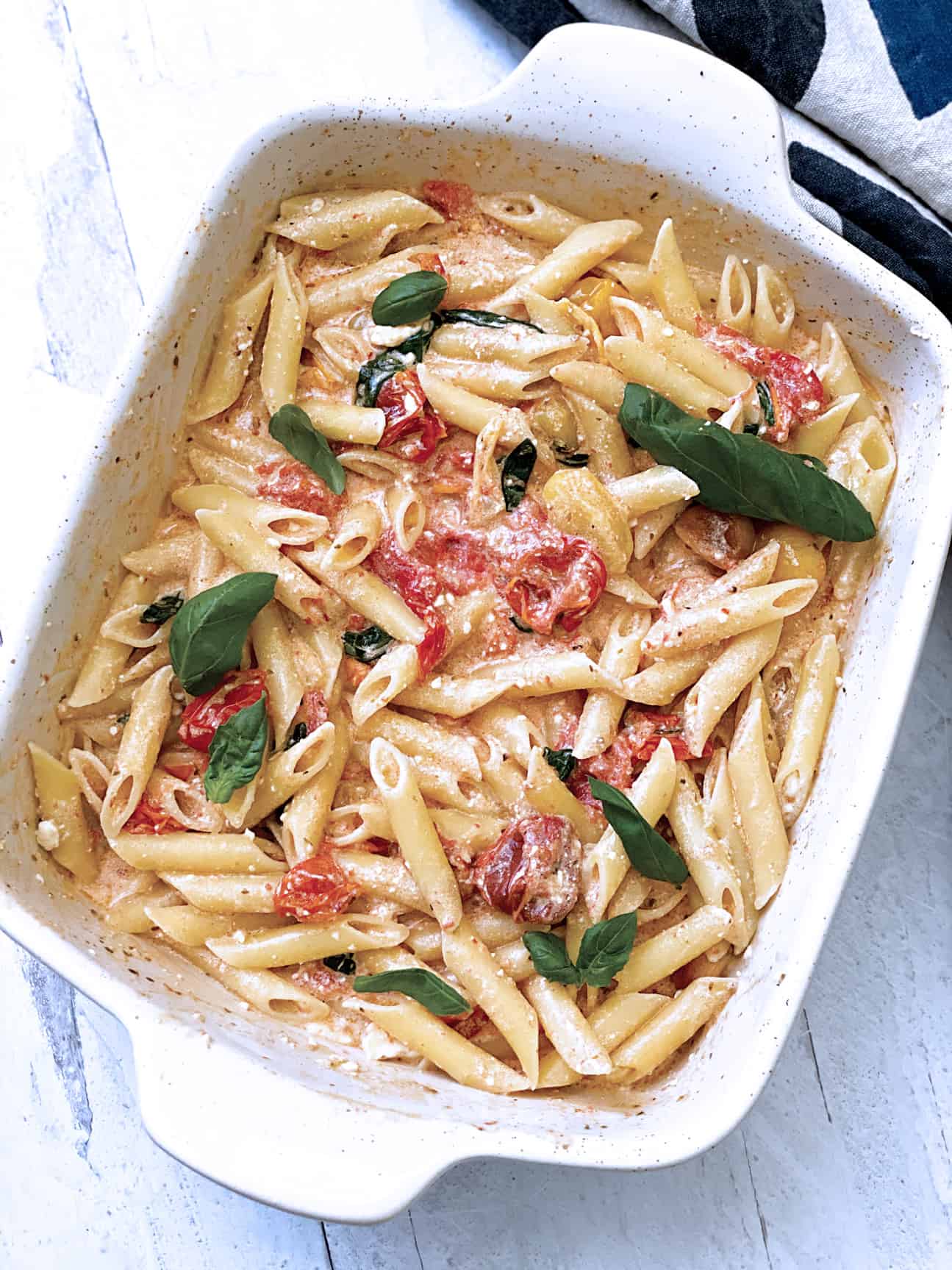 I add the pasta to the sauce and toss it all together gently.
I serve the pasta in bowls with a sprinkle of red pepper flakes and some roughly chopped fresh basil on top. Finally, grated parmesan cheese adds another layer of flavor.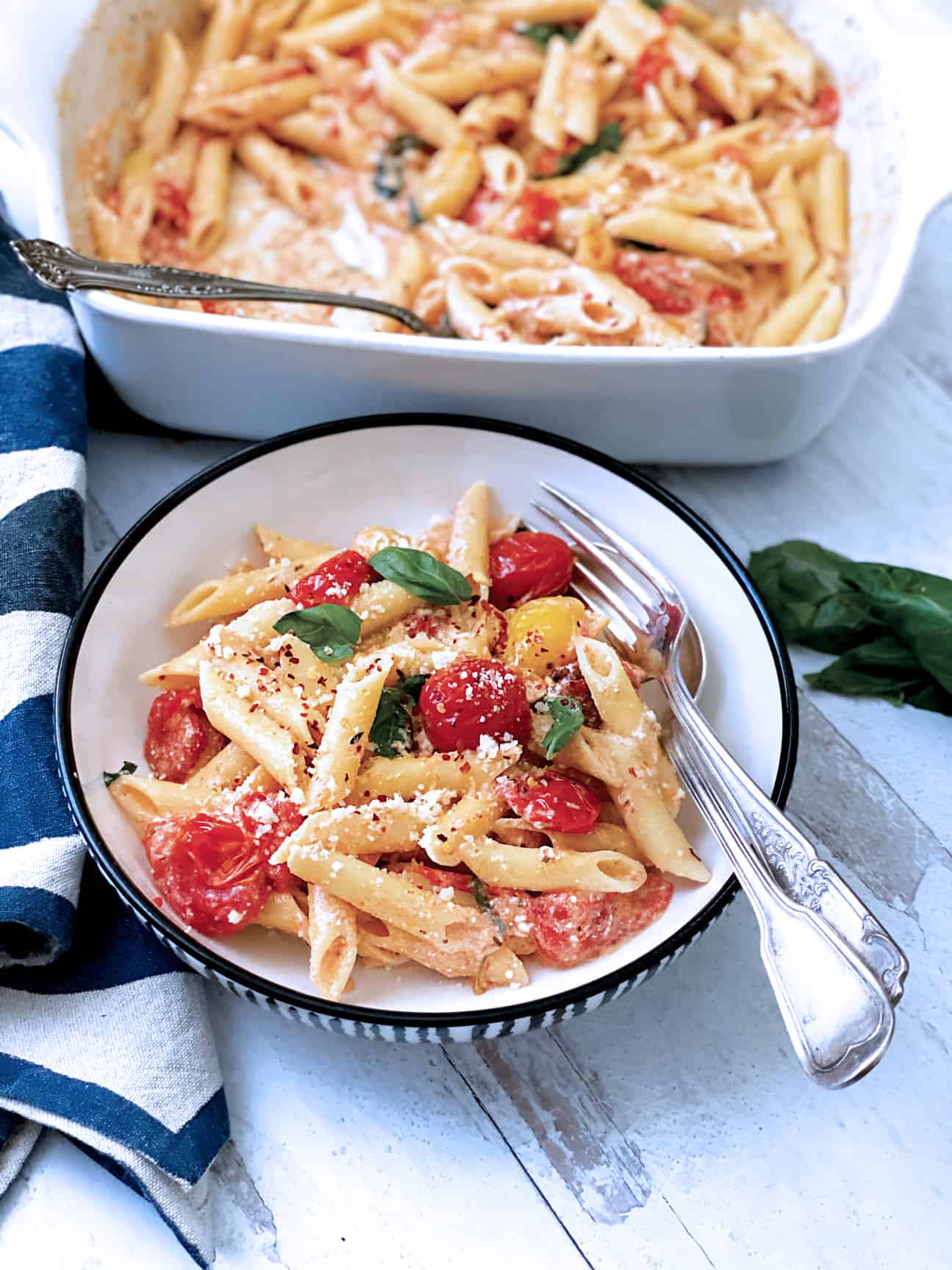 You may also try:
Check out my Greek pantry staples
Cooked this? Rate this recipe! You can also leave a comment below. I love hearing from you!
WANT TO EAT LIKE A GREEK? Subscribe to my newsletter and follow me on Facebook, Pinterest, and Instagram for all of the latest updates.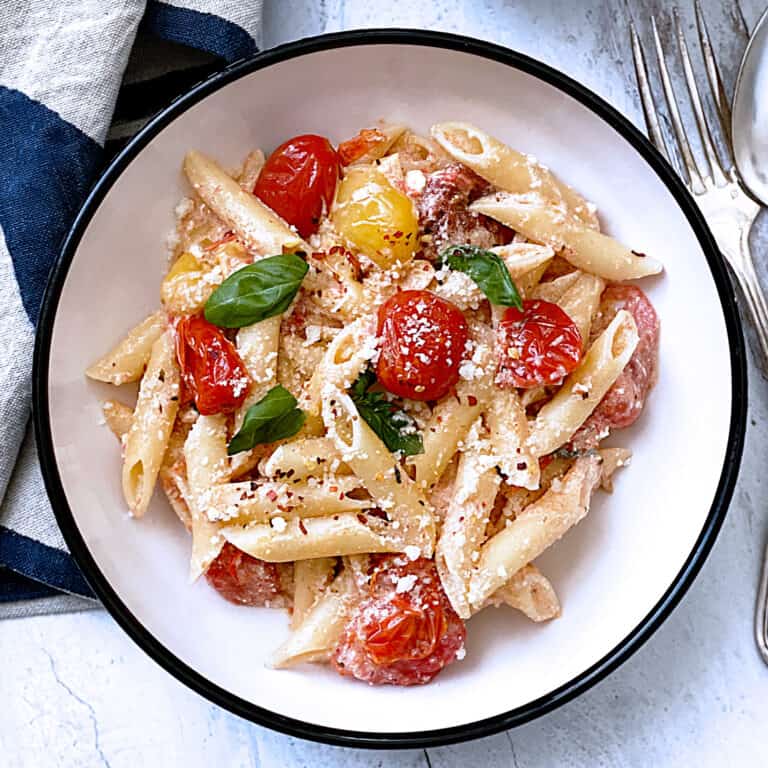 Baked Feta and Tomato Pasta
This delicious baked feta pasta has a lovely tomato and fresh basil sauce with all the Mediterranean flavors we love.
Ingredients
8

oz

Greek feta cheese

2

lbs

gourmet medley tomatoes

⅓

cup

extra virgin olive oil

4-5

garlic cloves

halved or quartered if too big

2-3

fresh sage leaves

2-3

fresh thyme sprigs

1-2

rosemary sprigs

1

tablespoon

dry oregano

1

tablespoon

red pepper flakes

freshly ground pepper

sea salt
For serving
fresh basil leaves

parmesan cheese

8

oz

pasta

of your choice. I used penne.
Instructions
Place the block of feta in the center of your baking dish.  Arrange the tomatoes and garlic cloves around the feta. Tuck the sprigs of thyme, sage, and rosemary in between tomatoes and garlic.

Drizzle everything evenly with olive oil.  Add a tablespoon of oregano all over—season with freshly ground pepper.

Bake for 30 to 35 minutes.

Cook the pasta al dente. Usually 1 minute less than recommended boiling time.

Make sure to reserve 1 cup of the pasta water, you might need it later.

Remove the baking dish from the oven.  Immediately add ⅔ of the basil leaves. Stir the mixture together until the feta has melted into a creamy sauce. 

Add in the pasta. 

Gently toss until the pasta is evenly coated.  

If you need to, add a little of the reserved pasta water, about ⅕ cup, to loosen it up a little and make it creamier. 

Serve in bowls with grated parmesan cheese, chopped fresh basil leaves, and a pinch of red pepper flakes.
Notes
This baked feta dish reheats nicely. I usually transfer the leftovers to a pot and reheat them on the stove. I add a little water (¼ cup) to the pasta to loosen it up and stir on medium heat. 
Nutritional Info – Please keep in mind that the nutritional information provided is only an estimate and can vary based on the products used.
Nutrition
Calories:
370
kcal
Carbohydrates:
16
g
Protein:
11
g
Fat:
30
g
Saturated Fat:
11
g
Cholesterol:
50
mg
Sodium:
956
mg
Potassium:
735
mg
Fiber:
3
g
Sugar:
10
g
Vitamin A:
1594
IU
Vitamin C:
57
mg
Calcium:
320
mg
Iron:
3
mg
Tried this recipe?
Mention @thegreekfoodie__ or tag #thegreekfoodie__