Gemista or stuffed tomatoes & peppers are one of the most popular summer recipes in Greece.
What is Gemista?
Gemista or yemista (in Greek it means 'filled with') is a traditional recipe for oven baked Greek stuffed tomatoes and/or other vegetables.
Traditional gemista can be either vegetarian/vegan and are filled with rice, vegetables, and herbs. They can also be filled with ground meat or a combination of rice and ground meat. The ground meat can be beef, pork, or turkey. The truth is every Greek household has its own gemista recipe.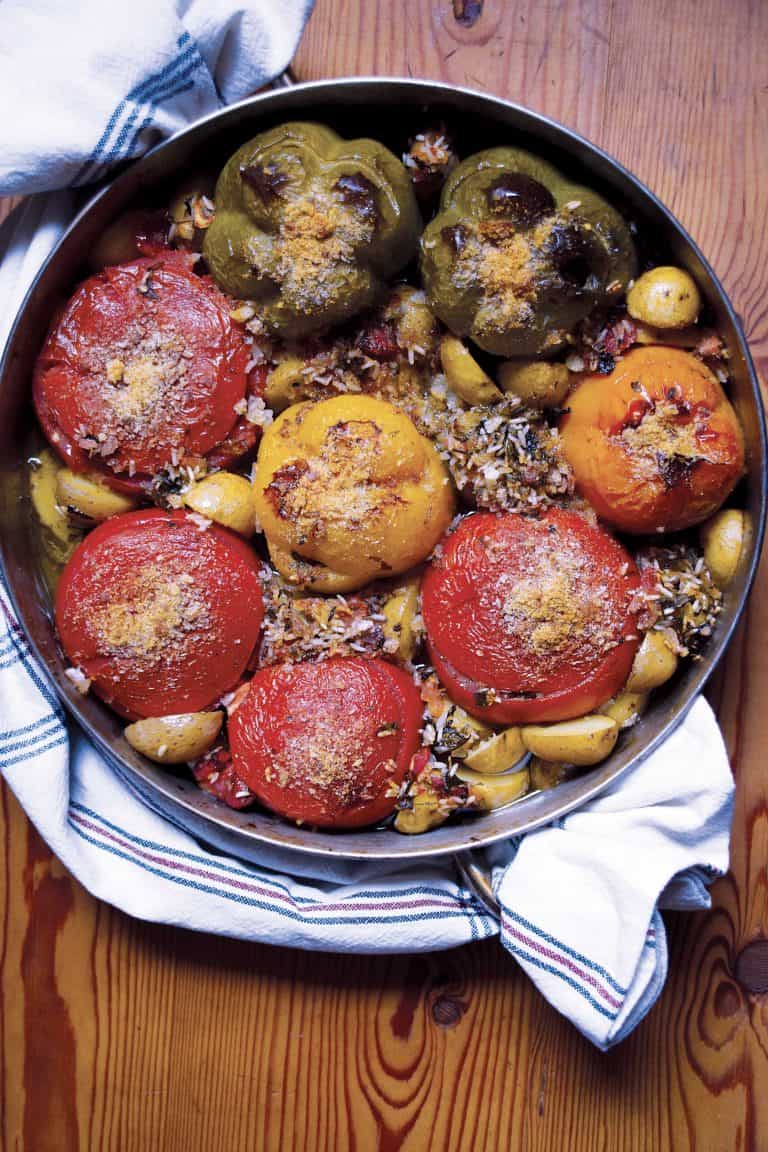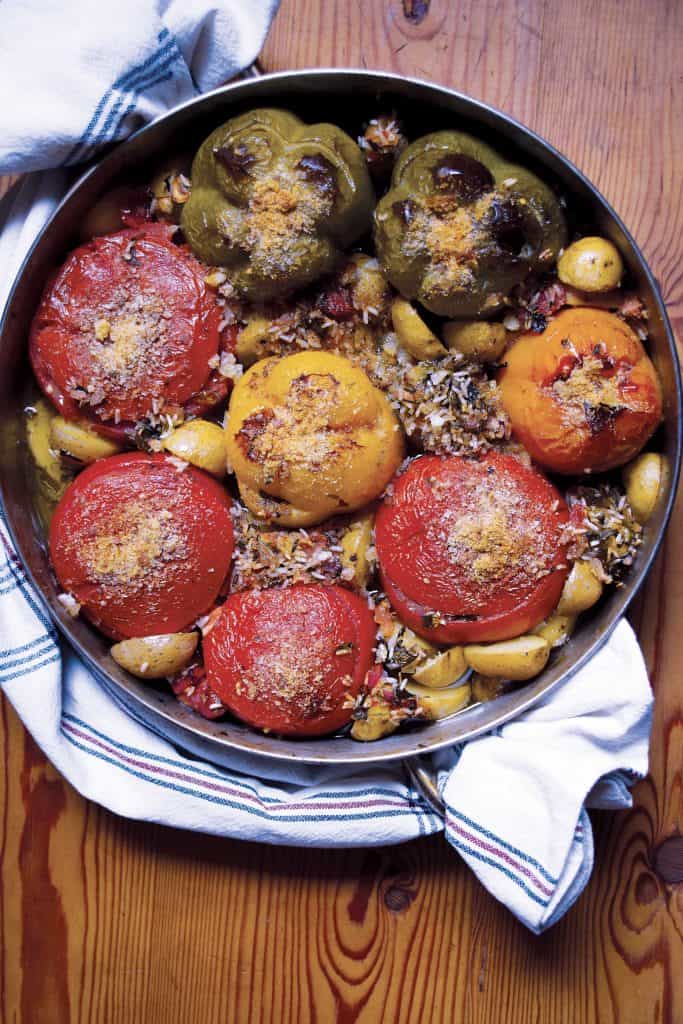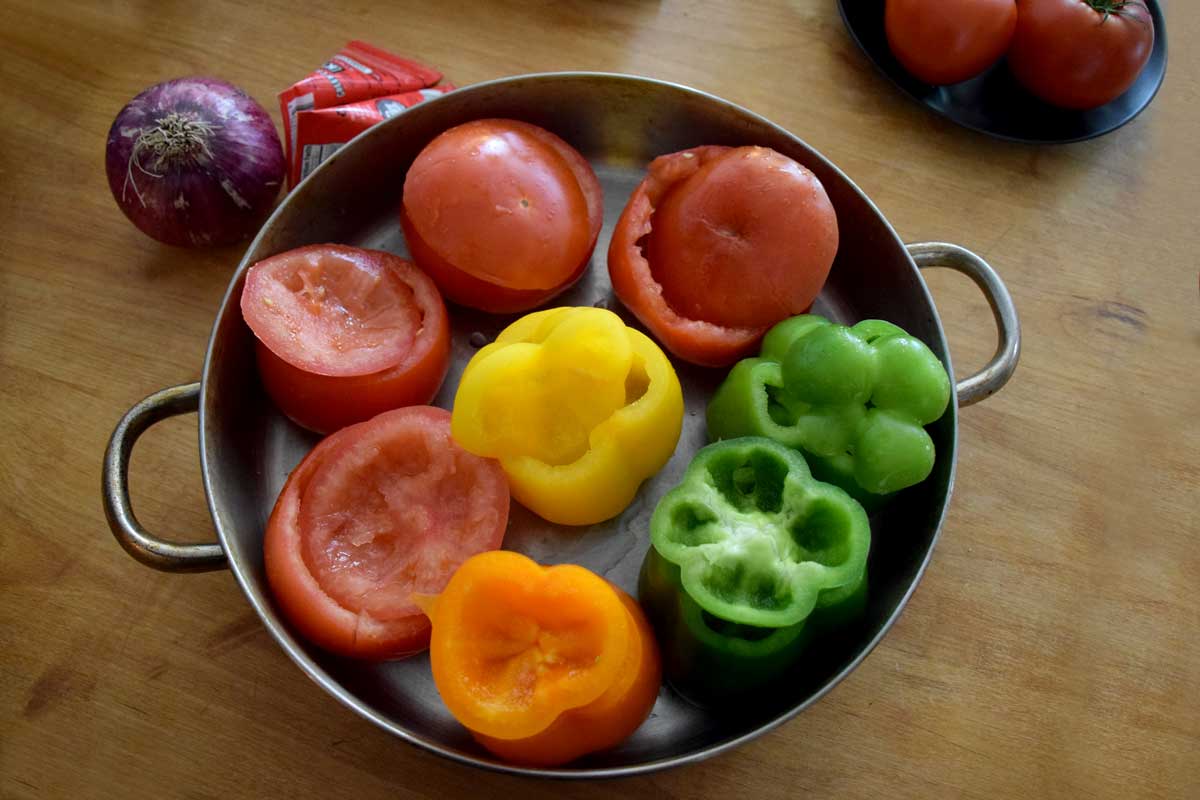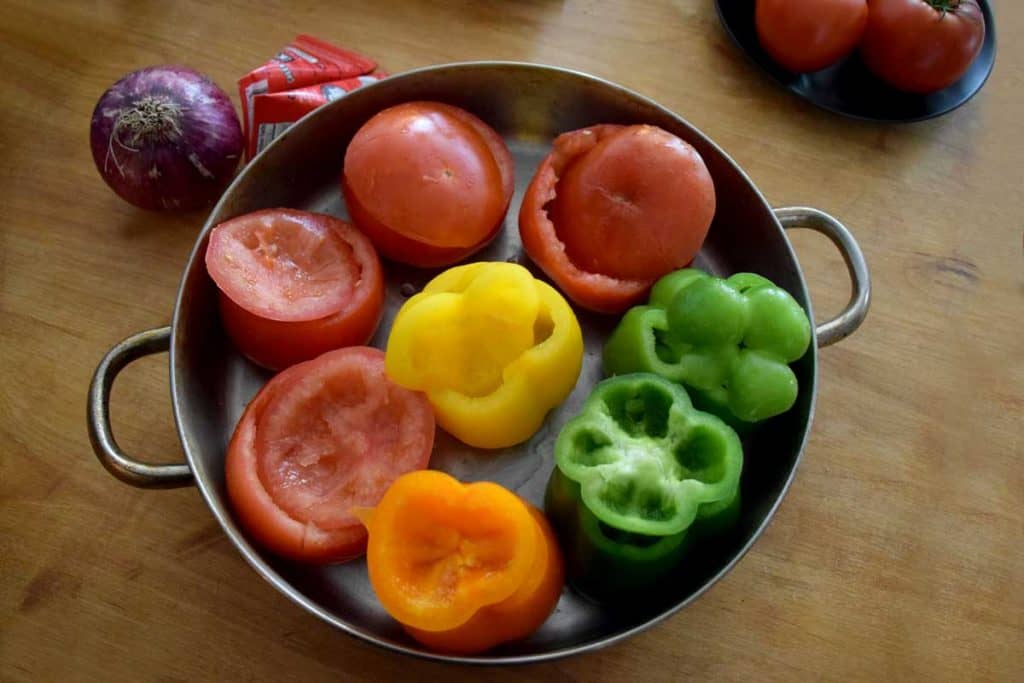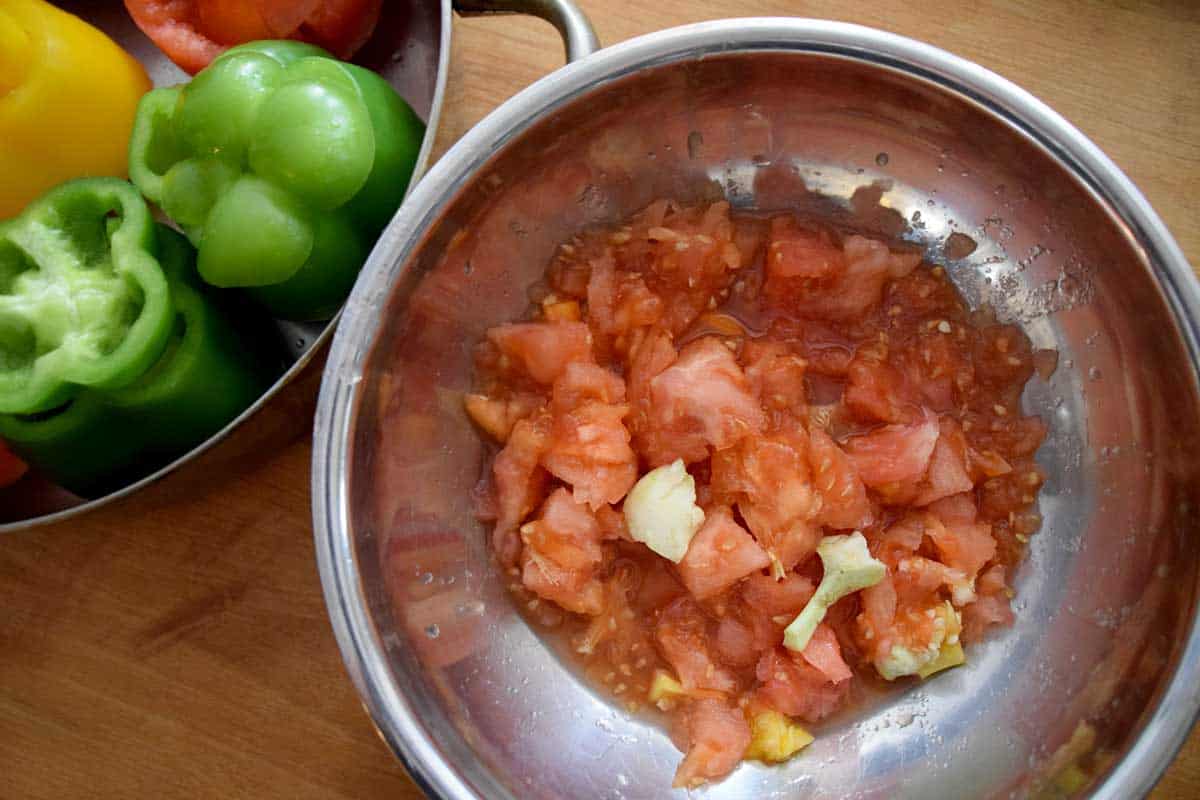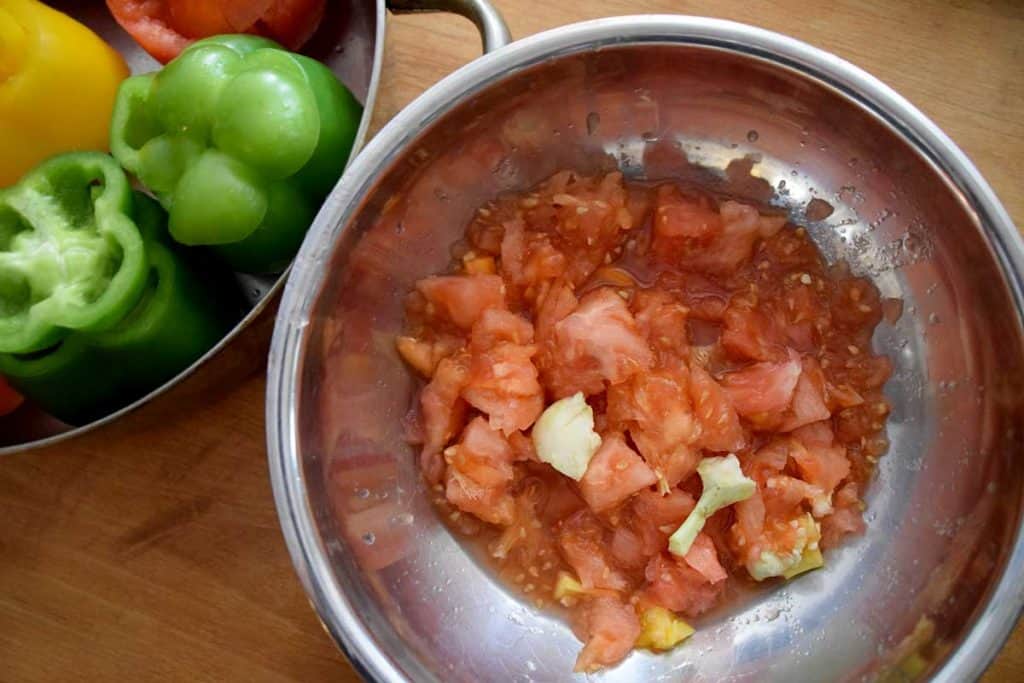 Tips and tricks
The secret for succulent, amazing gemista is to sauté the onion before stuffing the vegetables. Sautéing the diced onion allows for its sweetness to come through and is key for developing great flavor in your stuffed vegetables.
A great trick is to take the flesh out of the veggies add it to the stuffing mixture. Grate them in a hand grater or add everything in a food processor for a quick chop.
Lots of fresh herbs such as parsley, dill, and mint and a couple of tablespoons of good extra virgin olive oil add brightness.
You can add pine nuts and raisins in the mix; I opted out this time, preferring a more simple approach.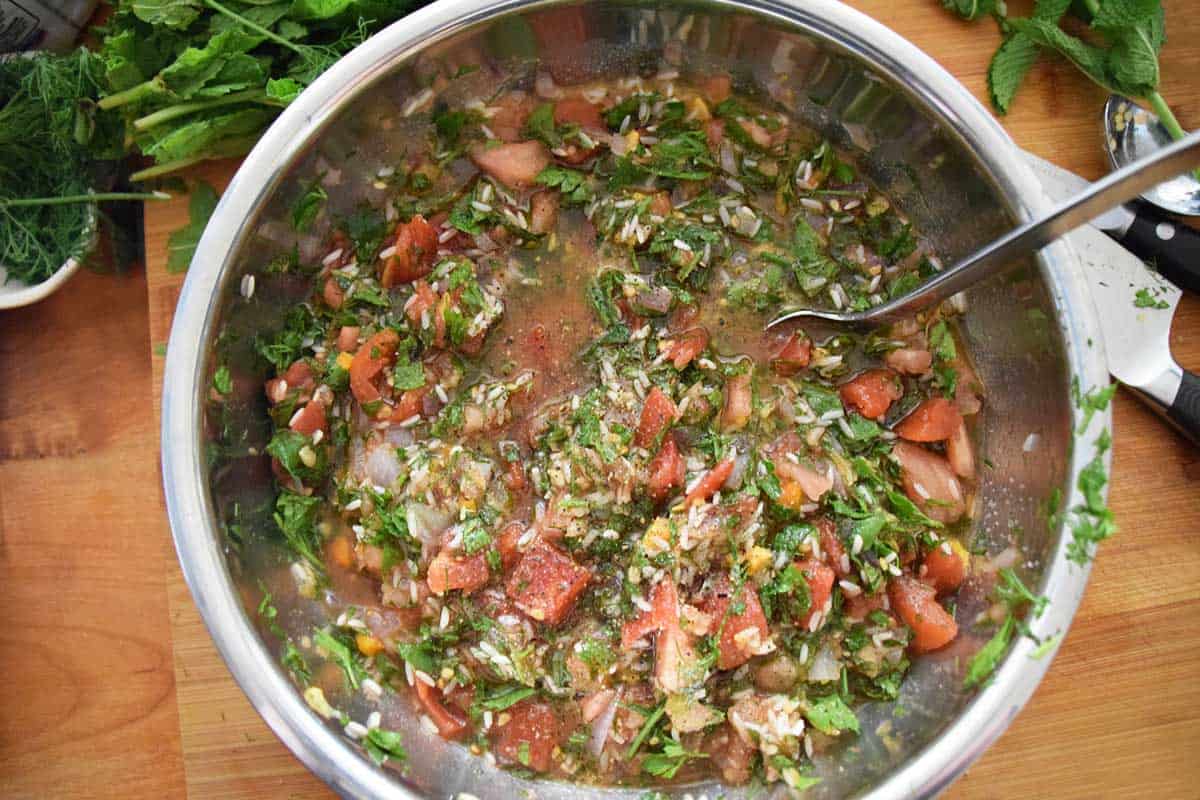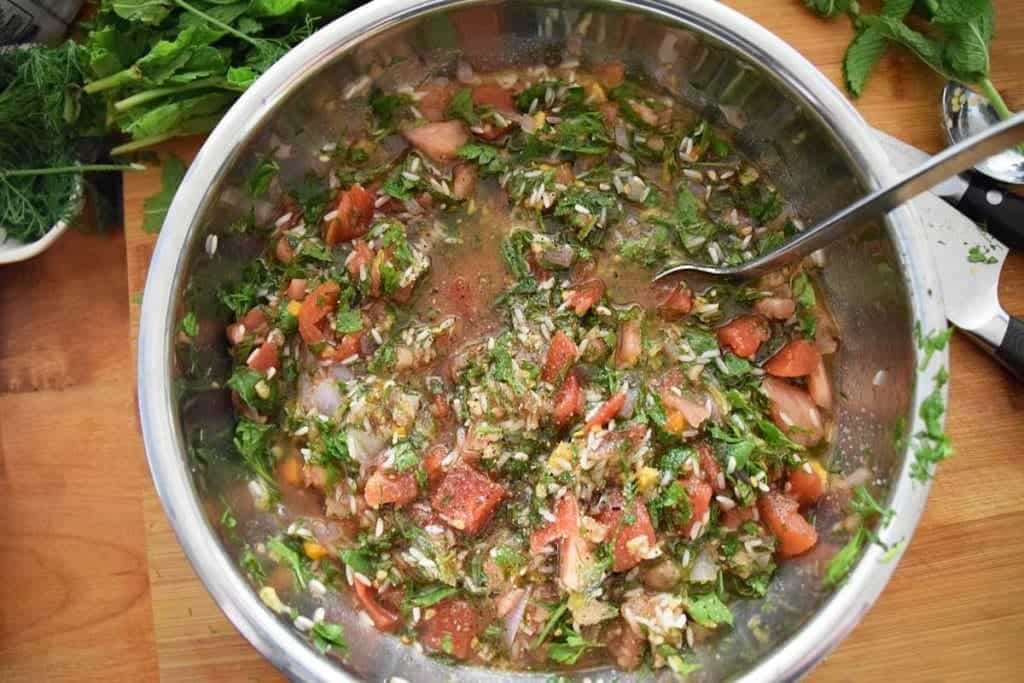 Helpful Q&A
What other vegetables can I use?
Gemista is usually a summer food due to the abundance of tomatoes and other summer vegetables available. Other Stuffed vegetables can be bell peppers, zucchini, summer squash, and their blossoms and eggplants.
Do I need potatoes?
Greek stuffed vegetables always have potatoes surrounding them in the pan. The potatoes get all the juices from the veggies and are SO good. They remain tender on the inside but get crisp brown edges from the roasting.
What are the best potatoes for stuffed vegetables?
The best potatoes for gemista are Yukon Gold. I don't remove the skin, it is very thin, and I love it when it crisps up at the edges. Baby Yukon Gold potatoes are great for Gemista. The size is ideal. I slice them in half, season them, and pop them around the stuffed vegetables.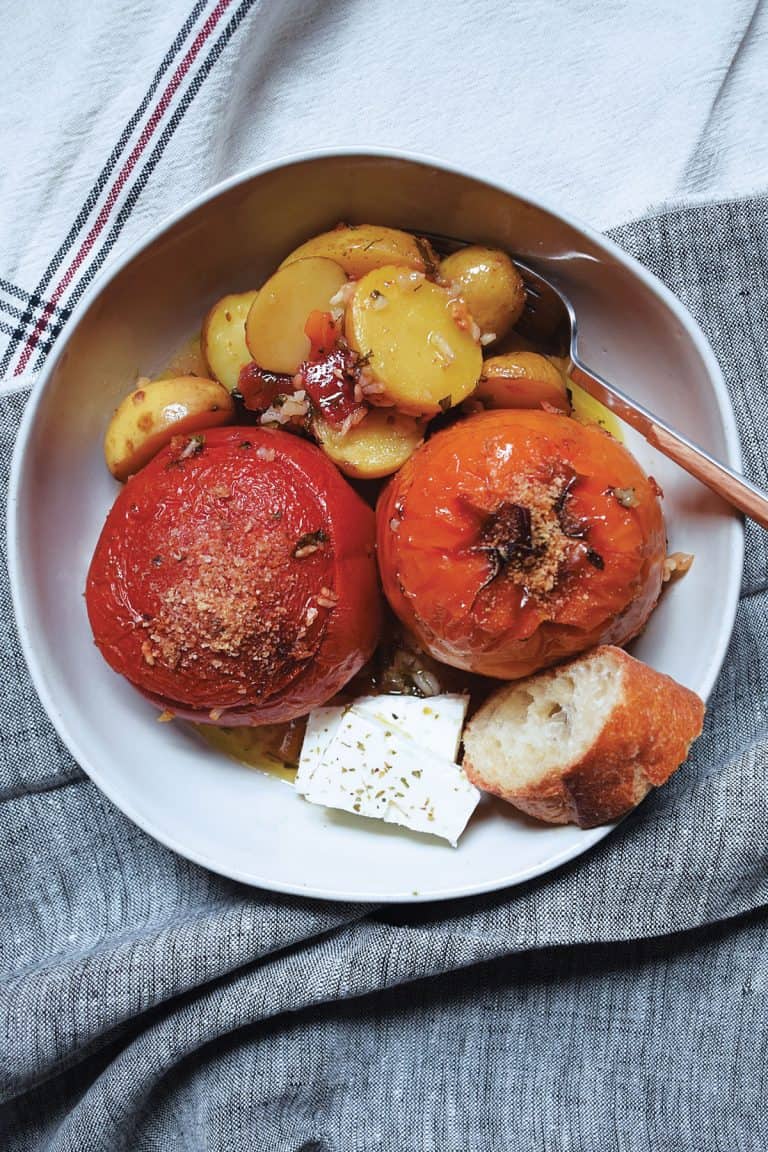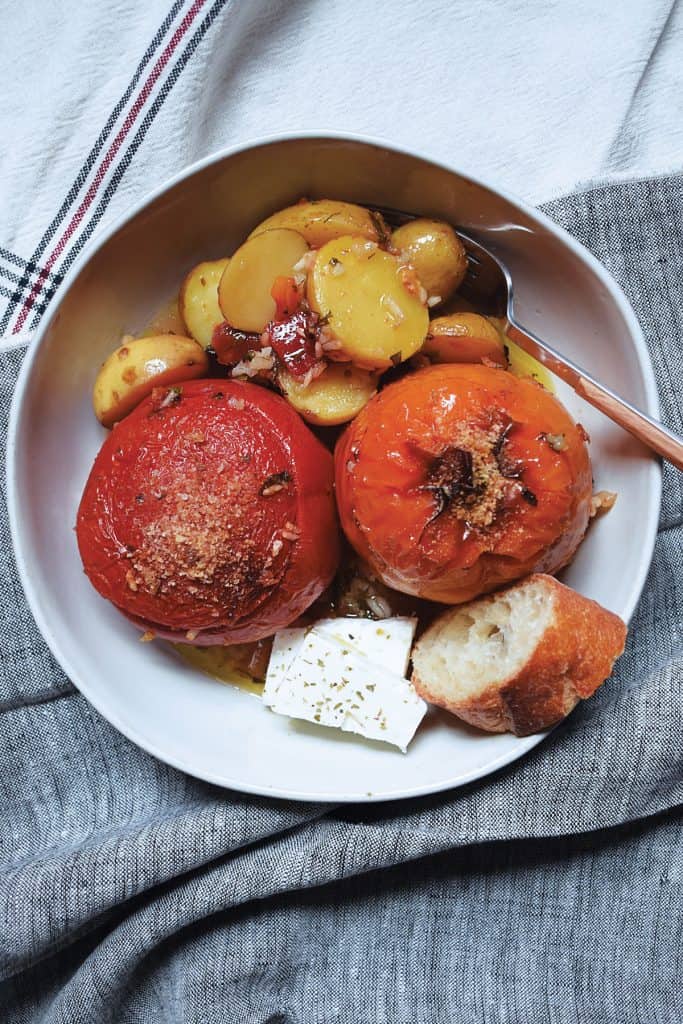 Gemista can be made with rice or ground meat. I prefer the rice version, they are lighter and can be enjoyed warm or at room temperature. I love eating them at room temperature with the absolutely necessary feta cheese on the side and a generous piece of crusty bread to dip in the delicious sauce.
It is an unpretentious delicious Greek dish that is a staple in the summer. Dipping a piece of bread in the sauce is a treat and a quick delicious snack. The aroma of the food, while it bakes, is captivating, to say the least. Makes the kitchen smell like sweet Greek summer. I love it.
You may also like
Try the traditional Briam, the Greek version of ratatouille. It is delicious, full of veggies and extra virgin olive oil goodness.
In the summer, these stuffed zucchini blossoms are one of my absolute favorites.
The shrimp bake-garides saganaki is a decadent dish your guests will love.
WANT TO EAT LIKE A GREEK? Subscribe to my email and follow along on Facebook, Pinterest and Instagram for all of the latest recipes.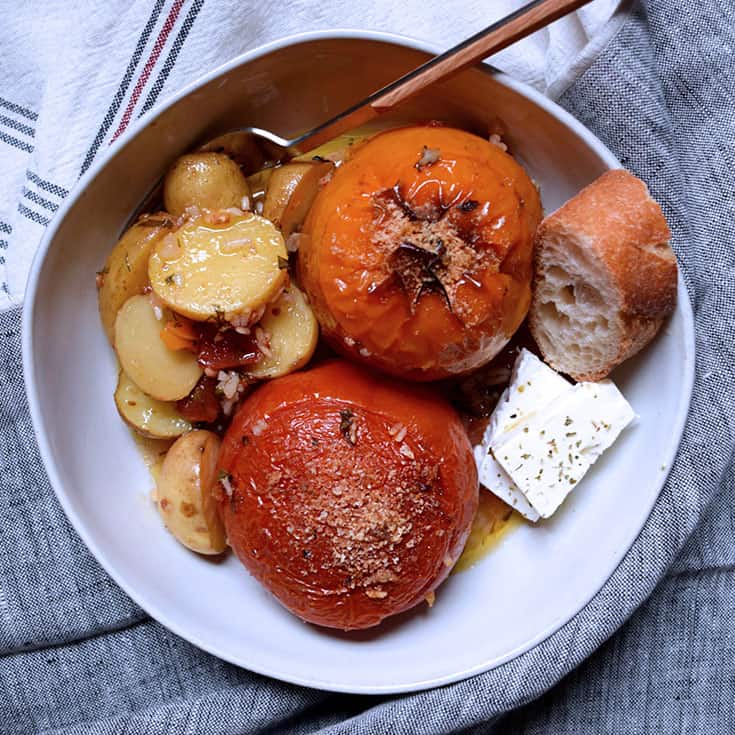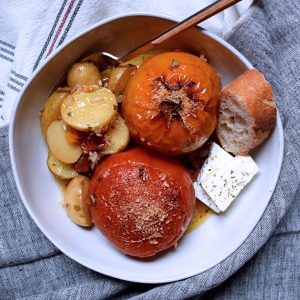 Greek Gemista - Stuffed Tomatoes & Peppers
Delicious stuffed tomatoes & peppers with rice, lots of herbs and aromatics.
Ingredients
4

tomatoes

ripe but firm large tomatoes

4

bell peppers

any color you like. Green are more bitter, red, orange and yellow are sweet.

4

yukon gold potatoes

cut in wedges. I like to leave the skin on, it's very tasty 🙂

1

onion

finely chopped

1

cup

extra virgin olive oil

in total

14

oz

tomatoes crushed

I like San Marzano tomatoes such as Gustarosso

½

cup

sugar

1 ½

cup

long grain white rice

1

cup

fresh parsley

finely chopped

1

cup

fresh mint

chopped

1

cup

fresh dill finely

chopped

½

cup

breadcrumbs

Greek dry oregano

salt

freshly ground pepper
for serving
Greek feta cheese

optional

crusty bread

optional
Instructions
Using a sharp slice off the bottom side of the tomatoes, cut about ⅛ of an inch or even less if you can. Save the little cap on the side. 

Very carefully scoop out the flesh, making sure you do not rip the tomato skin.

Place the flesh in a separate bowl and set aside.

Using again the sharp knife slice the bottom of the bell peppers, cut about ¼ inch this time. Save the little pepper cap on the side.

Very carefully remove the bell pepper flesh, rinse each under water if you have to remove any seeds. Do the same for the pepper shell, make sure it's all clean and no seeds are left inside. Save the pepper flesh on the same bowl with the tomato flesh.

You can use your hands a hand grater or a food processor gently to mash the veggie flesh and make sure no big pieces are left. Add the extra tomatoes (after you mash them) in the same bowl. Set aside. 

As you finish scooping up and cleaning each vegetable place it in your large baking pan, open side up. Cover each tomato and pepper with their little caps.
Time for the filling
In a large sauté pan add 4 tbs olive oil. In medium heat sauté the onion 2-3 min until soft and fragrant. Add the rice. Sauté rice 2-3 min or until it looks transparent. 

Turn the heat off and -if your pan is large enough otherwise trader to a large bowl- add the tomato/pepper mix, the mint, dill and parsley and mix well. Add 1 tbs dry oregano. Add 1 tbsp sugar. Season well with salt and pepper. Mix everything together very well.
Fill the veggies
Preheat oven to 350 F / 180 C

Add a tsp of sugar inside the bottom every tomato and pepper.

Using a table spoon take a spoonful of the mixture and start filling your veggies. Fill around ¾ from the top. The rice will grow in size as it cooks and you don't want to overflow your veggies. Cover each with their little caps. 

In a separate bowl mix the potatoes with 1-2 tbs olive oil and season with salt pepper and a pinch of oregano.

Fill the space between the tomatoes and peppers with potato pieces. Any mixture you have left you can sprinkle on the potatoes and around the veggies, it will make the sauce yummy!

On top of each tomato and pepper add 1 tsp or so breadcrumbs.

Any olive oil you have left drizzle it it evenly all over the pan. Add 1 cup of water carefully to the bottom of pan -that way you don't disturb your filled veggies and potatoes.

Cover with aluminum foil and bake for 1 hour. Uncover and continue baking for another 10-20 min until most liquid has evaporated and tops of veggies are nice and golden.
Notes
Enjoy with a piece (or two) of good crusty bread and greek feta cheese. 

I find that gemista are always better the next day. Because they are cooked in olive oil they are great in room temperature. That's what makes gemista such an awesome summer food.
Nutrition
Calories:
563
kcal
Carbohydrates:
72
g
Protein:
8
g
Fat:
28
g
Saturated Fat:
4
g
Sodium:
134
mg
Potassium:
921
mg
Fiber:
6
g
Sugar:
21
g
Vitamin A:
3353
IU
Vitamin C:
118
mg
Calcium:
87
mg
Iron:
3
mg
Tried this recipe?
Mention @thegreekfoodie__ or tag #thegreekfoodie__