Chickpea lemon soup is a beloved soup I learned to make from my Cretan mother Maria. It is pretty simple to make as long as you soak the chickpeas overnight and pre-cook them to help soften their texture.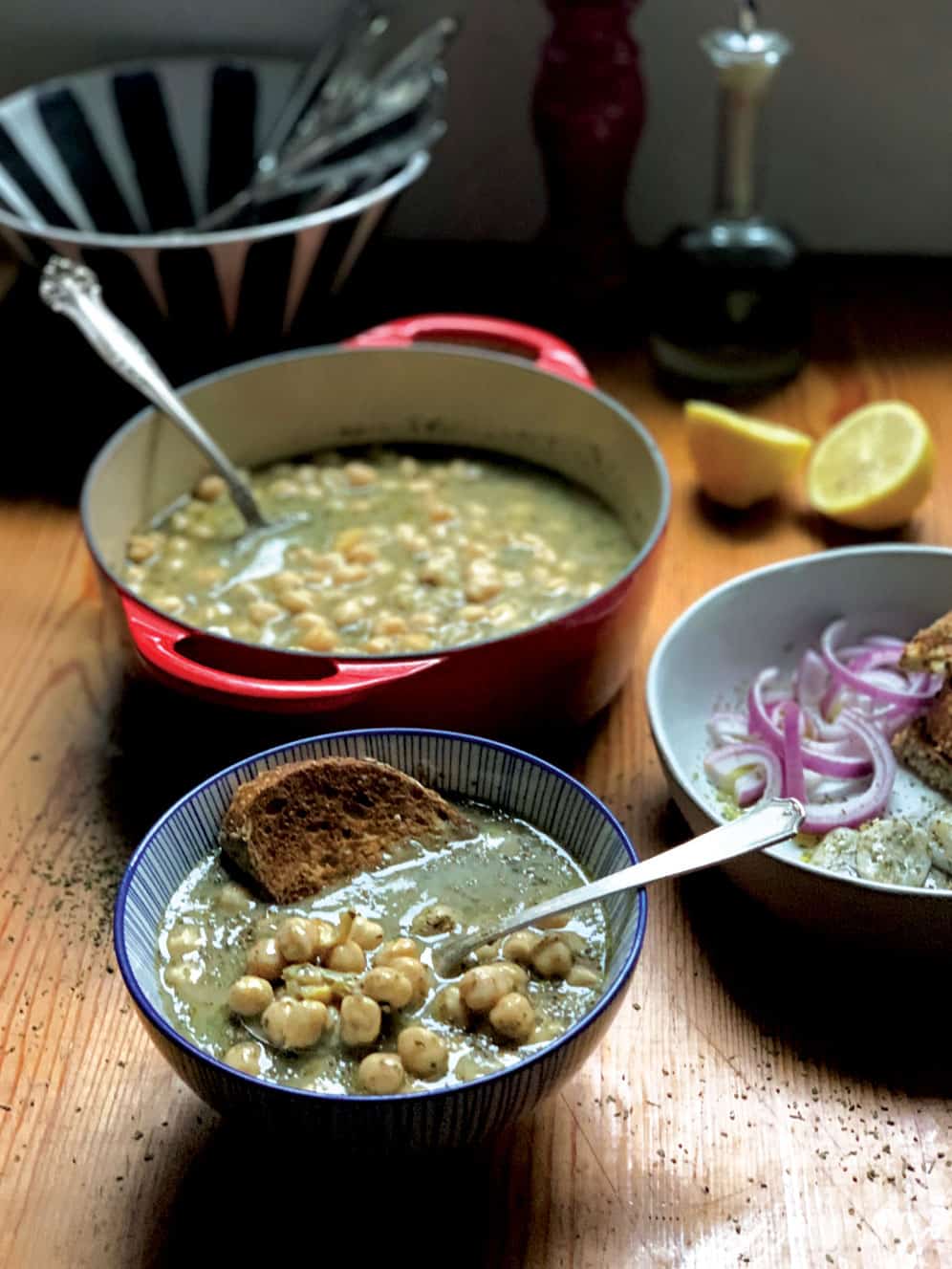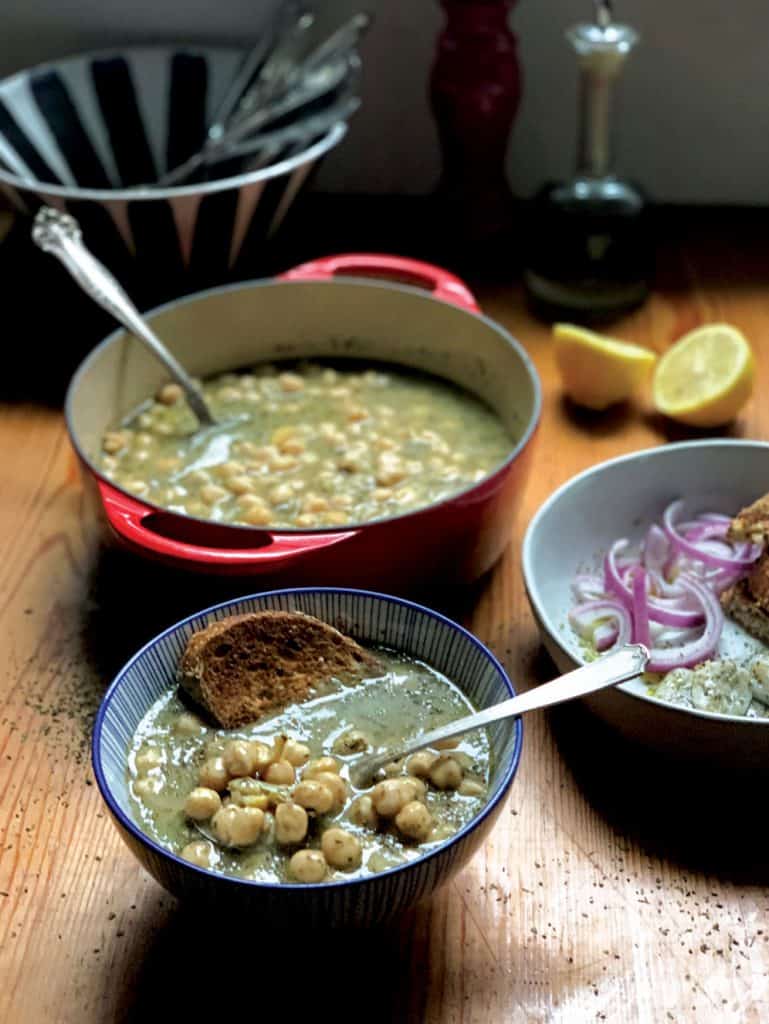 Chickpeas soup is on the list of unpretentious simple foods which are absolutely delicious with a distinctive flavor. The lemon adds brightness and sophistication to the humble chickpeas. You can tune up or down how much lemon you want to use. For example my mother used one lemon, I felt I needed more acidity and added the juice of three lemons. Admitedly the lemons I find in Hoboken might be diferent in potency compared to the greek lemons my mother used. My suggestion is to experiment and discover what you prefer.
I personally love food that makes a great leftover. After a day you can add a cup of the rice of your choice in the soup and create a lovely rice dish. Add some leftover grilled vegetables, some nuts, a sprikle of feta cheese and you have a completelly different meal.
More soups please!
If you liked this recipe please try my Greek tomato toup with feta & basil, an ideal partner to crusty bread. A wonderful and comforting soup is the traditional Greek chicken soup, it is delicious and humbly perfect. And real winner is my red kabocha soup with porcini mushrooms, it is creamy and sophisticated with layers of flavor that leave you satisfied & pleasantly surprised.
WANT TO EAT LIKE A GREEK? Subscribe to my email and follow along on Facebook, Pinterest and Instagram for all of the latest recipes.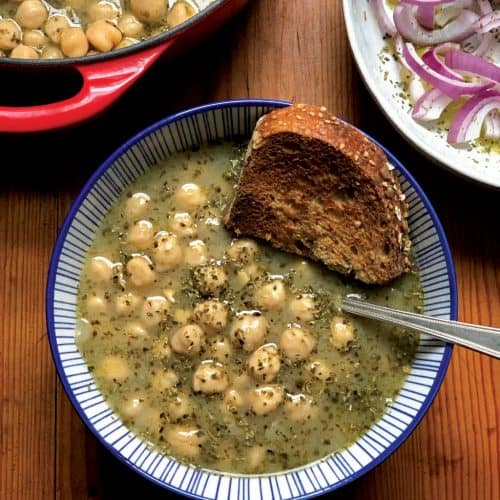 Ingredients
1

lb

chickpeas

garbanzo beans

1

red onion

diced

1/2

cup

olive oil

2

bay leafs

1

tbsp

dry oregano

salt

fresh ground pepper
for finishing the soup
juice from 1- 2 lemons

1

cup

soup broth

2

tbsp

all purpose flour
Instructions
Soak the chickpeas in plenty of water overnight.

Put them in a large pot cover with water and bring them to a boil. Drain and add them back to the pot. Repeat the same process 2-3 times until they are half cooked. About 20 min each time. Drain chickpeas well and set aside.

In the same pot, in medium heat, add the olive oil and the the onion.

Sauté onion until it's transparent and fragrant. Add the chickpeas, oregano and the bay leaves.

Sauté everything for a 2-3 minutes then add water to cover chickpeas plus 2 inches.

Bring to a boil, then lower the heat and cook for about an hour or more if needed until they are tender. Shortly before chickpeas are cooked season with salt and pepper.

In a bowl add the lemon juice and stir in the flour with a whisk.

Slowly start adding a little of the soup broth. Keep stirring vigorously. Pour into the soup and mix well.

Serve hot with smoked herring and onion slices. Don't forget the crusty bread.
Notes
Depending on the chickpeas you are using, you might have to adjust the cooking time. For example, greek chickpeas cooked quicker than the ones I found in Hoboken. I had to add 30 minutes or so of cooking time. You want your chickpeas to be soft and on the verge of being "mushy" – in a good way.
Did you like this recipe?
Mention @thegreekfoodie__ or tag #thegreekfoodie__