A traditional way to "celebrate" the beginning of winter in Greece is to make a big pot of fasolada – white bean soup. This is a soup that comes from very humble beginnings and has the promise of a glorious future.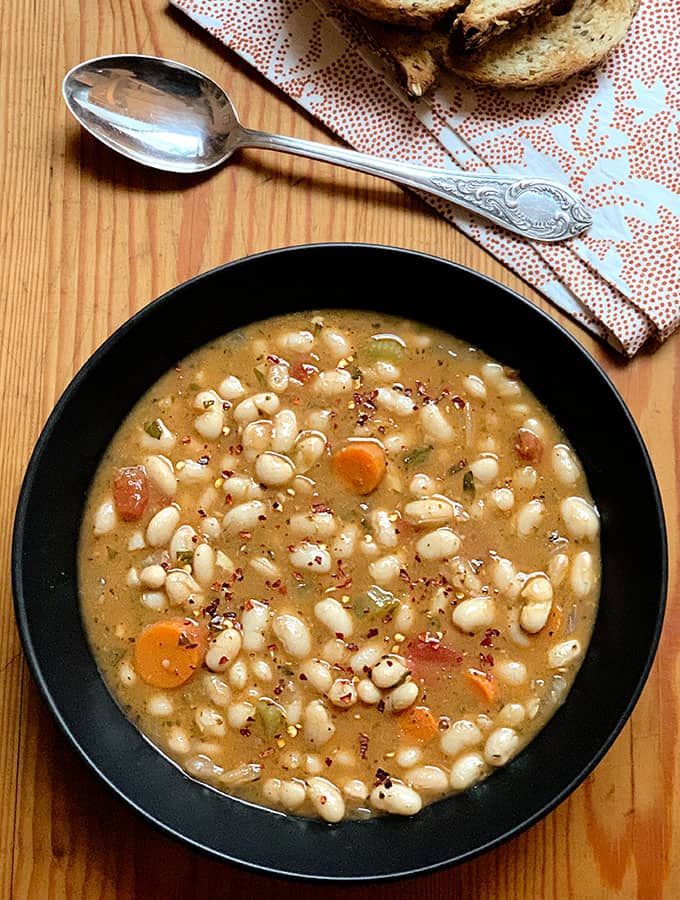 Once considered the "poor" man's food the white bean soup is a classic Greek staple that generations of Greeks grew up with and still enjoy today. All you need really is a piece (or two) of good bread to pair it with. Additionally you can add anchovies, nice greek olives and greek feta to your meal.
The humble Greek white bean soup is delicious, filling, comforting and everything you need to warm up when the weather gets chillier.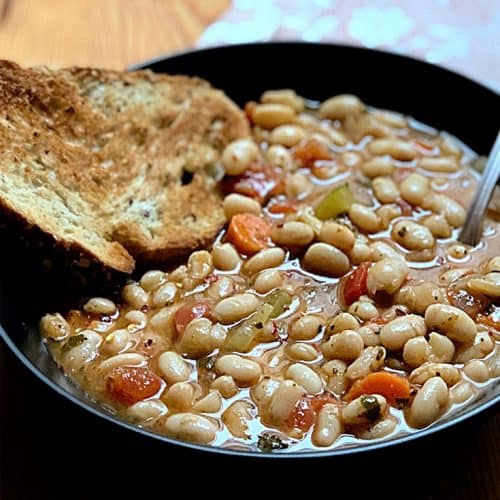 Ingredients
2

lb

white beans

3

carrots

cut in 1/4 inch pieces

1

onion

diced

2

stalks

celery

cut in 1/4 inch pieces

1/2

cup

extra virgin olive oil

2

organic vegetable bouillon cubes –

you can also use chicken if you prefer, please choose the ones without palm oil 🙂

28 oz

tomatoes

diced

2

tbsp

tomato paste

1/2

cup

parsley roughly chopped

1

tbsp

dry oregano

sea salt

freshly ground pepper
For serving
1

tbsp

parsley roughly chopped

optional

1

tbsp

red hot chili pepper flakes

optional
Instructions
Soak the beans overnight in plenty of water. When you are ready to cook, rinse them really well, put them back into the pot with enough water to cover them and cook in high heat for 20 min. Drain beans and set aside.

In medium heat add 2-3 tbsp olive oil in the pot. Add the onion. Sauté for 2-3 min, until onions are translucent. Add the garlic. Stir and add the carrots, celery, and tomato paste. Stir again well. Season with salt and pepper and the dry oregano. Sauté for 2-3 min mixing everything well to allow flavors to develop.

Add the beans and the tomatoes. Add water to cover the beans plus an extra inch. Add the bouillon cubes. Stir well and cook for 45 min or until beans are soft. Add more water if you have too. Adjust salt and pepper to taste.

Serve in bowls with a sprinkle of red hot chili pepper flakes and a piece of warm bread for dipping. You can complete your meal by adding anchovies, some olives and good Greek feta.
Did you like this recipe?
Mention @thegreekfoodie__ or tag #thegreekfoodie__