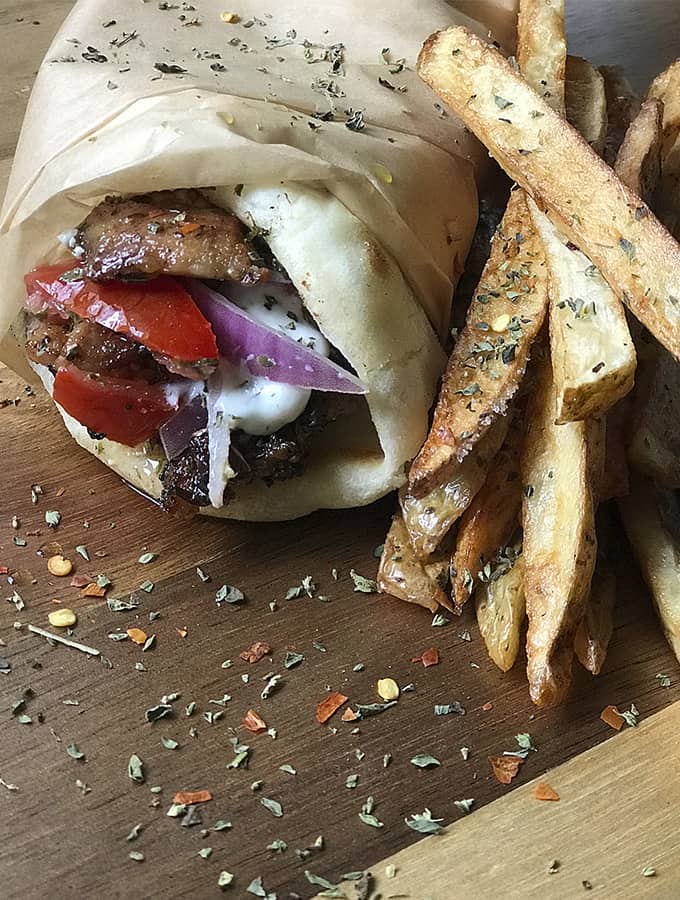 It is true, Greece's national food might as well be souvlaki with pita. Souvlaki shops are in every corner in Athens, sometimes two or three in the same block. There is an abundance of souvlaki in Greece. It is the closest thing Greeks have to fast food and it is probably a much healthier option than the various fast food burger versions you find in the US because it is always made with fresh ingredients. Every souvlaki shop makes their own meat marinade, tzatziki sauce and tomatoes. There is no prefabricated gyro, they painstakedly make their own. The cooking oil is always olive oil no matter where you go. And the fries are real potatoes, no prefab there.
There are varieties of souvlaki, such as the traditional stick, gyro, kebab style (like a burger but long and oval instead of round). For the souvlaki sticks and the gyro the meat is usually pork or chicken.
I make souvlaki at home because I love it and it makes me feel closer to home. I also like to serve it to our dinner parties, it is fun and feels adventurous to our guests.
Both chicken and pork souvlaki are my favorites. I have a recipe for the traditional pork souvlaki here.
This is the chicken souvlaki recipe and is truly delicious. It creates the illusion of eating a chicken gyro souvlaki, just like the ones you get from souvlaki restaurants in Greece.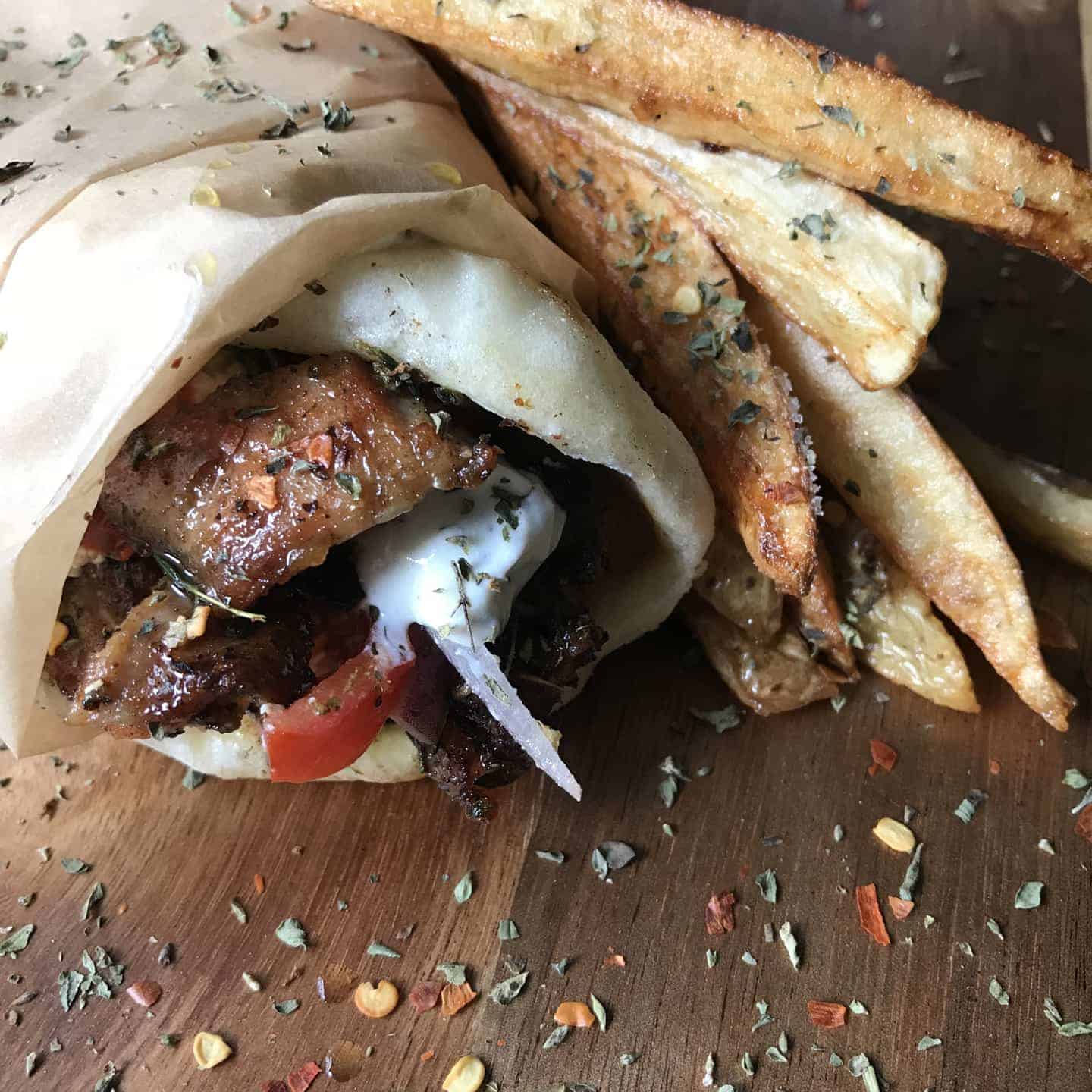 Marinate chicken for:
1
hour
Ingredients
for the marinade
2

cloves of garlic, sliced

1

lemon

2

tbsp

smoked paprika

1

tbsp

red pepper flakes

1

tbsp

fresh thyme leaves roughly cut

1

tbsp

fresh rosemary leaves roughly cut
the meat
3

chicken thighs, skinless, boneless
Instructions
Cut the chicken into thin strips lengthwise and transfer to a bowl.

In bowl mix all the marinade well and pour them all over the chicken. Make sure the chicken is completely coated. Let it marinate for an hour or so.
cooking options
You can cook the chicken strips on your home charcoal grill, you can also use a cast iron grill or even a non stick pan. Whatever you do is great.
cast iron grill pan method
Place a cast iron grill pan over medium- high heat. When pan is hot add the chicken in small batches and cook for 4-5 minutes, turning the strips once or twice until the chicken is cooked through and is golden brown on all sides. Don't crowd the pan and do not turn the chicken to often, let it brown nicely.

When this batch of chicken is ready transfer to a large plate and squeeze a little lemon juice all over, about 1 tbs. Wipe your pan lightly with a paper towel to clean any burned bits and cook another batch of chicken strips repeating the same process.
Serving time, you have options!
You can roll 2-3 strips on a pita with tomato, onion and tzatziki sauce and enjoy it as a souvlaki. You can find the recipes for the fillings here. And I suggest to go all the way and make your own pita bread. It is totally worth it. You can find how to do that here. Enjoy your souvlaki with delicious home made french fries.

You can also serve everything on a big platter, the souvlaki strips, cut up pitas, greek salad, tzatziki sauce and french fries on the side.