This is a delicious chicken gyro souvlaki with juicy, tender chicken, homemade Greek style pita bread and lots of fresh ingredients.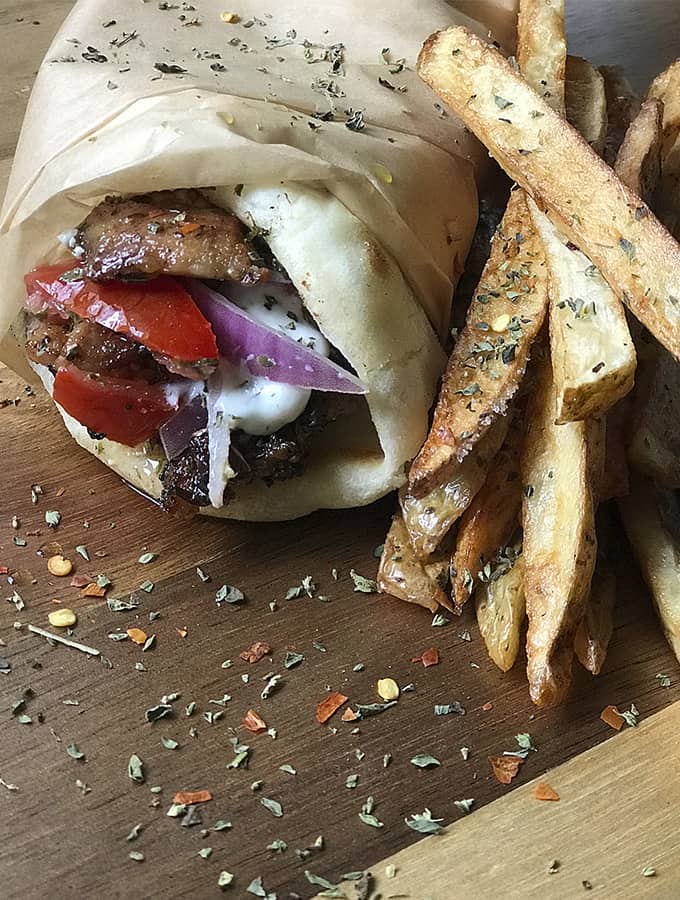 What is souvlaki?
It is the closest thing Greeks have to fast food and it is probably a much healthier option than the various fast food burger versions you find in the US because it is always made with fresh ingredients.
Souvlaki consists of small pieces of meat grilled on a skewer or as gyro, (meat cooked on a vertical rotisserie) wrapped in pita with tomatoes, onions and tzatziki sauce. The meat usually used in Greece is pork, although chicken, beef, and lamb may also be used. Every souvlaki shop makes their own meat marinade, tzatziki sauce and tomatoes. There is no prefabricated gyro, they painstakedly make their own. The cooking oil is always olive oil no matter where you go. And the fries are real potatoes, no prefab there.
I make gyro souvlaki because I love it and it makes me feel closer to home. Since I don't have a vertical rotisserie -I wish but they are huge and only used in restaurants- I have found ways to replicate the flavor and texture of the real thing.
Both chicken and pork souvlaki are my favorites. Try my recipe for the traditional pork souvlaki, it is amazing and great for entertaining. Our friends love it and participate in the cooking!
What kind of chicken cut should you use?
To make chicken gyro souvlaki I always use chicken thighs that are skinless and boneless. I cut the thighs in smaller vertical pieces and use the marinade to soften them and infuse them with flavor. After marinating for about an hour, I grill them using a very hot cast iron grill pan. I don't overcrowd the pan just 2-3 pieces at a time because adding too many results in lowering the temperature of the pan and your protein just boils instead of grill.
What should I use for pita?
I love making my own pita bread. The Greek pita bread is like a flatbread, does not have a pocket like the middle eastern kind. My recipe is easy and in no time I have 4-6 delicious pitas for my souvlaki. You can find the recipe here.
If you don't have time to make the pita bread you can use this Stonefire naan bread or various Greek flatbreads that are available on the market. In a pinch you can use the middle easter kind of pita with the pocket, it will work just as great.
More chicken please!
Check out some more of my Greek chicken recipes that are delicious and easy. My lovely cinnamon roasted chicken makes the house smell like Thanksgiving! A Delicious and traditional Greek roasted chicken with lemon & rosemary is perfect for a Sunday roast. And my very Greek chicken soup is great for healing and comfort.
WANT TO EAT LIKE A GREEK? Subscribe to my email and follow along on Facebook, Pinterest and Instagram for all of the latest recipes.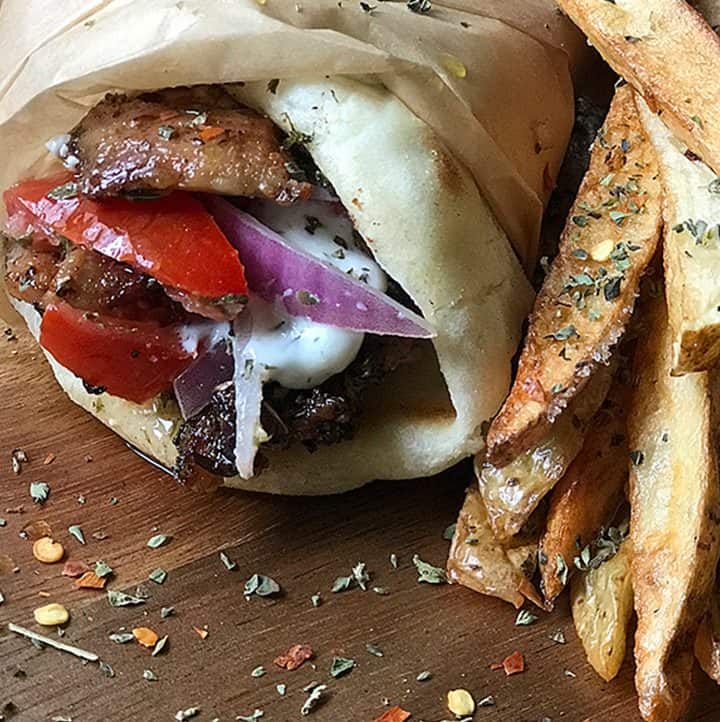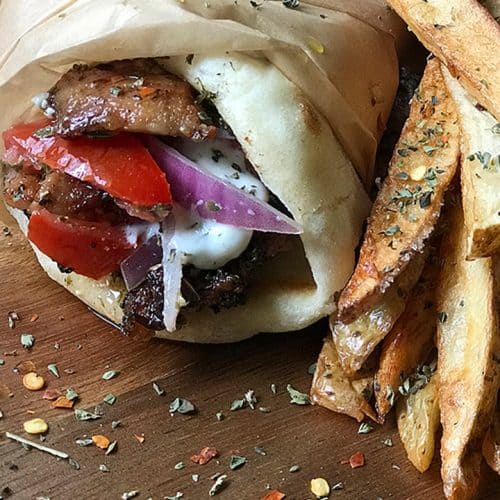 Ingredients
for the marinade
1

tbsp

extra virgin olive oil

1

tablespoon

honey

1

lemon

juiced

2

garlic cloves

sliced

1

tbsp

fresh thyme leaves

1

tbsp

fresh rosemary leaves

sea salt

freshly ground pepper

1

tbsp

red pepper flakes
the meat
4

chicken thighs

Skinless & boneless, sliced in 1/2 inch strips
For the tomato bruschetta
½

red onion

finely diced

2

ripe tomatoes

finely diced

1

tablespoon

fresh basil leaves

minced

¼

cup

extra virgin olive oil

sea salt
For the mustard aioli
⅓

cup

mayonaise

⅓

cup

dijon mustard

freshly ground pepper

⅓

cup

honey

1

garlic clove

minced
Instructions
Cut the chicken into thin strips lengthwise and transfer to a bowl.

In bowl mix all the marinade well and pour them all over the chicken. Make sure the chicken is completely coated. Let it marinate for an hour or so.
cooking options
You can cook the chicken strips on your home charcoal grill, you can also use a cast iron grill or even a non stick pan. Whatever you do is great.
cast iron grill pan method
Place a cast iron grill pan over medium- high heat. When pan is hot add the chicken in small batches and cook for 4-5 minutes, turning the strips once or twice until the chicken is cooked through and is golden brown on all sides. Don't crowd the pan and do not turn the chicken to often, let it brown nicely.

When this batch of chicken is ready transfer to a large plate and squeeze a little lemon juice all over, about 1 tbs. Wipe your pan lightly with a paper towel to clean any burned bits and cook another batch of chicken strips repeating the same process.
Serving time, you have options!
You can roll 2-3 strips on a pita with tomato, onion and tzatziki sauce and enjoy it as a souvlaki. You can find the recipes for the fillings here. And I suggest to go all the way and make your own pita bread. It is totally worth it. You can find how to do that here. Enjoy your souvlaki with delicious home made french fries.

You can also serve everything on a big platter, the souvlaki strips, cut up pitas, greek salad, tzatziki sauce and french fries on the side.
Nutrition
Calories:
557
kcal
|
Carbohydrates:
46
g
|
Protein:
28
g
|
Fat:
31
g
|
Saturated Fat:
8
g
|
Cholesterol:
107
mg
|
Sodium:
920
mg
|
Potassium:
619
mg
|
Fiber:
5
g
|
Sugar:
6
g
|
Vitamin A:
3223
IU
|
Vitamin C:
27
mg
|
Calcium:
268
mg
|
Iron:
3
mg
Did you like this recipe?
Mention @thegreekfoodie__ or tag #thegreekfoodie__