This vegetarian Moussaka with BEYOND BEEF® is delicious and tastes just like the real thing!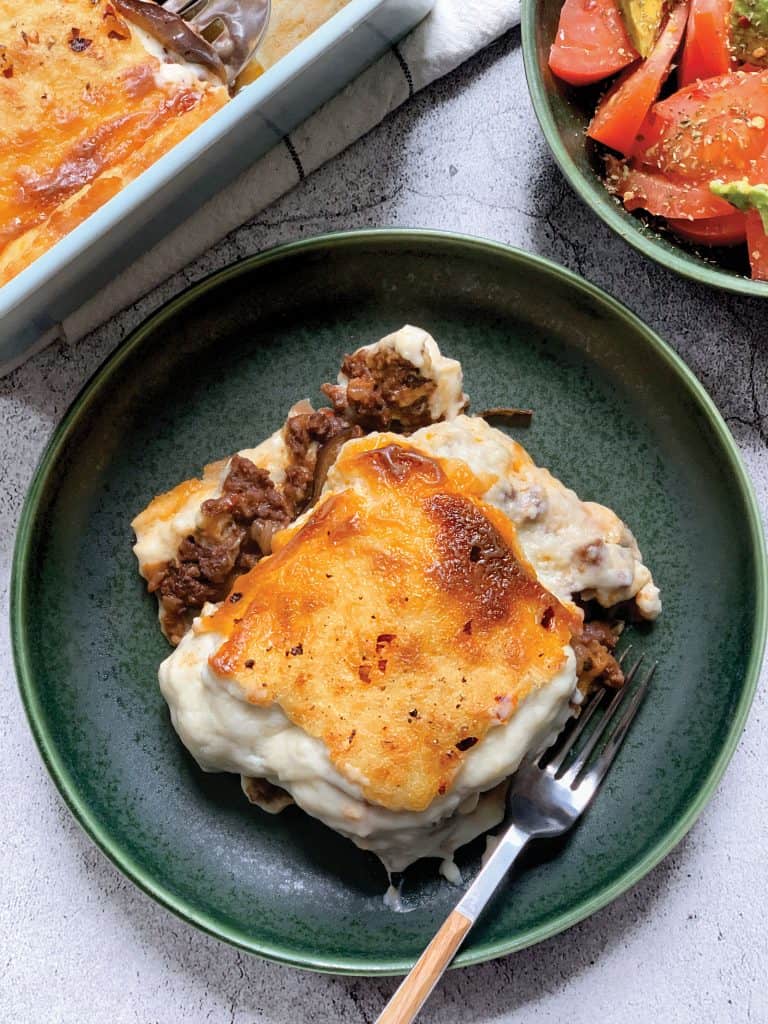 At the beginning of summer Daryl and I decided to make a conscious effort to eat less meat and focus more in a plant forward diet with lots of veggies and some seafood.
Obviously eating less meat has a direct impact to the welfare of animals. And it is probably the best thing we can all do to help the environment and positively impact climate change.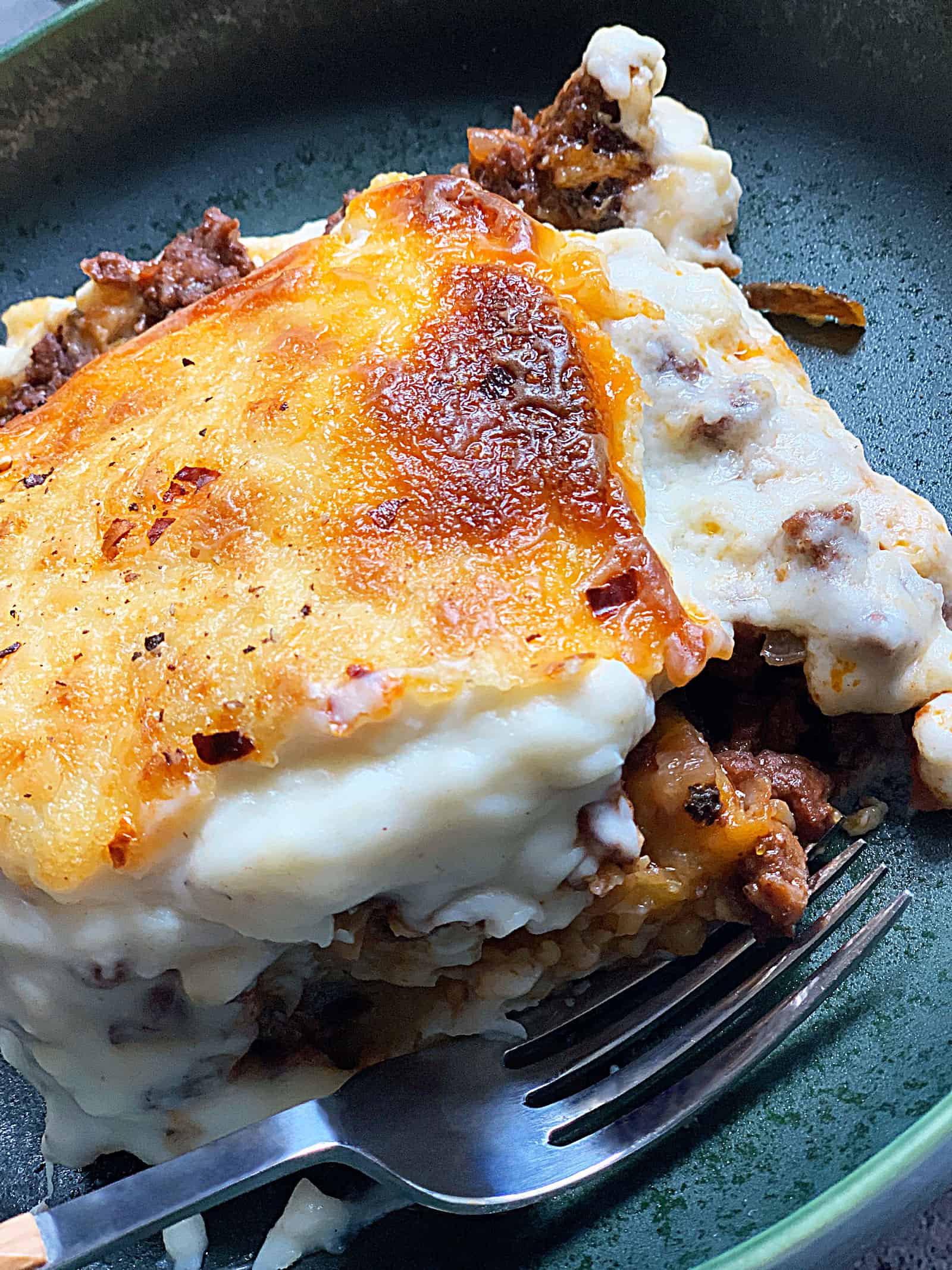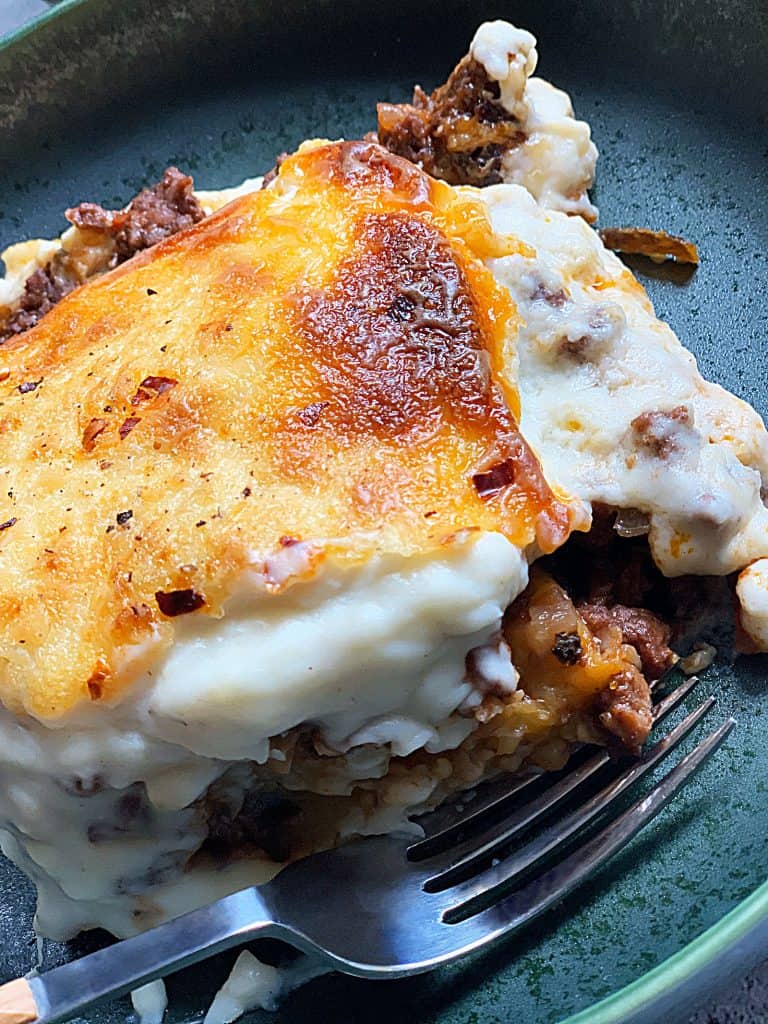 As a Greek, it is not difficult to focus on veggies and fish, Greek food is abundant in both. For Daryl, it meant that he had to say goodbye to favorite foods like a good beef burger and hot Italian sausages. Until now that is.
Companies like BEYOND MEAT® and IMPOSSIBLE FOODS have completely changed the game regarding vegetarian alternatives to meat. Their plant based alternatives have helped us so much transitioning to a vegetarian/pescatarian diet. We have been enjoying the BEYOND BURGER™ and BEYOND SAUSAGE® for a while and we haven't really missed meat at all.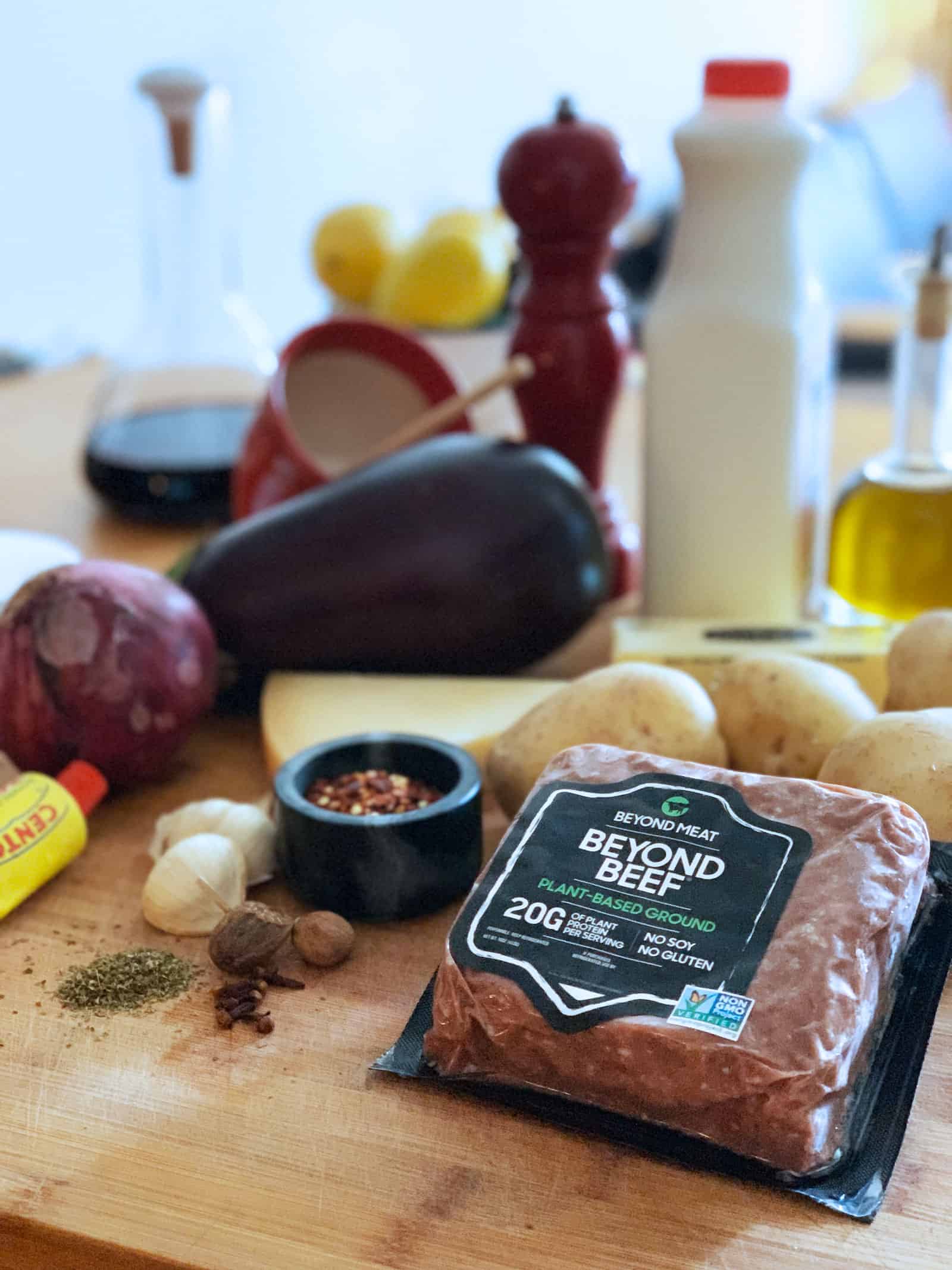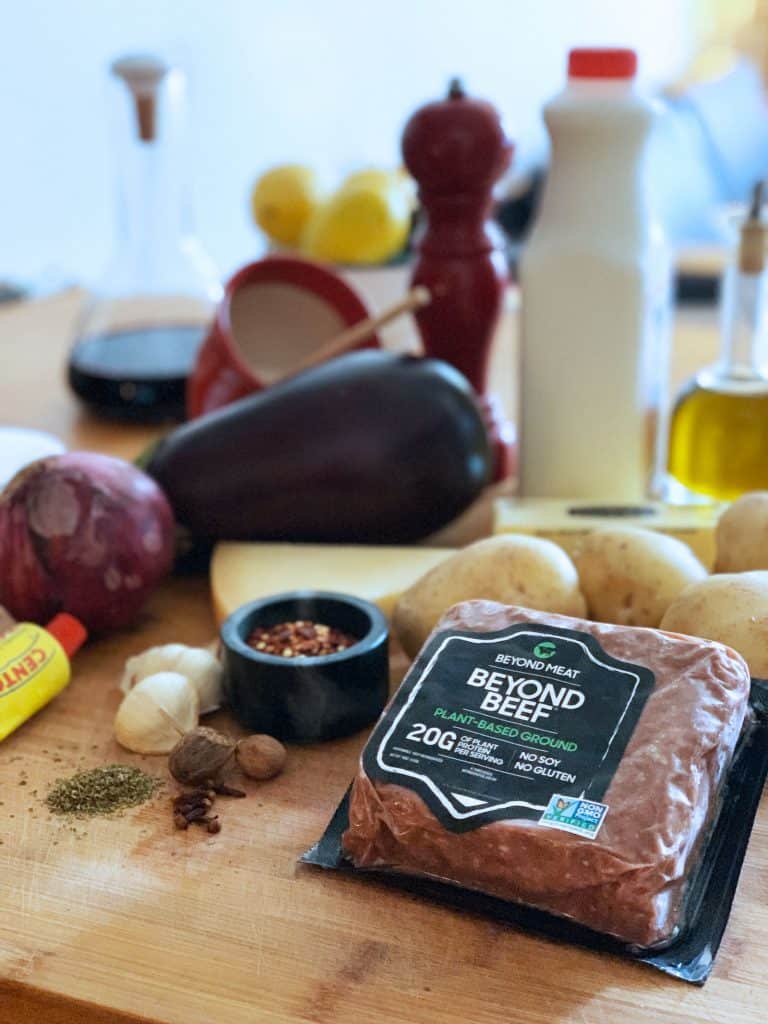 I wanted to start cooking traditional Greek dishes and see how they would come out using a BEYOND MEAT® plant based beef product called BEYOND BEEF®. The results have been unbelievable. I was so overjoyed when my vegetarian moussaka came out absolutely perfect! I couldn't believe it! It tasted so close to the real thing!
I followed the traditional Greek way of making moussaka with the exception of using BEYOND BEEF® instead of real beef. The béchamel is rich and creamy made with real butter and whole milk. You can certainly opt out from lightly frying the potato slices and use them raw if you prefer, just remember to season well and cook the moussaka for the full 1 hour. My suggestion would be to fry them because it will add flavor to this particular recipe due to the extra fat missing from using plant based meat.
Some Greek cooks also fry the eggplant slices but I prefer baking them. That way the eggplant does not absorb so much olive oil. The "beef" ragù is also made just like I would make it with real meat. I season every step to allow flavors to develop and the addition of wine really enhances the sauce.

I hope you will enjoy this plant forward moussaka as much as we do!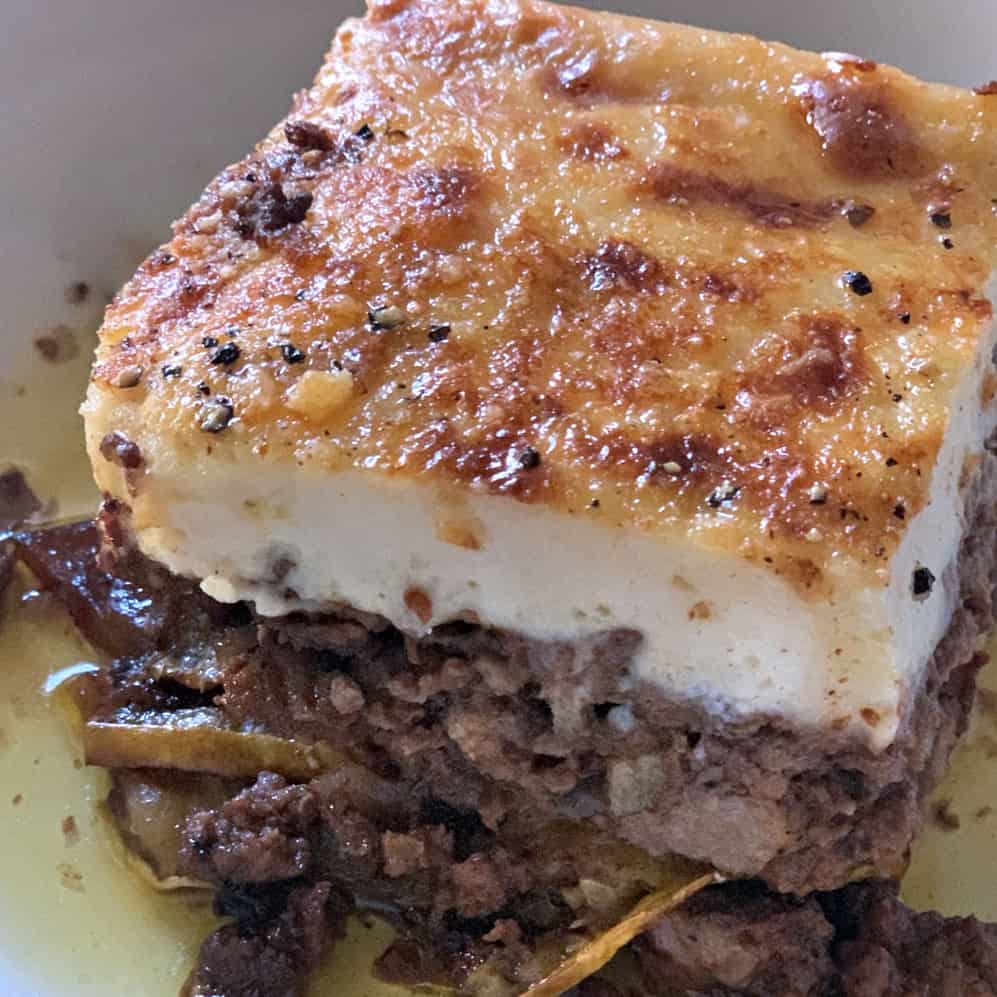 Equipment
medium sauce pan

8" square baking tin
Ingredients
1

lb

ground beef

I like 85% 15% fat ratio

1

lb

ground pork

3

potatoes

peeled and sliced

3

yellow squash

sliced

1

red onion

diced

2

cloves

garlic

minced

1/4

extra virgin olive oil

1/2

cup

red wine

1

tbsp

tomato paste

4

oz

parmesan cheese
for the béchamel
1

cup

all purpose flour

5

tbsp

butter

1

pint

whole milk
you will also need
light olive oil for frying

sea salt

freshly ground pepper

nutmeg

whole or grated, your choice

dry oregano

I love Greek oregano

red chili flakes
Instructions
Preheat oven to 350 F.

Line a baking sheet with parchment paper. Place the squash slices, drizzle 2 tbsp olive oil all over. Season with salt, fresh ground pepper and a pinch of oregano. Add some chili flakes if you like. Bake in the oven for 15 min or so, until squash slices have a light golden color and moisture is gone. Don't overbake! When ready, remove from oven and let them cool.

In a frying pan add 2-3 tbsp light olive oil. In high heat fry the potato slices for approximately 1-2 min, both sides. Remove slices and place in a paper towel to absorb extra oil.

Remove the light olive oil from the frying pan, wipe excess with a paper towel. Add 2 tbsp extra virgin olive oil. In medium heat, add the onions. season with a pinch of salt. After 2-3 min add the garlic. Stir well. Add the tomato paste. Season with another pinch of salt, fresh ground pepper and 1-2 pinch of dry oregano. Stir well. Add 1-2 pinches of chili flakes. Stir well.

Add the ground meat. Break it to smaller pieces as it sautés. Mix everything well. Add the wine. Allow the wine to evaporate a little for 2-3 min. Remove from heat and set aside.
Assemble the squash and potatoes.
Add a layer of potatoes slices to the bottom of the baking pan. Season potato slices with salt and pepper. Add a layer of eggplant. Sprinkle some grated parmesan cheese al over. Repeat a layer of potatoes. Season with salt and pepper. Add another layer of eggplant slices. Sprinkle a generous amount of grated parmesan.

Add your "meat" on top of the eggplant. Spread evenly. Add a generous amount of grated parmesan. Set aside.
Make the béchamel.
Place a medium sauce pan on medium to low heat. Add the butter.

When butter is melted add 1/3 of the flour. Stir well with a whisk. Add 1/3 of the milk. Keep whisking. Add more flour. Keep whisking. Add more milk. Repeat alternating between flour and milk. Season with salt and pepper. Grate a good amount of nutmeg. Keep whisking. You might need to add a little more flour or milk to reach the correct consistency. The béchamel should be smooth and velvety but thick enough to remain distinct atop the ground "meat" in the moussaka.

Turn the heat off. Add a generous amount of grated parmesan cheese. Stir well with the whisk. Adjust salt and pepper to taste.

Final steps

Pour the béchamel on top of the meat. Spread evenly. Grate a good amount of parmesan cheese on top, sprinkle some chili flakes and fresh ground pepper.

Bake in a 350 F oven for 45 min to 1 hour or until top is a nice golden color.

Let moussaka sit for 15 min before serving. Enjoy!
Notes
I used a 8" square baking tin like this one. Had to line the bottom with parchment paper and place tin on a baking sheet to cook because it has removable base. I used that pan because It's deep and allows the moussaka to have a nice layer of béchamel on top. If you are using a 10.5"×8"×3" lasagna pan just add one more potato and a small eggplant to the recipe. The "meat" layer should be fine as well as the béchamel.
Did you like this recipe?
Mention @thegreekfoodie_ or tag #thegreekfoodie_