A bowl of lentil soup and a piece of bread could possibly be the most unpretentious, simple, delicious comfort meal one can have.
Whenever my mother made lentils the subtle soup aroma filled the rooms of our Athenian home and gave my small self a sense of comfort and reassurance. Most of the time I indulged in two bowls of the delicious soup, with lots of fresh bread, pieces of feta cheese and olives.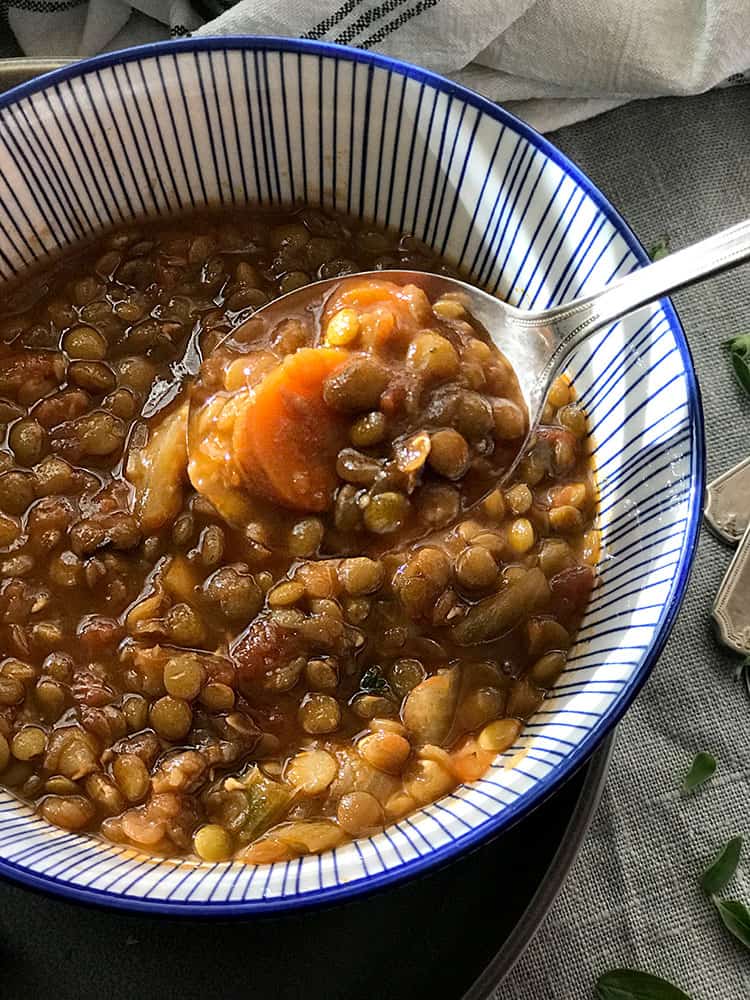 I still reach out to this soup when I want a simple but delicious meal. There are a few kinds of lentils and I usually use the green or brown variety. Brown lentils are one of the most common varieties of lentils, have a mild, earthy flavor and they easily hold their shape once cooked. Green lentils have a slightly peppery flavor and firm texture but have the longest cooking time out of all the varieties.
I find lentil soup one of the easiest meals to make. You throw everything in a large pot and an hour or so later you have a delicious, healthy, nutritious meal.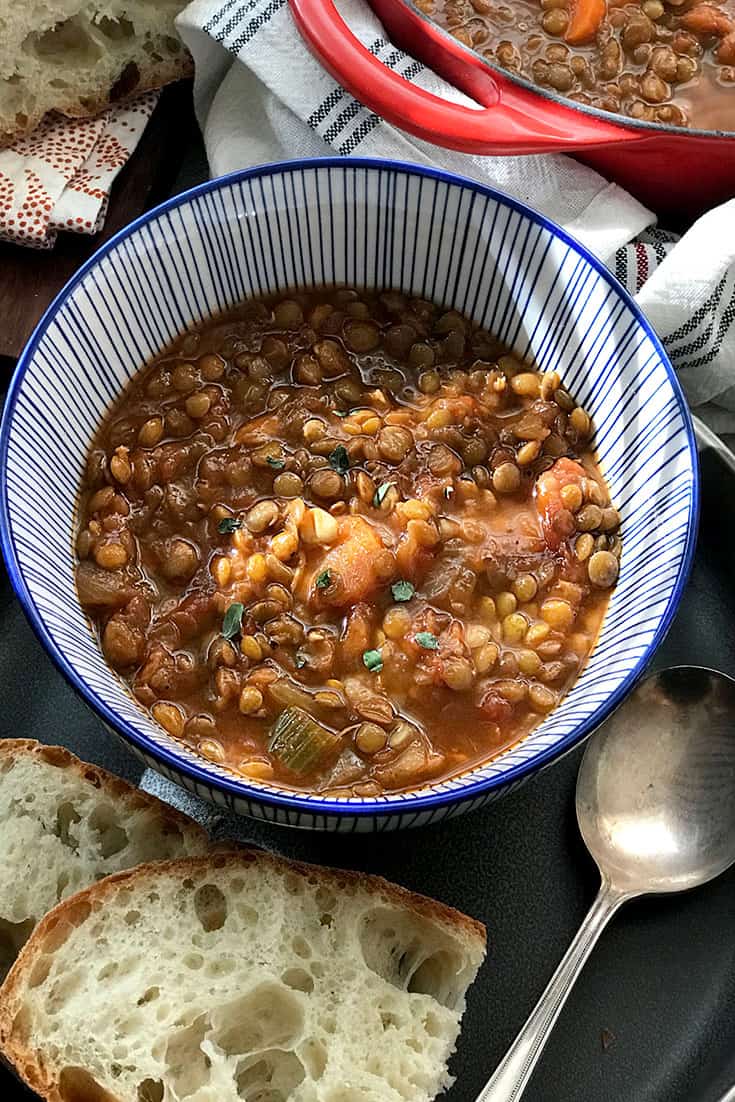 Ingredients
1

16 oz

pack of green Lentils

You can also use brown lentils, just adjust the cooking time.

1

large red onion diced

3

cloves garlic smashed

2

carrots cut in 1/4 inch pieces

2

stalks celery cut in 1/4 inch pieces

32

oz

vegetable stock

28

oz

can of tomatoes smashed with a spoon or your hands 🙂

I used San Marzanno, I love the sweet taste and velvety texture.

1 /4

cup

extra virgin olive oil

2

bay leaves

fresh ground pepper

salt
For serving
red hot chili pepper flakes

red wine vinegar

extra virgin olive oil

warm crusty bread
Instructions
Rinse the lentils and drain well.

In a large pot heat the olive oil over medium heat. A

dd the diced onion and the garlic. S

auté

for 1-2 min.

Add the carrots and celery and sauté for 3-5 minutes.

Stir and add the lentils, smashed tomatoes and vegetable stock.

Cover the pot and simmer for 45 – 60 minutes over medium to low heat. (Cooking time depends on the kind of lentils you are using. I am using green lentils that require longer cooking. Check lentils often until they have the desired texture. Adjust liquids too, you might need to add a little water or stock to achieve your desired soup consistency).

Add salt and fresh ground pepper to taste.

Serve lentils in bowls with a slight sprinkle of red hot chili pepper flakes, a 1 tbsp olive, a tbs of red wine vinegar (optional) and warm crusty bread on the side.