The king of Greek comfort food is of course moussaka, a delicious casserole with sliced vegetables topped with a hearty ragù sauce and a rich velvety béchamel sauce.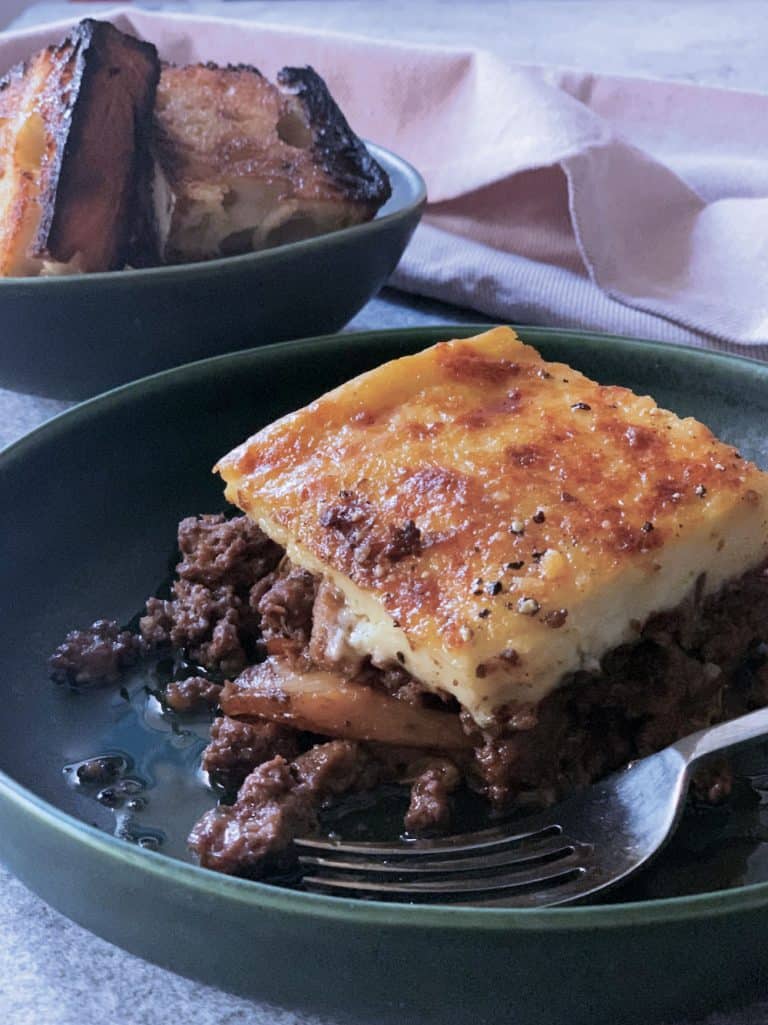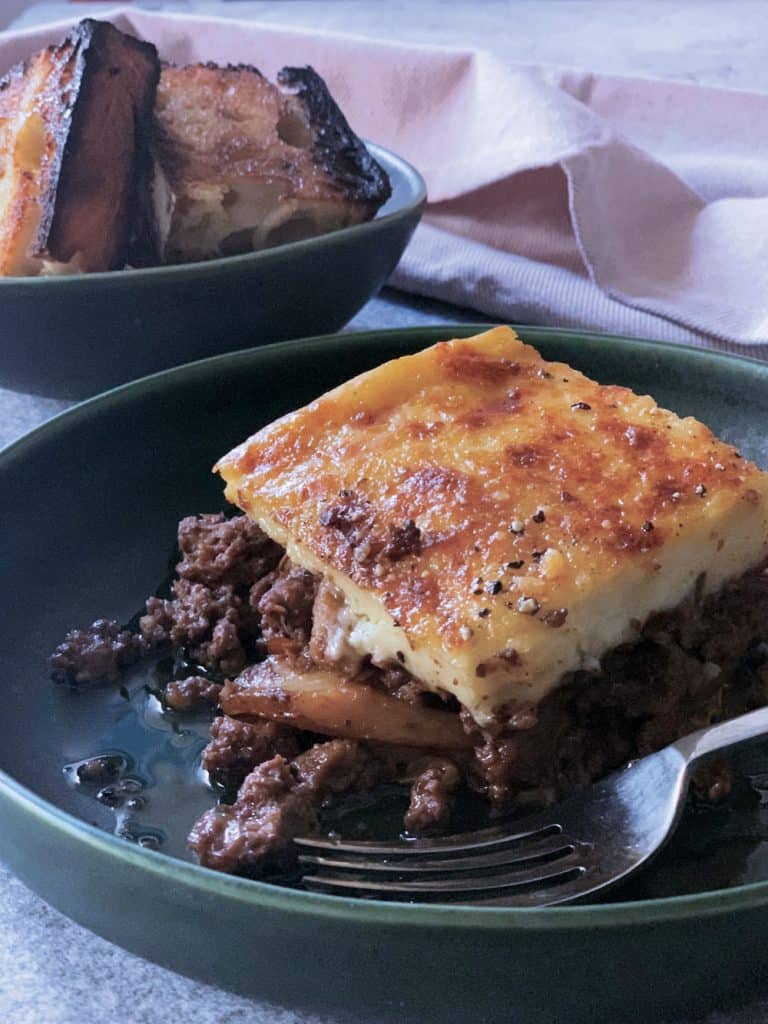 Usually the vegetables used for moussaka are potatoes and eggplant. Some versions only use eggplant. This particular moussaka recipe combines thin potato slices with sliced yellow squash. The squash ads a freshness to the dish and the traditional hearty meat ragù sauce has great depths of flavor.
The Process
Making moussaka can be time consuming and tedious. The trick is to be organized and use your time wisely.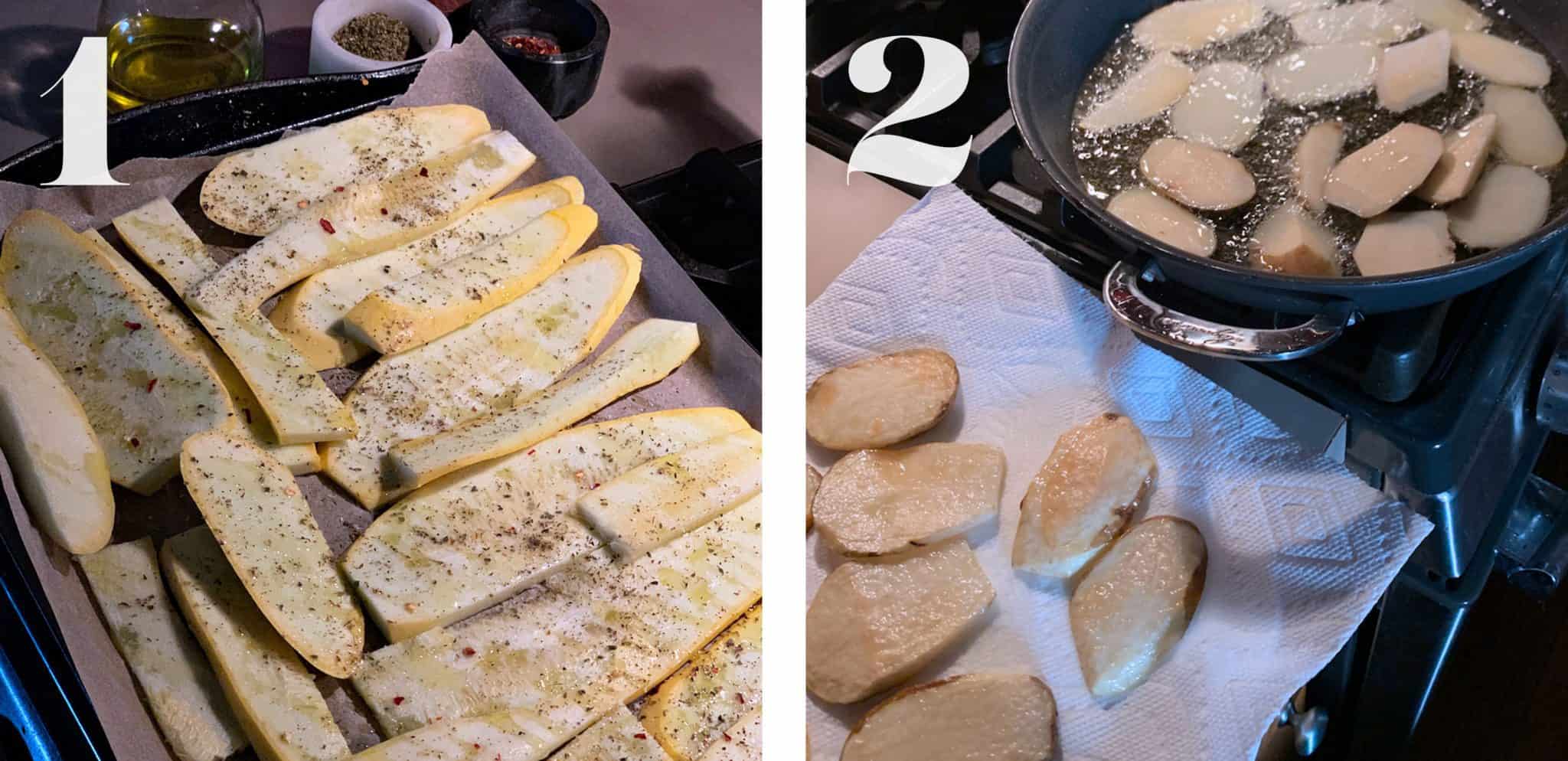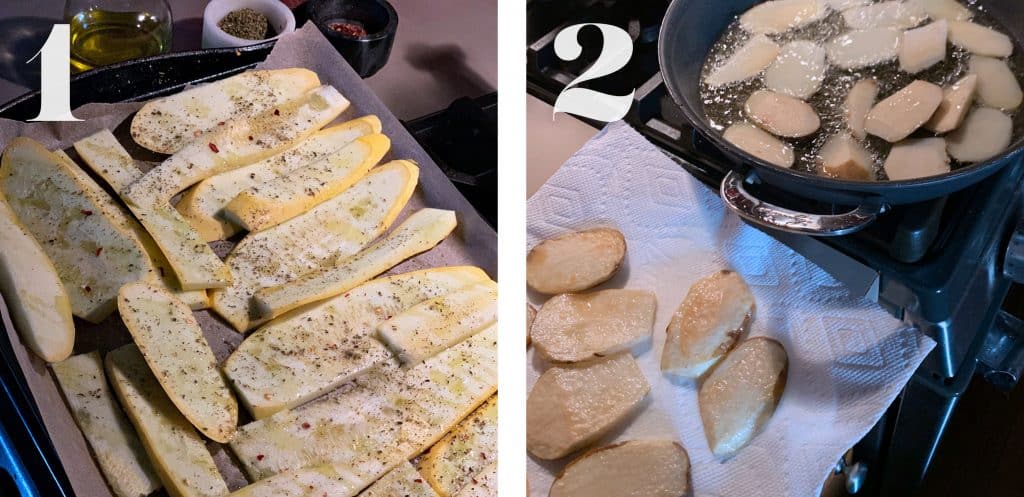 First the prepare your vegetables. Slice the squash and arrange it on a baking sheet. Season and cook in the 350 F oven until golden with lightly crispy edges. Next the potatoes. Slice and fry lightly in olive oil for 2-3 min tops both sides. I have a confession to make. I clean my potatoes thoroughly, slice away any bumps but keep the skins on. I find it faster, creates less waste and there really is no difference in the outcome. Potatoes develop a lightly crispy edge after frying and always taste great in the moussaka.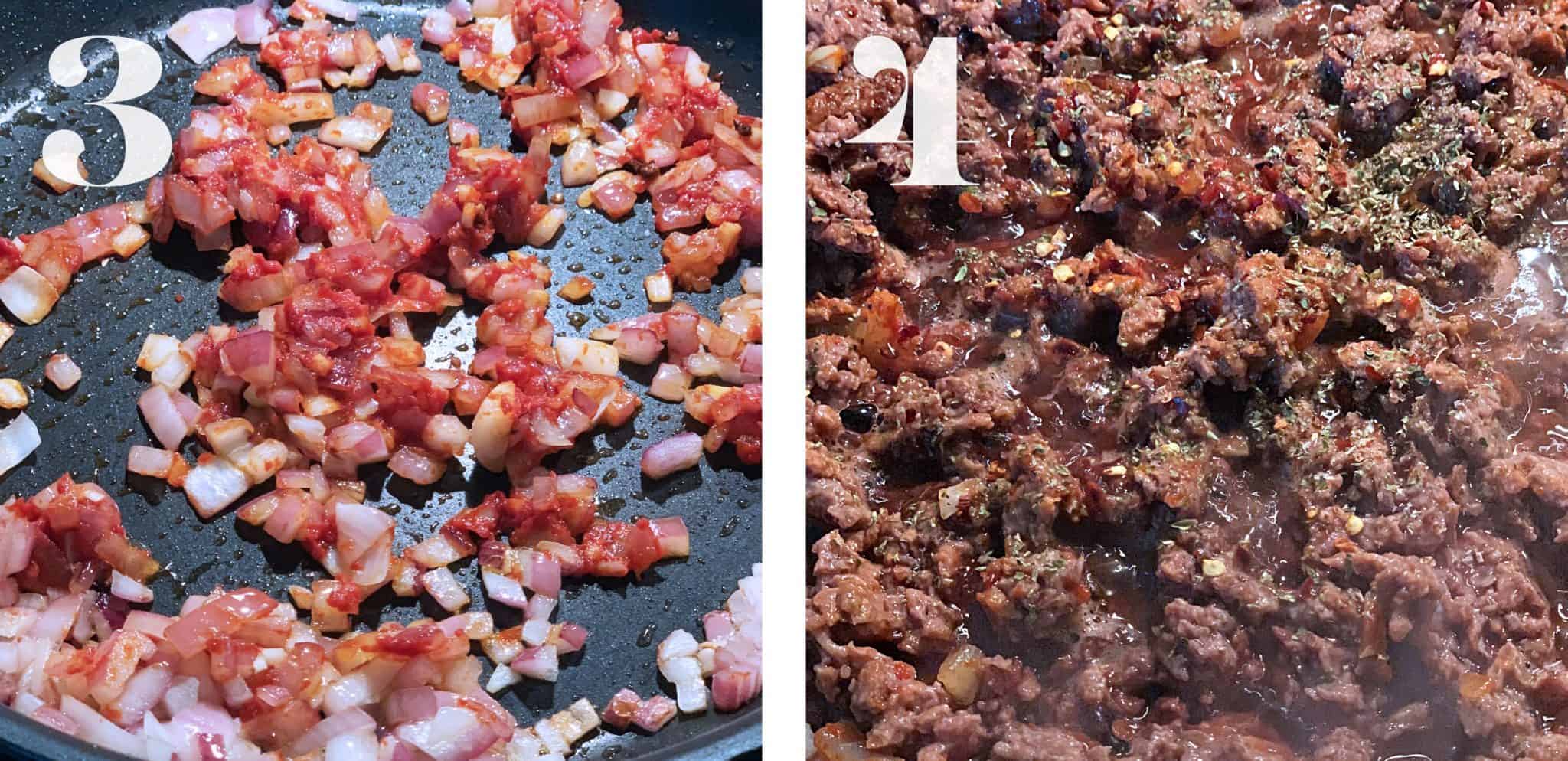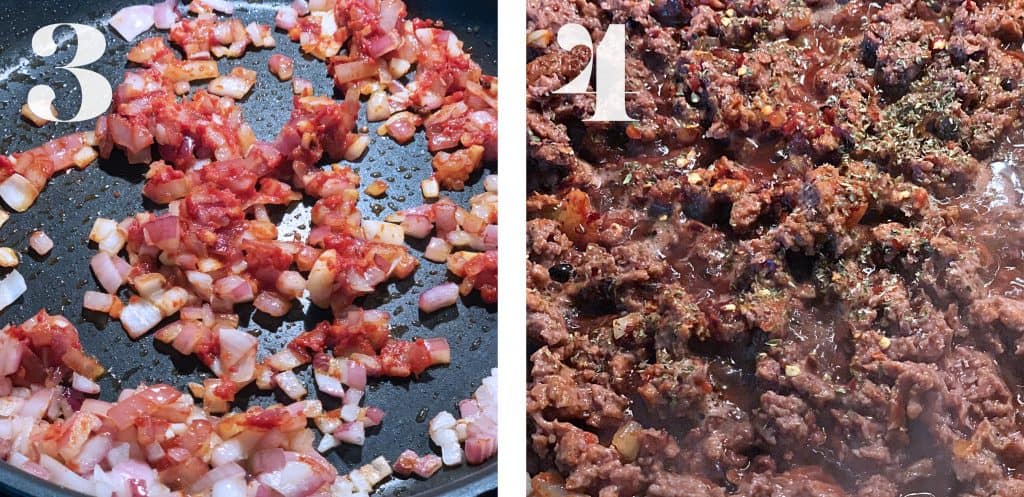 Your veggies are ready so set them aside, clean your cooking space and wash whatever pan you have used and put away. Time for the ragù sauce. I love to sauté the onion and garlic first then I add the tomato paste to develop more flavor. When I add the ground meat right after to brown all over, I make sure to break the pieces into smaller ones and that everything is nicely mixed together. I add the wine at the very end and let the alcohol evaporate. Then I set the ragù aside. It is time to layer.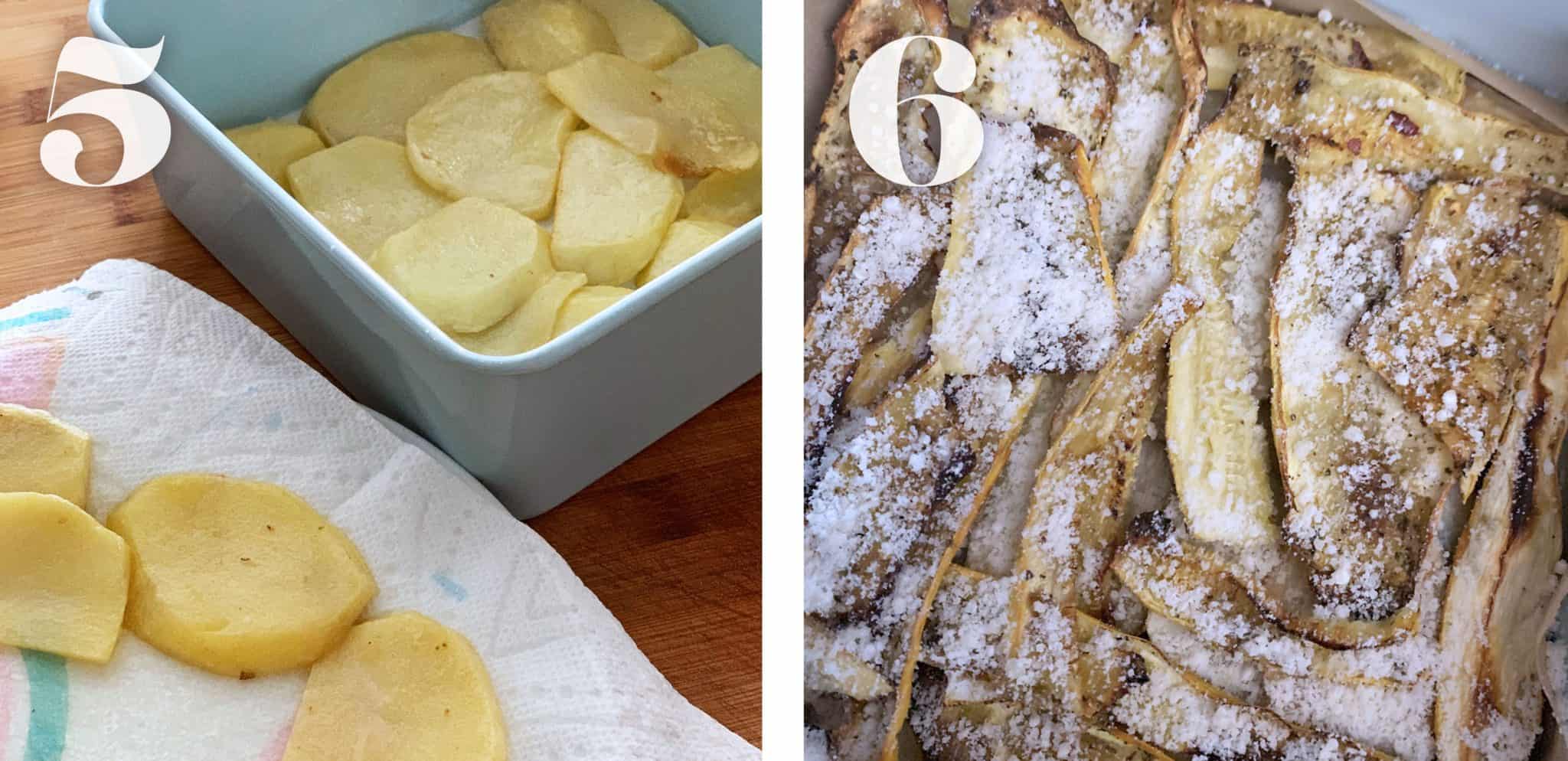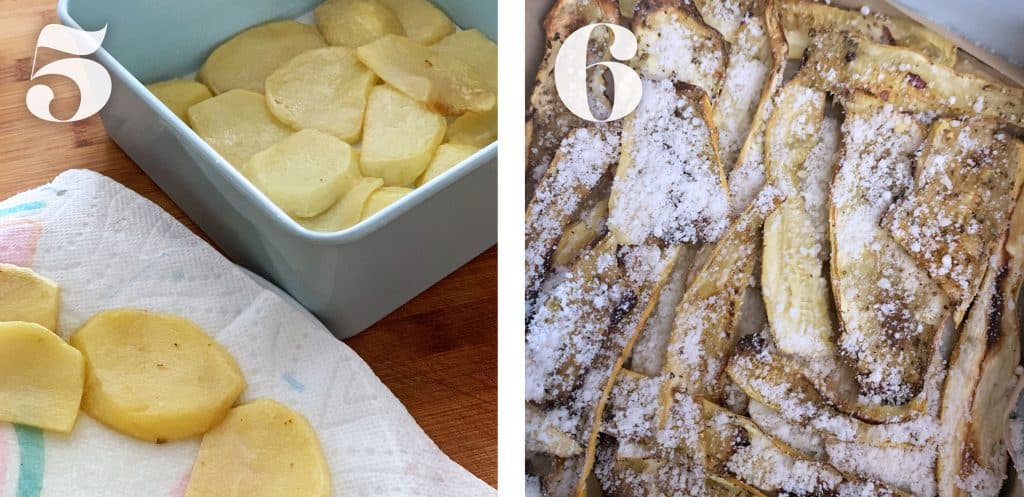 I put a layer of potatoes at the bottom of my pan first to create strong foundation. I lightly season with salt and pepper and I add some grated parmesan cheese on top. Next is a layer of squash, no seasoning this time, just add a layer of grated cheese. If you have more potatoes and squash left repeat process and sprinkle some more parmesan at the end.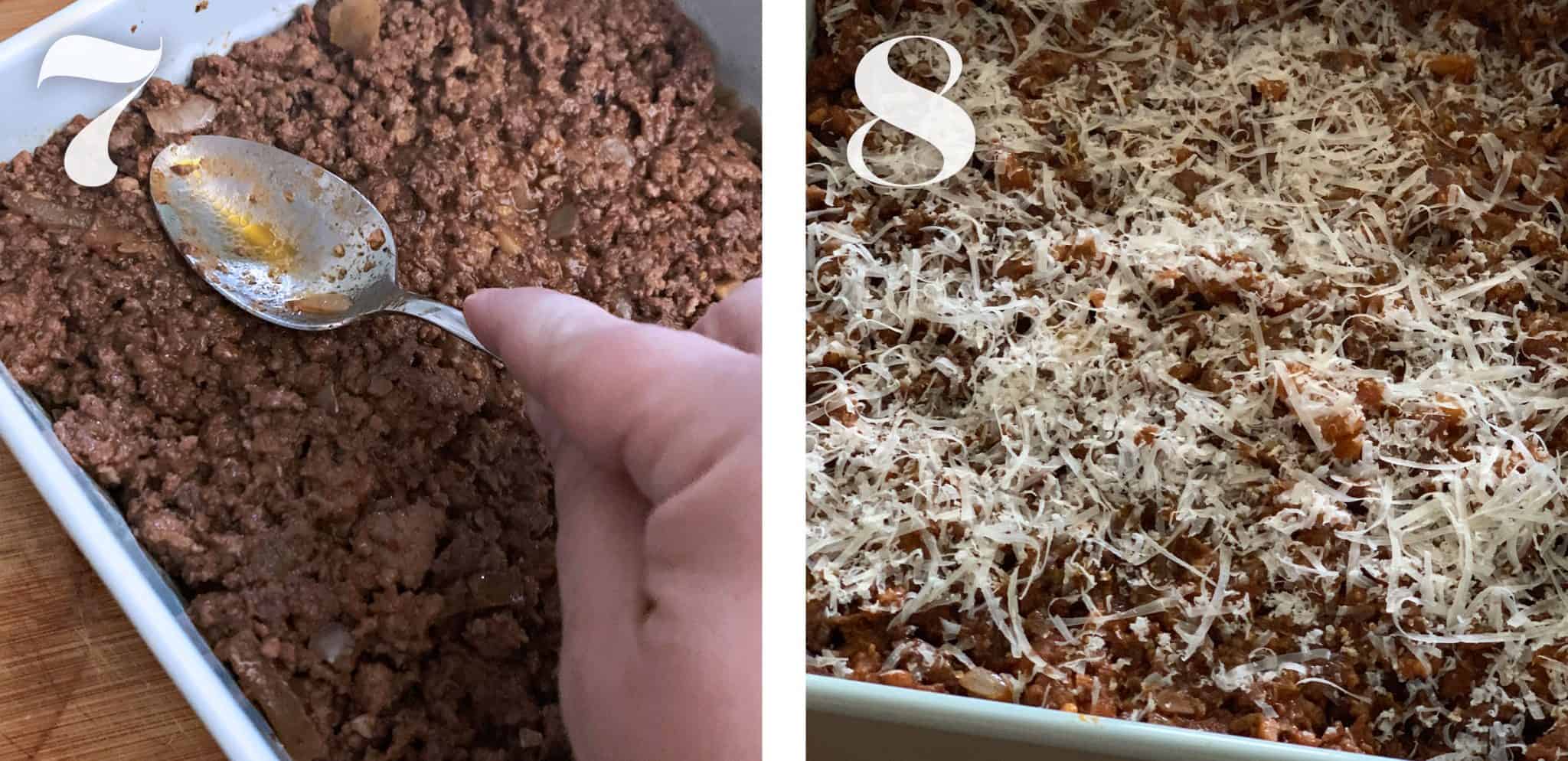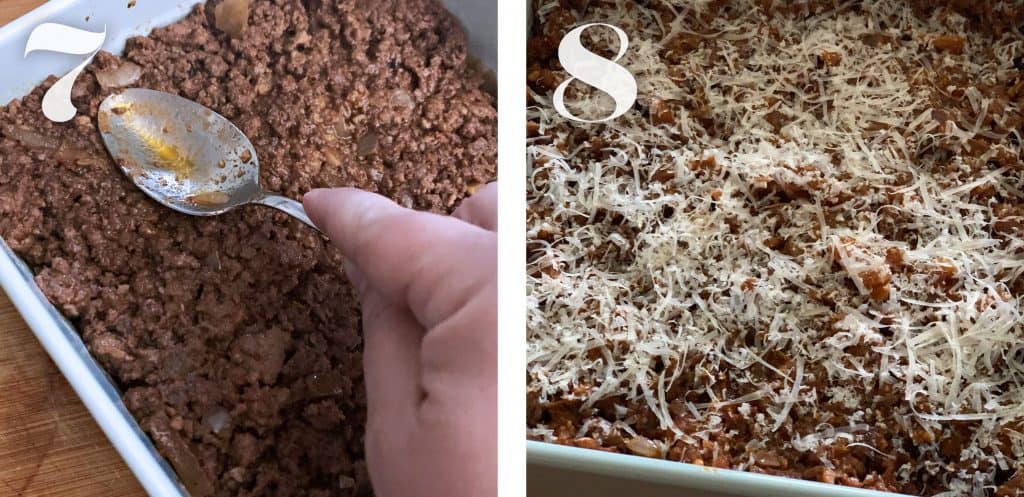 Add the meat sauce. Make sure it is even all over and press down with your spoon so it is well packed. Add a sprinkle of parmesan on top. Set your pan aside. Clean your surfaces and any pot you have used. Time to make the béchamel.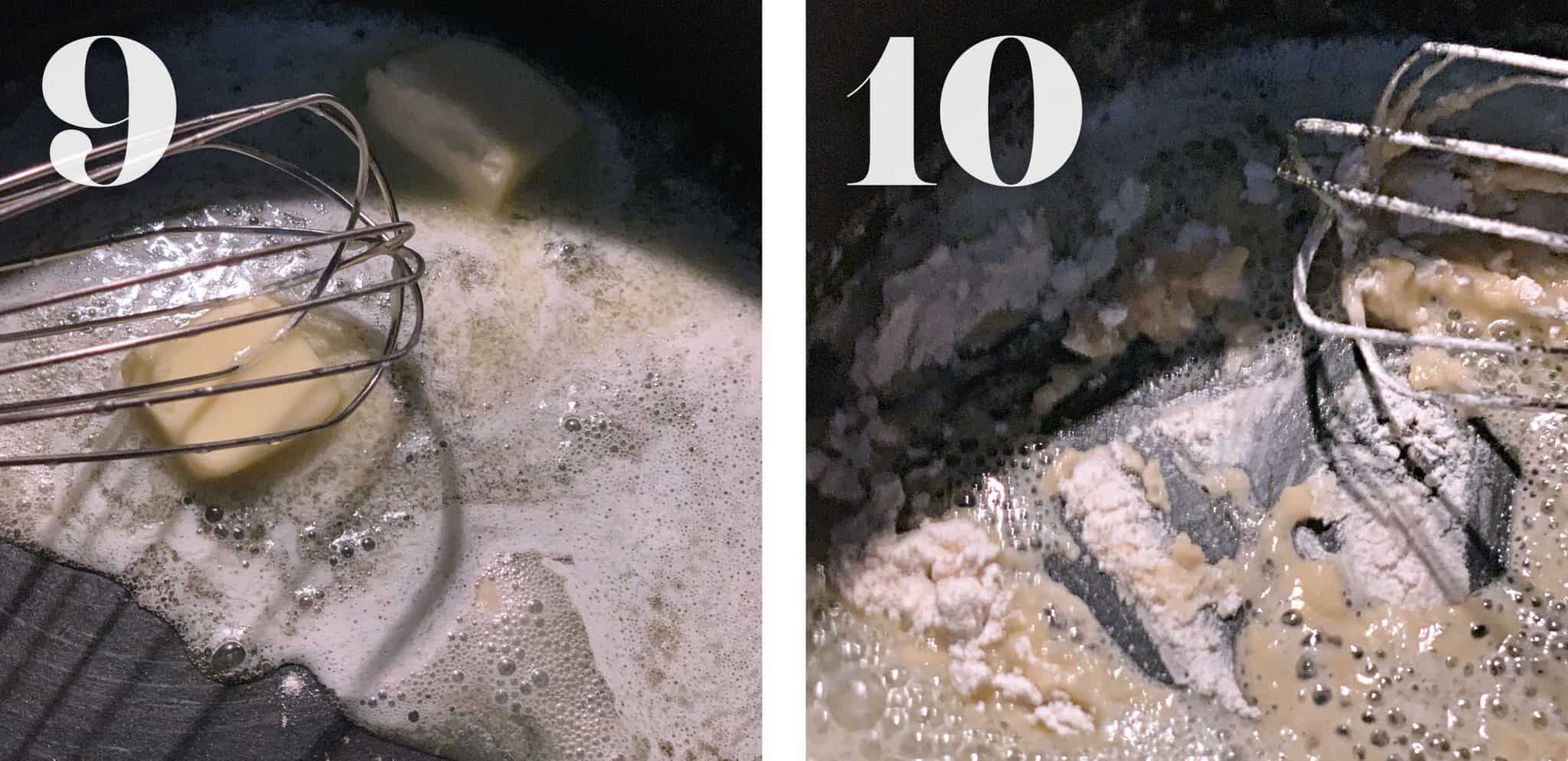 Béchamel sauce can be intimidating but it is quite easy once you get the hang of it. Start with a medium pot over medium heat. Melt the butter and while using a whisk start adding the flour. Keep whisking continuously to create a roux.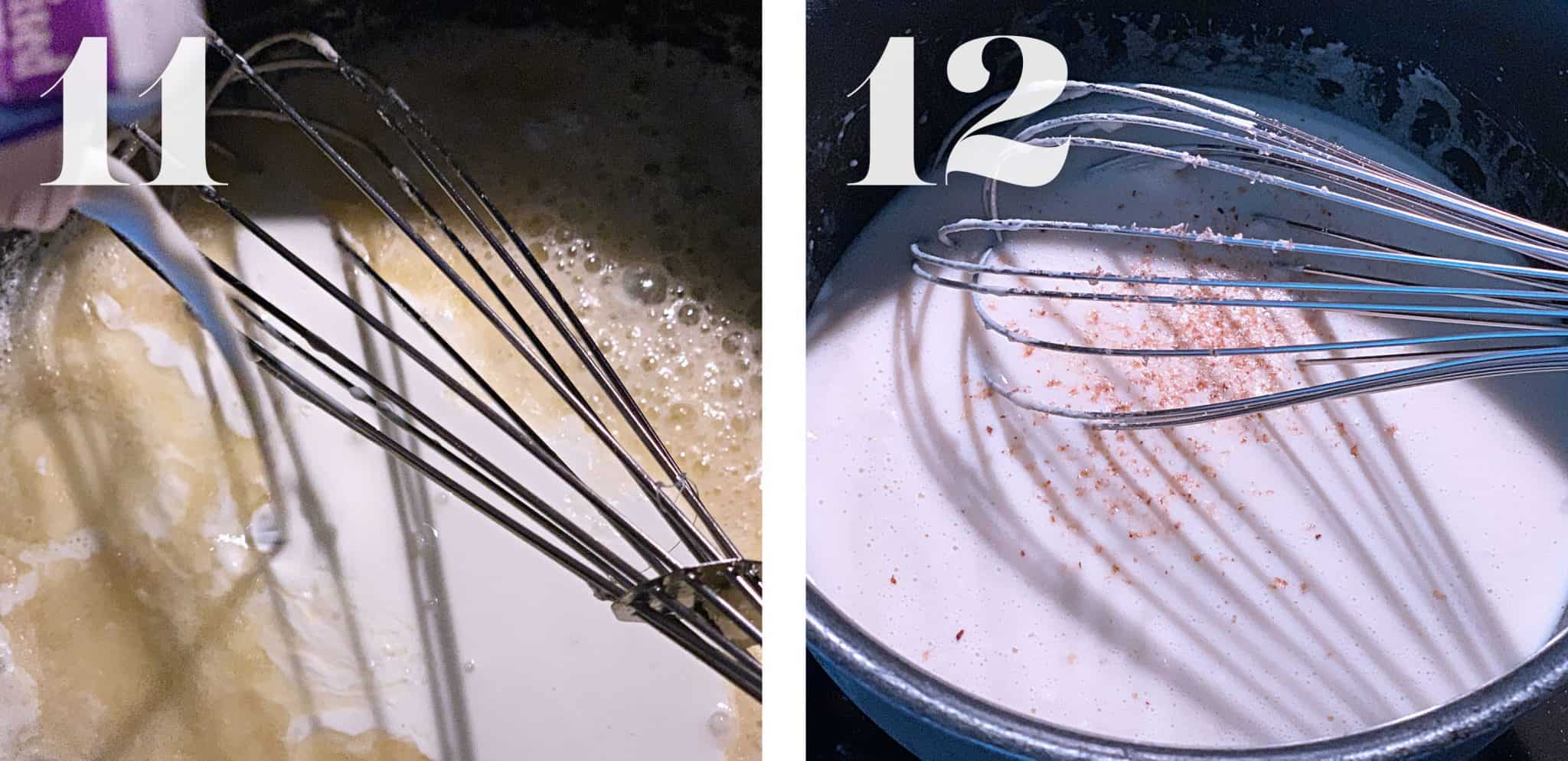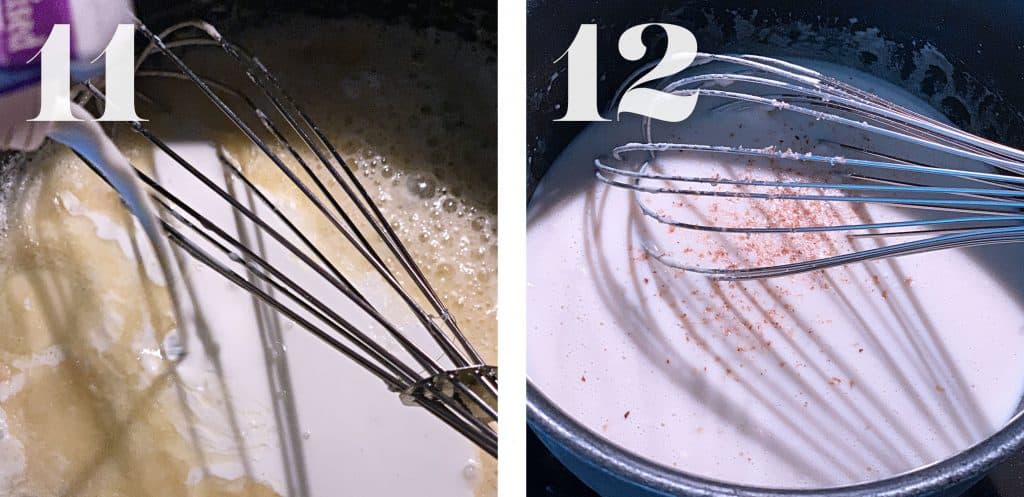 Slowly add the milk, maybe ⅓ at a time. Keep whisking and adding the rest of the milk. Keep some flour handy in case you need to adjust thickness. Same goes for milk. You might need a little more in case the sauce is becoming too thick. Season with salt, freshly ground pepper and nutmeg. You can add some parmesan cheese if you like.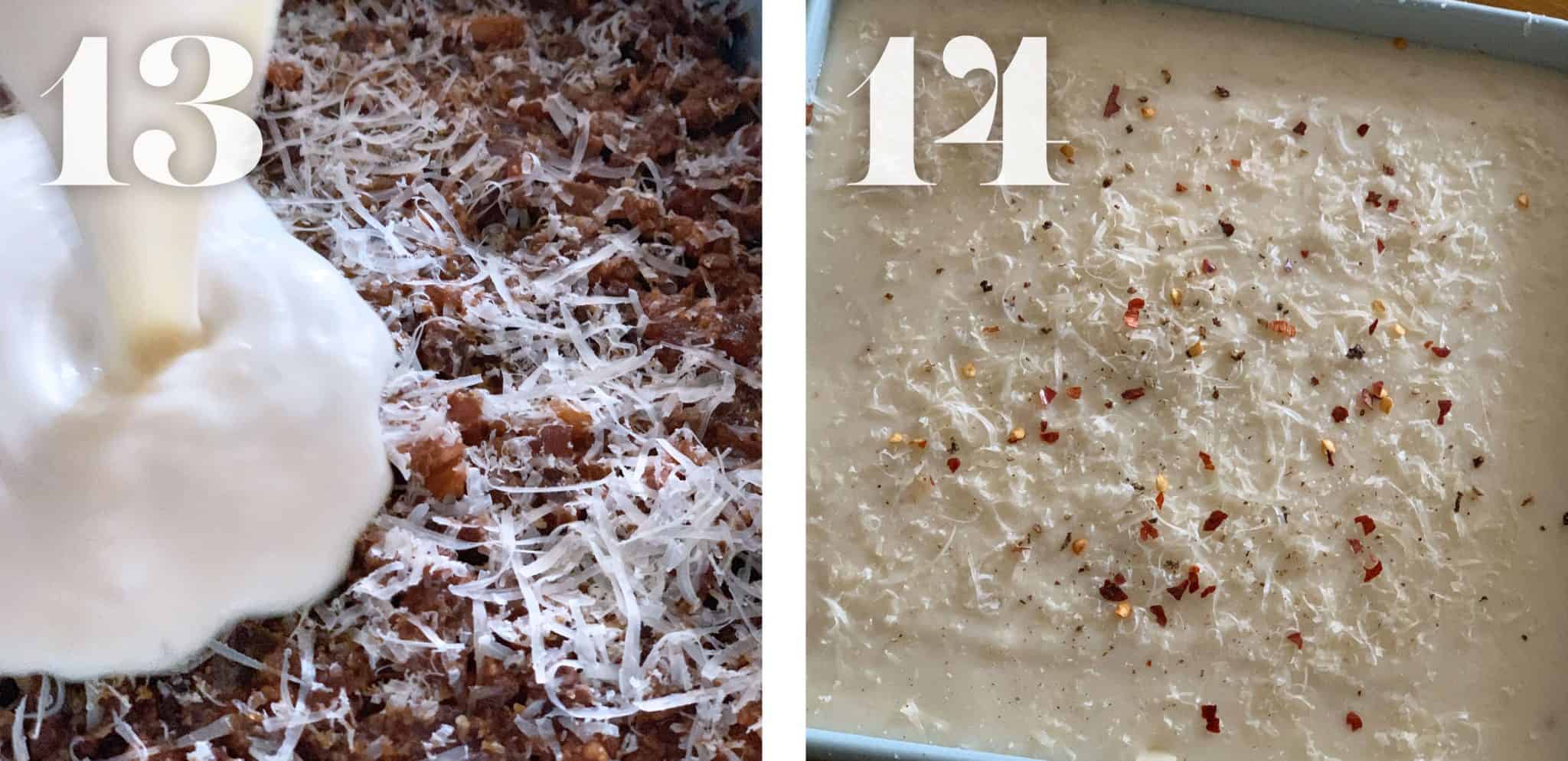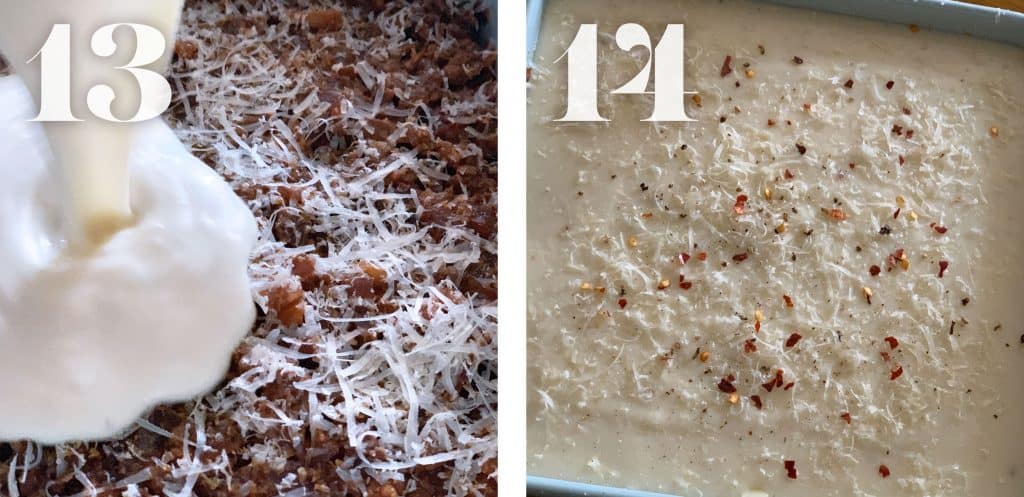 Add the bechamel evenly all over the meat. Sprinkle some cheese and season with chili flakes and freshly ground pepper. Your casserole is ready to go in the oven. I suggest to place the pan on a baking sheet to be able to catch any sauce from overflowing and creating a mess. Bake from 45 min to an hour, until it has a nice golden color on the top. Enjoy!
Tips
I season at every step. I am just careful not to over salt. The key is to make everything blend together and create a perfect bite at the end.
I love using lots fresh herbs in my recipes. But since it is not easy to get fresh ingredients at the moment and supplies can run out -unless you have your own herb garden- I make good use of the seasonings in my pantry. Dry oregano is a staple, dry basil will work in a pinch, same goes for dry sage and rosemary.
What if I don't have all ingredients on hand?
I think that is is important right now to be flexible about ingredients and make the most of what we have handy. It also gives us an opportunity to get creative and enjoy making food.
You can use only potatoes if that's all you have handy. If you have sweet potatoes, that can work too, it will be a sweet and savory moussaka and that's great! Don't hesitate to do the same if you just have zucchini or eggplant. Just follow the same method of prep suggested but adjust the time you cook each item.
If you don't have tomato paste but have some of last night's marinara sauce left over feel free to use it! Just mix it in like you would do with the tomato paste. It will work fine.
Instead of wine use some stock. If you don't have stock, use a bouillon cube. Just adjust the salt. If none is available just leave them out, add a little water and all will be well anyway. 🙂
If no butter is available for your béchamel use olive oil, it works and it is just as good.
No milk or flour? Just add a cheese sauce, or ricotta mixed with mozzarella or parmesan. If you have polenta handy that can be ok too.
Some alternatives for the meat. Are you a vegetarian or can't find any ground beef or pork at your grocery store and all that is left is vegan meat like Impossible Burger give my vegetarian moussaka recipe a try. It is made with Beyond Beef. It is very close to the real thing. Another option is making a mushroom ragù. Oyster or portobello mushrooms have a great meaty smoky flavor and I often use them to make a ragù sauce. But any type mushrooms would do really.
You can also try:
If you've tried this Greek Moussaka With Yellow Squash or any other recipe on The Greek Foodie, then don't forget to rate the recipe and leave me a comment below! I would love to hear about your experience making it.
WANT TO EAT LIKE A GREEK? Subscribe to my email and follow along on Facebook, Pinterest and Instagram for all of the latest recipes.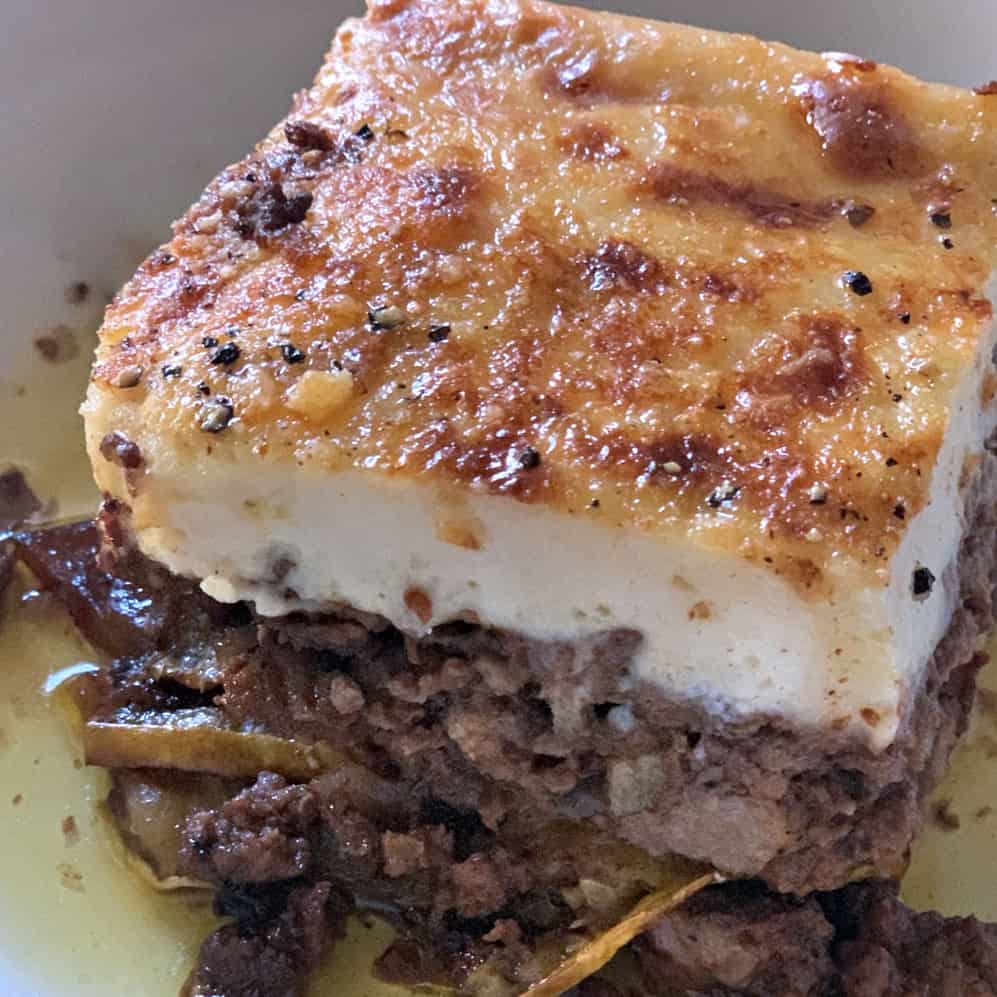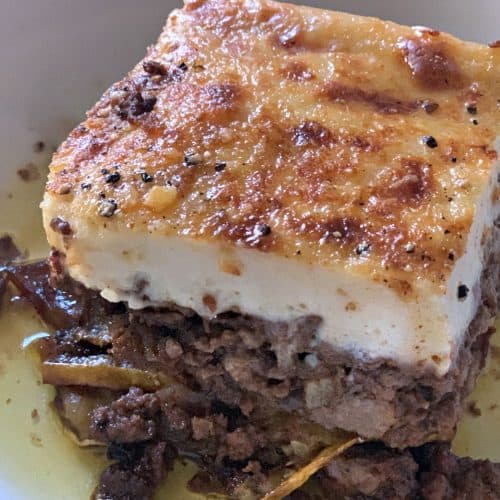 Equipment
medium sauce pan

Rimmed baking sheet

8" square baking tin

frying pan
Ingredients
1

lb

ground beef

I like 85% 15% fat ratio

1

lb

ground pork

3

potatoes

sliced

3

yellow squash

sliced

1

red onion

diced

2

cloves

garlic

minced

¼

extra virgin olive oil

½

cup

red wine

1

tbsp

tomato paste

4

oz

parmesan cheese
for the béchamel
1

cup

all purpose flour

5

tbsp

butter

1

pint

whole milk
you will also need
light olive oil for frying

sea salt

freshly ground pepper

nutmeg

whole or grated, your choice

dry oregano

I love Greek oregano

red chili flakes
Instructions
Preheat oven to 350 F.

Line a baking sheet with parchment paper. Place the squash slices, drizzle 2 tbsp olive oil all over. Season with salt, freshly ground pepper and a pinch of dry oregano. Add some chili flakes if you like. Bake in the oven for 15-20 min or so, until squash slices have a light golden color and moisture is gone. When ready, remove from oven and let them cool.

In a frying pan add 2-3 tbsp light olive oil. In high heat fry the potato slices for approximately 1-2 min, both sides. Remove slices and place in a paper towel to absorb extra oil.

In a large pot add 2 tbsp extra virgin olive oil. In medium heat, add the onions, season with a pinch of salt. After 2-3 min add the garlic. Stir well. Add the tomato paste. Season with another pinch of salt, freshly ground pepper and 1-2 pinch of dry oregano. Stir well. Add 1-2 pinches of chili flakes. Stir well.

Add all the ground meat. Break it to smaller pieces as it sautés. Mix everything well. Add the wine. Allow the wine to evaporate a little for 2-3 min. Remove from heat and set aside.
Assemble the squash and potatoes.
Add a layer of potatoes slices to the bottom of the baking pan. Season potato slices with salt and pepper. Add a layer of squash. Sprinkle some grated parmesan cheese al over. Repeat a layer of potatoes. Season with salt and pepper. Add another layer of squash slices. Sprinkle a generous amount of grated parmesan.

Add the ragu. Spread evenly. Add a generous amount of grated parmesan. Set aside.
Make the béchamel.
Place a medium sauce pan on medium to low heat. Add the butter.

When butter is melted add ⅓ of the flour. Stir well with a whisk. Add ⅓ of the milk. Keep whisking. Add more flour. Keep whisking. Add more milk. Repeat alternating between flour and milk. Season with salt and pepper. Grate a good amount of nutmeg. Keep whisking. You might need to add a little more flour or milk to reach the correct consistency. The béchamel should be smooth and velvety but thick enough to remain distinct atop the ragù in the moussaka.

Turn the heat off. Add a generous amount of grated parmesan cheese. Stir well with the whisk. Adjust salt and pepper to taste.
Final steps
Pour the béchamel on top of the meat. Spread evenly. Grate a good amount of parmesan cheese on top, sprinkle some chili flakes and fresh ground pepper.

Bake in a 350 F oven for 45 min to 1 hour or until top is a nice golden color.

Let moussaka sit for 15 min before serving. Enjoy!
Notes
I used a 8" square baking tin like this one. Had to line the bottom with parchment paper and place tin on a baking sheet to cook because it has removable base. I used that pan because it's deep and allows the moussaka to have a nice layer of béchamel on top. If you are using a 10.5''×8''×3'' lasagna pan just add one more potato and 2 more yellow squash to the recipe. The

ragù

layer should be fine as well as the béchamel.
Did you like this recipe?
Mention @thegreekfoodie__ or tag #thegreekfoodie__