Greek eggplant beef stew is a classic wholesome family dish that tastes as good as it looks. The sweetness of the eggplant is a perfect partner to the tender beef. The San Marzano tomatoes contribute their velvet texture to the dish. Fresh thyme, dry greek oregano and cloves add earthiness while chili pepper flakes provide a spicy twist.
I love cooking this full flavor stew for many reasons. First and foremost is the heavenly sauce. Dipping a piece of crusty bread in this sauce is a must and can not be missed. Second, it reminds me of home. My mom used to serve it over mashed potatoes and it was the dish that convinced my younger self that eggplants are not evil. Third, it is simple, easy and unpretentious. I love it!
Try more stews!
Another version of a wine stew is my chicken in red wine stew recipe. You can also try my delicious Greek Red Wine Beef Stew recipe. It is a hearty delicious dish perfect for a Sunday lunch.
WANT TO EAT LIKE A GREEK? Subscribe to my email and follow along on Facebook, Pinterest and Instagram for all of the latest recipes.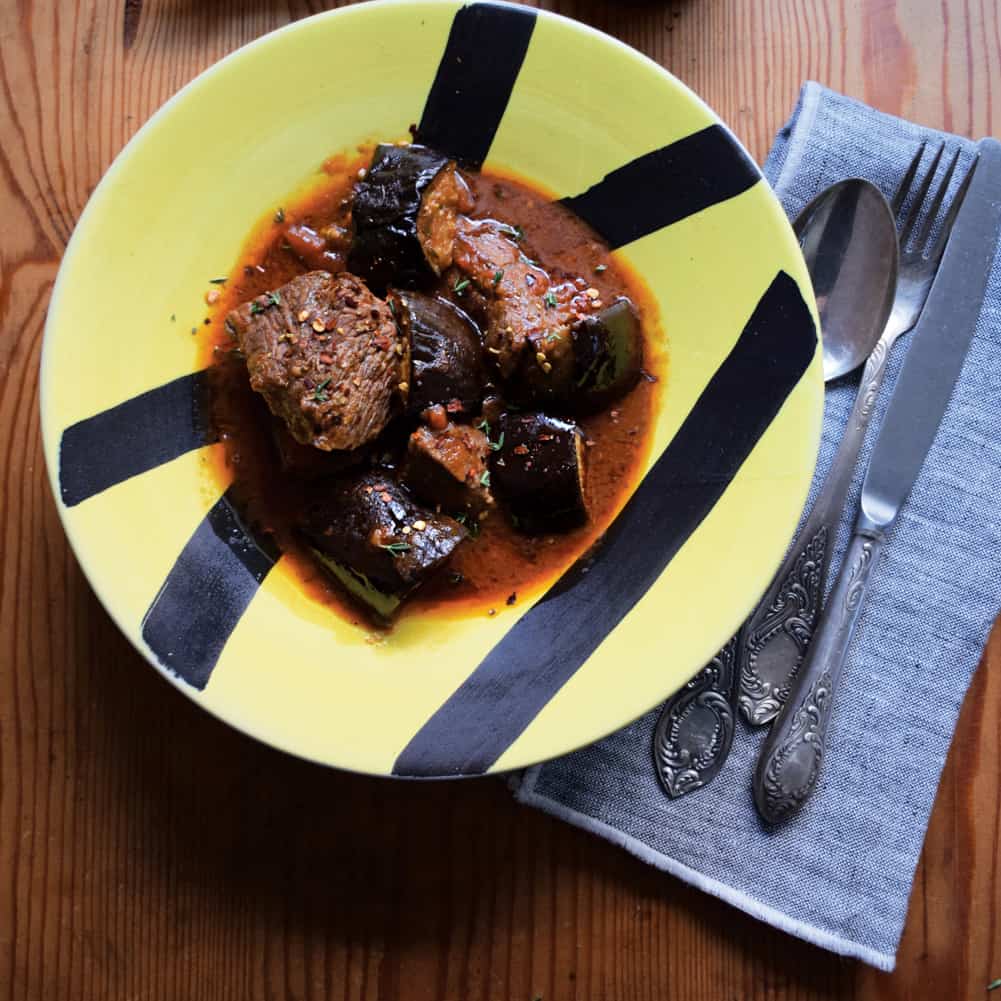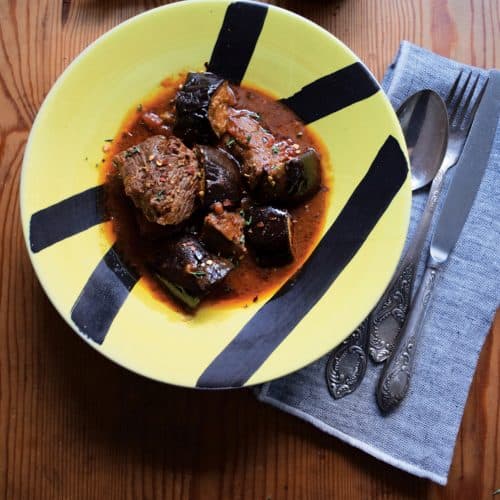 Ingredients
2

lb

beef chuck

cut in 1 inch cubes aprox.

2

large eggplants

cut in 1 inch cubes

28

oz

tomatoes

I like San Marzano Custarosso tomatoes

1

red onion

roughly chopped

4-5

cloves

garlic

sliced

1

tbsp

tomato paste

4-5

sprigs fresh thyme

1

tbsp

Greek dry oregano

1

tbsp

nutmeg

1

tsp

cumin

1

tsp

cinammon

1

tsp

sugar

1

cup

extra virgin olive oil

total, you might not need all of it

1

cup

all purpose flour

total, you might not need all of it
Instructions
Using a paper towel dry the beef pieces well. Season with salt and pepper. Lightly dust 1- 2 tbsp all purpose flour all over beef.

In a large pot heat 2 tbsp olive oil. Brown the beef all over, about 3-4 minutes total. Remove beef pieces on a plate and set aside.

Add the onion and garlic. Season with salt and pepper. Sauté for 1-2 min.

Add the tomato paste. Mix everything together well, keep sautéing for 1-2 min to let flavors develop. Add the cumin, cinnamon, nutmeg and oregano. Mix well.

Add the tomatoes. Gently crush them to eliminate any big chunks. Add the sugar. Mix well. Add the beef.

Separate the thyme leaves from 2-3 sprigs and add them to the stew. Add 1 tbsp of chili pepper flakes and 1/2 cup of water. Stir well.

Cover and simmer in low heat for 1 hour.

Preheat the oven top 375 F.

In a large bowl add the eggplant pieces, 2 tbs of olive oil and salt and pepper. Mix everything together well, make sure that eggplants are seasoned and oiled evenly all over.

Add eggplant to a large baking sheet and bake in the oven for 30 to 45 min or until eggplant flesh is soft and a light golden color.

Remove eggplant pieces and gently add them to the stew. Cover and simmer for another 30 to 45 min or until beef is soft and almost falling apart with a fork. Adjust salt and pepper to taste.
Notes
Serve in bowls with a sprinkle of fresh thyme leaves and chili pepper flakes. You can enjoy stew as is or over mashed potatoes, polenta even french fries. Don't forget the crusty bread to dip in the sauce.
Did you like this recipe?
Mention @thegreekfoodie__ or tag #thegreekfoodie__