Boureki- potato & zucchini pie is a very traditional pie in Crete, Greece. It is usually made in the summertime and has a filling of thinly sliced zucchini, potatoes and mizithra cheese.
My beloved Crete is the largest island in Greece and the home of this delicious mouthwatering pie. To be more specific it is from my mom's birth place the city of Chania. As a kid I spent my summers there in a tiny little seaside town called Kalamaki just 3 miles outside Chania. Being an only child I had a lovely but lonely childhood except those summers in Crete. Playing and running around with my cousins in the sunny Cretan countryside was the epitome of my childhood.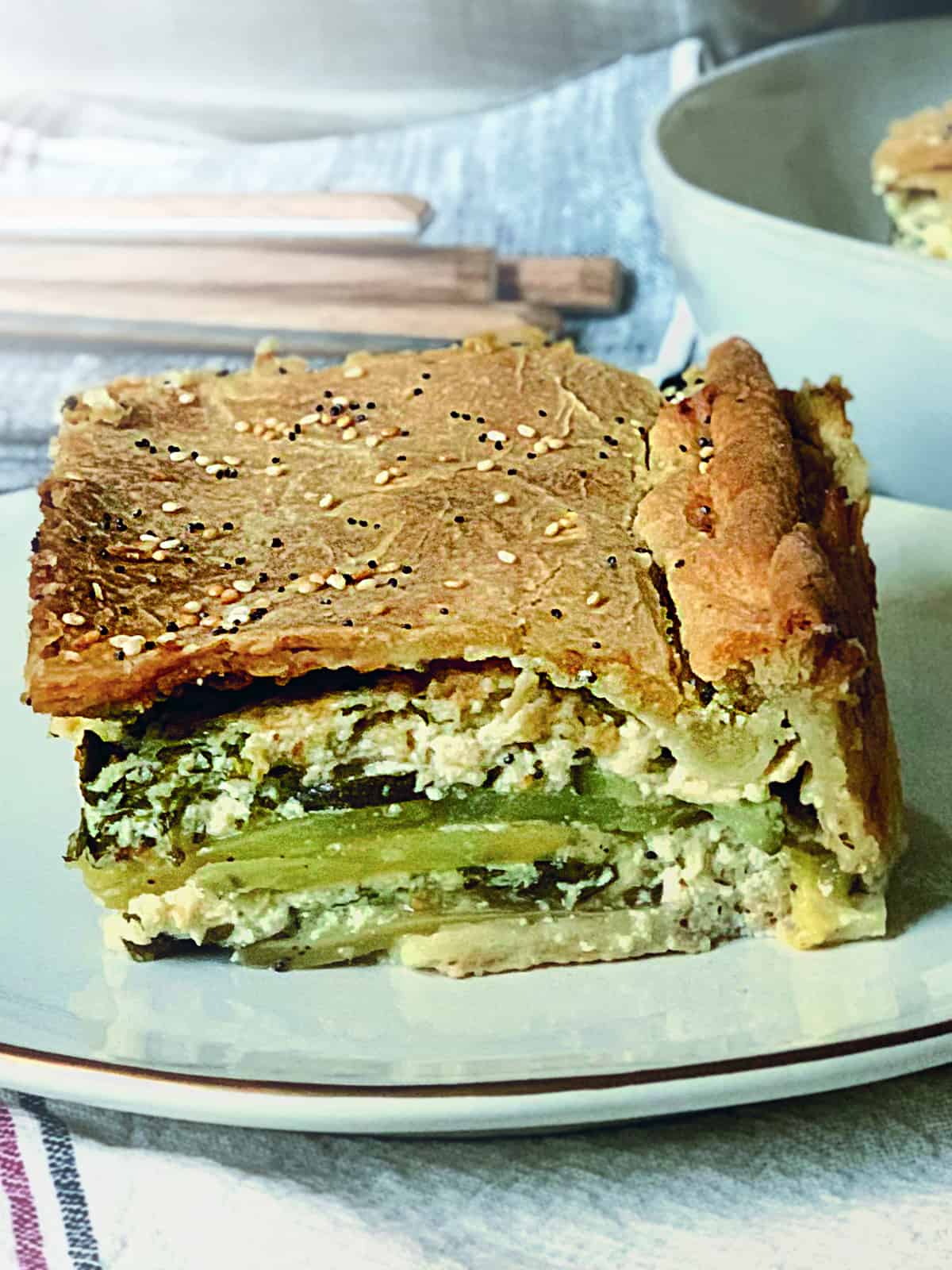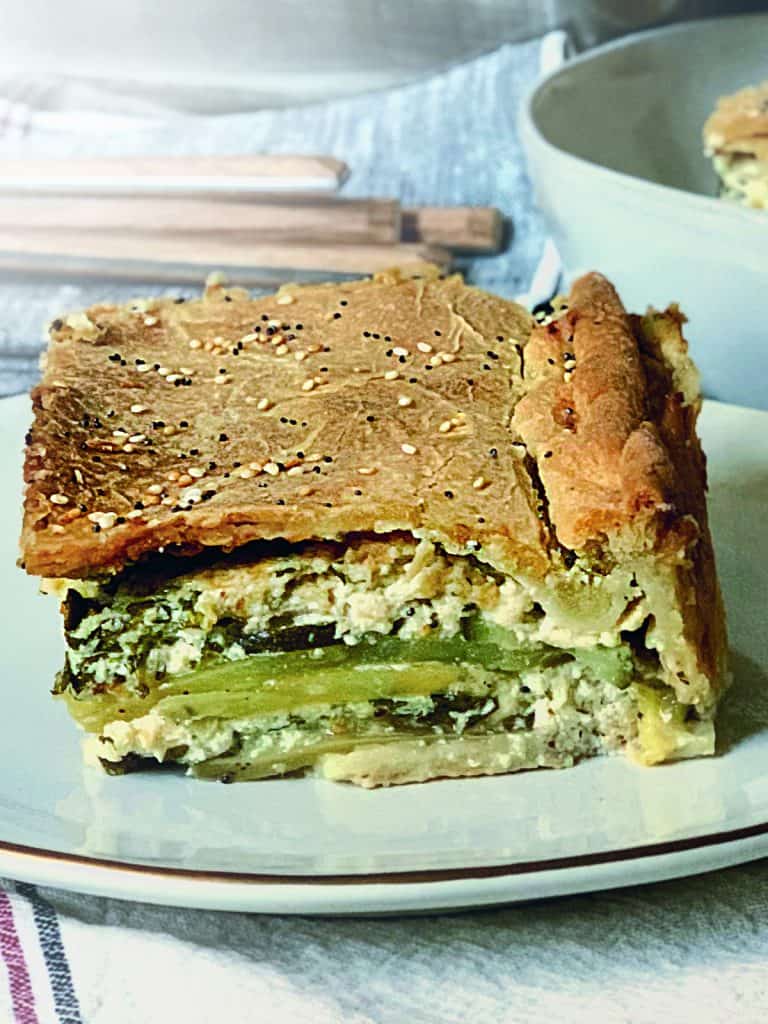 Those memories are my most cherished and beloved ones. I learned how to climb olive trees, steal figs from the neighbor's fig tree (sorry), swim in turquoise waters, how to fall on my face and how to get back up and do it again. I loved those years and whenever I make boureki the fragrant zucchini and potato pie I am reminded of those memories. It makes me feel nostalgic and happy.
Traditional boureki-potato & zucchini pie is usually made with soft sour myzithra or anthotyro cheese. I find them in supermarkets in Greek communities around the USA. If not available I like to mix Greek feta, full fat ricotta and a little philadelphia cheese to achieve similar flavors.
I most enjoy making boureki in the summer. The mint combined with the cheese, olive oil and zucchini has a distinct greek summer scent, especially Cretan. I close my eyes and transport to my favorite Cretan beach, holding a piece or boureki with my feet in the turquoise blue sea water.
You can also try
If you've tried this recipe or any other on The Greek Foodie, then don't forget to rate it and leave me a comment below! I would love to hear about your experience making it.
WANT TO EAT LIKE A GREEK? Subscribe to my email and follow along on Facebook, Pinterest and Instagram for all of the latest recipes.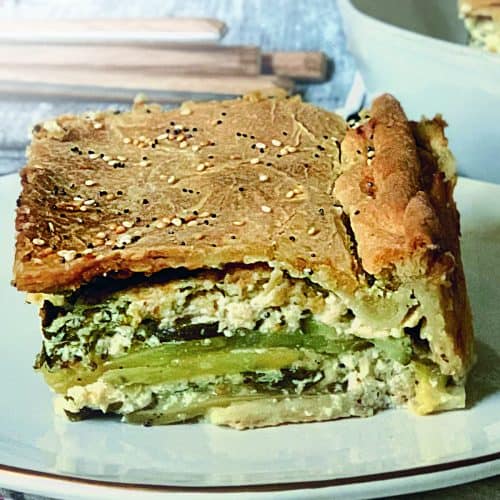 Ingredients
for the dough

about 3 1/2 cups all purpose flour

½

cup

extra virgin olive oil

100

ml

raki or lemon juice

a little less then half a cup

1

tsp

salt

1

cup

of water

for the filling

4-5

medium size zucchini cut in thin slices

about 2-3 mm

4-5

yukon gold potatoes cut in 2-3 mm slices

about 2 lb mizithra cheese

1 kg

or a mix of

one 32oz container ricotta cheese

one 7 oz container Dodoni feta cheese crumbled

1/2

box philadelphia cheese

1

big bunch of fresh mint

finely chopped (only the leaves)

1/2

cup

extra virgin olive oil

sesame seeds

poppy seeds

sea salt

fresh ground pepper
Instructions
make the dough

Mix the flour with the salt. Combine the water with the olive oil and the lemon juice. Start adding the water and olive oil mix into the flour, mix well until you have a soft dough that does not stick to the hands. Cover with a damp towel and let it rest for at least half an hour.

make the filling

Cut the zucchini into thin slices, about 2-3 mm. Add salt, mix well and place in a collander in the sink to allow the zucchini to release any liquid.

Peel potatoes and cut in thin slices about 2-3 mm. Season with salt and set aside.

In a medium bowl mix all cheese and fresh mint together well. Add 2-3 tbs olive oil. Season with a generous amount of fresh ground pepper. Mix again well.

roll out the dough

Divide the dough into two pieces, one a little bigger than the other. Wrap the smaller piece in the towel and put aside.

Starting with the bigger piece, lightly flour the work surface and rolling pin and working quickly, gently begin to roll the dough from the center outward. Apply even pressure and rotate the dough after every few passes, flipping the dough over occasionally and adding more flour as necessary.

Check if the dough is the correct size for your pan. It should be large enough to cover the sides of your pan. Oil all sides with little olive oil.

Use the pads of your fingers to gently press the dough into the pan. If any tears or holes form, patch them with extra scraps of dough. Make sure all sides of the pan are covered. Trim any excess dough.

add the fillings

Preheat the oven at 350 F.

Add an even layer of potatoes slices first. Add an even layer of zucchini slices. Add a layer of the cheese mix. Add another layer of potatoes, zucchini etc following the same process. Gently press down as you add more layers. I added 2 layers of each, finishing with a layer of cheese.

Roll out your second piece of dough following the same process as before. Place it on top of the filled out pie and tuck in the edges nicely. Evenly brush a little olive oil all over the dough. Sprinkle 2-3 tbs of sesame seeds on top. Sprinkle a pinch or two of poppy seeds. Very gently mark the pie into even square pieces.

Bake for at least 1 hour and 30 min. Depending on your oven it might take up to 2 hours. You want the potatoes and zucchini cooked thoroughly. Cover the pie with aluminum foil half way if you need to to avoid it browning too much.

Let it cool completely before serving. It is best enjoyed cold or in room temperature. Makes an excellent summer lunch paired with a lovely traditional greek salad. Enjoy!
Notes
The baking pan I used is almost a perfect square, about 12″ x 10.5″
This recipe makes 18 small pieces that can be served as an appetizer or 9 bigger pieces that can be a main dish paired with a Greek salad.
Did you like this recipe?
Mention @thegreekfoodie__ or tag #thegreekfoodie__