Greek yogurt with honey, figs, walnuts, and mint is the most simple delicious dessert you can have daily. This healthy honey yogurt delicacy is also an excellent breakfast or quick snack.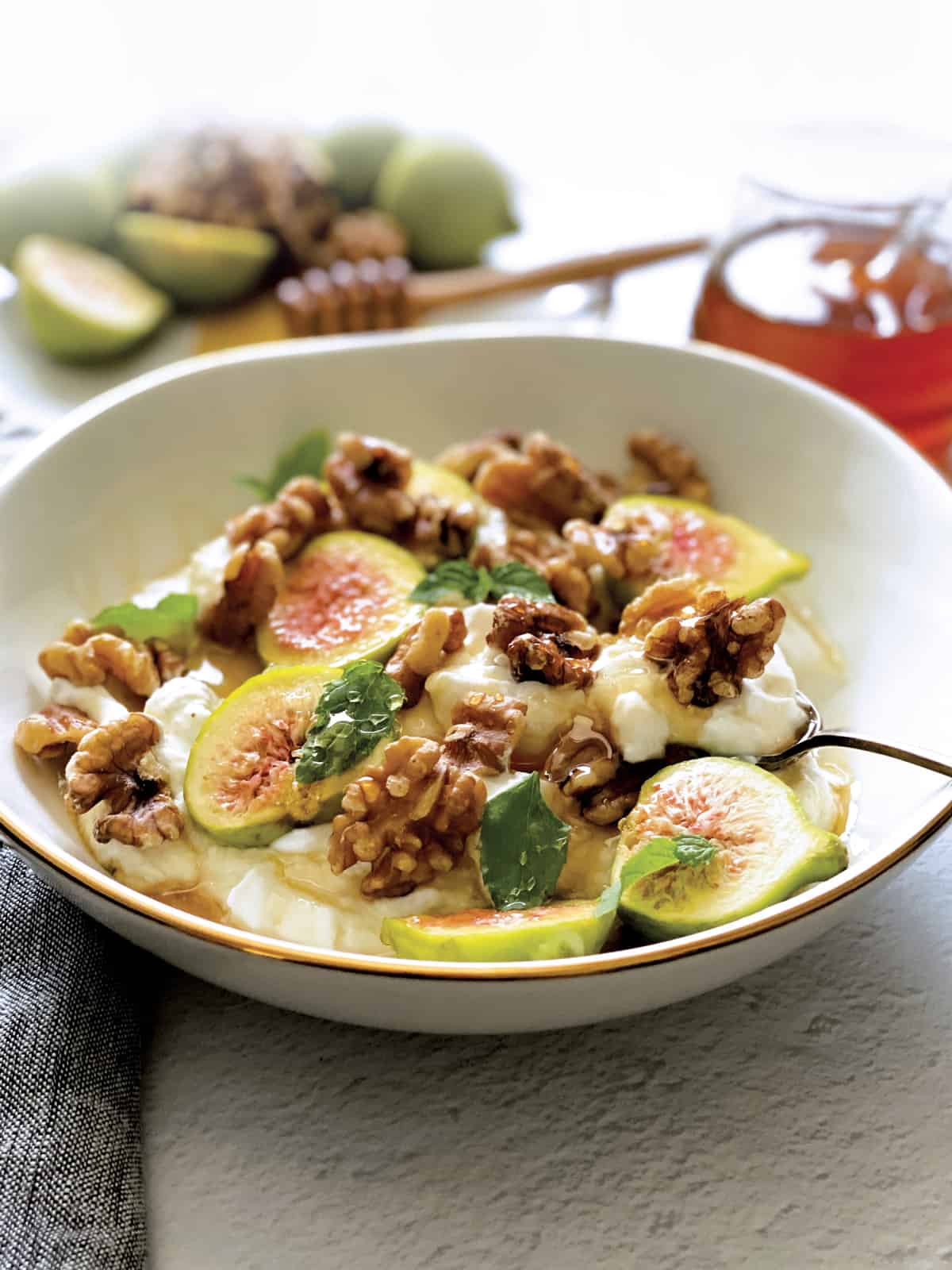 There are so many healthy Greek yogurt recipes. We enjoy it plain, just as it is; we add fruit and nuts, add a dollop to fritters, whip it with feta, make tzatziki, etc.
This recipe is inspired by the tradition of having honey and yogurt in Greece. In tavernas, it is not common to order dessert; the menu usually does not include any. Instead, depending on the season, they offer fresh fruit such as sweet cool watermelon, fresh ripe sweet figs, homemade Greek yogurt, honey, and walnuts. More often than not, they bring all to the table as a thank you and a sweet ending to the meal. Needless to say, everything is spectacular. But, of course, there are no leftovers ever!
I love fresh figs. In Crete, we used to climb trees and get them straight off the tree, still warm from the sun. The entire fig is edible, from the thin skin to the red flesh and the tiny seeds. I never peel them, although you can, but I cut off the stem.
I also love yogurt and figs together. The deliciously tangy creamy Greek yogurt is perfect with ripe sliced figs, a drizzle of honey, and earthy walnuts. The mint leaves add an extra fresh note, an aroma similar to the Greek fresh air in my mind.
This Greek yogurt with figs, walnuts, honey, and mint feels luxurious and rich. However, it is an affordable recipe to make.
Here is what you need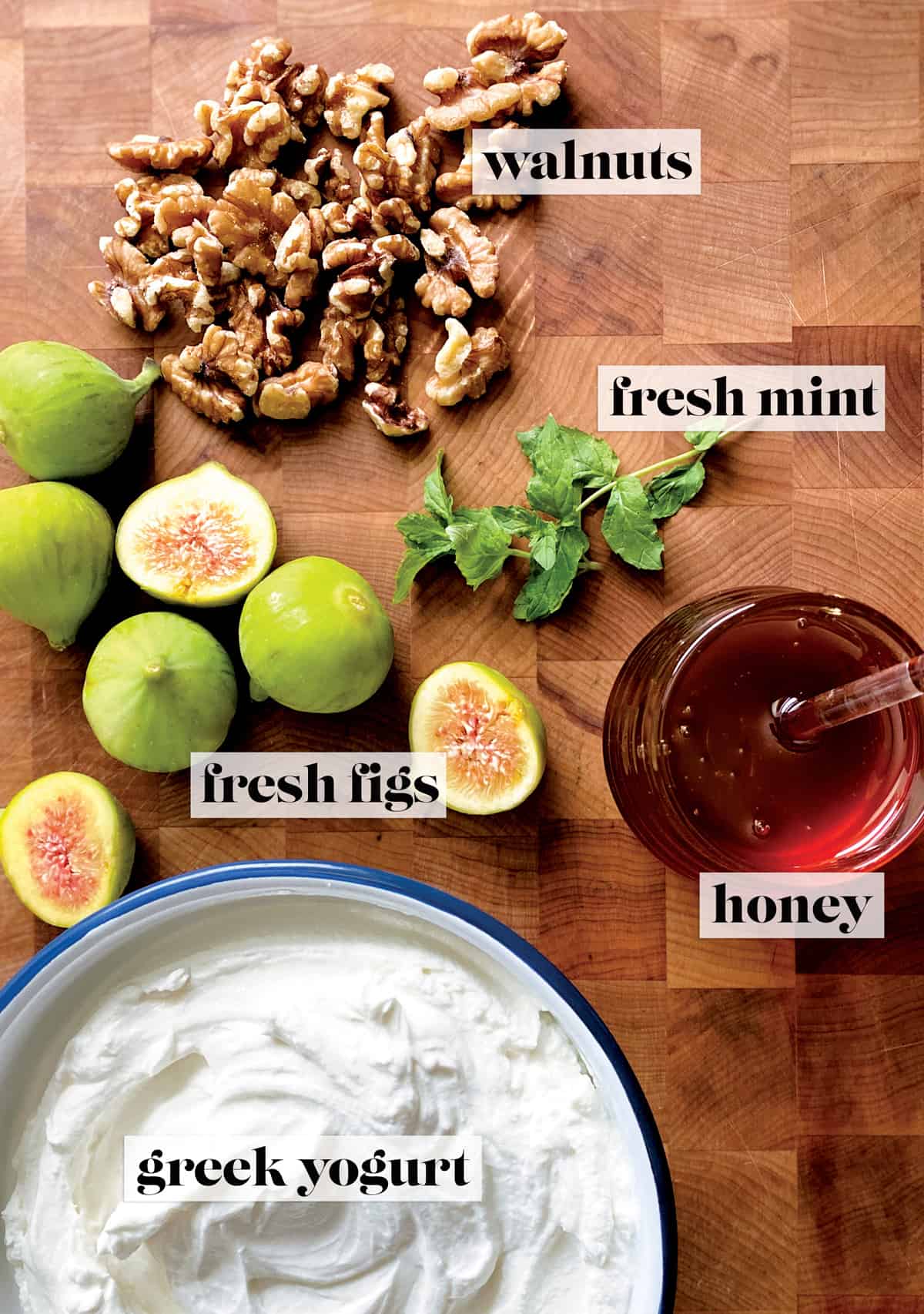 Greek Yogurt – I always use full-fat Greek yogurt for all my recipes. You can use low-fat Greek yogurt if you wish. If I can't make my own, I prefer the Greek Fage brand available in most supermarkets.
Figs – Figs are in season in the summer, and most supermarkets have them. I always get plump fresh figs, whatever variety I can find. Figs are wonderful when mixed with walnuts and tangy yogurt. Avoid unripe figs. If you pick them too early, they won't taste great; ripe figs are sweet and delicious.
Walnuts – I don't chop them; I use them as they are because they are pretty that way. Feel free to chop them to your desired size.
Honey. My favorite is very aromatic thyme honey. Other varieties will work just as well for this Greek yogurt dessert.
Fresh mint leaves. I love the aroma of this fantastic herb. Just a couple of leaves make any dish feel like summer. Roughly chop them or use them whole, whatever you prefer.
Detailed measurements and instructions can be found on the recipe card at the bottom of the page.
How to make it
For each serving, spoon about 1/2 cup yogurt. Lay fig slices on top. Sprinkle some walnuts and drizzle about one tablespoon of honey all over. Enjoy!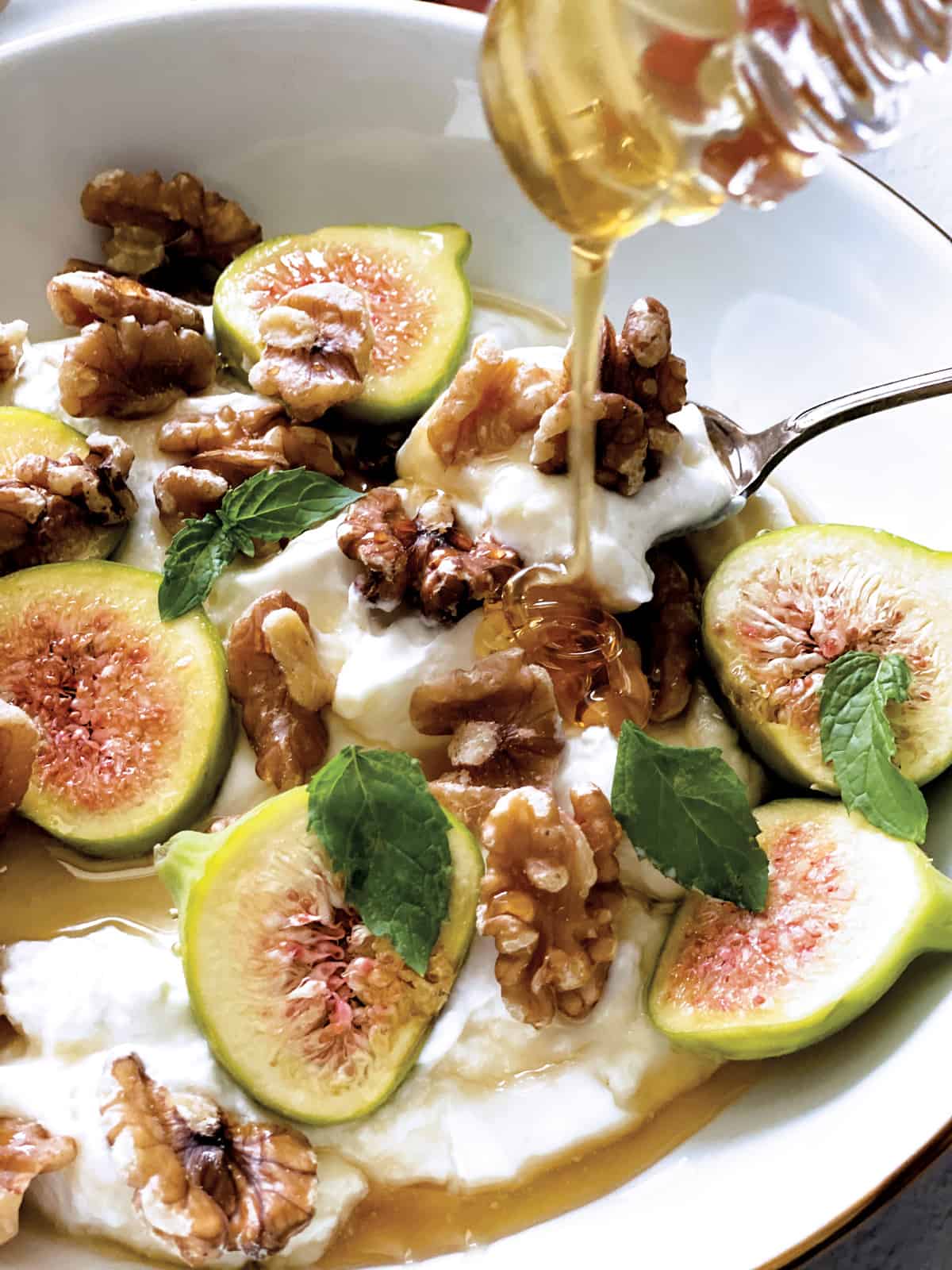 Figs are in season late summer and fall. Although there is no easy substitute for fresh figs, you can use good-quality dried ones. Of course, you can also use any other dried fruit, like raisins, prunes, or dried apricots.
Instead of walnuts, use roasted pistachios.
If you are dairy-free, have figs, walnuts, and honey with your favorite plant-based yogurt. The same goes for honey. Use agave syrup instead of honey for a vegan option. If you have maple syrup, drizzle slightly less all over, its strong flavor might overpower everything else.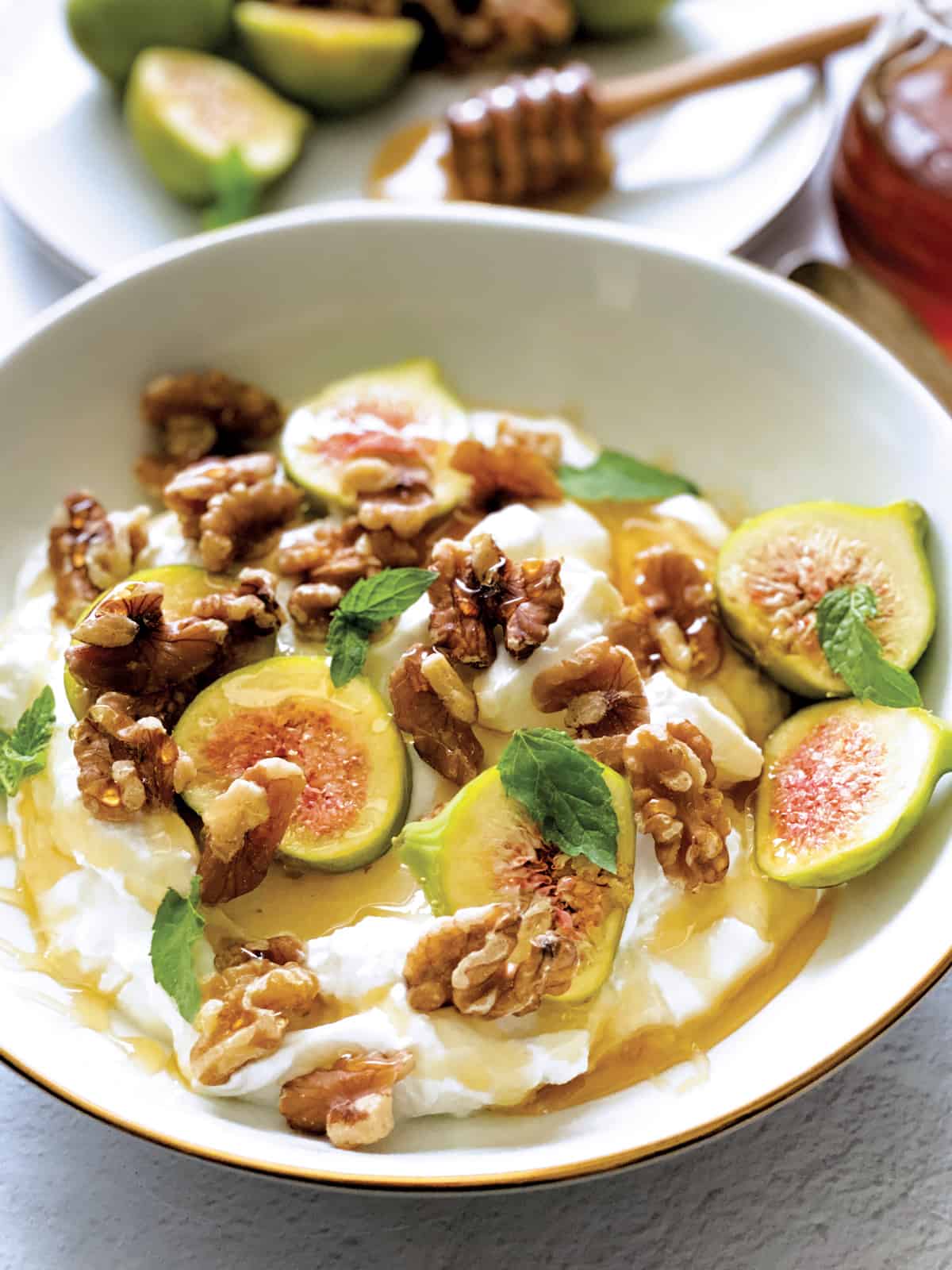 Check out my Greek pantry staples
Cooked this? Rate this recipe! You can also leave a comment below. I love hearing from you!
WANT TO EAT LIKE A GREEK? Subscribe to my newsletter and follow me on Facebook, Pinterest, and Instagram for all of the latest updates.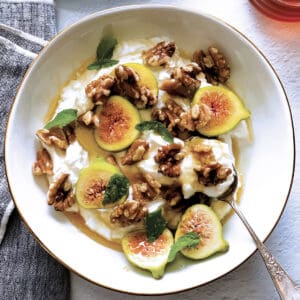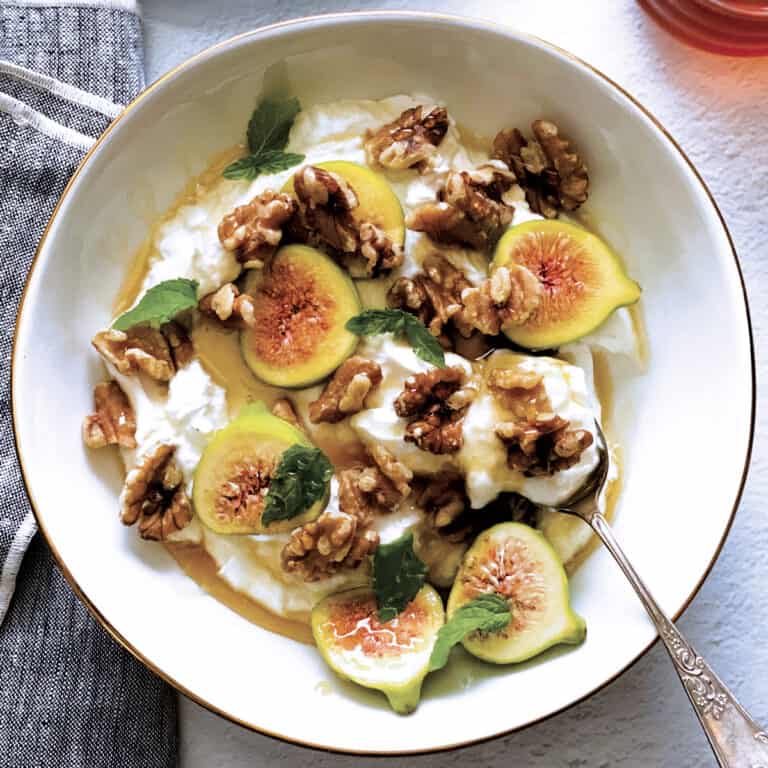 Greek Yogurt With Figs, Walnuts, Honey And Mint
Greek yogurt with figs, walnuts, honey, and mint is a simple delicious dessert you can have daily. It is also an great breakfast or snack.
Ingredients
8

fresh figs

2.5

cups

Greek yogurt

½

cup

walnuts

½

cup

honey

½

cup

fresh mint leaves
Instructions
Slice the figs lengthwise.

For each serving, spoon about 1/2 cup yogurt. Lay fig slices on top. Sprinkle some walnuts and drizzle about 1 tablespoon of honey all over.

Enjoy!
Notes
Grill the figs
Cut the figs in half and place them cut side up in a baking dish. Brush 1/2 tsp honey over the cut side of each of the figs.
Bake figs for 12 minutes until they are soft and heated through. Remove from oven and let fig slices cool for 5 to 10 minutes. Add them to the yogurt, drizzle the honey and sprinkle the walnuts and mint. Enjoy!
Make it his yogurt for breakfast.
Apart from figs, you can use strawberries and other berries,  cherries, grapes, pears, mango, peaches, kiwi, etc.
Replace the walnuts with granola or the breakfast grain of your liking.
Substitute the mint with lime or lemon zest for a bright note.
Nutritional Info – Please keep in mind that the nutritional information provided is only an estimate and can vary based on the products used.
Nutrition
Calories:
376
kcal
Carbohydrates:
61
g
Protein:
16
g
Fat:
10
g
Saturated Fat:
1
g
Polyunsaturated Fat:
7
g
Monounsaturated Fat:
1
g
Trans Fat:
1
g
Cholesterol:
6
mg
Sodium:
50
mg
Potassium:
527
mg
Fiber:
4
g
Sugar:
55
g
Vitamin A:
389
IU
Vitamin C:
4
mg
Calcium:
203
mg
Iron:
1
mg
Tried this recipe?
Mention @thegreekfoodie__ or tag #thegreekfoodie__