A baked feta cheese with honey, sesame and herbs is the perfect appetizer! Ready in minutes, it is packed with sweet and savory flavors that will excite everyone. Promise!
If you love this Baked Feta with Honey, you will also love this Feta Grilled Cheese With Thyme Honey, Fig Toast With Feta or Greek Tomato Sandwich With Feta!
This post is an updated version of an article published in April 2021. New photos, clearer recipe ingredients and instructions now accompany the post.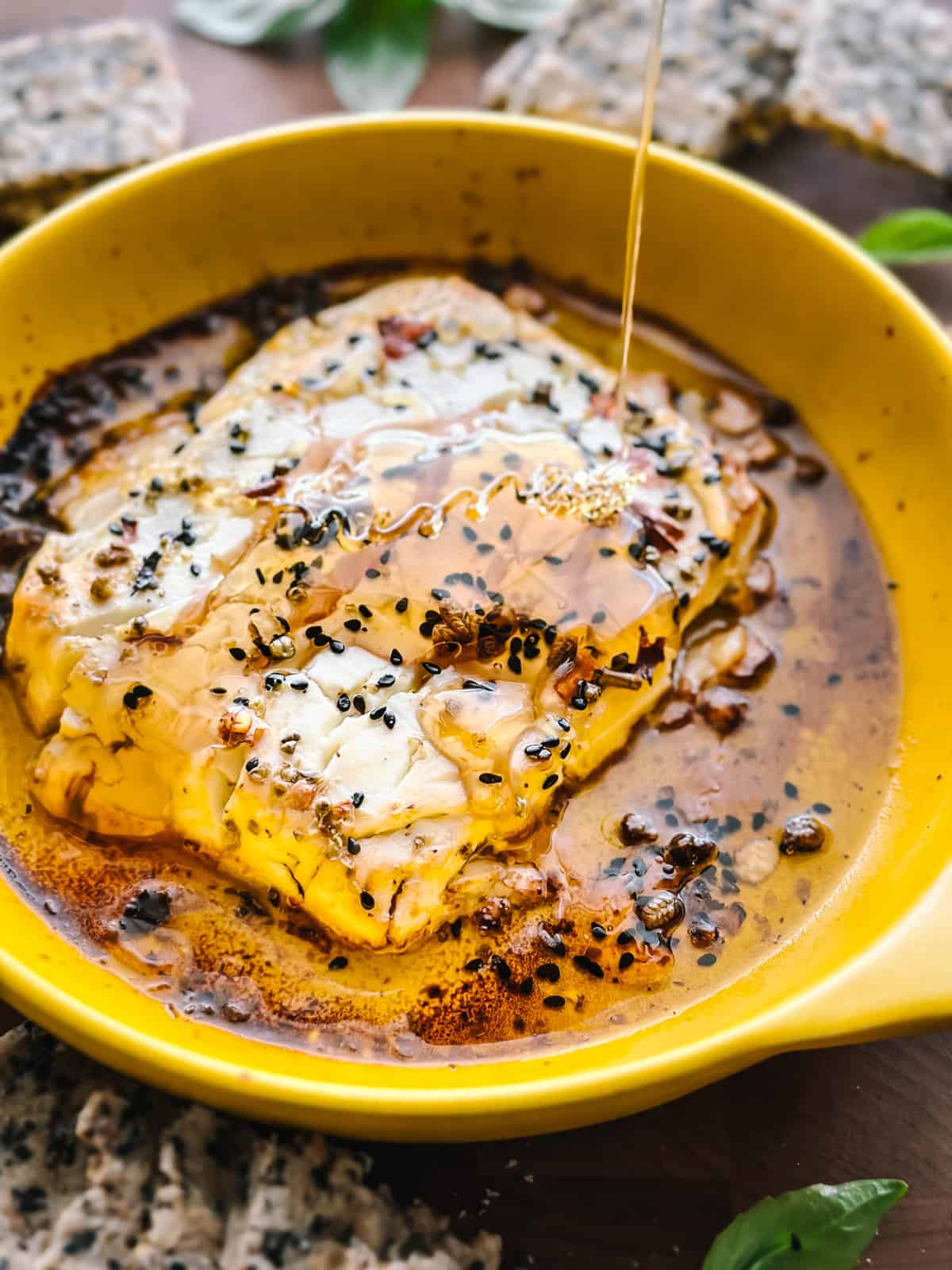 Why this recipe sings
Feta cheese is one of the staples of Greek food. There isn't a home without a small block of the famous cheese in the fridge. It is always served as a side family-style to the table and is among the first items ordered at a taverna, even if there is feta in the salad. There are many appetizers made with feta. One of the most popular is baked feta with honey.
To make this recipe, you only need a few basic ingredients. And it is ready in ten minutes! This baked feta is luscious, creamy, and perfect for crackers, pita, crusty bread, and crudites.
Here is what you need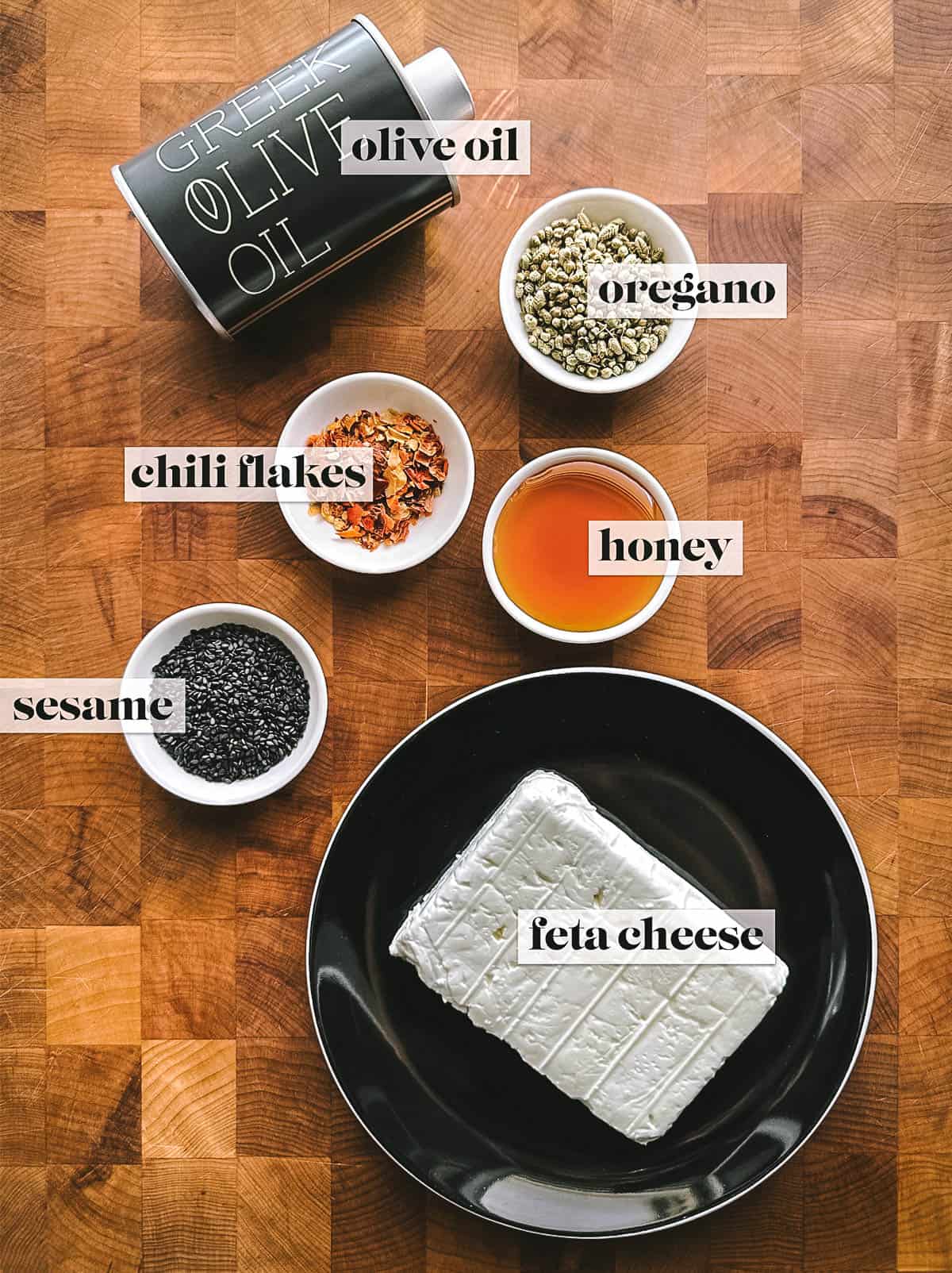 Greek feta cheese. Always get a block of feta in brine. Avoid fat-free versions of this great cheese, they don't exist in Greece and are flavorless. Good quality feta in the us market are Dodoni and Mt Vikos.
Extra virgin olive oil. My go-to olive oil is Athena Extra Virgin Olive Oil. Its price is reasonable, and it is an excellent olive oil for cooking and drizzling over a salad, dipping bread, etc. Avoid using olive oil blends (often called Mediterranean blends), as they are of questionable quality.
Sesame seeds. You can use blonde sesame seeds or black. I love using black sesame because it gives a nice contrast when this baked feta is served.
Dried oregano. I often use dried oregano buds from Burlap and Barell. I use them whole or grind them between my hands over the dish. Dried Greek oregano leaves are also a staple in my pantry. Mexican oregano is wonderful for this baked feta dish.
Chili flakes. For a nice kick, I add red chili flakes. You can substitute with freshly ground pepper.
Greek honey. In Greece, several honey varieties are produced, such as orange blossom, pine, thyme, etc. My favorite is thyme honey. I love its aroma. Feel free to use your favorite.
How to make baked feta with sesame and honey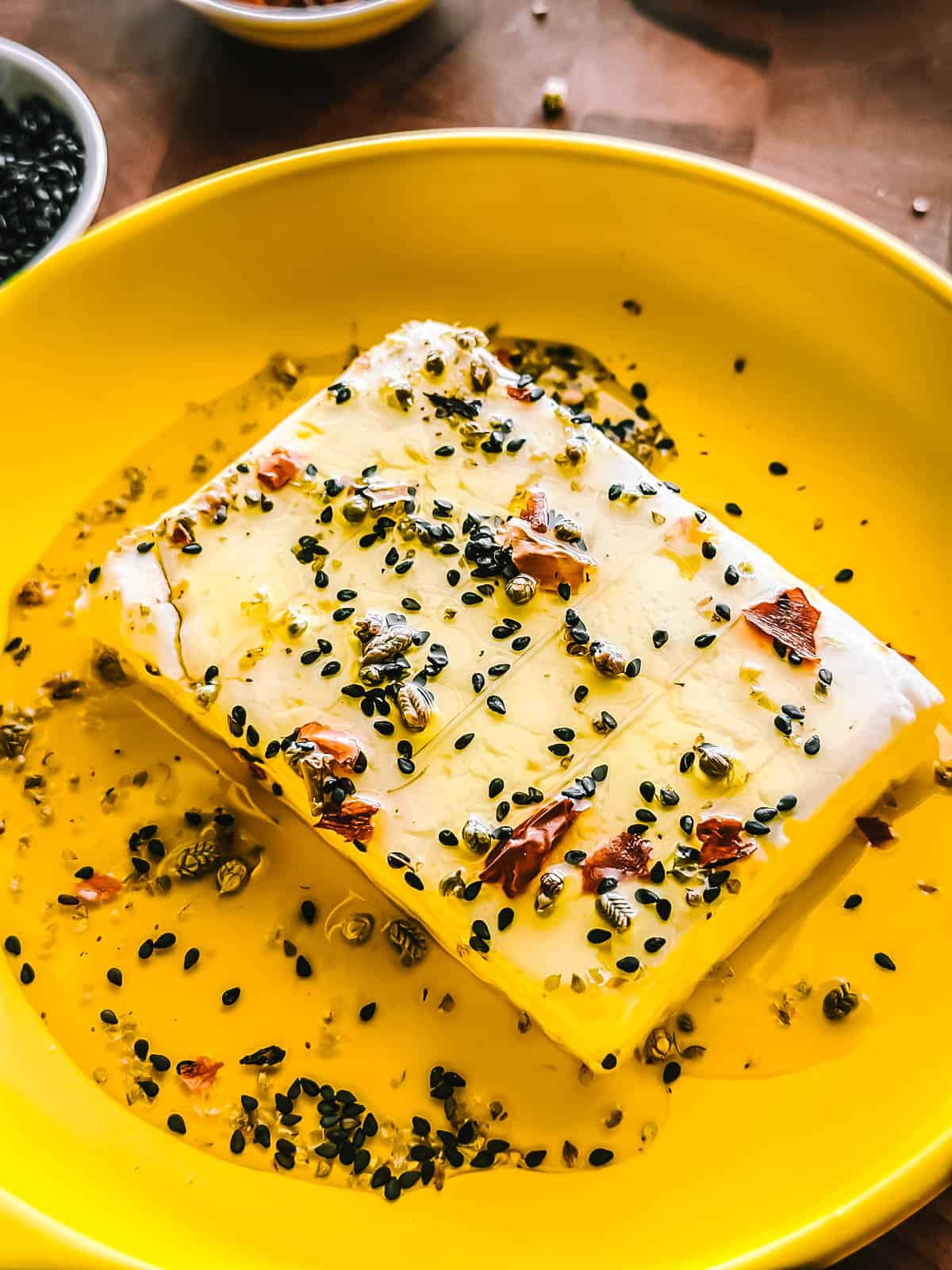 Preheat the oven to 400 degrees.
Place the feta cheese in an oven-proof dish, preferably the one you would use for serving. Pour over the olive oil, and season with the chili flakes and dried oregano. Sprinkle the sesame seeds.
Bake for about 8-10 minutes, until it is soft to the touch but not melted.
Preheat the broiler.
Broil until the top of the cheese browns and starts to bubble one to two minutes.
Pour over the honey and serve immediately with homemade crackers, pita chips or crusty bread. Don't be surprised if people ask for one more round of this baked feta. It is fabulous!
Note: You can heat the honey over a pan of simmering water or microwave for 30 seconds on high if you like. It is an optional step. I usually pour it over as is at room temperature. The honey warms up immediately after touching the hot feta. Plus, the dish disappears in five minutes (tops!), so the honey does not have a chance to cool down.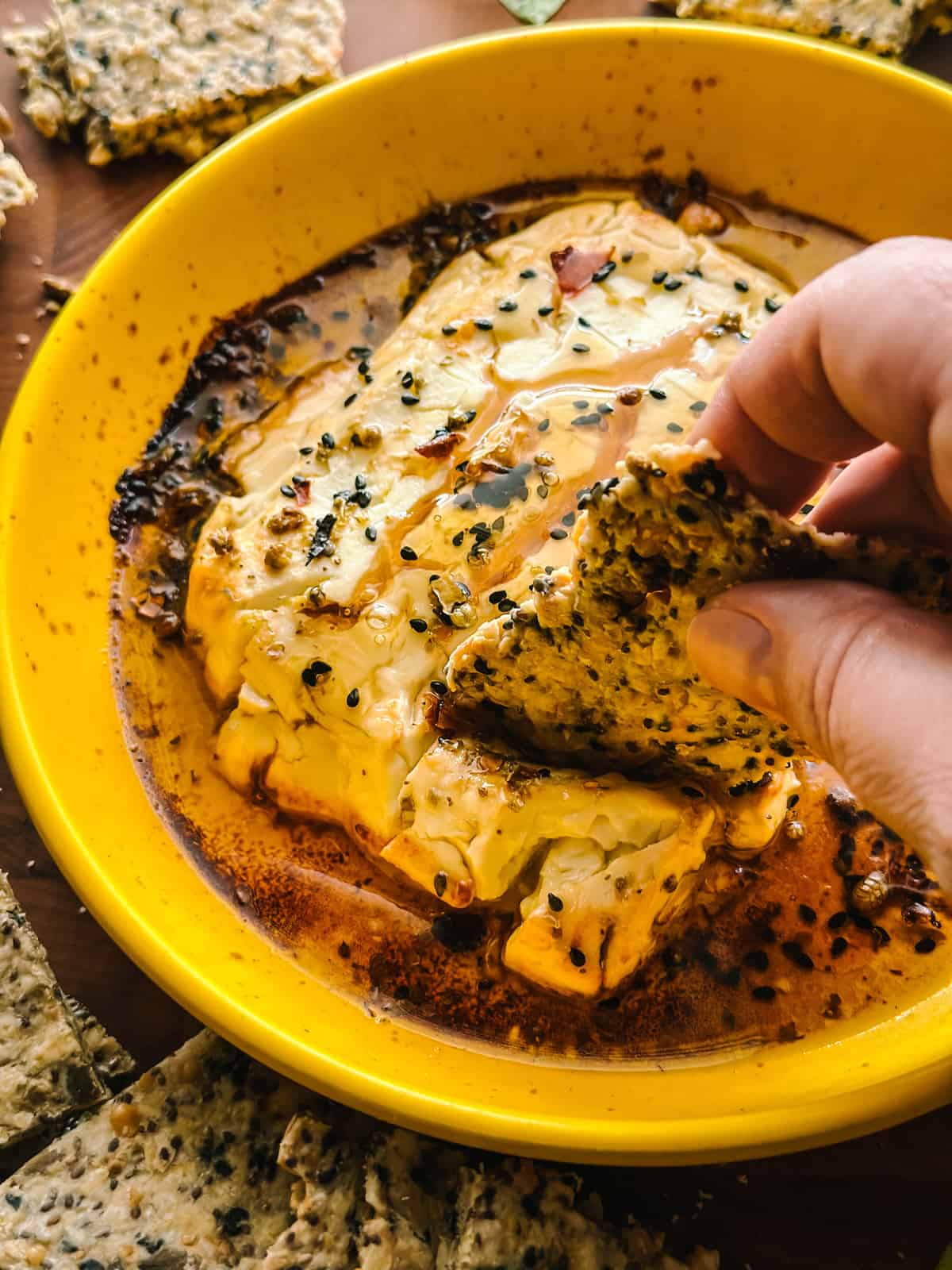 What to serve with roasted feta
The sky is the limit!
Roasted feta cheese is an appetizer best enjoyed on warm pita, crusty bread, and homemade crackers. Serve it along with fresh fruit and nuts, like grapes and walnuts.
When we make it at home, we usually eat it before it reaches the table! It is accompanied by other appetizers/mezes, such as fried zucchini and eggplant, roasted tomatoes, marinated olives, tzatziki, fritters, etc., tapas-style. It can be an awesome side dish to grilled meats and vegetables, like chicken, meatballs, or soup.
Tips
If your feta is too salty, place it in a bowl, cover it with water, and refrigerate for a few hours or overnight. The water will take away any extra saltiness.
Run out of honey? Use maple syrup to make this baked feta cheese appetizer. It will work just as well.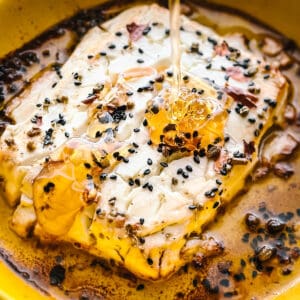 Baked Feta Cheese With Honey
This delicious baked feta with honey and sesame is ready in minutes. Packed with sweet and savory flavors, it will excite family and guests.
Ingredients
8

oz

Greek feta piece

blotted dry.

2

tablespoons

extra virgin olive oil

1

teaspoon

dried oregano

1

teaspoon

black sesame seeds

1

teaspoon

chili flakes

¼

cup

Greek honey
For serving
crackers

warm crusty bread
Instructions
Preheat the oven to 400 degrees.

Place the feta in an oven-proof dish, preferably one you would use for serving. Pour over the olive oil. Sprinkle dried oregano, chili flakes and sesame on top.

Bake until the cheese for about 8 minutes, until it is soft to the touch but not melted.

Preheat the broiler.

Broil until the top of the cheese browns and just starts to bubble, one to two minutes.

Serve immediately with crackers, bread, or pita chips.
Notes
Get good quality feta cheese. Try to find Greek feta in brine. I like the Dodoni brand, and Mt Vikos feta is also an excellent choice. It is available at local supermarkets, Whole Foods, and other specialty grocery stores. Israeli and Bulgarian feta can also be good options. 
Please don't get any fat-free French feta. It is not the real thing at all, and it would never be part of a Greek pantry. 
Substitute honey with maple syrup.
Nutritional Info – Please keep in mind that the nutritional information provided is only an estimate and can vary based on the products used.
Nutrition
Calories:
282
kcal
Carbohydrates:
20
g
Protein:
8
g
Fat:
20
g
Saturated Fat:
9
g
Polyunsaturated Fat:
1
g
Monounsaturated Fat:
8
g
Cholesterol:
50
mg
Sodium:
656
mg
Potassium:
65
mg
Fiber:
0.5
g
Sugar:
17
g
Vitamin A:
396
IU
Vitamin C:
0.1
mg
Calcium:
295
mg
Iron:
1
mg
Tried this recipe?
Mention @thegreekfoodie__ or tag #thegreekfoodie__