Learn how to make Greek yogurt with only two ingredients! You can enjoy perfect fresh greek yogurt simply and economically in a few hours!
If you love this Greek yogurt post, you will also love this Greek Yogurt With Honey, Galaktoboureko–Phyllo Custard Dessert or Portokalopita – Greek Orange Phyllo Cake!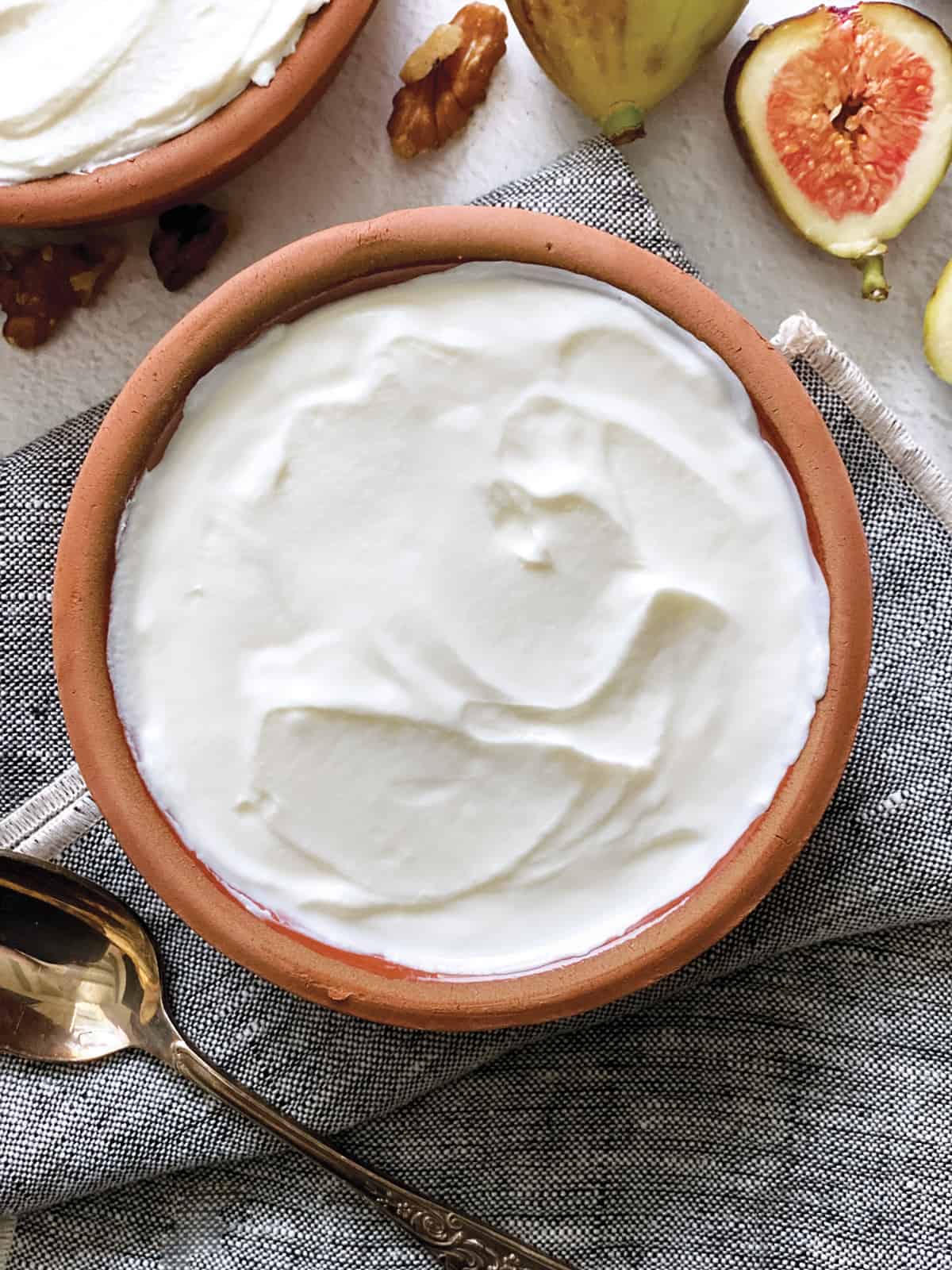 What is Greek yogurt?
Greek yogurt has been strained to remove most of its whey, resulting in a thicker consistency than regular unstrained yogurt while still preserving the distinctive sour taste of yogurt. The yogurt is strained at the very end to remove the excess watery whey, creating a thicker, protein-dense product. Thus, it is also called "strained yogurt."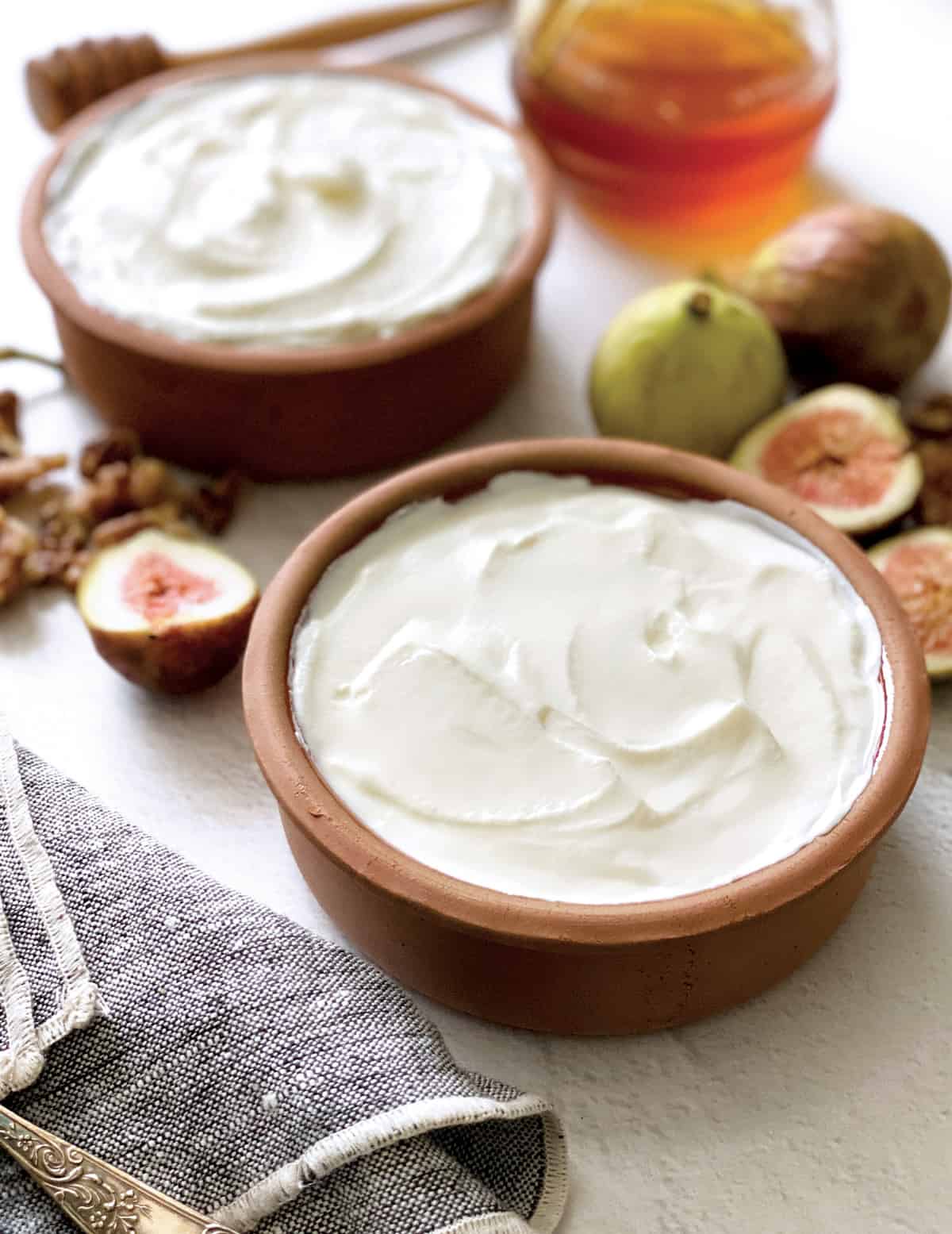 Why make it at home?
Homemade Greek yogurt tastes better and has a velvety beautiful texture. It is more economical than store-bought. You will also get lots of compliments!
This is what you need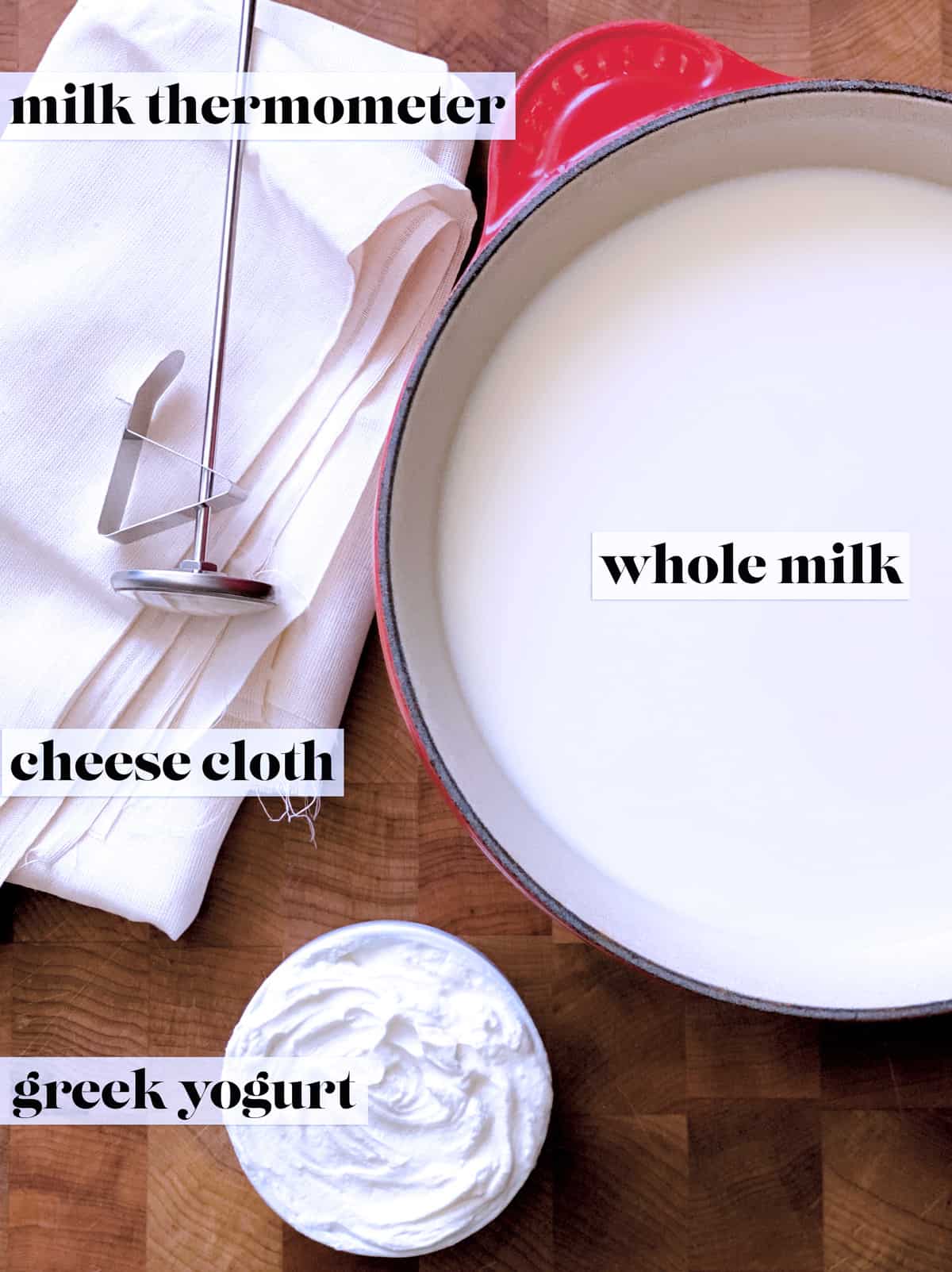 You only need two ingredients and some basic kitchen necessities to make delicious, authentic Greek Yogurt right at home.
How to make it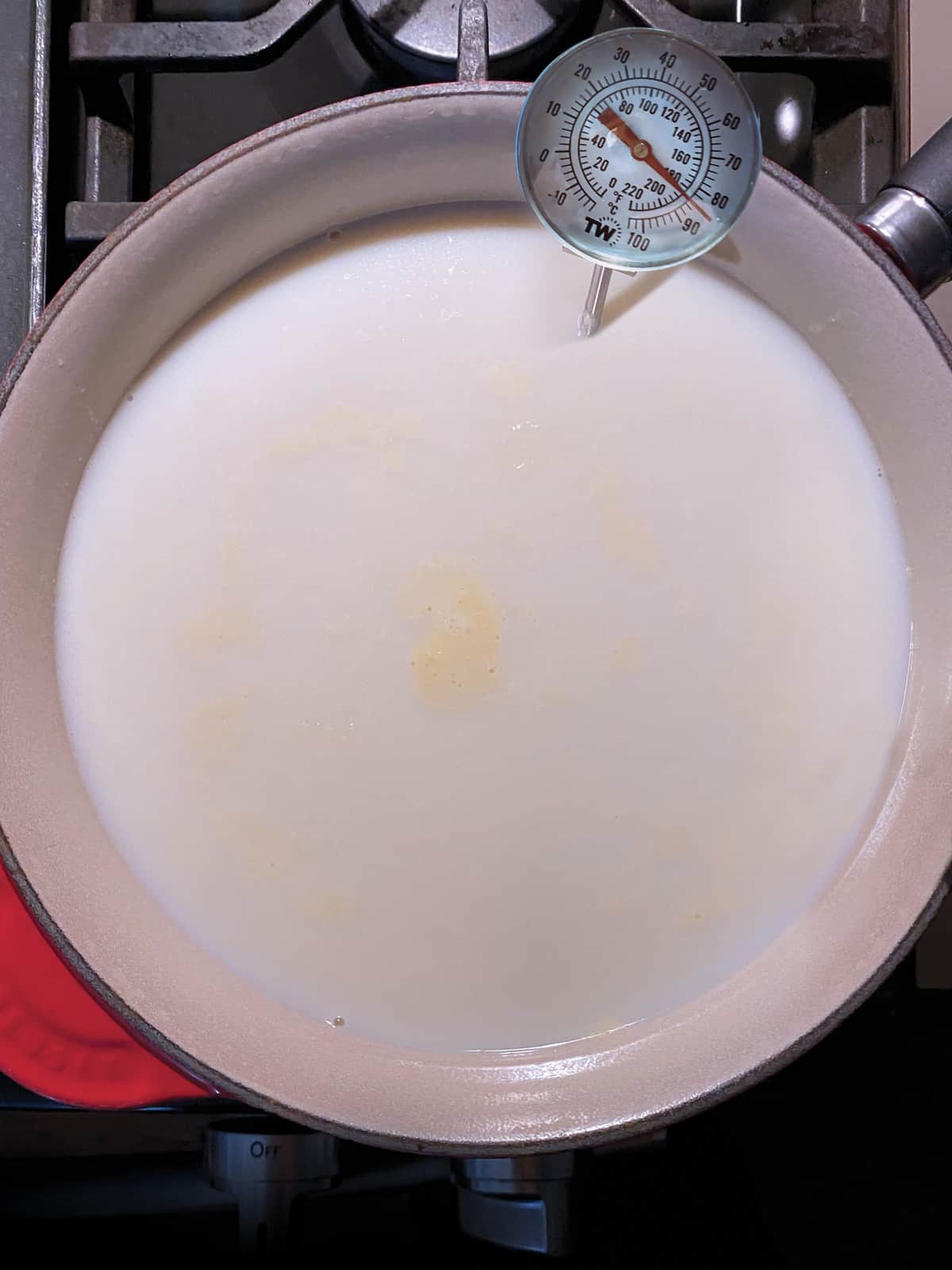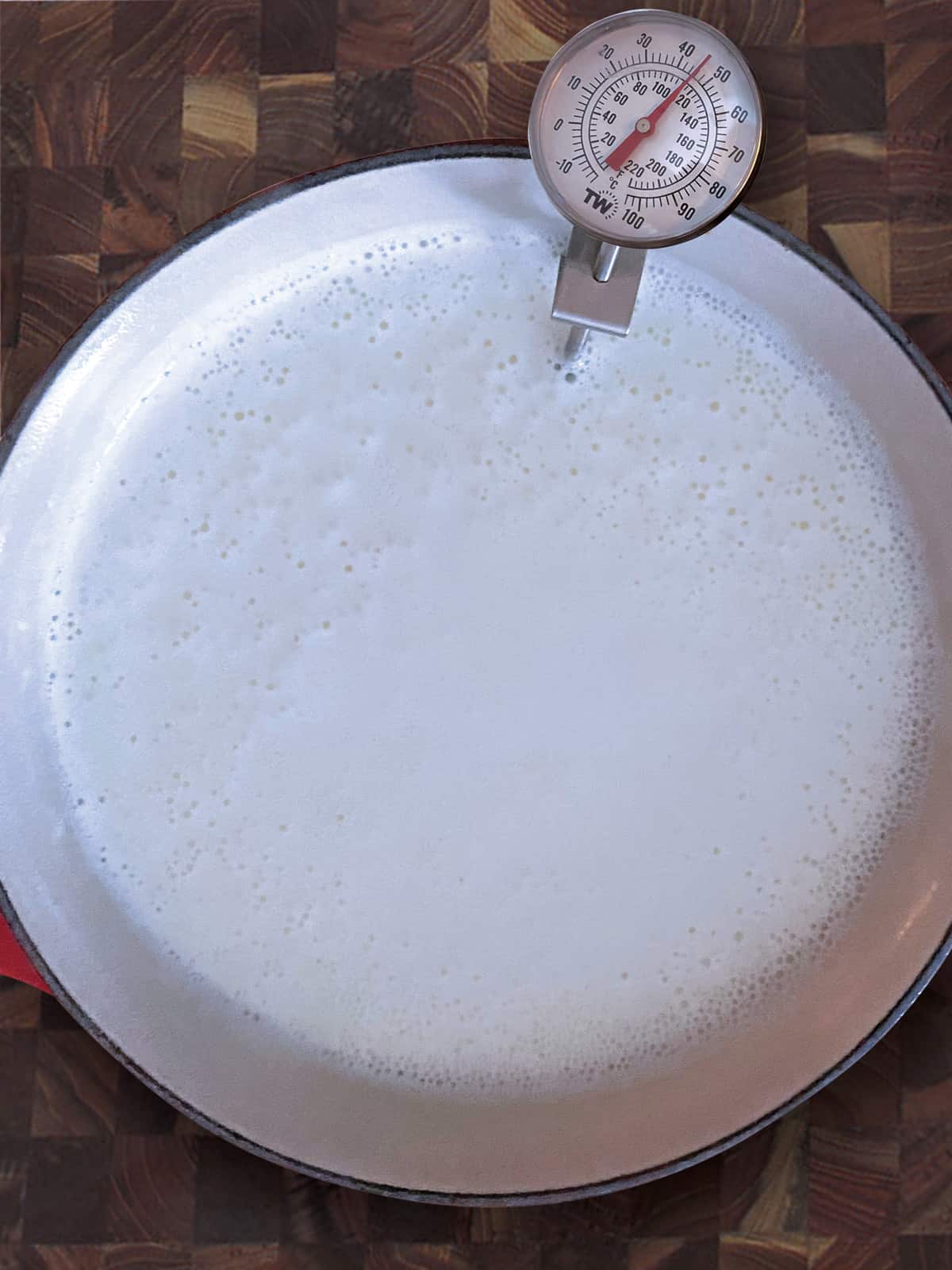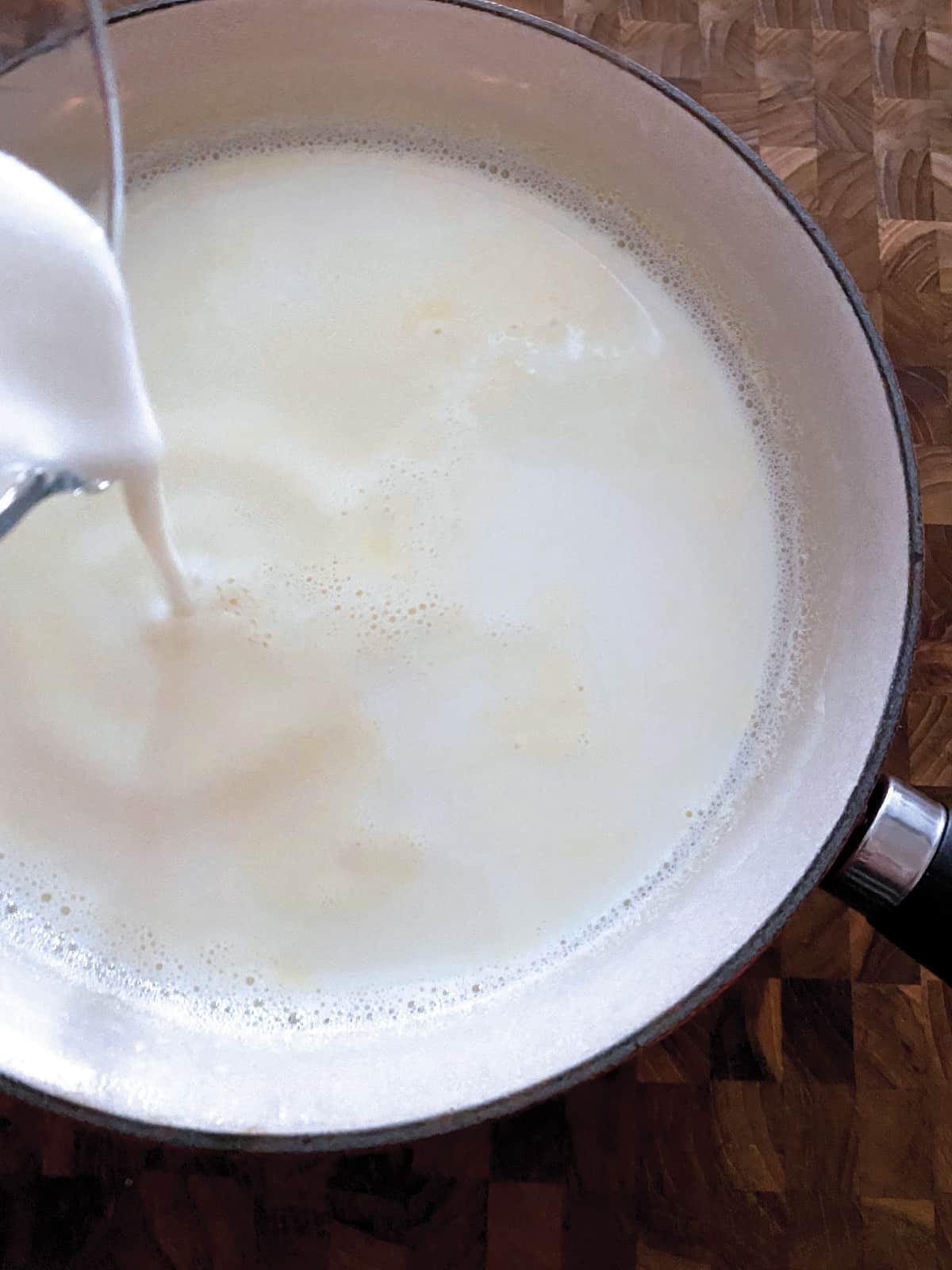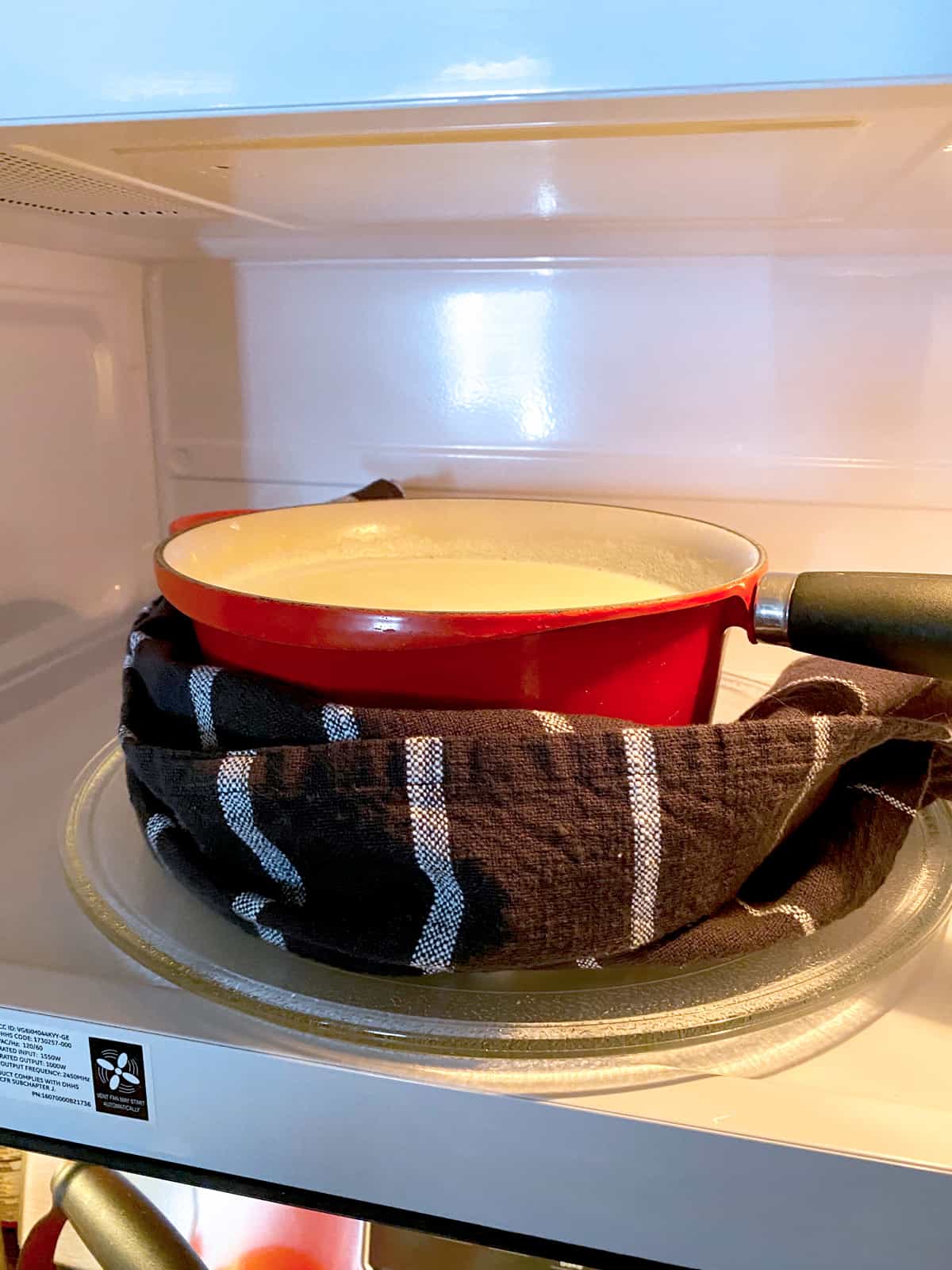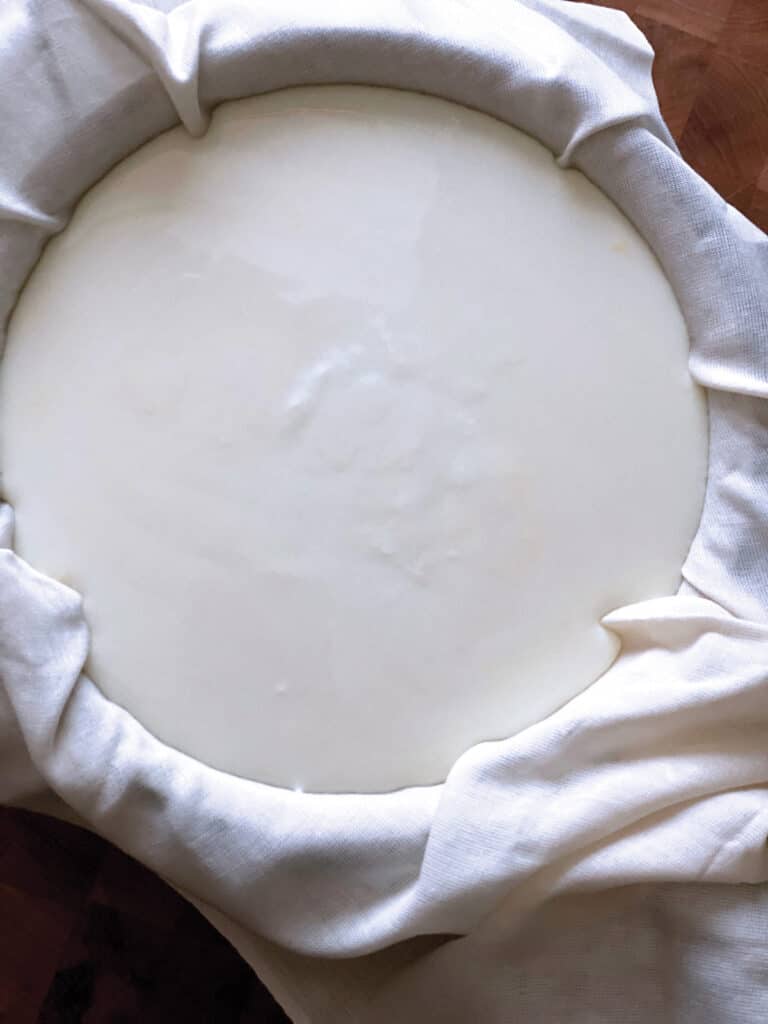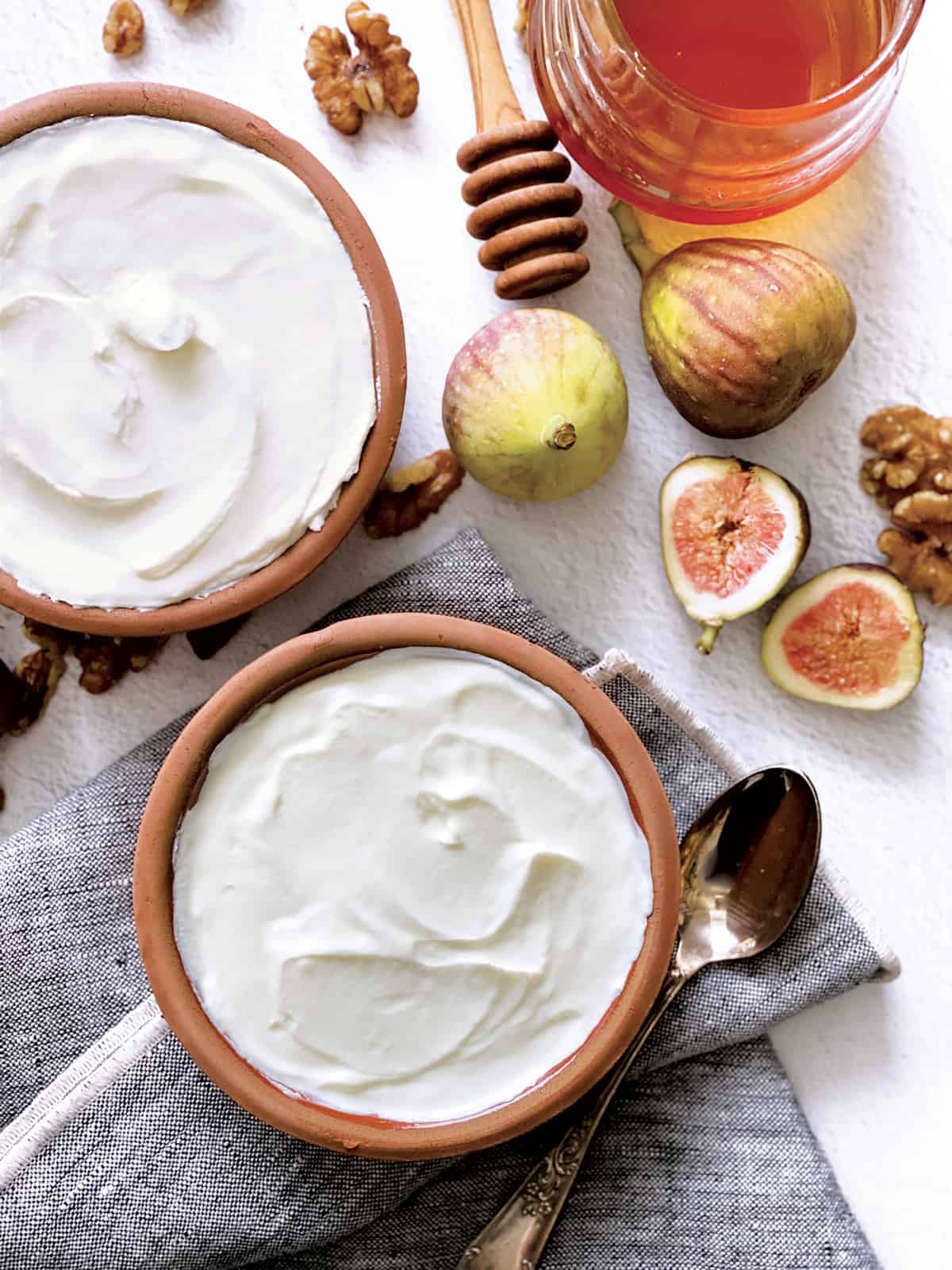 Tips and tricks
Don't throw out the liquid that is drained out of the yogurt. It is whey and is a great protein. It can be added to smoothies, soups and stews, and even oatmeal.
I use my microwave oven above my stove to keep the milk warm enough for fermentation. The light under it provides enough warmth (I prove my bread in there as well).
You can also warm the oven to 113° F / 45°C, and let the yogurt rest in there. You might need fewer hours if you choose this method. Check after 3-4 hours if yogurt has your desired thickness.
How to enjoy Greek yogurt
There are so many possibilities!
Greeks love yogurt served as a dessert with honey and walnuts. It is so good! Tavernas often serve it to their customers as a thank you at the end of the meal.
Portokalopita – Greek orange phyllo cake is easy to make with oranges, phyllo sheets, yogurt, and star anise; it is an irresistible treat.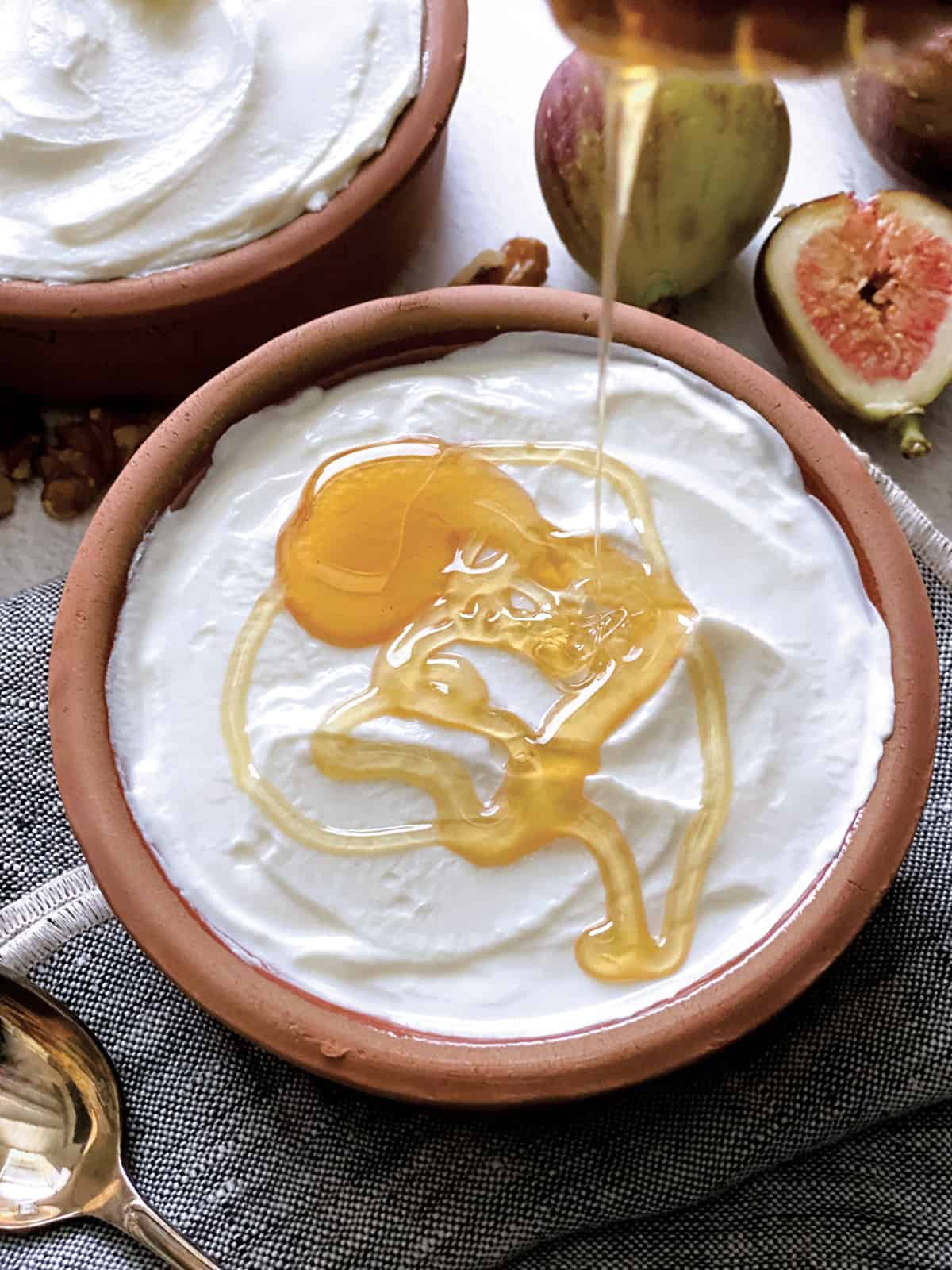 Make tzatziki dip! It's an ideal addition to souvlaki, eggplant & zucchini fritters, or crudités.
We love yogurt in place of sour cream. Daryl can't have chili without a generous dollop of our homemade yogurt. Yogurt is a great way to cool down the heat of curries and other spicy dishes.
Use yogurt in a marinade. Add a cup of yogurt to a mixing bowl and add seasonings like freshly ground pepper, dry oregano, thyme, pepper flakes, za'atar, crushed garlic, and some olive oil. Add chicken pieces, cover them well with the yogurt mixture and let them marinate for a few hours. Yogurt is a natural meat tenderizer. Grill the chicken and serve with a tomato salad and cut up pita bread. It will be the juiciest chicken ever!
Make cauliflower fritters with Greek yogurt & parmesan. They are ready in 20 minutes!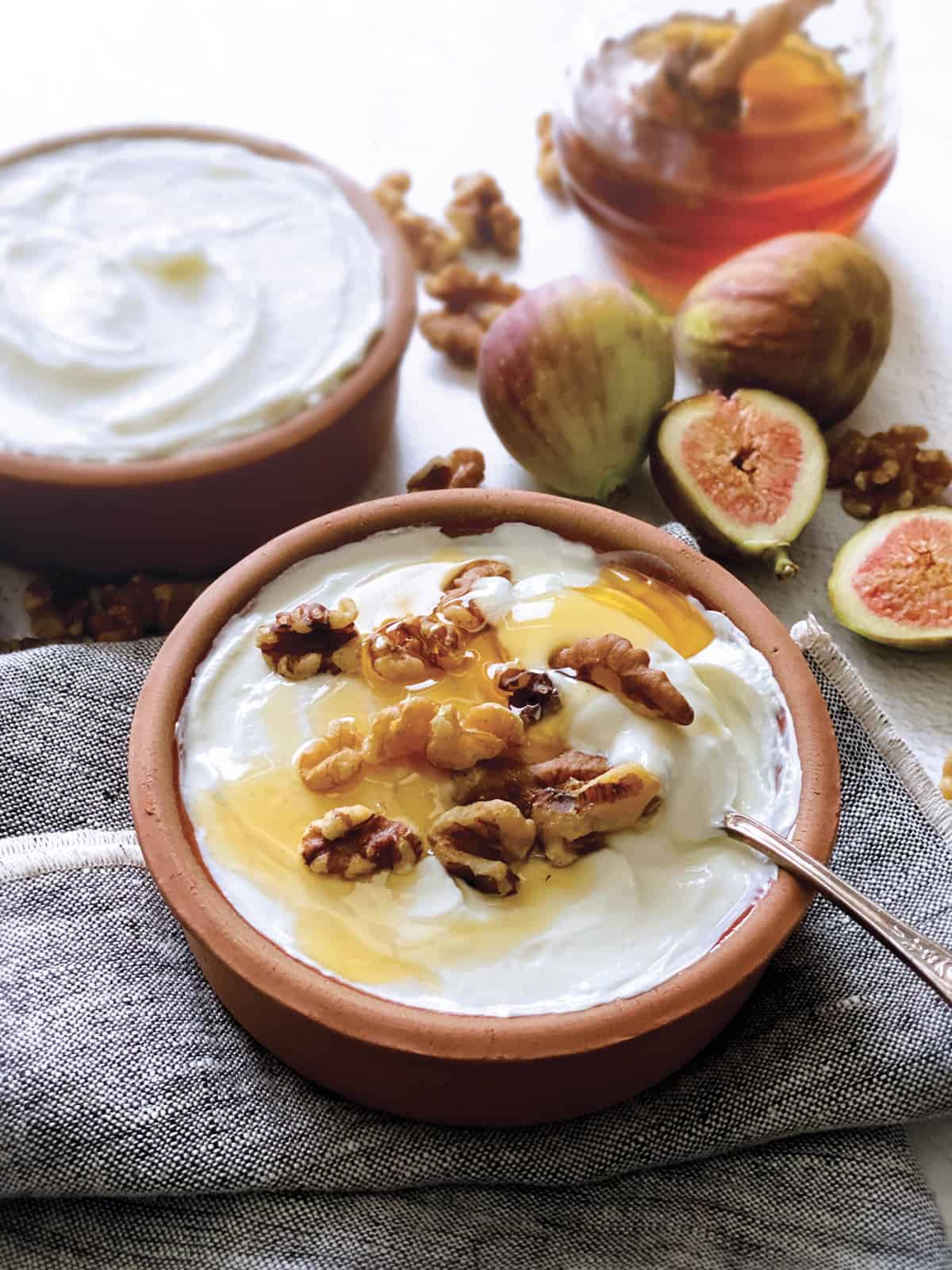 Cooked this? Rate this recipe! You can also leave a comment below. I love hearing from you!
WANT TO EAT LIKE A GREEK? Subscribe to my newsletter and follow me on Facebook, Pinterest, and Instagram for all of the latest updates.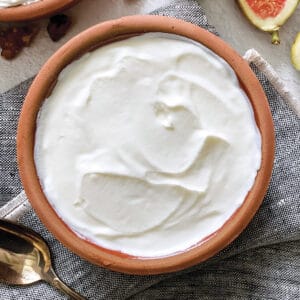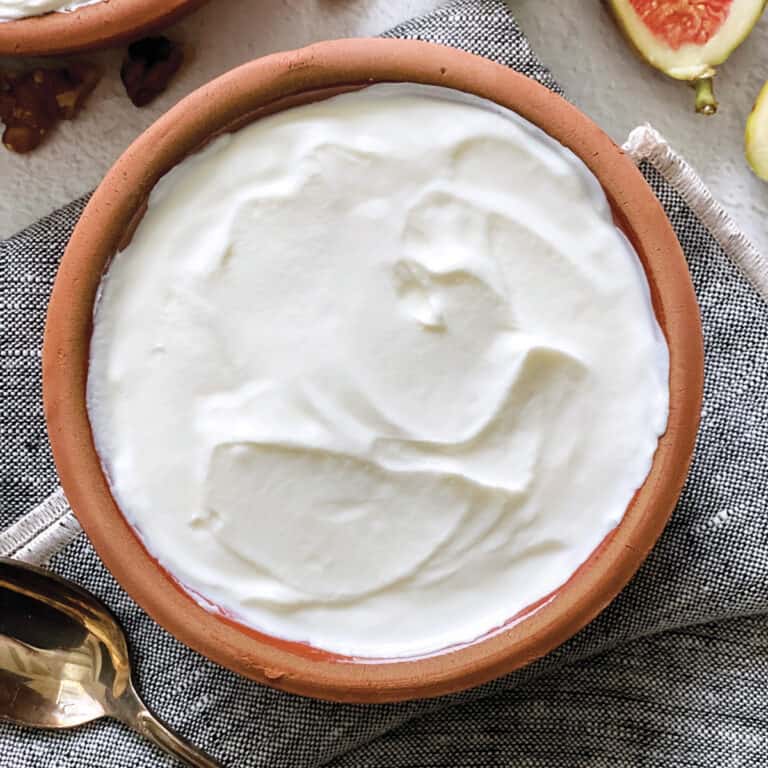 How To Make Greek Yogurt
Make perfect creamy greek yogurt with only two ingredients.
Equipment
Large pot

a cheese cloth

A milk thermometer

a mesh sieve
Ingredients
1000

ml

organic grass-fed whole milk

about 4 cups

1

tablespoon

greek yogurt

full fat
Instructions
Place milk in a pot with a thick bottom and place it on low to medium heat. Simmer milk for 18-20 minutes until milk temperature reaches 185° F / 85° C.

Remove from the heat.

Let the milk cool for 22-24 minutes until the milk temperature reaches 113°F / 45°C.

Using a glass or bowl, add a full tablespoon of yogurt and half a cup of the warmed milk. Mix well with a whisk and add it to the pot with the rest of the milk. Mix well.

Now the milk needs to ferment and thicken in a warm environment. Method A: Place milk in the microwave oven with the light on under it. Leave the pot in the microwave oven for 6-8 hours.Method B: Warm the oven to 113° F / 45° C and let milk rest in there. Check thickness after 3-4 hours.

Line a mesh sieve with the cheesecloth. Place the mesh sieve over the tallest bowl or pot you own to allow the liquids to gather on the bottom without touching the strainer and cheesecloth.

Pour the yogurt into the cloth. Tie the cloth loosely around yogurt and place it in the fridge for at least 3 hours.

The yogurt is ready!
Notes
Get a good full-fat yogurt with live active cultures, such as Fage. Thin a tablespoon first with some of the warm milk, then stir that into the pot.
You can also buy freeze-dried starter cultures, which look like powder and can be stirred right into the milk. Cultures for Health sell basic yogurt cultures and specific ones tailored for Greek yogurt.

Save a few tablespoons of your yogurt batch to use on your next one as a starter. 
Nutritional Info – Please keep in mind that the nutritional information provided is only an estimate and can vary based on the products used.
Nutrition
Calories:
155
kcal
Carbohydrates:
12
g
Protein:
8
g
Fat:
8
g
Saturated Fat:
5
g
Polyunsaturated Fat:
1
g
Monounsaturated Fat:
2
g
Cholesterol:
25
mg
Sodium:
109
mg
Potassium:
335
mg
Sugar:
13
g
Vitamin A:
405
IU
Calcium:
287
mg
Iron:
1
mg
Tried this recipe?
Mention @thegreekfoodie__ or tag #thegreekfoodie__