Horta-Greek greens with olive oil and lemon are a simple, delicious dish and a staple in Greek households. Dressed with extra virgin olive oil and fresh lemon juice, horta is a great side dish for grilled fish, chicken, or steak. Best of all, they're incredibly easy to prepare!
If you love Horta-Greek greens, you will also love Briam-Greek Roasted Vegetables, Papoutsakia-Stuffed Eggplants, or Stuffed Squash Blossoms!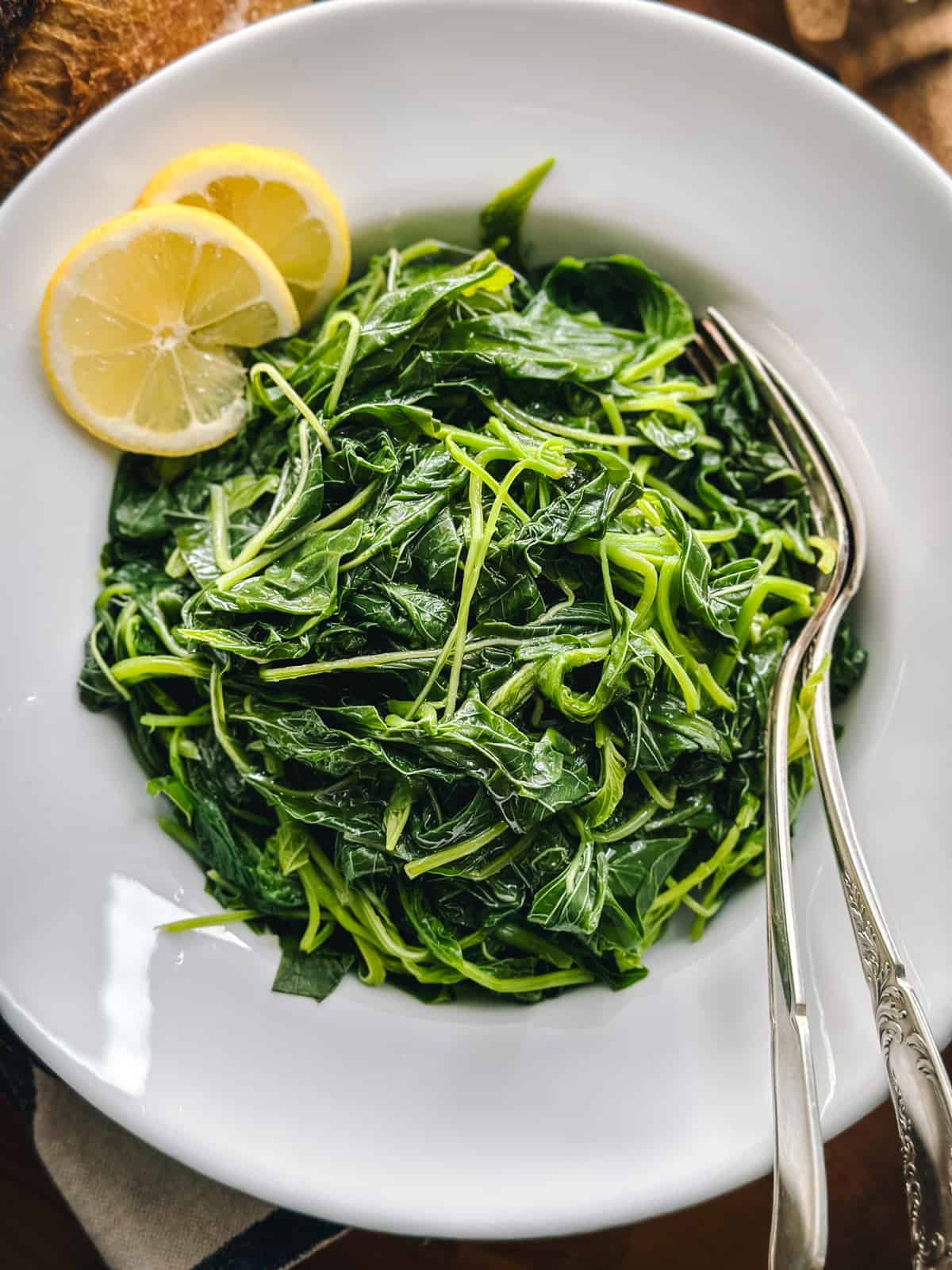 What are horta
Horta are wild greens such as herbs, leaves, sedges, and flowers that have been treasured ingredients of Greek nutrition since ancient times.
The wild greens grow without cultivation in many places, mainly in the mountains. Aromatic greens/herbs like myronia (wild chervil), stamnagathi (wild chicory), radikia (dandelion greens), endives, tsouknida(nettles), vlita (amaranth leaves), seskoula (Swiss chard) are abundant in Greece.
Greens mostly come out in the spring, although good weather can often trick them into coming out earlier than their season, and bad weather may prolong their hibernation.
It's interesting to note that some Greeks have a knack for foraging greens while on a road trip or even stopping by a scenic spot in suburban Athens. They have inherited the gift of identifying local species of greens from their ancestors, allowing them to distinguish between the ones that are fit for consumption and those that are not. They keep a knife and cloth bags handy in their cars to be prepared for a spontaneous gathering of greens.
In Greece, during difficult periods, such as the Second World War Axis occupation, the wild greens saved many lives since they were the people's only nutritional solution.
Horta are very nutritious
According to scientists, these greens are of the greatest nutritional value due to their high content of valuable ingredients, especially when cooked and mixed with each other. The first reports of the nutritional properties of greens were recorded from ancient times and are confirmed today. For the ancient Greeks, Romans, Chinese, and Arabs, greens had healing properties either cooked in various foods or as teas.
Some green varieties are now cultivated and available in grocery stores.
The Greek recipes with greens are endless. From traditional Cretan herb pies to stews, all these recipes allow Greeks to take advantage of the properties of wild herbs, which fortunately exist in abundance in Greece.
How to eat horta
The easiest and most common way to enjoy horta is to steam them and serve them as a side dish with lemon juice and olive oil.
For this recipe, I am using vlita (amaranth leaves). These greens have a strong, slightly bitter, refreshing taste, especially organic ones. They are an excellent accompaniment to fried fish, grilled meat, or even served plain with french fries.
Vlita, in addition to boiling, they can be lightly fried with some onion, garlic, and tomato and garnished with herbs, such as basil, mint, parsley, thyme, thyme, and rosemary.