This roasted cauliflower recipe is so easy and makes a delicious main dish or a fabulous side for anything roasted.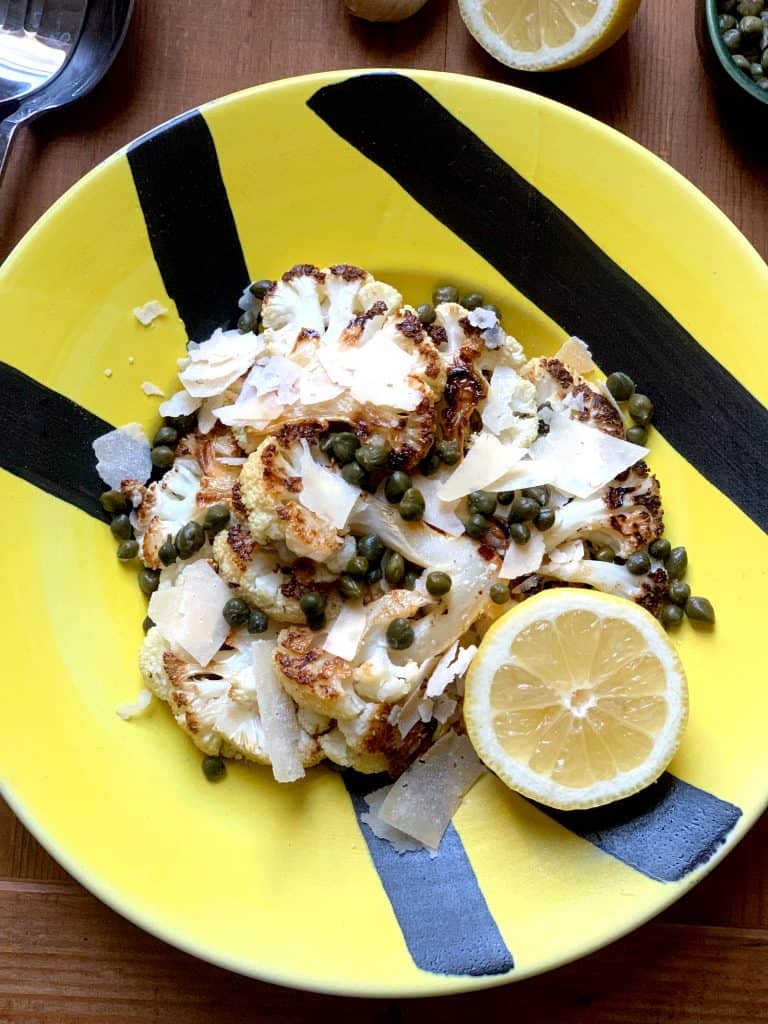 Cauliflower is all the rage the last couple of years for its versatility and low carb content. As a kid I could not understand the appeal of cauliflower. My mother's appeals to eat her steamed cauliflower with a light dressing of lemon and olive oil were fruitless. As a teenager I started loving the cauliflower fritters my dad used to make from any leftovers. And as an adult I have to admit that cauliflower has totally won my heart as one of my favorite vegetables.
This roasted cauliflower is so easy to make and is influenced by mom's recipe with a few tweaks. You need a cauliflower head sliced in 1/43 inch "steaks" or pieces if you prefer. Add a little olive oil, season and roast for about 45 min. Then serve with a lemon/olive oil/capers dressing and shaved parmesan. Trust me, you will be amazed how good it tastes. I usually make this roasted cauliflower as a side to a nice grilled steak or a "bun-less" burger. I love it on it's own, in room temperature as well, in fact I can't stay away and nibble in and out of the kitchen!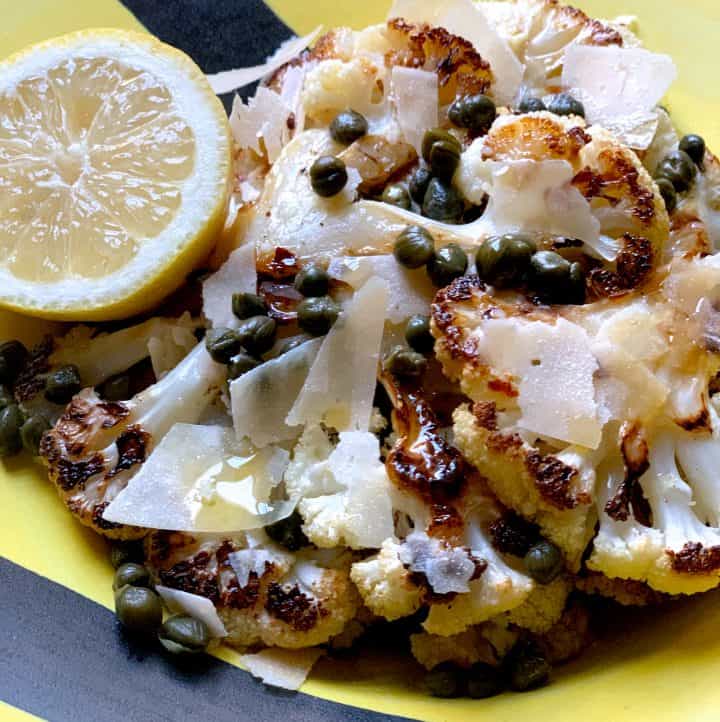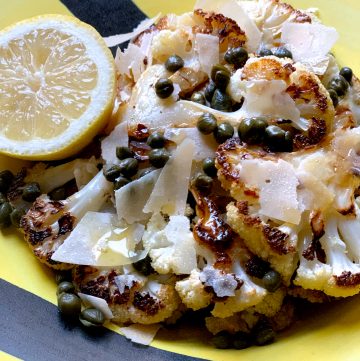 The Best Roasted Cauliflower with Parmesan, Lemon & Capers
This roasted cauliflower is easy & really delicious. With lemon/olive oil dressing, earthy capers & parmesan makes a great side for anything roasted.
Ingredients
one cauliflower head

1/2

cup

extra virgin olive oil

1/3

cup

capers

2

lemons

salt

pepper

2-3

tbsp

shaved parmesan cheese
Instructions
Preheat the oven to 380F.

With a sharp knife slice the cauliflower into 1/3 inch "steaks". Some will separate and crumble, don't worry about that.

Arrange the cauliflower pieces on a baking sheet. Arrange the garlic between. Add the olive oil all over. Season with salt and fresh ground pepper.

Bake for about 45 min or until cauliflower is golden and lightly crispy at the edges and soft in the middle. Half way check it out, and give it a light. Sometimes I flip the pieces so they can get golden all over.

In a separate bowl mix 2 tbsp extra virgin olive oil, the juice of one lemon, and a handful of capers. Do a taste test in case you need more lemon juice to balance it. Add a generous amount of fresh ground pepper. Set aside.

Remove from heat and carefully place the cauliflower in a large bowl. Add the lemon-olive oil-caper dressing on top. Sprinkle a generous amount of shaved parmesan cheese. Serve immediately.
Tried this recipe?
Mention @thegreekfoodie__ or tag #thegreekfoodie__