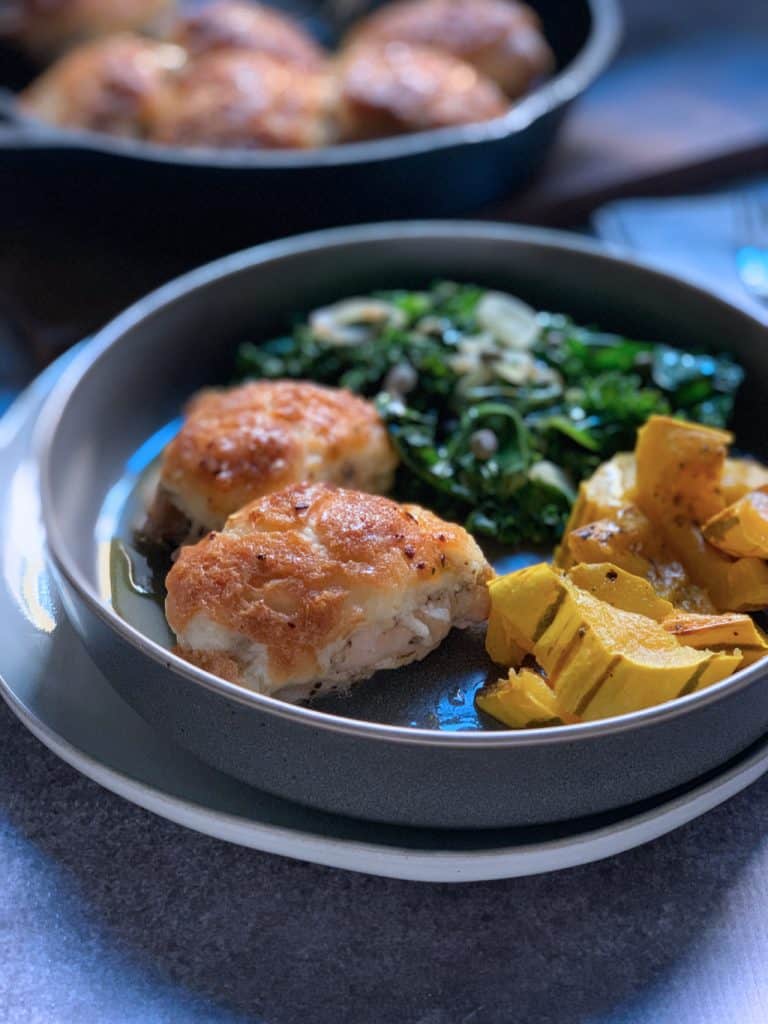 This parmesan chicken is the most scrumptious chicken you could ever have. We love it so much in our house there are months where we make it on a weekly basis. If you are also a fan of eating low-carb, HFLC or Keto it is a foolproof recipe that will please even the most demanding Keto aficionado. When we are at a loss on what to make for a sudden guest visit parmesan chicken always wins because it is super easy and absolutely delicious.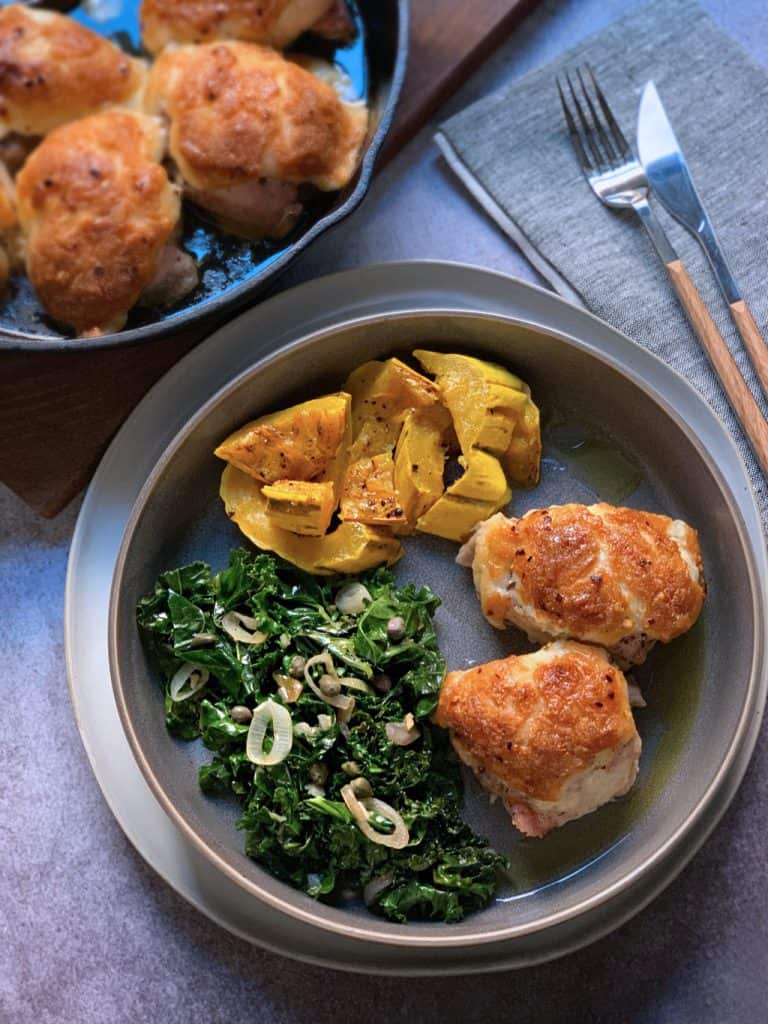 The first time we made this chicken recipe it was almost by accident. I saw an advertisement for a recipe using mayo and grated parmesan on chicken breasts and I decided to make my own version. Instead of spreading the mayo on the chicken and follow with a sprinkle of the cheese, I go all the way with making a mix of equal parts of mayo and grated parmesan. I just add red pepper chili flakes or fresh ground pepper. I have cooked this with the most amazing parmigiano reggiano I found at EATALY in Chelsea. But I have also used the boxed parmesan flakes from my supermarket. I liked it both ways. Obviously the authentic Italian parmigiano reggiano wins but the conventional brand did pretty well also and is more economical. You can use your own homemade mayo or a ready made one. To be totally truthful I think the ready made mayo is better for this, save your precious homemade for a different dish where it can shine on it's own.
I don't use any oil in this because all the fat comes from the mix of mayonnaise and grated parmesan cheese. Also I never use chicken breasts, I am a big fan of chicken thighs. I get organic, free range chicken thighs with no skin or bones, wip up the mayo/parmesan mix and 40 min later comfort food heaven knocks at the door (or the dinner table). I love this chicken dish with a super creamy cauliflower mash and delicious sautéed garlicky kale. It goes super well with grilled delicata squash, french fries, a balsamic vinegraitte spinach and bacon salad etc

Ingredients
8

chicken thighs

skinless boneless

1

cup

mayonaise

1

cup

parmesan cheese

shredded

1

tbs

red hot chilli pepper flakes

salt

freshly ground pepper
Instructions
Preheat your oven to 375 F.

Season the chicken thighs with salt and pepper. Place them in a baking pan in their folded position.

In a bowl mix well the mayo, the shredded parmesan and the red hot chili peppers.

Place a full tablespoon of the mayo- cheese mix on each chicken thigh. You can sprinkle some more red hot chili pepper flakes all over if you like.

Bake for 40 min or until cheese mix is golden brown and chicken is cooked through.

Serve with your favorite vegetable mash and garlicky sautéed greens. Enjoy!
Nutrition
Calories:
974
kcal
|
Carbohydrates:
2
g
|
Protein:
46
g
|
Fat:
86
g
|
Saturated Fat:
21
g
|
Cholesterol:
262
mg
|
Sodium:
930
mg
|
Potassium:
498
mg
|
Sugar:
1
g
|
Vitamin A:
408
IU
|
Calcium:
319
mg
|
Iron:
2
mg
Did you like this recipe?
Mention @thegreekfoodie__ or tag #thegreekfoodie__