Baklava with phyllo, syrup and pistachios makes a sweet Mediterranean dessert that everyone will love.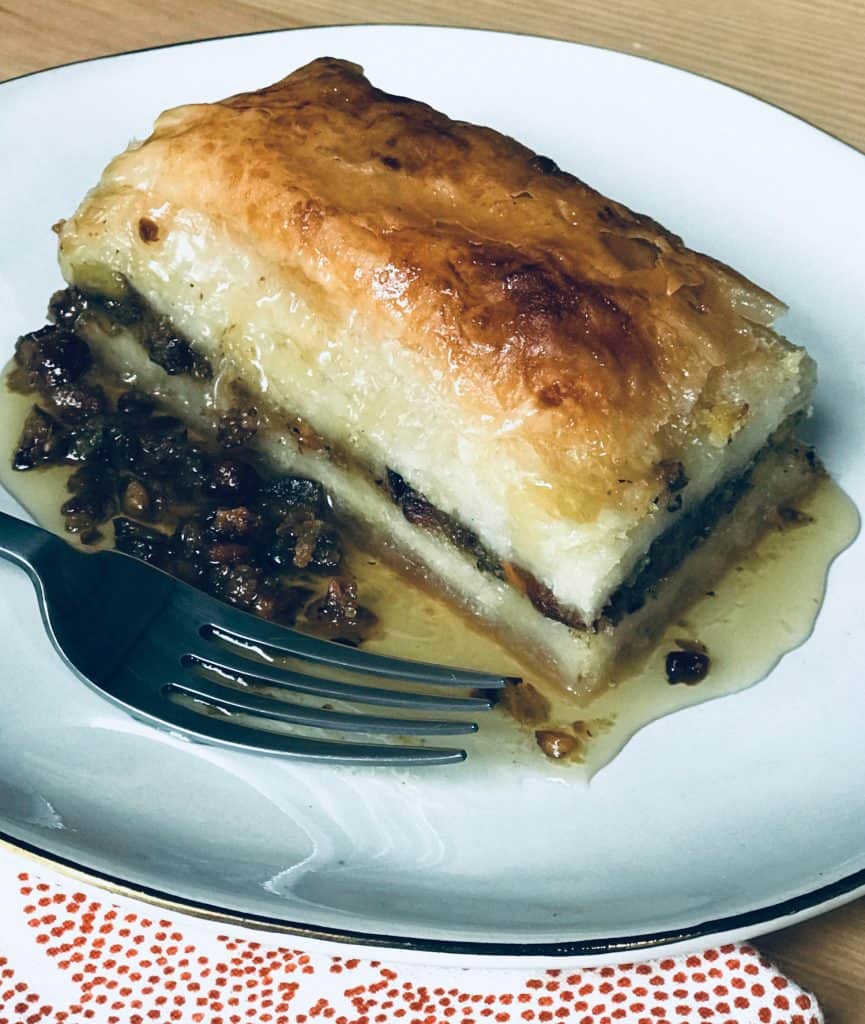 This pistachio baklava is the Constantinople (or Istanbul) version. I wanted to honor my paternal grandma Evgenia who was an amazing woman, from Poli as Greeks call the famous city. She was a Greek born in Constantinople at the beginning of the 2Oth century, where there was a big Greek community at the time. She was one of the best cooks I have ever met. Her family gatherings are legendary for her culinary creations and the warm, welcoming atmosphere. Grandma Evgenia's desserts were the real deal, you could not find anything like them at any shop. I hope she would enjoy this baklava.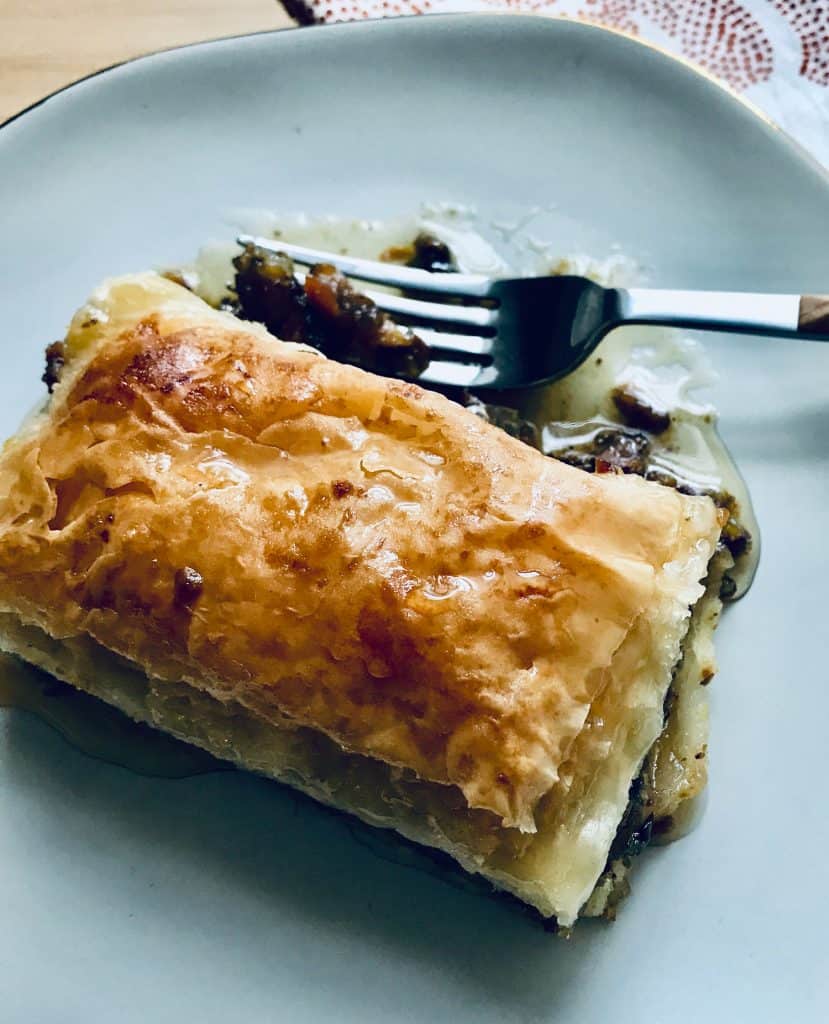 Useful tips
The key for this recipe is good quality pistachios.
Get the best butter you can find. I like unsalted grass fed butter. You can also use ghee.
The Greek version of baklava uses walnuts and almonds for the filling as well adding cinnamon, orange peel, cloves and honey to the syrup.
Baklava will be at its best after 24 hours. You can grate some lemon zest on if you like for serving.
You might also like:
If you've tried this recipe or any other on The Greek Foodie, then don't forget to rate it and leave me a comment below! I would love to hear about your experience making it.
WANT TO EAT LIKE A GREEK? Subscribe to my email and follow along on Facebook, Pinterest and Instagram for all of the latest recipes.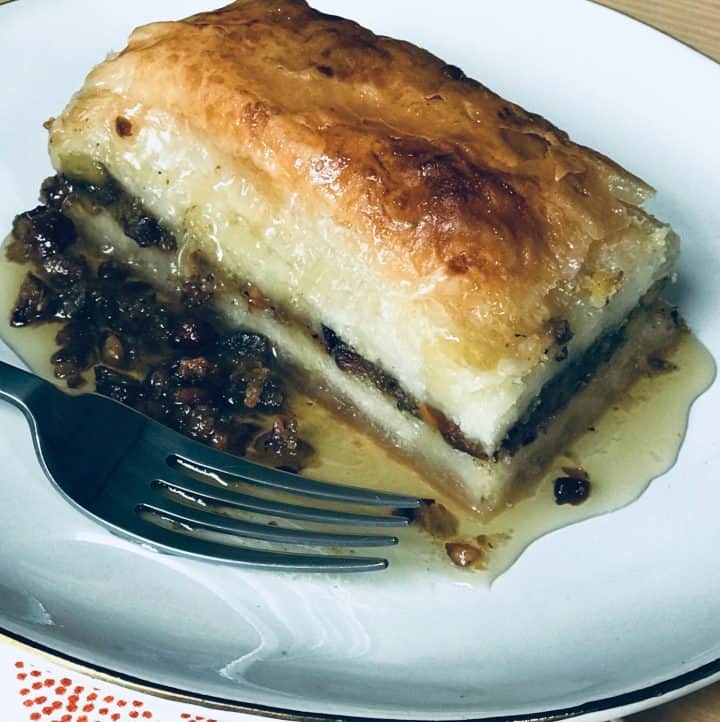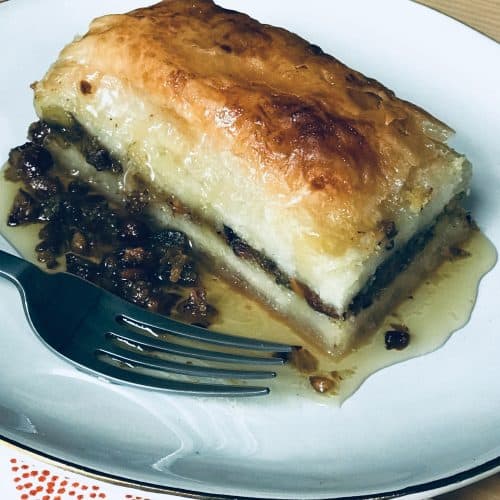 Ingredients
15

oz

unshelled pistachio nuts

1

cup

almond flour

2.5

sticks unsalted good quality butter or ghee melted

1.5

lb

phyllo dough defrosted overnight in the refrigerator

3.5

cups

sugar

Juice of 1/2 lemon

1

tsp

lemon zest

some more for serving (optional)
Instructions
Using a mortar and pestle, ground the pistachios until coarsely minced. You can also chop them by hand with a sharp knife. You can use a food processor if you prefer but be extra cautious to not ground them too fine. The food processor method is not the most ideal because it releases the nut's oils and changes the flavor of the baklava.

Heat oven to 400 degrees and brush the inside of a deep 10-by-15-inch baking pan with little butter.

Check the size of the phyllo dough. You might need to trim it with scissors to fit the bottom of your baking dish. Packages of phyllo come in different sizes. Some won't need any trimming, some may need an inch or two cut off a side. Cover phyllo layers with a lightly damp kitchen towel and keep covered.

Place 2 pieces of phyllo on the bottom of the baking pan; drizzle lightly with butter. Layer phyllo sheets on top drizzling with butter every two sheets as you go until 20 or so sheets are used.

Spread mix of pistachios and almond flour on phyllo in an even layer, then layer with remaining phyllo, using the same method of drizzling with butter every two sheets until 20 or so sheets are used.

Carefully, using a sharp knife cut the pastry into square or diamond shape pieces. Make sure to cut all the way through to bottom of pan. Pour the remaining butter evenly all over pan.

Reduce oven temperature to 320 degrees. Bake baklava until the top is golden brown, for about 45 minutes, but it could take an hour or a little more depending on your oven.

When the baklava is baked through and has a lovely golden brown color remove it from the oven and let it cool a little. Meanwhile, prepare the syrup. Keep your oven hot.

In a medium pot, combine the sugar with 3 cups of water. Bring to a boil, then let simmer for 5 minutes, until slightly thickened. Stir in lemon juice and lemon zest.

Pour the hot syrup all over the lukewarm baklava. Some may overflow.

Put the pan back into the hot oven for about 5 minutes. Remove baklava and let it cool completelly before serving.
Did you like this recipe?
Mention @thegreekfoodie__ or tag #thegreekfoodie__