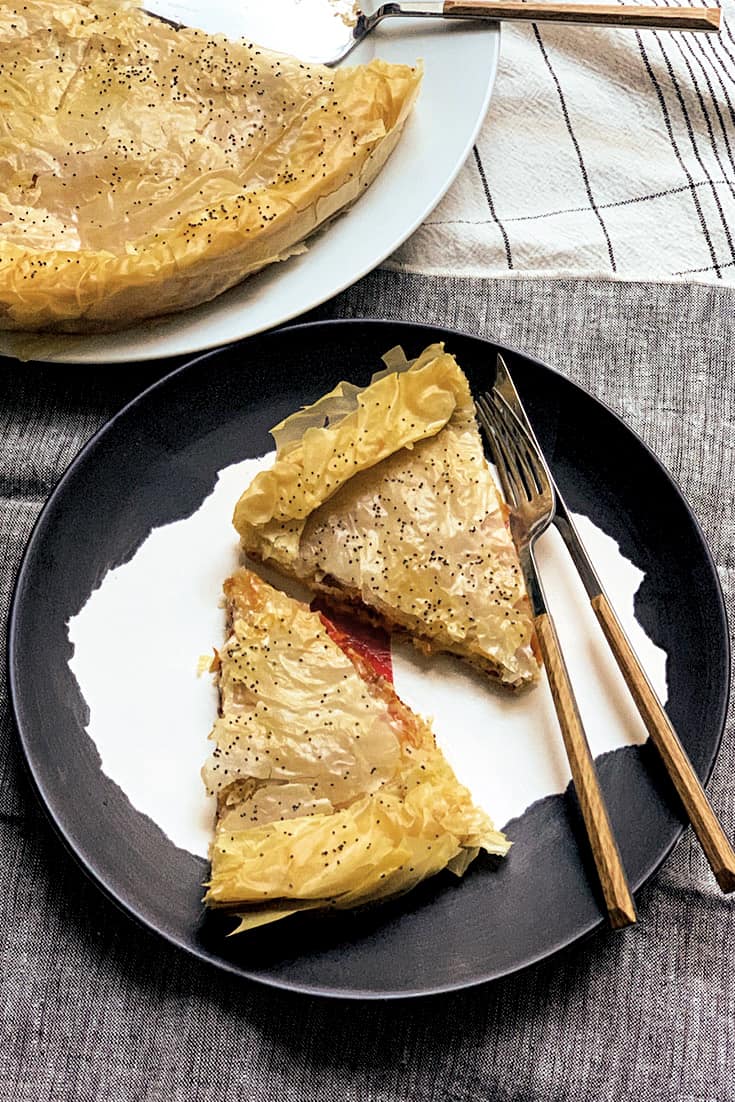 Pastourma pie is a traditional Greek/Turkish pie which is scrumptious, very easy to make and will win glorious reviews at your dinner party or Sunday brunch.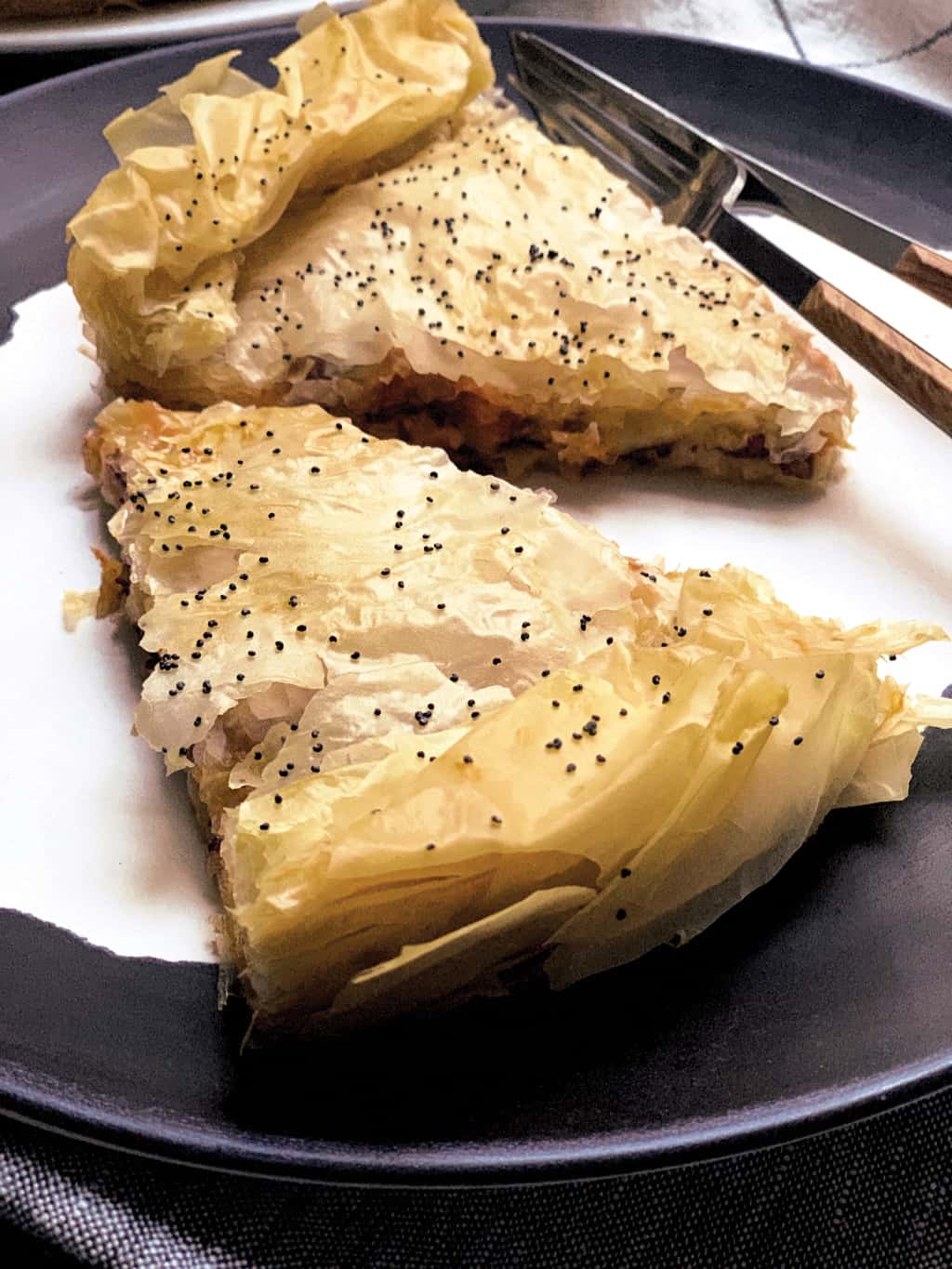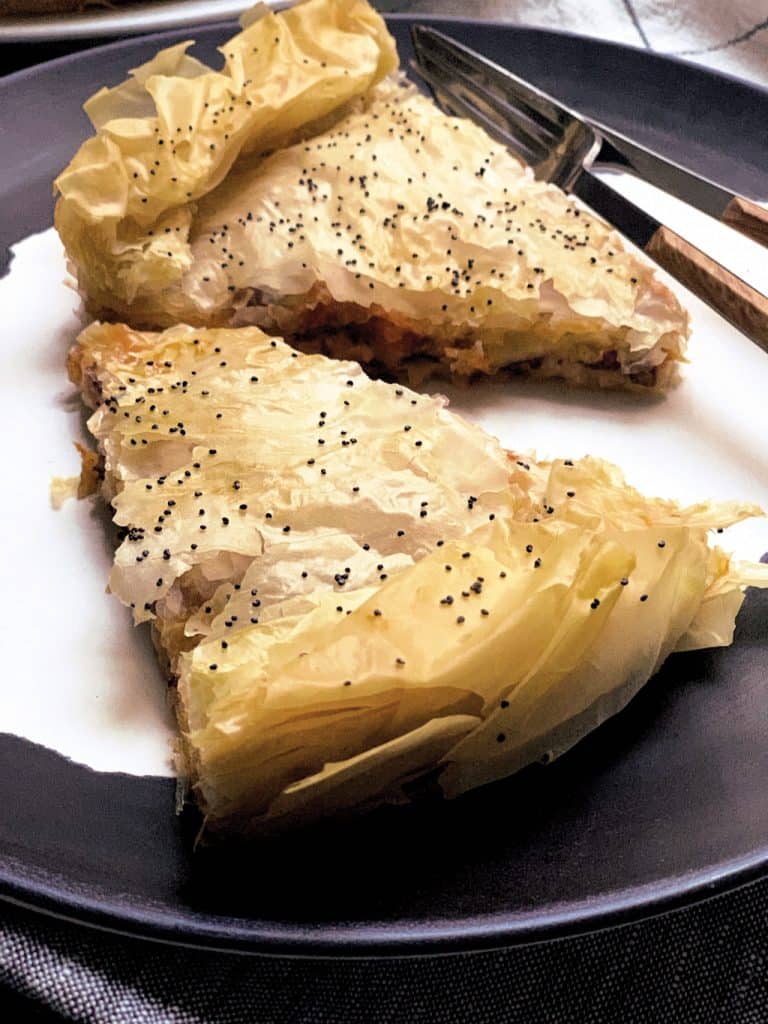 My grandma Evgenia made this pie for the holidays and it was the star of the dinner table. Grandma was a fierce cook and this pastourma pie would have serious competition including roasted leg of lamb, decadent potatoes and cheese pies. It would always win with many competing for the remaining slices.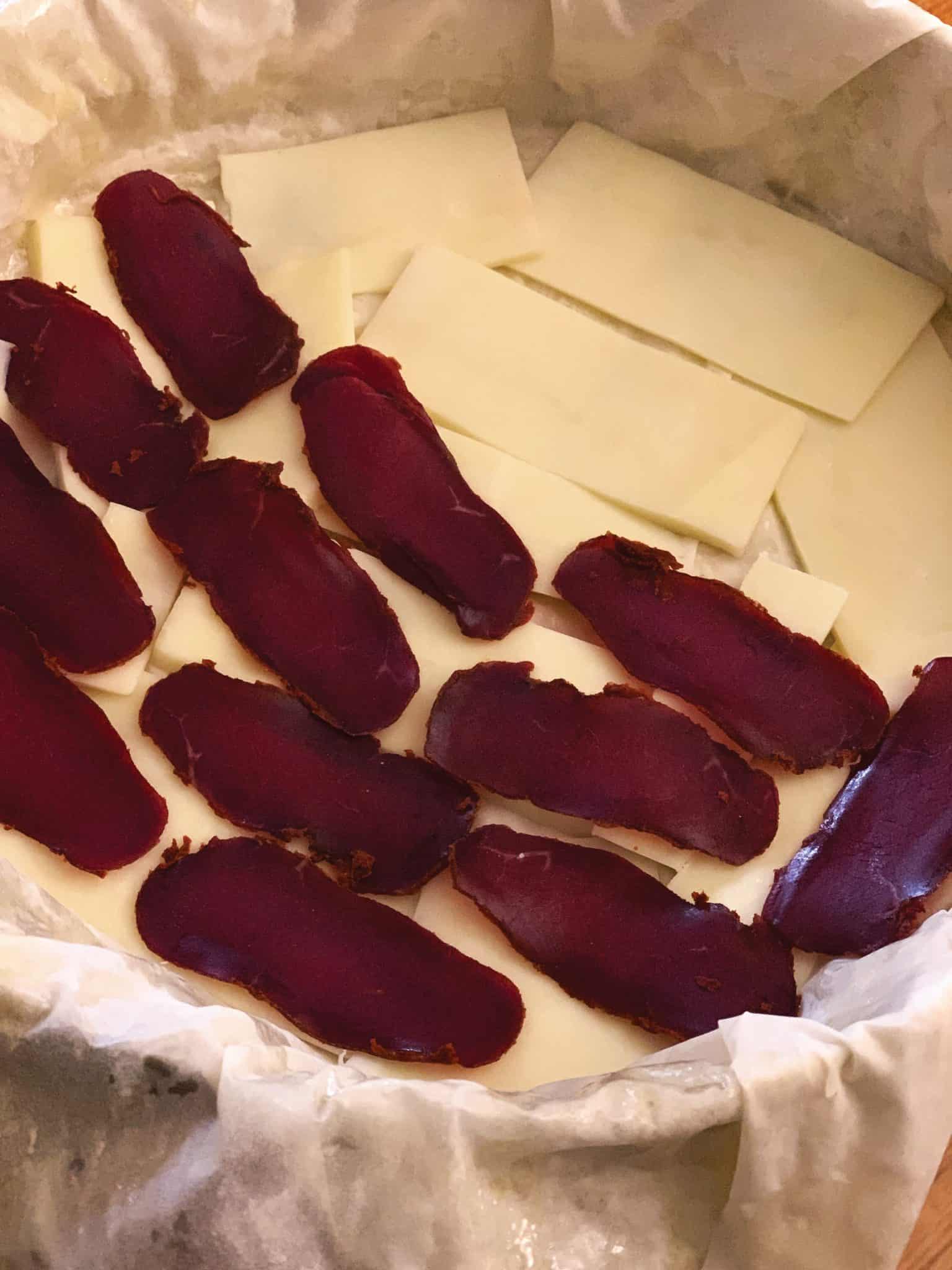 Greeks call pastourma pie "Pita Politiki" meaning pie for Poli, Constantinople that is. (Absolutely no Greek calls the famous Turkish city Istanbul. As far as we are concerned Constantinoplewill always be "Greek"). Sorry ?
Pastourmas or pastirma as it is mostly called in English is a kind of cured meat.
According to Wikipedia :
" Pastırma is usually made from water buffalo or beef, but other meats can also be used. In Egypt pastırma is made not only with beef, but with lamb, water buffalo, goat and camel as well… To make pastırma the meat is salted and rinsed before being dried and pressed. After the first drying period the meat is cold pressed for up to 16 hours. This aids the process of removing moisturefrom the meat. After the first pressing, the meat is dried for several days during which the fats melt and form a white layer. The second press is a "hot press". Finally, the dried and pressed meat is covered with a spice paste called çemen. Çemen is made from a paste of ground fenugreek seeds, Turkish red pepper and mashed garlic. The dried product is covered with the wet paste and left to dry again. The entire process takes approximately one full month…"
Pastourma pie is very easy to make. You need phyllo sheets, a little butter, tomatoes, kasseri cheese and pastourma. If you can't find kasseri you can use sliced provolone or mozzarella.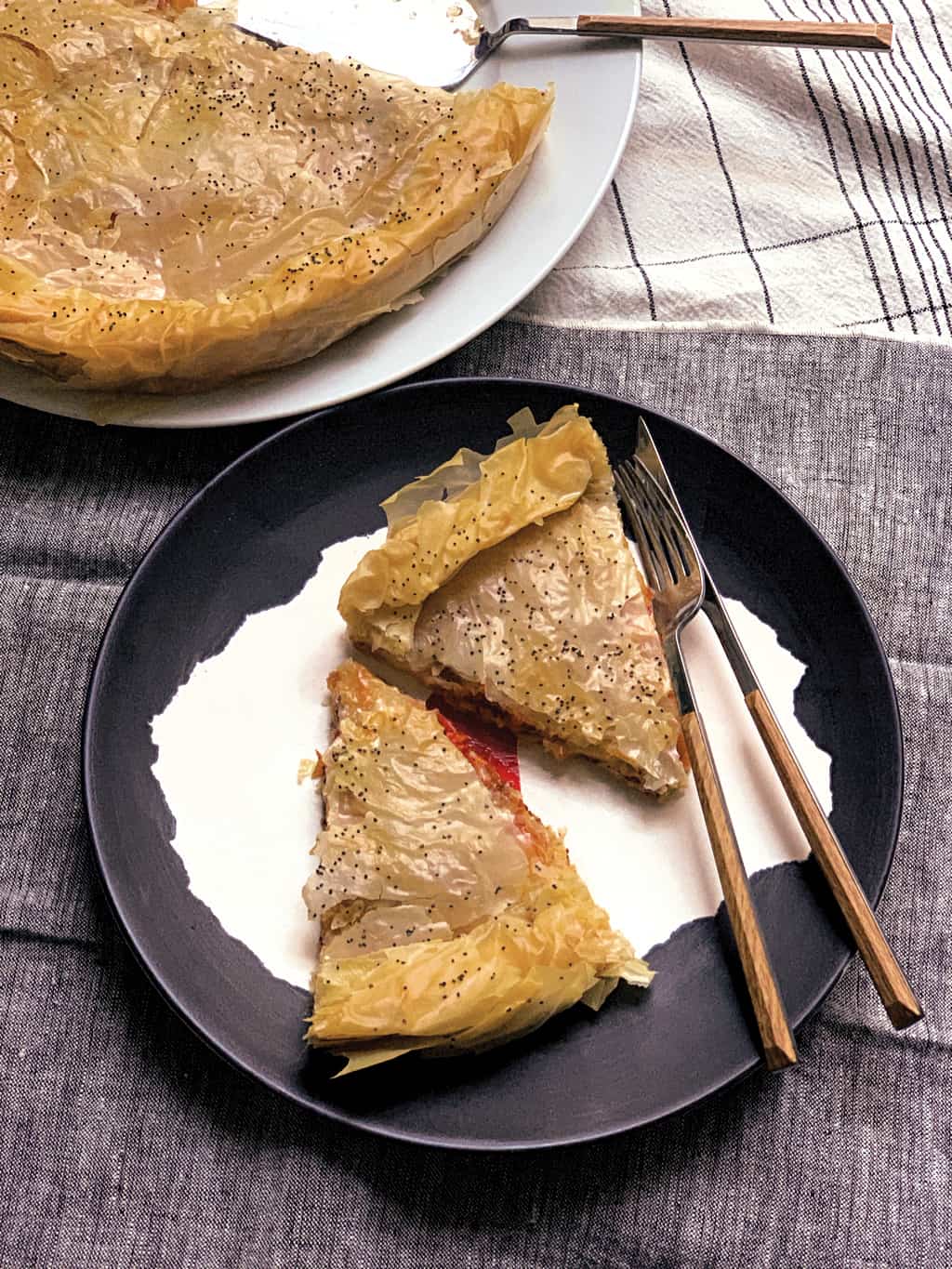 Ingredients
8

phyllo sheets

20

slices

provolone cheese

20

slices

pastourma

pastirma from beef

2

tomatoes

thinly sliced 2-3 mm. (Pat dry with with a paper towel or drain in a strainer for 5 min to remove excess moisture. I like campari tomatoes and they are small so I used about 6-7 of them)

5

tbsp

butter

melted

A pinch of cumin
For the top
Black sesame or poppy seeds

You can also use regular sesame seeds or nothing at all 🙂
Instructions
Preheat oven to 380 F.

Lightly butter bottom of pan and sides.

Sprinkle butter all over a phyllo sheet. Place it on the bottom of the pan with sides hanging out. Butter another and place on top of first phyllo in a cross way. Repeat with two more buttered phyllo sheets using the same method.

Add a layer of kasseri cheese. Add a layer of pastourma. Add a layer of tomato slices.

Sprinkle a pinch of cumin all over tomatoes. Add the remaining slices of kasseri. Cover with 4 buttered phyllo using the criss cross method.

Bring in the excess phyllo and roll it in to create a border. You can trim it a little if you need to before rolling it in.

Lightly buttered the top and score it. Sprinkle black sesame seeds all over top. You can also use poppy seeds, regular sesame seeds or nothing at all :-).

Bake until top is a light golden brown (about 50 min depending on your oven)
Notes
Keep your phyllo sheets covered with a damp kitchen towel while you are working. Once you put them in the pan, make sure they are buttered all over the sides. You can spray very lightly water on the sides to keep them moist.
Nutrition
Calories:
796
kcal
|
Carbohydrates:
101
g
|
Protein:
30
g
|
Fat:
29
g
|
Saturated Fat:
14
g
|
Cholesterol:
56
mg
|
Sodium:
1603
mg
|
Potassium:
307
mg
|
Fiber:
4
g
|
Sugar:
1
g
|
Vitamin A:
727
IU
|
Vitamin C:
11
mg
|
Calcium:
379
mg
|
Iron:
7
mg
Did you like this recipe?
Mention @thegreekfoodie_ or tag #thegreekfoodie_