Traditional kasseri cheese pie with pastourma is scrumptious, easy to make, and will win glorious reviews at your dinner party or Sunday brunch.
If you love this kasseri cheese pie, you will also love this potato & zucchini pie, leek and potato galette or this pie with greens and feta!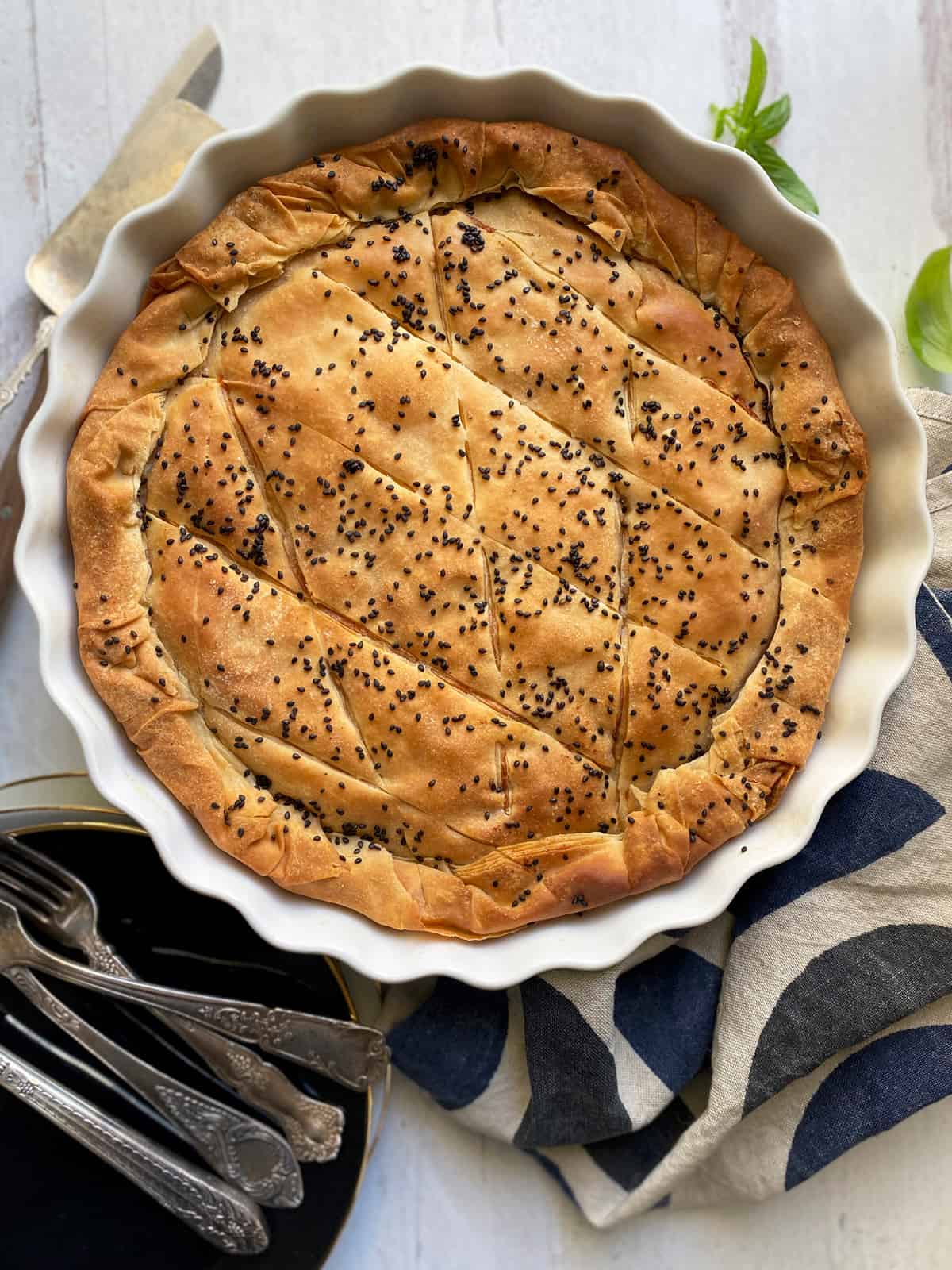 What is a pita Ceasarias?
Pita Ceasarias is a Greek/Turkish phyllo pie with kasseri cheese, tomato slices, and pastourma (or pastirma) meat slices. It is named after Ceasaria (Kayseri), a prominent Turkish city near Cappadocia. Greeks also call it pastourmadopita.
My grandma Evgenia always made this kasseri cheese pie with pastourma for Christmas dinner, and it was the star of the dinner table. Grandma was a fierce cook, and this pie would have serious competition, including roasts, decadent potatoes, and cheese pies. It would always win, with many competing for the remaining slices.
What is pastourma or pastirma?
Pastourmas (or pastirma often called in English) is a kind of cured meat, usually beef. It is salted and cured with a spice paste of ground fenugreek seeds, Turkish red pepper, and mashed garlic.
Here is what you need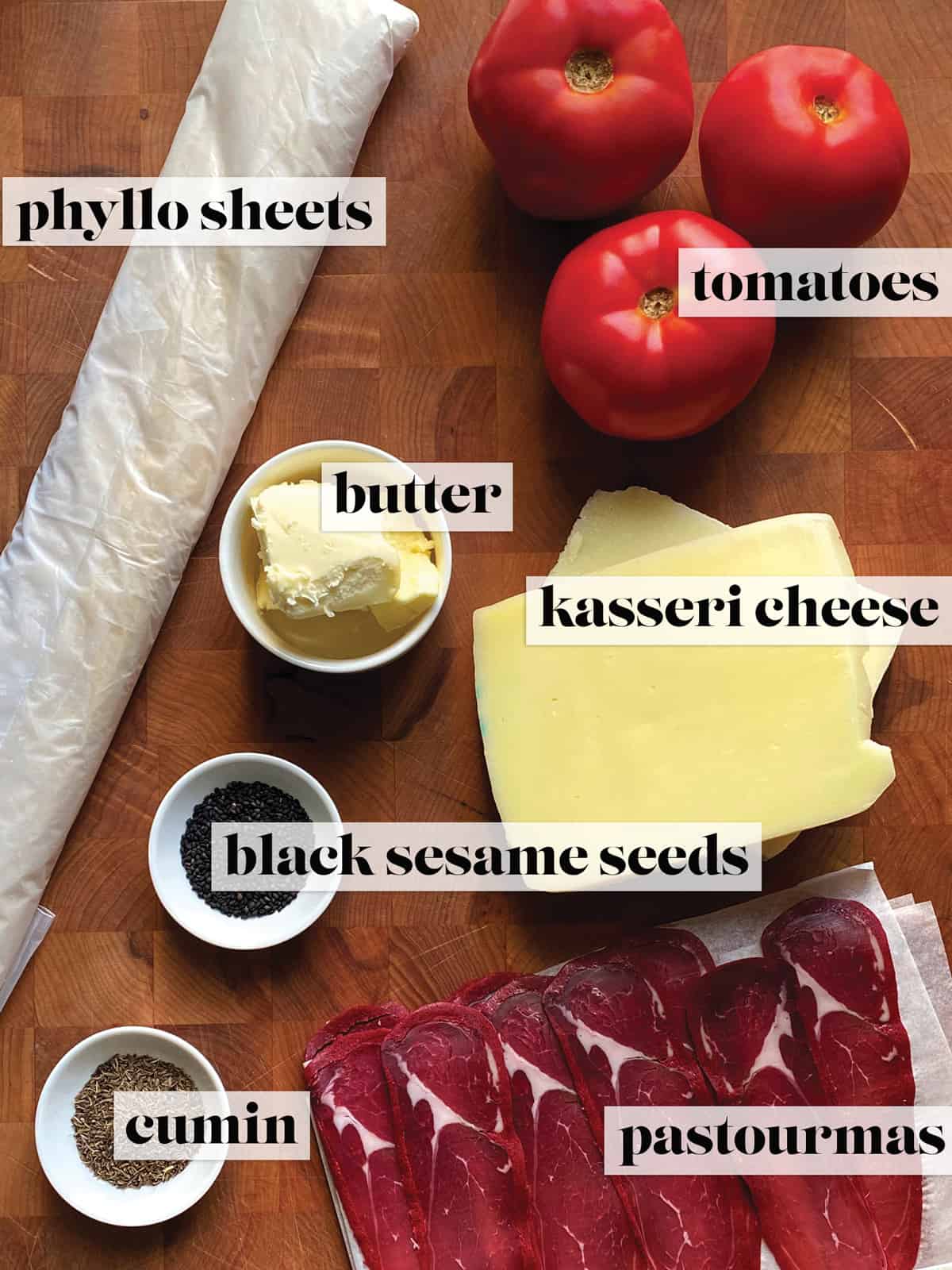 Phyllo sheets. You can use thin phyllo dough sheets or thick ones used for more rustic greek pies. In case you go for thin, you will need 8 sheets. For the thicker sheets, you need four.
Kasseri cheese. It is a medium-hard or hard pale yellow cheese made from sheep milk and, at most, 20% goat's milk. It has a mild, mellow, and faintly sweet flavor. It is lightly salty, and its texture is dense yet pliant with a pale yellow color. A suitable substitution is Provolone cheese.
Pastourma. You can substitute with Italian Bresaola or proschuiitto.
Ripe tomatoes. Thinly sliced.
Butter. You can use unsalted or salted, whatever you like.
Cumin. It is my favorite spice. I love using the wild mountain cumin seeds from Burlap and Barrel.
Black sesame seeds. They add a pop of color and a little texture. Feel free to use blond sesame seeds or poppy seeds for some contrast.
How to make this pie
Thinly slice the tomatoes, about 2-3 mm for each slice. Pat dry with a paper towel or drain them in a strainer for 5 minutes to remove excess moisture.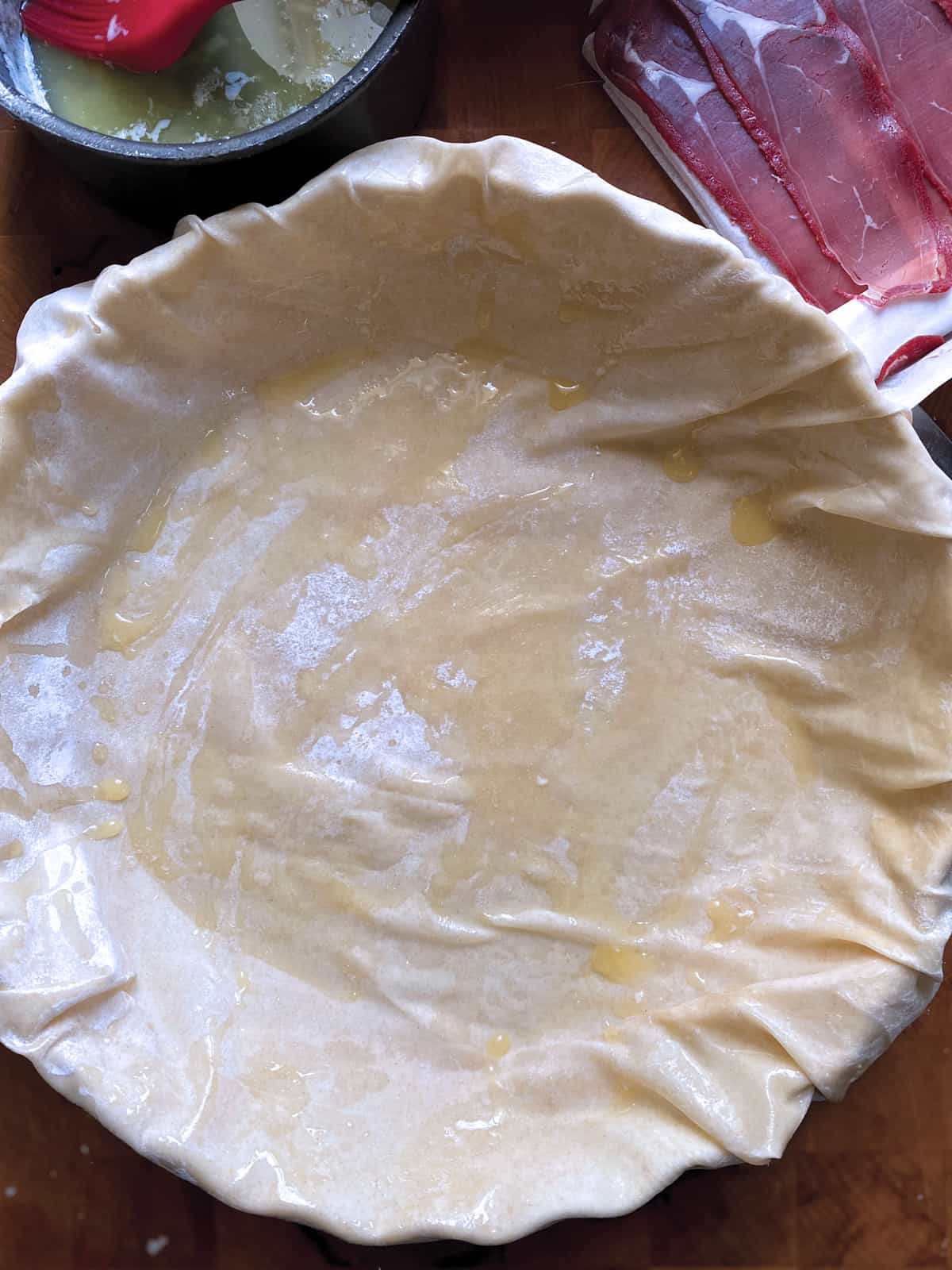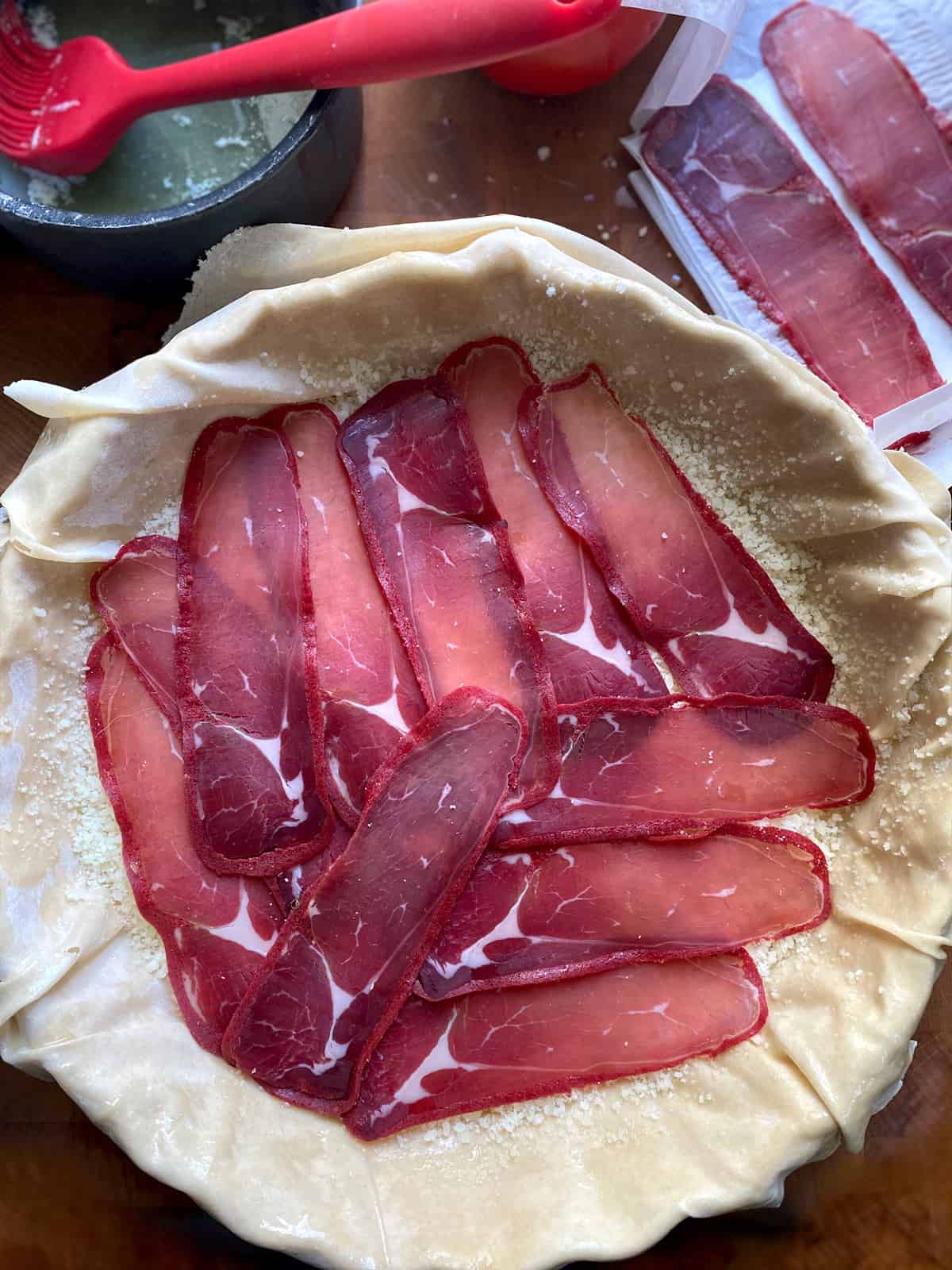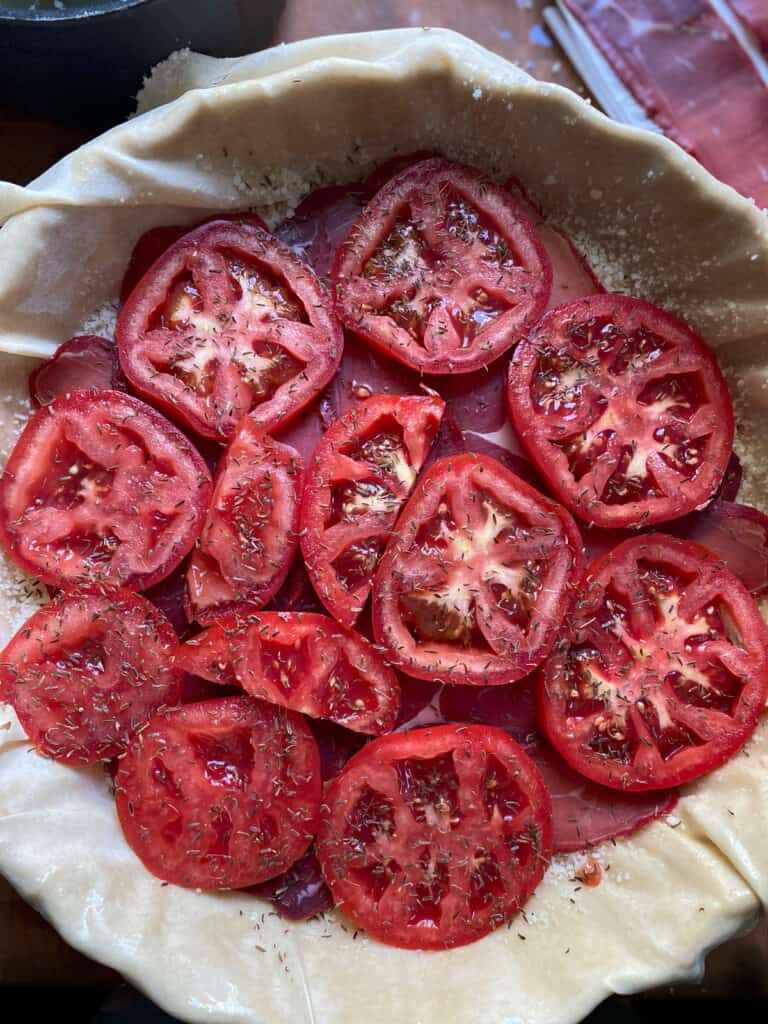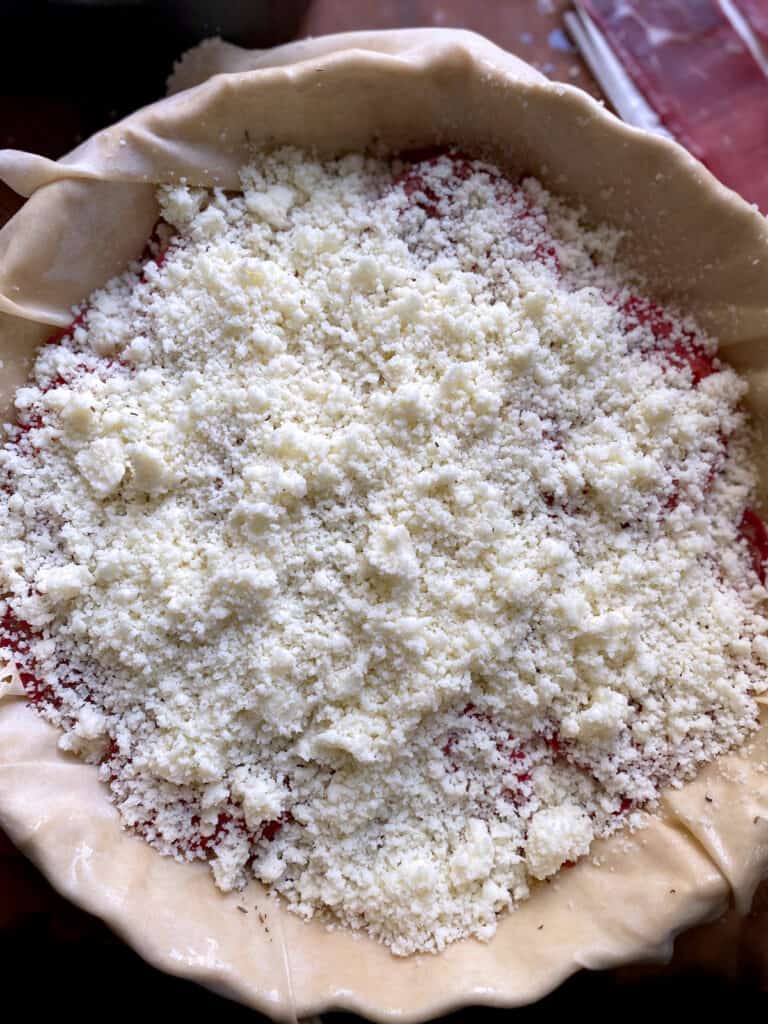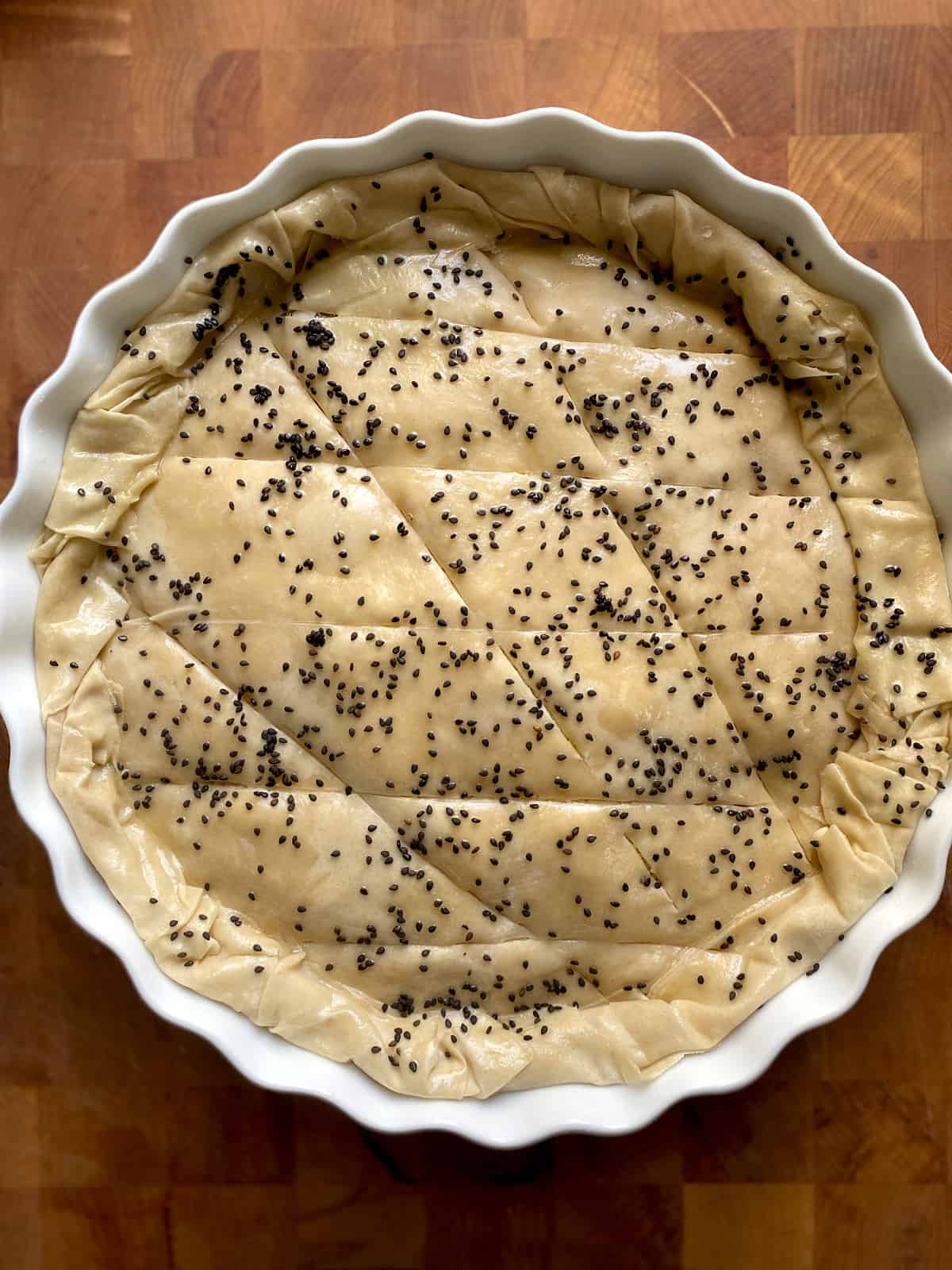 Cover with buttered phyllo sheets. Score it, sprinkle black sesame seeds all over the top, and bake.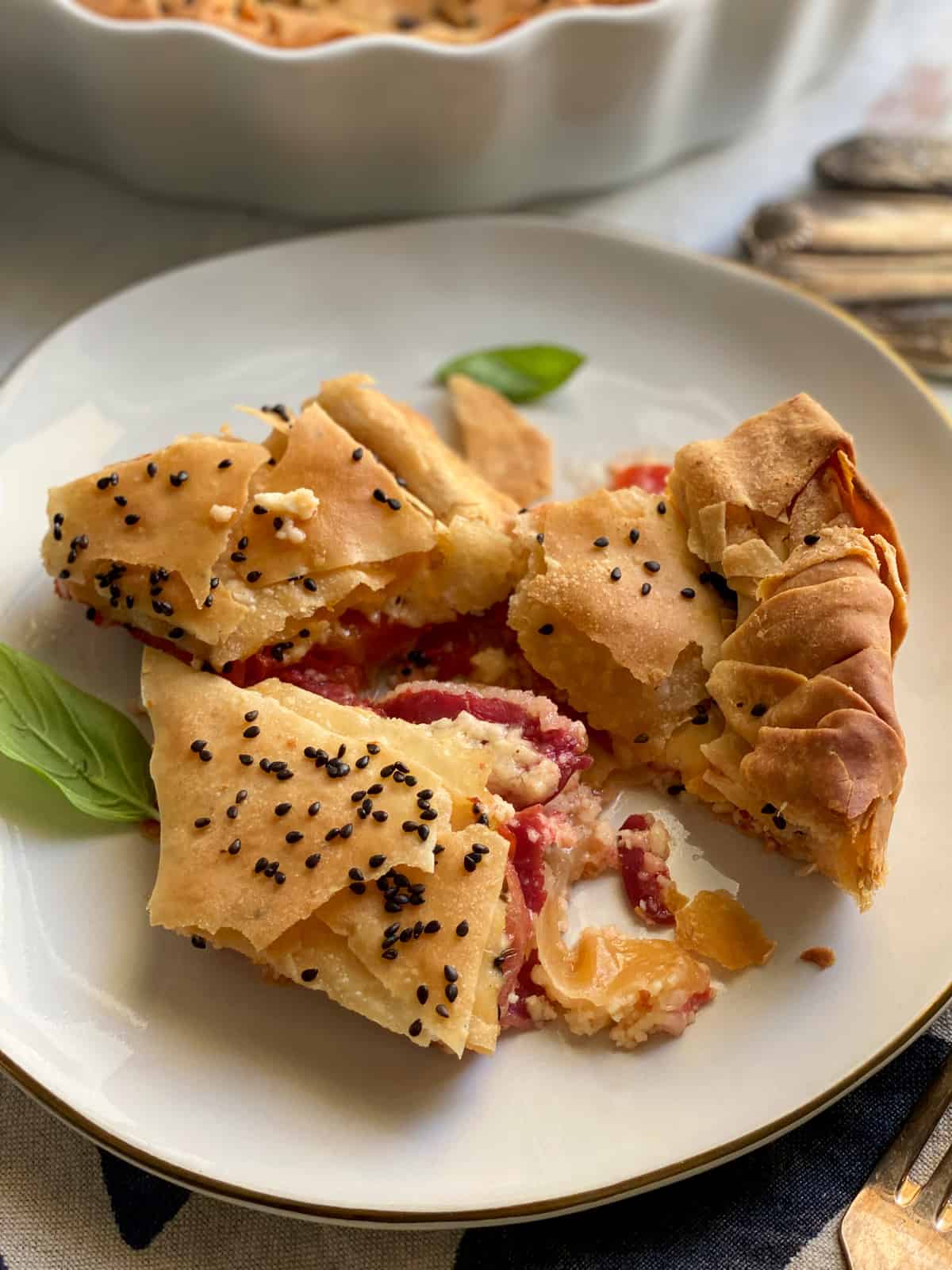 Detailed measurements and instructions can be found on the recipe card at the bottom of the page.
Helpful tips
What are the best tomatoes to use in the winter?
I live in the Northeast, so I like to use Campari tomatoes in the winter. They are the closest in taste to Greek tomatoes and can be found all year round in grocery stores. There are also organic options available. Camparis are small, so I use about 6-7 of them).
What if I can't find kasseri cheese?
You can use provolone; it has a similar taste and texture to kasseri and will work great in this pie.
Where can I find pastourma?
I get mine from Titan Foods, a Greek market in Astoria, NY. You can look for it in Syrian-Middle Eastern markets. Another option is to order it from Amazon.
Can I make my own pie crust?
Sure you can. You can use the pie crust from this spanakopita recipe if you like. You can also use puff pastry for this pie.
It is impossible to find pastourma where I live, and I do not like to order online. What else can I use?
You can substitute it with thinly sliced bresaola or prosciutto.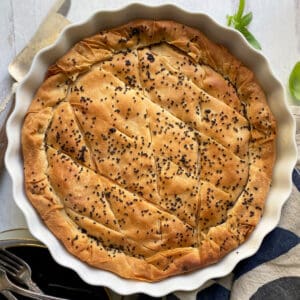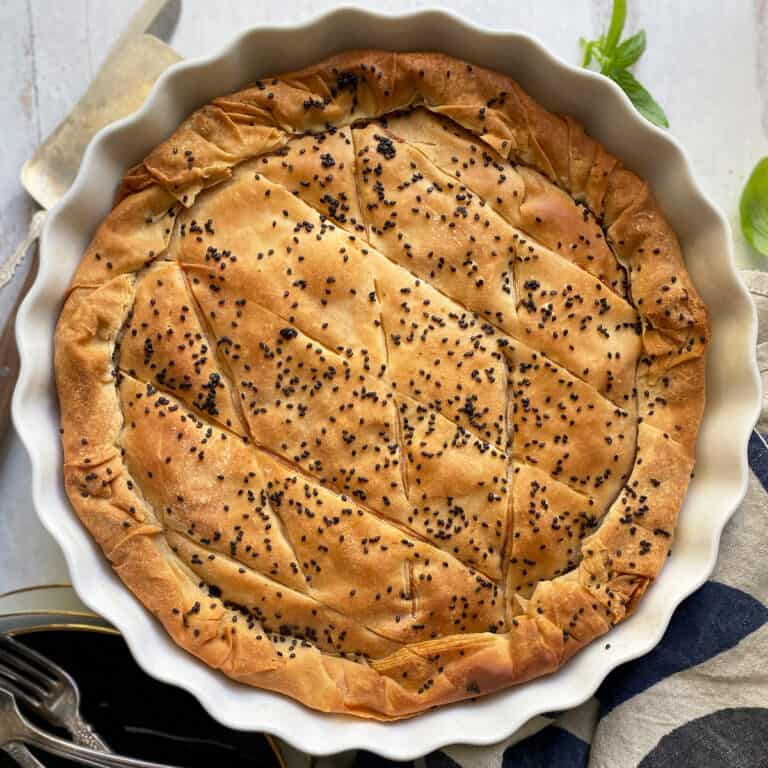 Kasseri Cheese Pie With Pastourma – Pita Ceasarias
This savory cheese pie has phyllo sheets, kasseri cheese, tomato slices, and pastourma.
Ingredients
8

phyllo sheets

20

slices

kasseri cheese

20

slices

pastourma

pastirma from beef

2

tomatoes

thinly sliced.

5

tablespoons

butter

melted

Cumin
For the top
black sesame seeds

optional

poppy seeds

optional
Instructions
Preheat oven to 380 F.

Lightly butter bottom of pan and sides.

Sprinkle butter all over a phyllo sheet. Place it on the bottom of the pan with sides hanging out. Butter another and place on top of first phyllo in a cross way.

Repeat with two more buttered phyllo sheets using the same method.

Add a layer of kasseri cheese. Add a layer of pastourma. Add a layer of tomato slices.

Sprinkle a pinch of cumin all over tomatoes.

Add the remaining slices of kasseri. Cover with 4 buttered phyllo using the criss-cross method.

Bring in the excess phyllo and roll it in to create a border. You can trim it a little if you need to before rolling it in.

Lightly butter the top and score it. Sprinkle black sesame seeds all over the top.

You can also use poppy seeds, regular sesame seeds, or nothing at all.

Bake until top is a light golden brown (about 50 min depending on your oven)
Notes
Phyllo sheets. You can use the thin phyllo dough sheets that are widely available or the thick ones used for rustic greek pies. For thin sheets, you will need 8 sheets, Four for the bottom and four for the top. For the thicker sheets, you need four, two for the bottom layer and two for the top.
Keep your phyllo sheets covered with a damp kitchen towel while you are working. Once you put them in the pan, ensure they are buttered all over the sides. You can spray water very lightly on the sides to keep them moist.
Nutritional Info – Please remember that the nutritional information provided is only an estimate and can vary based on the products used.
Nutrition
Calories:
767
kcal
Carbohydrates:
101
g
Protein:
31
g
Fat:
25
g
Saturated Fat:
11
g
Cholesterol:
57
mg
Sodium:
1712
mg
Potassium:
340
mg
Fiber:
4
g
Sugar:
1
g
Vitamin A:
597
IU
Vitamin C:
19
mg
Calcium:
268
mg
Iron:
8
mg
Tried this recipe?
Mention @thegreekfoodie__ or tag #thegreekfoodie__