Peinirli or Greek Pizza Boat is a long open pie in the shape of a boat containing cheese and butter. In the traditional recipe the cheese used is kasseri cheese and the deli meat is pastourmas or pastirma. It is an appetizer of Turkish origin and by extension, Greek.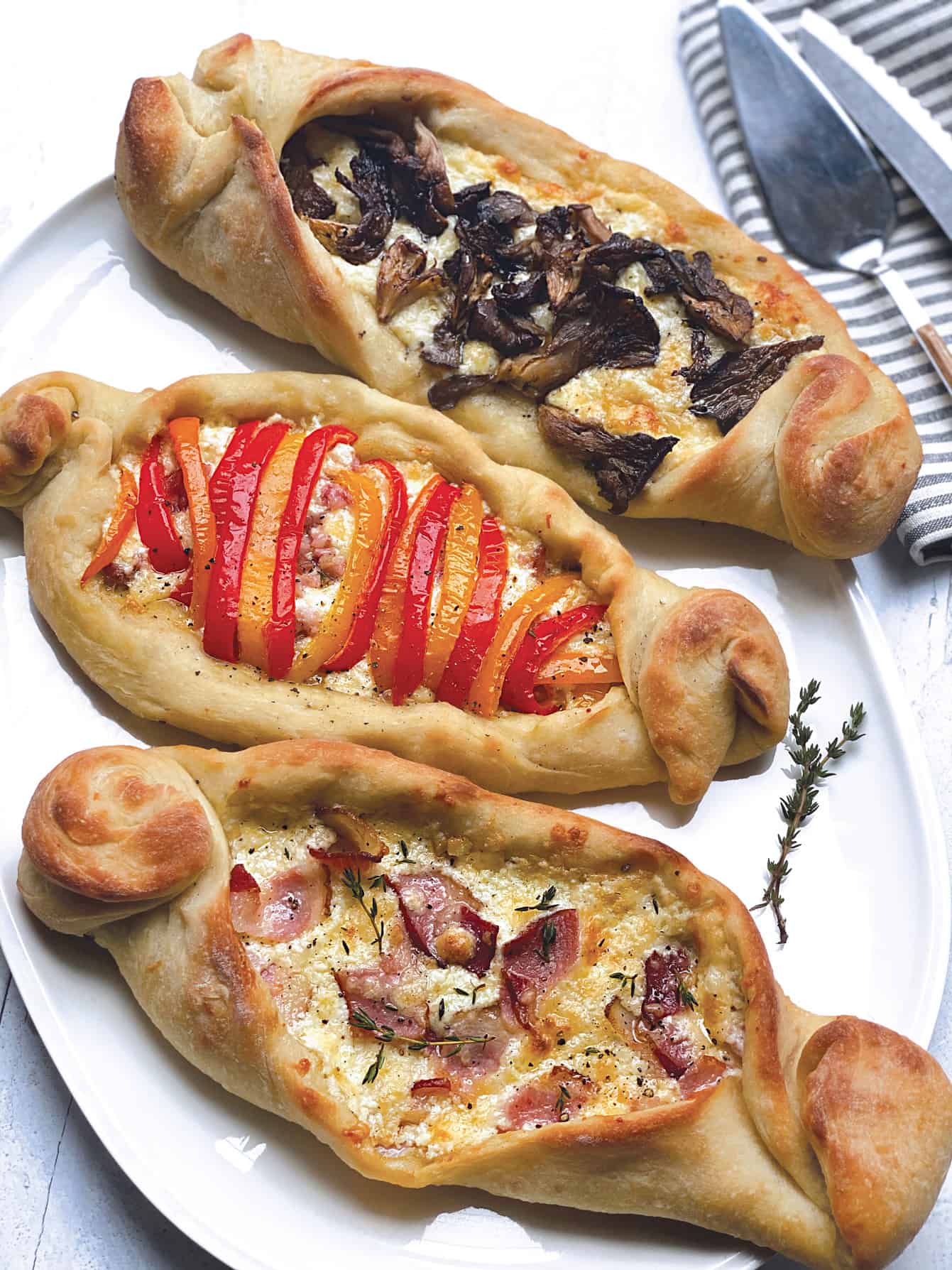 Peinirli is such a fun food to eat. It is similar to a pizza without the red sauce but lots of butter instead. It can be an excellent appetizer, a quick snack or a full on meal paired with a nice salad. It is very easy to make. And you can definitely use store-bought pizza dough if you don't have the time or energy to make your own.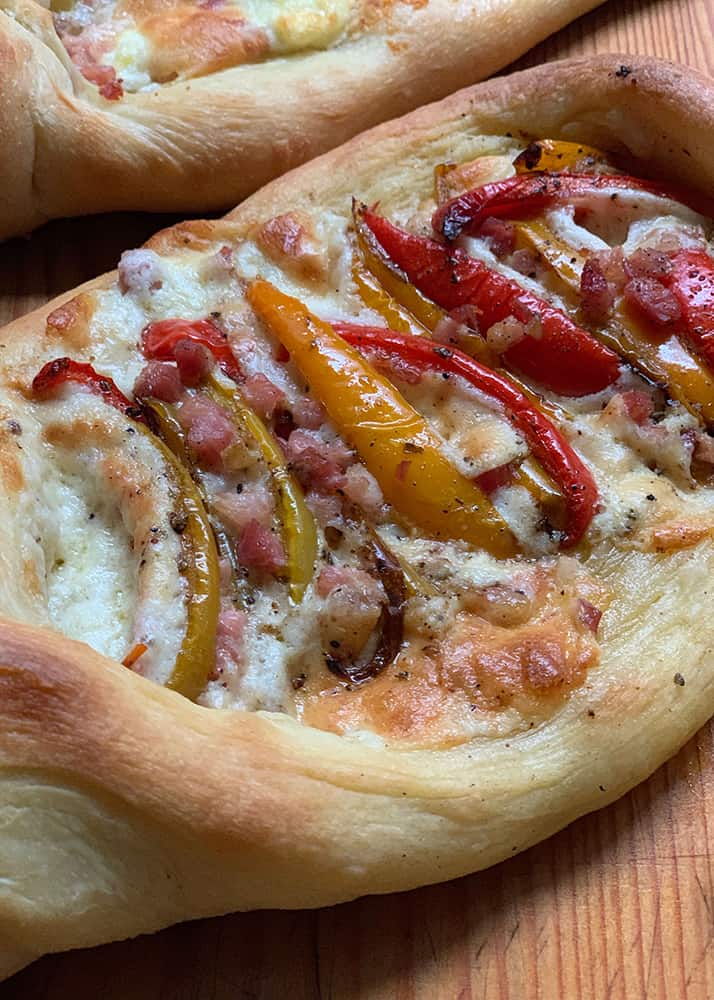 There are countless modern versions of peinirli. They can have kasseri cheese, bacon and a fried egg on top. You can create your own with a roasted veggies filling, or leftover meat sauce from the night before with some cheese, or a simple cheddar and tomatoes version.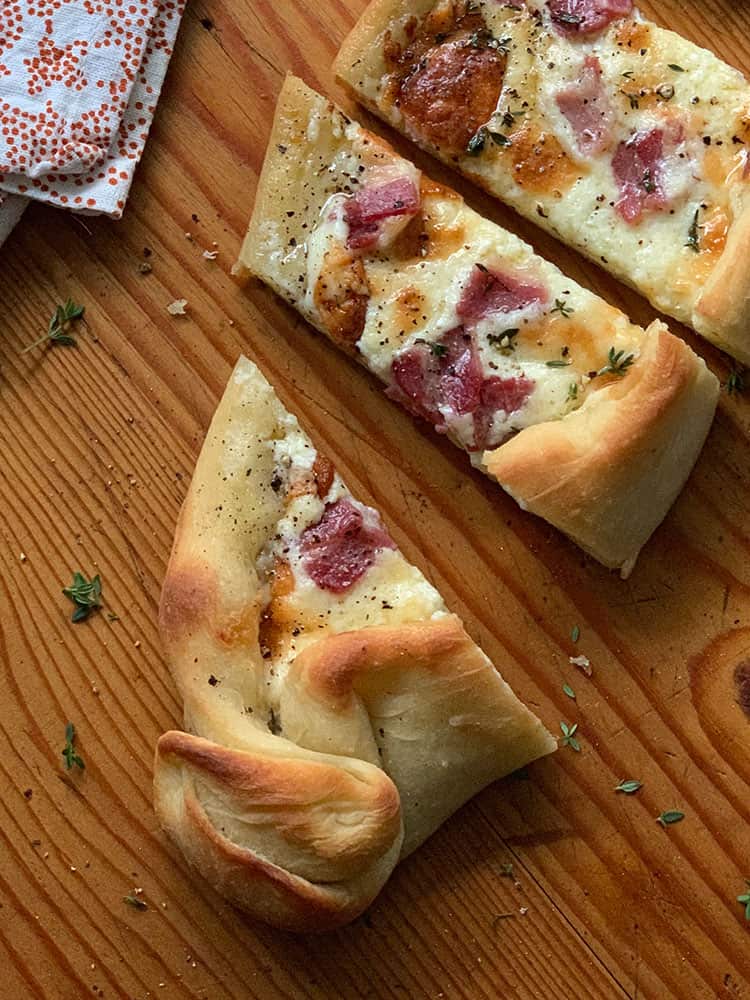 Here I have my three favorites: a classic with bacon, an oyster mushroom version and a red, yellow and orange pepper peinirli with pancetta mini cubes. They all have the same gruyere and cream cheese filling, I just play around with the extras.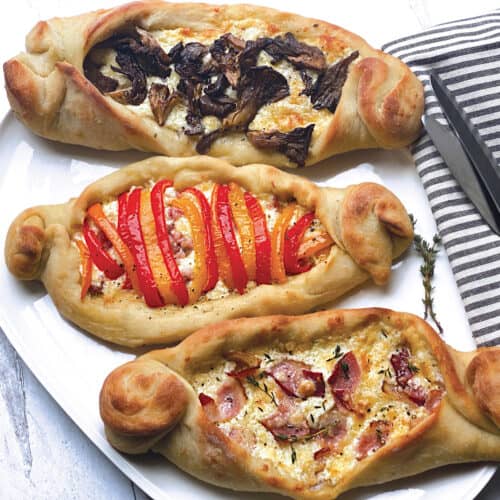 Ingredients
For the dough – makes 5 peinirli
1.5

cups

water

room temperature

2

tsp

active dry yeast

one packet

1

pinch

sugar

2.5

cups

bread flour

1

tsp

salt

1

tsp

olive oil
For the cheese filling – makes 3 peinirli
1/2

stick

butter

cut in small pieces

2

cups

gruyere

grated

1/2

cup

cream cheese
For the bacon filling – makes 1 peinirli
5

slices

bacon

cut in pieces
For the mushroom filling – makes 1 peinirli
1

cup

oyster mushrooms

roughly chopped. You can also tear them apart by hand. Sautéed until cripsy in 1 tsp olive oil with a pinch of salt and a some freshly ground pepper.

1

tsp

olive oil

extra virgin
For the peppers filling – makes 1 peinirli
1

tsp

olive oil

extra virgin

1

cup

peppers

mix of red, orange and yellow peppers thinly sliced. Lightly sautéed in 1 tsp olive oil.

1-2

tbsp

pancetta cubetti
For serving
freshly ground pepper

fresh thyme leaves

For the bacon peinirli

balsamic vinegar crema

For the mushroom peinirli

fresh ground pepper

salt
Instructions
Make the dough
In a bowl, add the water, yeast and sugar. Whisk and wait a minute or two for the yeast to activate.

Add the flour and salt in a food processor. Add the water. Beat for 5-8 minutes until the dough starts to pull away from the sides of the bowl.


Transfer dough to a bowl that has been brushed with 1 tsp of olive oil. Cover with plastic wrap or a kitchen towel and set aside for 1 – 1 ½ hours, until it doubles in size.

Dust a clean surface with flour and place dough.

Divide the dough into 5 pieces and shape each piece into a ball. (Use cling film to wrap the ones you are not using and refrigerate or freeze for later.)

Roll out a ball of dough into a small oval shape.
Preheat oven to 400 F.
Sauté the oyster mushrooms in 1 tsp of olive oil until they are crispy but still soft, about 5 min. Remove mushrooms from pan and set aside.

In the same pan heat 1 tsp of olive oil and lightly sauté the sliced peppers for about 1-2 min.
Fill the boats!
Divide the pieces of butter over each oval shape, about 1 tsp of butter for each.

In a bowl, combine the gruyere, cream cheese and pepper, until the mixture comes together.

Spread the cheese mixture nicely over each oval shaped dough, dividing it evenly. Add the mushrooms in one dough, the bacon in the second and the peppers and pancetta cubetti on the third. .

Create the peinirli-pizza boats by raising the edges of the dough and folding it inwards to form a border. Overlap borders and press to seal "boat". Brush the border with melted butter.

Line a large baking sheet with parchment paper and dust with some flour. Transfer peinirli to pan.

You can also do all the filling and folding directly on the pans. I sometimes find it easier. Transporting the peinirli from the working surface to the pan can be tricky.

Bake for 15-20 minutes, making sure to switch the pan's position half way so that they all cook evenly.

When ready, remove from oven and serve.
Serving suggestions
For the bacon peinirli.

Sprinkle with some fresh thyme, fresh ground pepper or red chili pepper flakes and serve.

For the mushroom peinirli.

Serve with some fresh ground pepper. You an also add a drizzle of balsamic vinegar crema. It goes well with the earthy meaty mushrooms.

For the peppers peinirli.

Sprinkle with some fresh thyme and ground pepper and serve.
Did you like this recipe?
Mention @thegreekfoodie__ or tag #thegreekfoodie__