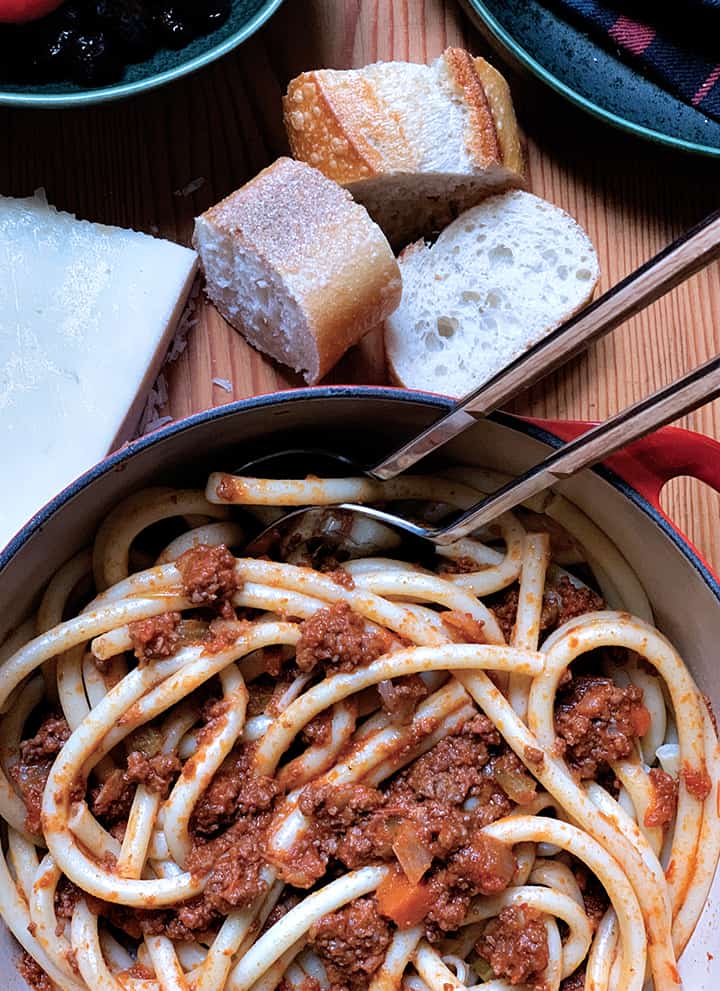 A Greek Beef Ragú Pasta that tastes like home. Slow cooked for a long time, allows flavors to develop and really shine.
Few meals are as satisfying as a good pasta dish. This is the Greek version embellished with influences I have had during years being curious about food. For example I start the base of the sauce with a classic mirepoix -diced onions, celery and carrots. (Greeks don't use mirepoix as a base). I simmer the veggies for a while and start browning the ground beef and instead of milk that classic Italian beef ragú has I add a glass of red wine. I season with my beloved Greek oregano, bay leaf, cloves and a cinnamon stick. I learned to let this Beef Ragú cook slowly for 3-4 hours or more if I can afford it.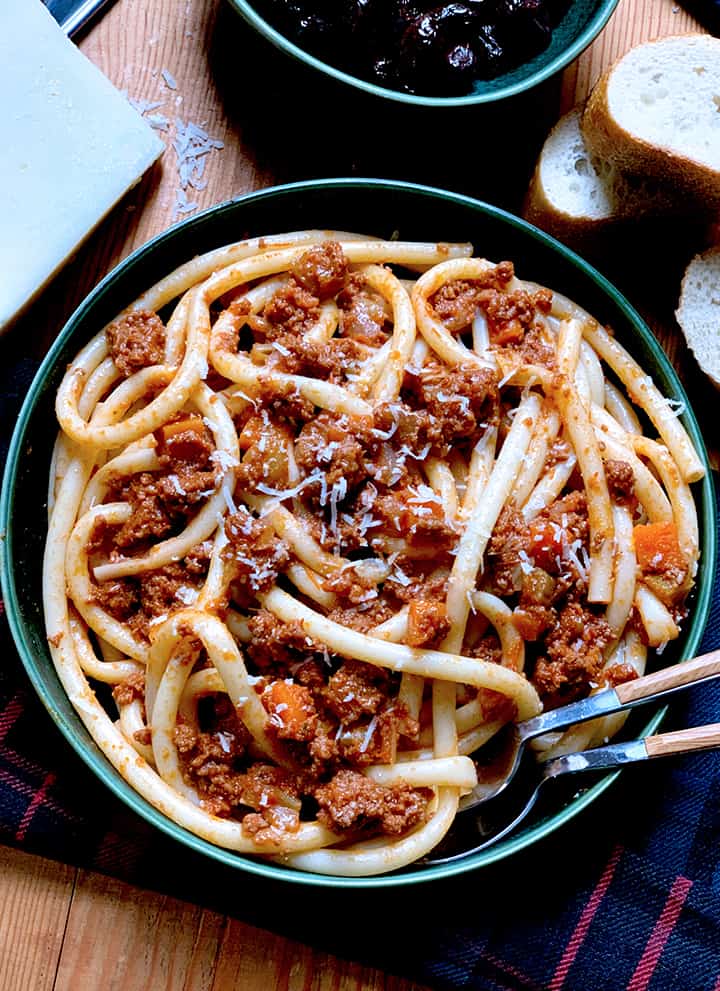 The result is a velvet amazing sauce that has represented the way I like my beef ragú to be. It is comforting and delicious with deep flavors to satisfy the most difficult palette.
Sometimes I like to pair it with the fat macaroni pasta of my childhood. As a kid I hated it when my mother cooked the fat pasta. She was from Crete and it was more common there to use that kind of pasta at the time. In Greece the fat macaroni pasta is usually used for the traditional pastitsio dish, a baked pasta casserole that is the epitome of Greek comfort food. As an adult I appreciate this kind of pasta paired with the beef ragu sauce. Papardelle would also work really well as well as tagliatelle, to capture the delicious sauce.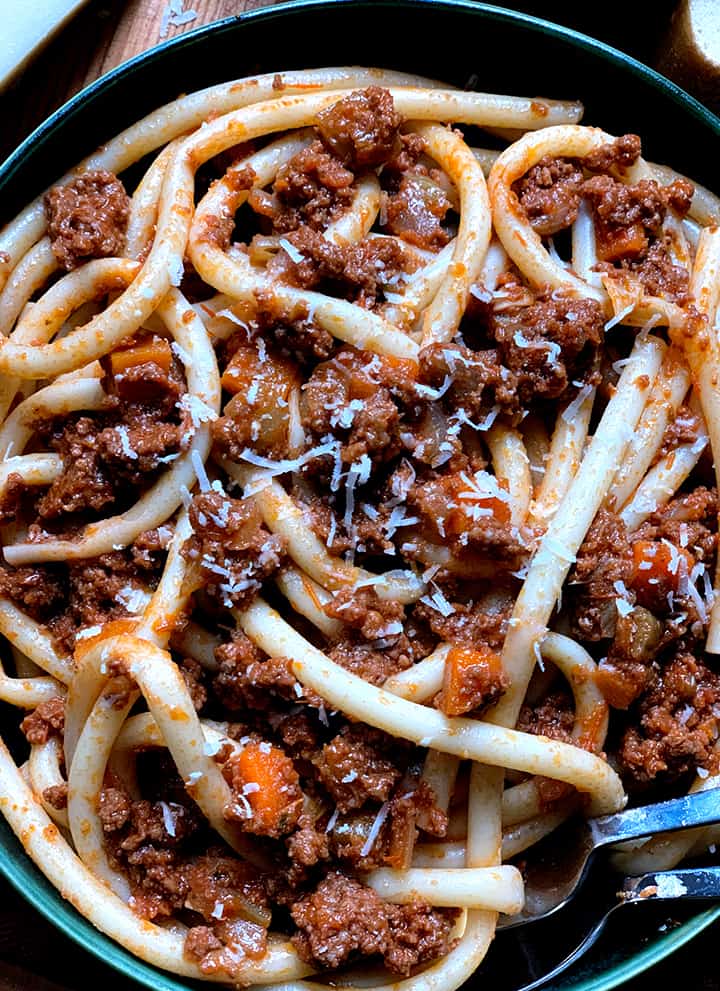 Ingredients
2

lb

ground beef

32

oz

San Marzano tomatoes like Gustarosso.

2

tbs

tomato paste

1

medium onion diced

2

cloves

garlic sliced

2

celery stalks diced

2

carrots diced

3

tbsp

olive oil

1

bouillon

preferably the ones without palm oil

1

bay leaf

1

cinnamon stick

dry oregano

3-4

cloves

salt

fresh ground pepper
Instructions
Add 2–3 Tbsp olive oil in a large pot. In medium heat, add the onion. Season with a pinch of salt. Stir and sauté until onion is translucent.

Add the celery and carrots. Stir well. Add 2 tbsp of tomato paste. Stir everything well and season with salt, fresh ground pepper and a generous pinch of dry oregano. Add the bay leaf. Keeping sautéing for 2-3 min and let flavors develop.

Add 1/2 cup water, add the bouillon, stir everything well and lower heat. Simmer for 15 min or so.

Increase heat to medium and add the ground beef. Break the meat with a wooden spoon to avoid large chunks. Brown the beef all over.

Add the wine. Increase heat to high and let the alcohol evaporate for 1-2 minutes.

Add the tomatoes and cinnamon stick. Stir everything well, add 1/2 cup of water.

Lower heat and simmer ragu sauce for 3 hours, checking occasionally in case you need to add more water.

The more the sauce cooks the better it will taste. If you can afford 3-4 hours of simmer you will discover a deep, wonderful flavor in your ragu.

Serve with

fat macaroni

or the pasta of your choice. I recommend pappardelle or tagliatelle pasta.
Did you like this recipe?
Mention @thegreekfoodie_ or tag #thegreekfoodie_