This easy cheese pie with kataifi pastry and Roquefort is a real treat. Fluffy and crunchy with a creamy, a little tangy filling, it should not be missed.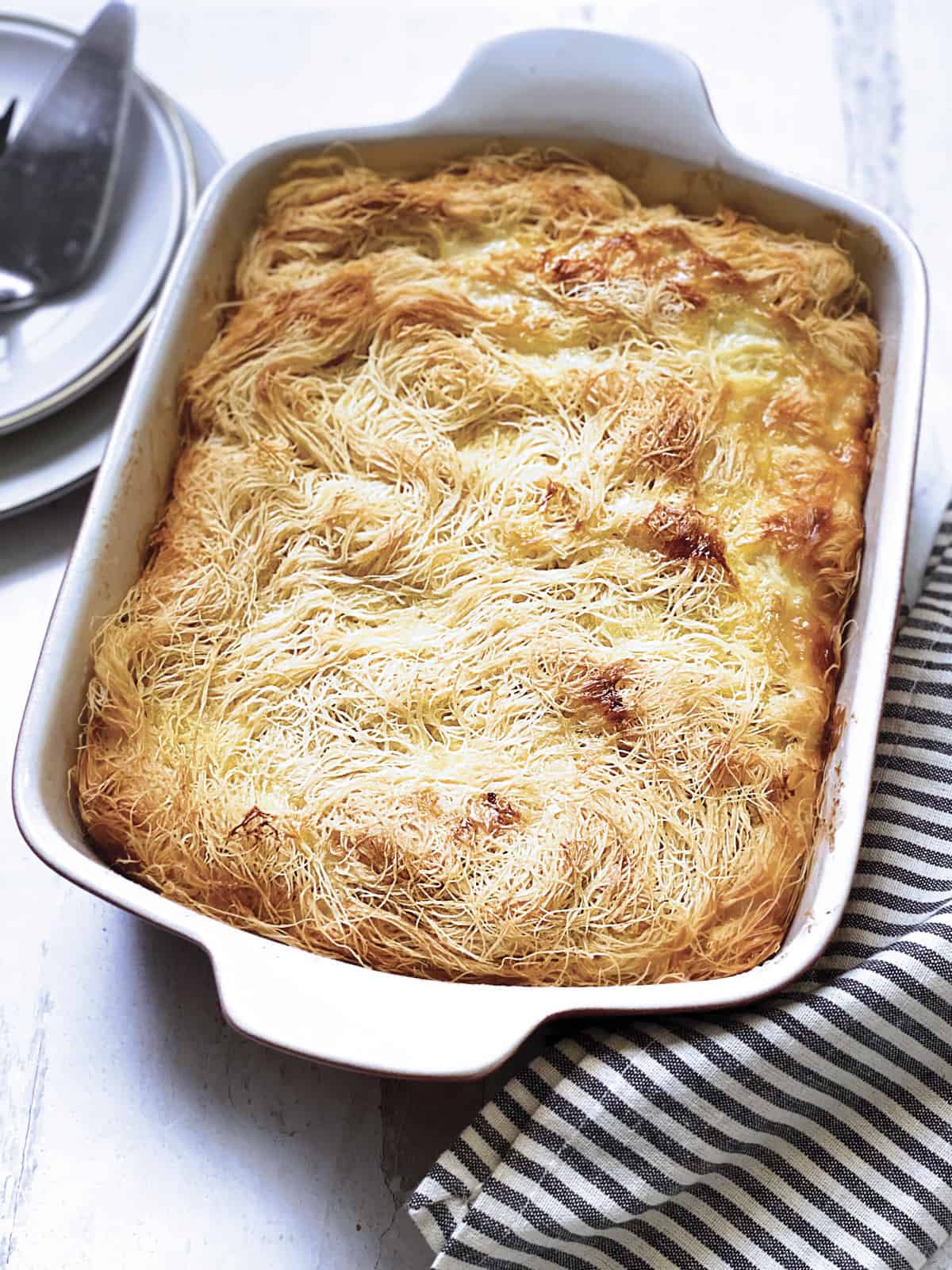 What is kataifi pastry
Kataifi pastry is shredded phyllo dough. It is the same pastry as regular phyllo but processed into thin strands for a slightly disheveled tangled texture. Kataifi pastry is the base for many crunchy, sticky desserts across the eastern Mediterranean and the Middle East.
In Greece, kataifi pastry is usually stuffed with chopped nuts like walnuts or pistachios and scented with orange or rose water in a honey syrup. This phyllo dough is perfect for creating savory pastries. I love to use it for making cheese pies. The unique texture of this shreedded phyllo pastry is lighter than regular phyllo sheets and allows the cheese filling to really shine.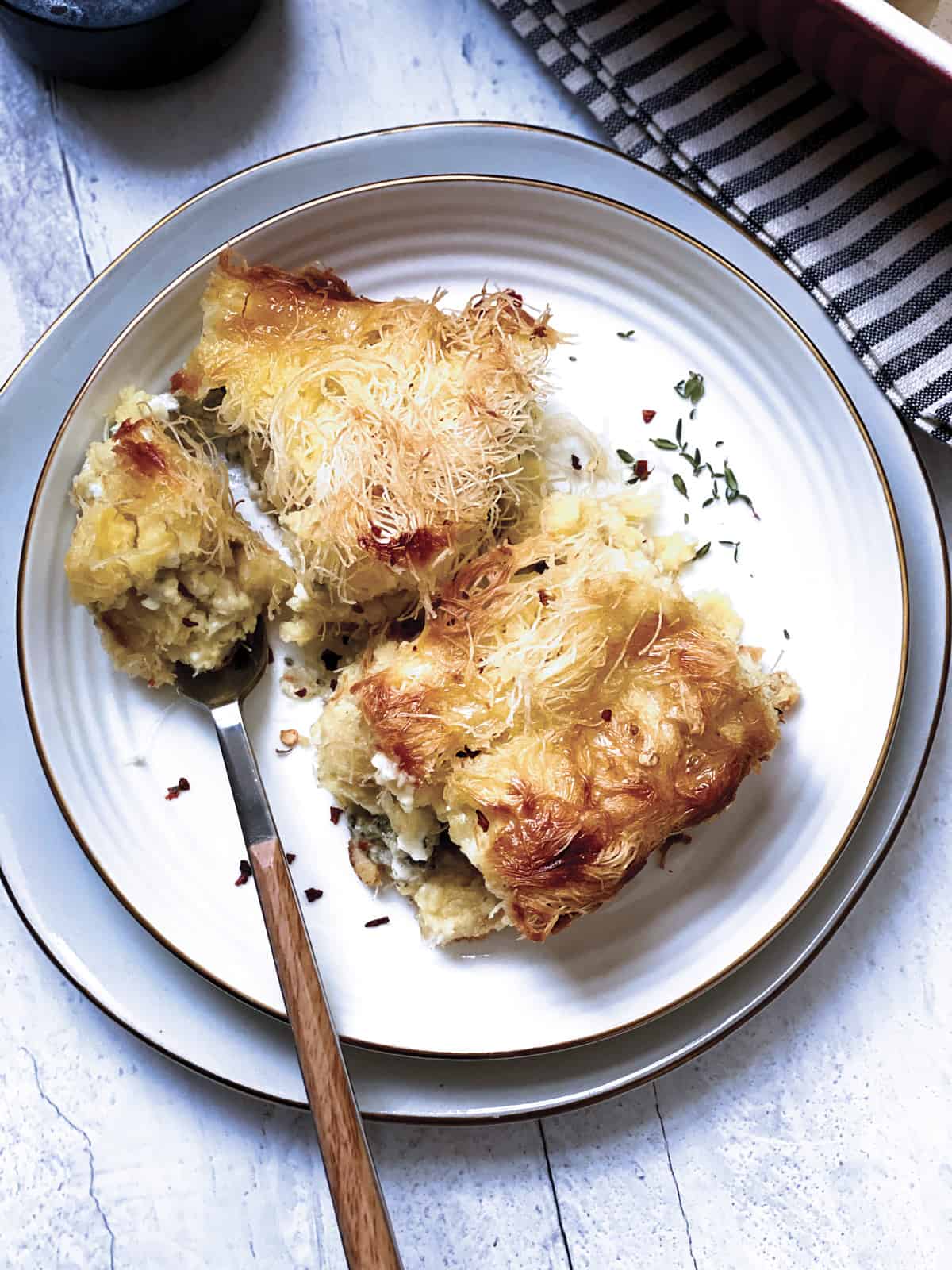 How to make this savory pie
This kataifi cheese pie has lots of feta cheese, a little Roquefort, shredded mozzarella, eggs, butter, and fresh herbs. I love the tangy flavor Roquefort cheese adds to it. You only need a little bit for a great payoff.
The milk and heavy cream are mixed with the eggs and create a custard poured all over the pie right before baking. The result is a fluffy, creamy, luxurious cheese pie that is decadent and a real treat.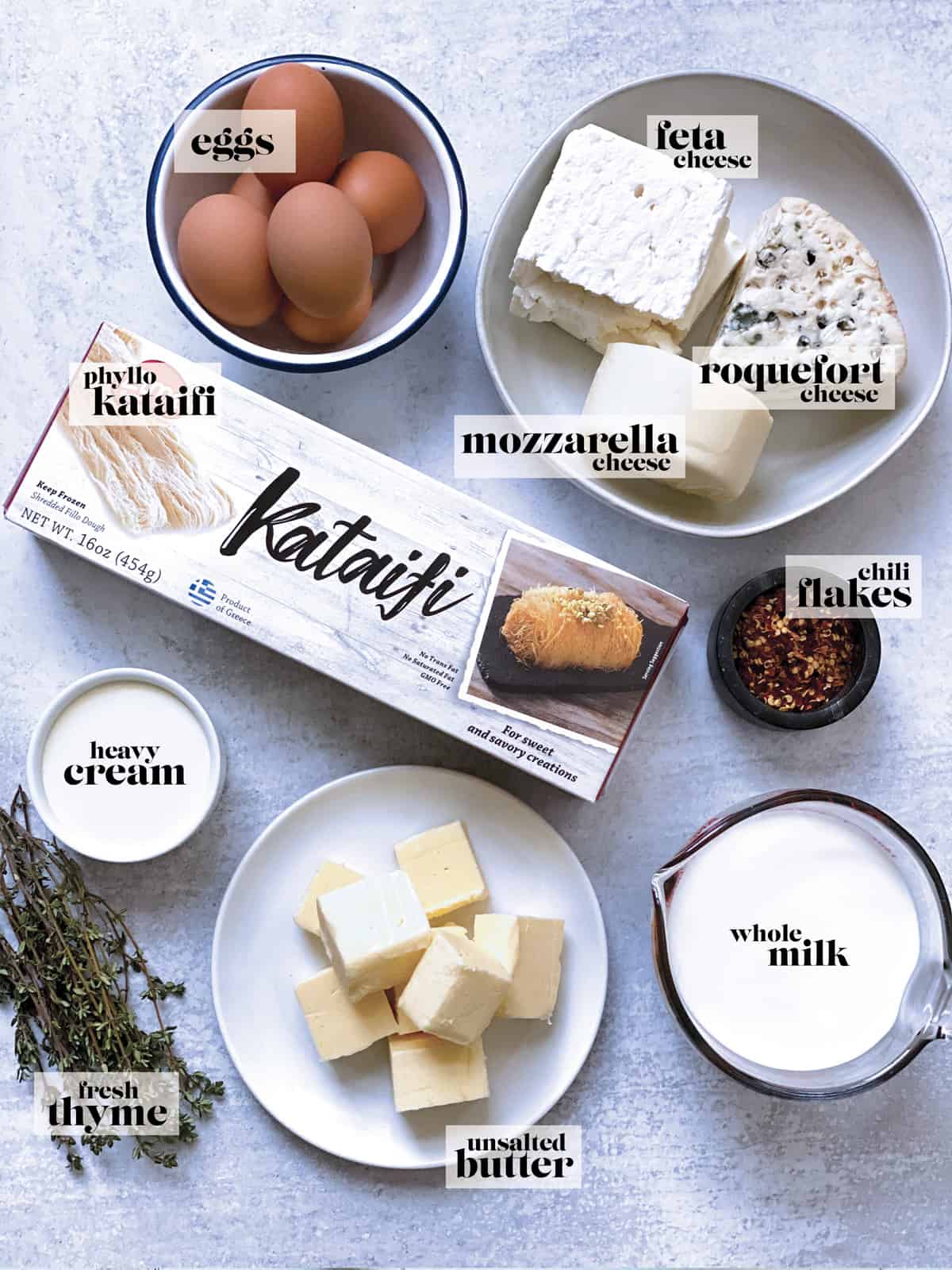 You will need
Kataifi pastry
Butter
Eggs
Heavy cream
Whole milk
Roquefort cheese
Greek feta cheese like Vikos or Dodoni
Mozzarella cheese
Thyme leaves
Chili flakes
Detailed measurements and instructions can be found on the recipe card at the bottom of the page.
This is my process:
Preheat the oven to 350 F.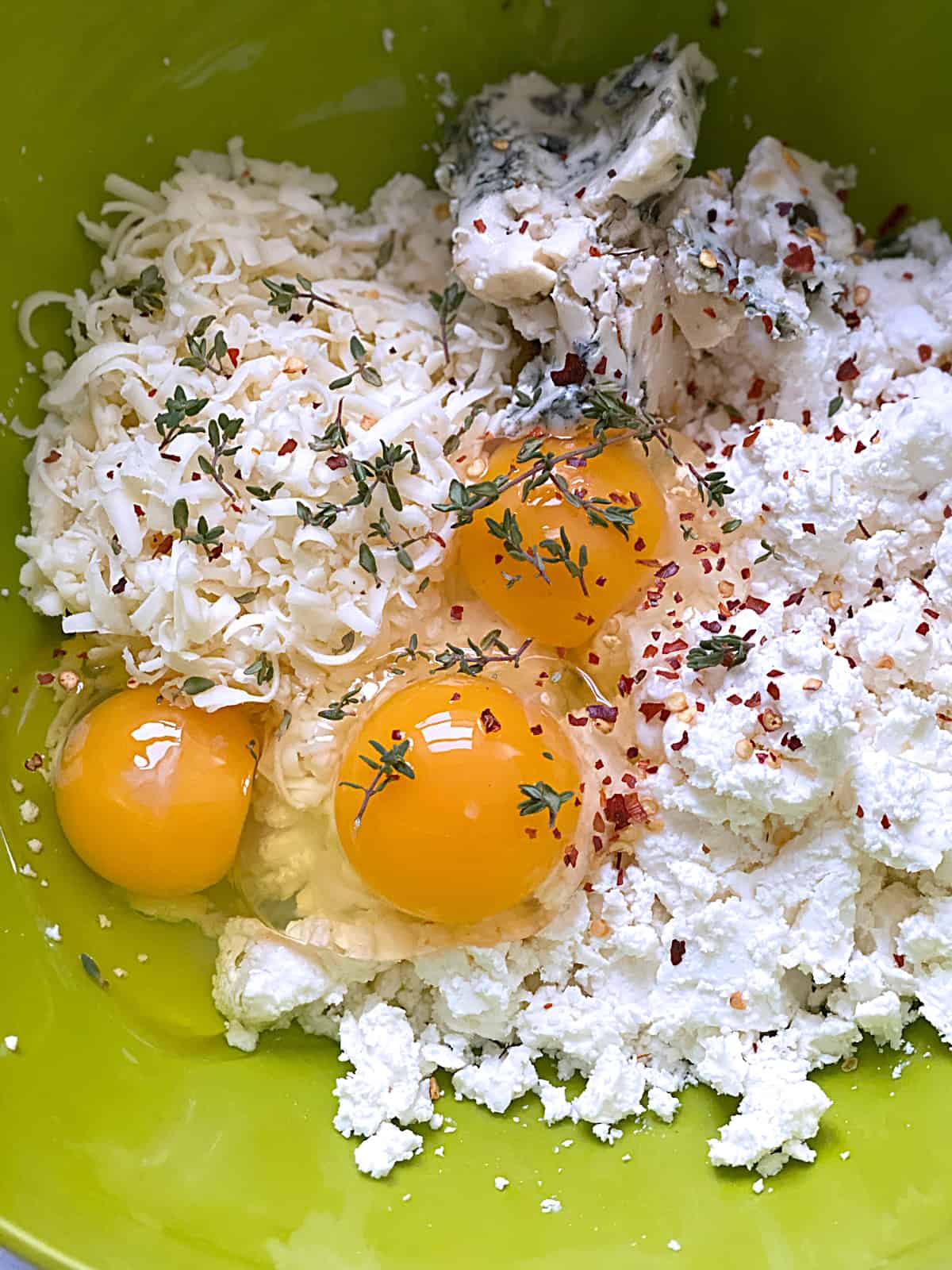 Mix three of the eggs, all the crumbled/shredded cheese, and a pinch or two chili pepper flakes in a bowl.
Butter the pan bottom and sides.
Divide the kataifi into two equal parts and spread one part in the pan. Gently open it up with your hands to spread evenly on the bottom of your pan.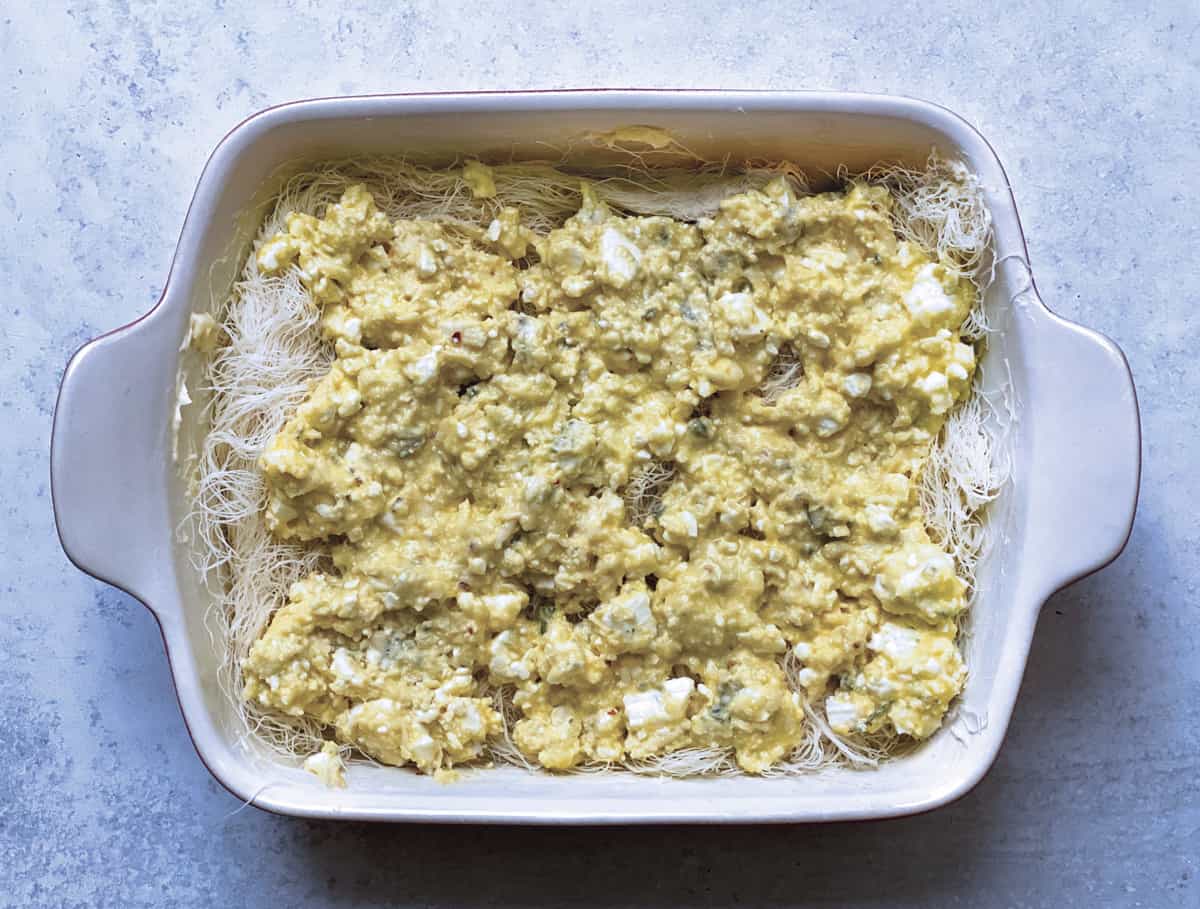 Add all the cheese filling on top.
Melt the butter.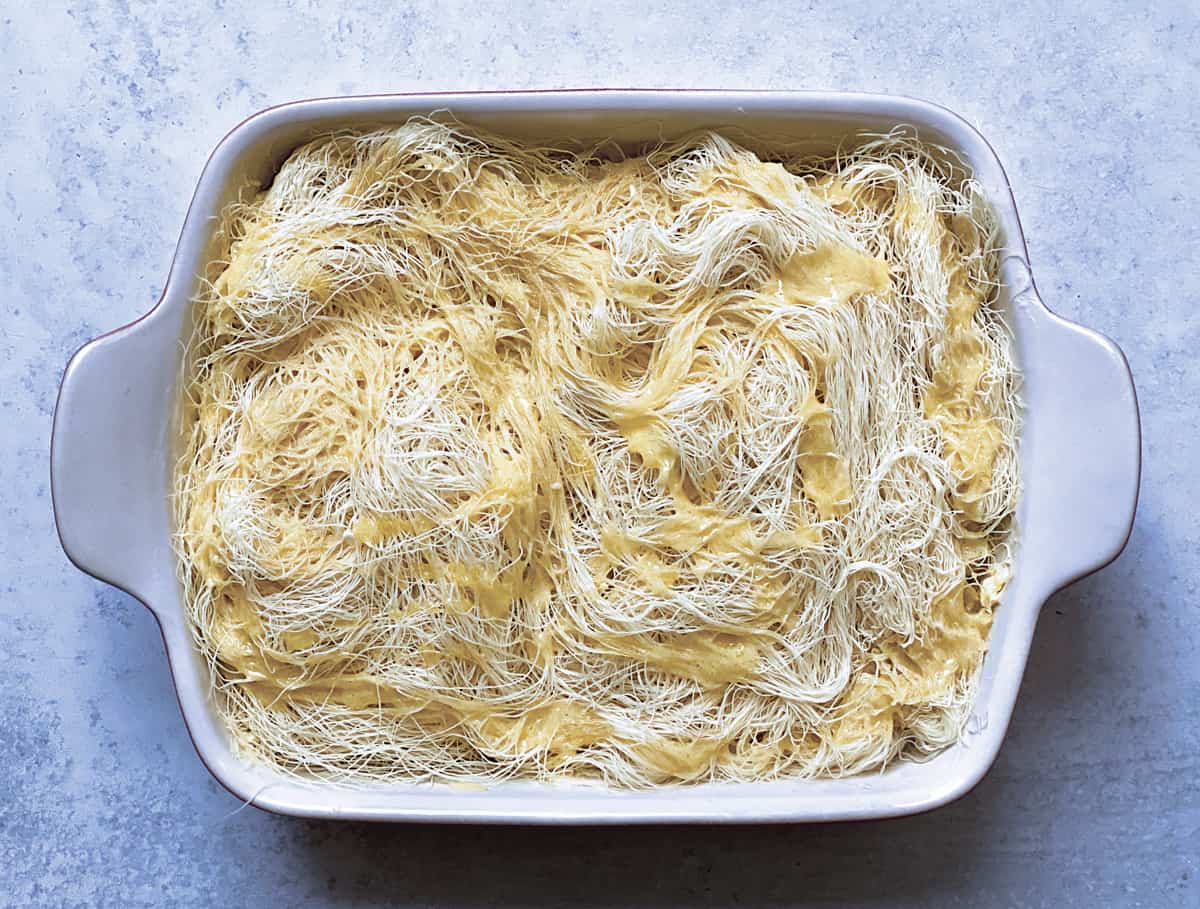 Add the rest of the kataifi phyllo on top. Spread it around as evenly as you can. Pour the melted butter all over.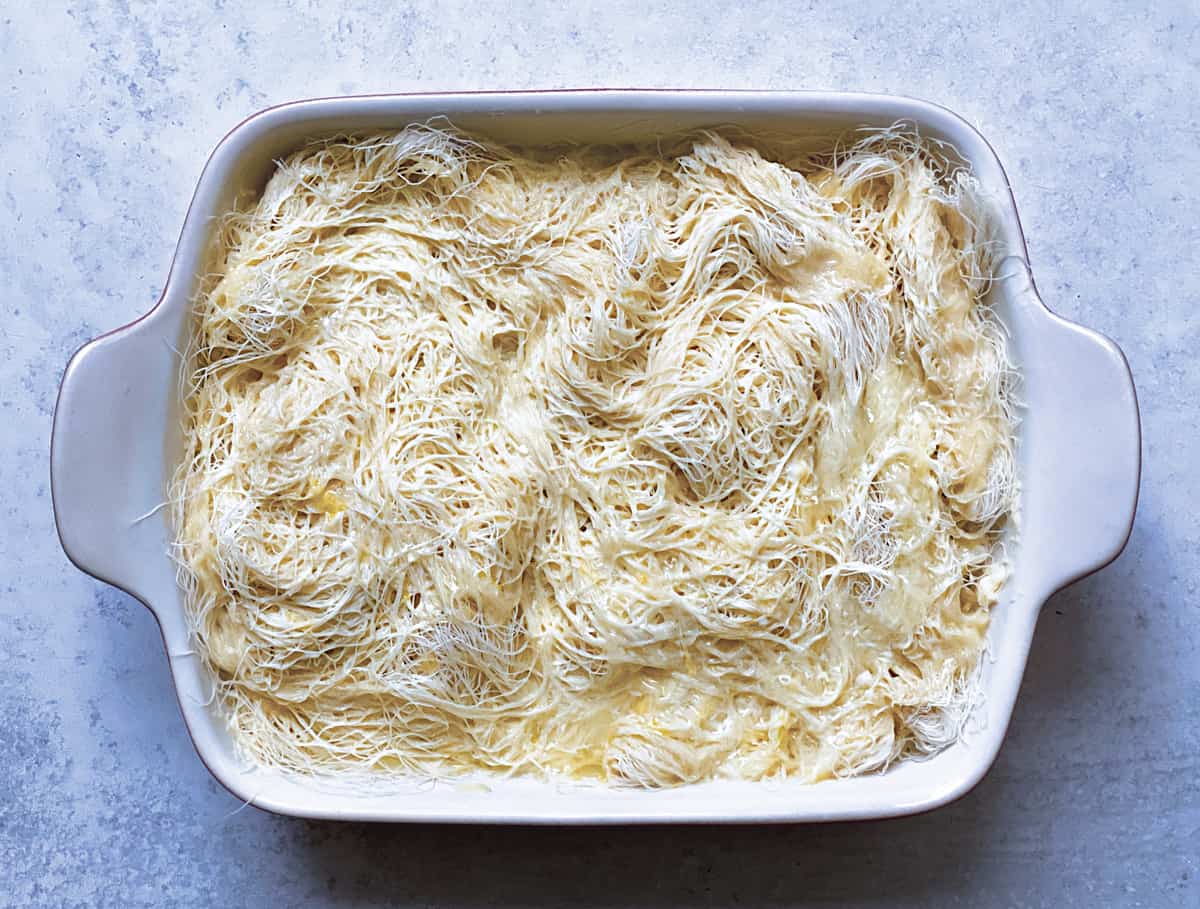 Lightly whisk the other three eggs, the milk, and the heavy cream. Pour the liquid all over the cheese pie.
Bake for 60 minutes in a 350F oven.
Let the pie cool for 10 minutes and serve.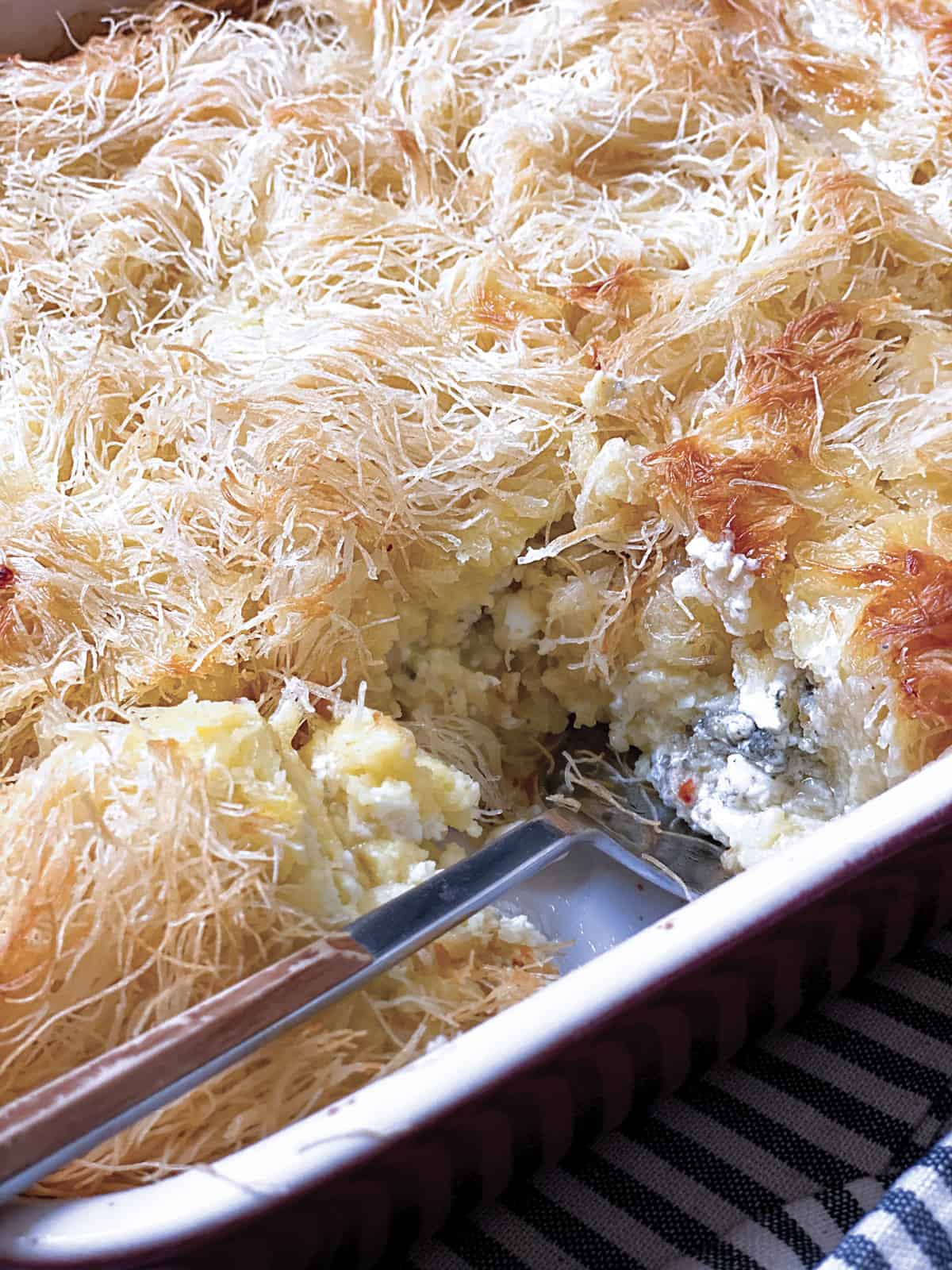 What to serve with this savory pie
This delicious Greek pie can be a main dish, a great side, or a delicious appetizer if cut into smaller pieces.
Because it is rich and decadent, I love pairing a piece with a large green salad or a briam–greek ratatouille and enjoy it for dinner. It can also be a great side to a roasted chicken with lemon potatoes.
Whatever you choose to serve it with, I am confident you can't go wrong!
Tips & substitutions
Kataifi can be found in most Middle Eastern food markets, supermarkets and specialty stores. It is usually sold frozen.
Shredded phyllo pastry dries out quickly. Keep the amount you are not using under a damp kitchen towel while you are assembling the pie.
Thawed kataifi pastry keeps about a week if stored in the refrigerator. It should be under a damp towel and wrapped tightly in a plastic wrap.
Feel free to use any blue cheese you like. I love Roquefort, but it is not always available. I have also used gorgonzola, stilton, and danish blue cheese I have found in my local cheese shop.
Use the best feta you can find. I always buy Greek feta; I like Dodoni and Vikos brands. Please avoid fat-free french feta as well as the packaged crumbled versions that are sold in supermarkets. They are not real feta cheese.
You can substitute any cheese that melts well for the mozzarella. Use Swiss, Emmental, or even Gouda. Try to get a mild-flavored cheese; you want the delicate but tangy Roquefort flavor to come through.
You can make this cheese pie with regular phyllo sheets or with your favorite pie crust.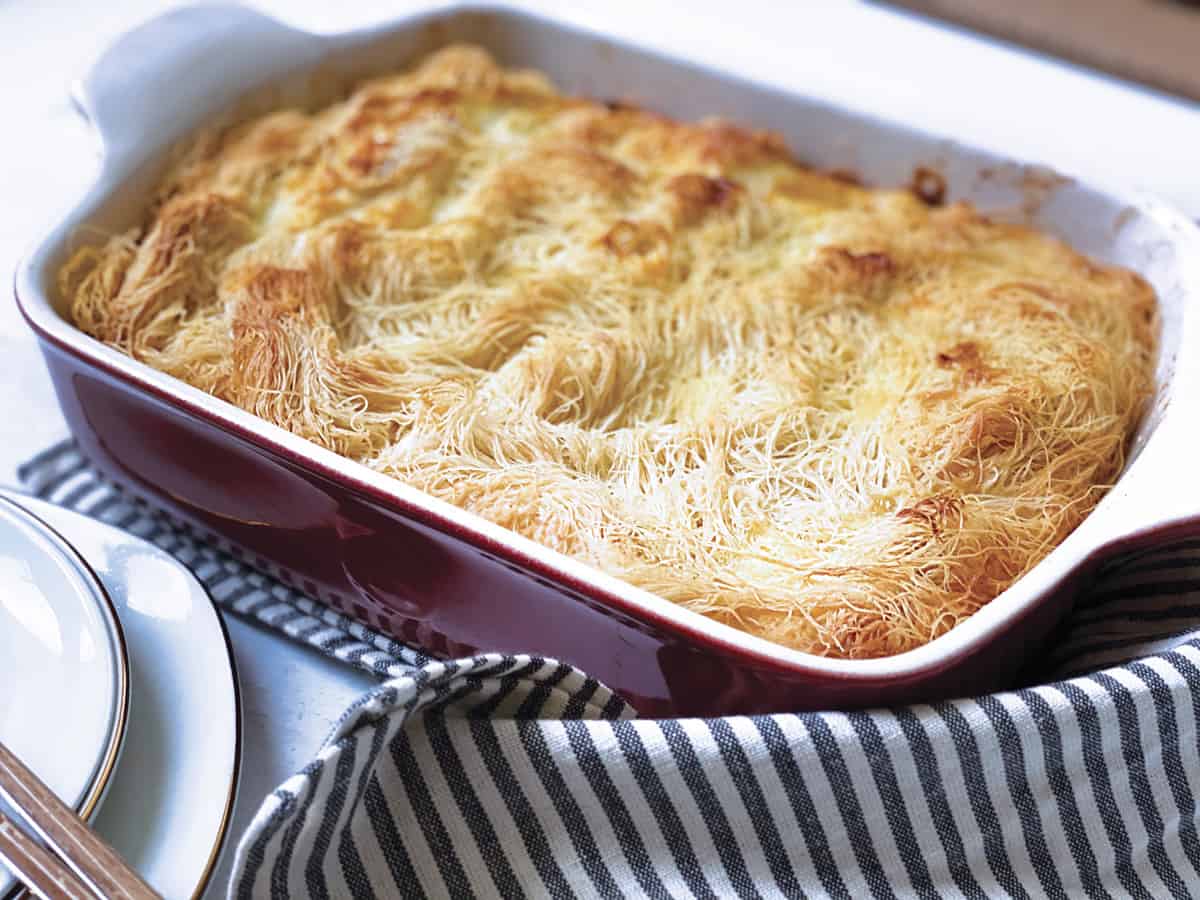 Helpful Q&A
Is Roquefort the same as blue cheese?
Roquefort is a sheep milk cheese from Southern France and is one of the world's best-known blue cheeses. Though similar cheeses are produced elsewhere, EU law dictates that only those cheeses aged in the natural Combalou caves of Roquefort-Sur-Soulzon may bear Roquefort's name recognized geographical indication or has a protected designation of origin.
Can I use the pre-shredded cheese that is available in supermarkets?
My advice would be to purchase a block of cheese and shred it yourself. In the packaged shredded cheese we find in the grocery stores, cellulose is added to block out the moisture that causes pieces of cheese to clump. I definitely prefer my cheese to be without any of that! Also, grating your own cheese from a block of cheese is cost-effective compared to purchasing bags of pre-shredded.
You may also like:
Check out my Greek pantry staples
Cooked this? Rate this recipe! You can also leave a comment below. I love hearing from you!
WANT TO EAT LIKE A GREEK? Subscribe to my newsletter and follow me on Facebook, Pinterest, and Instagram for all of the latest updates.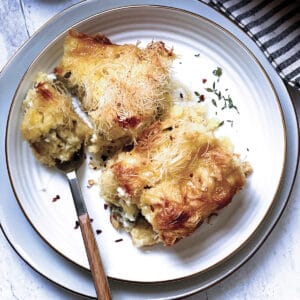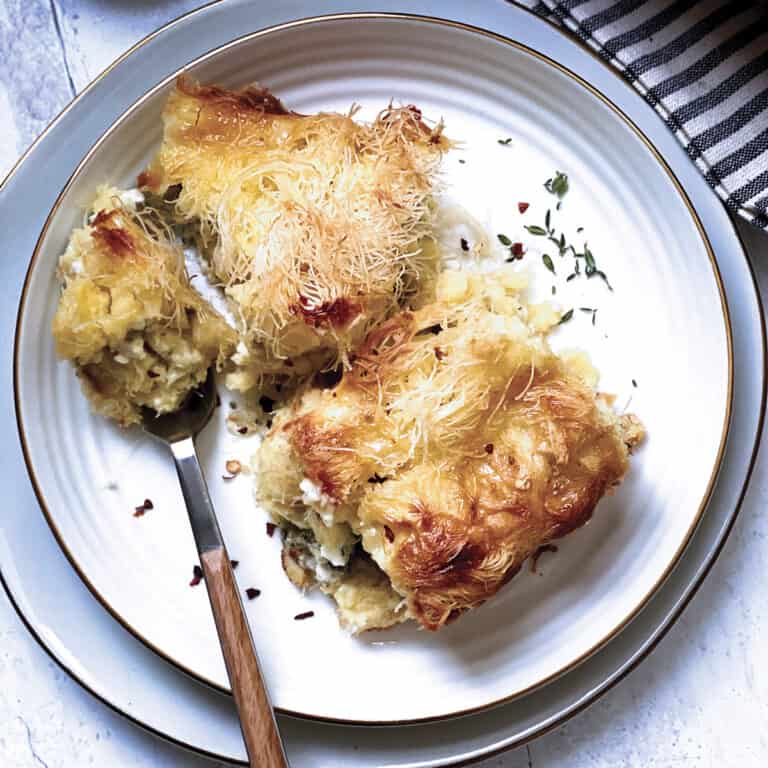 Easy Cheese pie with Kataifi Pastry & Roquefort
This easy cheese pie with kataifi pastry and Roquefort is fluffy and crunchy with a creamy, and a little tangy filling.
Ingredients
1

lbs

kataifi pastry

1

cup

butter

6

eggs

1

cup

heavy cream

2

cups

whole milk

½

cup

Roquefort cheese

2

cups

feta

crumbled Greek feta cheese like Vikos or Dodoni

1

cup

mozzarella cheese

shredded

thyme sprigs

chili pepper flakes
Instructions
Preheat the oven at 350°F

Lightly butter the bottom and sides of your pan.

Crumble the feta and Roquefort and shred the mozzarella.

Melt the butter in a small sauce over medium heat or in the microwave.

In a bowl, mix three of the eggs, all the cheese, 1 tablespoon thyme leaves, and a pinch or two chili pepper flakes.

Divide the kataifi pastry into two halves. Spread one half in the pan. Gently pull the phyllo to cover the bottom of the pan evenly.

Pour the cheese filling on top.

Add the other half of the pastry. Gently pull the sheets to cover the filling evenly.

Pour the melted butter all over phyllo.

In a bowl, mix the remaining three eggs with the milk and heavy cream.

Pour the liquid all over the pie.

Bake for about 60 minutes.

Wait 10 minutes for pie to cool down a little and serve.
Nutrition
Calories:
504
kcal
Carbohydrates:
24
g
Protein:
15
g
Fat:
39
g
Saturated Fat:
23
g
Cholesterol:
192
mg
Sodium:
890
mg
Potassium:
163
mg
Fiber:
1
g
Sugar:
3
g
Vitamin A:
1221
IU
Vitamin C:
1
mg
Calcium:
316
mg
Iron:
2
mg
Tried this recipe?
Mention @thegreekfoodie__ or tag #thegreekfoodie__