Pastitsio is the kind of Greek food if you had to describe it as an act would be a "good old bear hug". It's a fussy dish that can wreck havoc in your kitchen when you make it, especially if you are not an organized cook. But the end result is SO rewarding with your fork cutting through the layers of rich béchamel sauce, beef ragù and tender pasta creating the perfect bite. It's the epitome of Greek comfort food. Like the Ancient Greeks used to say: Go big or go home. 😉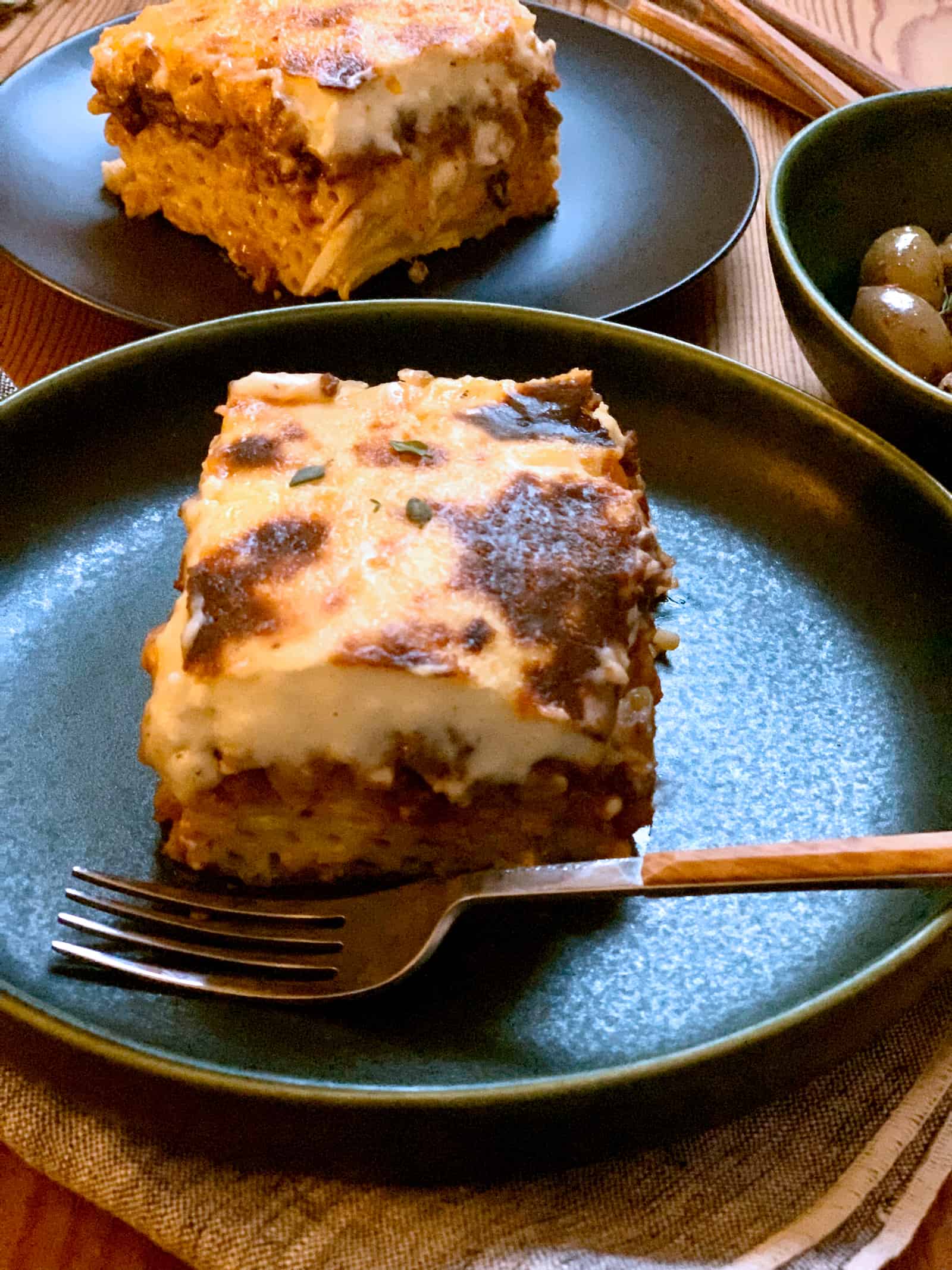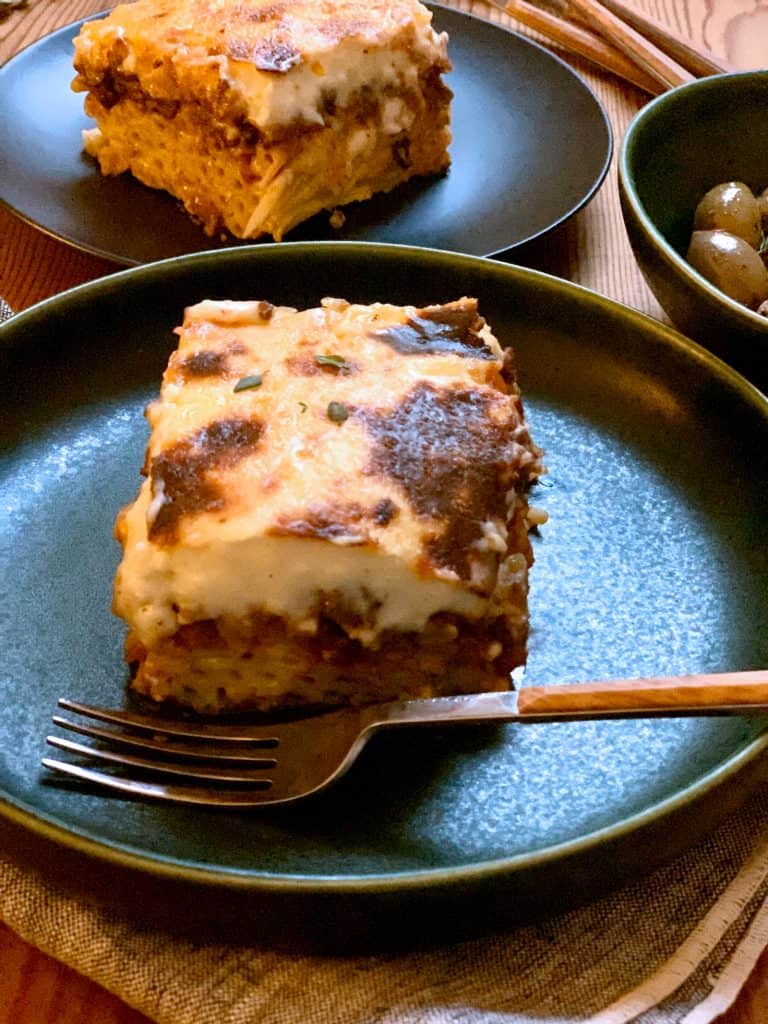 Pastitsio has layers of creamy rich béchamel sauce, a heartwarming beef ragù sauce and pasta. Traditionally a hollow "fat" noodle is used that is a perfect vehicle for sauces and serves as a great base for baked casseroles like macaroni and cheese. I use LOI pasta or MISKO No 5. You can definitely substitute the macaroni pasta with penne in a pinch.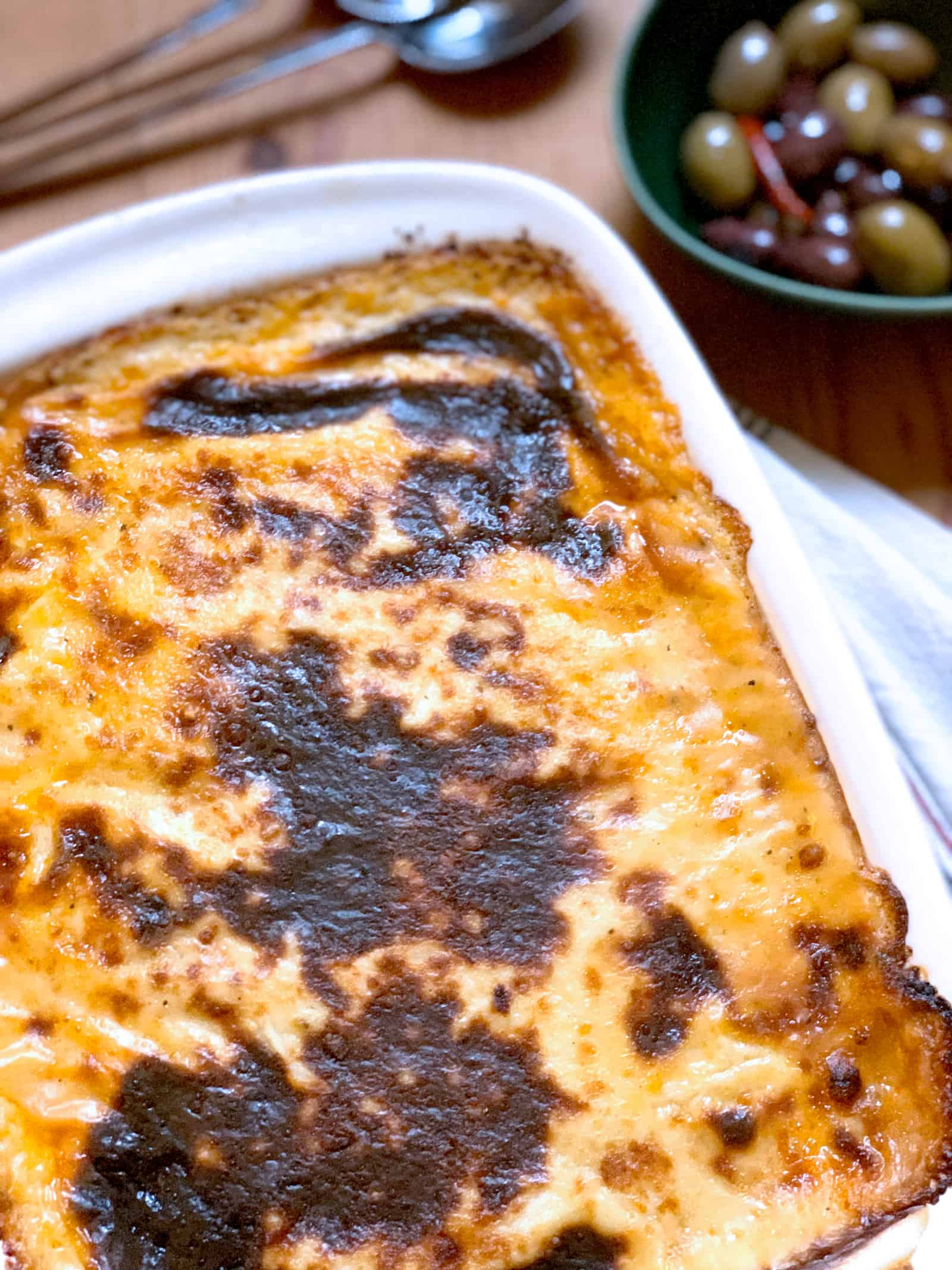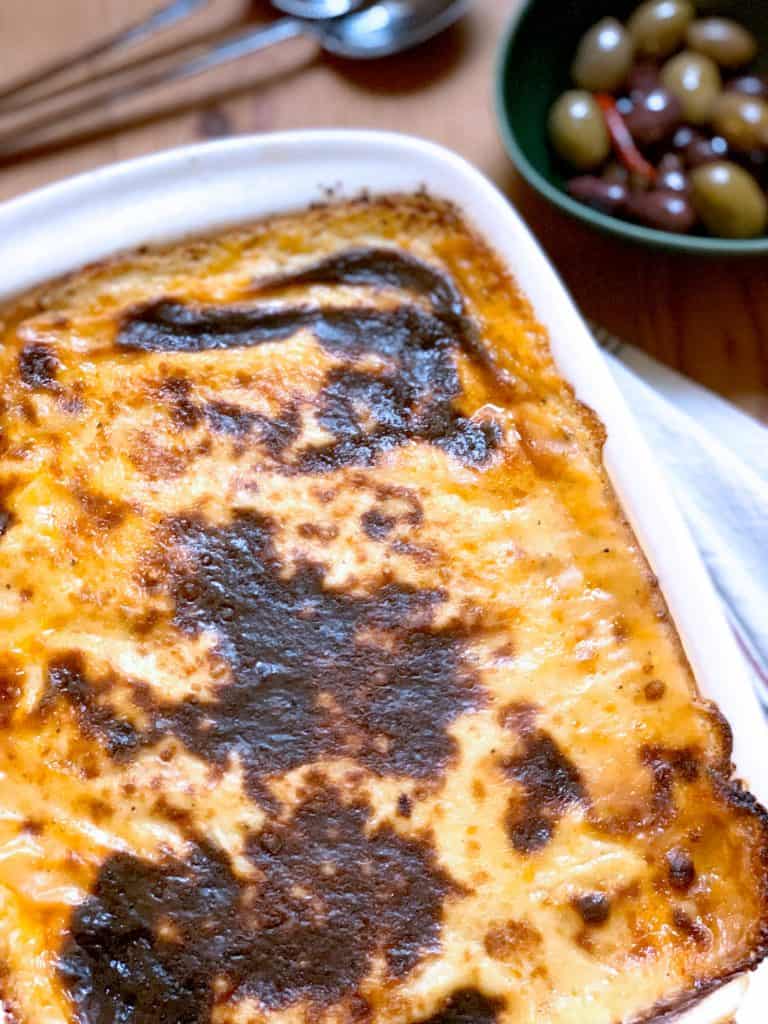 I love to use some pancetta or bacon win my ragù. I also add, apart from onions, diced carrots & celery and fresh herbs. The white sauce is a classic thicker béchamel. Sometimes Greek cooks like to add eggs to their béchamel, I choose not to. I instead add 2 eggs beaten with fresh herbs and some crumbled feta on top of the pasta when I layer the dish.
Pastitsio is a lovely representation of Greek comfort food. I hope you will enjoy this recipe as much as we do!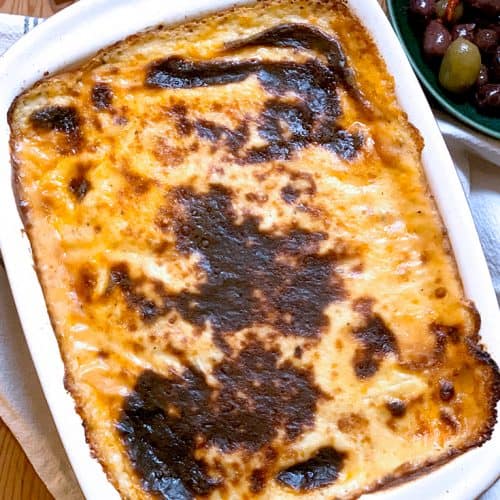 Ingredients
for the beef ragu
1

lb

ground beef

1

onion finely diced

2-3

carrots diced

a handful fresh thyme chopped

a handful fresh oregano

2

cloves

of garlic minced

12

oz

can chopped tomatoes

1

bouillon cube

Whatever you have handy, I sometimes even use chicken bouillon or vegetable instead of beef

2

tbsp

tomato paste

1/2

cup

extra virgin olive oil

1

tbsp

ground nutmeg

sea salt

pepper
for the bechamel sauce
1/2

cup

Kefalotiri cheese

grated. (If you can't find Kefalotiri, substitute with Pecorino Romano.)

1/2

cup

Gruyere cheese

grated

4.5

cups

whole milk

5

tbsp

unsalted butter

2

egg yolks

1

cup

all-purpose flour

1

tbsp

ground nutmeg

sea salt
for the pasta
1/2

box fat macaroni pasta such as Loi pasta or Misko No5

2

eggs beaten

1

cup

Greek feta cheese crumbled

2

tbsp

extra virgin olive oil

a handful fresh thyme chopped
Instructions
you need
a pretty large baking pan, mine is 14′ x 12′
make the beef ragu
Place a medium pan over high heat. Add 2-3 tablespoons of olive oil, the onions, and the thyme. Season with salt and pepper. Saute for 3-4 minutes, until the onions caramelize nicely. Add the garlic and the tomato paste and saute for at least 2 minutes.

Add the ground meat. Break it up with a wooden spoon and brown for 4-5 minutes. Add the canned tomatoes and the bouillon cube. Stir gently. Add the nutmeg. Check if the ragu has enough water, you might need to add a little bit. Turn the heat down to low and simmer for 20 minutes, or until the sauce reduces and the meat is cooked. Adjust salt and pepper to taste.

When ready, remove from heat and set aside until needed.
make the bechamel sauce
Heat the butter in a pot over medium heat. As soon as it melts, start adding the flour gradually while beating with a hand whisk continuously.

Add milk while whisking to avoid any lumps forming. As you add more of the milk, the bechamel sauce will become more creamy than thick. When you feel it's ready, remove from heat and season salt, pepper, nutmeg and almost all of the grated cheese. Save a little cheese for the end.

Add the 2 egg yolks and whisk well.

Set aside until needed.
make the pasta
Cook the pasta all dente.

Brush your baking pan with a little butter.

When the pasta is ready, drain well and spread in the pan.

Lightly beat the 2 eggs, add the chopped thyme and crumbled feta cheese and mix well.

Spread egg mixture all over the pasta, make sure it goes all over from side to side.

Set aside until needed.
assemble
Preheat oven to 350 F.

In the baking pan containing the pasta mixture spread the beef ragu over the pasta.

Pour the bechamel sauce over the ragu. Sprinkle the reserved grated cheese all over the top.

Bake for 40 minutes or until top turns golden brown.

Let it sit for 30 min before serving.

Pair it with a simple green salad with balsamic vinaigrette dressing or go all the way with a blue cheese salad extravaganza. Enjoy!
Notes
a note about the bechamel
I always keep more milk and flour around than I might actually need just in case an adjustment in the thickness of the sauce is needed.
Did you like this recipe?
Mention @thegreekfoodie__ or tag #thegreekfoodie__