Eggs kayanas or strapatsada as my dad used to call them is one of the easiest Greek recipes packed with flavor super easy to make. It is the greek version of scrambled eggs. A Greek household has everything needed for this quick and hearty dish. Every home has fresh ripe tomatoes, extra virgin olive oil, eggs and feta on hand.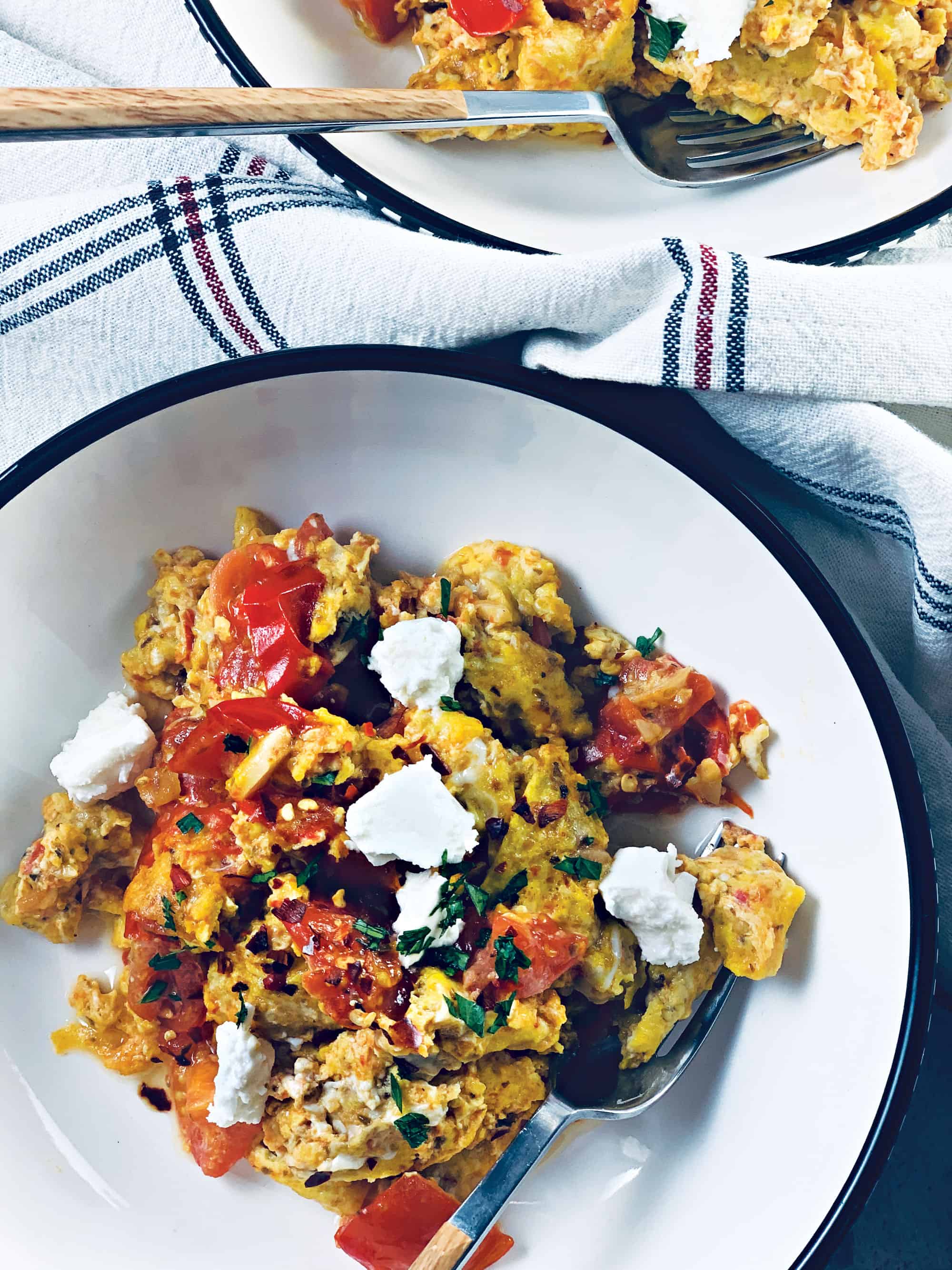 My dad used to whip up eggs Kayanas when there was no time to cook dinner. No one minded. We actually looked forward to this light as air truly delicious dish.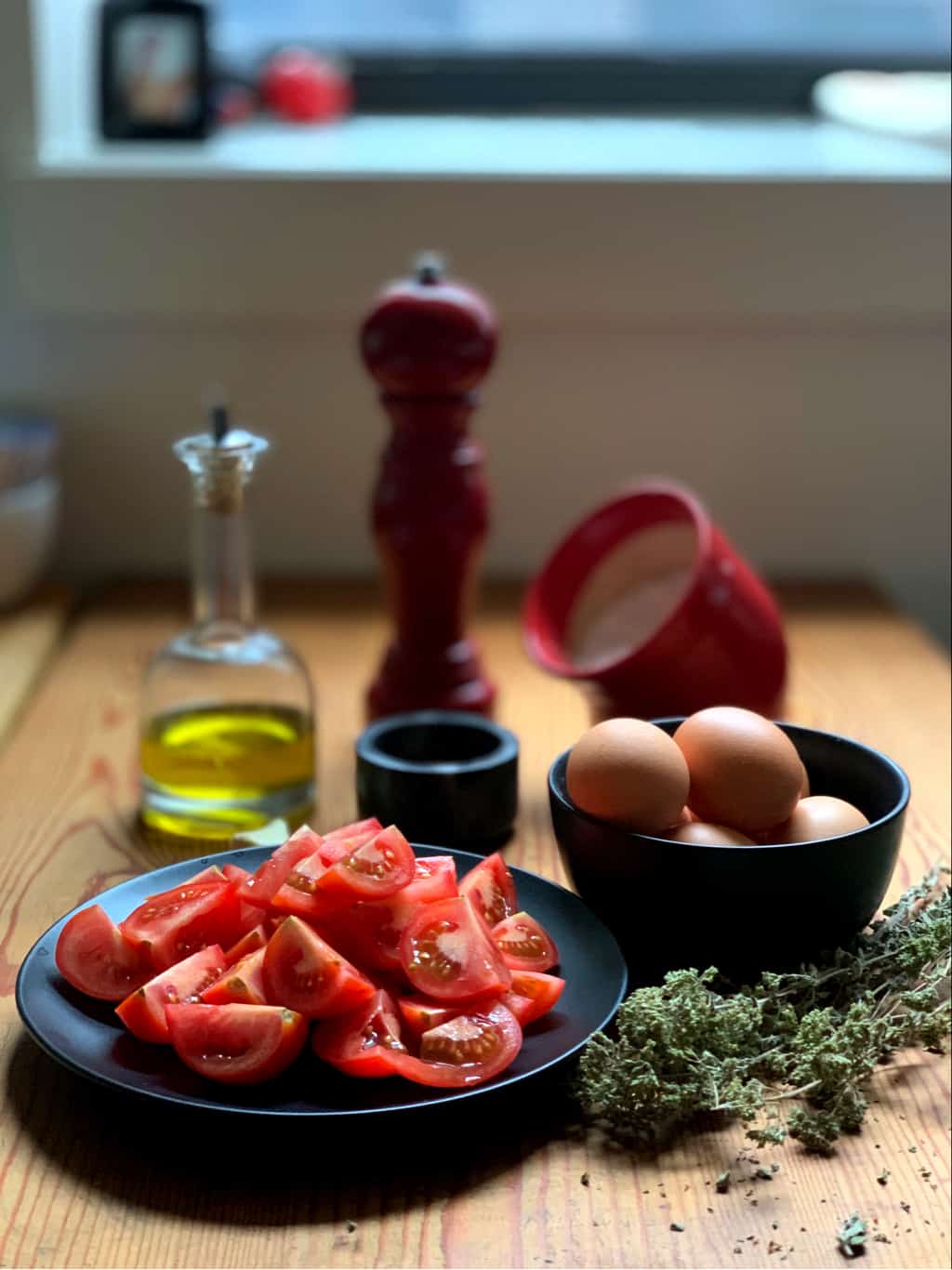 Traditionally the tomatoes used are grated and the skin is discarded. To be honest I can't be bothered to grate my tomatoes for two reasons. One is that the large fragrant tomatoes that are plentiful in Greece are not available here in the US. Even the best farmers market doesn't carry them. And a large tomato is easier to grate. Additionally the closest tomatoes to the Greek flavor and aroma I have found here are the Campari. They are small, sweet and lovely. They smell like Greece and I love them in my salads. They are a great candidate for this egg recipe but because they are so small I prefer to just quarter them and leave the skin on. It adds another texture to this dish which I really like. By all means you can take the skin off if you prefer.
Another thing I do different is not stirring the eggs-tomatoes mixture too much. I like the difference in textures and the dish works just as well this way. Purists will say I should stir and mix the eggs more. However this is my way of enjoying eggs kayanas. I beg their forgiveness but don't demand their approval.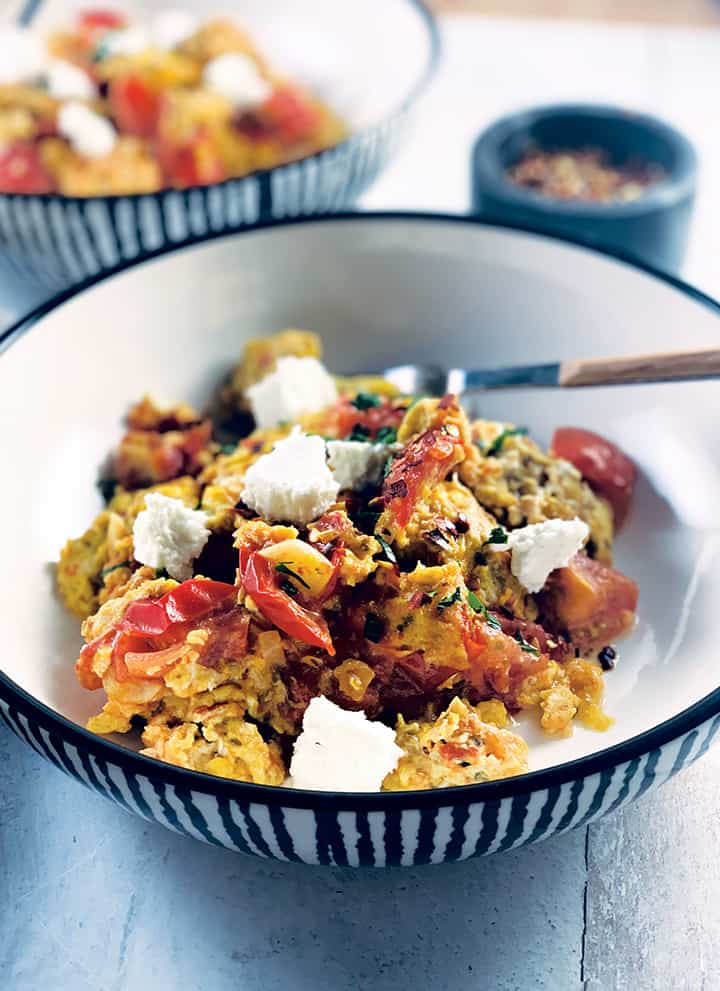 Ingredients
8

Campari tomatoes halved and then quartered

6

organic free range eggs

2-3

cloves

garlic sliced

2-3

Tbsp

extra virgin olive oil

Dry Greek oregano

Sea salt

Fresh ground pepper

For serving

Greek feta cheese

Red chili pepper flakes
Instructions
In medium heat add the olive oil in a frying pan. Add the sliced garlic and sauté for 1-2 minutes.

Add the tomatoes. Season with salt and pepper. Sprinkle all over 1 tbsp oregano. Stir tomatoes and sauté for 5-6 minutes gently stirring often.

Beat the eggs. Add them to the pan and mix everything together gently. Stir egg and tomatoes mixture 2-3 times. Cook eggs to your desired texture. I always prefer my eggs moist and not totally done.

Serve in bowls with feta cheese and a sprinkle or two of red chili pepper flakes.
Did you like this recipe?
Mention @thegreekfoodie_ or tag #thegreekfoodie_