This Greek cheese pie – tiropita recipe is easy & delicious. With simple ingredients like phyllo sheets, Greek feta cheese & gruyere it is guaranteed to be a hit.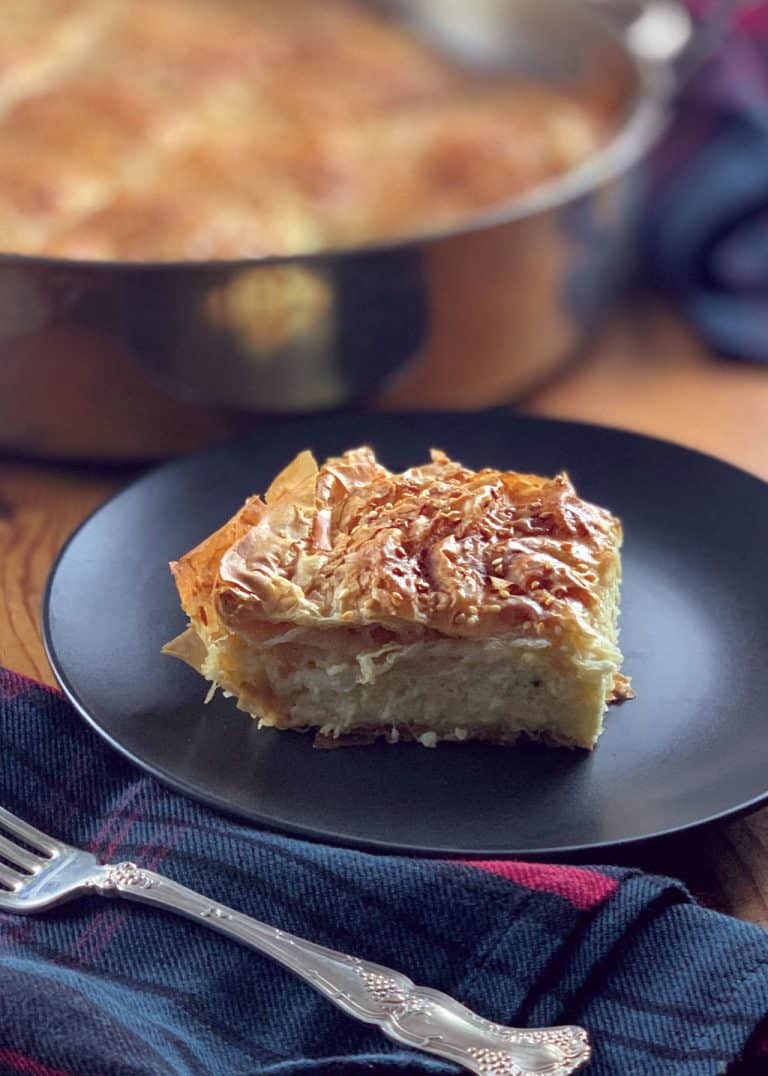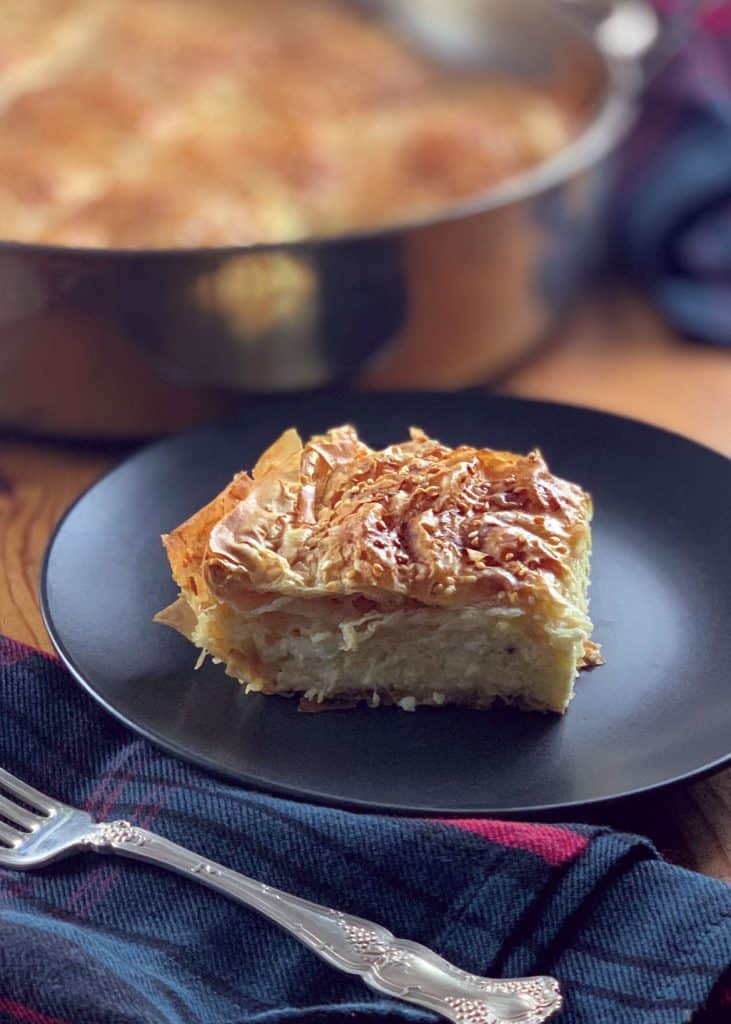 Tiropita is the most popular pie in Greece. Every bakery in each neighborhood makes and sells freshly baked cheese pies and every home has a cheese pie recipe in the recipe album.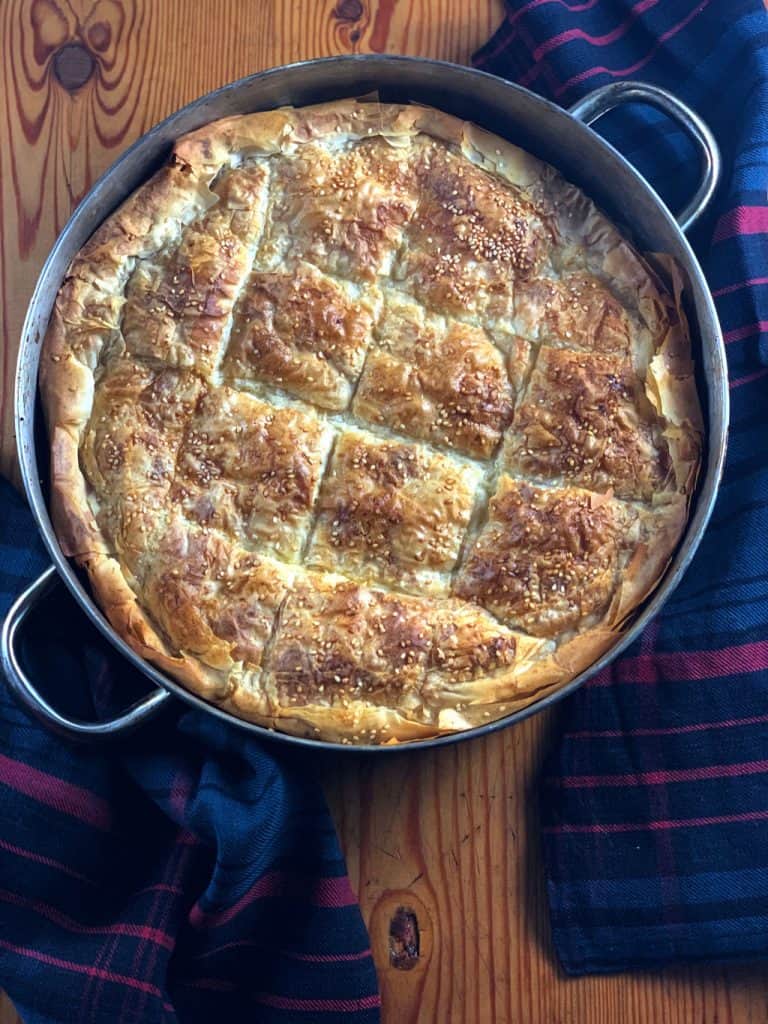 There are various recipes for a good Greek cheese pie. You can make it with the classic thin phyllo pastry or a thicker pie crust, have only feta and white greek cheeses for the filling or béchamel sauce mixed with delicious grated Cretan gruyère and kaseri cheeses. The truth is you can't go wrong. Baked cheese in a pie wins every time in my book.


This recipe is pretty easy to make. The key is phyllo pastry and good quality cheese. I love feta cheese and it always has to be Greek. No Bulgarian or French feta for me. No low fat, no-fat or fake feta please. Try and find the best feta you can get. I like Vikos and Dodoni, both of them can be found in supermarkets within the United States.
More phyllo pastry recipes
WANT TO EAT LIKE A GREEK? Subscribe to my email and follow along on Facebook, Pinterest and Instagram for all of the latest recipes.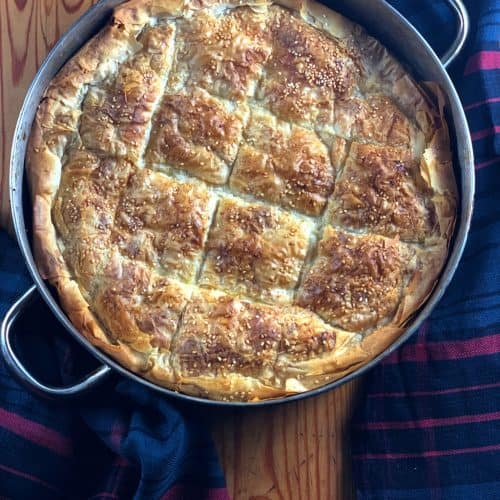 Ingredients
12

oz

gruyere cheese

Grated. It can also be parmesan, gouda, edam, pecorrino etc. Anything you have handy.

3.5

oz

Philadelphia cheese

About half of the classic package.

1

cup

milk

4

eggs

1

box

organic phyllo sheets

1.5

sticks

butter

melted

1

tbsp

fresh thyme leaves

1

tbsp

sesame seeds
Instructions
Preheat oven to 350* F.

Melt the butter in a small saucepan over medium heat.

Brush 2 sheets of phyllo with the melted butter and spread them gently in the pan, one at a time. The phyllo I use wis purposely larger than my baking pan so I can I let the fillo edges hang outside the pan as I am going to roll them over later. Take another 2 sheets and repeat the same process adding the phyllo in a such a way that the edges cover the rest of the pan. Make sure the phyllo edges are buttered as well, that way they won't get dry by the time you roll them in.

In a large bowl mix well the crumbled feta, grated cheeses, Philadelphia, thyme, the eggs and salt and pepper to taste.

Divide the phyllo pack in half and set one half aside, covered with a damp towel so it does not get dry. Brush one phyllo at a time with butter, crumple it and place in the pan. Repeat process until all of the sheets of that half of the pack are done.

Spread the cheeses mix evenly in the pan. Setting two phyllo sheets aside cover with the remaining half of the package in the same process as before. Brush with butter, crumple and add to pan.

Cover pie with the two buttered phyllo sheets. Gently bring all the phyllo edges in to the pan, fold them almost creating a "phyllo border".

Score gently with a sharp knife.

Pour the milk evenly all over the pie. Sprinkle with the sesame seeds.

Cover with aluminum foil and bake for 10 minutes. Uncover and bake for 30 min or until cooked through and top is golden brown.

Enjoy!
Did you like this recipe?
Mention @thegreekfoodie__ or tag #thegreekfoodie__