This is the traditional authentic Greek salad known as peasant salad - horiatiki, exactly as I make it for my family at home. Ripe tomatoes, cucumber, bell pepper, red onion, olives, extra virgin olive oil, and good feta cheese.
This delicious tomato-based salad is the best representative of all the authentic Greek flavors and aromas loved around the world.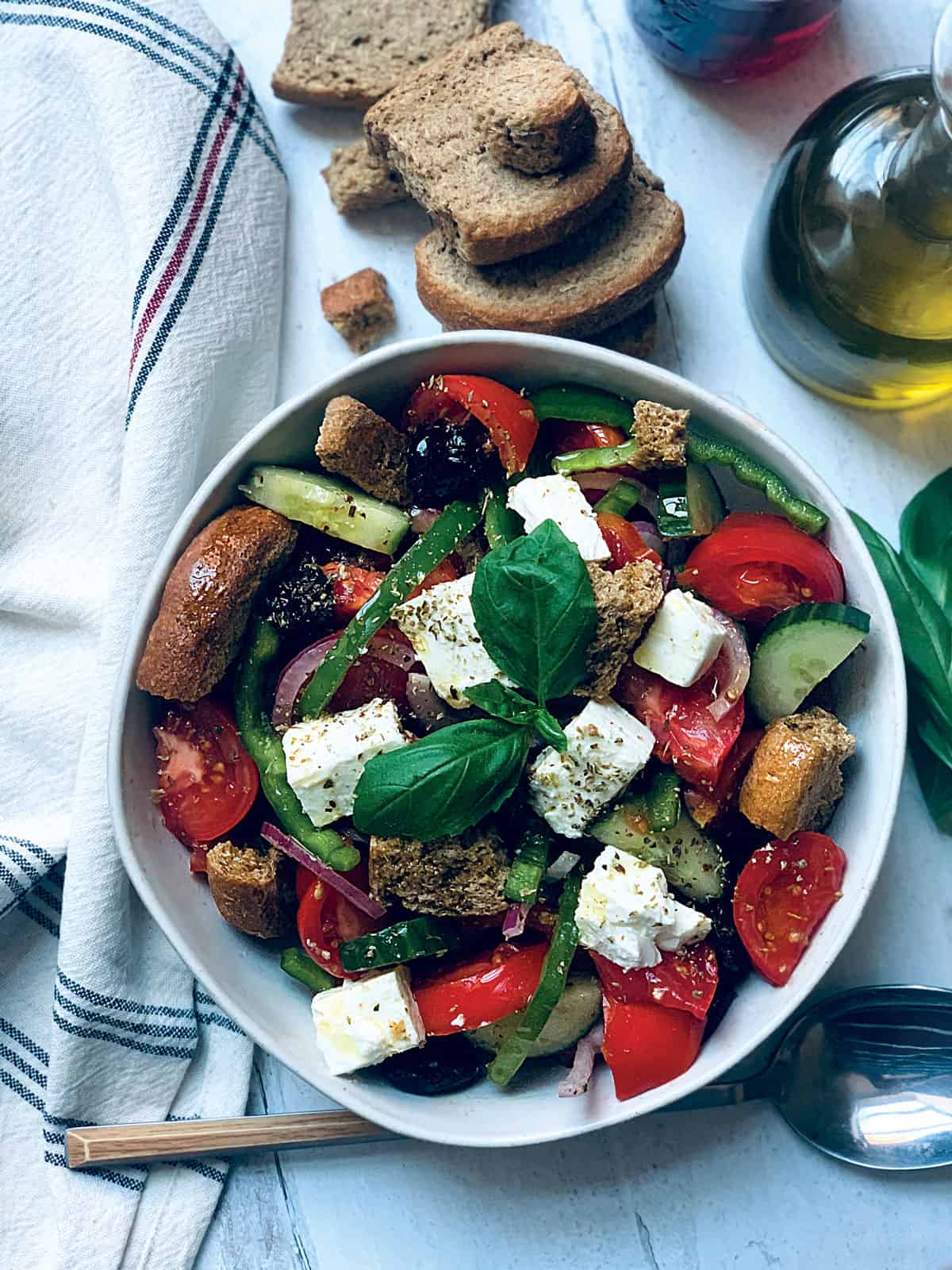 Why is this salad the real thing?
Outside Greece, "Greek salad" is usually a lettuce salad with Greek-inspired ingredients, even though the original does not have any lettuce. Lettuce, tomatoes, feta, and olives are the most standard ingredients in an American-style Greek salad. The dressing used can include lemon juice as well as vinegar and olive oil or canola oil. This style of Greek salad is never served in Greece.
The real horiatiki salad is a tomato-cucumber-onion & green bell pepper combination with olives and feta.
The greek salad dressing is extra virgin olive oil with a dash of wine vinegar.
Ingredients for an authentic Greek tomato salad.
Ripe tomatoes halved and cut in wedges, about half an inch thick.
Cucumber preferably the English variety, cut in coins.
Green bell pepper, cored and sliced.
Red onion slices.
Your favorite olives. I like the wrinkled black olives but any olives, black, brown or green are absolutely acceptable. Note that in Greece olives are almost never pitted.
Good quality feta cheese. Try to get a Greek feta block in brine. I like Dodoni. You can find it in most US supermarkets. Mt Vikos is also a very good choice. It is available at my local Shoprite as well as Whole Foods. Please don't get the fat free French feta. It is not the real thing.
Good quality extra virgin olive oil. Avoid olive oil blends and please do not use canola oil as a substitute.
Red wine vinegar. (White is fine too). Usually only a teaspoon is enough.
A few fresh basil leaves. They add such freshness to the salad. Tomato and basil is a killer combination. Optional because they can sometimes be hard to find.
Sea salt to taste.
Dry oregano.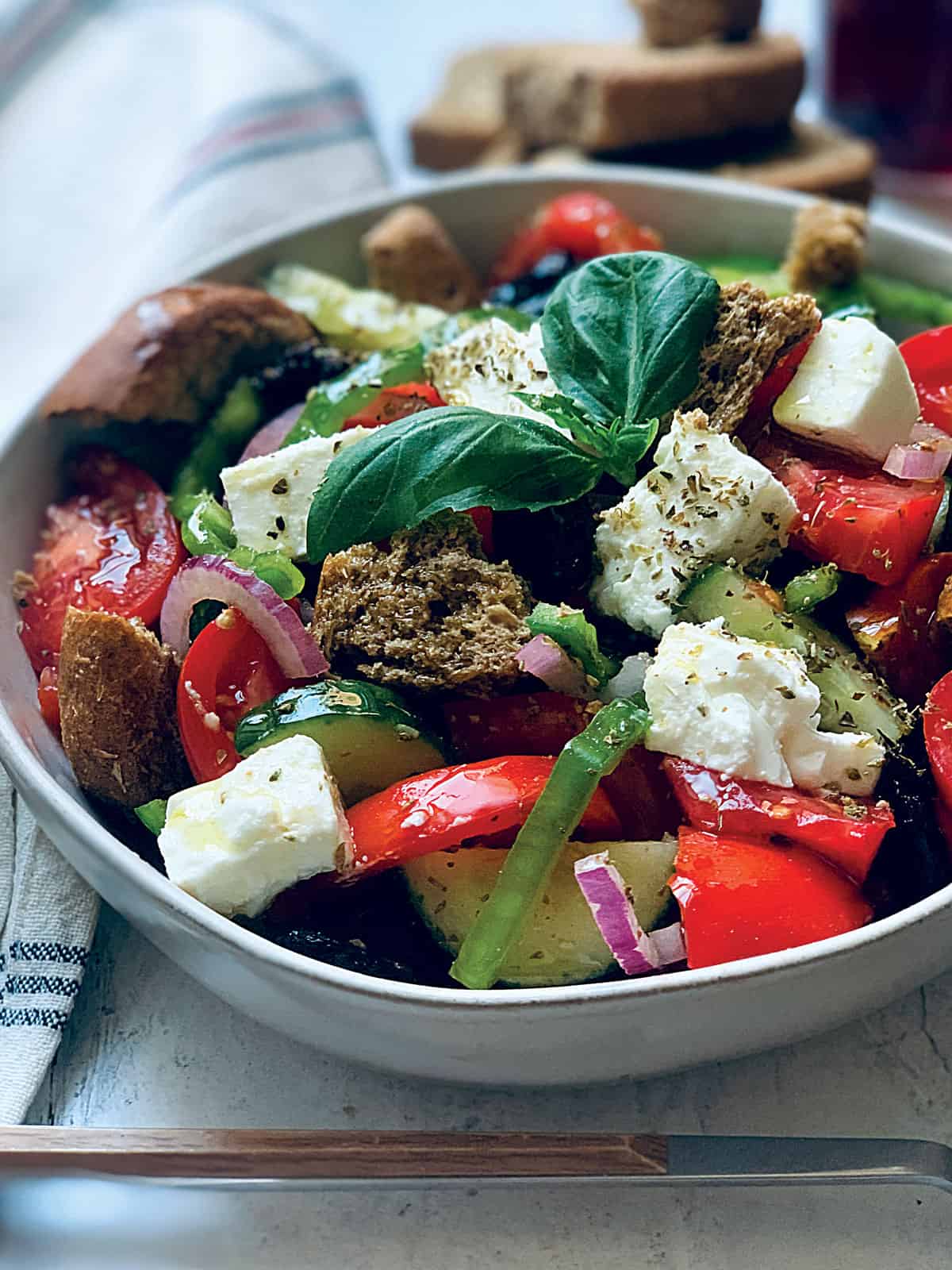 I like to use Greek rusks in my salad.
Again, it is totally optional. In Crete where my family is from they mix broken rusks in the tomato salad. They are also served topped with finely chopped fresh tomato, dry oregano, crumbled feta cheese, black olives and extra virgin olive oil. In Crete we also call a rusk dakos.
What is a rusk?
It's a double-baked bread made with barley and/or whole wheat flour, salt, and yeast. It is extremely hard; the best way to eat one is to run it under running water for 5 sec. When they are broken in the salad, they absorb the liquids, so there is no need to wet them ahead of time.
I find my rusks in any Titanfoods market in the NYC area or even on Amazon.
If you don't have rusks no problem! Be like a Greek* and dip crusty bread in the salad. It is very common in Greece and it is almost required! The salad liquids are absolutely delicious and perfect for bread dipping.
*Greeks eat bread in every meal. They go to the bakery every day for a fresh loaf of bread.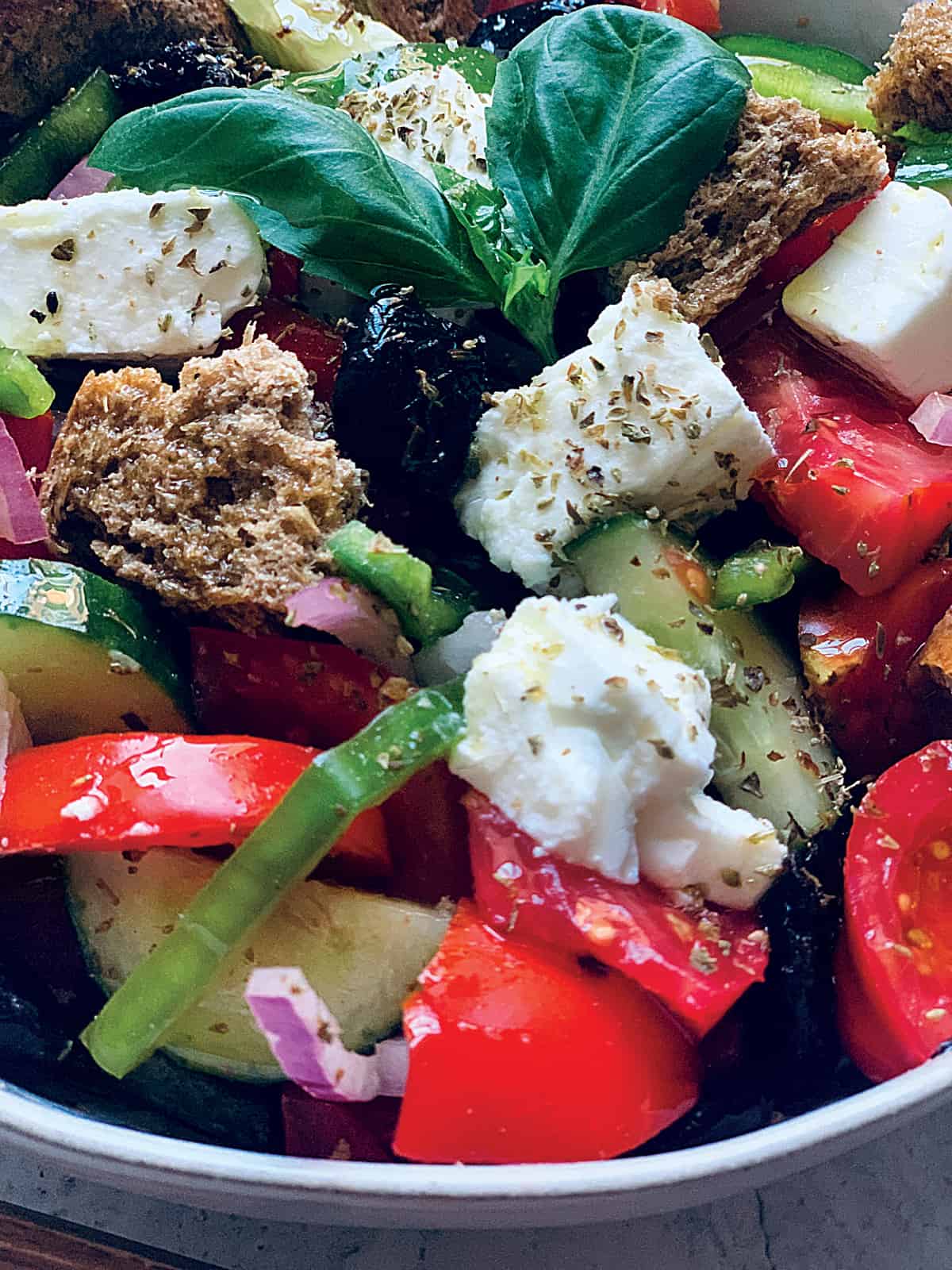 How do I make the salad dressing?
Horiatiki salad dressing is very simple. Usually, 2-3 tablespoons of extra virgin olive oil and 1 tablespoon (or less) of vinegar are enough.
Please DO NOT use lemon in this tomato, cucumber onion salad. It's a big faux pas to use lemon. There are other greek salads where a lemon & olive oil dressing is appropriate.
Tip:

For a great tomato salad let it sit for half an hour after mixing with the seasonings and dressing. This way all the magical tomato liquids get mingled with the feta, olive oil and vinegar and create a match made in heaven.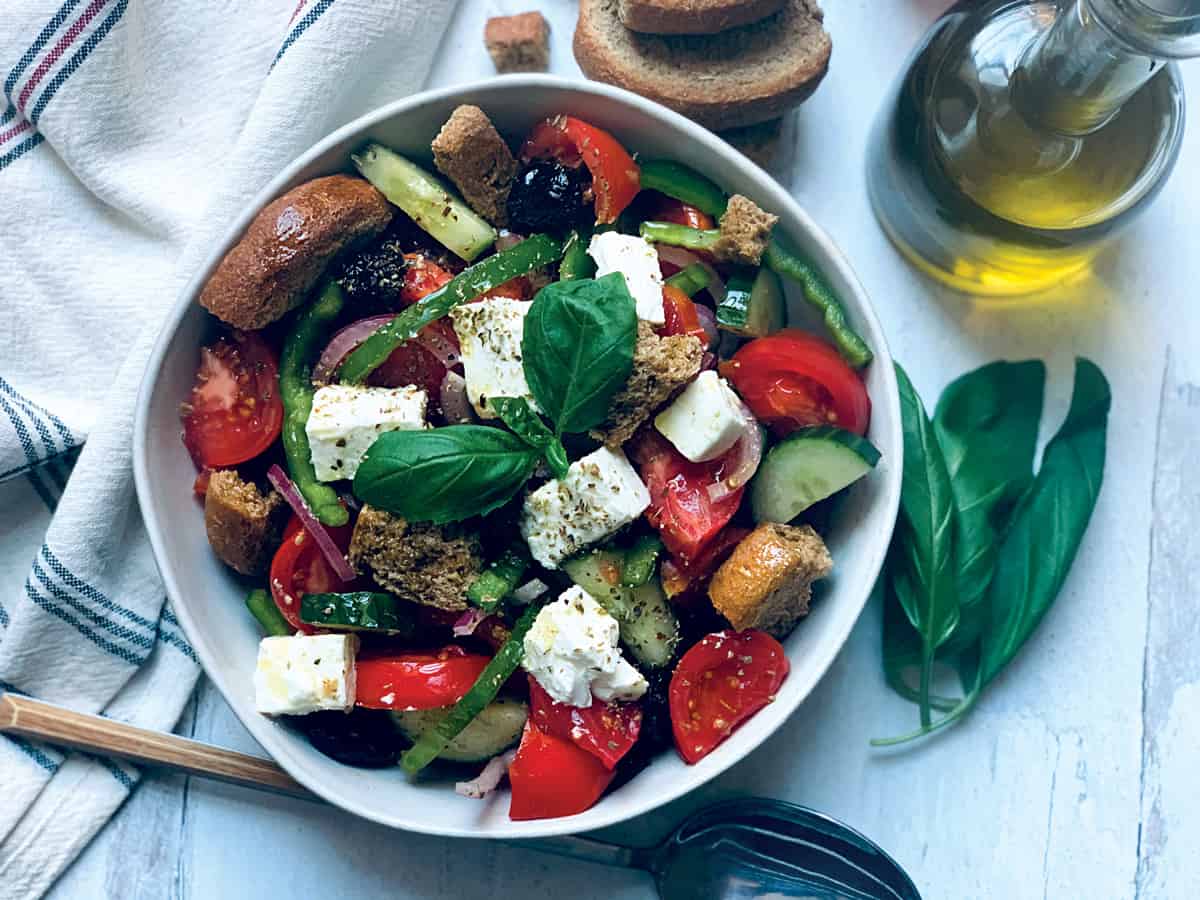 Funny Fact
Greek tavernas serve the salad without any dressing with an intact big piece of feta on top. The reason for that is they have pre-made salads ready to be served in their fridge. Every taverna table has olive oil, vinegar, sea salt, and white pepper. The patrons add the dressing and the seasoning to their taste when the salad is served on their table. The feta cheese gets broken into pieces, and the salad is mixed. When we are at home, we do not serve the salad this way. There is absolutely no reason for the ingredients not to be mixed and the feta to be intact.
You have all the insider information you need to create an authentic, delicious Greek salad. Enjoy!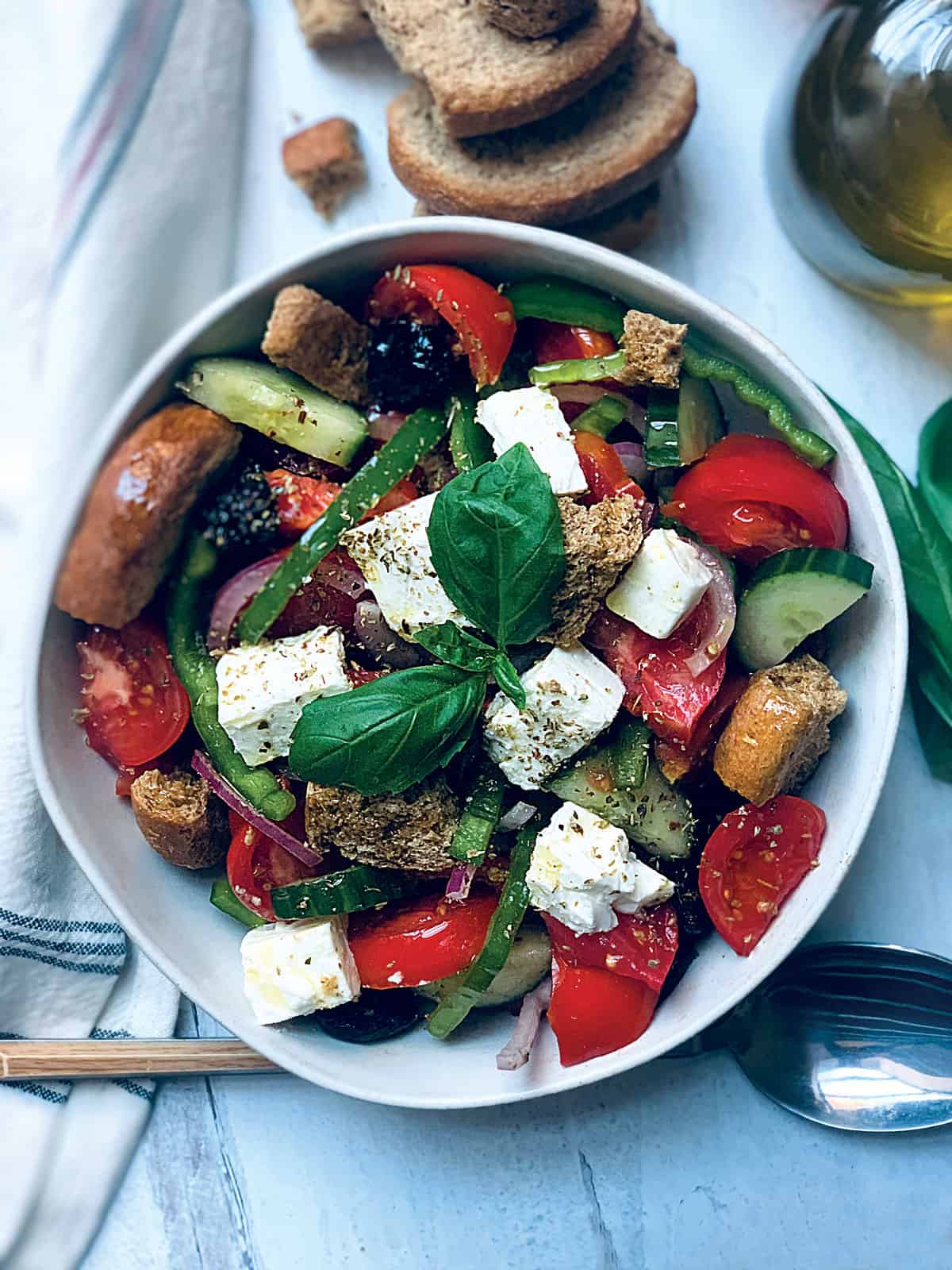 You may also like
Check out my Greek pantry staples
Cooked this? Rate this recipe! You can also leave a comment below. I love hearing from you!
WANT TO EAT LIKE A GREEK? Subscribe to my newsletter and follow me on Facebook, Pinterest, and Instagram for all of the latest updates.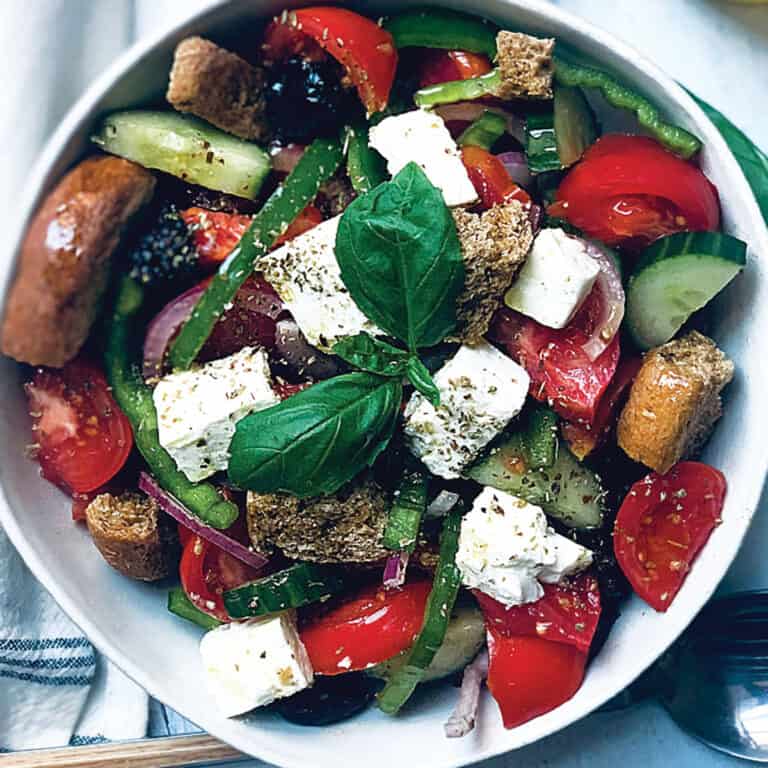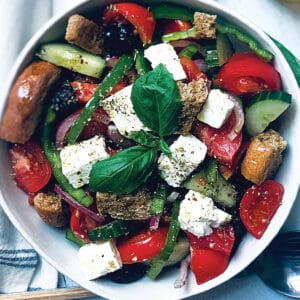 Traditional Greek Salad-Horiatiki
This is the authentic Greek salad - horiatiki with tomatoes, cucumber, onion, olive oil and feta cheese.
Ingredients
2-3

tomatoes

halved and cut in wedges, about half an inch thick. 

½

english cucumber

cut in coins. 

1

green bell pepper

cored and sliced

⅓

red onion

sliced

½

cup

olives

your favorite kind

½

cup

feta cheese

1

tablespoon

dry oregano

2-3

tablespoons

extra virgin olive oil

1

teaspoon

red wine vinegar

to taste, you can add more if you prefer

fresh basil leaves

sea salt

to taste
Instructions
Mix all fresh ingredients —season with sea salt to taste. Add 2-3 tablespoons of extra virgin olive oil and a tablespoon red wine vinegar. Sprinkle dry oregano all over and toss.

For best results, allow the salad to sit at room temperature for 30 minutes before serving.
Serving suggestions
Serve with fresh, crusty bread to dip in the salad juices. You can also try the rusks in the salad. If they are big in size, break them up at the size of croutons. Please see recipe notes for details.
Notes
It is important to let the salad sit for half an hour before serving. The flavors will meld together, and tomatoes always taste better at room temperature.
For great tomatoes, always store them on a platter, on your countertop. Avoid letting them touch each other, and don't stack them. Never refrigerate tomatoes. 
The same goes for the onions. Store them in a cool, dry, dark place -not in your fridge. When the onion is chilled, the cold temperature converts the starch to sugars, and onions become soft or soggy. Don't store them in a bag; they need air to breathe.  Keep the onions separate from potatoes; they can speed up an onion's decomposition due to excreted moisture.
I do not include the rusks in the recipe because they are totally optional. Although they are in abundance in grocery stores in Greece, they are more challenging to find in the USA. If you want to try them, try the Manna brand on Amazon and at titanfoods.com in Astoria, NY. There are different sizes; some are small enough to add them as they are in the salad. If they are too big, break them up in crouton size. Let them soak up the salad juices; they will be fantastic!
If you want to try the rusk as is, run it underwater for 1-2 seconds. I enjoy it with just a little extra virgin olive oil on top. It is my favorite snack.
Nutritional Info – Please keep in mind that the nutritional information provided is only an estimate and can vary based on the products used.
Nutrition
Calories:
325
kcal
Carbohydrates:
15
g
Protein:
8
g
Fat:
28
g
Saturated Fat:
8
g
Cholesterol:
33
mg
Sodium:
954
mg
Potassium:
556
mg
Fiber:
4
g
Sugar:
8
g
Vitamin A:
1614
IU
Vitamin C:
68
mg
Calcium:
233
mg
Iron:
1
mg
Tried this recipe?
Mention @thegreekfoodie__ or tag #thegreekfoodie__