This is a traditional Greek turkey stuffing your guests will LOVE. It has the perfect combination of ingredients that develop a wholesome, delicious flavor that you can't have enough of.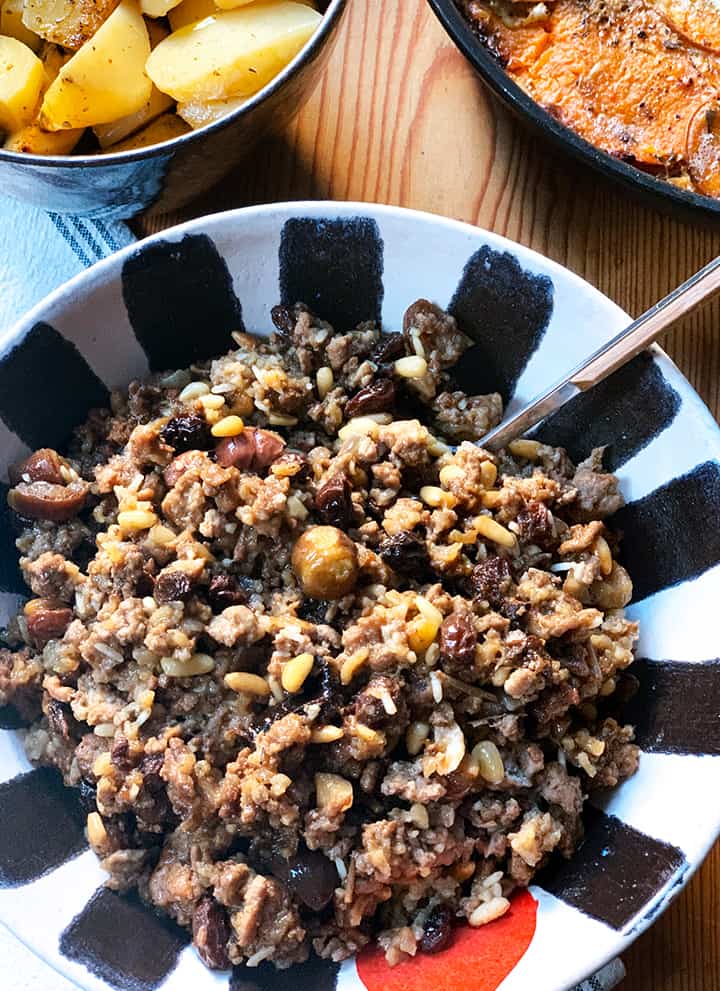 This Greek turkey stuffing is probably the one and only reason for me to make a turkey for Thanksgiving. When I was growing up and the holidays were around the corner I would make sure that we would make a turkey for Christmas and it would be stuffed with this heavenly recipe. (Greeks don't celebrate Thanksgiving.)
In our house it is the first leftover to quickly run out, probably by noon the day after Christmas. 🙂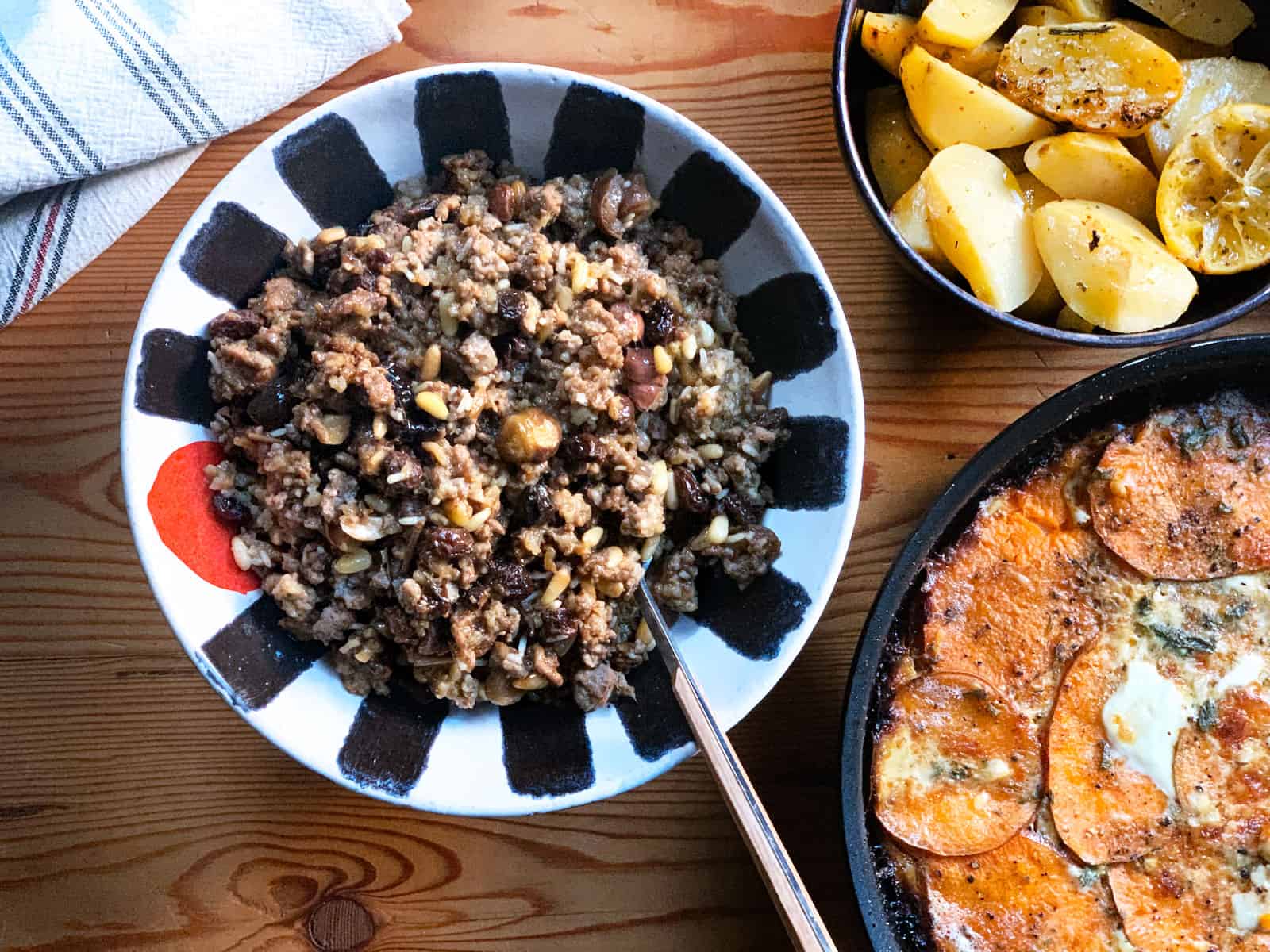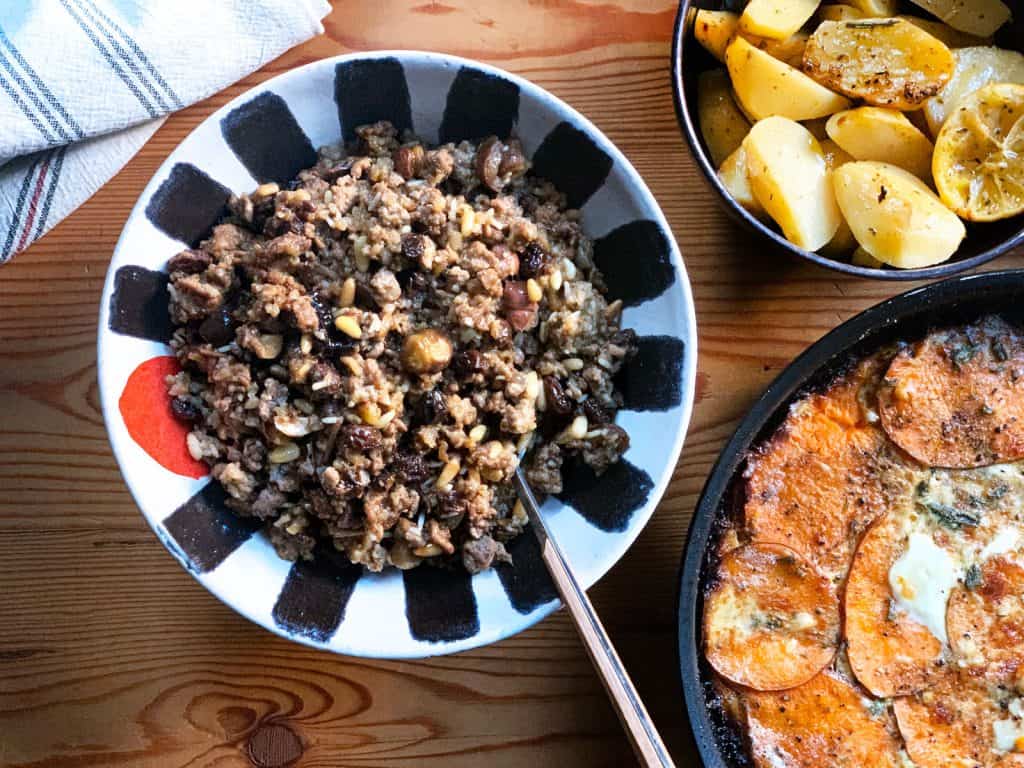 This traditional stuffing has a filling of 2 different kinds of ground meat. Usually an equal amount of ground beef and pork are used. I chose to substitute the pork with ground sausage for it's robust flavor. Chestnuts, dates, prunes and pine nuts are added as well as a small amount of rice. There is a turkey baste that I like to use on the turkey with this stuffing. It is made with orange and lemon juice as well as butter and broth and is infused with fresh herbs such as rosemary, sage and thyme.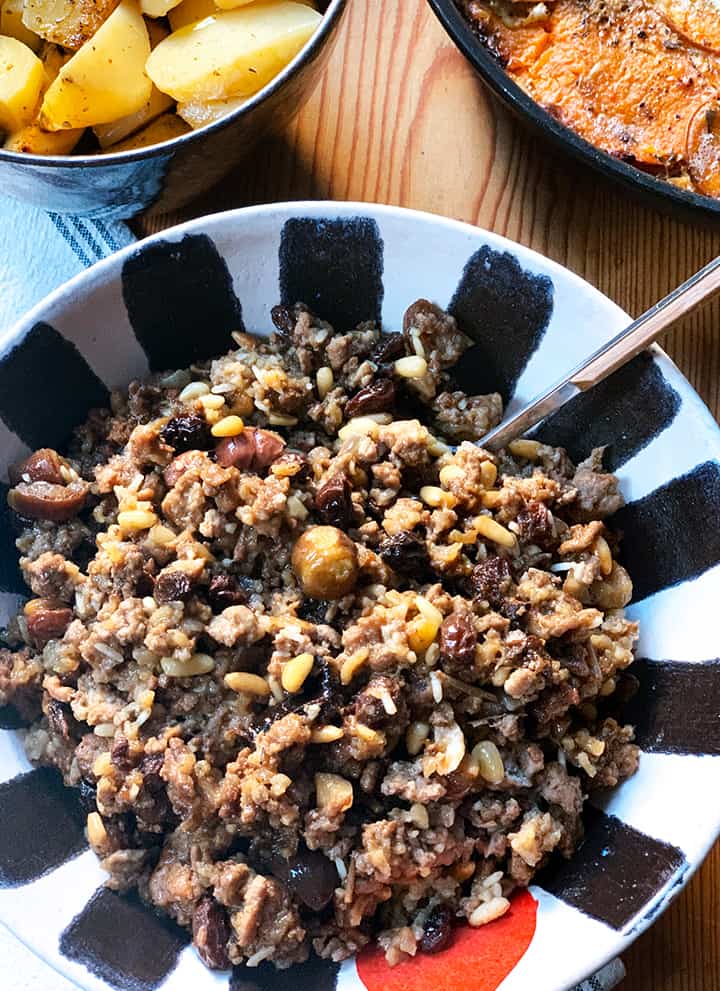 Ingredients
This stuffing is good for a 15-20 lbs turkey.

1

lb

ground sausage

1

lb

ground beef

6

tbsp

butter

1

large onion diced

1/2

cup

rice

1

cup

boiled chestnuts halved

1/2

cup

raisins

5-6

dates diced

5-6

prunes diced

1/2

cup

pine nuts

2-3

cloves

1/2

cup

broth

chicken or veg

salt

pepper

for the turkey baste

1

cup

chicken broth

2

tbsp

butter melted

juice from 2 oranges

juice from 2 lemons

1

rosemary sprig

1

thyme sprig

1

sage sprig

1

tbsp

oregano

salt and fresh ground pepper
Instructions
In a large pot add the butter. In medium heat, sauté the onion until soft and fragrant. Add the ground beef and sausage. Break with a spoon any large pieces. Brown ground meat all over, 3-4 min.

Add the rice. Stir well. Sauté mixture for 1-2 min. Add 1/2 cup broth, the raisins, chestnuts, dates, prunes, cloves and the pine nuts. Stir mixture well gently. Season with salt and fresh ground pepper. Remove from heat.

Prepare the turkey baste. Mix orange and lemon juice with the chicken broth. Add the melted butter. Season with a pinch of salt and fresh ground pepper. Stick the rosemary, thyme and sage sprigs in the baste to infuse it while you cook the turkey. Keep it in a warm surface.

Stuff your turkey.

Close it by tying the legs together with twine. Or you can sew the gap together with twine and a large needle. You can find directions

here.

Lightly baste the turkey every 20 minutes after the first hour of cooking. Apply the baste warm to the turkey. Stop basting during the last 30 minutes of cook time.

When turkey is ready, empty the stuffing in a serving bowl and serve. Enjoy!