This cinnamon roasted chicken is the perfect recipe if you want your house to smell like Thanksgiving day. The combination of cinnamon with crispy chicken skin and buttery sweet potatoes is a real winner.
It is a super easy-no-fuss recipe that tastes delicious! You can also use Cornish hens instead of a whole chicken, one for each guest. Just season the poultry, add a generous portion of olive oil all over and sprinkle lots of cinnamon. Roast the chicken the same way you usually do and voila! A really lovely meal that will wow everyone at your table without too much effort.
We sometimes cook this in the middle of summer just to feel like Christmas in July. All you need is a green salad with an acidic dressing to pair it with. And don't forget the warm crusty bread to dip in the sauce.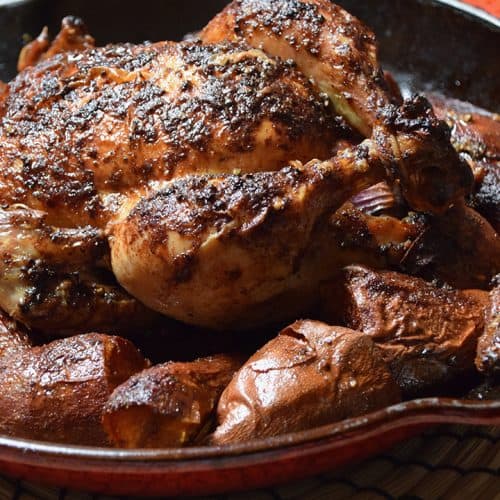 Ingredients
1

whole roasting chicken

3-4

sweet large potatoes

Depending on the size. You need enough potatoes to fit snuggly around the chicken.

1

cup

extra virgin olive oil

ground cinnamon

1

tsp

ground coriander

optional

sea salt

fresh ground pepper
Instructions
Preheat the oven to 400 degrees F.

Rinse the chicken inside and out. Pat the outside dry. Salt and pepper the inside of the chicken.

Rub the outside of the chicken with half of the olive oil and sprinkle lightly with salt. Tie the legs together with kitchen string and tuck the wing tips under the body of the chicken.

Cut the sweet potatoes in half and quartered. Place them around the chicken. You need enough sweet potatoes to fit snuggly together around your chicken.

Pour the rest of the olive oil it all over the sweet potatoes.

Abundantly sprinkle cinnamon all over sweet potatoes and chicken. The whole pan should be covered with a layer of cinnamon. Sprinkle if you want about 1 tsp ground coriander all over the potatoes and chicken.

Cover the pan with aluminum foil and place it in the oven. Roast covered for 45 min, than remove foil and roast for 45 min of until chicken is cooked through and juices run clear.Skin should be nice and crisp and sweet potatoes soft and buttery.
Notes
I don't use too much salt for this recipe. Just a very light salt seasoning for the chicken. I don't season the sweet potatoes apart from the cinnamon and the coriander. Feel free to tweak that part to your liking.
Did you like this recipe?
Mention @thegreekfoodie__ or tag #thegreekfoodie__