These Greek tomato fritters also have corn, zucchini, onions, feta, and many herbs. Easy to make, they are delicious and perfect for the rich tomato summer season.
If you love these tomato fritters, you will also love these chickpea fritters, Greek meatballs-keftedes or delicious fried zucchini!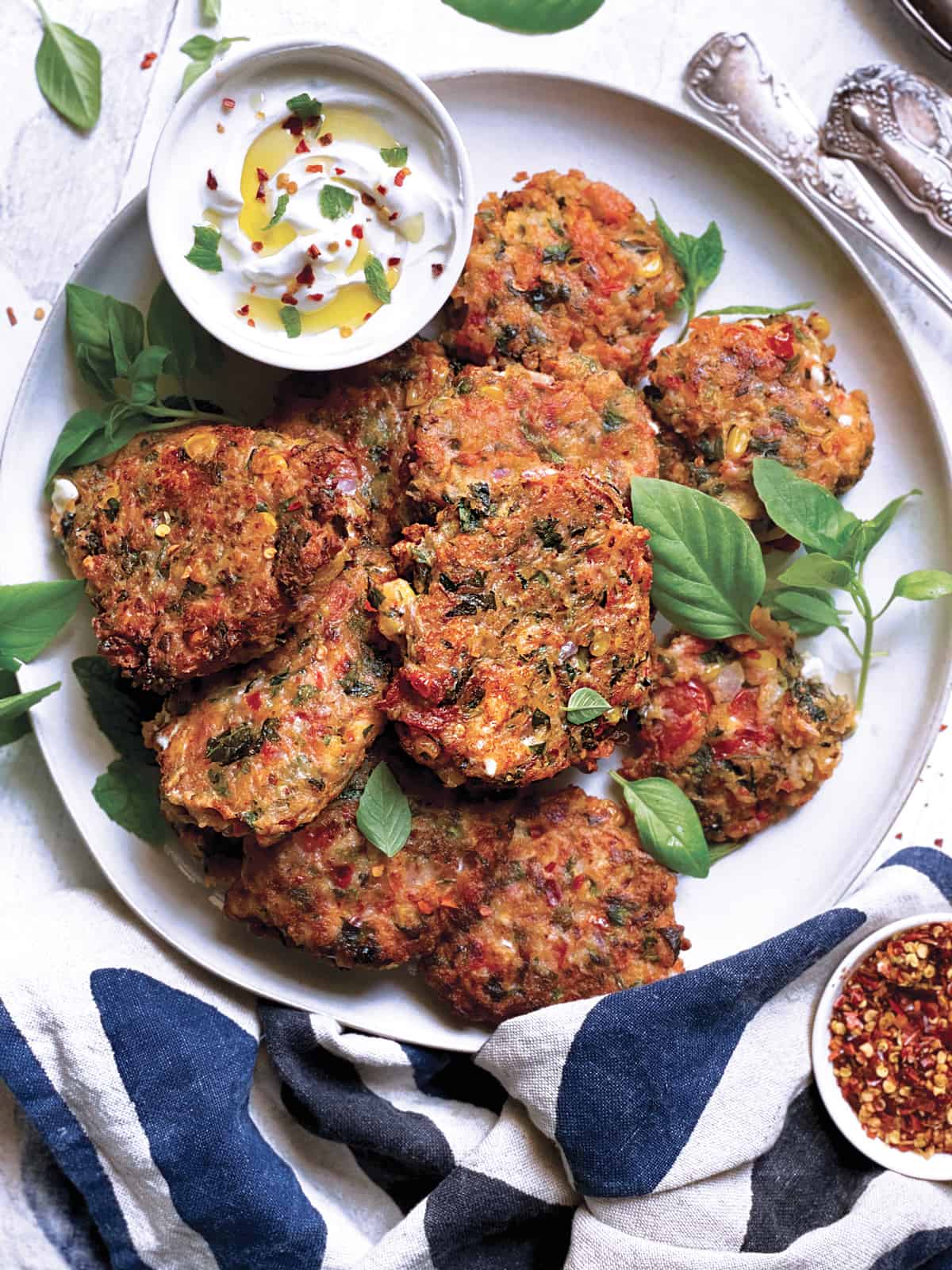 How to choose a good tomato
I think that if there were a request for each country's cuisine to be represented by a vegetable/fruit for Greece, it would be the tomato.
I have talked about my love for Greek tomatoes; they are glorious, and you can find them almost all year round in Greece due to the fantastic climate. Tomatoes in Greece are so fragrant and fresh, an absolute delight to eat, especially in the traditional Greek salad. I miss Greek tomatoes, but in the summer here in the eastern part of the United States, I can find fantastic heirloom tomatoes that remind me of the ones back home.
How do you make these fritters from scratch?
I use tomatoes, lots of fresh herbs, zucchini, fresh sweet corn kernels, and feta cheese for this tomato corn fritter recipe.
I love the combination of flavors as much as the colors.
The sweetness of the corn makes a good pair with the tomatoes, and the tangy feta brings the fritter to life. The simplicity of the yogurt sauce adds freshness to the fritters.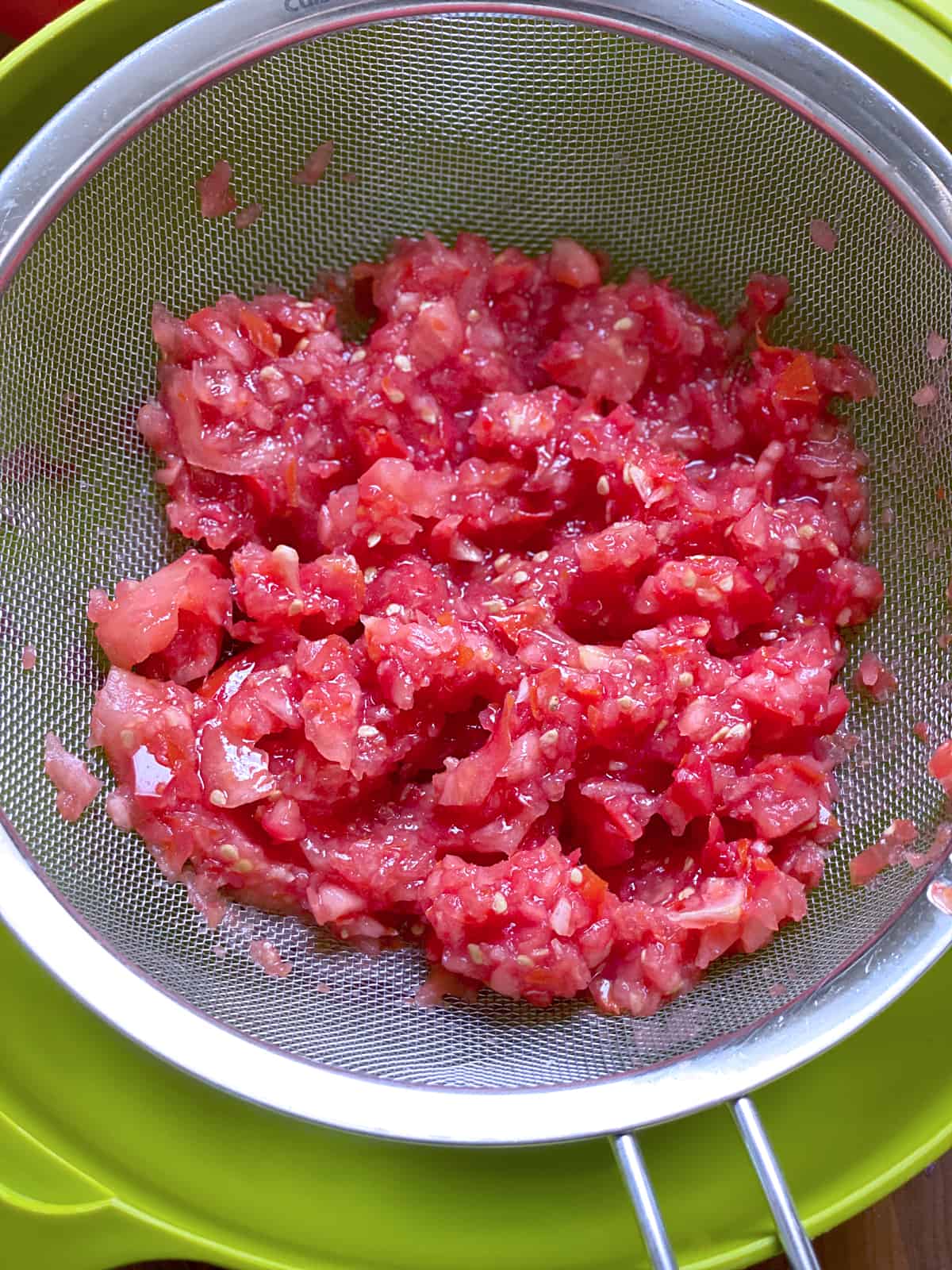 Grate the tomatoes, and place them in a mesh strainer over a bowl—season with a pinch of salt. Repeat the process for the zucchini.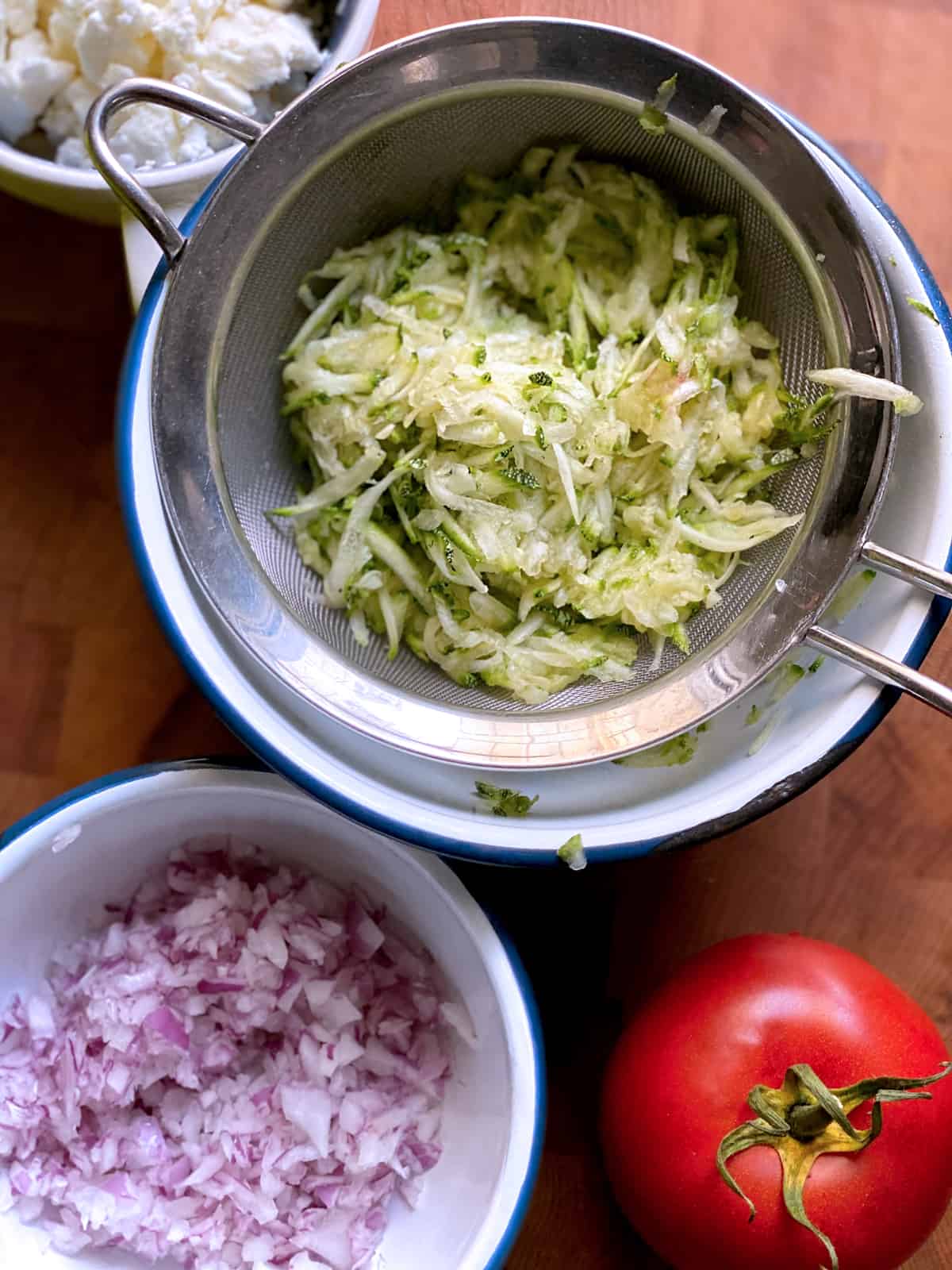 Let both release most liquids while you prepare the rest of your ingredients.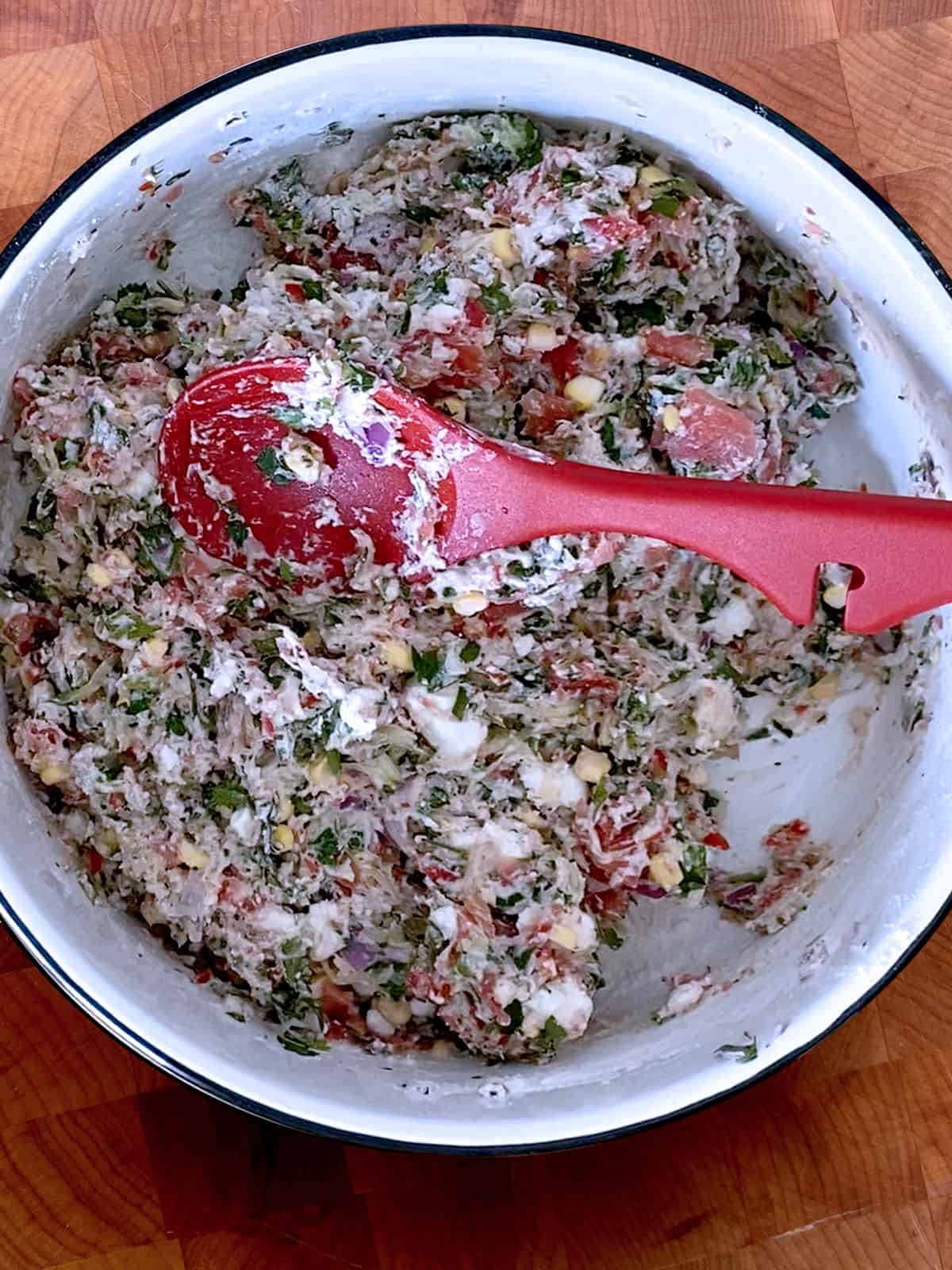 In another bowl, mix the flour and baking powder. Add the grated tomatoes, zucchini, corn kernels, diced onion, crumbled feta, and chopped fresh herbs. Add some chili flakes. Don't over-mix; it is better to have a little chunky mixture, and the edges will get crispy and delicious.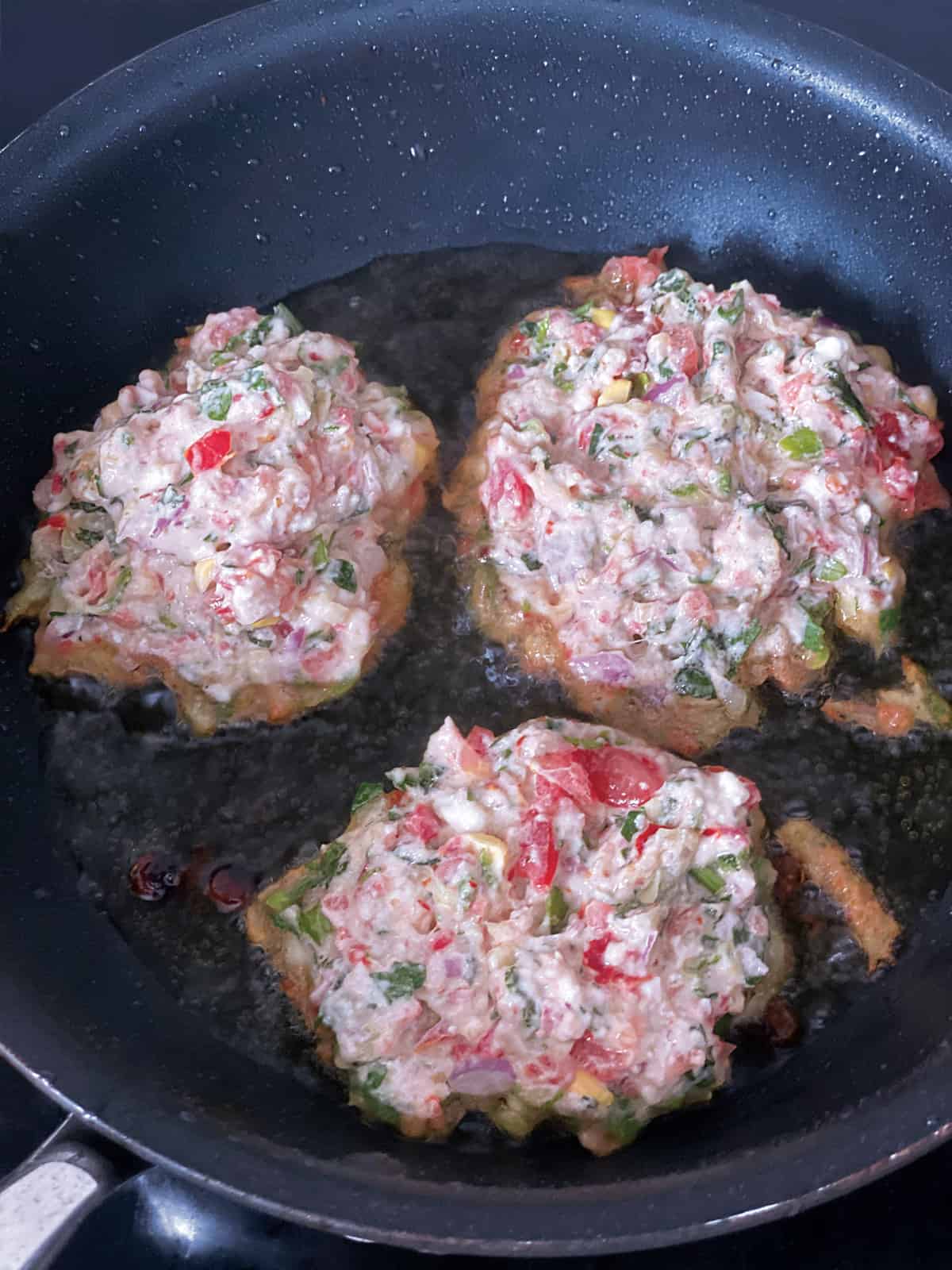 Heat some olive oil in a nonstick skillet. Take a full tablespoon of the tomato corn fritter and place it in the pan. Shape it a little bit with the spoon to make it a little tidier. Add two more patties added to the pan and fry on medium heat for 3-5 minutes, until golden and lightly crispy.
Transfer the tomato corn fritters to a dish lined with paper towels, it helps absorb the extra oil and keeps them crispy and not soggy.
You may also like