These wonderful tomato fritters or tomatokeftedes in Greek are absolutely perfect for the rich tomato summer season.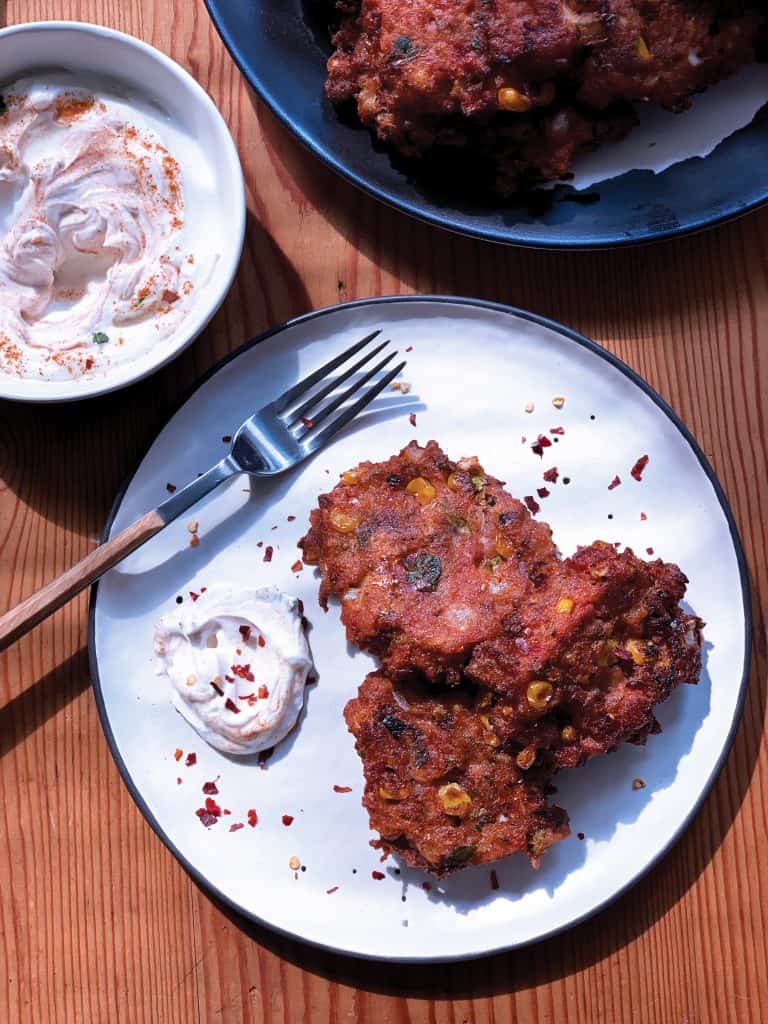 I think that if there was a request for each country's cuisine to be represented by a vegetable/fruit for Greece it would be the tomato. I have talked about my love for Greek tomatoes before, they are absolutely glorious and you can find them all year around in Greece due to the amazing climate. Tomatoes in Greece are so fragrant and fresh, an absolute delight to eat especially in the traditional Greek salad. I do miss Greek tomatoes but in the summer here in the eastern part of the United States you can find amazing heirloom tomatoes that remind of the ones back home. I love using them in salads and delicious fresh spaghetti sauces but nothing beats a good tomato fitter in the summer. They are relatively easy to make and can be the star of a delicious summer lunch, a quick snack or a fun and tasty appetizer to a barbecue.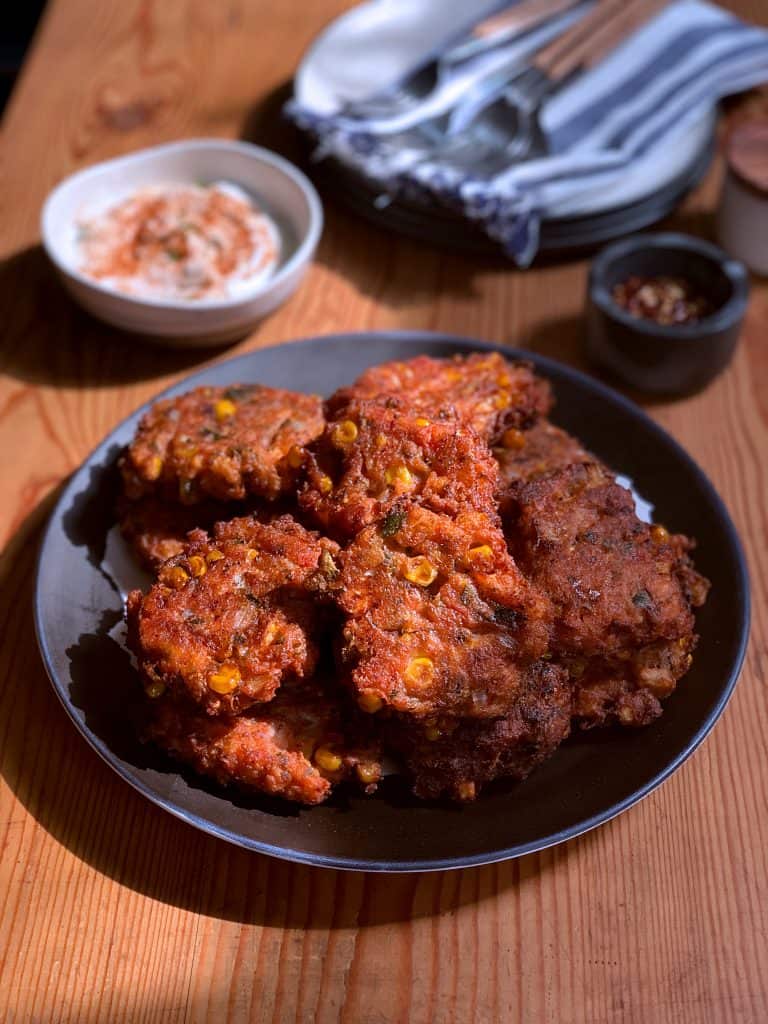 A good tomato smells like summer
You can recognize a good tomato by three things. The vibrant color and the firm but also tender skin and the most importantly the scent. I confess, I do go around farmer's markets or at Whole Foods sniffing tomatoes before I buy them. I realize it is not everyones cup of tea to sniff tomatoes but it's a fool proof way to know if you are getting the real thing. A good tomato smells like summer. End of story. There are so many so-called heirloom varieties that have no scent whatsoever. And to me that means that they lack in flavor. So sniff before you buy and you will never go home with a bad batch, I promise.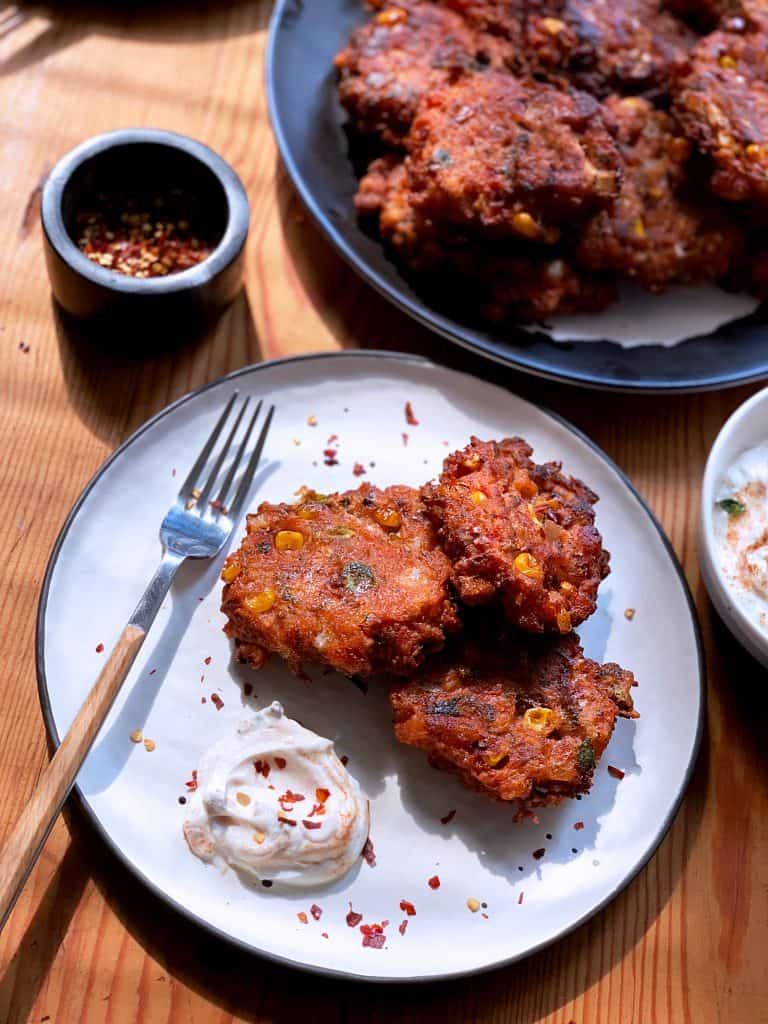 I mostly use Campari tomatoes if I can't get to my local farmers market. Most supermarkets have them in stock. It is a good tomato variety that is very similar to a Greek tomato. Campari are small and sweet, fragrant and very tasty.
For these tomato fritters I use apart from tomatoes, lots of fresh herbs, zucchini, sweet corn and feta cheese. I love the combination of flavors as much as the colors. The sweetness of the corn makes a good pair with the tomatoes and the tangy feta brings the fritter to life. The simplicity of the yogurt sauce adds freshness to the tomato fritters.
If you liked this recipe please try my Baked Tomato Appetizer, my go-to when I have impromptu guests because it is easy and everyone loves it. If you want to wow your guests make my Greek shrimp bake-saganaki, it is a real winner and truly, madly, deeply delicious.
WANT TO EAT LIKE A GREEK? Subscribe to my email and follow along on Facebook, Pinterest and Instagram for all of the latest recipes.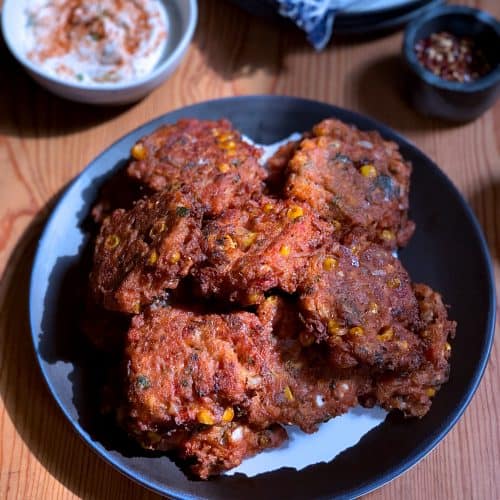 Servings:
15
-18 fritters
Ingredients
2

cups

all-purpose flour

1

tsp

baking powder

2

cups

tomatoes

finely chopped

1

cup

zucchini

grated

1

cup

corn kernels

1

onion

finely chopped

1

scallion thinly sliced

1 1/4

cups

Greek feta cheese crumbled

about a cup mint leaves coarsely chopped

a handful basil leaves coarsely chopped

about 10 leaves

about a cup parsley coarsely chopped

1

tablespoon

dry oregano

salt

pepper

1

tsp

chili pepper flakes

1

tbs

extra virgin olive oil

light olive oil or a neutral vegetable oil

for frying

For the sauce

2

cups

greek yogurt

a tbsp chopped mint

optional

sweet paprika

chili peppers flakes

optional
Instructions
In a bowl, combine the flour, the baking powder and 1 tbsp dry oregano. Create a small well in the center and add the tomato, corn, grated zucchini, scallions and the chopped onion. Start mixing lightly.

Add crumbled feta and chopped fresh herbs in the veggie mix. Add the 1 tbsp extra virgin olive oil. Season with salt and pepper. Mix everything gently. Don't over mix, it is better to have your mixture a little chunky, the different veggie flavors will shine more.

Heat 2-3 tbsp vegetable oil in a frying pan.

Take a very tablespoon of the mix and add it to your frying pan. Using your spoon, shape it a little bit, make it a little more tidy. Pat lightly on the top to flatten slightly. Add the same way 2-3 more patties in the pan and fry for 3-5 minutes, until both sides are golden and lightly crispy.

Transfer to a dish lined with paper towels. Repeat the same process until all of the fritters are ready.

Mix all the sauce ingredients in a bowl and serve with tomato fritters for immediate consumption!

FYI, these fritters taste great in room temperature as well. Enjoy!
Did you like this recipe?
Mention @thegreekfoodie__ or tag #thegreekfoodie__