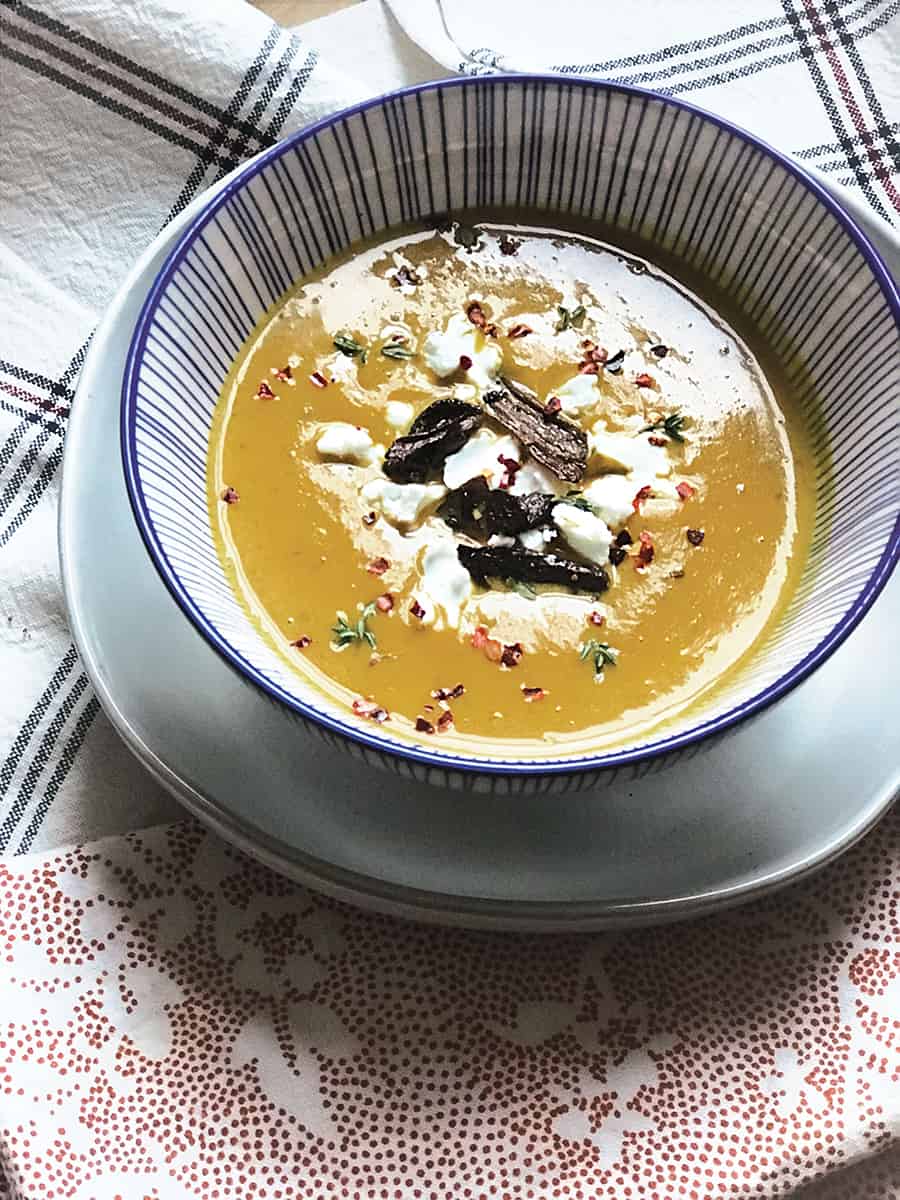 This red kabocha soup with porcini mushrooms, a touch of goat cheese & chili pepper flakes has layers of flavor that leave you satisfied & pleasantly surprised.
Is there anything more comforting and heartwarming than a great bowl of soup on a cold day? As a kid I didn't appreciate the power soup had on my soul. But as an adult I find that it can be magical. Soup can feel like a hug if you need one, a bowl of happiness reassuring us all that the world is just fine and we will survive it all.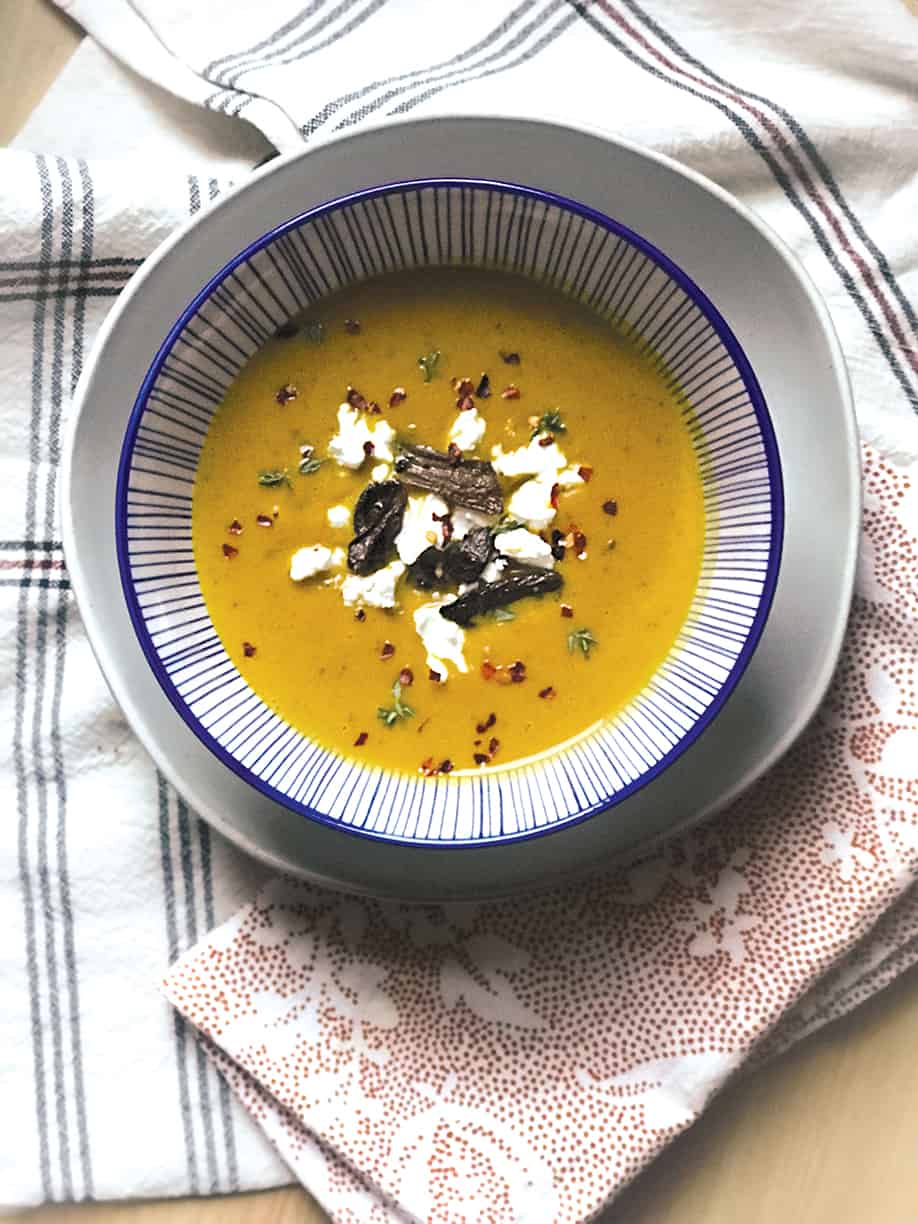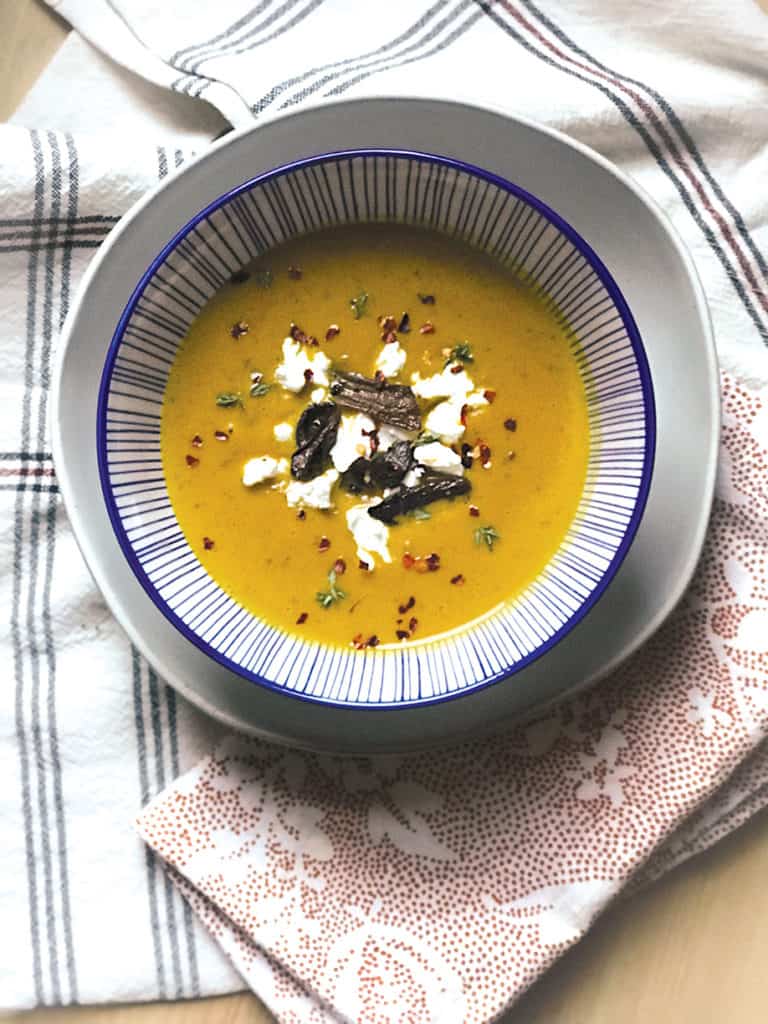 I might sound romantic but in every movie I watch the heroine is comforted by a warm bowl of soup after a day of challenging ordeals. Check it out if you don't believe me. Yes, might be exaggerating a little but you get where I am going with this. My mother made chicken soup from scratch every time I was ill. I get a bowl for lunch on a difficult day at work. Think about it, soup is calming and can be deliciously sophisticated if you want too.
Red kabocha is like the queen of squash. The rich, earthy flavor translates perfectly in a soup. This particular one ticks all the boxes for me and more. The use of porcini broth and the finishing touches of goat cheese with red chili pepper flakes creates layers of flavor that leaves you satisfied and also pleasantly surprised.
Print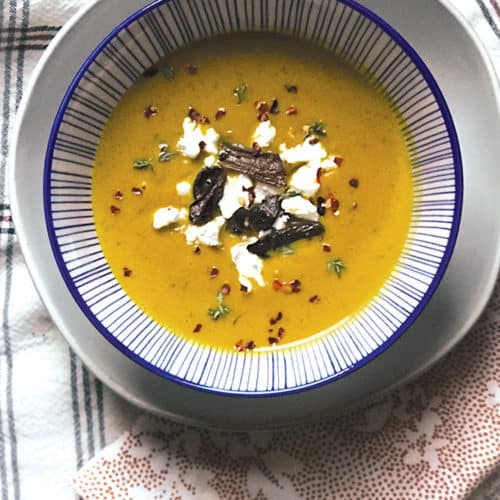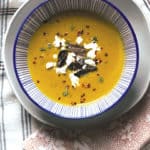 Red kabocha soup with porcini mushrooms
Author:

Prep Time:

15 minutes

Cook Time:

45 minutes

Total Time:

60 minutes

Category:

Appetizer, Main Course
---
Description
An absolutely delicious and heartwarming soup with kabocha squash and porcini mushrooms.
---
Scale
Ingredients
1

red kabocha squash (my squash made

3.5 cup

s when roasted.)

1/2 cup

olive oil

2

–

3

sprigs rosemary

2

–

3

sprigs sage

2

–

3

sprigs thyme

1 oz

bag of dried porcini mushrooms

1/2 cup

heavy cream

1.5 cup

s organic chicken broth (You can use veggie broth if you prefer.)
For serving
2

–

3

tbsp goat cheese crumbled (Or more, it's up to you :-))

1 tbsp

red chilli pepper flakes
---
Instructions
Roast the squash:
Preheat oven to 400°F. Use a heavy chef's knife or cleaver and cut the kabocha squash in half. Scoop out the seeds. Continue cutting into a few large pieces. Make sure the squash is stable on your cutting board before you start to cut it.
Carefully and slowly start removing the skin with your knife. (If it is too challenging you can roast the squash for 20 min until it softens a bit and try again.
Place the squash pieces in a bowl, add 2 tbs olive oil, salt and pepper. On a parchment paper lined roasting pan scatter around the thyme, sage and rosemary sprigs. Place the squash on top and mix gently everything together. Cover pan with aluminum foil and roast for 30 min. Uncover and roast for another 15 min or until completely cooked through, soft, and caramelized at the edges. Remove from oven and let it cool.
Meanwhile prepare the porcini mushrooms
Place the dried mushrooms in a medium bowl. Fill with hot water and let them sit for 20 min.
Remove mushrooms from the broth. Set broth aside.
Dry the mushrooms as much as you can using a kitchen towel. Roughly cut them in small pieces.
In a large pot, heat 2 tbs olive oil. Add the mushrooms, season with salt and pepper and sauté for a few minutes, until edges are crispy. Remove from pot and set aside. You will need the mushrooms later for serving.
Make the soup
In the same pot, add the squash, 1.5 cups of the mushroom broth, 1.5 cups of the chicken broth, 1 sprig of sage, rosemary and thyme. Simmer for about 20 min.
Transfer the squash in the blender, and all the liquids. Discard the herb sprigs. It's ok if a few leaves are left over. Blend everything together. Add 1/2 cup heavy cream and blend again. Transfers blended soup to a medium pot.
You can use an immersion hand blender to make the soup, I just used my regular blender.
Adjust salt and pepper to taste. Serve warm in bowls with a sprinkle or two of goat cheese, 3-4 porcini mushroom pieces and a sprinkle of red chili pepper flakes. Enjoy!
---