This homemade traditional Greek pork gyros is the real deal and better than anything you can get at a restaurant. Brined, then marinated, and cooked on a vertical rotisserie in the oven, it would also be perfect for the grill. The crispy yet tender gyros is served with warm pita, tomatoes, tzatziki, fries, or anything you like, is a delicacy not to be missed.
If you love this Homemade traditional Greek Pork Gyro, you will also love these Pork Skewers With Yogurt Lemon Sauce, Chicken Skewers Orzo Bowls with Lemon or Bifteki-The Greek Burger!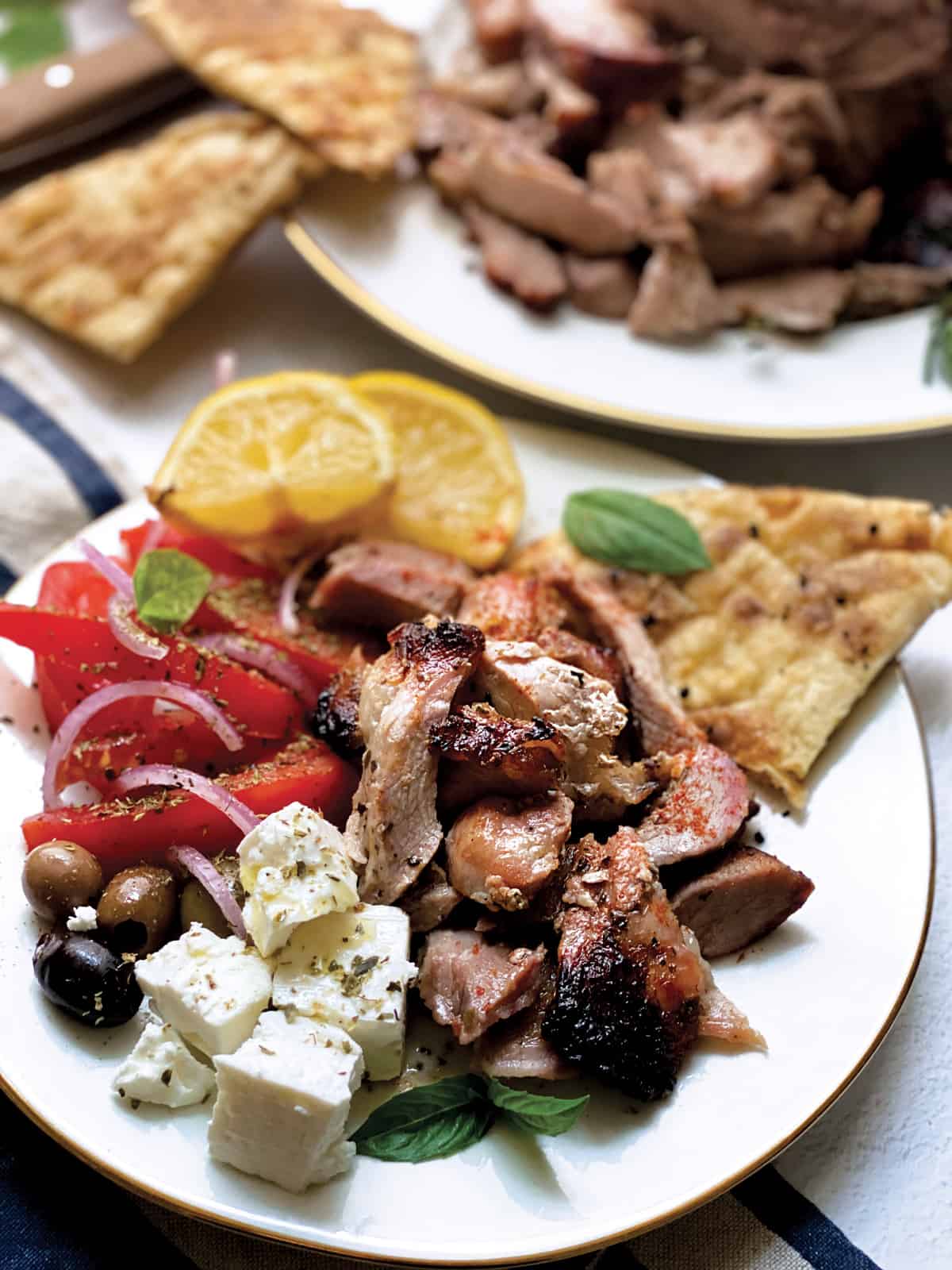 Why this recipe sings
It is a well-known fact I make souvlaki every time I feel homesick. It is also my most requested dish every time we have guests. I make versions with chicken and pork, wrapped in homemade pitas, and served with lots of veggies, sauces, and fries.
I was on a quest to make authentic traditional Greek pork gyro on a vertical rotisserie. Lacking the outdoor grill, I found a relatively small vertical rotisserie I could use in my oven. It took a few tries to perfect this recipe. Lots of cuts of meat went on that rotisserie, and Daryl had to sample my homemade gyros versions daily for a week. He was not complaining; he is, after all, my trusted recipe tester but let's say he had had enough of my gyro escapades. I consulted my butcher for what cut would be perfect for traditional Greek pork gyros at home. We tried various combinations, and the perfect Greek gyros is finally here. It was a major win to perfect the tenderness of the salty, crispy meat that is such a popular delicious food back home in Greece.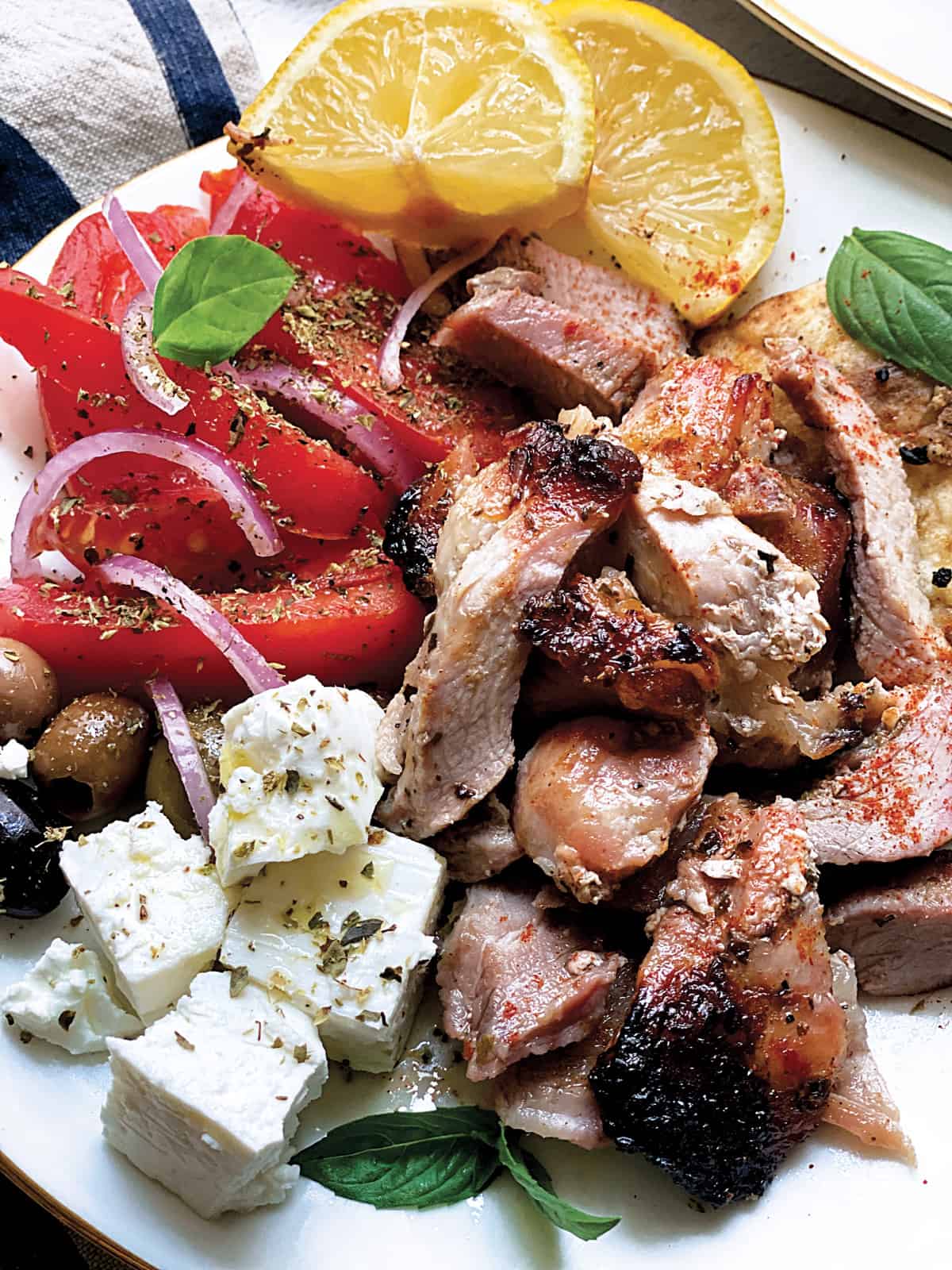 What is gyro meat made of
Traditional Greek gyros is prepared mainly with pork or chicken on a vertical metal spit turning around its axis, cooking with the fire on one side. The cooked meat is cut vertically with a sharp knife into small pieces and wrapped in pita bread with sliced tomatoes, onions, and tzatziki sauce. We call it gyros pita. It is also served on a platter paired with the same ingredients.
Lebanese shawarma and Mexican tacos al pastor are all similar to gyros. All are descended from the Turkish döner kebab (from Turkish dönmek = I turn) created in the city of Bursa in the mid-19th century.
Doner kebab consists of lamb, beef, or chicken; however, a variation with pork prevailed in Greece. At first in Greece, the gyros were called doner (or doner kebab), but in the early 1970s, the Greek term "gyros" (from the Greek word γύρος gyros, 'circle' or 'turn') was adopted.
The Greek-American version of gyros is like doner kebab.
How to make pork gyros at home
To make a great traditional Greek gyro, the meat must be tender and not be too lean. The fat adds so much flavor and also gets crispy and delicious. A lean cut with no fat will produce a dry, tough gyro.
The best combination is pork shoulder cutlets with some sliced pork belly.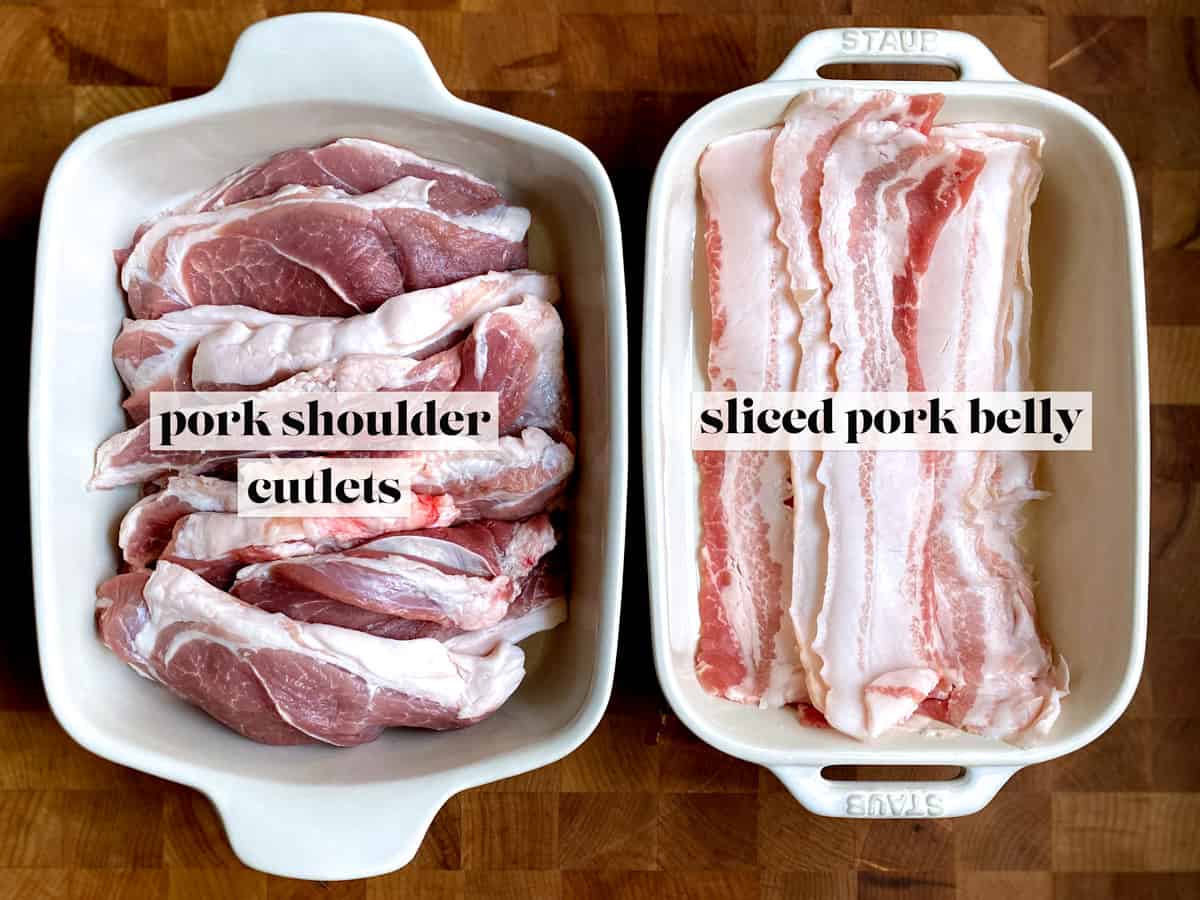 All the meat is brined for 24 hours. Then it marinates for a good amount of time before getting on the skewer. This preparation seems long, but it is easy and worth it. Trust me!
Brine
This is what you need for the brine*: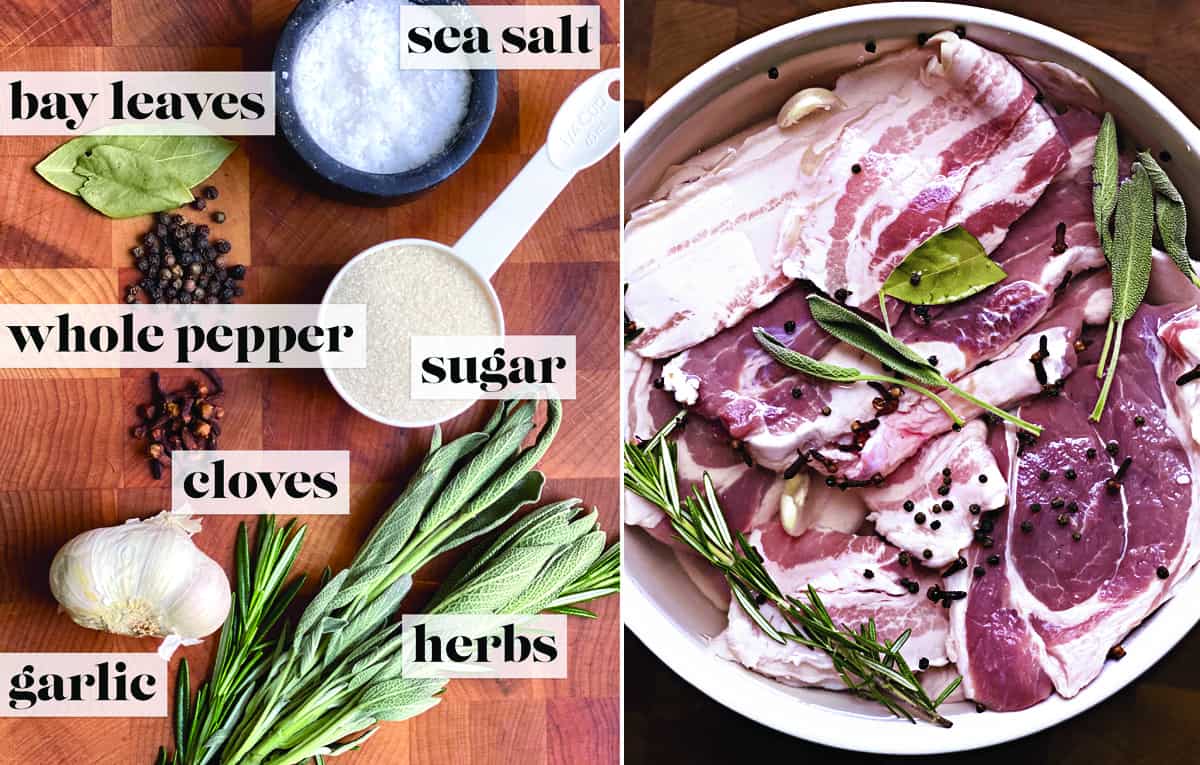 Fill a small saucepan with water.
Add the salt and sugar and simmer over medium-low heat for 3-4 minutes until the sugar and salt have diluted. Fill a large container with water and mix in the sugar/salt mixture. Stir well. Add all the other brine ingredients. Stir and add the meat. Make sure it is covered fully with water. Place in the fridge and brine the meat, if possible, for 24 hours. It will result in very tender, juicy meat.
Marinade
This is what you need for the marinade*: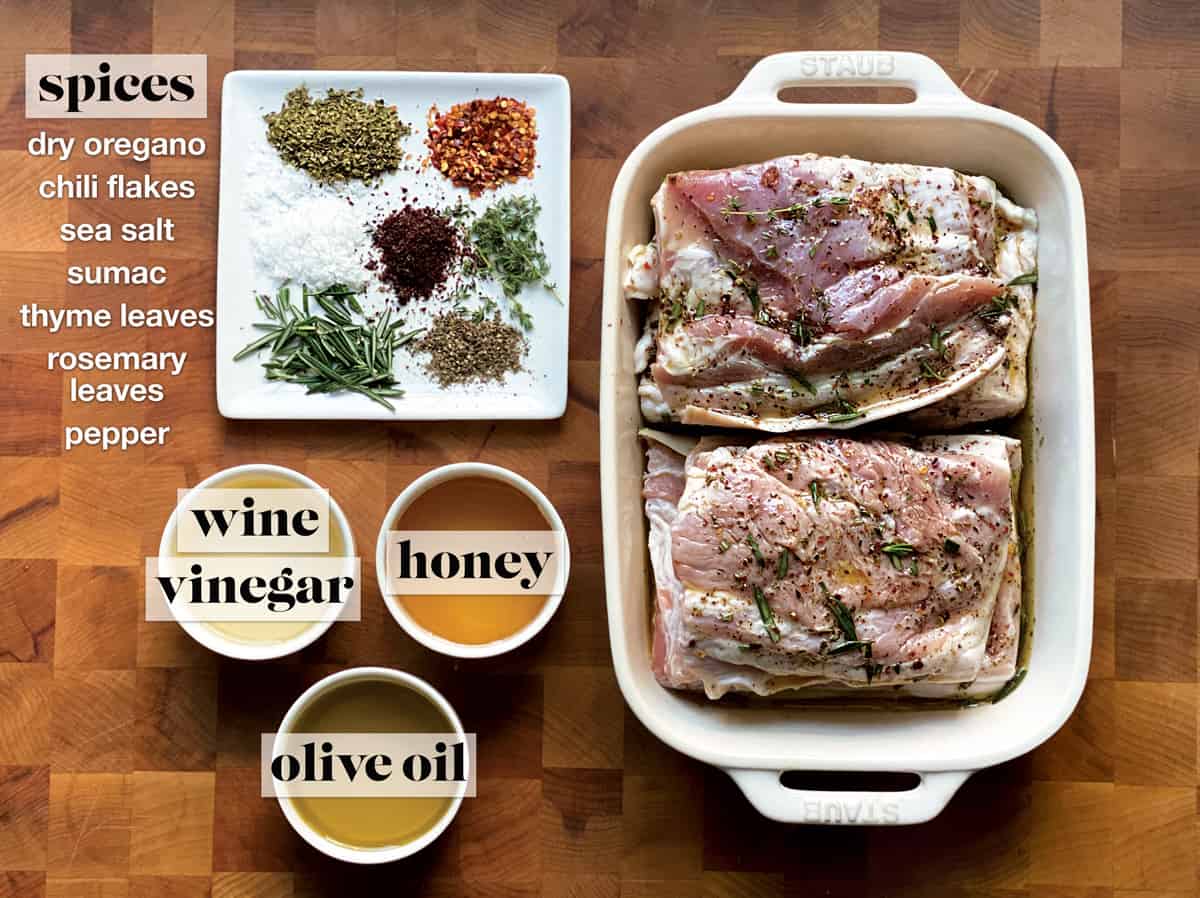 The marinade intensifies the gyro's taste and makes it very flavorful and aromatic. The longer you leave the meat in the marinade, the more it will absorb the seasonings. If you want to marinate meat quickly, use the vacuum-seal method. Get the right equipment; you can vacuum seal your meat and shorten the time you need to wait before cooking.
Mix all the ingredients together in a bowl. Make sure the honey is well-fixed with everything. Rub marinade on the meat, place it in the fridge, and marinate for 3 hours or overnight.
How to make it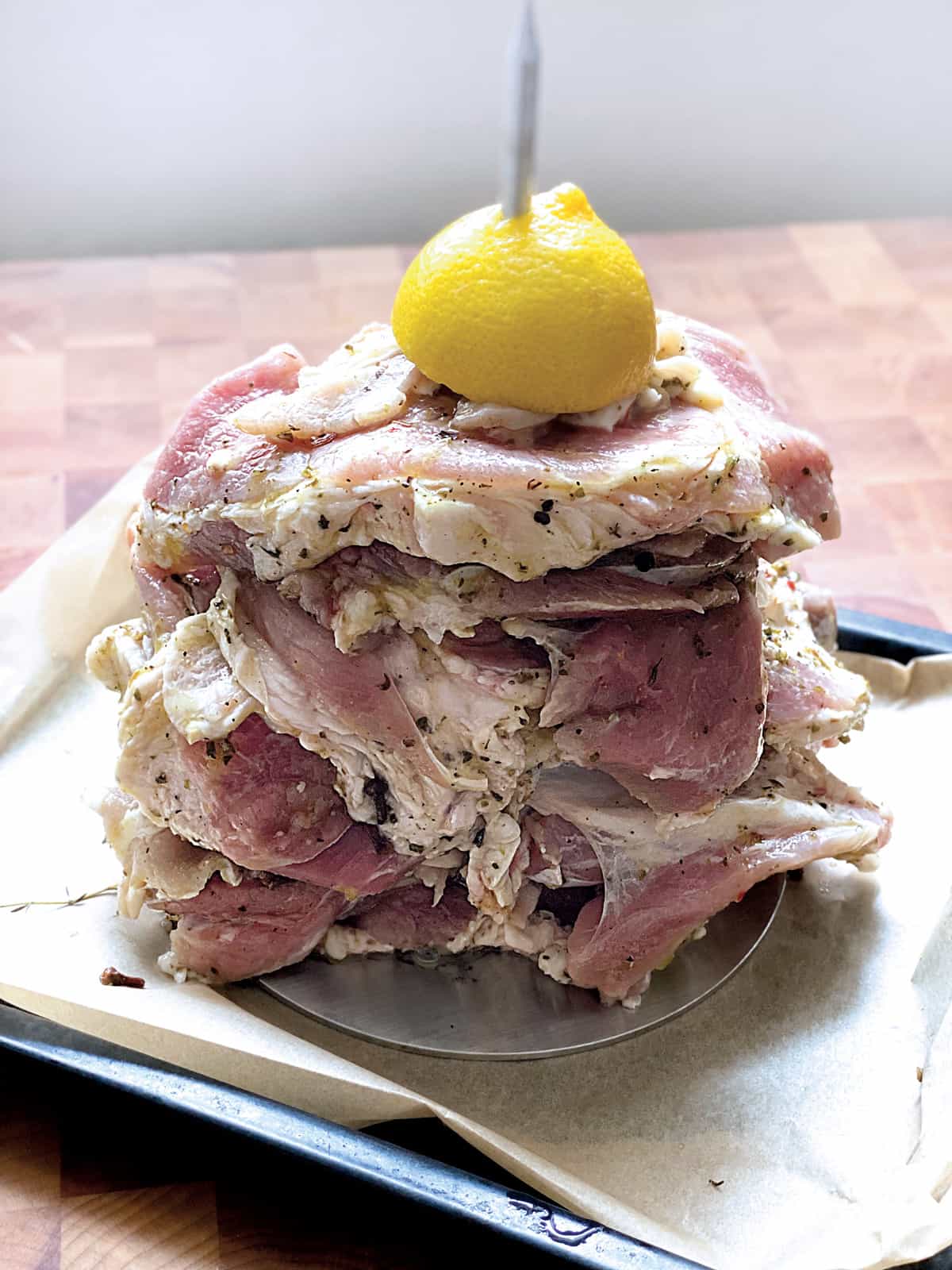 Preheat the oven to 350°F.
Place the vertical skewer on a baking sheet and stack the cutlets by piercing them in the middle. Cut the pork belly slices in half and place them in between the pork cutlets. Trim some fat from the pork belly if you feel it is too much. I concentrate on placing the more meaty parts of the pork belly slices on the skewer and trimming most of the fat. I leave just enough for crispiness and flavor. Otherwise, the gyros might be too fatty and rich.
Place on top half a lemon or half an onion—Cook in the oven for 1 hour and thirty minutes. Rotate the pan in the oven every half hour to cook evenly.
Let the gyro rest for 10-15 minutes. Using a sharp knife, slice/shave the gyros vertically to serve.
*Find the complete recipe with measurements below.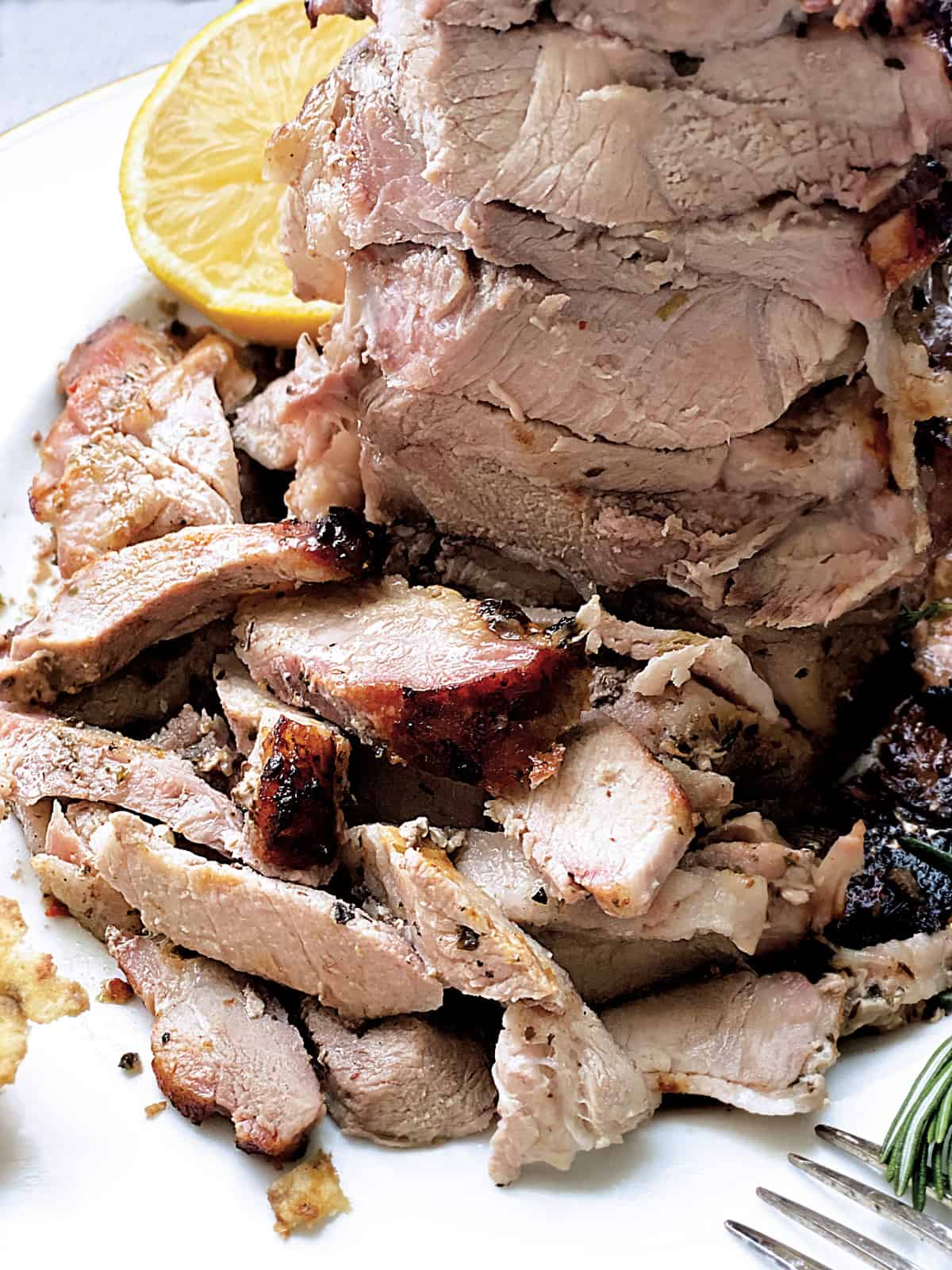 How to eat gyro
Serve gyro on a platter with a cut-up warm pita, sliced tomatoes, tzatziki, spicy whipped feta, olives, and lemon slices to squeeze for a bright note. Add a sprinkle of smoked paprika before serving.
You can also make gyros souvlaki. Brush a pita with a little olive oil and warm it on a cast iron or on a baking sheet in the oven. Place some gyro shavings in the middle of the pita. Add a generous tablespoon of sliced tomatoes, onions, and a tablespoon of tzatziki sauce. Check this souvlaki recipe for inspiration.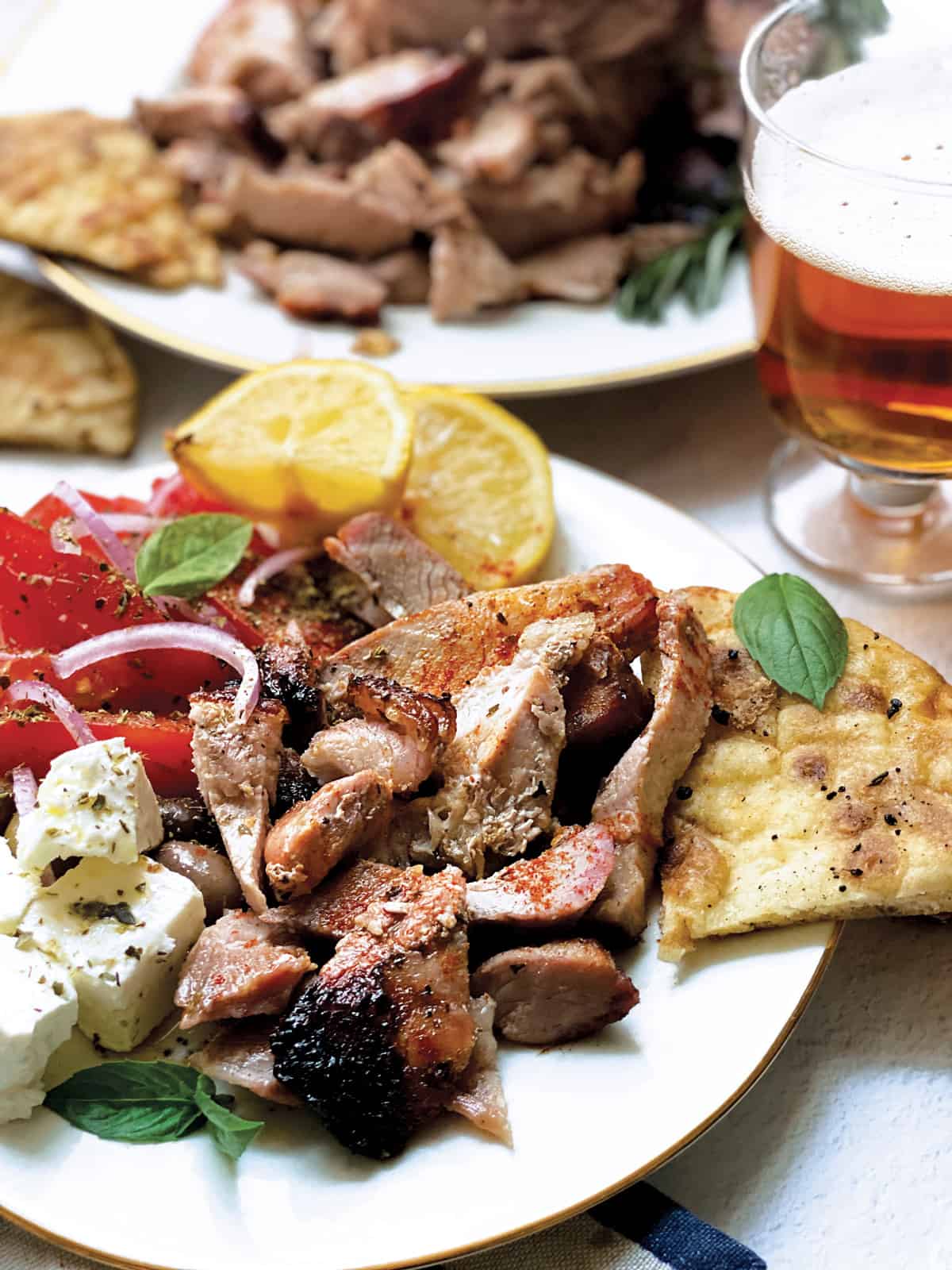 Tips and tricks
Some grills have rotisserie; you can use it for cooking the gyro there. Remember to set the rotisserie to rotate often to cook the gyro evenly.
You can improvise and make a vertical rotisserie of 3-4 wooden skewers. Stuck them on onion and lemon halves—stack the meat as directed and cook. The skewers will work great with terrific results.
You can also substitute chicken for pork. Use skinless, boneless thighs and skip the brine; marinate the chicken for 3-4 hours or overnight. Cook for 45 minutes, then check every 15 minutes with a meat grilling thermometer if the chicken has reached 165°F and juices run clear. Be careful not to overcook. Cover with aluminum foil if the edges are crisping up too quickly.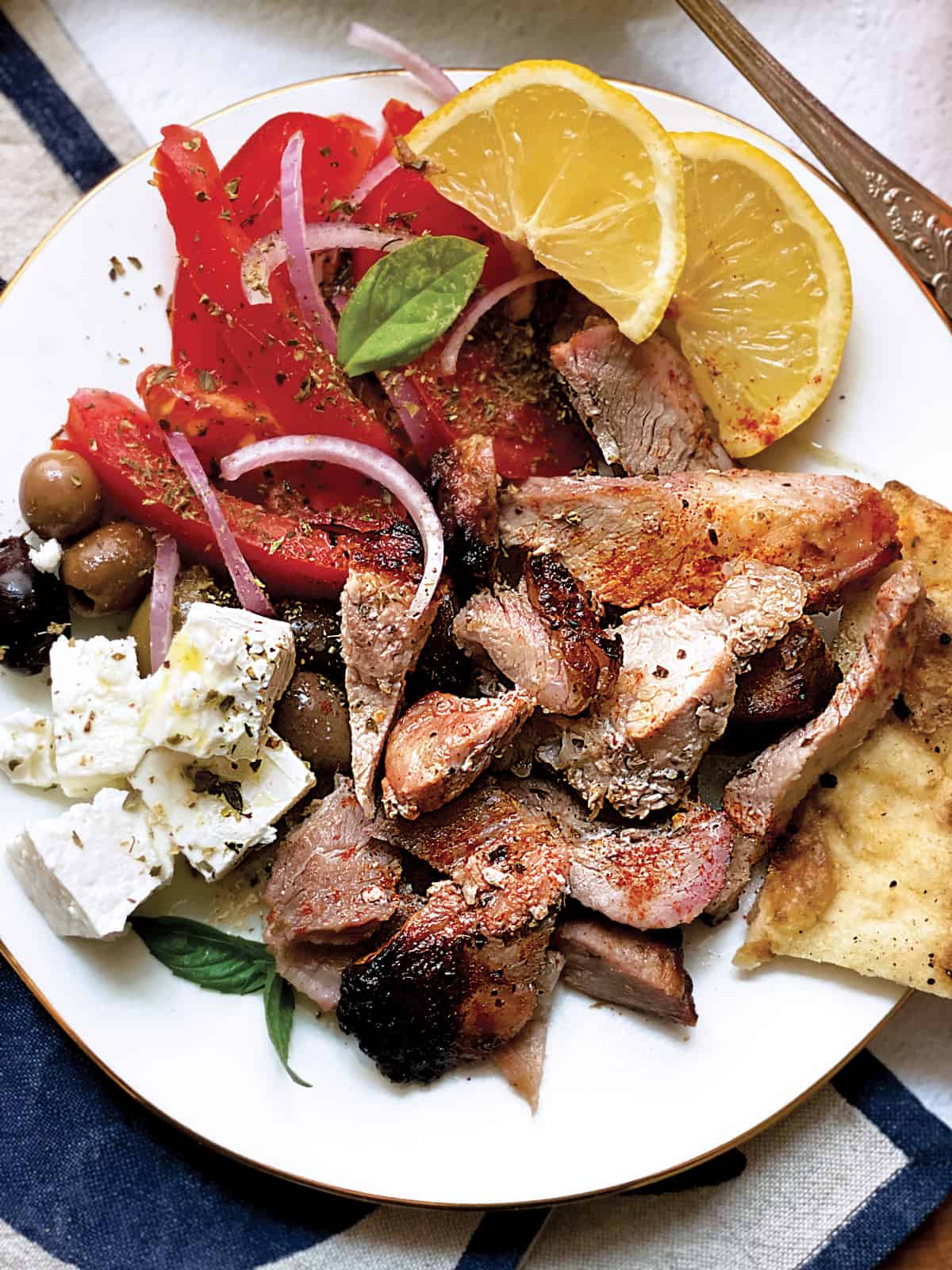 You may also like
Cooked this? Rate this recipe! You can also leave a comment below. I love hearing from you!
WANT TO EAT LIKE A GREEK? Subscribe to my newsletter and follow me on Facebook, Pinterest, and Instagram for all of the latest updates.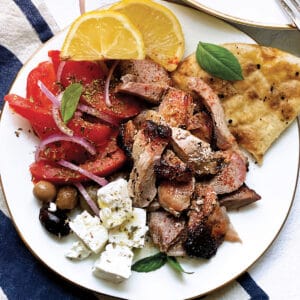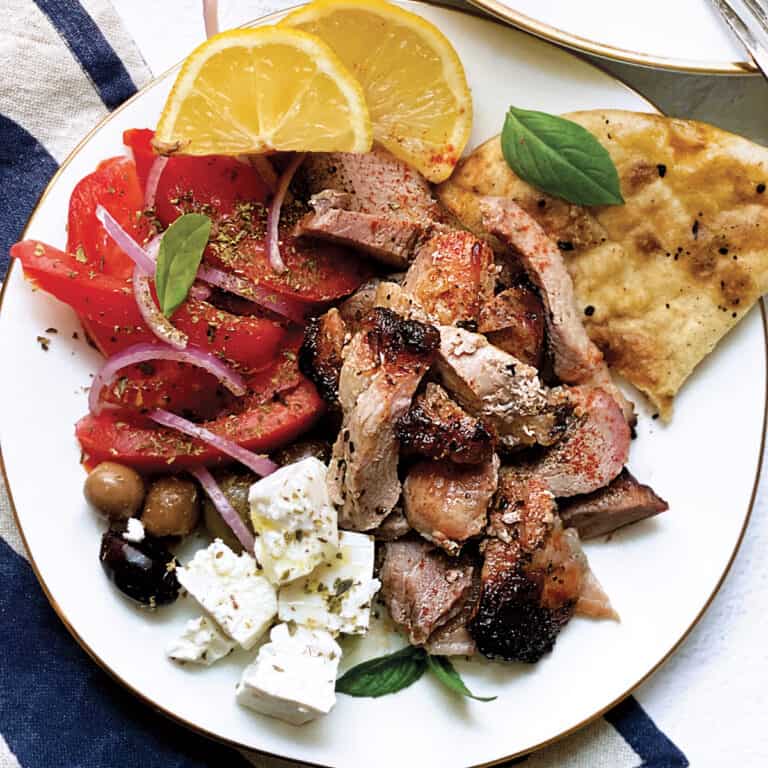 Homemade Traditional Greek Pork Gyros
This homemade traditional Greek pork gyros is the real deal and better than anything you can get at a restaurant. Brined, then marinated, and cooked on a vertical rotisserie in the oven, it would also be perfect for the grill.
Equipment
large baking pan

A vertical rotisserie

Rimmed baking sheet
Ingredients
The meat
4

lbs

pork shoulder cutlets

1

lb

pork belly

thinly sliced
For the brine
¼

cup

sea salt

¼

cup

brown sugar

1-2

bay leaves

1

tablespoon

whole peppercorns

2-3

fresh herb sprigs

Like sage and rosemary sprigs

3-4

cloves

4

garlic cloves

crushed
For the marinade
½

cup

extra virgin olive oil

2

tablespoons

white wine vinegar

1

tablespoon

honey

1

tablespoon

sumac

1

tablespoon

dry oregano

1

tablespoon

fresh ground pepper

1

teaspoon

chili flakes

2

teaspoons

sea salt

2

tablespoons

fresh herbs

roughly chopped, like fresh thyme, oregano, rosemary, sage
For serving
smoked paprika

optional

lemon slices

optional
Instructions
Brine the pork
For the brine, place the sugar, salt, in a sauce pan with a cup of water. Simmer on medium heat for 3-4 minutes until sugar and salt have dissolved.

Fill a large container or pot with the sugar-salt mixture and water. Add the bay leaves, peppercorns, cloves, garlic, and herbs. Stir well. Place the pork in the brine. Make sure it is fully immersed and cover with water. Chill overnight.
Marinate
Remove the meat add dry the pieces well with a paper towel.

In a bowl, mix ½ cup of olive oil, 1 tablespoon white wine vinegar, 1 tablespoon honey, 1 tablespoon dry oregano, 1 tablespoon sumac, 2 teaspoons sea salt, roughly chopped, like fresh thyme, oregano, rosemary, sage and some freshly ground pepper.

Place meat pieces in a pan and pour the marinade all over. Rub pieces with marinade. Let pork belly sit for 3 hours or overnight.
Roast
Preheat the oven to 350°F.

Pierce the pork pieces on the vertical rotisserie. Add the pork belly slices between the cutlets.

Add half a lemon on top or half an onion. Place meat on a rimmed baking sheet. Bake in the oven for 1 hour and 30 minutes. Turn pork around every 30 minutes to ensure even cooking.
Notes
Alternative cooking method
You can bake the gyro inside parchment paper, like kleftiko.
Use regular wooden skewers to pierce the pork cutlets and pork belly slices. Wrap gyro in parchment paper, secure it tightly with some twine and bake for one hour. Tear the parchment and place gyro on a rimmed baking sheet to finish cooking. Bake for 30 minutes, turning the gyro every 10 minutes to become crispy with a nice color. You can also use your broiler for 2-3 minutes on each side to crisp it up.
Nutritional Info – Please keep in mind that the nutritional information provided is only an estimate and can vary based on the products used.
Nutrition
Calories:
749
kcal
Carbohydrates:
12
g
Protein:
57
g
Fat:
51
g
Saturated Fat:
16
g
Polyunsaturated Fat:
6
g
Monounsaturated Fat:
27
g
Trans Fat:
1
g
Cholesterol:
191
mg
Sodium:
4252
mg
Potassium:
1060
mg
Fiber:
1
g
Sugar:
9
g
Vitamin A:
115
IU
Vitamin C:
9
mg
Calcium:
50
mg
Iron:
2
mg
Tried this recipe?
Mention @thegreekfoodie__ or tag #thegreekfoodie__