This classic Greek savory pie-Hortopita has creamy feta, and lots of greens wrapped in a flaky, buttery puff pastry crust. It is wonderfully fragrant, healthy, delicious, and really easy to make.
If you love this Greek Savory Pie, you will also love this Greek Spinach Pie-Spanakopita, Boureki–Potato & Zucchini Pie or No Crust Zucchini Pie-Kolokithopita!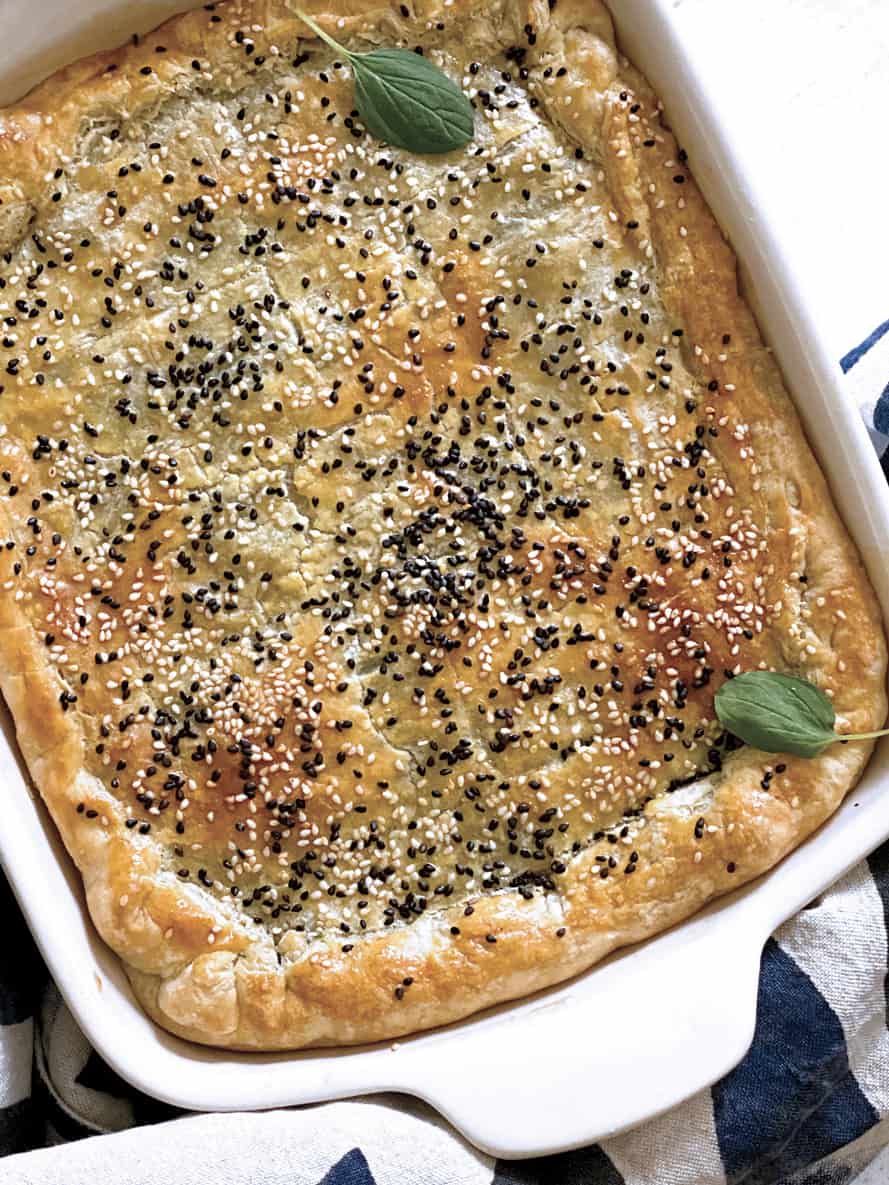 What is a hortopita
Hortopita-Greek savory pie with greens and feta goes all the way back to ancient times and is the rustic cousin of the famous savory pie spanakopita (Spinach Pie). Traditionally, it's made in spring and early summer with a pile of freshly gathered, tender wild greens and herbs.
There are various versions of a hortopita recipe. Basically, you use a variety of Horta (wild greens) combined with lots of herbs, feta cheese, and phyllo sheets to wrap it all up.
Horta are essential in the Greek everyday diet. Greek cooks steam them and serve them as a side dish with lemon juice and olive oil. They also use them as a filling for pies such as hortopita. Various aromatic greens/herbs like myronia (wild chervil), stamnagathi (wild chicory), and kafkalithres (Mediterranean hartwort) are abundant in Greece.
Some Greeks keep a knife and cloth bags stashed in their cars for a spontaneous gathering of greens while being at a rest stop on a mountainside or along the edge of a road in suburban Athens. The skill to identify local species of greens runs in their family for generations. They know how to distinguish the horta appropriate for cooking and eating from the hortaria (grass only suitable for consumption by animals).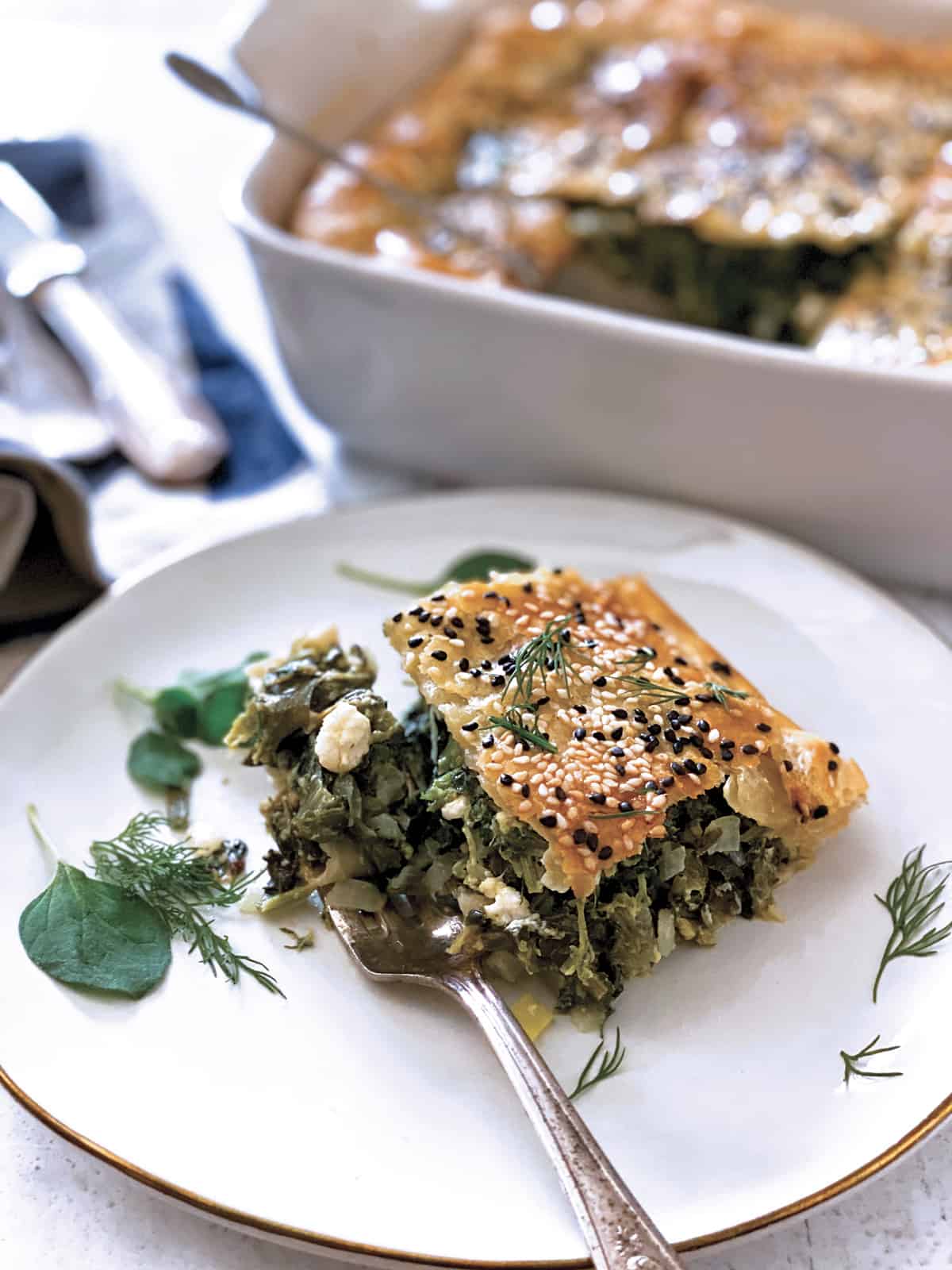 How to make hortopita
This savory pie is surprisingly easy to make and is impressive and delicious.
Choice of greens for this pie
Horta are also sold in every farmer's market in Greece. Unfortunately, they are difficult to find outside Greece or the Mediterranean. Hence, I do my best to use greens and herbs in most supermarkets and grocery stores outside of the Mediterranean.
For this pie you can use spinach, Swiss chard, dandelion greens, and mustard greens;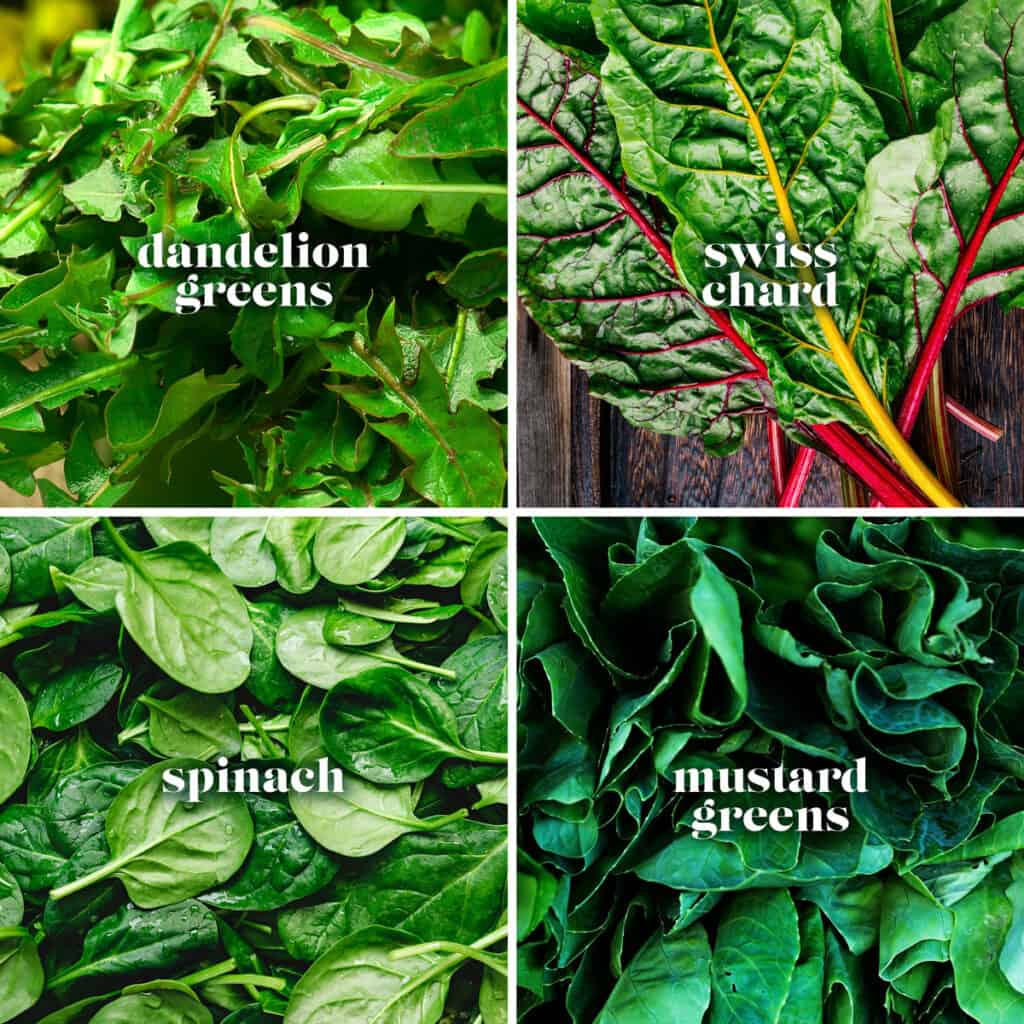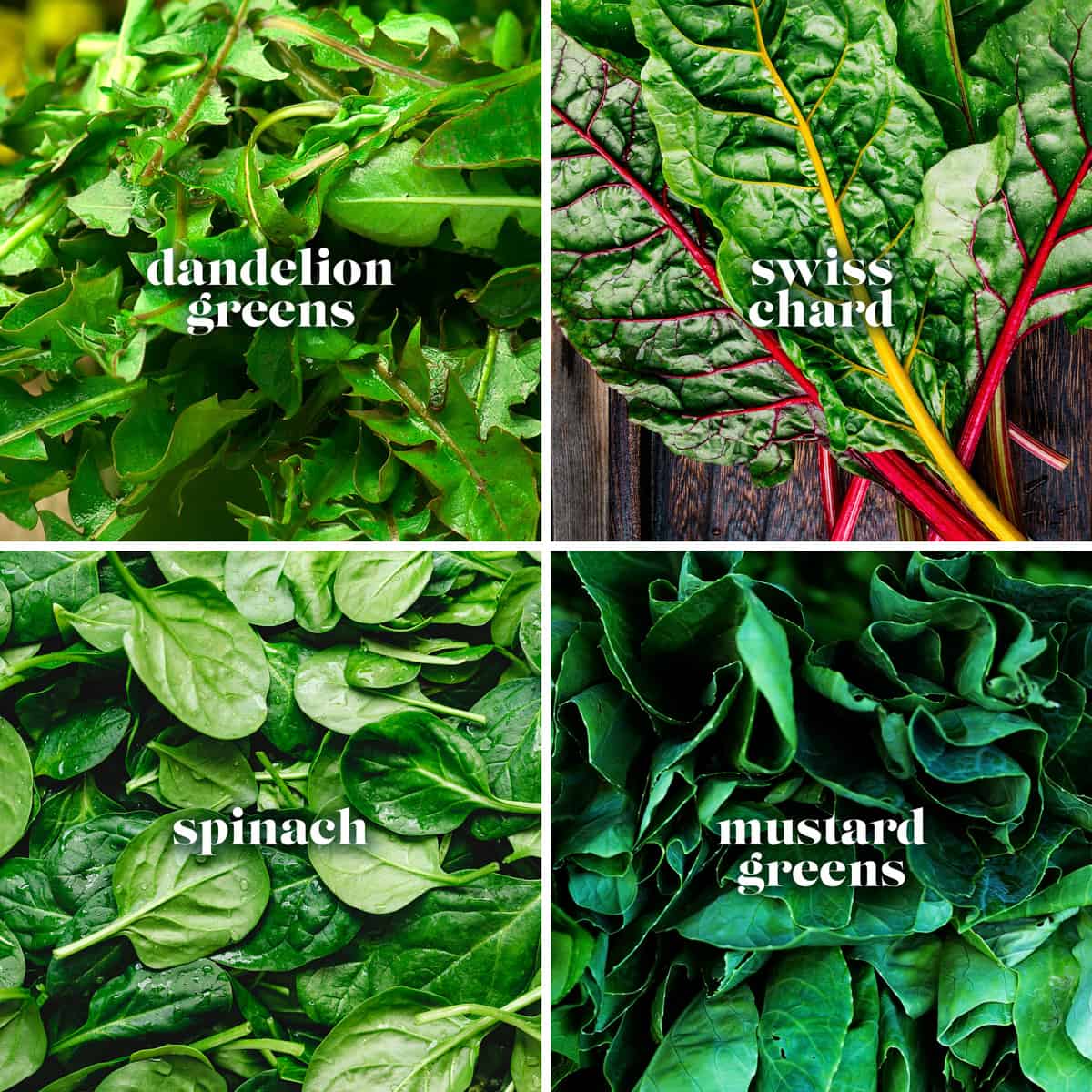 Greens how-to guide
Rinse greens well, dry them in a salad spinner or with kitchen towels.
Suppose you are using greens with long, strong stems such as swiss chard; thinly slice the stems. Chop the leaves.
Please see recipe card notes on preparing further when using other greens besides spinach.
I use the spinach as is in the recipe; It is soft and more delicate, so there is no need to prep it. I also occasionally use frozen spinach.
Other ingredients
Here is what else you need for this savory Greek pie.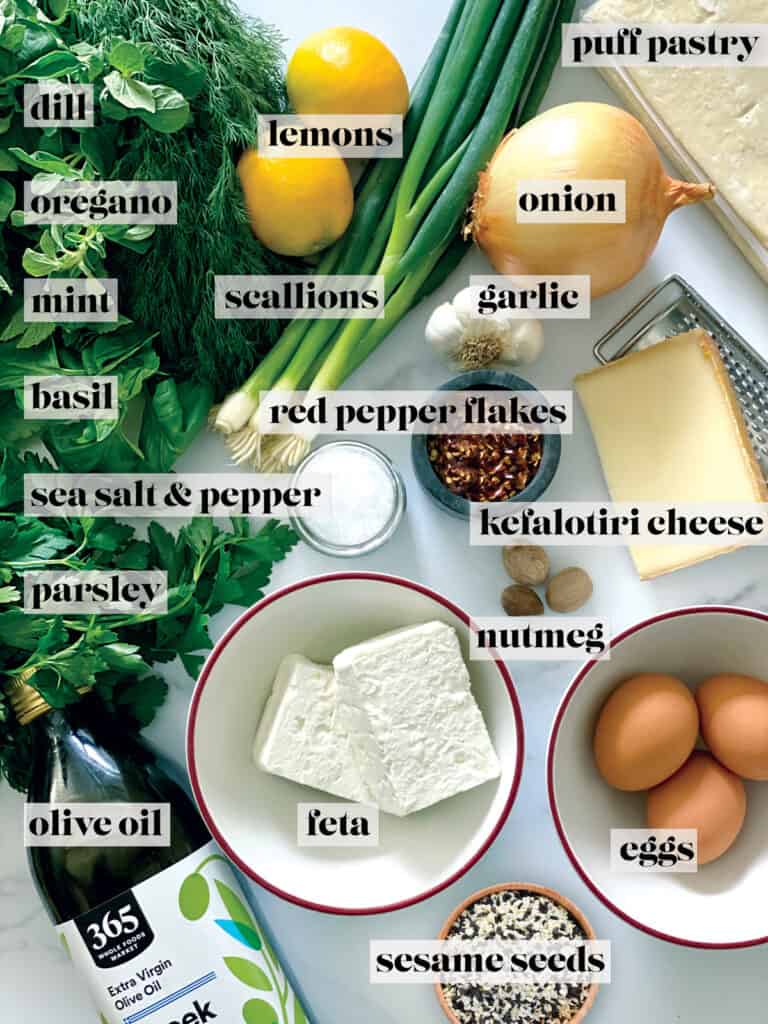 Detailed measurements and instructions can be found on the recipe card at the bottom of the page.
Greens. I used spinach in this post, but you can also use swiss chard, dandelions, and mustard greens; They are all good for this recipe. See the guide above on how to handle certain greens.
Greek Feta cheese. I usually buy a block and crumble it myself.
Kefalotiri cheese. This salty cheese is similar to pecorino romano.
Dill, mint, parsley, oregano, and basil. The variety of fresh herbs bring an unmissable taste to this savory pie. You can use as many or few as you like.
Onions and scallions. I love the sweetness of the onions and the slightly peppery flavor of the scallions.
Eggs. I needed to bind the filling together, as well as to make an eggwash to brush the pie before baking.
Garlic. A fabulous necessity to every Greek recipe!
Nutmeg. It gives warmth to the pie, and it is very aromatic.
Sea salt and freshly ground pepper. Essential seasoning 🙂
Lemons. The zest and juice give brightness to this pie.
Extra virgin olive oil. It could not be a Greek recipe without it!
Puff pastry*. Using it for this savory pie crust makes this recipe a breeze!
Sesame seeds. I love to sprinkle some blond and black sesame seeds on top; it gives a great color and effect. Totally optional.
* For this savory pie crust, I chose to use two puff pastry sheets for this pie. You can also use phyllo sheets if you prefer to make it even more traditional.
Make it vegan!
You can make this a vegan version without any cheese and egg. Pepperidge Farm Puff Pastry Sheets are vegan and okay to use in this recipe.
The vegan version of hortopita is also popular and is usually made during Greek-Orthodox Lent.
Step by step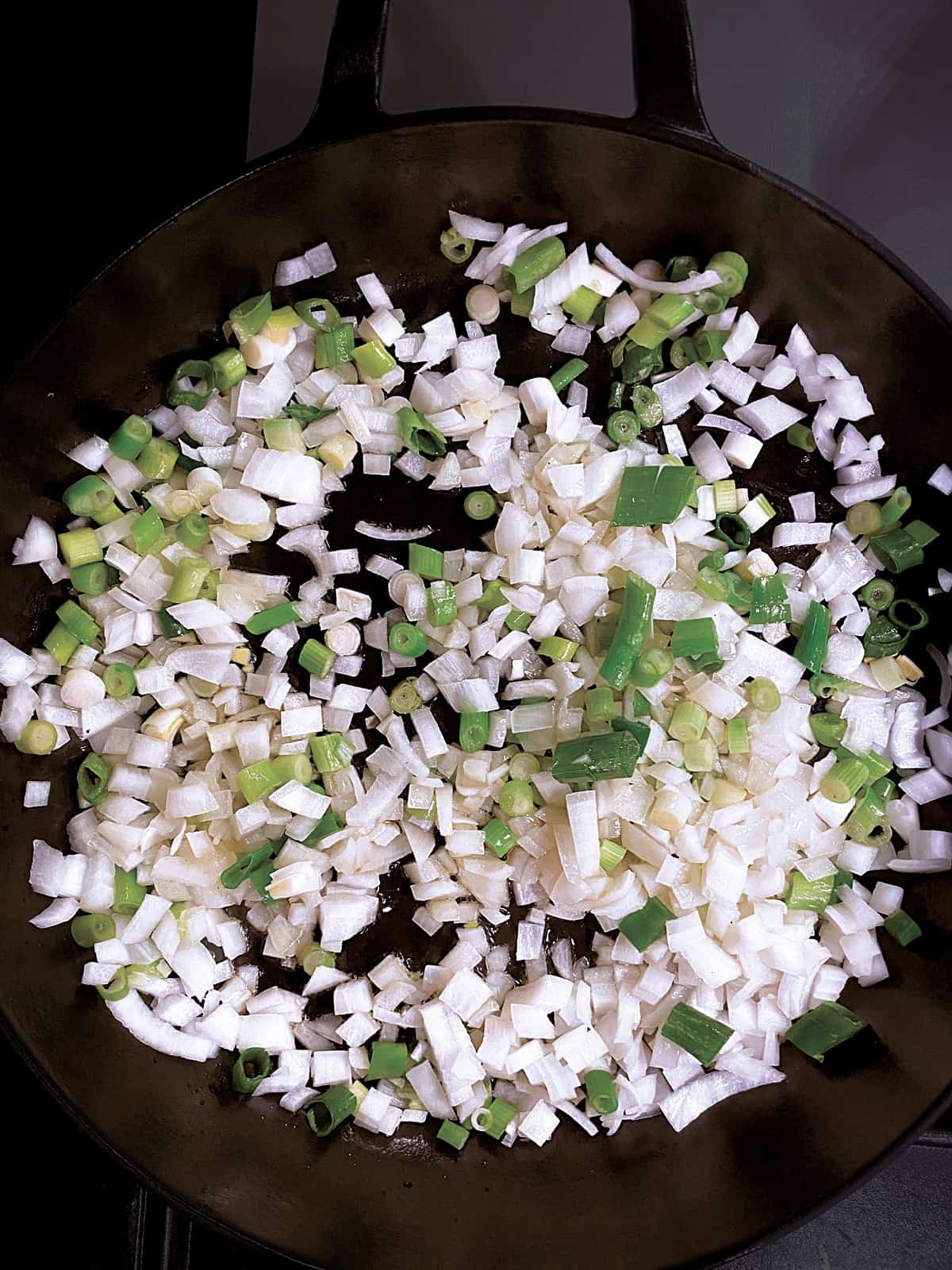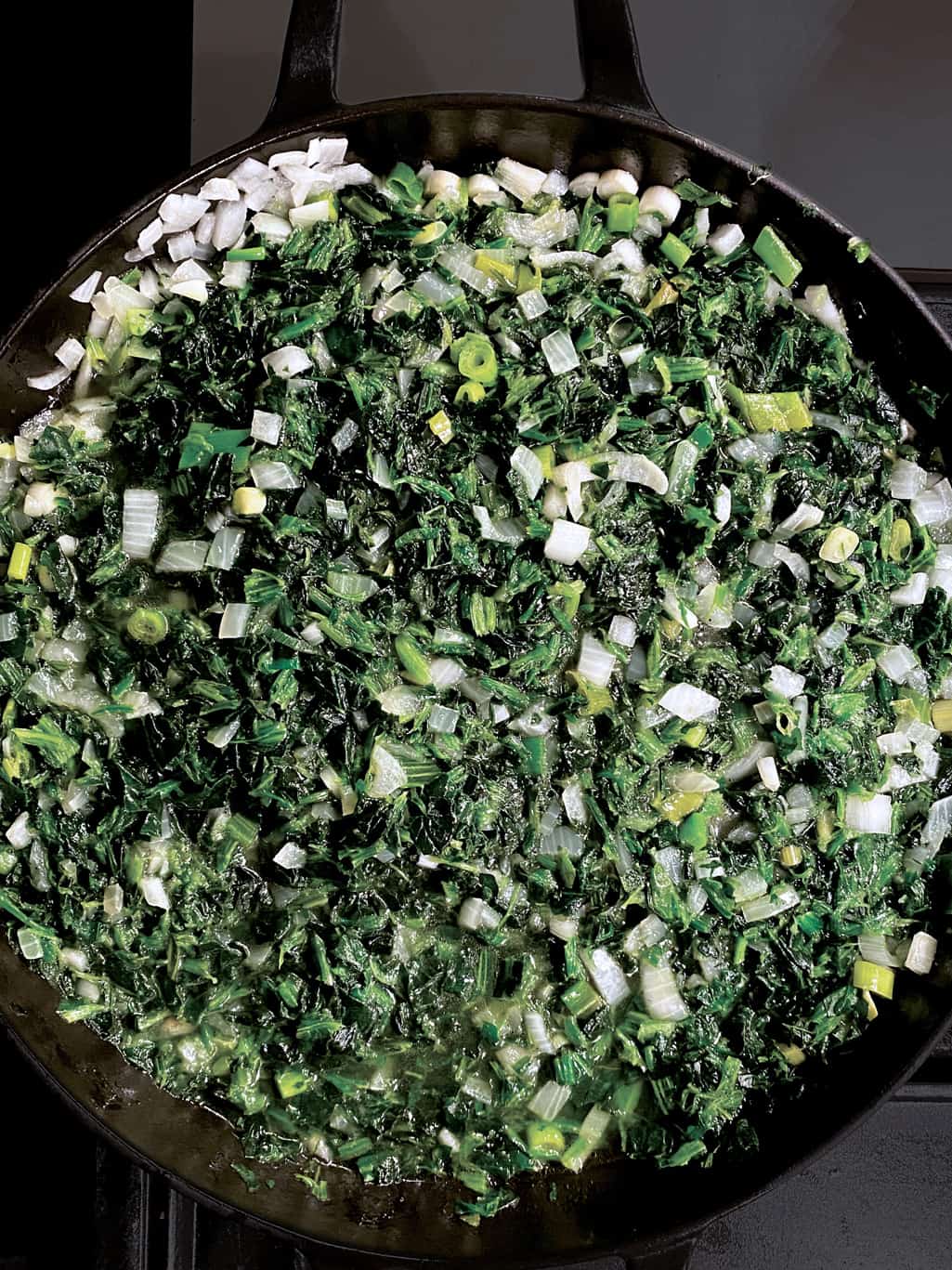 In a large skillet, I saute the onions and scallions for 3-4 minutes with 3 tablespoons of olive oil. I season with sea salt and freshly ground pepper.
The greens go in and I stir and saute everything for 4-5 more minutes.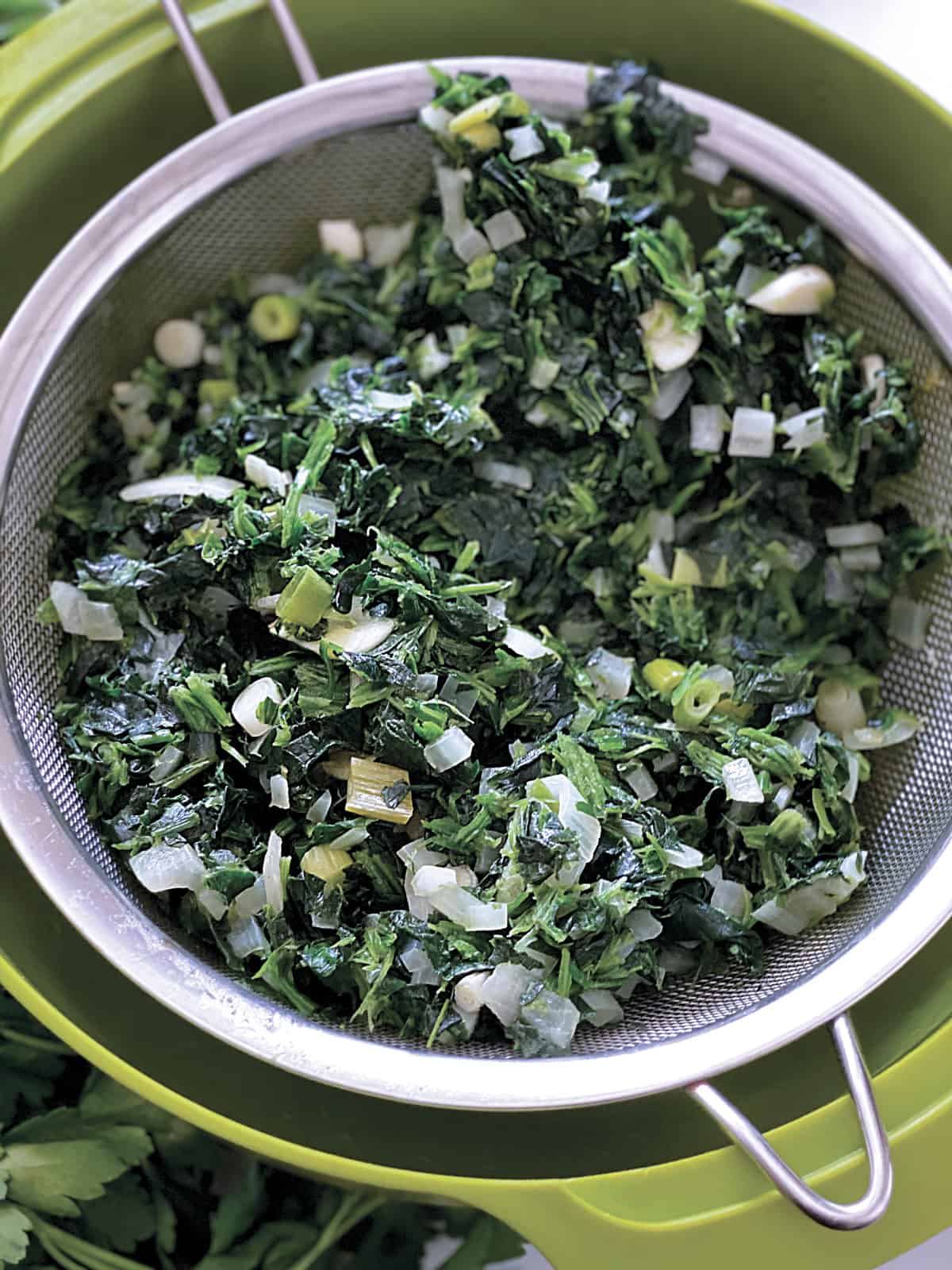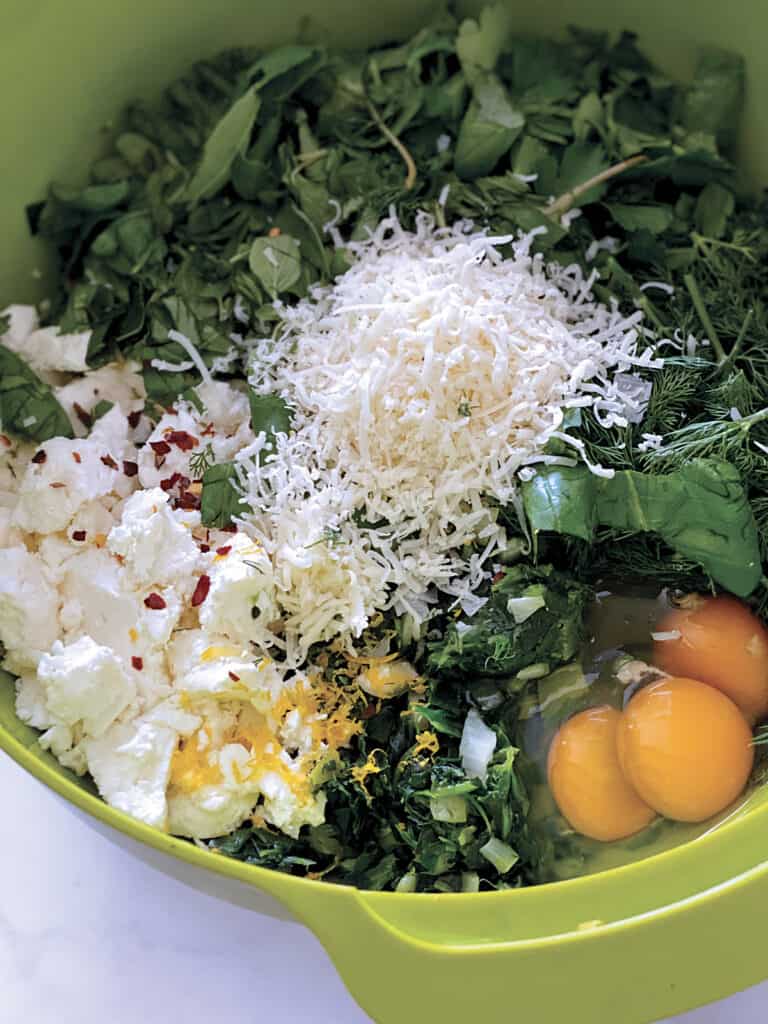 The greens mixture is transferred to a colander to drain the liquids.
After 10 minutes, I press it down with my hand to make sure most of the liquids have drained. I mix it with the crumbled feta, the grated kefalotiri, 3 eggs, the chopped-up herbs, some red pepper flakes, and sea salt and pepper.
The juice and zest of one lemon are added to the mixture and 3 tablespoons of olive oil.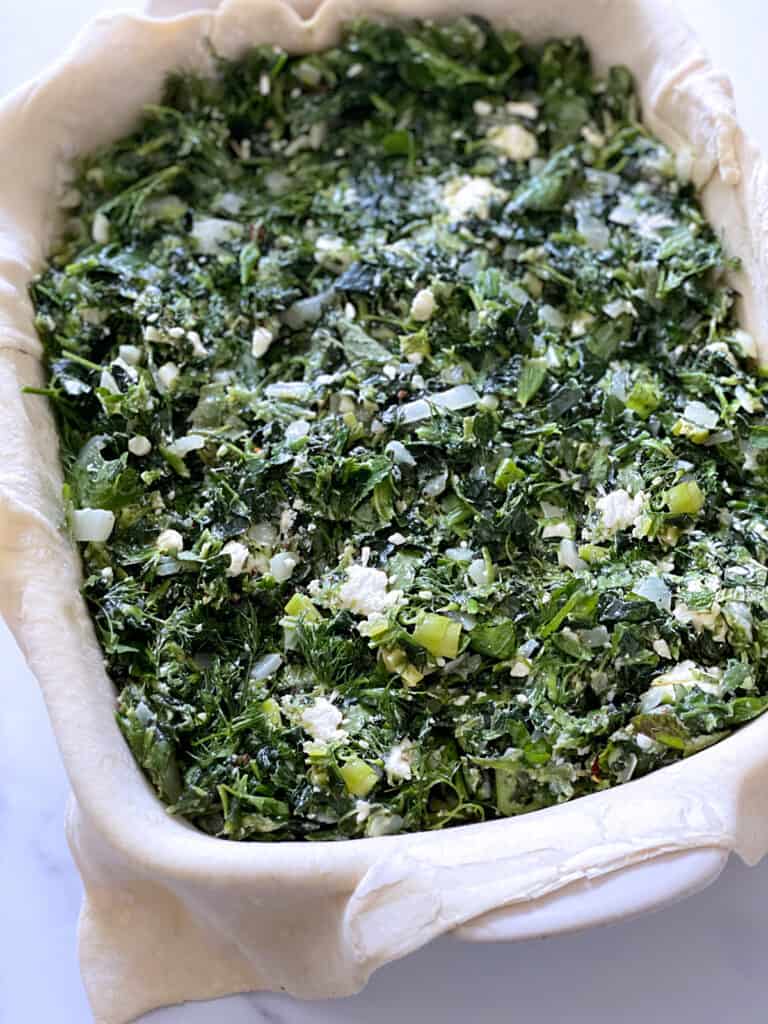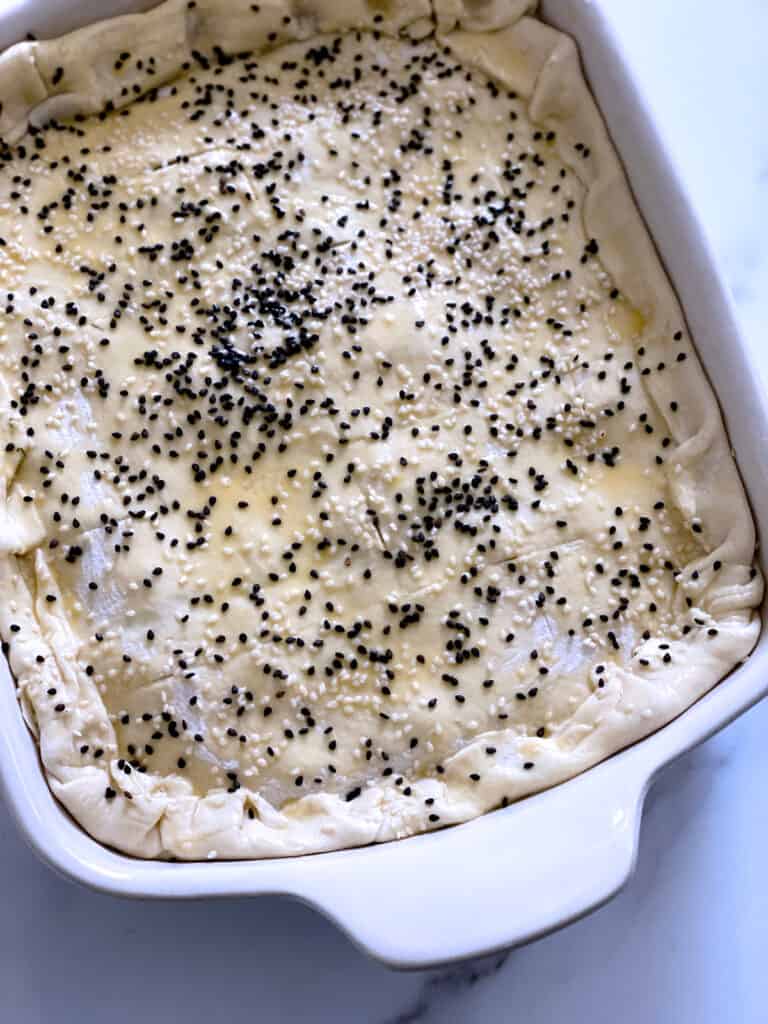 The puff pastry is usually smaller than my pan, so I roll it out to my pan's dimensions on a lightly floured surface.
One sheet of puff pastry goes to the bottom of the pan, the filling is added on top and is covered with another puff pastry sheet.
A little egg wash is brushed on the pastry, a sprinkle of sesame seeds, and the pie bakes for 60-70 minutes.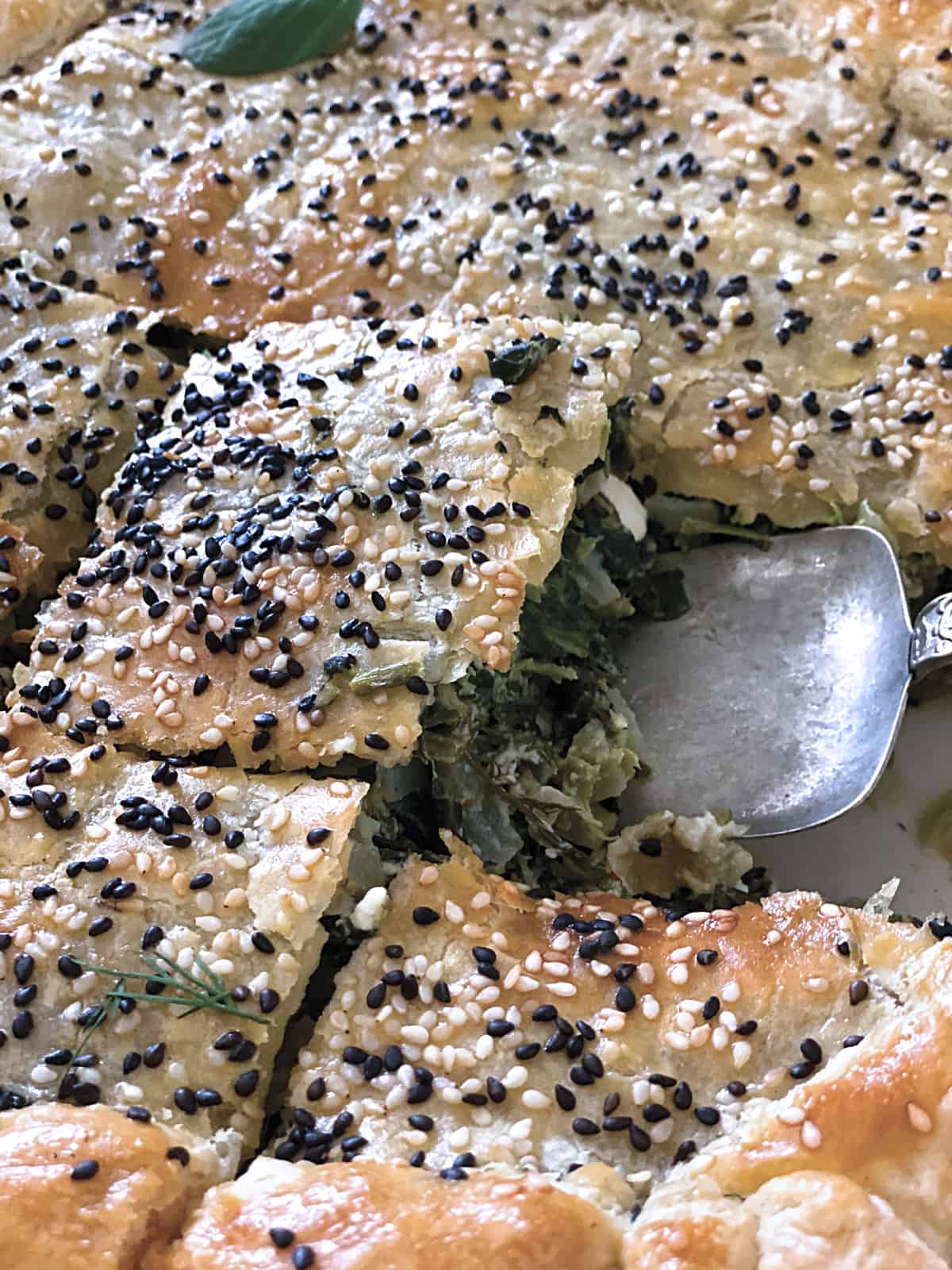 Hortopita helpful Q&A
What is kefalotiri cheese?
Kefalotyri or kefalotiri is a hard, salty white Greek cheese made from sheep milk or goat's milk. The color can vary between yellow and white, depending on the milk mixture used in the process.
It is a hard cheese and can be fried in olive oil for saganaki, added to pies, or grated over pasta. A great close substitute is Romano if kefalotyri cannot be found.
Is hortopita good for you?
This Greek savory pie has so many greens and extra virgin olive oil that make it both healthy and delicious. Greens are a big part of the Mediterranean diet with tremendous health benefits.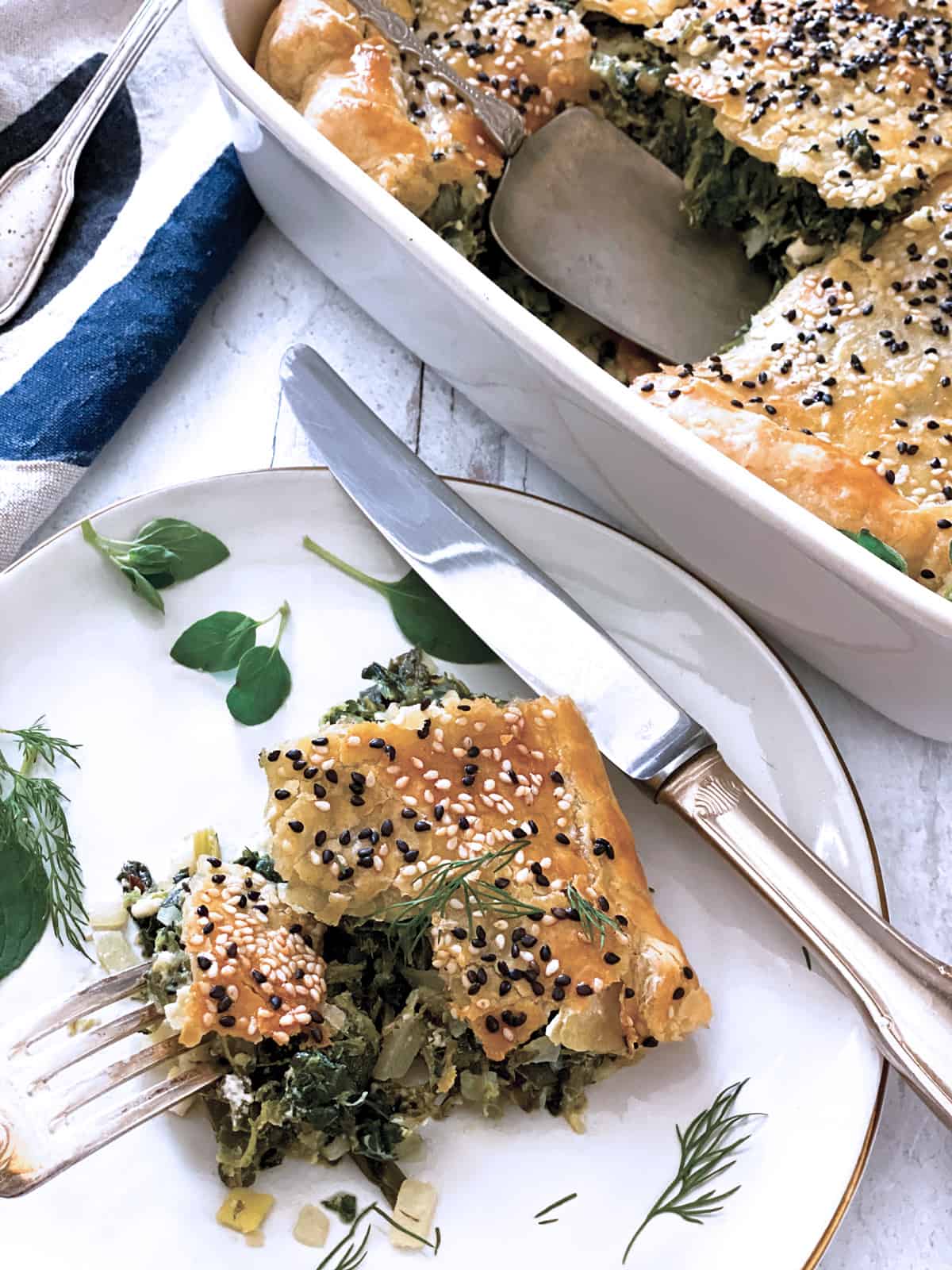 This pie can be served hot or warm.
I find that this pie will taste even better the next day.
Leftover hortopita can be refrigerated, covered, and then warmed, uncovered, in a preheated 350 F° oven until hot and crispy, about 15 minutes. You can also microwave it, but the crust will not get crispy, so reheating in the oven is recommended.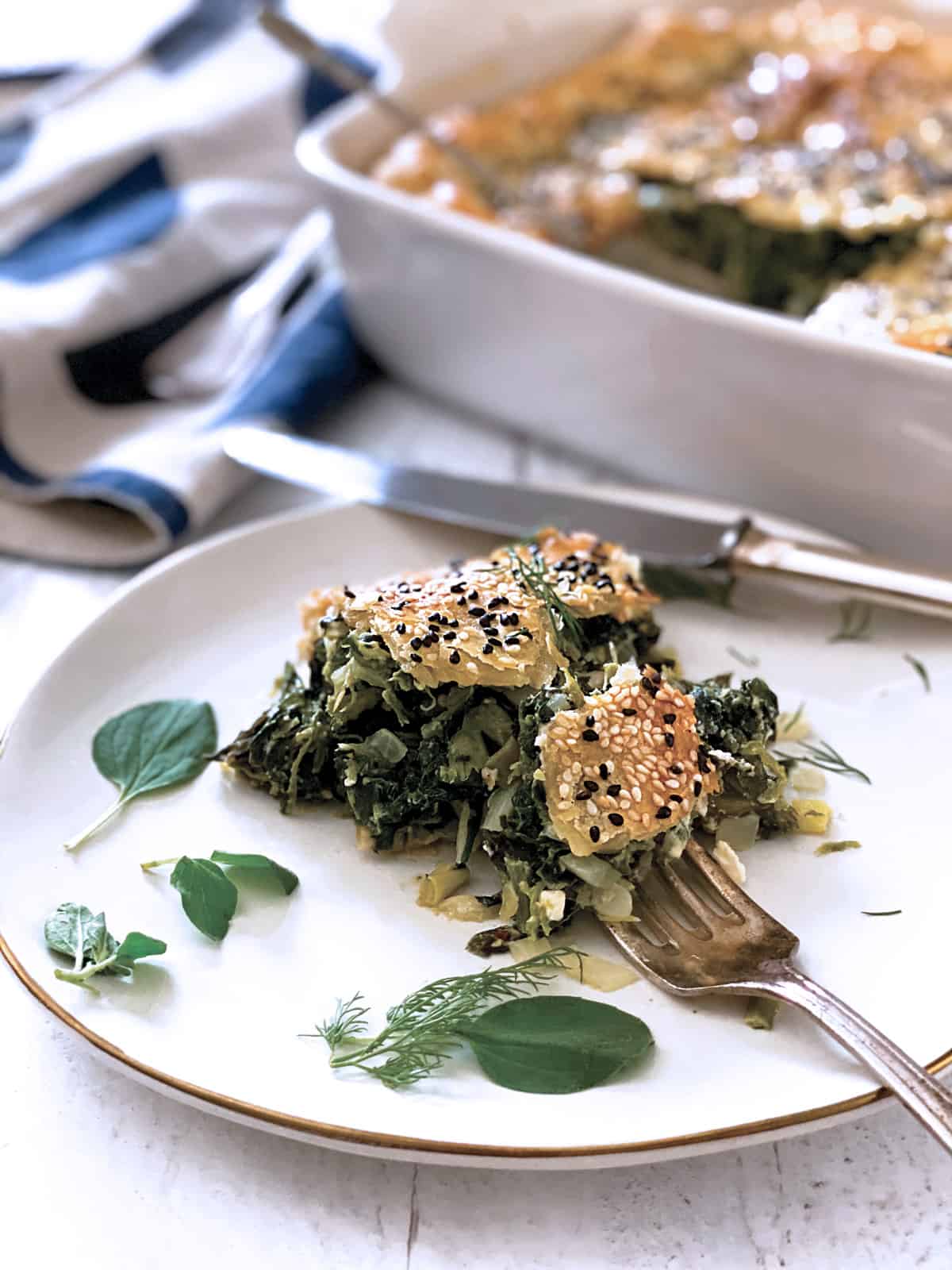 Cooked this? Rate this recipe! You can also leave a comment below. I love hearing from you!
WANT TO EAT LIKE A GREEK? Subscribe to my newsletter and follow me on Facebook, Pinterest, and Instagram for all of the latest updates.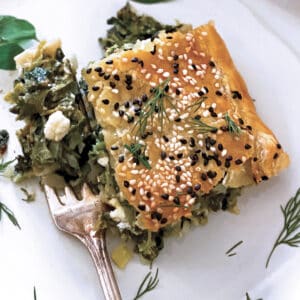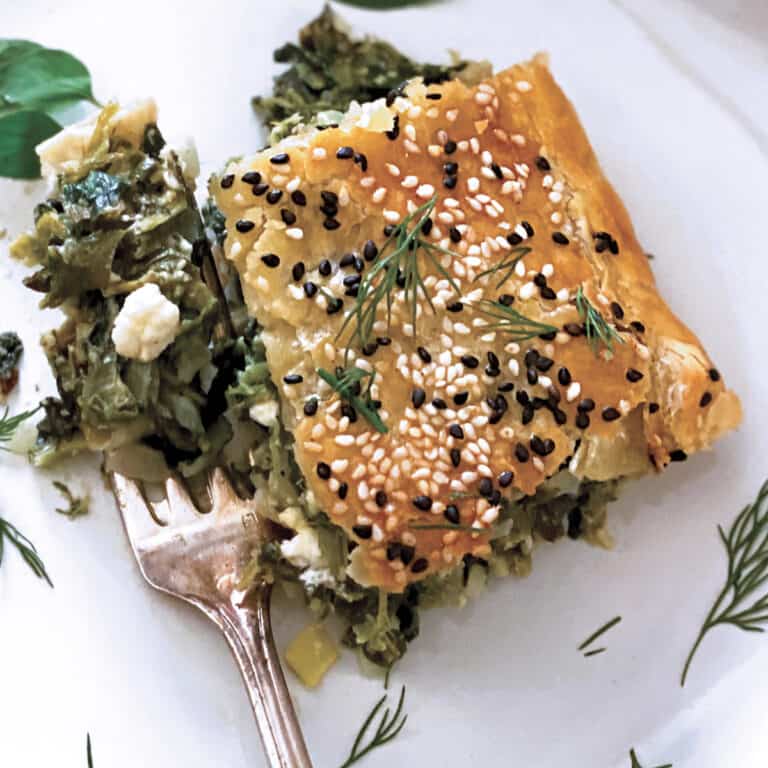 Greek Savory Pie with Greens and Feta – Hortopita
This classic Greek savory pie has lots of greens, creamy feta, gruyere, and a crisp, puff pastry crust.
Ingredients
3

lbs

greens

rinsed, spun dry, stems thinly sliced, and leaves chopped

6

scallions

white and green parts, sliced into ¼ inch pieces

1

onion

diced

½

bunch

flat-leaf parsley

coarsely chopped

1

bunch

fresh mint leaves

coarsely chopped

½

bunch

fresh dill

coarsely chopped

½

cup

fresh basil leaves

coarsely chopped

½

cup

fresh oregano

coarsely chopped

4

garlic cloves

minced

3

eggs

2

cups

Greek feta

crumbled into large, pea-sized pieces

1

cup

Kefalotiri cheese

grated

2

puff pastry sheets

6

tablespoons

extra virgin olive oil

divided

2

teaspoons

ground nutmeg

2

teaspoons

red pepper flakes

1

lemon

juiced and zested

sea salt

freshly ground pepper
For the egg wash
1

egg

beaten with 1 teaspoon of water
For the top
black and blond sesame seeds

optional
Instructions
Preheat the oven to 350° F

Heat 3 tablespoons cup of olive oil in a large skillet over medium heat.

Sauté the onions until they begin to soften, about 4 minutes, then add the scallions, cooking another 4 minutes or until tender but not browned. Season with a pinch of salt and freshly ground pepper.

Stir in the greens and garlic and continue to sauté until the greens are limp, about 4-5 minutes.

Remove from heat and transfer in a colander in the sink to cool and drain liquids.

Place the greens mixture in a large bowl and add three eggs, dill, basil, oregano, parsley, mint, and three tablespoons of olive oil—season with sea salt and freshly ground pepper. Add the red pepper flakes and nutmeg.

The juice and zest of one lemon are added to the mixture.

Thoroughly combine the ingredients and gently fold in the crumbled feta and kefalotiri, careful not to over-mix to where the cheese dissolves.

Lay one puff pastry sheet in the pan, allowing the edges to evenly hang over the pan's sides.

Place the greens mixture on top of the sheet and press down gently with the back of a large spoon to smooth the filling.

Layer the other pastry sheet on top.

Gently tuck the pastry hanging over the edges of the pan down into the sides of the dish.

Beat 1 egg with a teaspoon of water to make the egg wash.

Brush the egg wash all over the top of the pie. Gently score the puff pastry and sprinkle some black and blond sesame seeds (optional).

Bake the pie in the middle of the oven for approximately 60-70 minutes.

If the puff pastry browns too quickly, cover with aluminum foil and uncover the last 5-10 minutes of cooking.

After removing from the oven, let the pie rest for 20 minutes.
Notes
When using greens like swiss chard, dandelions, mustard greens because they are tougher, do the following:
Rinse greens well, dry them in a salad spinner or with kitchen towels.
Suppose you are using greens with long, strong stems such as swiss chard; thinly slice the stems. Chop the leaves.
Place the chopped greens in a microwave-safe bowl (no need to cover) and microwave for 3- 4 minutes or until wilted but still bright green.
Empty the greens into a colander and when cool enough, use your hands to squeeze out as much liquid as possible. Then proceed to saute with onions and garlic in olive oil.
Spinach does not need to be microwaved; it can be sauteed as is.
Nutritional Info – Please keep in mind that the nutritional information provided is only an estimate and can vary based on the products used.
Nutrition
Calories:
433
kcal
Carbohydrates:
26
g
Protein:
13
g
Fat:
31
g
Saturated Fat:
11
g
Trans Fat:
1
g
Cholesterol:
72
mg
Sodium:
535
mg
Potassium:
330
mg
Fiber:
2
g
Sugar:
2
g
Vitamin A:
1920
IU
Vitamin C:
37
mg
Calcium:
255
mg
Iron:
3
mg
Tried this recipe?
Mention @thegreekfoodie__ or tag #thegreekfoodie__