Greek zucchini fritters are a popular and delicious summer food. They are fragrant, easy to make, light, and oh-so-tasty. Guaranteed to be a hit among the guests of your summer party.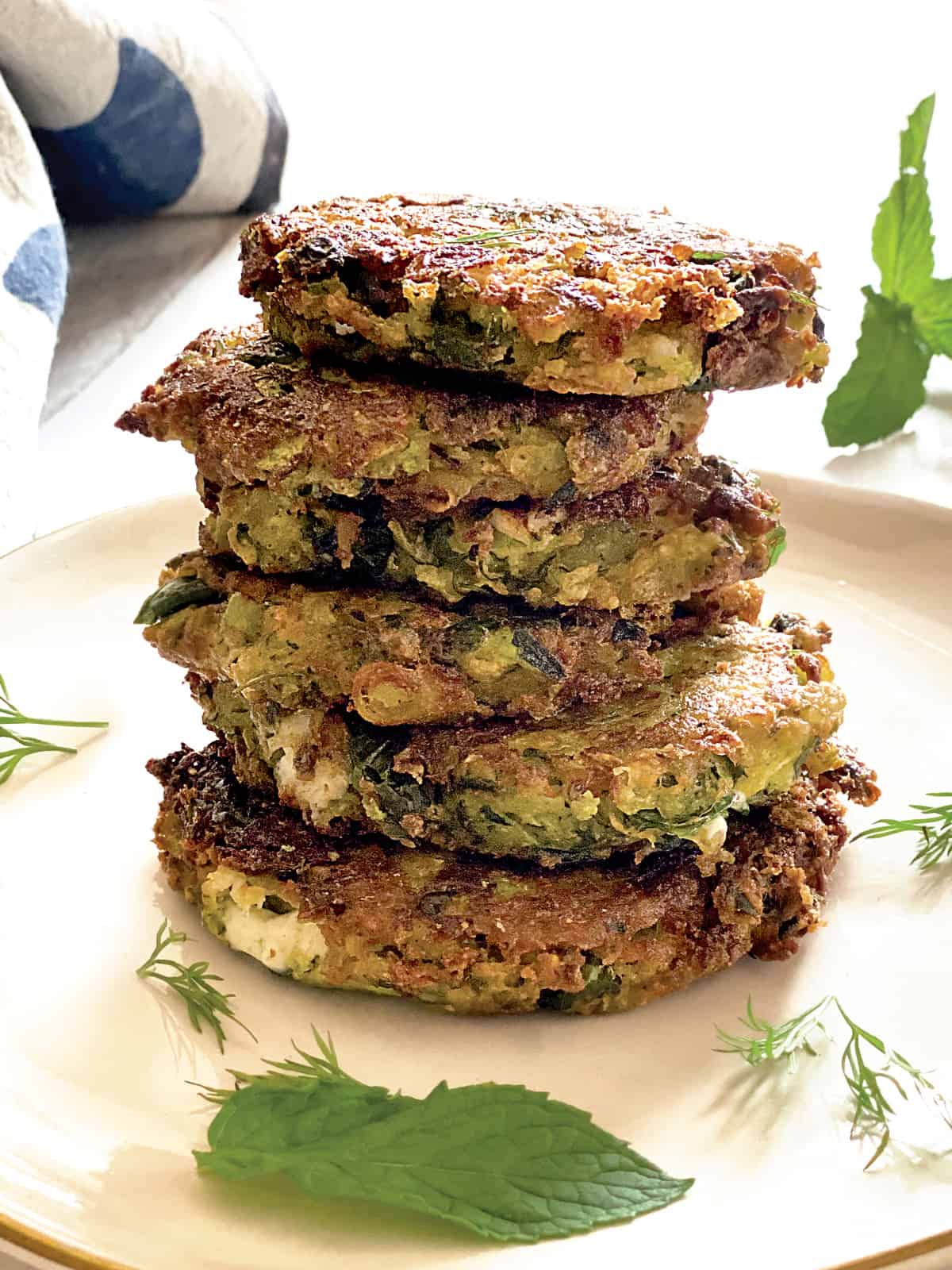 Zucchini fritters mean summer!
Summer means widely available delicious, fresh, in-season produce. So many lovely ripe vegetables fill the farmer's markets and grocery stores. Someone once said food tastes better when eaten outdoors. It is true. Hanging out on my porch, and sharing delicious food with friends and family is how I am most happy.
Among my favorite vegetables to cook is zucchini. It is light, versatile, and delicious. I use zucchini *or summer squash) in lots of recipes: boureki pie,gemista (stuffed vegetables), briam (greek ratatouille), etc.
This zucchini fritters recipe is probably one of my top five of the summer. Every time I make it, I feel the fritters taste like the Greek summer.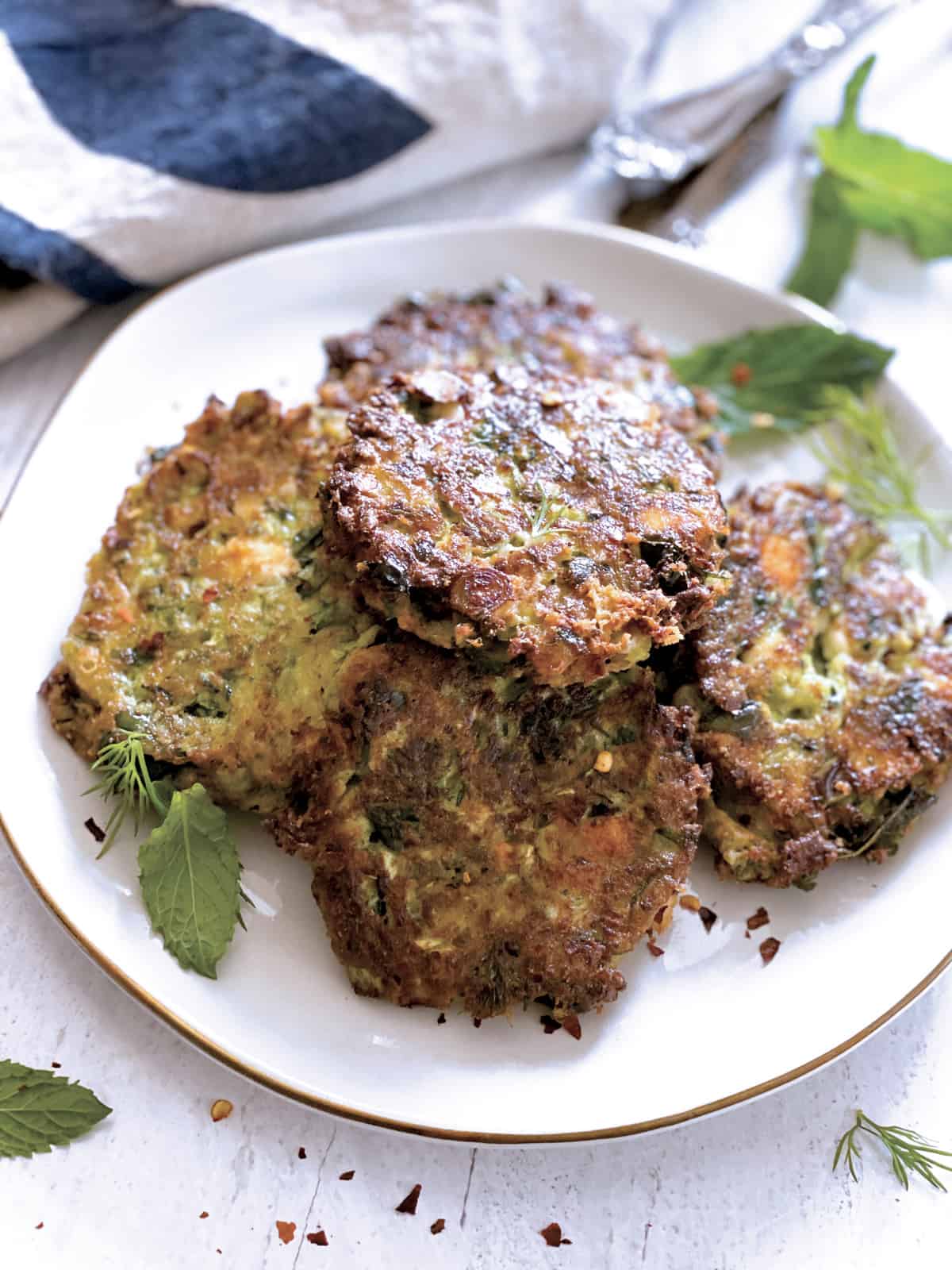 Ingredients
You will need few ingredients to make this fantastic recipe*.
Zucchini is top of the list, of course.
Lots of fresh herbs, like dill, basil, and mint, and a couple of scallions.
Lemon zest for a bright note.
Crumbled feta cheese gives a smooth savory note.
A couple of eggs and a little flour to help firm up the fritters.
Sea salt and freshly ground pepper are necessary, as well as a little cumin and coriander. I love adding red pepper flakes in the mix for a little kick.
*Detailed measurements and instructions can be found on the recipe card at the bottom of the page.
How to make these fritters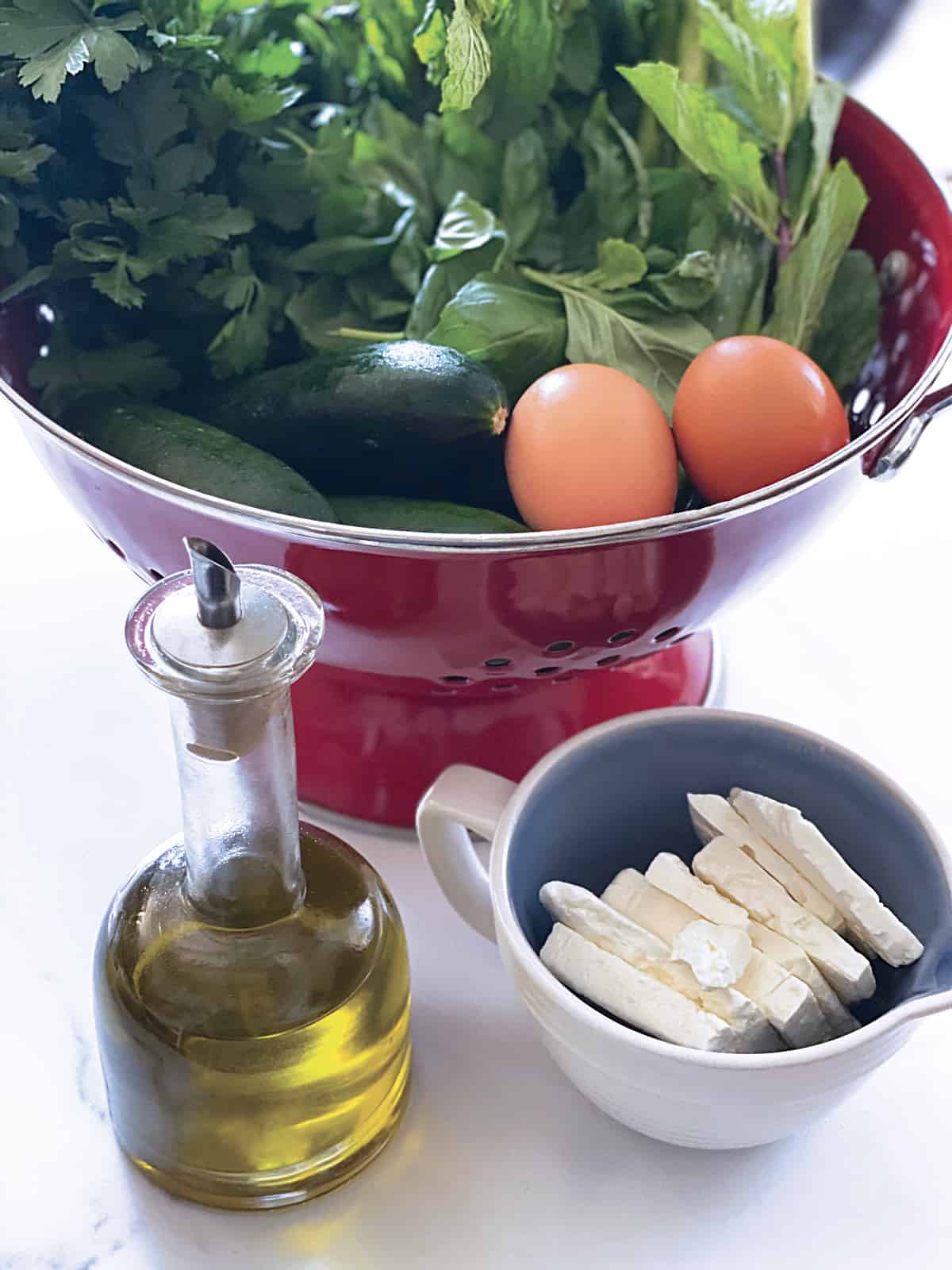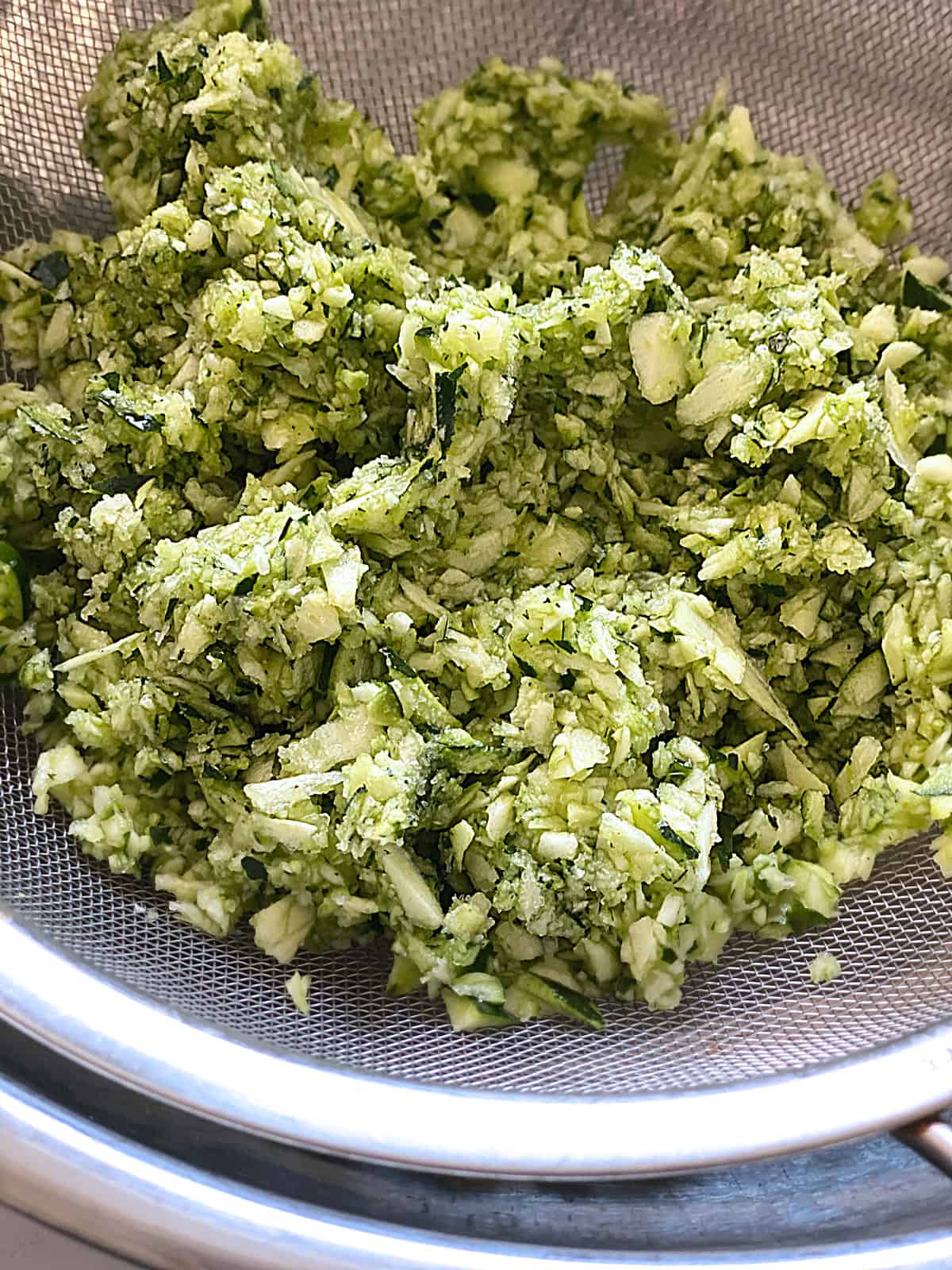 I use my food processor to grate the zucchini, and that makes this recipe a breeze. A vegetable grater also works very well. The grated zucchini gets seasoned with a little salt and waits on a colander in the sink to drain most of its liquids.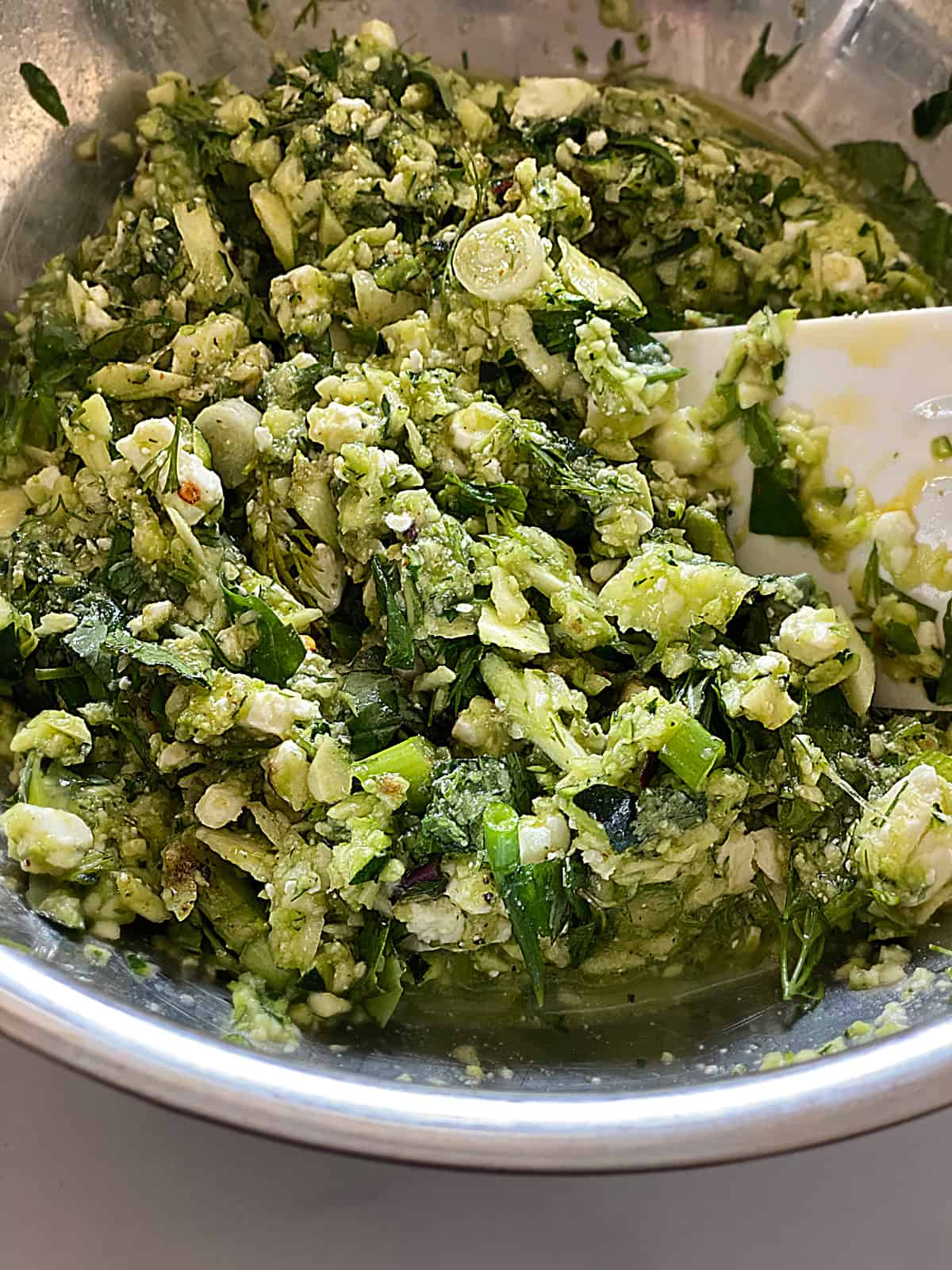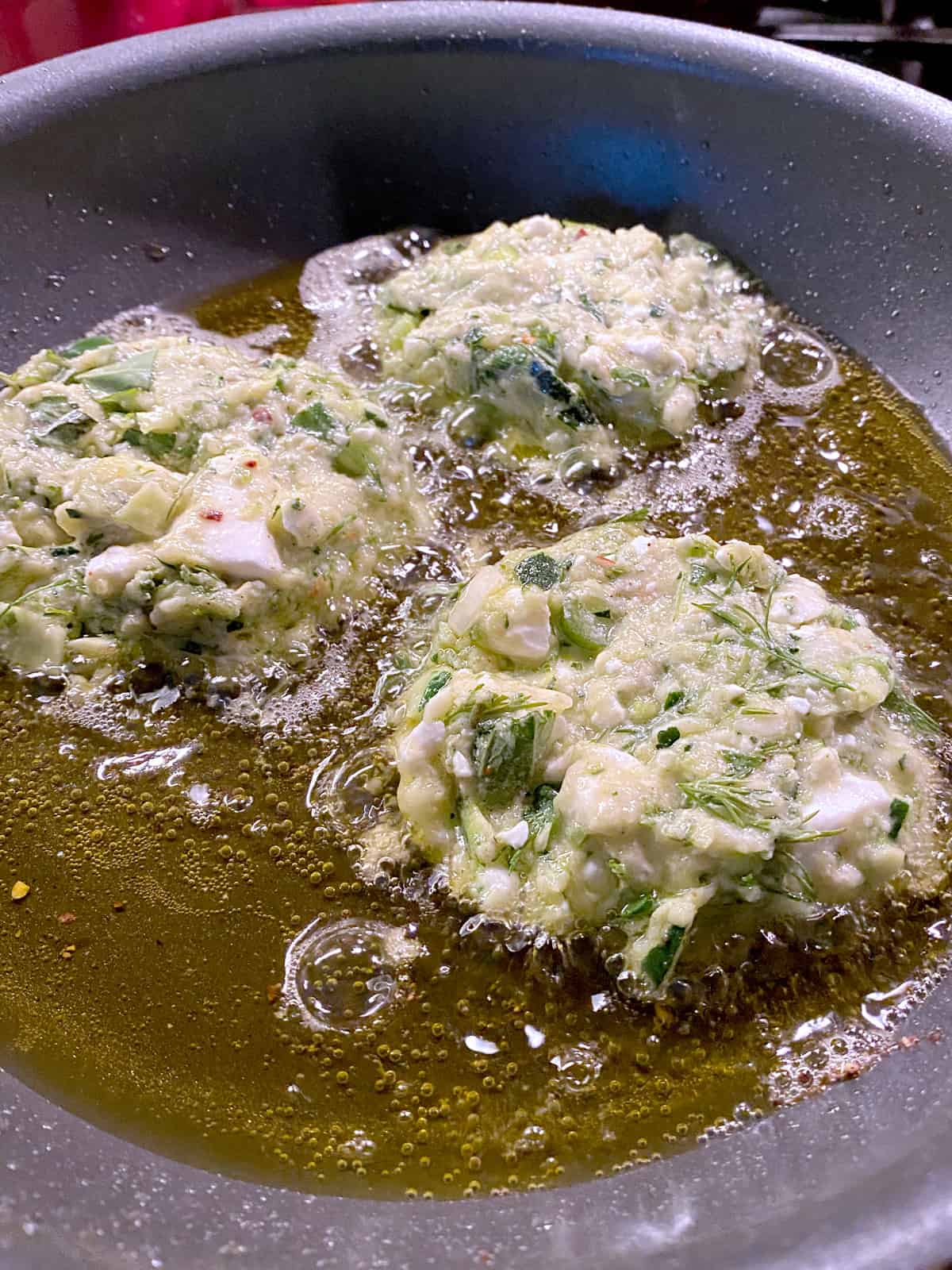 The herbs and scallions get roughly chopped up and added to the bowl with the grated zucchini. The 2 eggs follow, with the feta and some olive oil. All is mixed gently and I fold in the flour. I avoid working my mixture too much, just enough to make sure everything is evenly distributed.
I fry small batches of fritters in 2-3 tablespoons of olive oil for 3-5 minutes, making sure both sides are golden and crispy, and the fritters are still soft inside.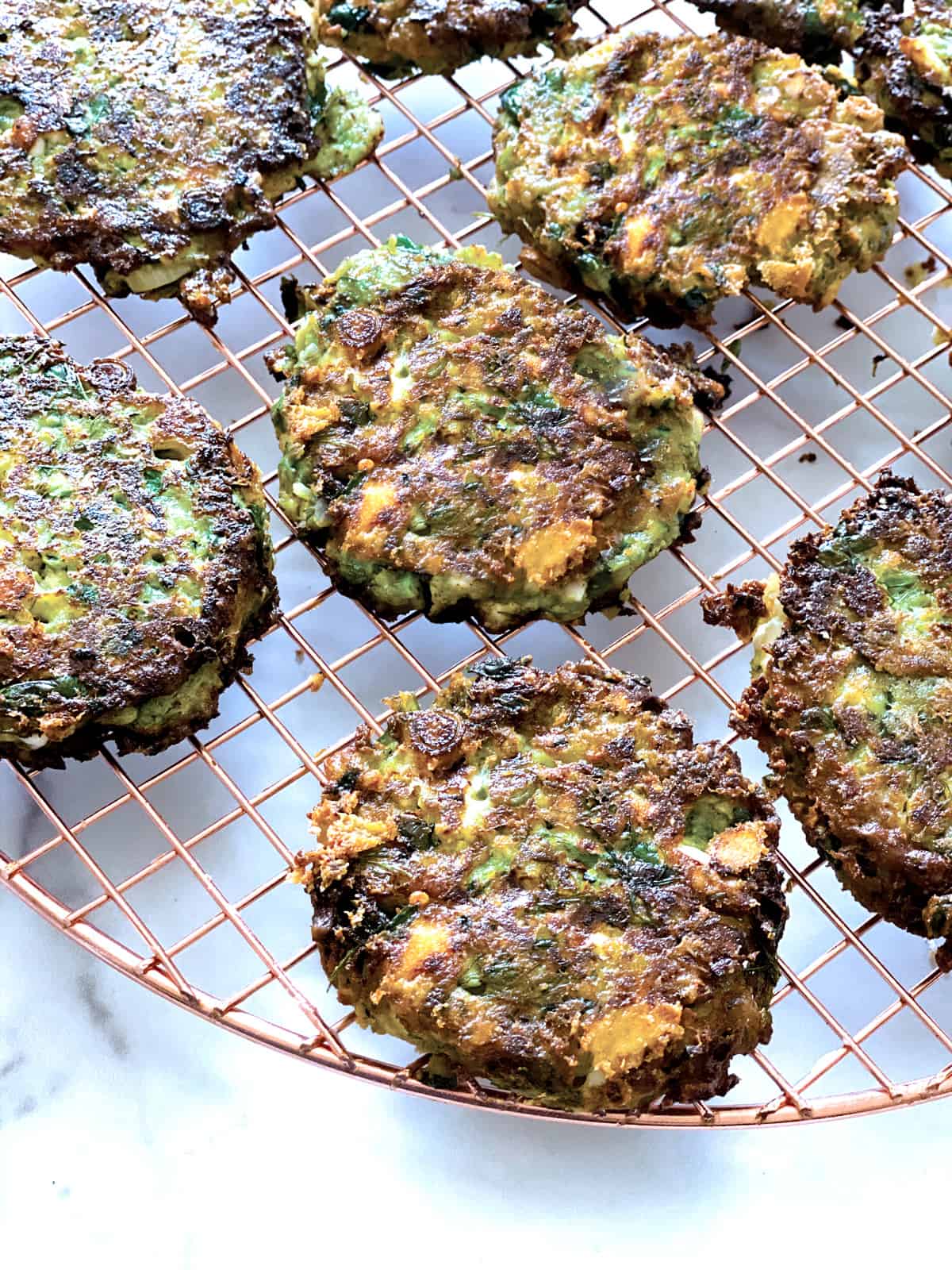 The zucchini fritters rest on a wire rack or paper towels for a little bit to absorb the excess oil.
While they are still warm, I serve them with a side of tzatziki sauce or ketchup. Usually, we enjoy them as a side dish. They go well with almost everything, roasted chicken, gigantes beans, or tomato soup. They are a perfect meal paired with a fresh salad.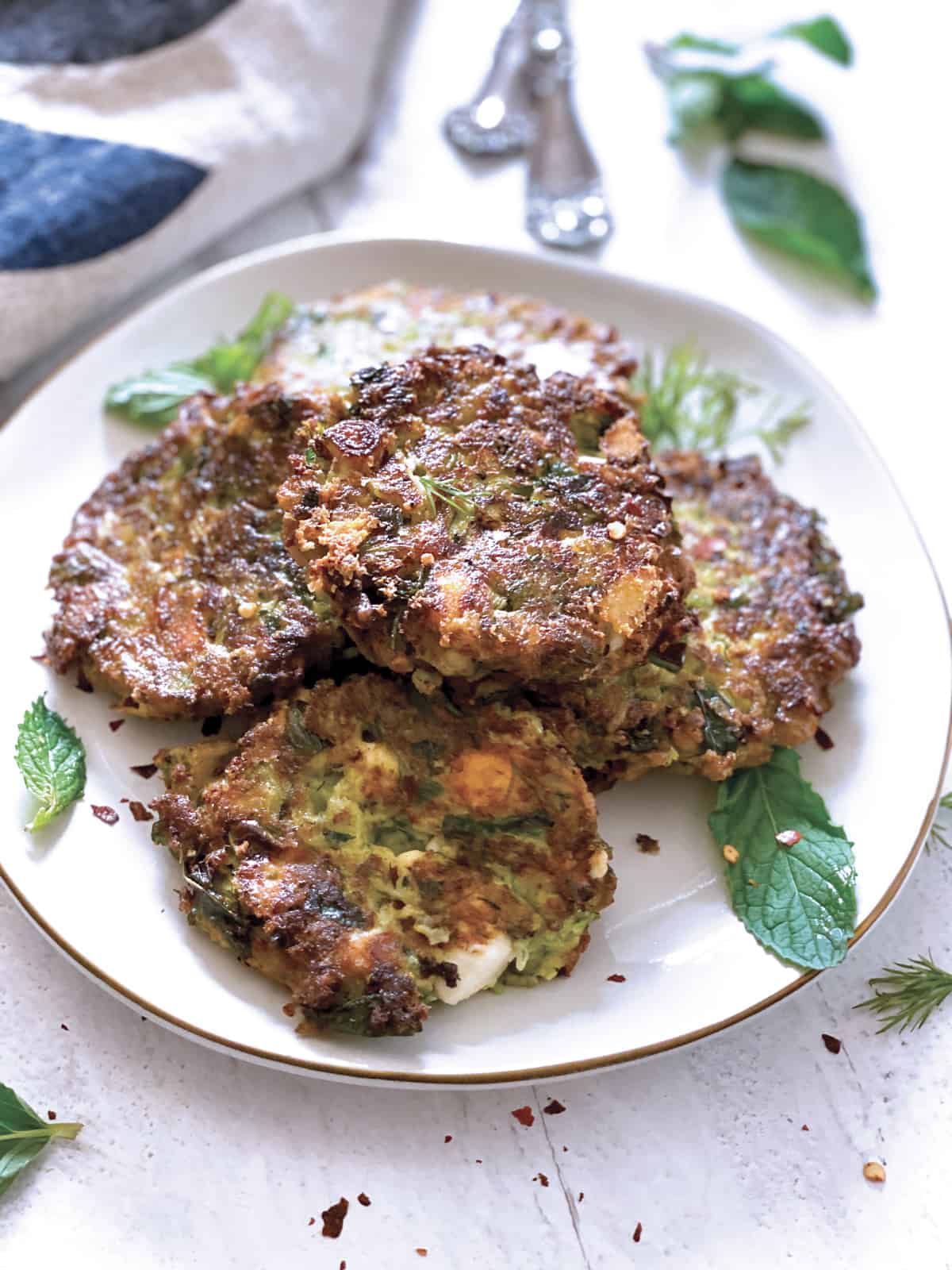 More fritters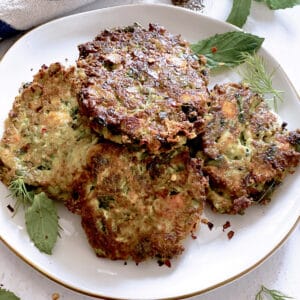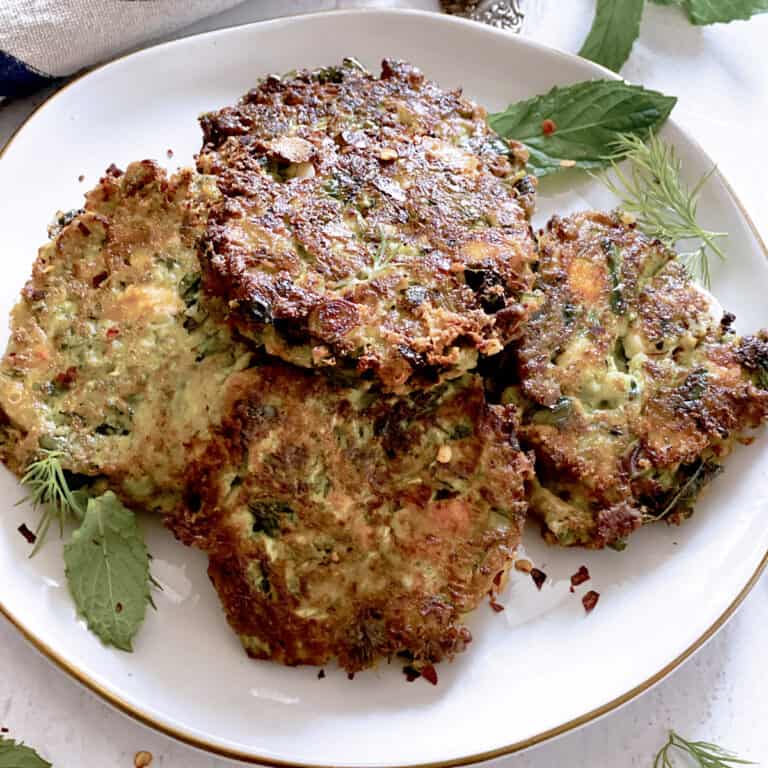 Greek Zucchini Fritters With Feta
Greek zucchini fritters are a popular and delicious summer food. They are fragrant, easy to make, light, and really tasty.
Ingredients
for the fritter mix
4

medium green zucchini

grated

2

scallions chopped

1½

cups

greek feta cheese crumbled

3/4

cup

fresh mint

measure the leaves only, chop after

3/4

cup

fresh basil

measure the leaves only, chop after

3/4

cup

fresh dill

measure the leaves only, chop after

2

lemons

zested

2

eggs

3/4

cup

flour

3

tablespoons

extra virgin olive oil

1

teaspoon

red pepper flakes

1

teaspoon

ground cumin

1/4

teaspoon

ground coriander

sea salt

freshly ground pepper
for serving
red pepper flakes

optional

tzatziki

optional
Instructions
Mix grated zucchini with a pinch of salt in a large colander and place in sink to drain for 10 minutes.

In a large bowl mix zucchini, scallions, all herbs, feta, lemon zest, olive oil, and eggs.

Fold in the flour. Season with salt and pepper. Add the cumin and coriander and red pepper flakes. Mix well.

In a frying pan in medium-high heat add 2-3 tbs olive oil.

Take a full tablespoonful of the mix and place it on the frying pan. Repeat 2-3 times depending on the size of your frying pan. Don't over crowd!

With the help of two spoons shape the fritters into a round shape, tidy them up a little. Press lightly the top to flatten it. 

Cook each side 3-4 minutes or until it has a nice golden color and they start to crisp up. Place them in paper towels or cookie rack to remove excess oil. 
Notes
You can use yellow squash instead of green zucchini. Or mix the two.
Add a cup of sweet corn to the mix. It will go well with the zucchini and feta and will add a different texture to these fritters. I love corn in the summer!
I prefer to fry my food in olive oil—even fries. Most Greeks do; they rarely use corn oil. You can get light olive oil which is very good for frying and sauteing.
Nutritional Info – Please keep in mind that the nutritional information is only an estimate and can vary based on the products used.
Nutrition
Calories:
336
kcal
Carbohydrates:
18
g
Protein:
12
g
Fat:
24
g
Saturated Fat:
10
g
Cholesterol:
99
mg
Sodium:
590
mg
Potassium:
352
mg
Fiber:
2
g
Sugar:
4
g
Vitamin A:
1324
IU
Vitamin C:
19
mg
Calcium:
311
mg
Iron:
3
mg
Tried this recipe?
Mention @thegreekfoodie__ or tag #thegreekfoodie__