Roasted Beans in Tomato Sauce - Gigantes plaki is another favorite Greek dish that brings a wholesome warm feeling in my kitchen and the illusion of the Greek sunshine in the middle of a chilly NYC winter.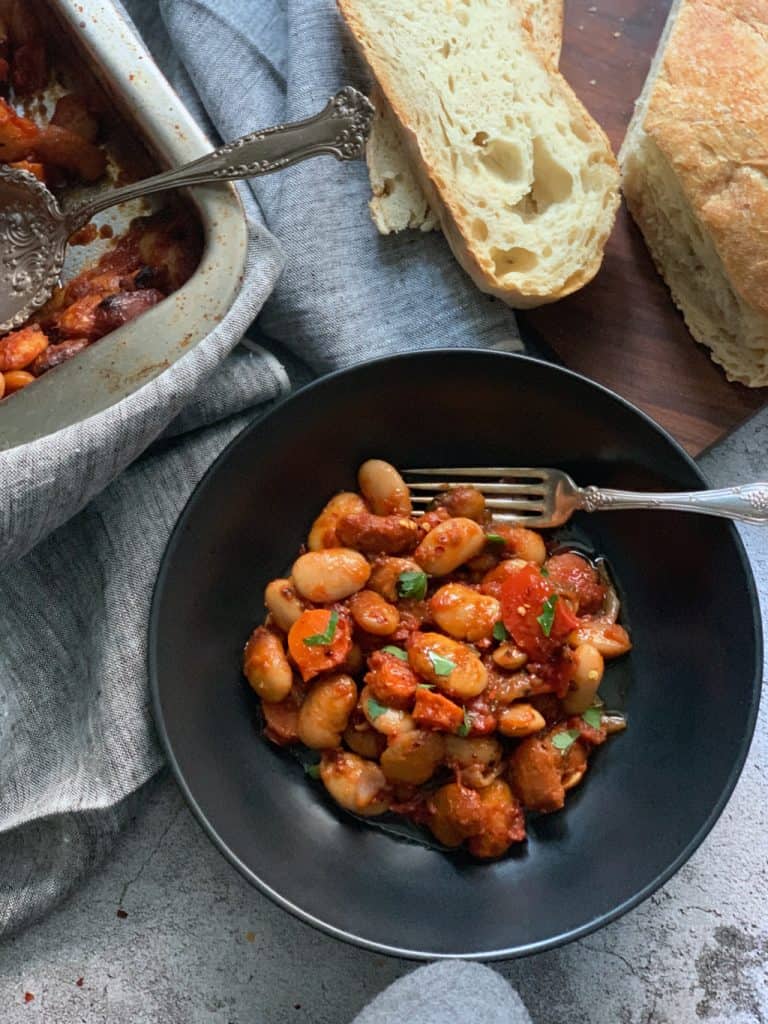 Roasted Beans in Tomato Sauce - Gigantes plaki is one of the healthy, delicious Greek dishes based on beans and legumes. Greeks traditionally eat beans at least once a week. Gigantes are a type of large white bean, the word gigantas in Greek means giant. Plaki refers to the method of cooking which means basically baking in the oven with a sauce made with tomato, onion, garlic and parsley. I included red bell pepper for a bit more color and subtle sweetness.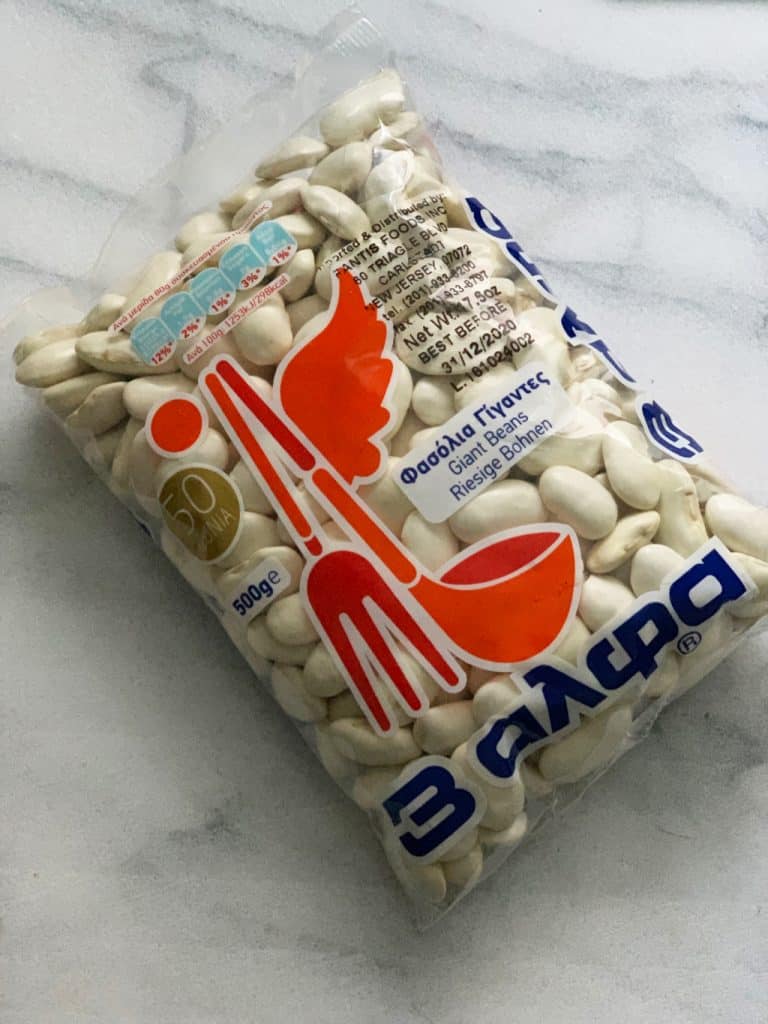 I mostly enjoy gigantes plaki at room temperature, a gift of the extra virgin olive oil. One of my favorite snacks is a big scoop of gigantes, a piece of bread and some cheese, it can be Greek feta or gruyère.
About Greek gruyère cheese. Occasionally I go to Astoria to load up on Greek groceries and I get the Cretan kind of gruyère. It is called Graviéra Cretes (from Crete) and is absolutely delicious.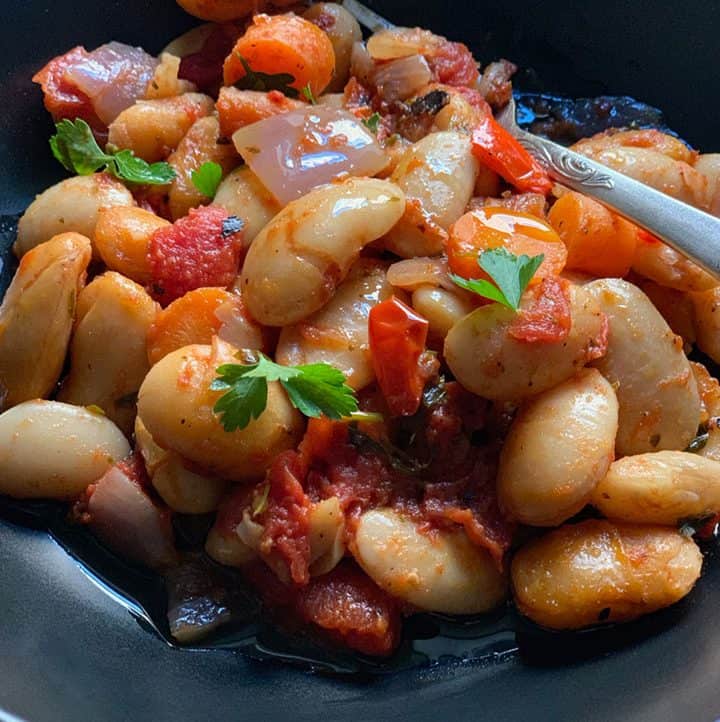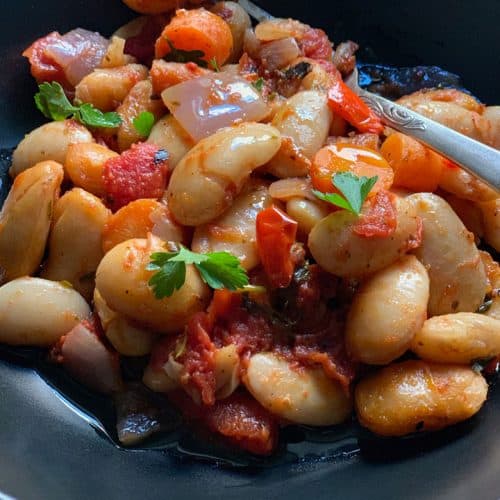 Ingredients
17.6

oz

white beans greek giant beans

28

oz

tomatoes

¼

cup

olive oil

extra virgin

1

tbsp

tomato paste

a full tablespoon

1

large

onion

roughly cut in chunky pieces

3

carrots

cut in ⅓ inch pieces

3

garlic cloves

sliced

¼

bunch

parsley

roughly chopped

sea salt

to taste

freshly ground pepper

to taste

1-2

tbsp

dry Greek oregano

2

cups

water

you can use veggie or chicken stock if you like
for serving
1

tsp

red chili pepper flakes

optional

chopped fresh parsley

optional
Instructions
Soak beans in plenty of salted water overnight.

Drain beans and place them in a large pot with plenty of water. Bring to a boil and cook for 30 min. Drain beans and set them aside.

Preheat the oven to 350 F.

In a large pot in medium heat add the olive oil. Add the onions, season lightly with salt and sauté for 1-2 minutes. Add the garlic. Sauté for 1-2 minutes until the onions start to sweat.

Add the tomato paste and the oregano. Mix everything together gently, letting the flavors develop for 1-2 minutes.

Add the carrots, the beans, the tomatoes and the parsley. Mix gently. Add 1 cup of water. Season with salt and fresh ground pepper.

Transfer to a baking dish and roast for 1 to 2 hours depending on the beans. Check beans often and mix everything together gently every half hour or so. Add more water if necessary. Roast until they are soft on the inside and lightly crispy on the outside.

You can sprinkle some red chili pepper flakes before serving to add some heat and a another layer of flavor.

Enjoy as a main dish or a side to your favorite grilled protein. I love them in room temperature with a piece of bread to dip in the sauce and a generous piece of gruyere or feta.
Nutrition
Calories:
190
kcal
|
Carbohydrates:
25
g
|
Protein:
8
g
|
Fat:
7
g
|
Saturated Fat:
1
g
|
Sodium:
46
mg
|
Potassium:
752
mg
|
Fiber:
7
g
|
Sugar:
6
g
|
Vitamin A:
5294
IU
|
Vitamin C:
38
mg
|
Calcium:
84
mg
|
Iron:
3
mg
Did you like this recipe?
Mention @thegreekfoodie__ or tag #thegreekfoodie__