Ladolemono-Greek olive oil & lemon dressing is the most perfect, classic Greek dressing—the ultimate addition to fish, seafood, meat, vegetable, salads, and bread.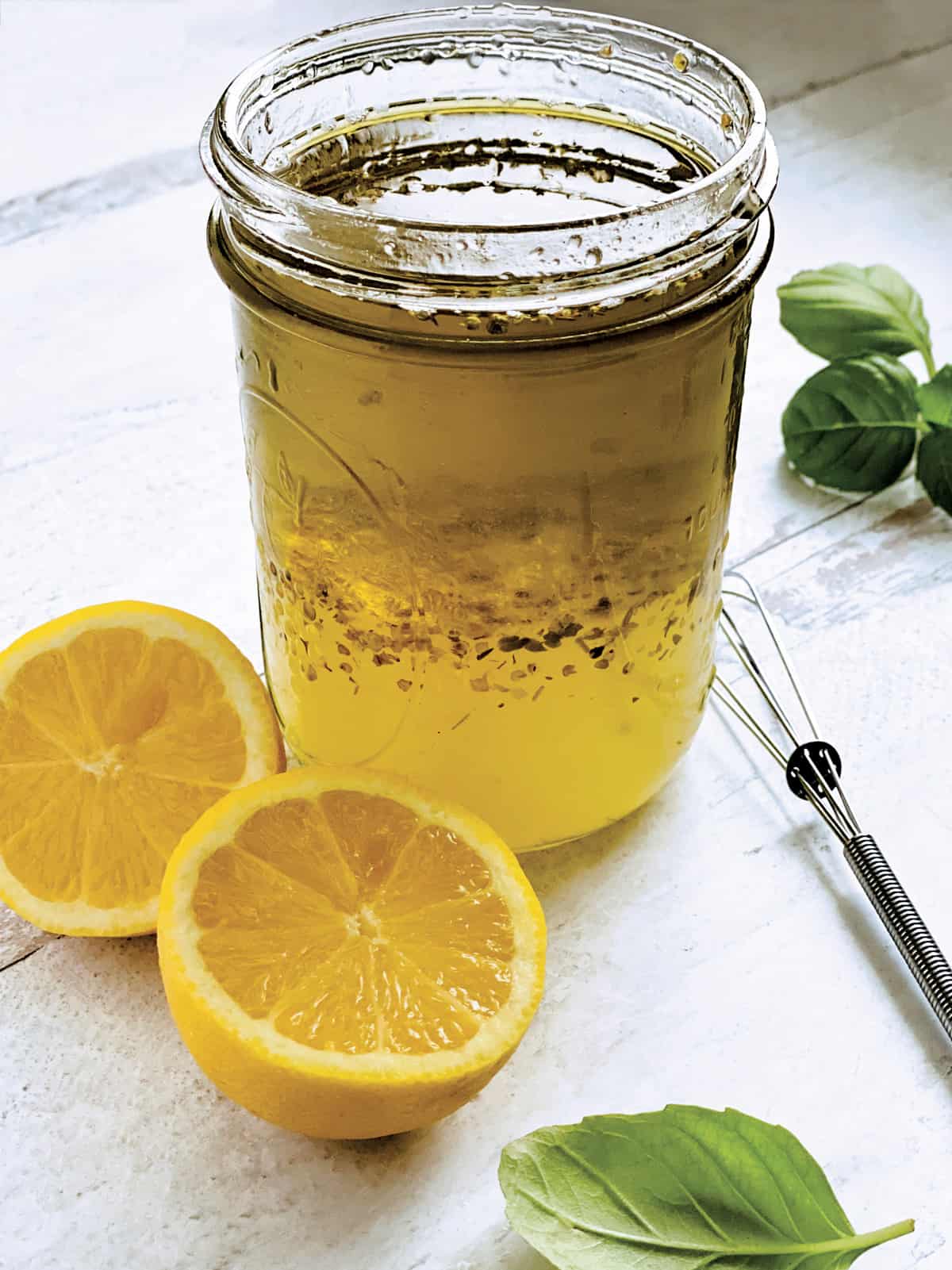 What is Ladolemono
Ladolemono is fresh lemon juice and extra virgin olive oil mixed to make a delicious dressing for all sorts of foods.
Olive oil & lemon dressing is the base for many of the Greek flavors we know and love. The light green, golden liquid is simple to make, yet it delivers a tremendous amount of flavor and elevates many dishes.
Greeks have been using acidic dressing for their food for millennia. Wine vinegar and olive oil were staples in ancient Greek times. Citrus fruit came to Europe and Greece from Asia around 310 B.C. Olive oil & lemon dressing – ladolemono took its reigning place in Greek cuisine and has been used since then over grilled seafood and meat, vegetables, simple salads even as a dip for freshly baked bread.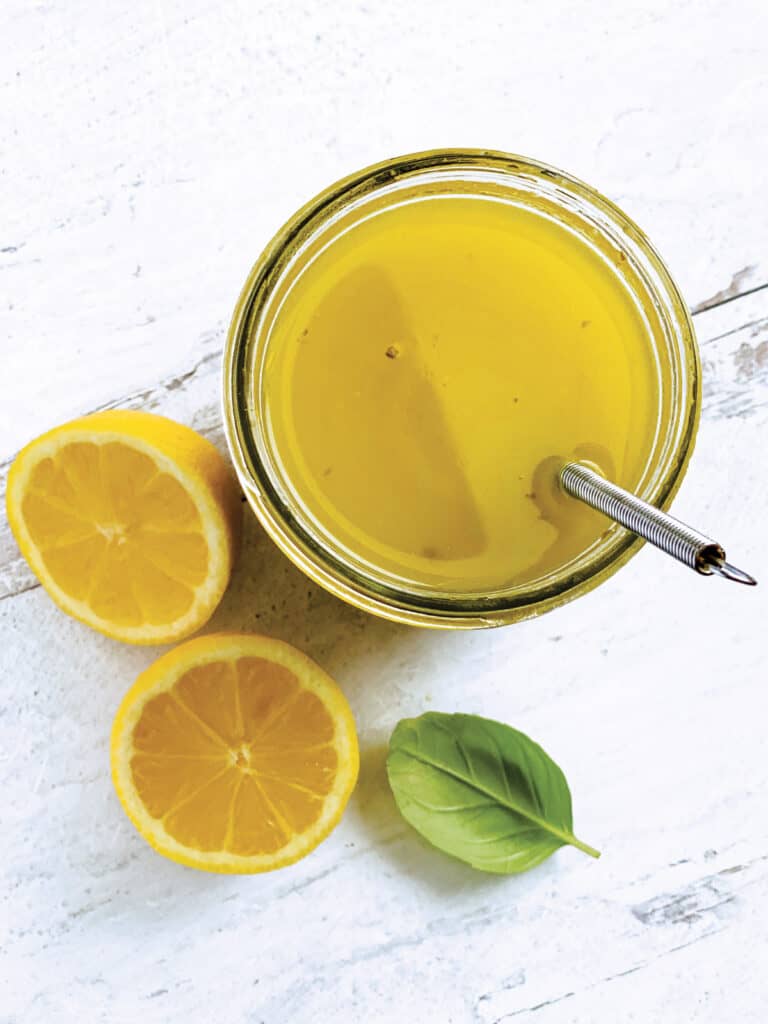 The secrets of ladolemono
The key ingredients for a perfect ladolemono are obviously good juicy lemons and the best extra virgin olive oil you can find.
Fresh lemon juice can make or break the classic dressing. Lemons that are available in supermarkets often have been in huge refrigerators for months while being transported all over the world. As a result, ladolemono does not taste as fresh and bright and has a slight aftertaste that is not ideal.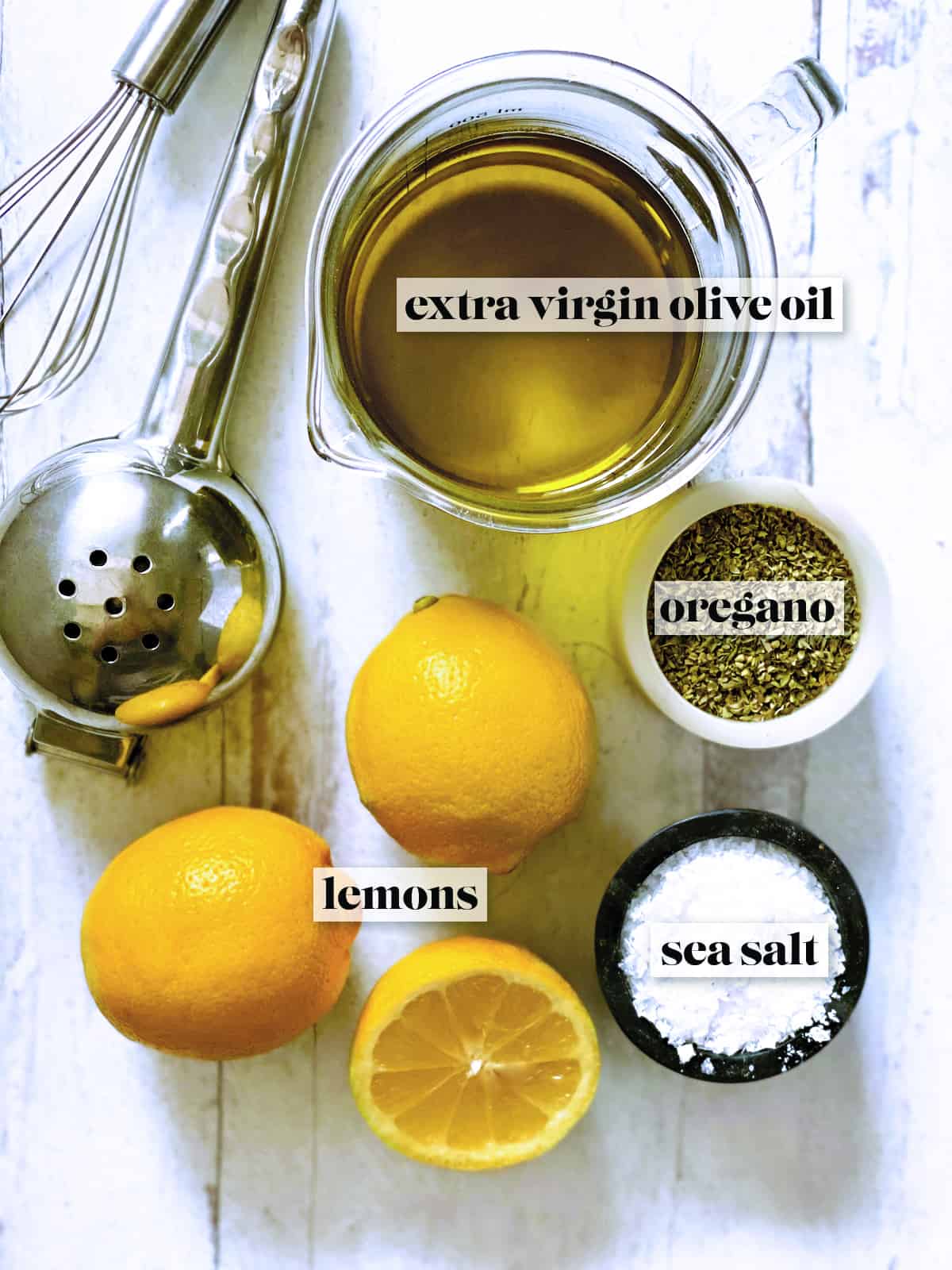 How to choose a good lemon
Lemons are available all year, with peak season April to July. If you have the fortune of your own lemon tree, good for you! I love lemon trees. They are my favorite, and I always dream of having a garden with at least two of them.
Choose unblemished, firm lemons with smooth, thin skin. The fruit should feel heavy for their size, have vibrant yellow color with no tinges of green. Avoid pale lemons; the light color means they are older and less juicy.
Unwaxed organic lemons are the best, in my opinion. If you are going to zest a lemon, wash it well first. Use a grater or peeler, and avoid the bitter inner white skin, called the pith. The fragrant zest from a good lemon packs tons of flavor and can enhance savory and sweet foods to perfection.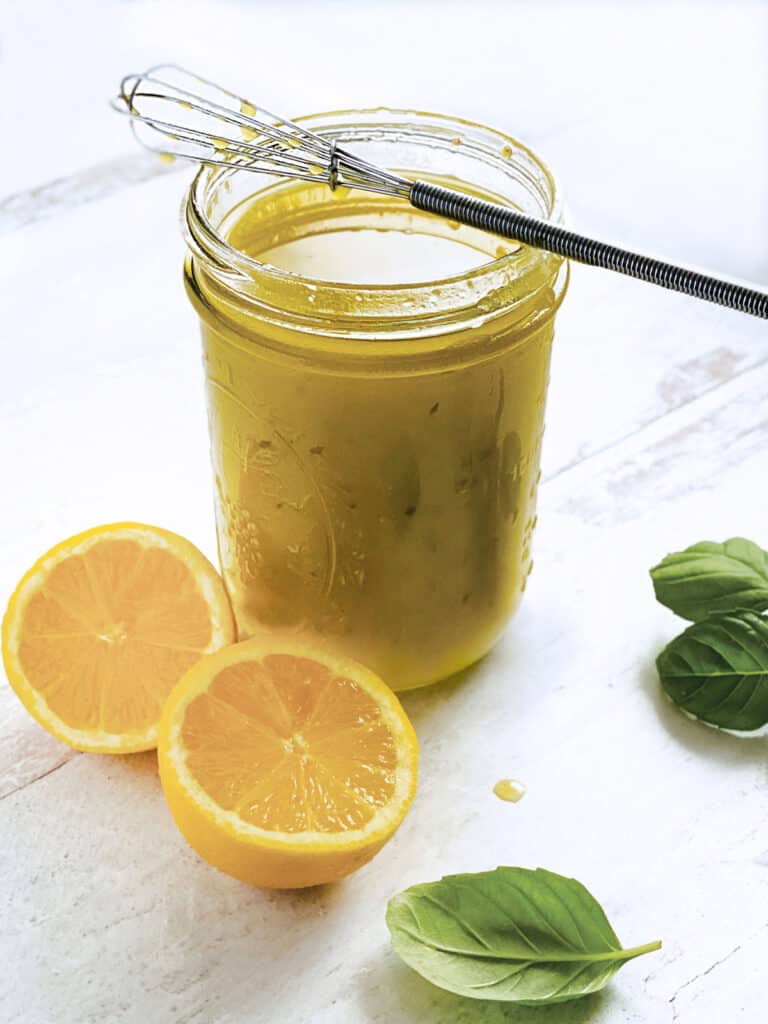 Choose a good olive oil
The next important thing to choose is high-quality olive oil. Always use cold-pressed extra virgin olive oil for salads, dressings, and drizzling on top of food. It is light, unrefined, and has flavors and aromas of the olives it comes from. A good extra virgin olive oil with a slightly bitter, rich taste gives life to this olive oil & lemon dressing. Great extra virgin olive oil can be added raw on top of any dish to elevate it.
Avoid olive oil blends. I can not stress this enough. Even if the label says Mediterranean blend, put it back on the shelf. There has been a lot of controversy over extra virgin olive oil lately. Producers who prefer to sell volume over quality mix extra virgin olive oil with lesser quality olive oils, sunflower seed, or grapeseed oil. They bottle it and then sell it as a high-end olive oil blend. Be vigilant and avoid these brands. They will be unnecessarily expensive while lacking in flavor and quality.
How to make it
Making this amazing dressing requires only two ingredients: good ripe lemons and great extra virgin olive oil. The ratio of juice and oil is about 1:3—one part of lemon juice and 3 parts of extra virgin olive oil. You can add some sea salt as well as dry oregano.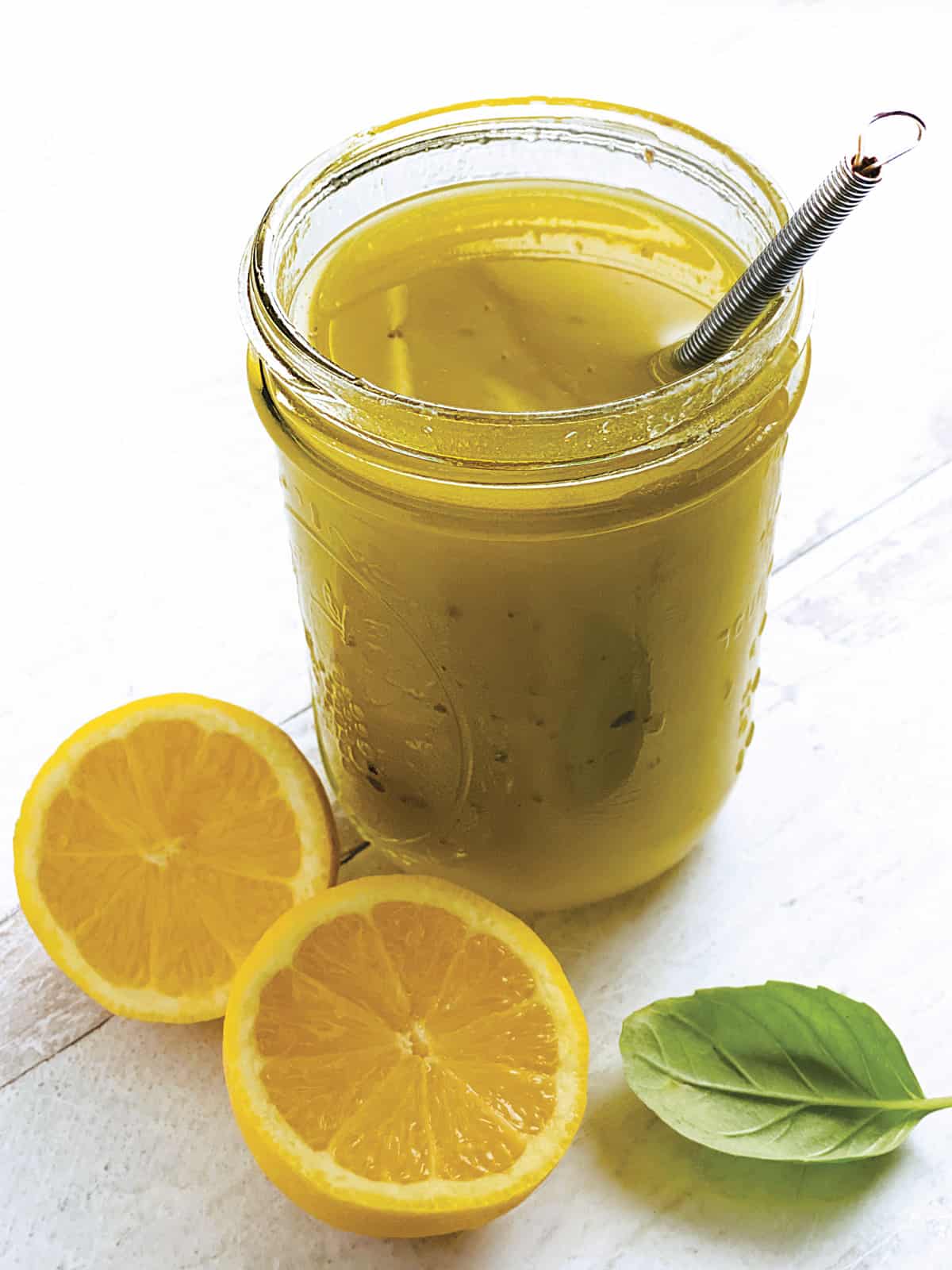 Add the lemon juice to a bowl or glass jar. Add sea salt to taste if you like. I usually add some dry oregano as well. Whisk in the olive oil or shake a firmly closed jar. That's it! Your ladolemono is ready.
Give it a whisk (or shake) before serving, as the dressing will separate.
Variations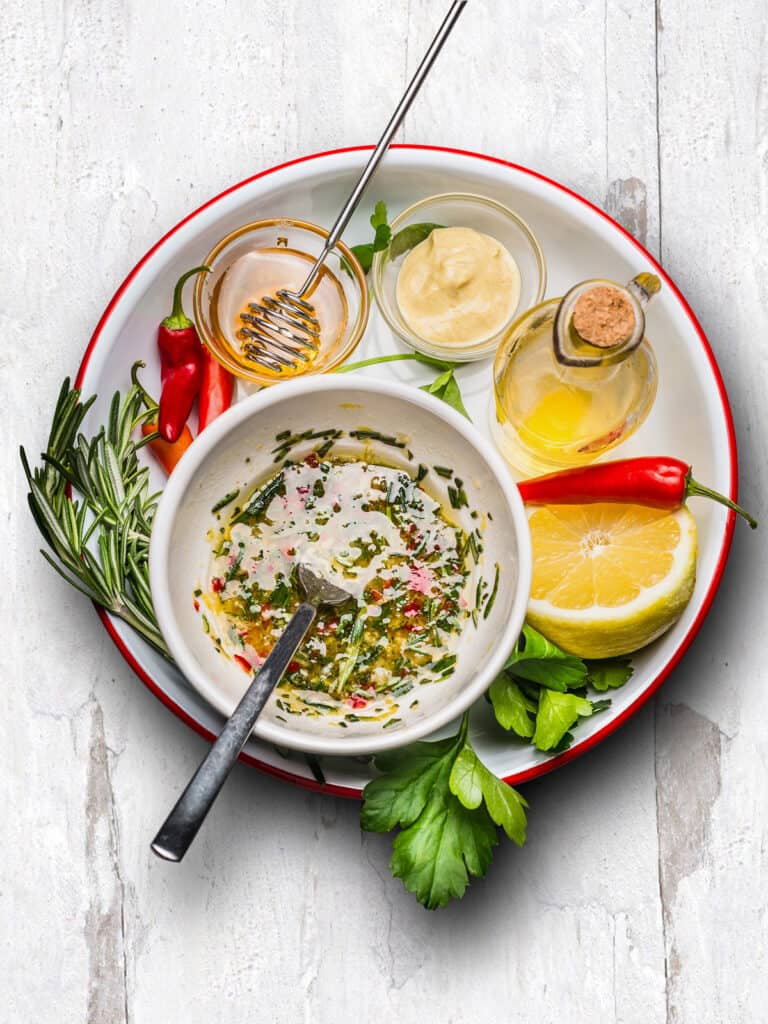 You can add some mustard and a little honey.
Fresh chopped herbs like thyme, rosemary, and chives can play, too!
Add a tablespoon of capers; I love this variation with grilled salmon or sea bass.
A dash of chopped red chili pepper gives a nice kick to your lemon and olive oil dressing.
You can tweak the recipe to your liking. Add more lemon juice if that's your preference and any add ons from the above. It is a versatile dressing, very adaptable to one's palate.
How to enjoy ladolemono
Olive oil & lemon dressing – ladolemono has been used for centuries by Greek cooks and chefs over a variety of foods. This simple dressing will wow your family and guests, and it does not require a lot of effort to make.
Grilled fish and shellfish. The simplicity of an olive oil and lemon dressing will add brightness and richness to grilled seafood. Cod, haddock, sea bass, salmon, branzino, any fish you like can be simply prepared and served with ladolemono on the side. It is fantastic over charcoal-grilled octopus and shrimp.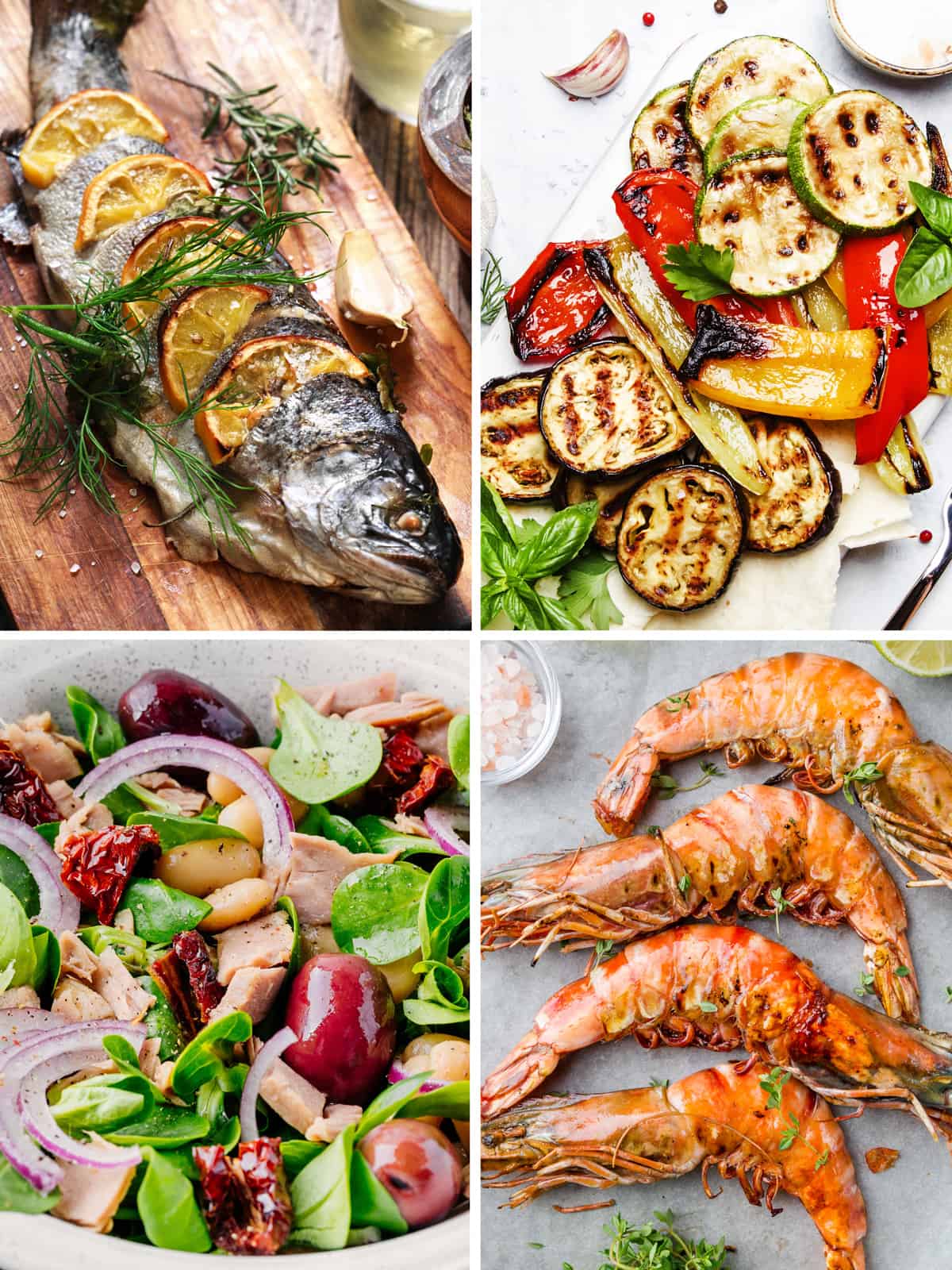 Salads. Add tuna, beans, onions, greens, olives, short pasta, and a drizzle of ladolemono dressing with your favorite herbs.
A great tip from my friend Eri: Right before serving, add a couple of ice cubes in the jar, the olive oil, and lemon juice, screw the cap on firmly, and shake vigorously. The ladolemono will emulsify and become creamy. Remove the ice cubes and pour the dressing over a salad or grilled veggies. Yum!
Greeks often make steamed greens (like dandelions) as a side dish and serve them with olive oil and lemon dressing.
Steamed or grilled vegetables. Drizzle some ladolemono over steamed broccoli or cauliflower and witness the veggies come alive with a burst of flavor.
Ladolemono can be an excellent marinade for chicken and meat. Add herbs, chopped garlic, spices like Za'atar, cumin, coriander, sea salt, and pepper, marinate chicken, pork, steaks, and refrigerate for a couple of hours. Cook your protein in your preferred way (ladolemono loves grilling!) and enjoy a delicious meal.
The lemon olive oil dressing will keep in an airtight container or jar for up to 1 week in the fridge.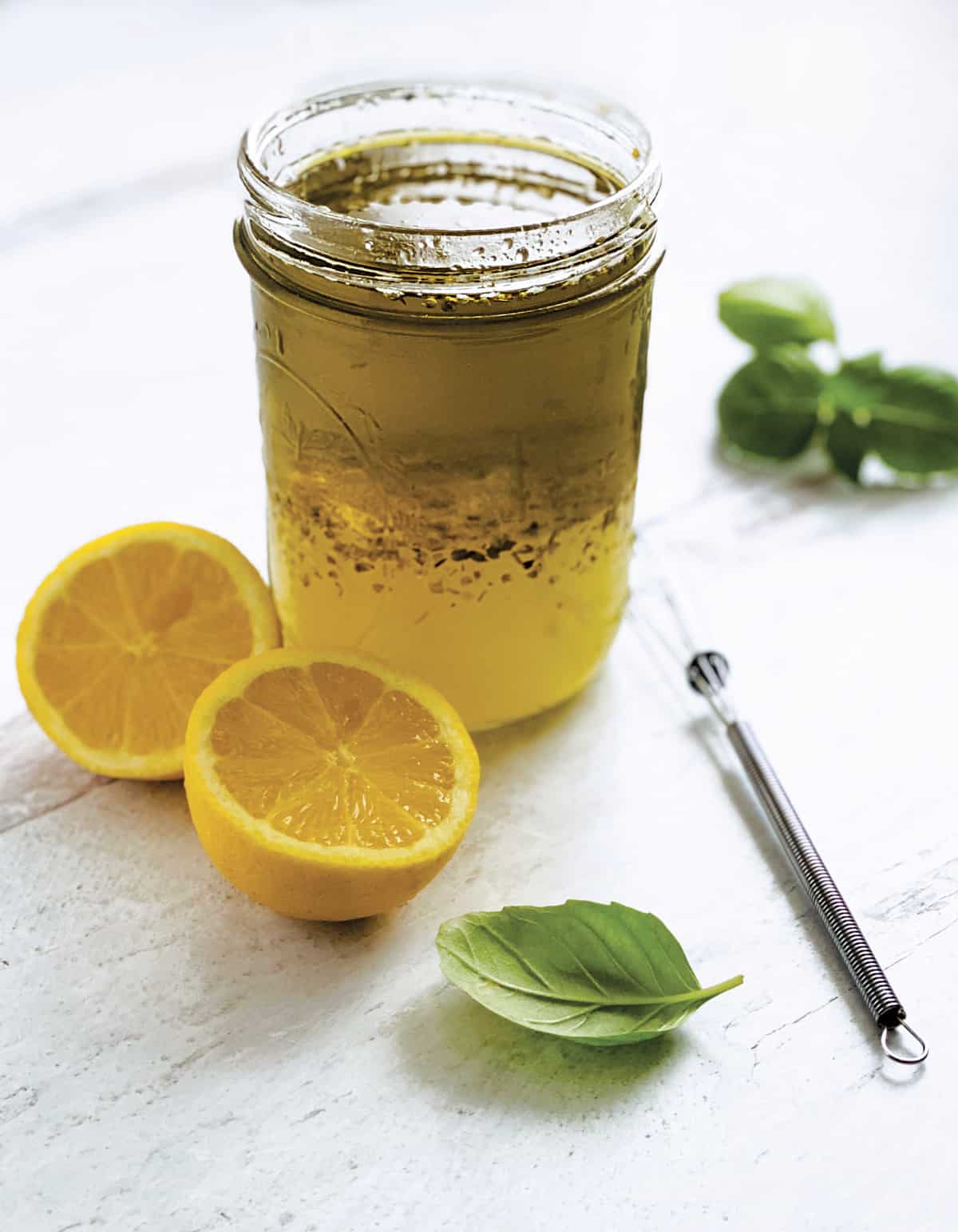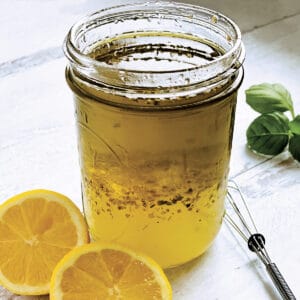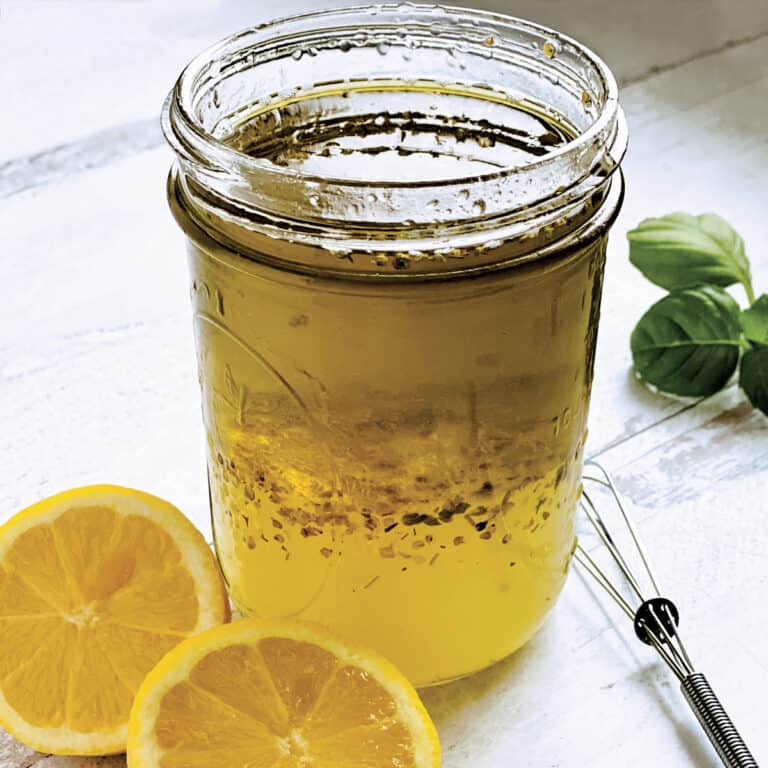 Greek Olive oil and Lemon Dressing-Ladolemono
Ladolemono-Greek olive oil & lemon dressing is a classic Greek dressing—the ultimate addition to fish, seafood, meat, vegetable, salads, and bread.
Ingredients
¼

cup

fresh lemon juice

⅗

cup

extra virgin olive oil

1

teaspoon

dry oregano

sea salt

to taste

freshly ground pepper

optional
Instructions
Place the lemon juice in a bowl and whisk in the extra virgin olive oil. Add a pinch of salt (or to taste). Add a teaspoon of dry oregano. Whisk all together.

Serve over grilled fish, seafood, grilled or steamed vegetables, greens, etc.
Notes
To get as much juice as you can from the lemon before squeezing it, roll it several times on your counter with pressure from the palm of your hand to soften it. It will make it easier to take out all the juice when squeezing.
Store leftover ladolemono in the refrigerator in a glass jar for up to 1 week. Shake the jar well before use.
When using ladolemono over a fresh grilled fish, it is best not to add other sauces and dressing to the dish. The seafood will shine, and the lemon and olive oil dressing will highlight their freshness and flavor.
Nutritional Info – Please keep in mind that the nutritional information provided is only an estimate and can vary based on the products used.
Nutrition
Calories:
291
kcal
Carbohydrates:
1
g
Protein:
1
g
Fat:
32
g
Saturated Fat:
4
g
Polyunsaturated Fat:
3
g
Monounsaturated Fat:
24
g
Sodium:
1
mg
Potassium:
22
mg
Fiber:
1
g
Sugar:
1
g
Vitamin A:
9
IU
Vitamin C:
6
mg
Calcium:
9
mg
Iron:
1
mg
Tried this recipe?
Mention @thegreekfoodie__ or tag #thegreekfoodie__