This zucchini-potato galette is inspired by a favorite Greek pie, the Cretan boureki. Layers of lovely zucchini, savory thin potato slices and a ricotta- fresh herbs mix, it sounds like a taste of summer, doesn't it?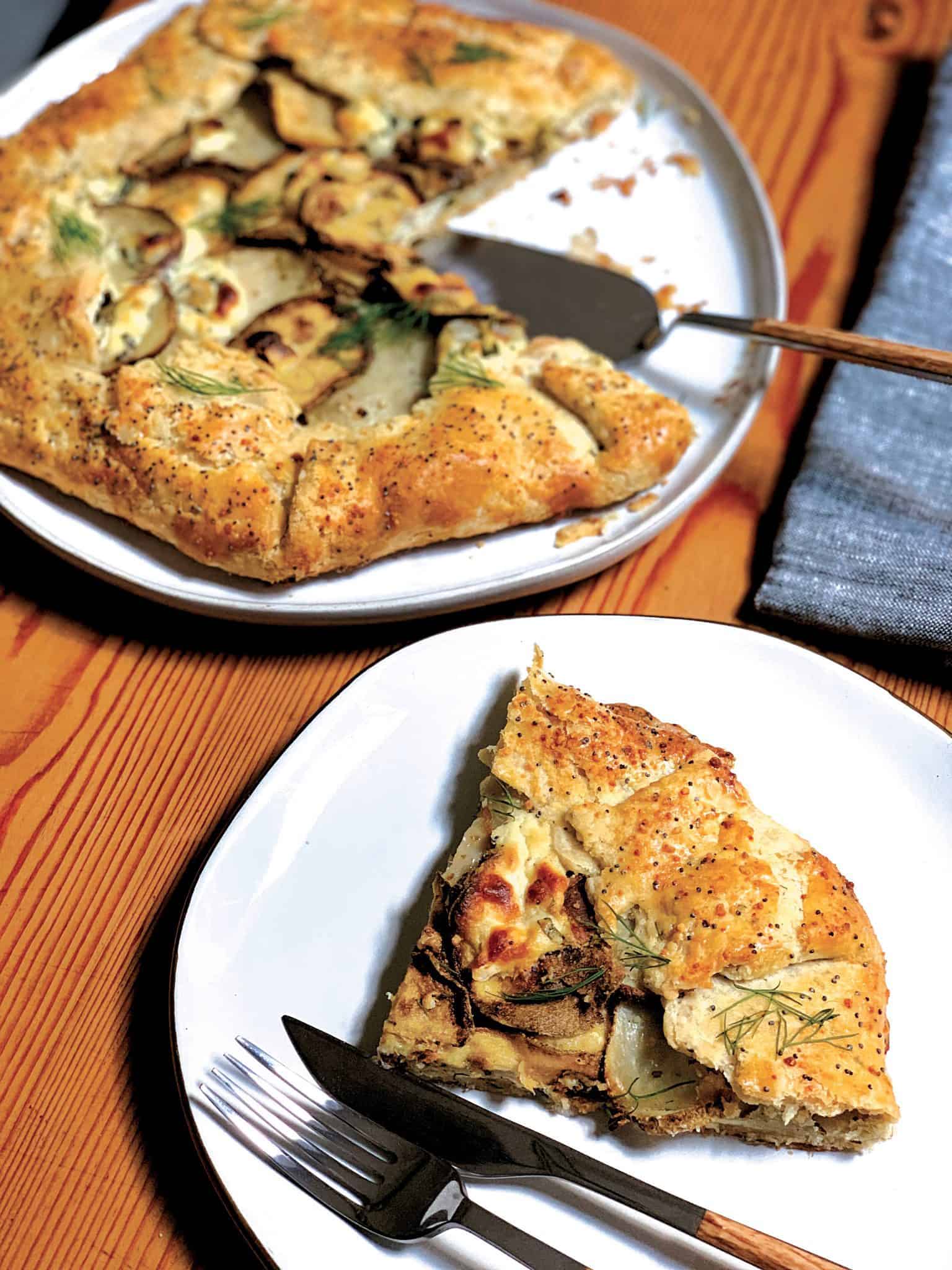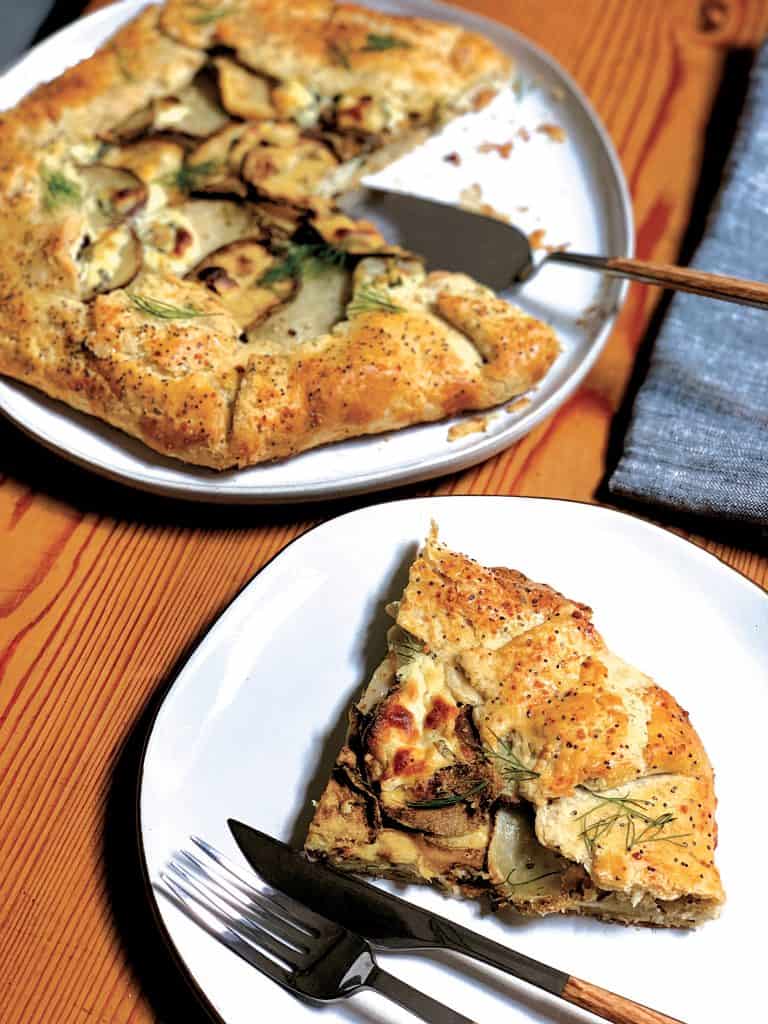 I love galettes
They are easy to make and it's so much fun figuring out what to fill one with. I came up with this zucchini-potato galette for two reasons. One, an excess of wonderful zucchinis on my kitchen table and two it is a quick way to enjoy my favorite pie without too much fuss. I did changed the recipe a little, for example in the traditional boureki pie you don't pre-cook your zucchinis and potatoes. My thinking was that a boureki is in the oven for much longer than a galette. So pre-cooking the filling would give different depths of flavor to my galette. And who does not like fried zucchini?
no more soggy bottoms
Making a zucchini-potato galette can result in a soggy crust due to excess moisture from the vegetables. I decided to lightly fry the zucchini this time for extra flavor and to take away the extra moisture. I also lightly fried the potato slices, to add more depth. For savory galettes my first layer is always my cheese mix. That way I create a protective barrier and no more soggy bottoms 🙂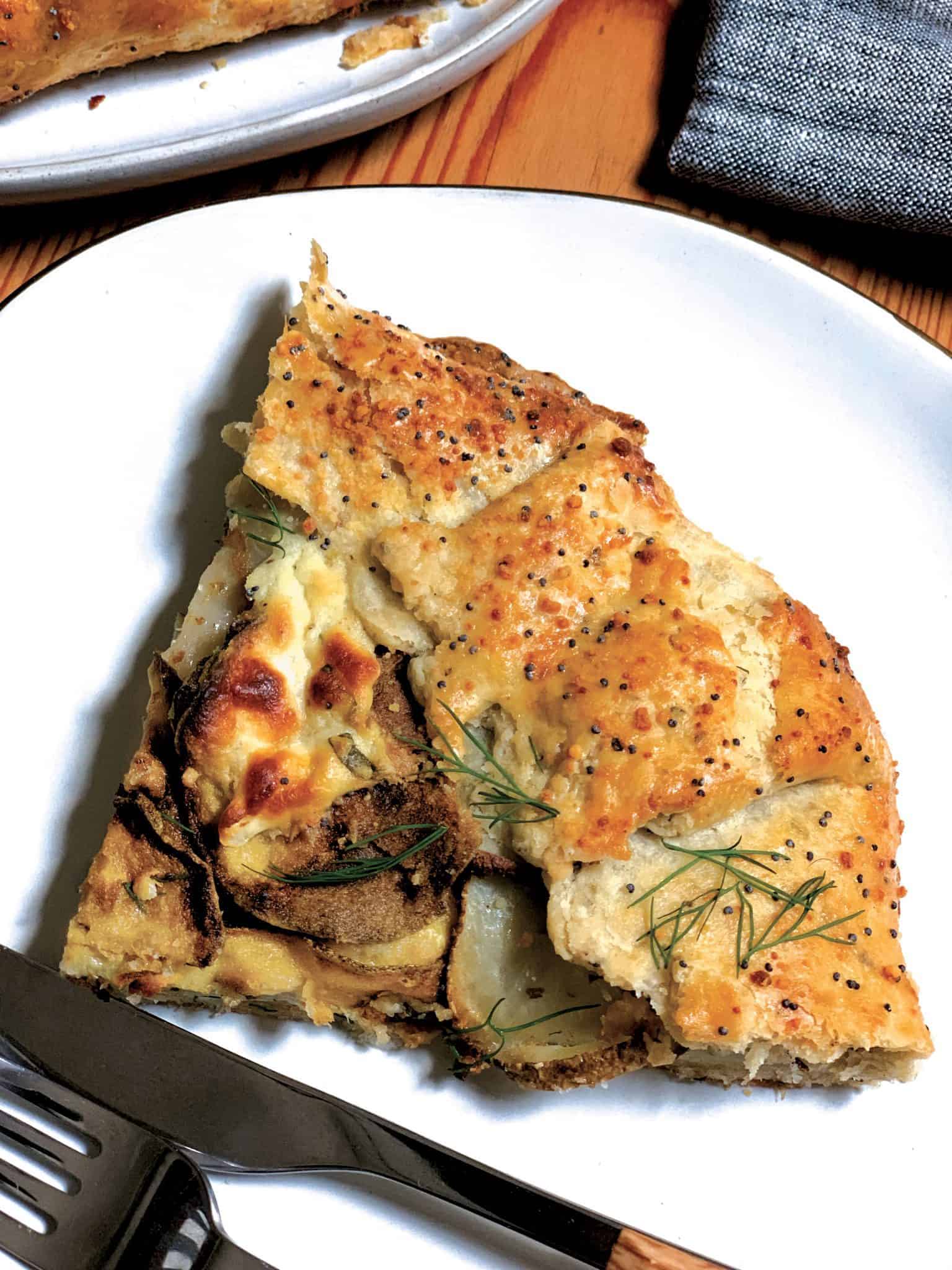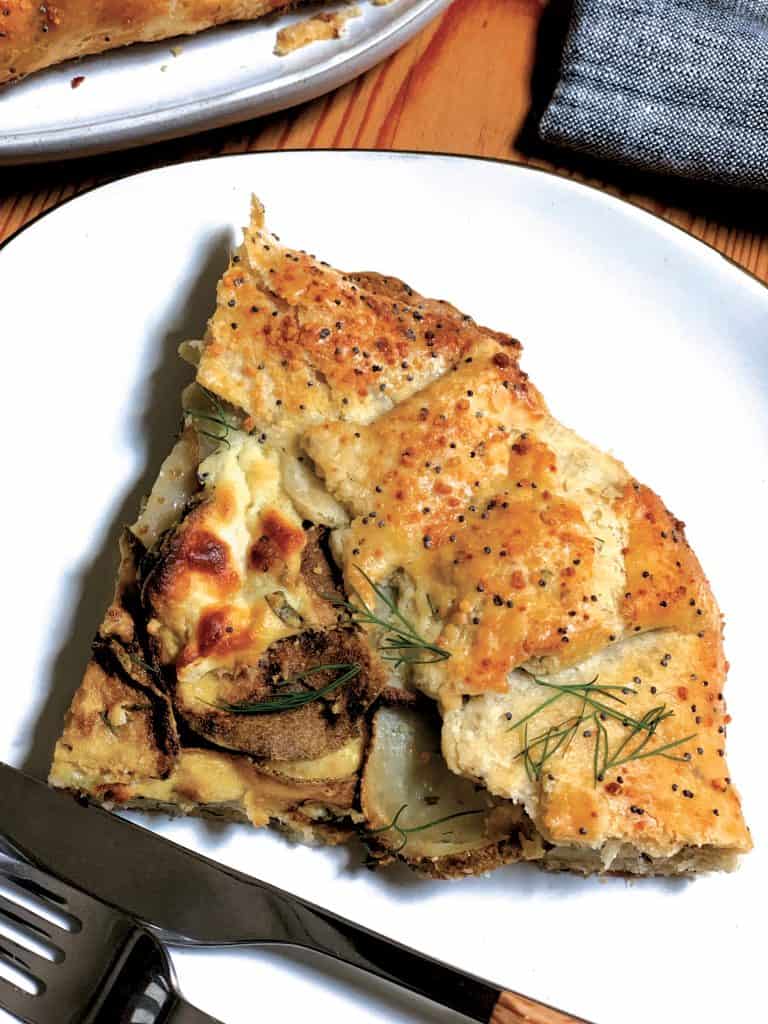 about the galette crust
You can use store-bought pie crust if you like. It will definitely speed things up for a weekday dinner. On a weekend I recommend you make your own, it is really easy and it does not need to rest for a long time. You can't beat a homemade buttery flaky crust, can you?
This lovely zucchini-potato galette is a little sweet and a little savory and gives me the illusion of eating outdoors while enjoying it seating on my sofa. Hope you will love it as much as I do!
You can also try:
If you like savory pies you can also try feta cheese puff pastries with leeks and dill, they are quick, easy and very tasty.
This greek bell pepper pie is super easy and really delicious.
For a fresh summery salad check this black-eyed peas salad, perfect for a barbecue.
These stuffed zucchini blossoms are a great traditional greek summer recipe that I love.
If you've tried this recipe or any other on The Greek Foodie, then don't forget to rate it and leave me a comment below! I would love to hear about your experience making it.
WANT TO EAT LIKE A GREEK? Subscribe to my email and follow along on Facebook, Pinterest and Instagram for all of the latest recipes.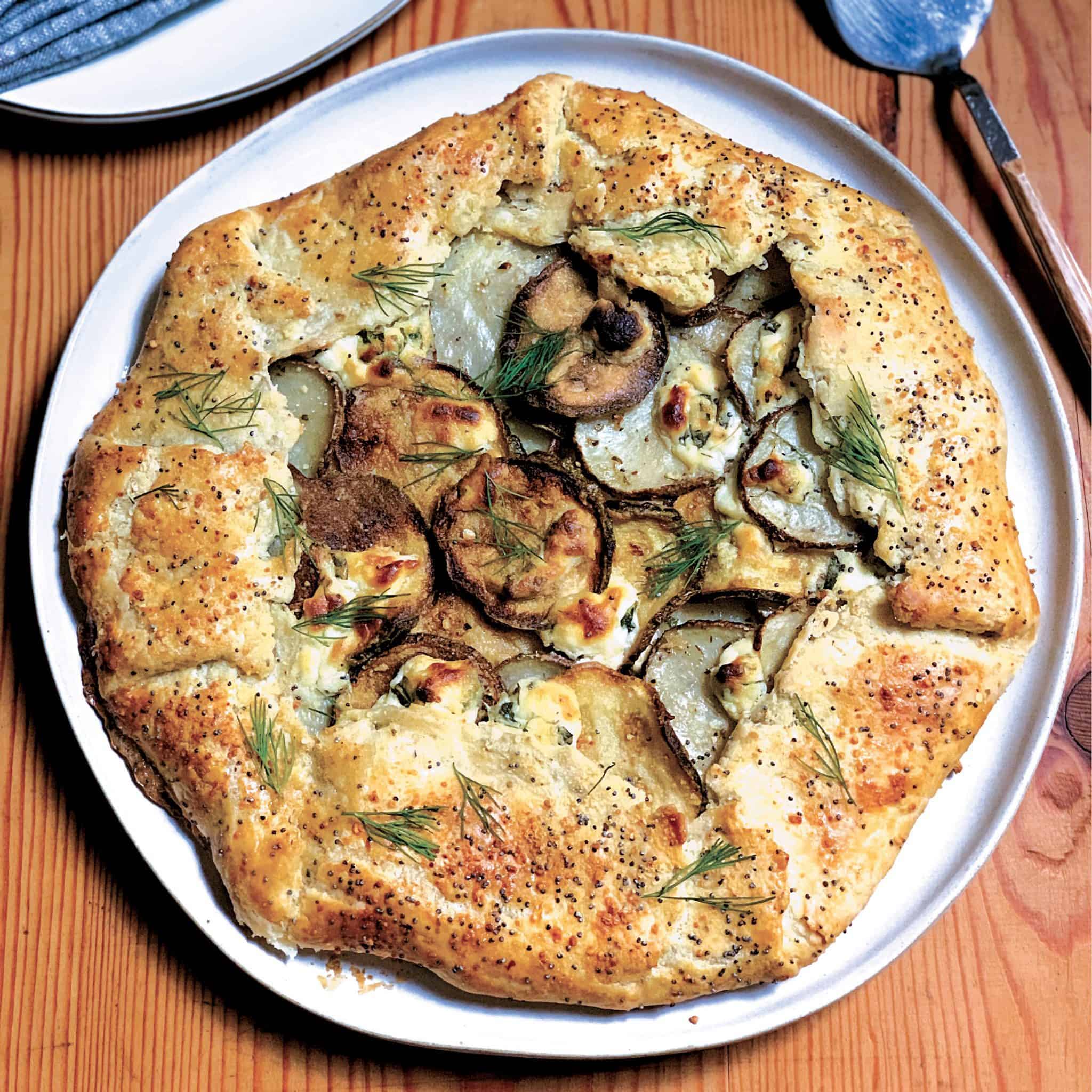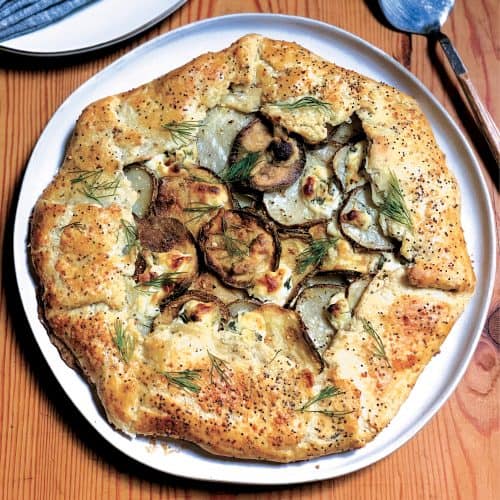 Ingredients
for the crust

1 1/2

cups

All-Purpose Flour

1/2

cup

8 tablespoons cold salted butter (if using unsalted add 1/2 teaspoon of salt in the flour)

5 to 6

tablespoons

cold water

for the egg wash

1

egg beaten with 1 tablespoon water

for the filling

1

large zucchini cut in thin round slices

1-2

large potatoes cut in thin round slices

1/2

cup

flour

2-3

tbsp

olive oil

about 8 oz ricotta cheese

1/2

cup

Philadelphia cheese

10

mint leaves coarsely chopped

10

basil leaves coarsely chopped

2-3

parsley leaves coarsely chopped

a handful of chopped dill

1

tsp

extra virgin olive oil

pinch

of chil pepper flakes

sea salt

fresh ground pepper

for serving

chili pepper flakes

chopped dill
Instructions
Preheat the oven to 375 F.

Place potato slices in a large bowl add 2 tbsp olive oil and season with salt and pepper. Mix well.

Line a baking sheet with parchment paper, arrange all potato slices neatly on paper. It's ok if they overlap. Bake potato slices for 15-20 min, or until the edges are getting crispy and light golden. They don't have to be fully cooked.

While the potatoes cook prepare the zucchini.

In a medium bowl add 1/2 cup flour, a tsp salt a generous amount of fresh ground pepper and a pinch or two of oregano. Mix well. Add the zucchini slices and make sure they are lightly coated with the flour mix.

Heat 2-3 tbsp olive oil in a frying pan. Fry the zucchini slice for 3-4 min, until they are light golden. Place slices on a paper towel rimmed plate. Set aside.

Make the cheese filling

In a bowl mix the ricotta, a tbsp of half & half (or heavy cream)and the philadelphia cheese. Mix well , making sure cheese mix is smooth. Add your fresh herbs, the olive oil the salt, the chili pepper flakes and the ground pepper. Mix well and set aside.

Preheat oven to 425 F.

Assemble

On a lightly floured work surface, roll the dough into a 12″ circle. Transfer the dough to a parchment-lined baking sheet.

Spread 1/2 of the cheese mixture over the dough, leaving a 2″-wide bare strip along the perimeter.

Add a layer of potato slices. Add a layer of zucchini slices. add small pieces of the cheese mixture all around, try to spread it lightly.

Add a layer of zucchini and potatoes alternating each other. Add the remaining cheese mixture on top in small little dollops.

Fold the bare edges of the dough into the center.

Brush the exposed edges of the crust with egg wash. Sprinkle parmesan cheese all over crust. Sprinkle some fresh ground pepper as well.

Bake galette for 25 to 30 minutes, until the crust is golden brown and the filling is bubbling.

Remove the galette from the oven and allow it to cool for 5 to 10 minutes before serving.

Sprinkle some finishing salt, chili pepper flakes and a little chopped all over galette and serve. It can be enjoyed in room temperature as well.
Did you like this recipe?
Mention @thegreekfoodie__ or tag #thegreekfoodie__