Why this recipe sings
If there is one food activity in which Greeks excel, that is bread dipping in olive oil and sauces. We enjoy simple pleasures like bread dipping in good olive oil. In Greece, even in four-star restaurants, you often get warm crusty bread and a little plate with herby, garlicky extra virgin olive oil to start your dinner.
Apart from being delicious, this recipe can be customizable to your palate and taste.
The key is good extra virgin olive oil, herbs, minced garlic, and a pinch or two of aromatic oregano and chili flakes. The beauty of this recipe rests in its simplicity and the quality of your ingredients.
Here is what you need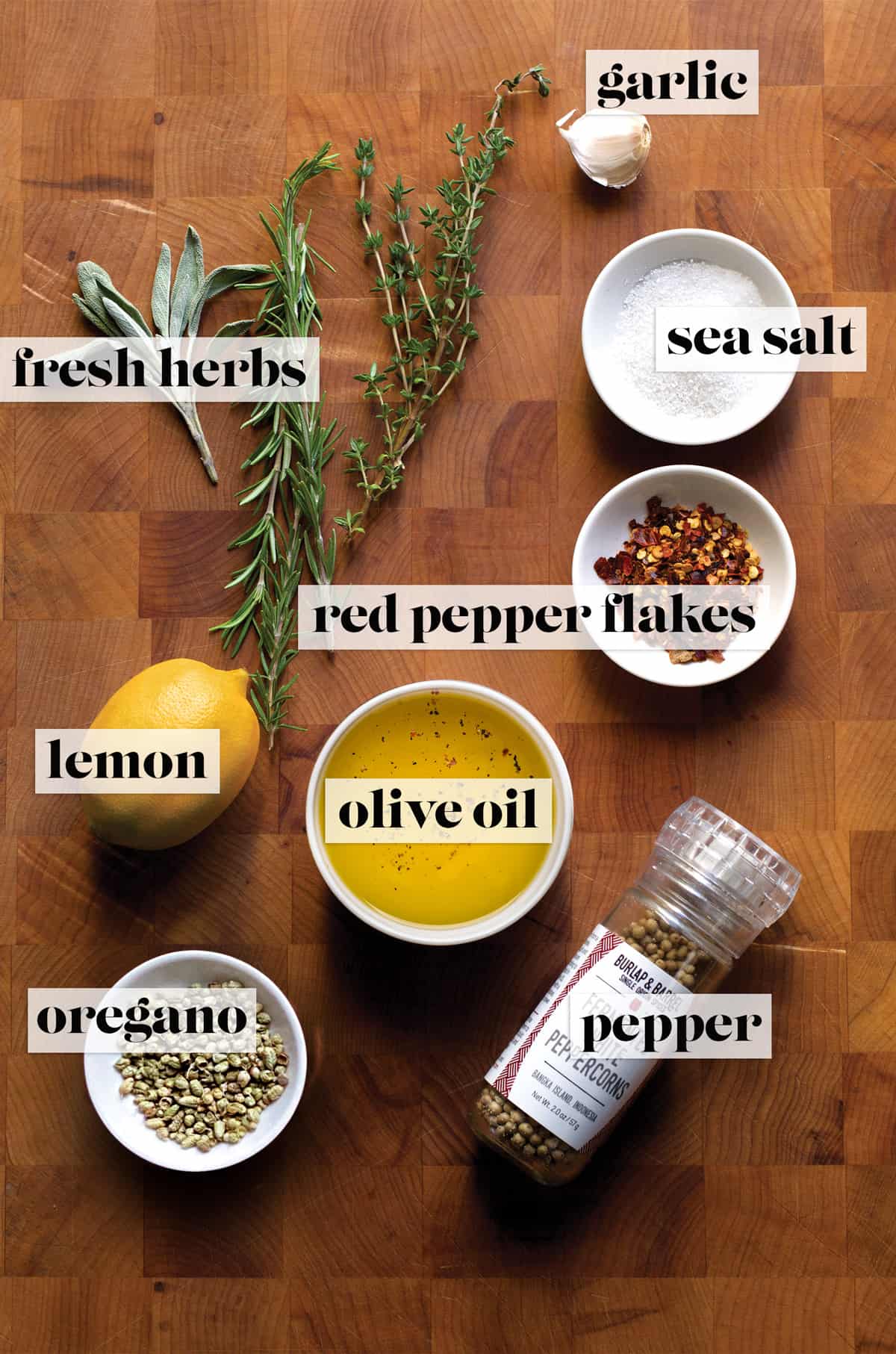 Extra virgin olive oil. Get a good olive oil that fits your budget. Avoid blends; they are a mix of unknown-quality oils and are not healthy or worth it.
Fresh herbs. My faves are rosemary, sage, and thyme. Oregano, lemon thyme, and basil are also excellent choices.
Dried herbs. Oregano is my go-to. I love the Turkish oregano buds from Burlap and Barrel. I crush them or add them as they are in the olive oil.
Red pepper flakes. For a little kick. They can also be chili flakes, whatever you like.
Garlic. A clove of minced or small diced garlic is added for its characteristic pungent, spicy flavor.
Lemon. I use the zest; the aroma and brightness it brings to the dish are unbeatable.
How to make dipping oil for bread
Pour some extra virgin olive oil on a deep small plate. Mince some rosemary and sage leaves, and remove thyme leaves from a sprig. Add all to the olive oil. Add a teaspoon of oregano, half a teaspoon of chili flakes, and a tiny pinch of sea salt and freshly ground pepper. On top, add the zest of a lemon. Give it a swirl and taste it. Modify quantities to your liking. Voila! Your bread dipping oil is ready.
Best olive oil for dipping bread
The best is always Greek extra virgin cold-pressed olive oil. You might say I am biased toward greek olive oil, which is true. Yet it has been chosen year after year as the best olive oil worldwide by well-respected experts. Spanish, Italian, Moroccan, Californian, and Middle Eastern olive oil can also be very good.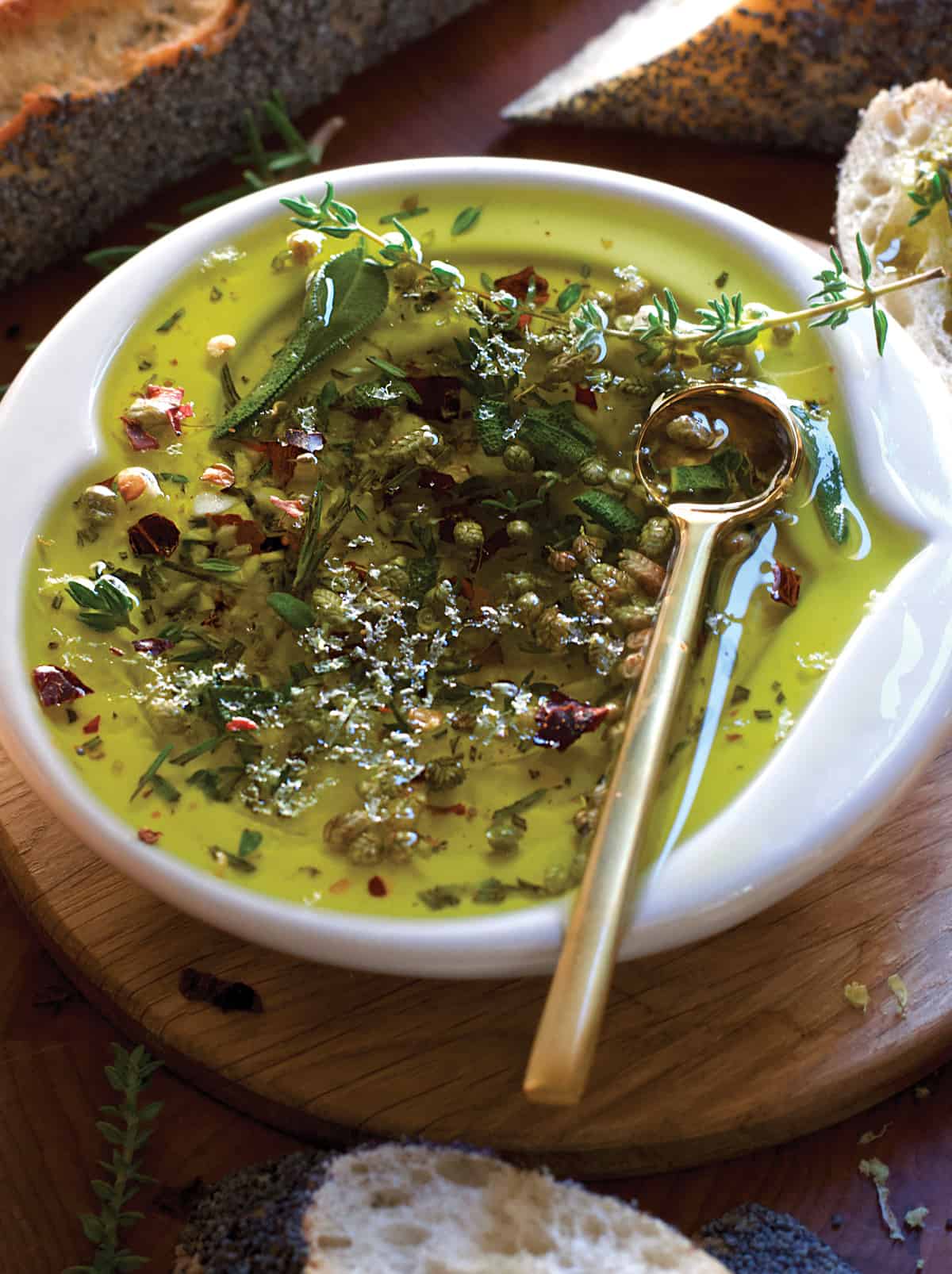 How to choose olive oil
To be sure of the quality of the olive oil, choose branded packaged products and carefully read the labels of the bottles on the shelf. All the information you need is there:
Category: Extra virgin, Virgin, and Olive oil. The category is related to the acidity of the oil: the lower, the better. Extra virgin has an acidity lower than 0.8% and is our choice for all uses, as it has a high nutritional value.
Production: Organic or conventional. The price of organic is higher.
Variety: The variety of olive oil does not play a role in its quality.
Method of extraction: Important for the preservation of its nutrients. The lower the temperature, the more beneficial the oil. So we prefer "cold pressed".
Date: The bottling date is indicated on the packaging. This means companies can bottle last year's oil today. Having the production date of the olive oil on the bottle is best to ensure the freshness and quality of the olive oil.
What is suitable packaging?
Olive oil is extremely sensitive to temperature and light, so we prefer dark-colored bottles or containers made of tin, which have an inner coating of a special film.
What else to check for before buying?
Taste: If the shop is offering a taste test, don't hesitate! Get a teaspoon of olive oil and leave it in the mouth for a while before swallowing. It should have a lively, fresh aroma. It should not be tangy.
Color is not a quality indicator. It is possible, with good storage, that old olive oil has a green color, and correspondingly an utterly fresh one is dark yellow (due to the variety). Light-altered olive oils have a dull yellow color.
Buy a small quantity, and do not exaggerate. Time alters quality.
How do we maintain it?
The enemies of olive oil are the following:
Oxygen: Air oxidizes olive oil. Often Greeks get a five-liter tin of extra virgin olive oil from their favorite supplier. In this instance, it is best to divide the oil into one-liter bottles and store it in a dark, cool place.
Light and temperature: Chlorophyll, which gives its green color, is light-sensitive. The best packaging is opaque or dark bottles or tin. Store them in a dark, cool environment. The temperature should not, ideally, exceed 60° F / 16° C.
Source: Kathimerini.gr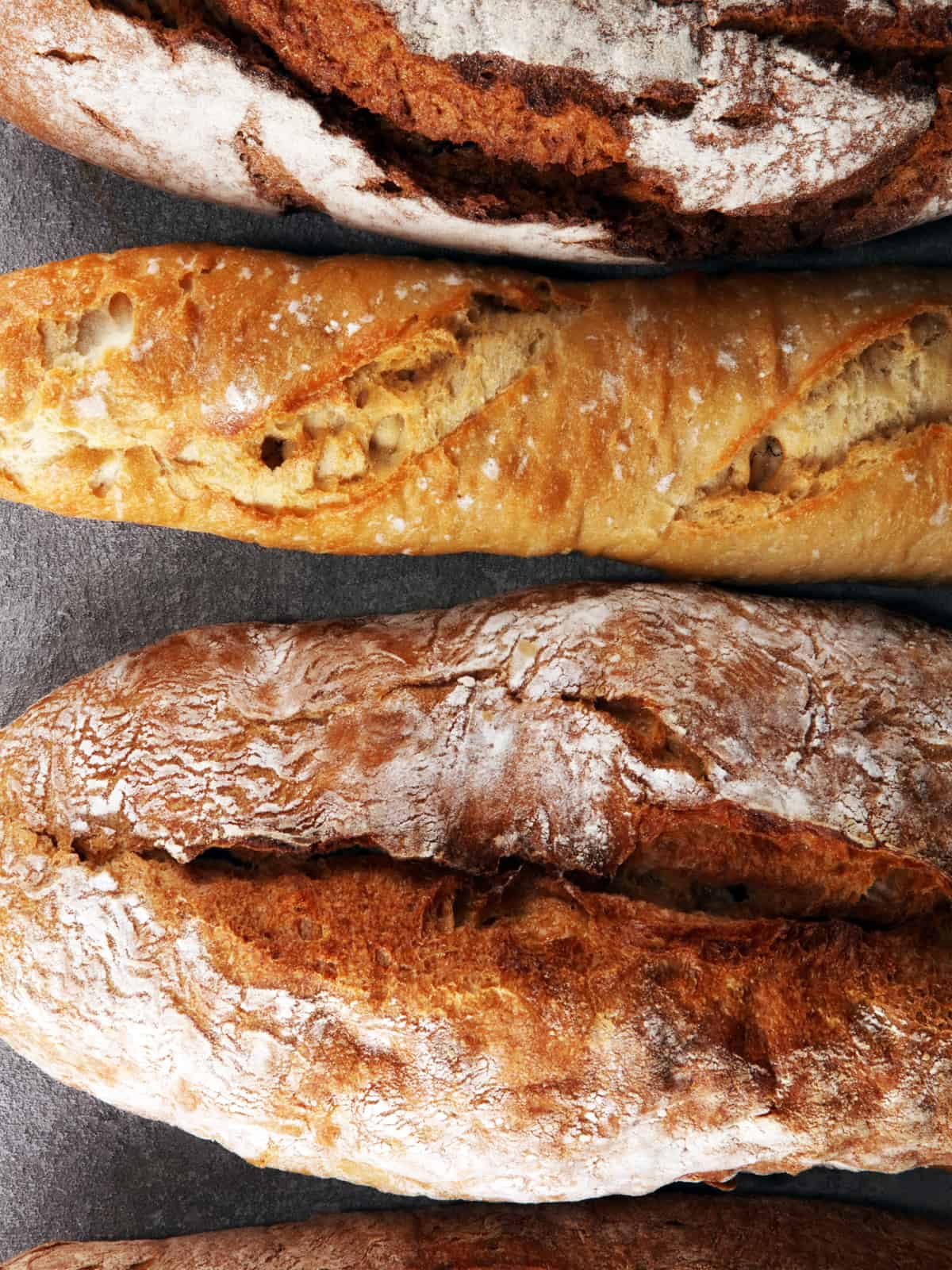 The best bread for dipping in olive oil
The world is your oyster! All is great, a fresh baguette, a good sourdough, an Italian crusty loaf. Pita, seedy aromatic crackers, and Swedish crispbread like Finn crisp are also good choices. Greeks often dip paximadia in olive oil, the hard double-baked bread available all over Greece. Check out this olive oil bread, it is terrific with this dipping oil.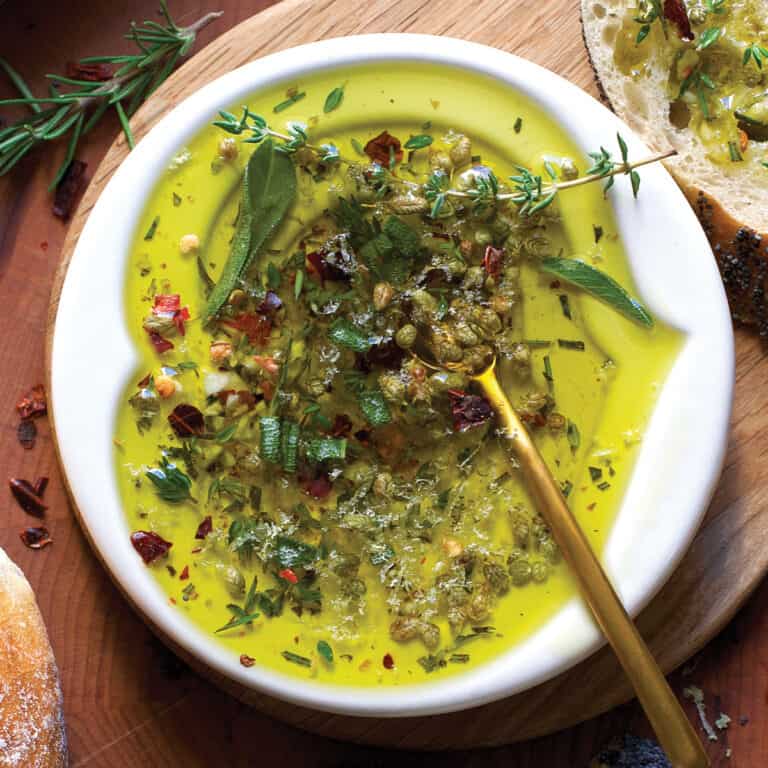 Bread Dipping Oil
This bread dipping oil is garlicky, full of herbs and has an abundance of flavor. Learn how to make it and how to choose the best extra virgin olive oil and kind of bread for a dipping feast!
Ingredients
3

tablespoons

extra virgin olive oil

1

garlic clove

1

fresh rosemary sprig

1

fresh thyme sprig

2

sage leaves

1

lemon

dried oregano

sea salt

freshly ground pepper

red pepper flakes
Instructions
Pour three tablespoons extra virgin olive oil on a small deep plate. Mince some rosemary and sage leaves, and remove thyme leaves from the sprig. Add all to the olive oil. Add a teaspoon of dried oregano, half a teaspoon of red pepper flakes, and a tiny pinch of sea salt and freshly ground pepper.

On top, add the zest of the lemon. Mix gently and taste it. Modify quantities to your liking.
Notes
Nutritional Info – Please remember that the nutritional information provided is only estimated and can vary based on the products used.
Nutrition
Calories:
102
kcal
Carbohydrates:
3
g
Protein:
0.4
g
Fat:
11
g
Saturated Fat:
1
g
Polyunsaturated Fat:
1
g
Monounsaturated Fat:
8
g
Sodium:
1
mg
Potassium:
42
mg
Fiber:
1
g
Sugar:
1
g
Vitamin A:
19
IU
Vitamin C:
15
mg
Calcium:
10
mg
Iron:
0.3
mg
Tried this recipe?
Mention @thegreekfoodie__ or tag #thegreekfoodie__