Greek shrimp bake – garides saganaki is a must delicacy in Greece. Seafood is abundant in Greece, and tavernas all over serve this fantastic dish. It is the absolute meze of the summer months.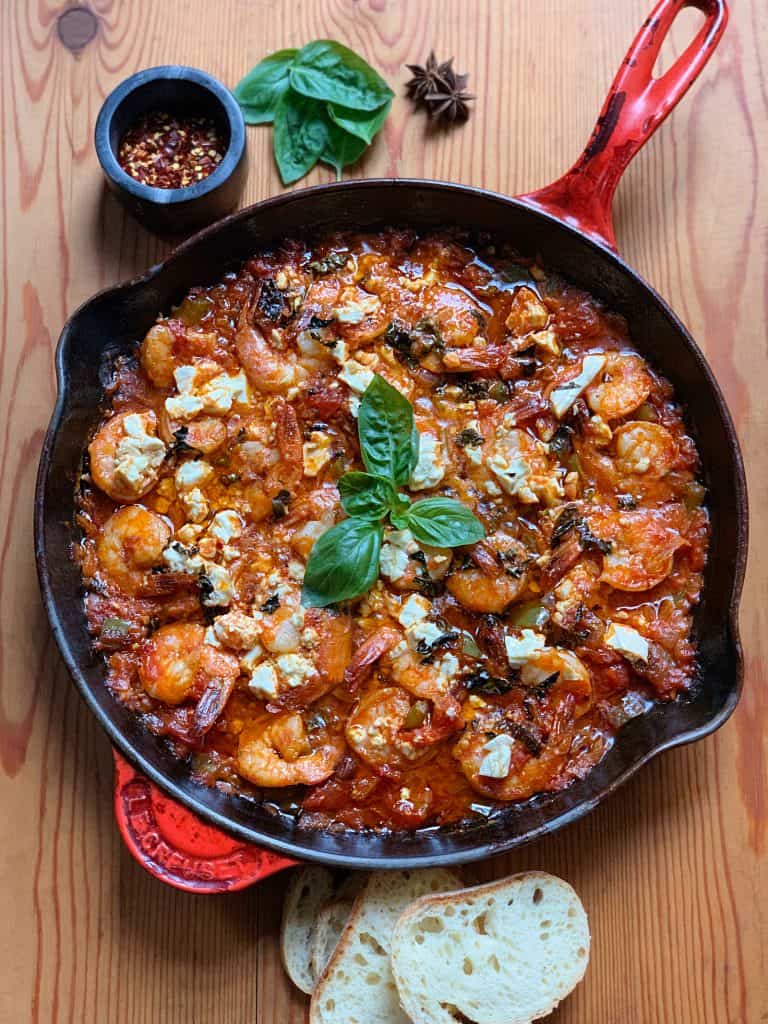 Shrimp saganaki is very easy to make. You will need juicy tomatoes (good quality canned are ok too), some fairly large shrimp, chop an onion and bell pepper, and you are almost done! Ask your fishmonger to clean and devein the shrimp, and that saves you time also. Luscious extra virgin olive oil and a tiny amount of Greek ouzo add warmth and flavor. Good Greek feta cheese and fresh herbs help for a strong finish.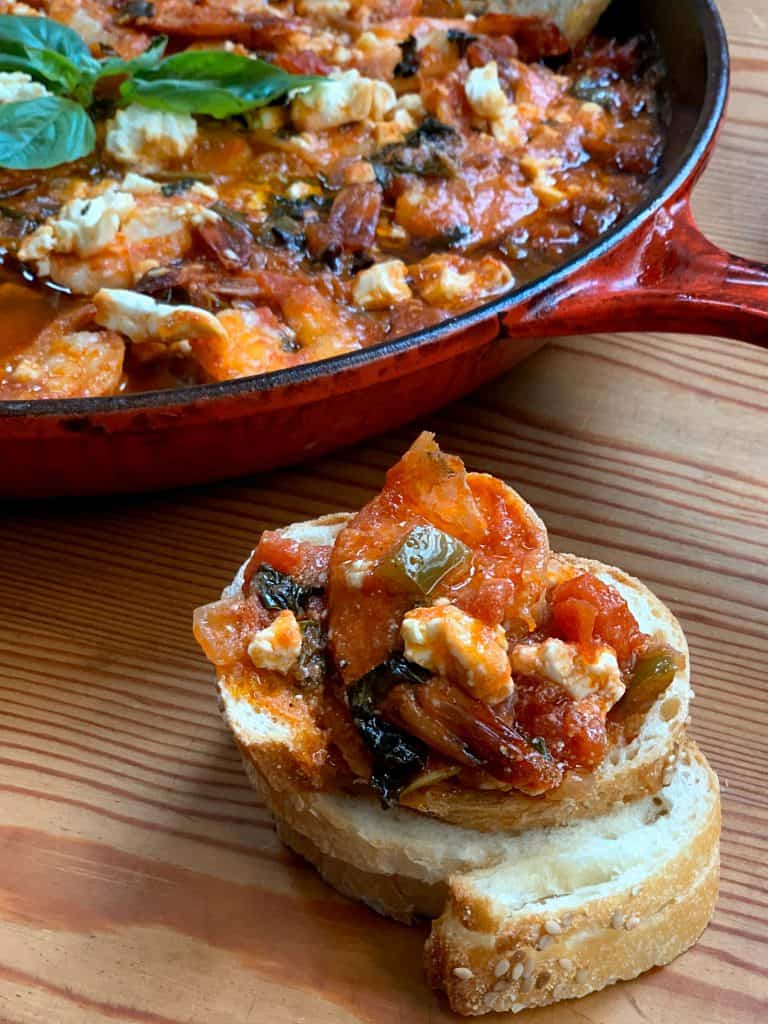 It is a decadent dish that will leave all your guests in awe at your next dinner party. Trust me on this. Just have lots of fresh, crusty bread around because the sauce is absolutely to die for!
More Greek appetizer ideas
This roasted tomato appetizer is my go-to when I have impromptu guests because it is easy, and everyone loves it.
A real winner is these tomato fritters recipe or tomatokeftedes in Greek. They are perfect for the rich tomato summer season.
Check all the pantry items a Greek kitchen wouldn't go without.
If you've tried this recipe or any other on The Greek Foodie, then don't forget to rate it and leave me a comment below! I would love to hear about your experience making it.
WANT TO EAT LIKE A GREEK? Subscribe to my email and follow along on Facebook, Pinterest and Instagram for all of the latest recipes.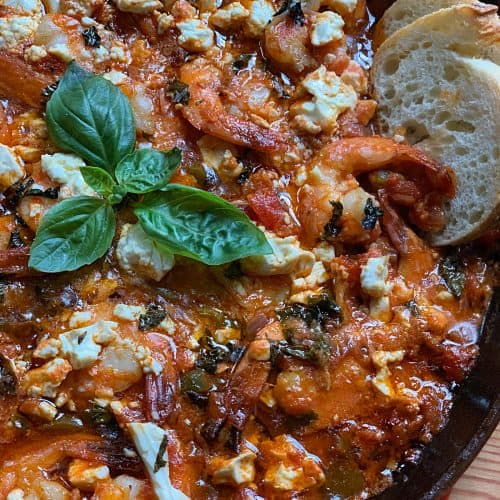 Greek Shrimp Bake – Garides Saganaki
Greek shrimp bake – garides saganaki with tomatoes, tender shrimp, onions, peppers and a shot of ouzo!
Ingredients
1

lb

large shrimp

shell removed, deveined, tail intact

1

green bell pepper

diced

1

onion

diced

3

cloves

of garlic

thinly sliced

3

cups

grated ripe tomatoes

skin removed or 28 oz can of Gustarosso San Marzano tomatoes

1

tsp

brown sugar

1/2

cup

extra virgin olive oil total

red chili flakes

2

star anise

1

tsp

tomato paste

1

shot Greek ouzo

2

handfulls fresh basil chopped

1.5

cups

Greek feta cheese

a handful of fresh thyme leaves

a handful fresh oregano leaves

sea salt

fresh ground pepper
Instructions
Preheat oven to 390* F.

Place the grated tomatoes in a bowl. Add the brown sugar and stir.

Place the shrimp in a large bowl, drizzle with 1-2 tbs olive oil. Mix well gently.

Place a large frying pan over high heat. Add the shrimp. Season with salt and pepper. Sauté for 1 minute total, until they are golden all over. Remove shrimp and set aside.

Using the same pan, in medium heat, add 1-2 tbs olive oil. Add the onions. Sauté for 1-2 minutes, make them sweat a little. Add the garlic. Stir and add the bell pepper. Stir.

Season with sea salt and fresh ground pepper. Add the tomato paste and stir well. Sprinkle some chili flakes and add the star anise. Sauté for 1-2 min on medium heat.

Carefully add the shot of ouzo and let it evaporate.

Add the tomatoes. Stir well. Bring to a boil for half a minute or so.

Transfer tomato mixture to to an ovenproof baking pan like a cast iron pan.

Sprinkle half of the chopped basil and add half of the crumbled feta cheese all over.

Start placing the shrimp in the sauce, pressing gently a little. No need to fully incorporated into the sauce, half way is fine.

Add the rest of the feta cheese, sprinkle some chopped basil, and some oregano leaves and drizzle 1-2 tbsp extra virgin olive oil.

Bake for 20 minutes.

Serve immediately with a lot of crusty fresh bread for wild dipping!
Notes
I prefer using good quality canned tomatoes for this recipe, especially if I can find really ripe fragrant fresh tomatoes. If you decide to use canned, my recommendation is to use authentic San Marzano D.O.P. tomatoes, they are truly the best. My favorite San Marzano D.O.P. are Gustarosso. If you cant find authentic San Marzano, San Merican tomatoes are also good.
If you use fresh tomatoes, I am a big fan of Campari tomatoes, they are sweet and lovely. The only downside considering Campari is that they are small and you will need 3-4 in place of 1 regular tomato. Also, in the summertime, there is an abundance of heirloom tomatoes for you to choose from, get ripe, juicy tomatoes that smell like summer.
Tried this recipe?
Mention @thegreekfoodie__ or tag #thegreekfoodie__