This delicious authentic souvlaki recipe has juicy, tender pork, homemade Greek pita bread, tzatziki sauce, and lots of aromatics.
What is souvlaki?
It is the closest thing Greeks have to fast food and it is probably a much healthier option than the various fast food burger versions you find in the US because it is always made with fresh ingredients.
Souvlaki consists of small pieces of meat grilled usually on a skewer or as gyro, (meat cooked on a vertical rotisserie) wrapped in pita with tomatoes, onions, and tzatziki sauce.
What kind of meat is used for souvlaki?
The meat used in Greece is pork, although chicken, beef, and lamb may also be used. Every souvlaki shop makes its own meat marinade, tzatziki sauce, and cut-up tomato wedges. There is no prefabricated gyro; they always make their own. The cooking oil is always olive oil no matter where you go. And the fries are always from real potatoes, no prefab there.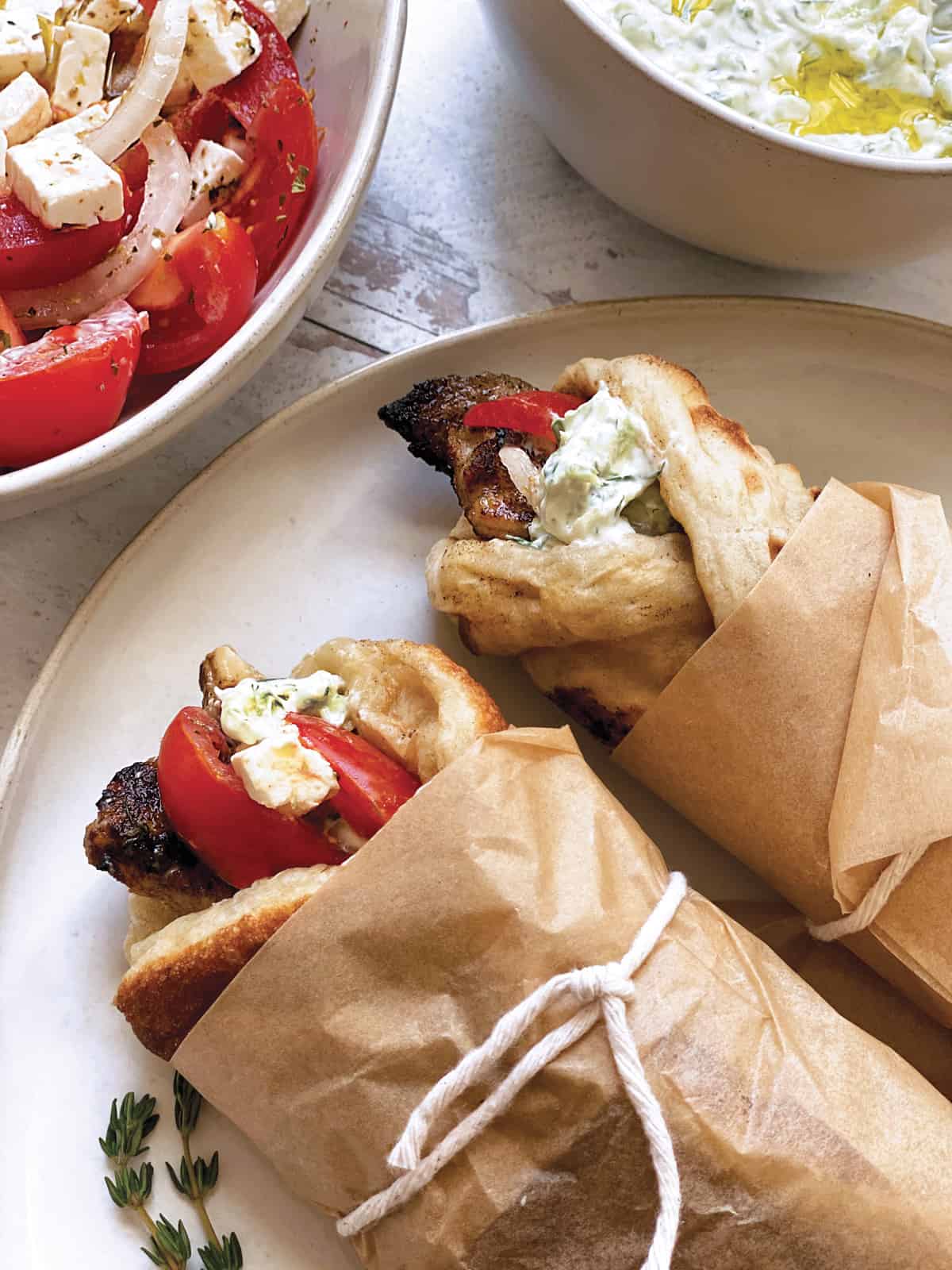 This is a souvlaki gyro pita recipe
This is my version of making souvlaki with gyro and pita at home. I marinate very thin pieces of pork in a souvlaki marinade for 30 min to an hour, I grill each piece on the stove for 1-2 minutes. I cut tomatoes, slice onions, and some feta cheese, and mix them together to add to the souvlaki.
Homemade pitas are amazing and make this souvlaki recipe great but I also use store-bought Greek pitas in a pinch.
The tzatziki sauce is an essential sauce for souvlaki. It is super easy to make, and it is so aromatic and fresh.
French fries can be included in a souvlaki although not necessary. It's a matter of preference.
Ingredients for souvlaki with gyro & pita
For the souvlaki marinade
Butterflied boneless porkloin chops
Onions
Fresh herb sprigs like rosemary, thyme or oregano.
Garlic
Extra virgin olive oil
Honey
White wine vinegar
Sea salt
Freshly ground pepper
for the filling
Greek pita breads (flatbreads)
Tomatoes
Greek feta cheese (optional)
Onion slices
Extra virgin olive oil
White wine vinegar
Dry oregano
Sea salt
Tzatziki sauce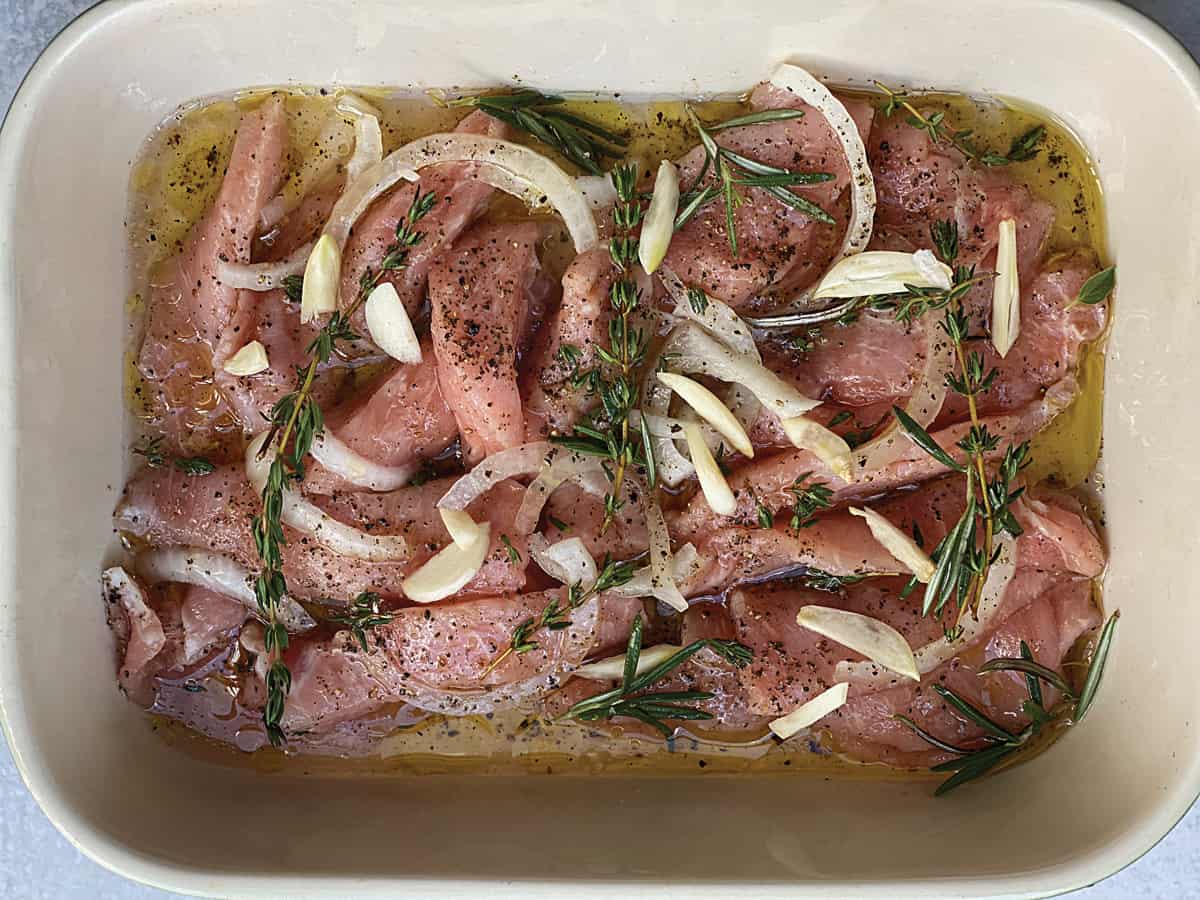 In a bowl, mix fresh herb sprigs, onion & garlic slices, olive oil, vinegar, honey, and a pinch or two of salt and pepper. Place meat in a large pan and add the marinade. I like to massage the meat a little with the marinade mixture. Cover with a towel and let it marinate from 30 minutes to an hour.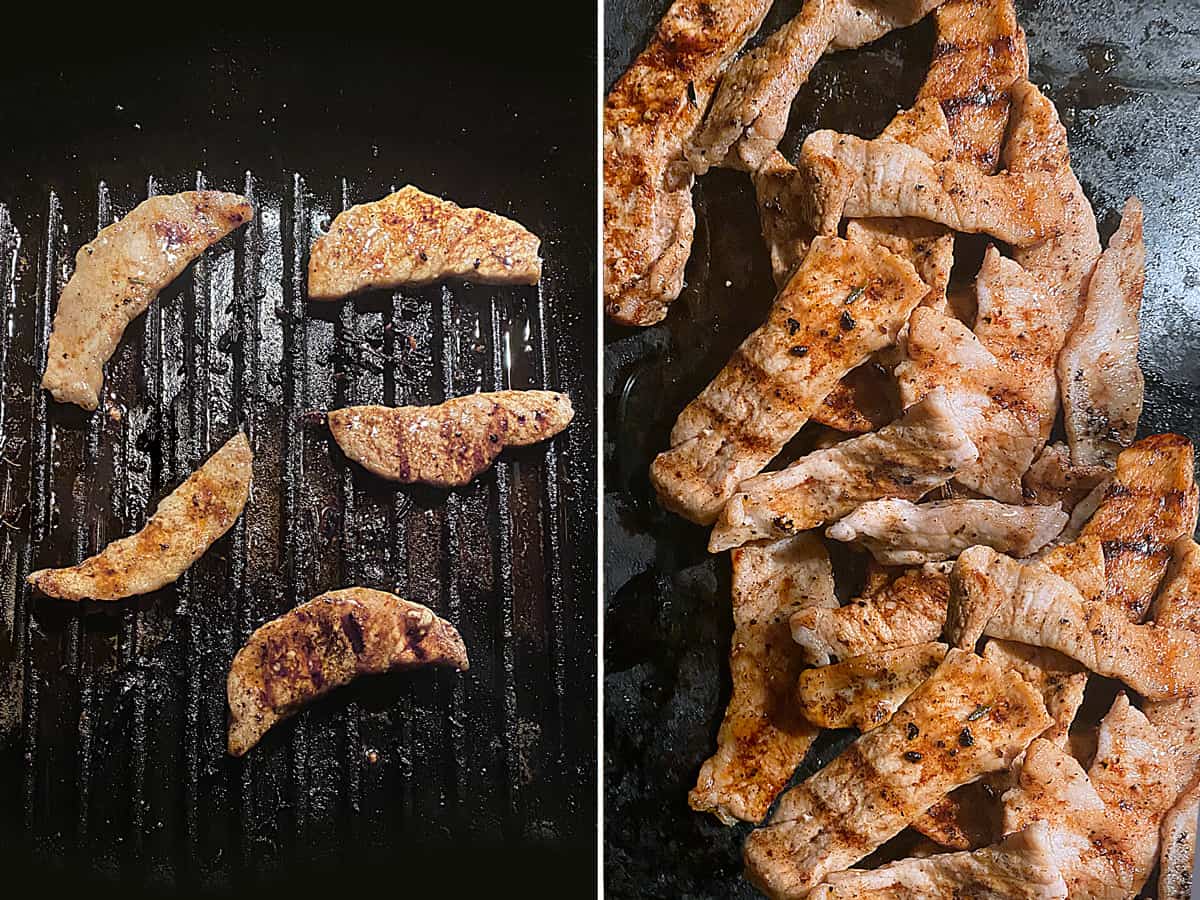 Heat a grill pan or cast iron pan. Add a tablespoon of olive oil. When oil is very hot grill a few pieces at a time for 1-2 minutes tops.
Don't overcrowd the pan, the pieces will boil instead of grill if you do.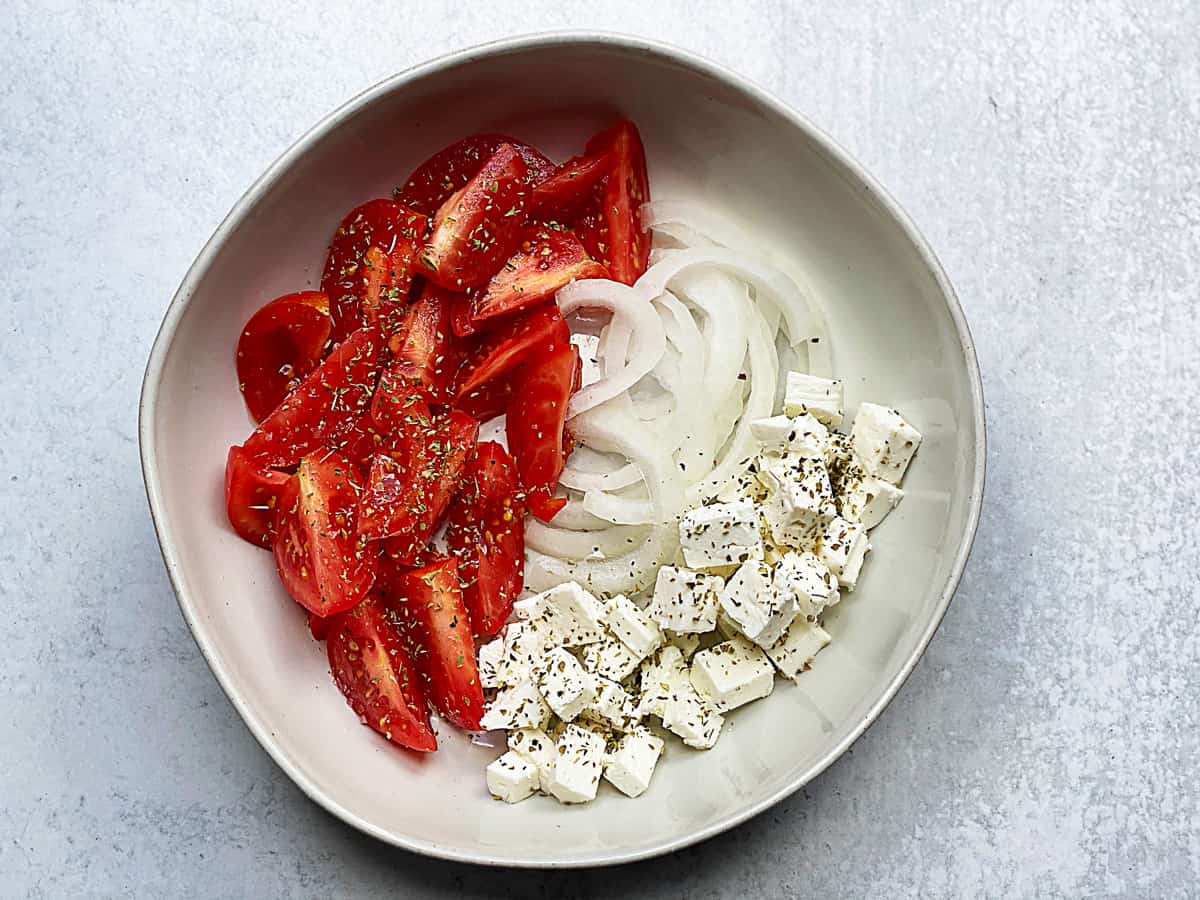 Cut up the tomatoes in slim wedges, thinly slice up half an onion and cut some feta in small cubes(or crumble). Sprinkle a little dry oregano. Season with a pinch of sea salt, some pepper, a teaspoon of olive oil, and a dash of white wine vinegar. Mix together and let it sit for 30 minutes.
Feta is not traditionally in the souvlaki but I love adding it in. I love the tangy flavor it brings.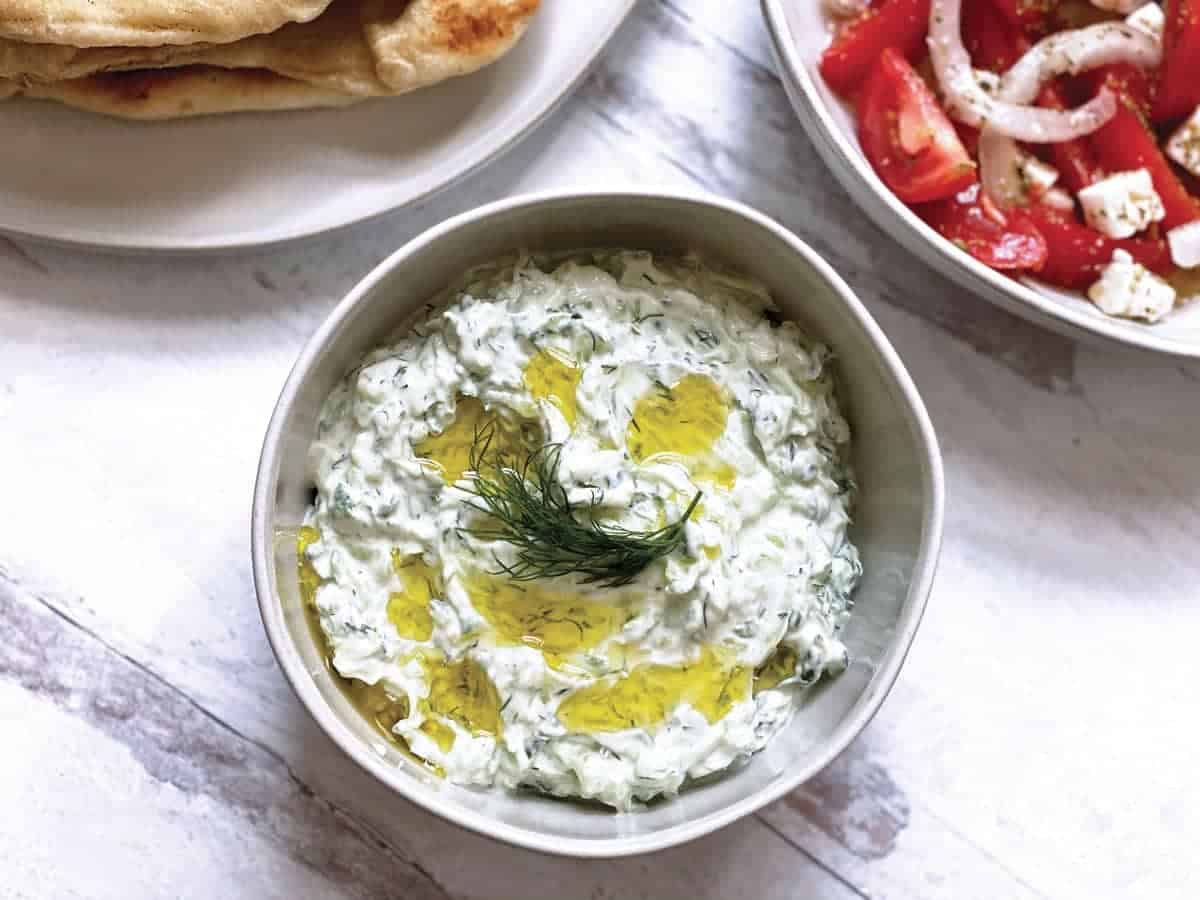 Making tzatziki is super easy. You mix Greek yogurt, grated cucumber, minced garlic, some dill, a splash of white wine vinegar and you are done. You can also purchase it from your local grocery store. I like the Cedars brand.
A few minutes before you are ready to serve warm up your pitas. You can either place them on a rimmed baking sheet in a 350 F oven for a few minutes or grill them on the same pan you used for the meat. Whatever method you choose, make sure to brush a little olive oil on the pitas before warming.
How to assemble a souvlaki.
Place a pita on a piece of parchment paper. Right in the center, add some meat pieces. Add some tomato-onion mix and a couple of tablespoons of tzatziki sauce. You can also add a couple of French fries if you like. Roll up your souvlaki securely with the help of parchment paper. Fold the end bit so your sauces won't drip at the end. Souvlaki is ready to eat.
You can also opt-out of rolling up your souvlaki and enjoy it open-faced.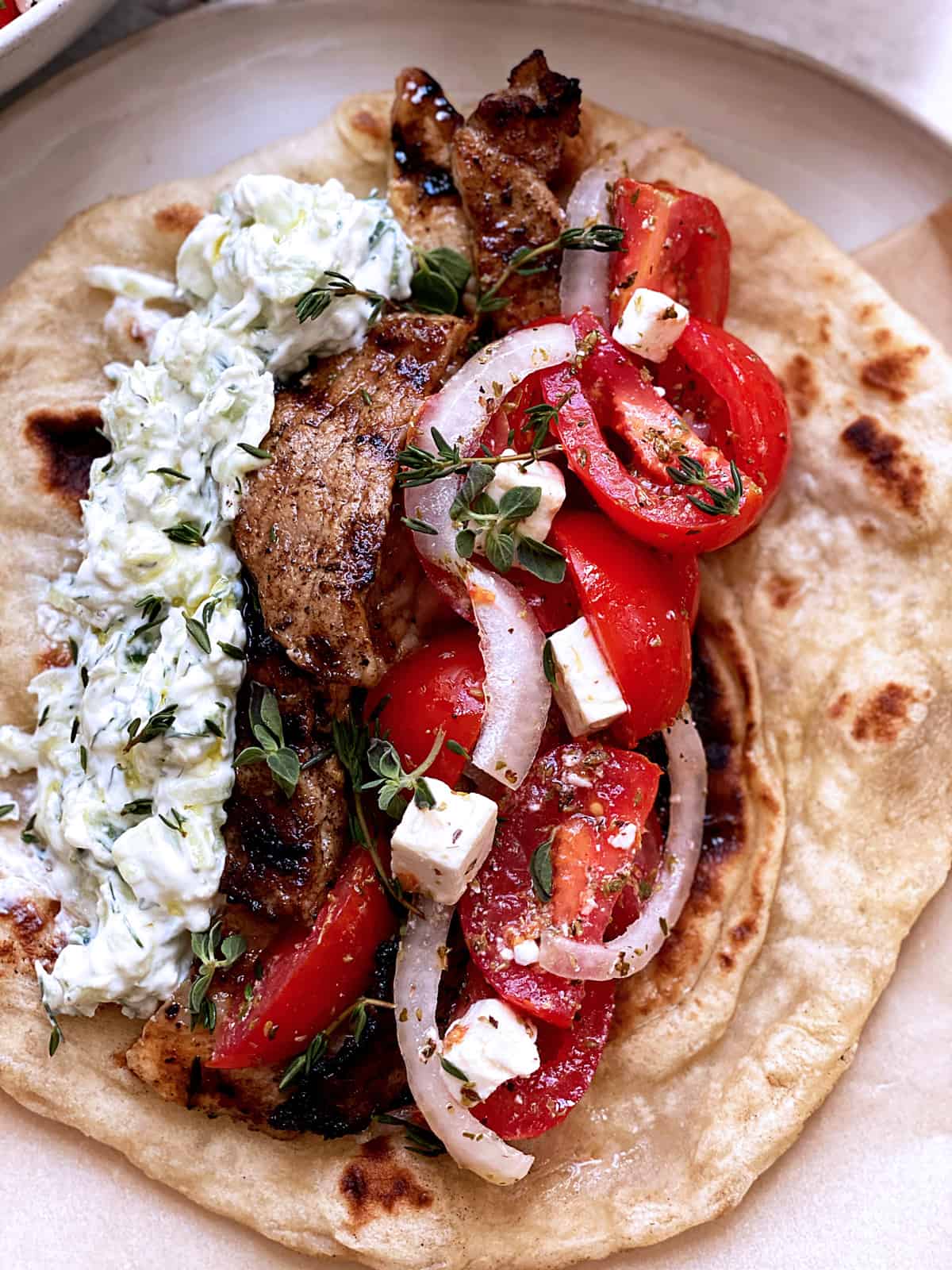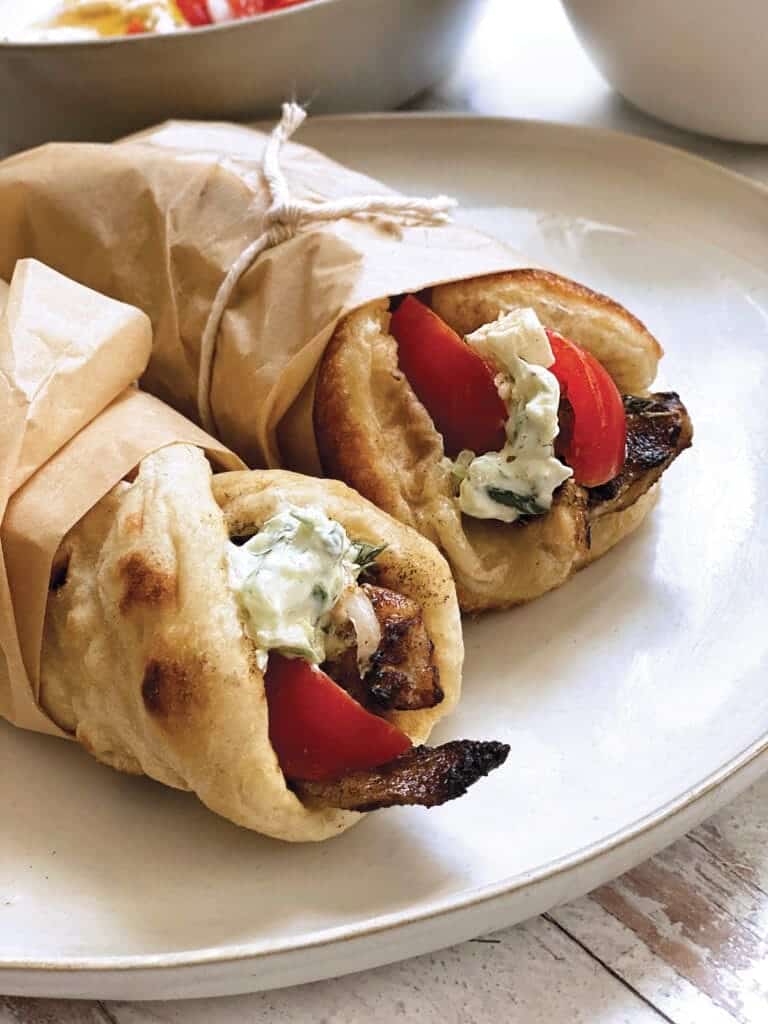 You may also like
Greek meatballs or keftedes can also be wrapped like souvlaki!
This spatchcock Greek lemon chicken has lots of garlic, lemon & fresh herbs.
Delicious lemon potatoes are the perfect side to anything grilled.
Check out my Greek pantry staples
Cooked this? Rate this recipe! You can also leave a comment below. I love hearing from you!
WANT TO EAT LIKE A GREEK? Subscribe to my newsletter and follow me on Facebook, Pinterest, and Instagram for all of the latest updates.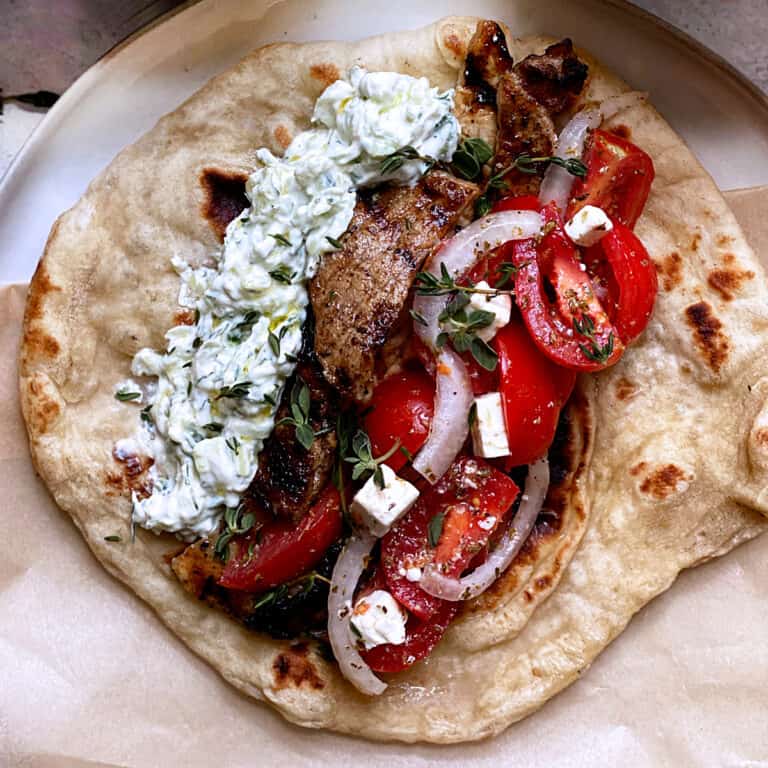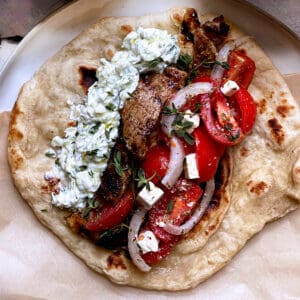 Authentic Greek souvlaki
Souvlaki gyro with tender pork, Greek pita bread, tzatziki sauce and lots of aromatics.
Ingredients
the meat and marinade
1

lbs

butterflied boneless porkloin chops

sliced in ½ inch strips

½

onion

thinly sliced

2-3

Fresh herb sprigs

like rosemary, thyme or oregano.

2

garlic cloves

½

cup

of olive oil

1

tablespoon

honey

⅔

cup

white wine vinegar

sea salt

freshly ground pepper
for the filling
2

ripe tomatoes

½

cup

Greek feta cheese

cut in small cubes or crumbled

½

onion

sliced thinly

2

tablespoons

extra virgin olive oil

1

teaspoon

white wine vinegar

dried oregano

sea salt

½

cup

tzatziki sauce
Instructions
marinate the meat
In a bowl mix fresh herbs, onion slices, olive oil, vinegar, honey, and a pinch or two of salt and pepper. Place meat in a large pan and add the marinade. I like to massage the meat a little with the marinade mixture. Cover with aluminum foil and let it marinate from 3-4 hours to overnight in the fridge.

Take it out of the refrigerator ½ hour ahead of cooking so it can get to room temperature.
make the tomato & onion filling
Cut the tomatoes into thin slices, add them to a medium bowl. Add the sliced onion, and the crumbled feta cheese. Season with sea salt to taste. Sprinkle some dried oregano. Drizzle olive oil and a tsp or so of red wine vinegar. 

Mix well but gently and let it sit for at least half an hour ahead of the souvlaki assembly.
cook the meat
Add 2-3 tbs of olive oil to a cast-iron grilling pan or the pan of your choice. Let it heat up almost to the point of smoke. add the meat 2-3 slices at a time. You don't want to add more because the temperature will go down and the meat will boil instead of the grill. 

Cook meat for 2-3 minutes for each side. I always do a test drive; cooking time changes depending on how thin my meat slices are.
right before serving
On the same pan, you cooked your meat, clean it lightly with a paper towel, drizzle a little olive oil and grill the pitas to warm them up. This will allow them to get some of that charred, smoked flavor.
assemble the souvlaki
Take a pita bread, add two-three slices of meat, 2-3 full tablespoons of tomato & onion filling, and 2 tbs of tzatziki. Wrap it up in parchment paper just like they do in Greece and enjoy!
Notes
If fresh herbs are not available just use dried ones. You can never go wrong with dry oregano in Greek cuisine 🙂
Nutritional Info – Please keep in mind that nutritional information provided is only an estimate and can vary based on products used.
Nutrition
Calories:
529
kcal
Carbohydrates:
13
g
Protein:
30
g
Fat:
39
g
Saturated Fat:
9
g
Cholesterol:
96
mg
Sodium:
421
mg
Potassium:
652
mg
Fiber:
1
g
Sugar:
9
g
Vitamin A:
690
IU
Vitamin C:
11
mg
Calcium:
153
mg
Iron:
1
mg
Tried this recipe?
Mention @thegreekfoodie__ or tag #thegreekfoodie__