This flavorful Greek lamb stew avgolemono has pearl onions, olive oil, and lots of fresh dill. It is finished with avgolemono, the fantastic creamy egg, and lemon sauce. Serve it over orzo or potatoes with good bread. This is simple, fresh, Greek food at its best!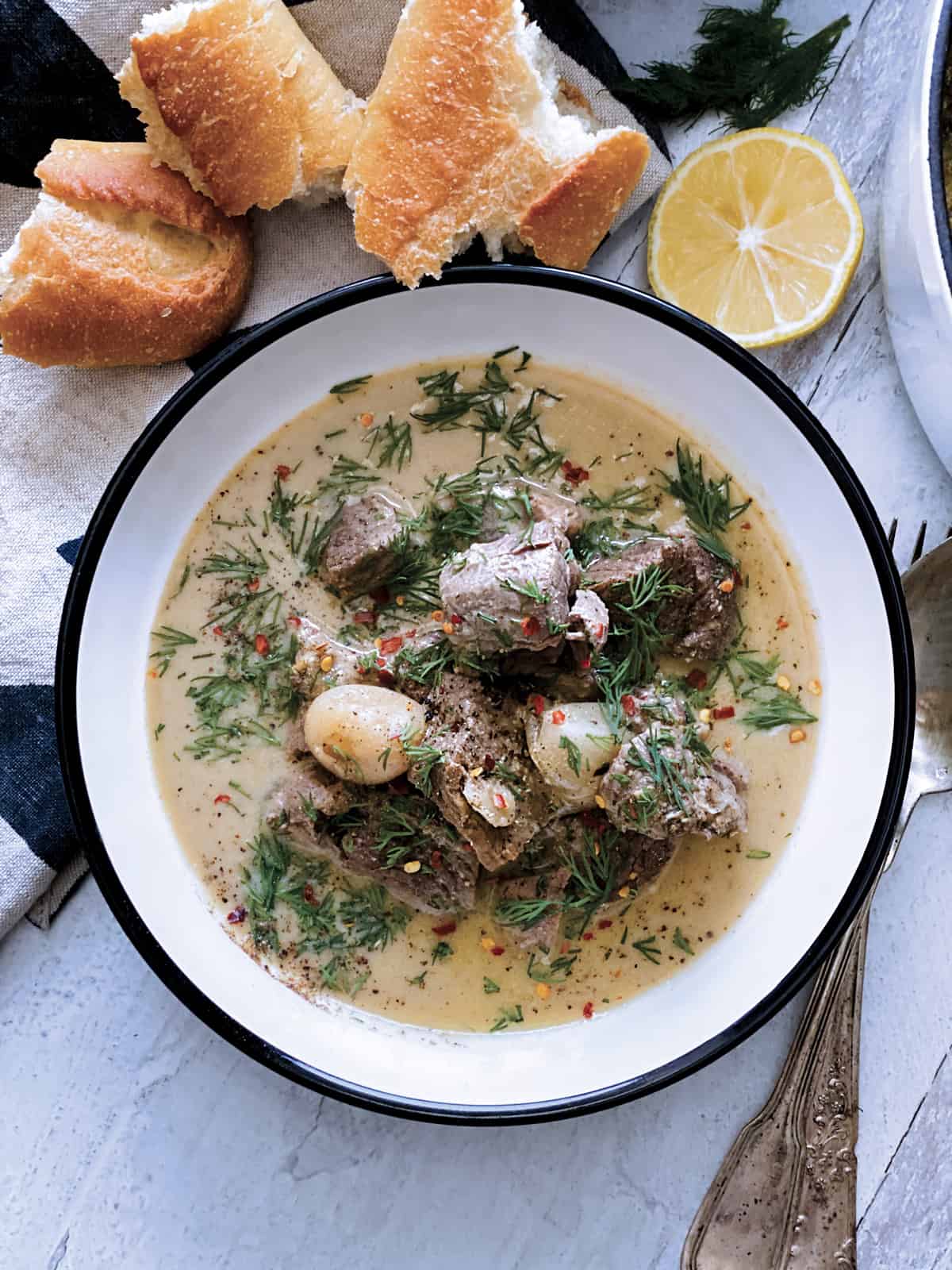 Some background on this Greek lamb stew. This amazing recipe belongs to my grandma Evgenia. According to my family, she used to prepare it on Christmas eve, and the family would enjoy it after the Church Christmas morning service for a festive holiday lunch. Grandma was a fantastic cook born in Constantinople. Her recipes always had that extra flavor, she had a gift with food, and her dinner parties were legendary.
I haven't found the origins of the recipe. It is not to be confused with lamb fricassee. Although they have a similar flavor, the lamb fricassee has added greens like romaine lettuce, mustard greens, spinach, or dandelions. You can say they are first cousins along with the amazing Greek Easter soup magiritsa.
The Greek lamb stew recipe is simple with a lot of flavor. There are few uncomplicated ingredients. The stew is finished with a delicious avgolemono sauce and is best served warm over orzo, rice with good bread to soak up the sauce.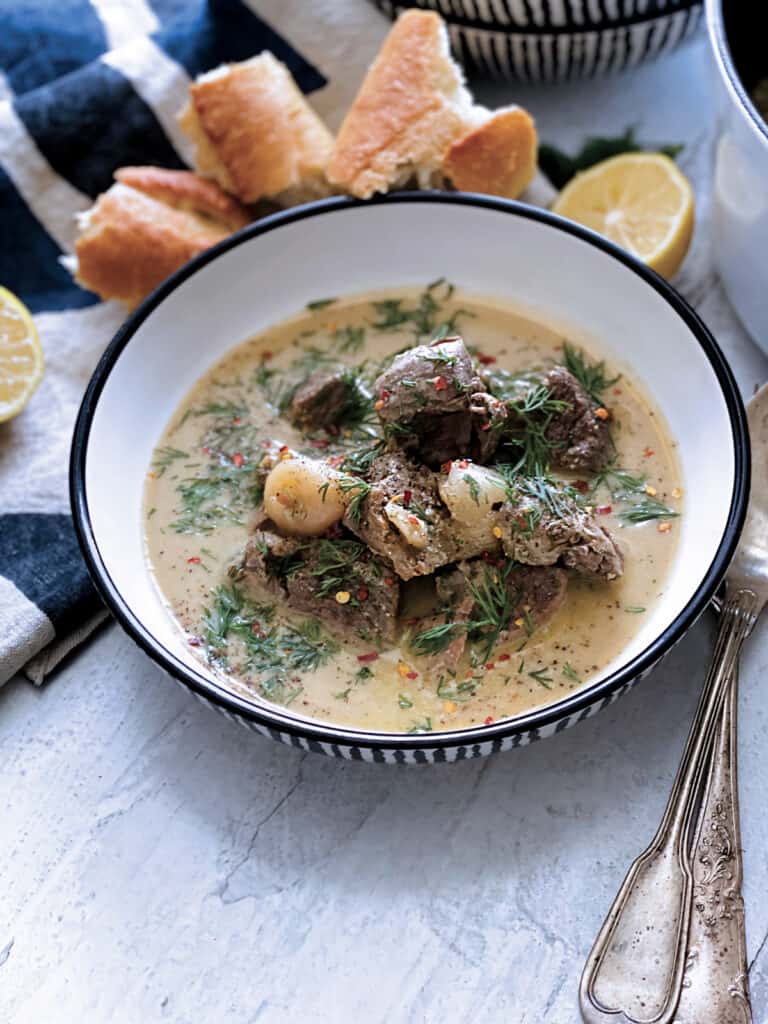 What is avgolemono?
Avgolemono or egg-lemon is a sauce made with eggs and lemon juice mixed with broth. This sauce is common in Greek, Jewish, Turkish, Arab, and Italian cuisine. Many Greek recipes have avgolemono, like lahanodolmades, chicken soup, yuvarlakia, pork and celery stew, stuffed zucchini, etc.
Interesting fact: According to Wikipedia, while often regarded as a Greek dish, avgolemono is originally Sephardic Jewish. It was called agristada and is considered the cornerstone of Sephardic cooking.
Here is what you need for this stew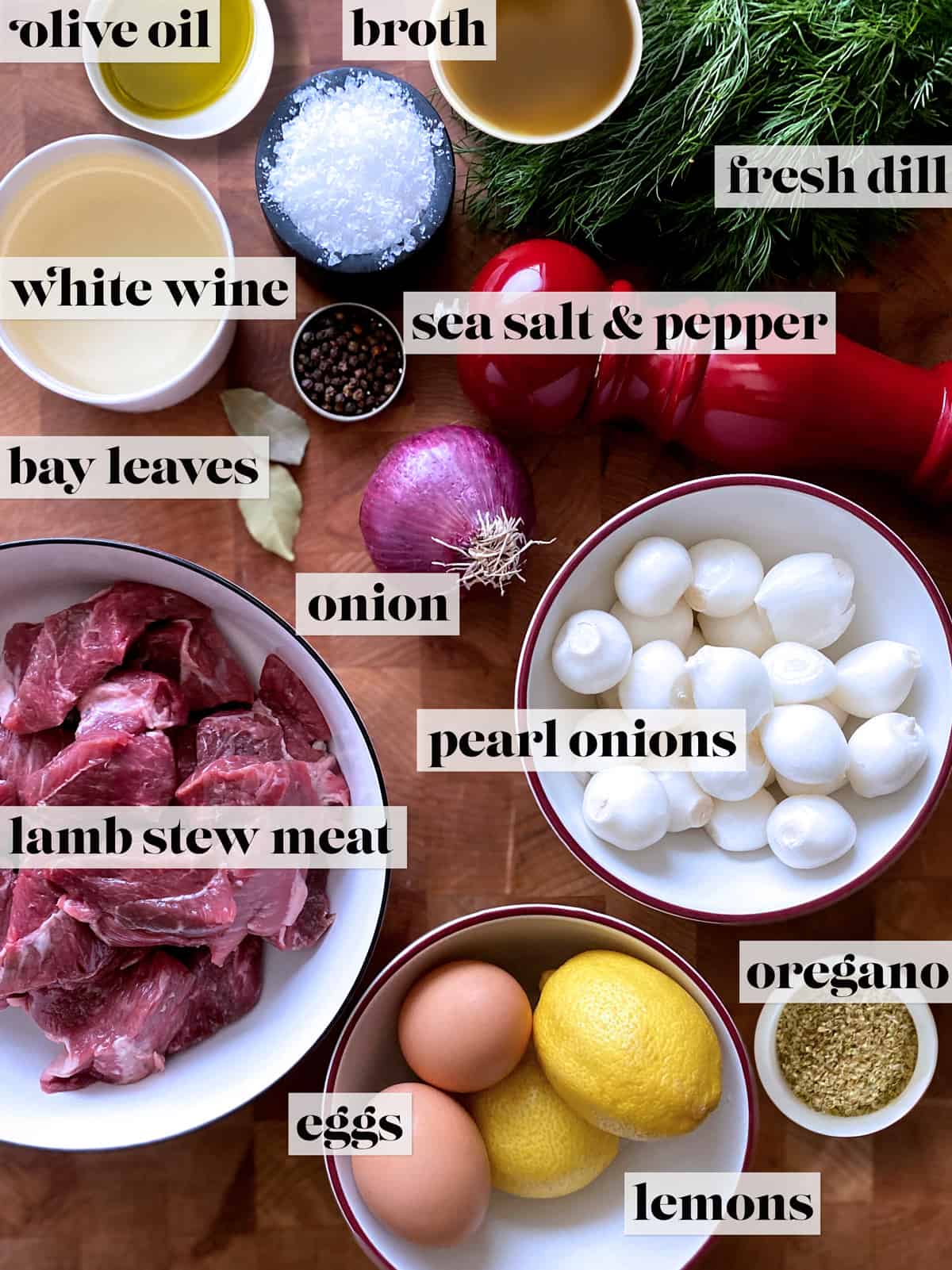 How to make it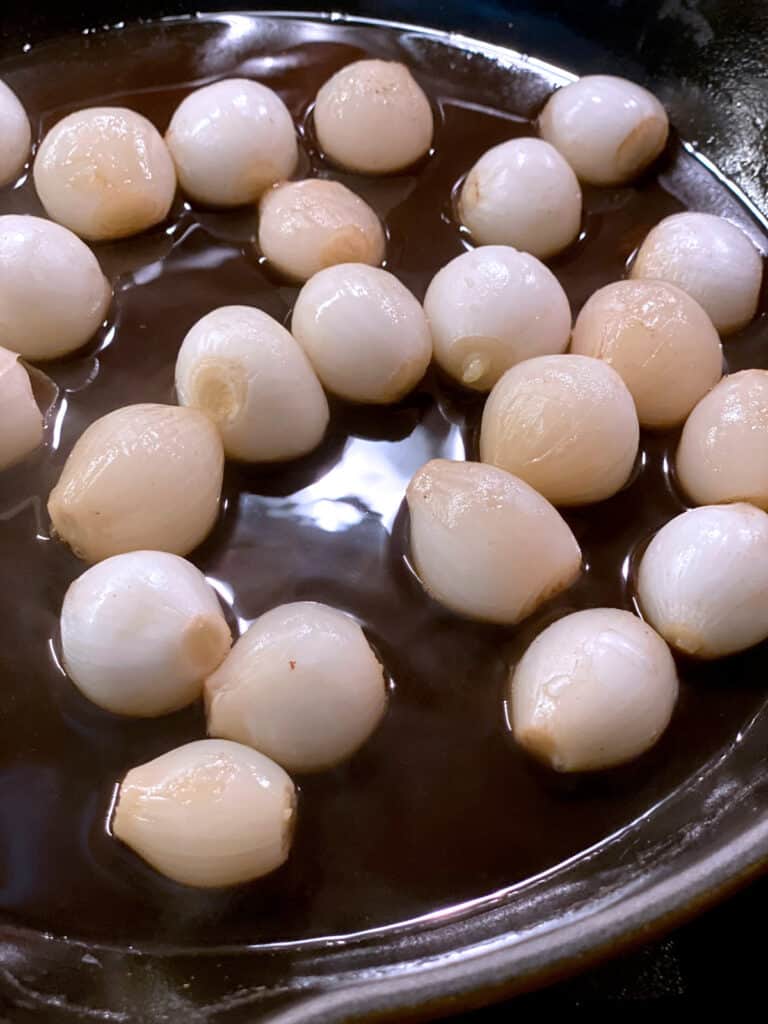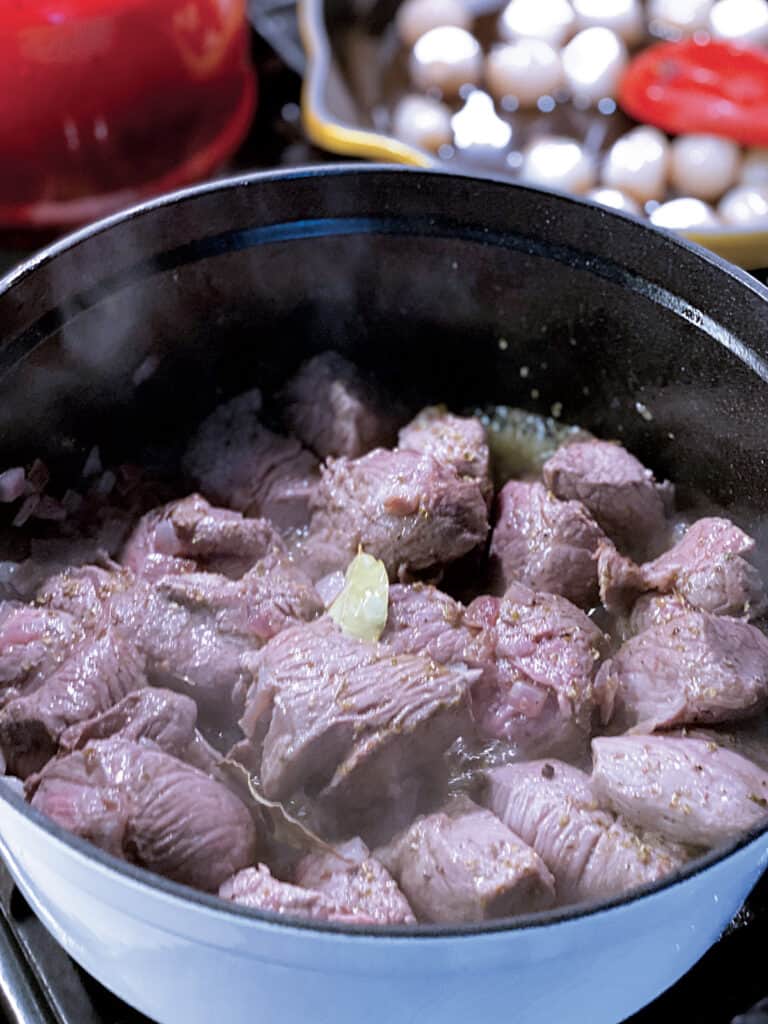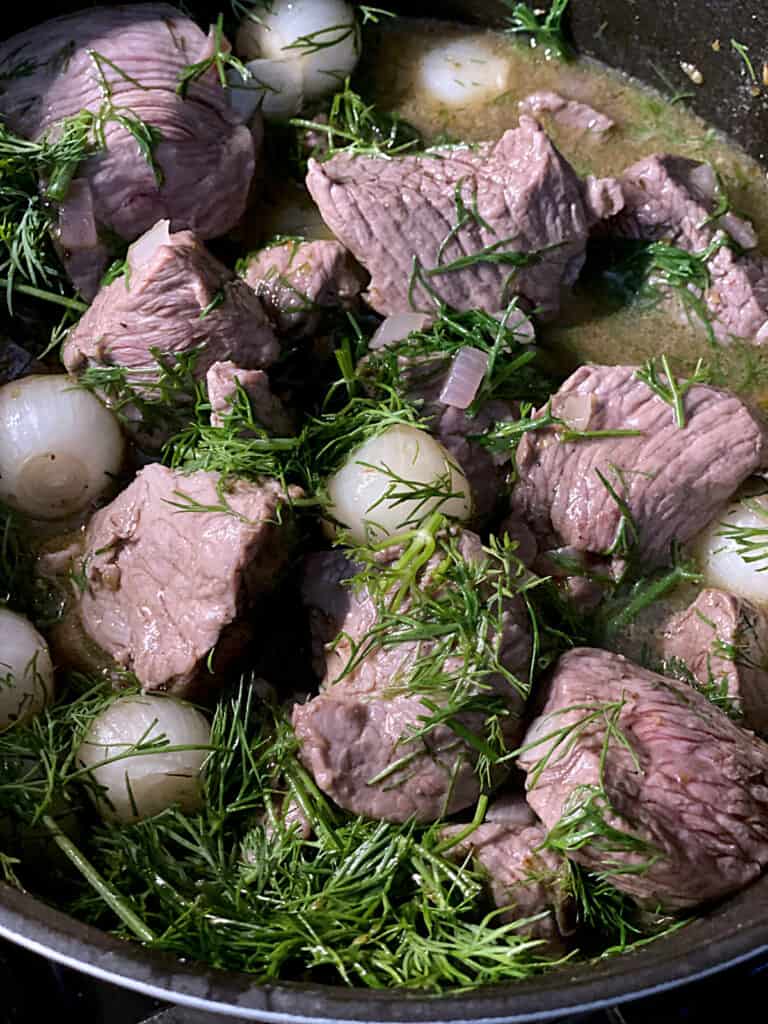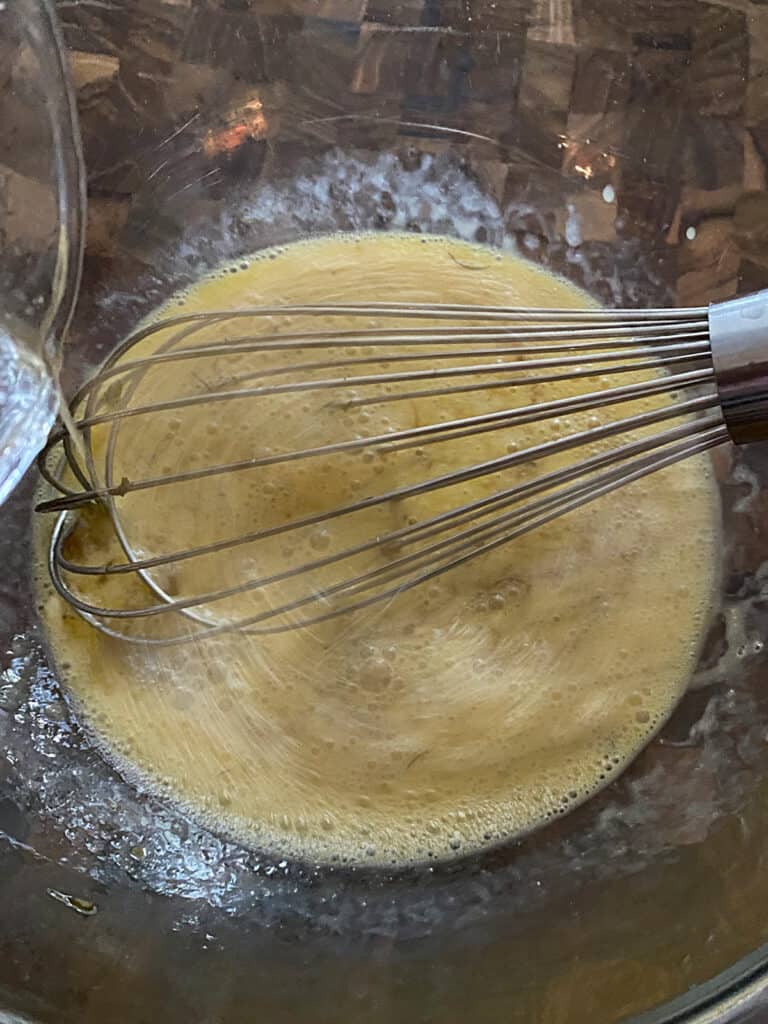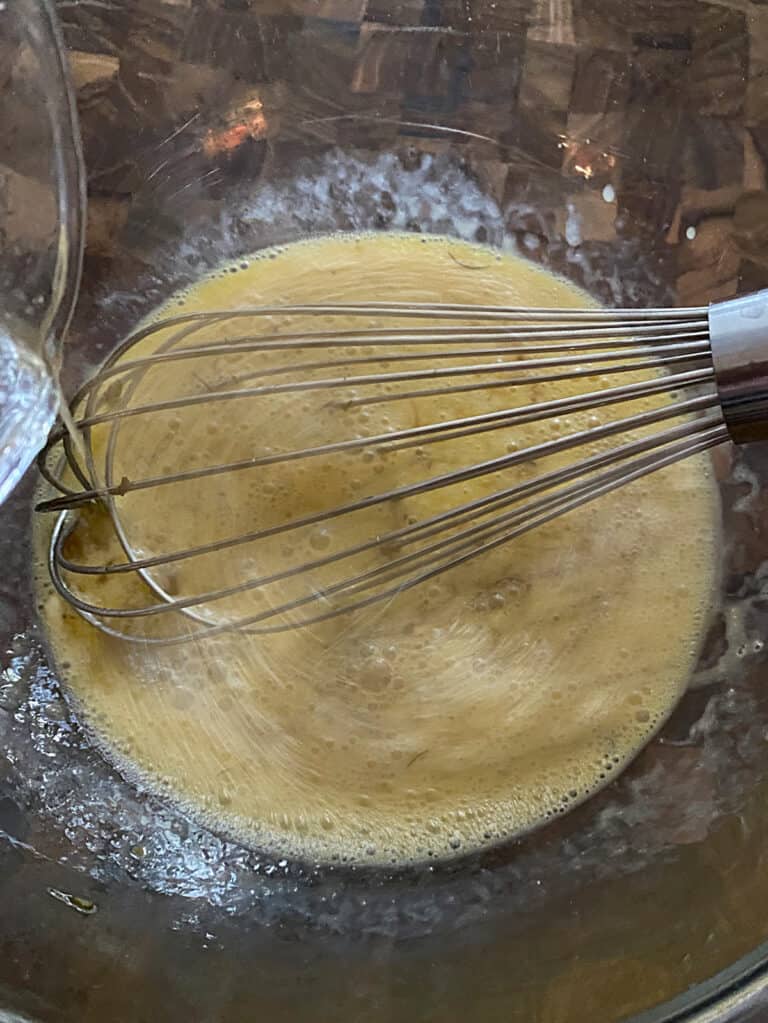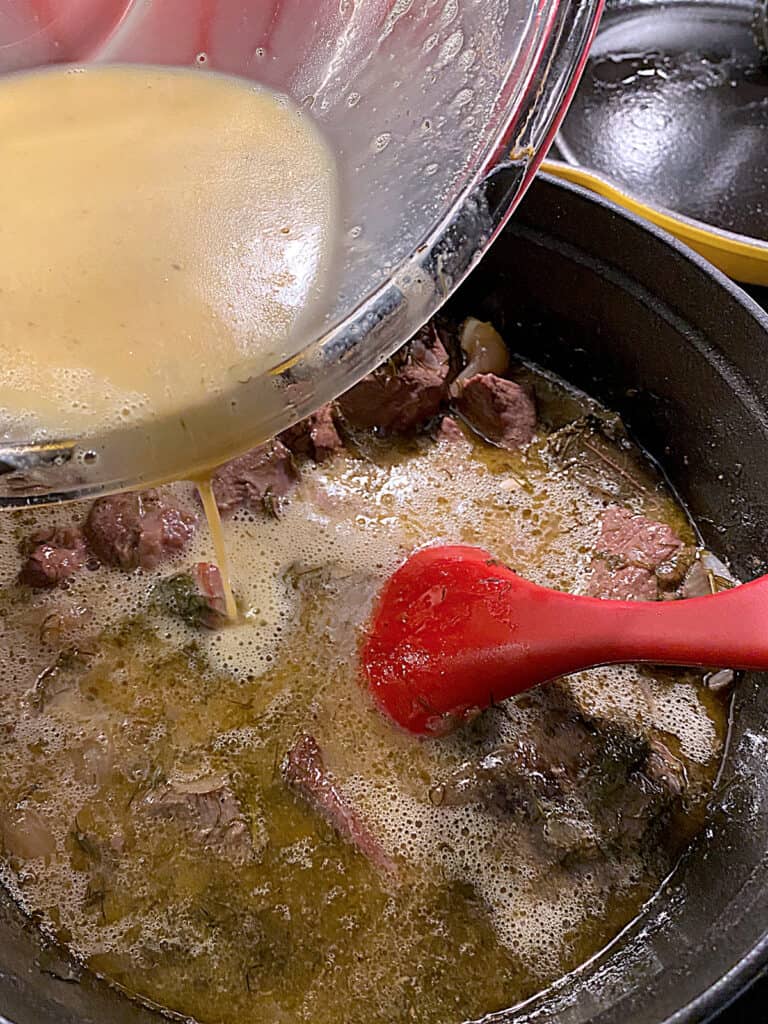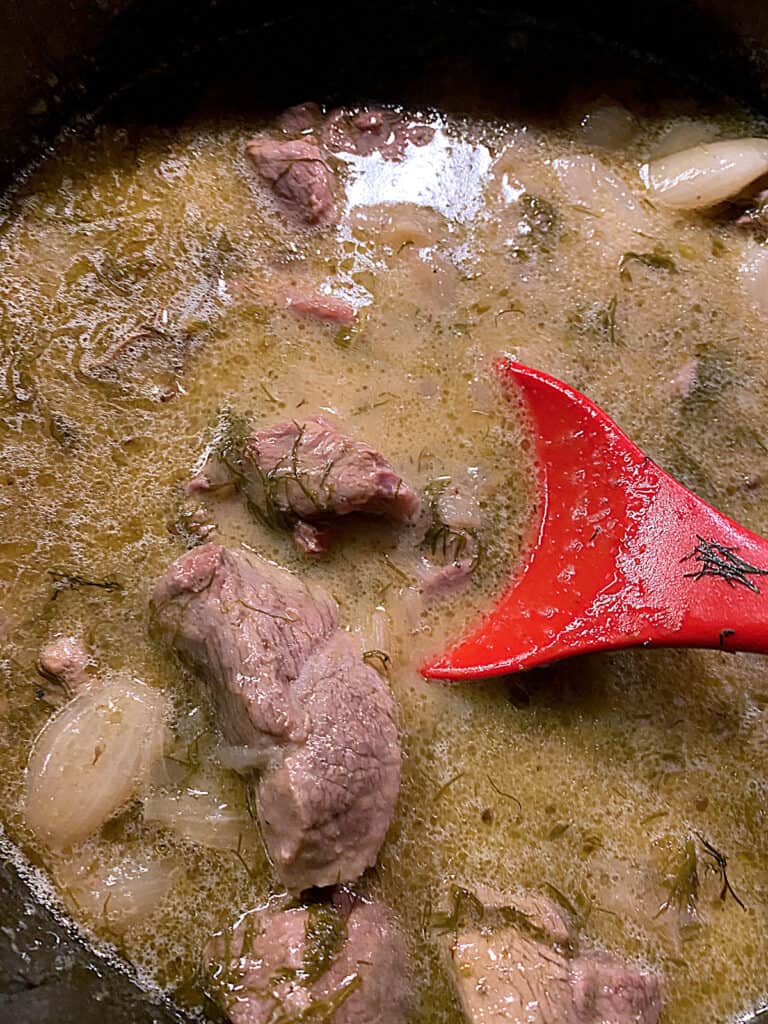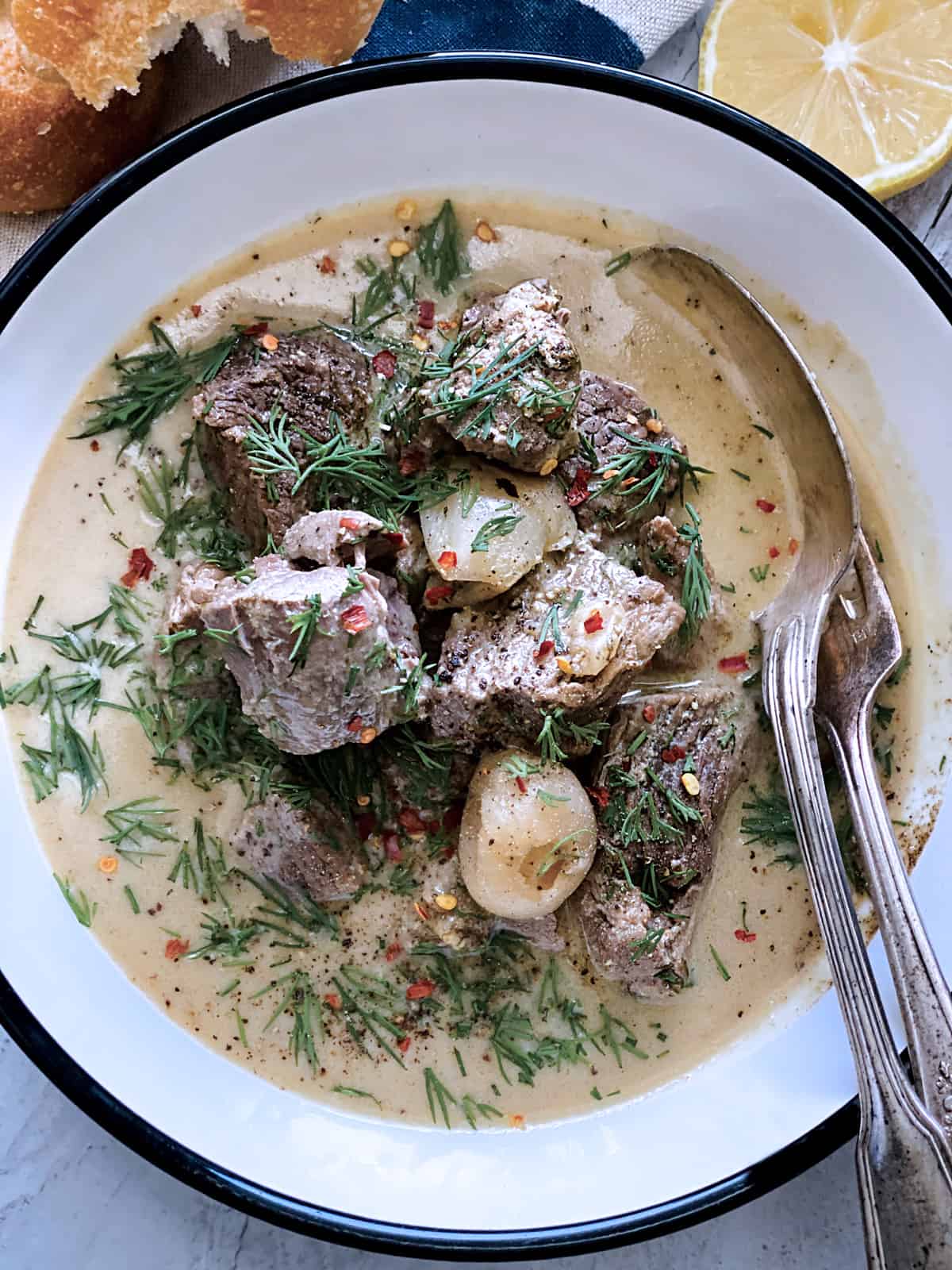 Tips and secrets for the perfect avgolemono
How to make avgolemono:
Whisk the eggs in a large bowl, add the lemon juice, and slowly add broth from the pot a little at a time. Keep whisking vigorously. You need to balance the temperature of the eggs so that the avgolemono does not curdle when added to the food. Due to the high temperature of the broth, the egg will cook immediately, specifically the egg white. If not done right, small white pieces of the cooked egg will appear and ruin the look and flavor of the sauce.
Some cooks only use the yolks for fear that the avgolemono will curdle.
Others prefer to beat the egg whites until they become almost like a meringue and then add the yolks and lemon juice. However, this method creates a lot of foam that I personally do not prefer in avgolemono.
I always use whole eggs and follow the steps below religiously.
This is what to do for perfect results every time:
Remove the pot from the heat to allow the temperature of the food to drop. Let it sit for 10-15 minutes.
Place the eggs in a medium bowl and whisk for about 2 minutes. While whisking, slowly pour in the lemon juice. Drizzle like a thin thread enough of the lamb broth—maybe a cup or so.
Slowly add the avgolemono back into the pot with the lamb and stir to combine.
Let the food simmer on low heat for a few minutes to thicken the sauce and stir once in a while. Avoid allowing the food to boil.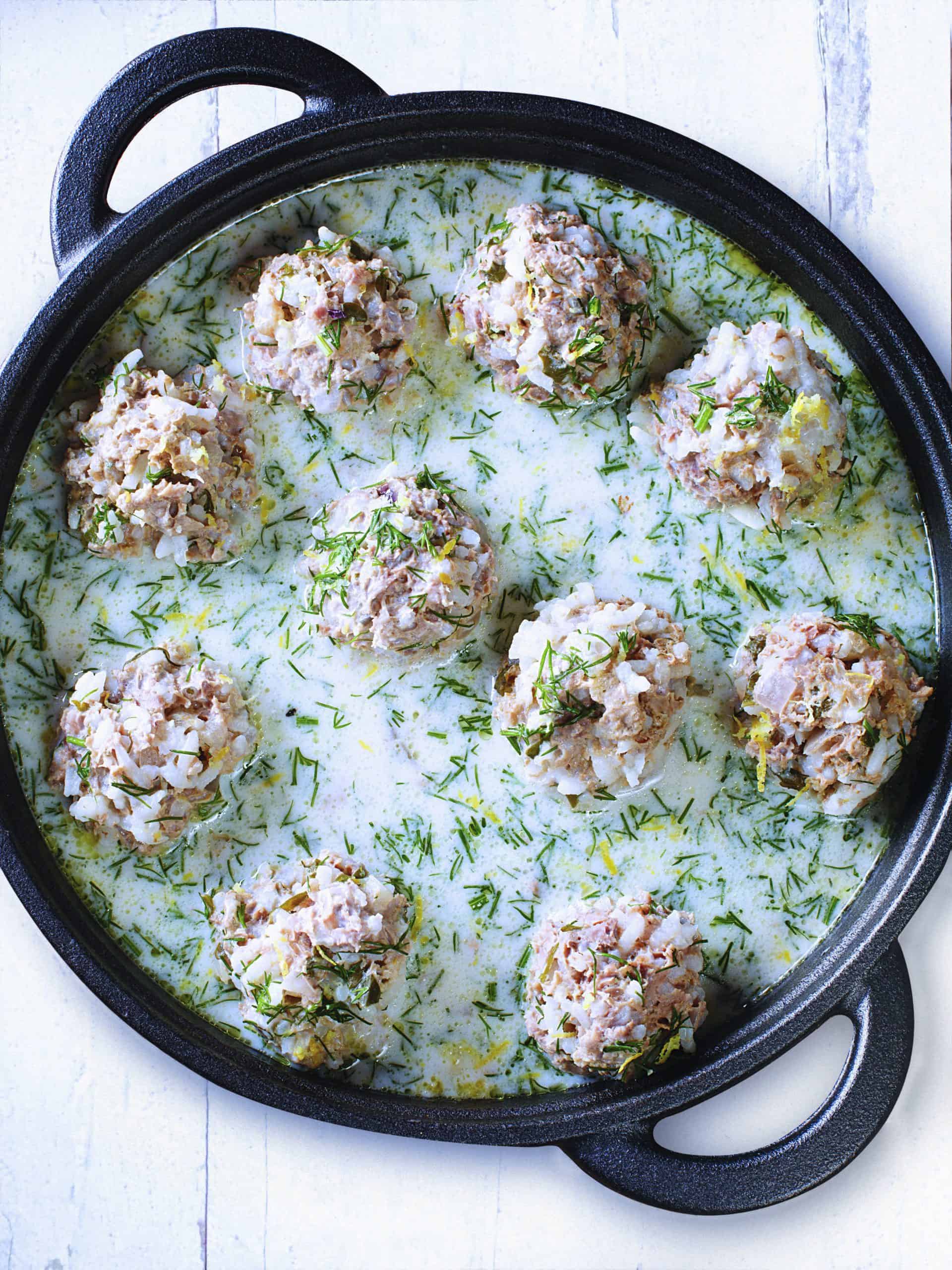 Avgolemono tips for success
The fat (oil, butter, or fat from the meat) together with the egg will thicken the sauce.
For recipes that are quite fatty or have enough olive oil, the avgolemono just by itself becomes a nice thick sauce.
Some recipes are made with very lean ground turkey or chicken. It is advisable to add a little olive oil and a little cornflour to the avgolemono to thicken it.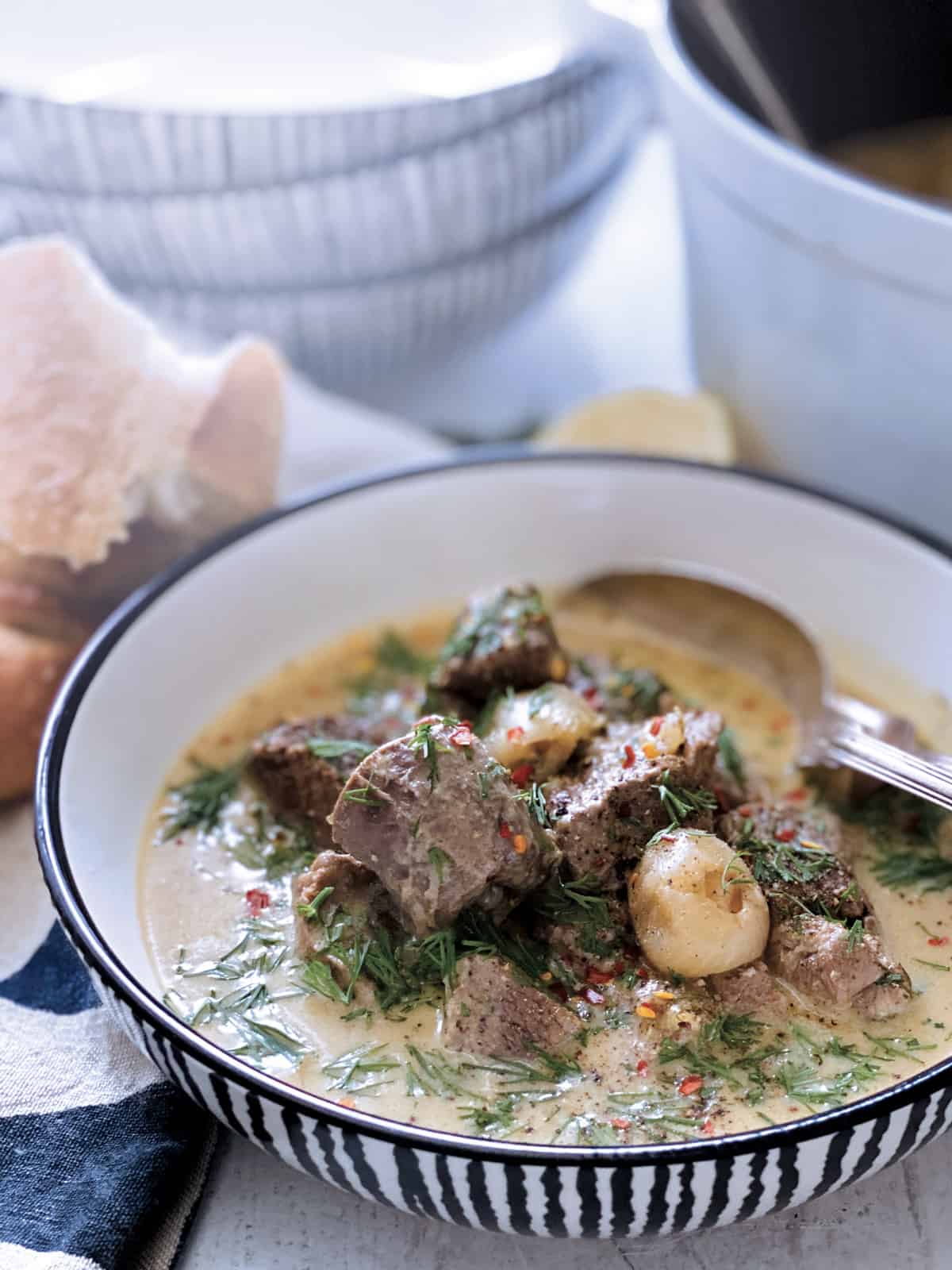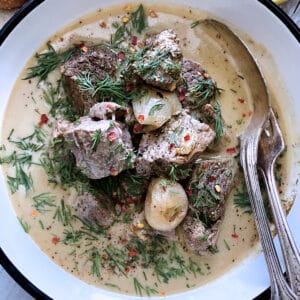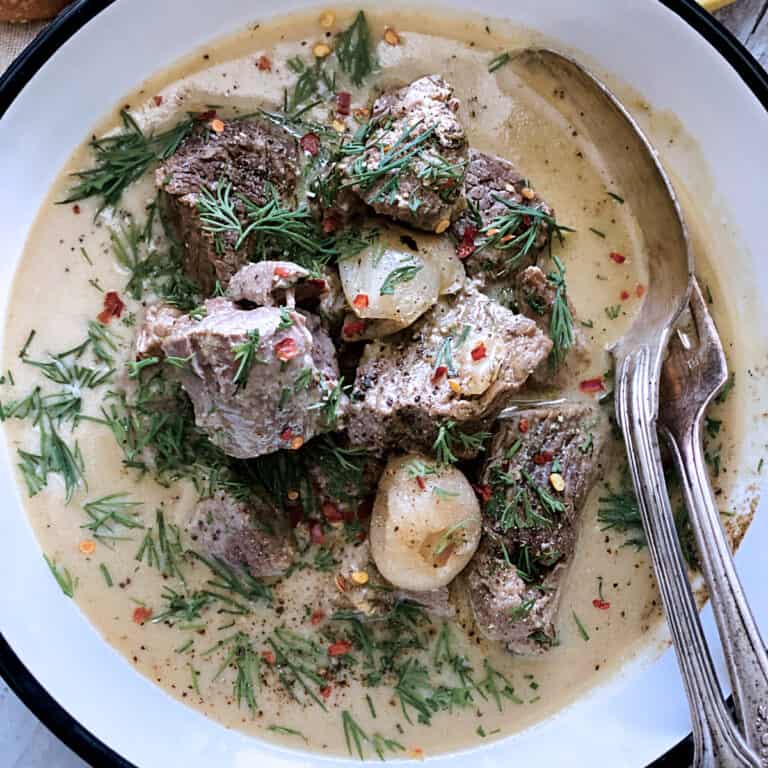 Greek Lamb Stew Avgolemono
This Greek lamb stew has pearl onions, olive oil, and lots of fresh dill. It is finished off with an egg, and lemon sauce-avgolemono.
Ingredients
2

lb

lamb stew meat

2

cups

broth

1

lb

pearl onions

1

onion

finely chopped

1

tablespoon

black pepper morcels

1-2

bay leaf

1

cup

white wine

½

bunch

fresh dill

3

tablespoon

extra virgin olive oil
Avgolemono
2

eggs

beaten

2

lemons

juiced
for serving
freshly ground pepper

optional

red pepper flakes

optional
Instructions
Season the lamb pieces with sea salt and freshly ground pepper.

Add the pearl onions with two cups of broth in a sauce pan and simmer in medium high heat for 15 minutes.

Heat 2-3 tablespoons olive oil in a pot. Add the diced onion, season with a pinch or two sea salt, and saute for 2-3 minutes. Add the lamb and saute for 3-4 minutes or until lamb is browned all over.

Add the black pepper kernels and bay leaf.

Add the white wine and simmer on high for 1-2 minutes until the alcohol evaporates.

Add the pearl onions and broth and the chopped dill. Season with sea salt and freshly ground pepper, cover the pot, and turn the heat to low. Slowcook until lamb is soft and can be pulled apart, about 60 minutes.

Let it sit for 10 minutes after it is done to cool the broth.
Make the avgolemono
Beat the eggs. Add the lemon juice. Slowly add about a cup of the lamb broth while wisking vigorously. Gradually pour sauce back to the pot while stirring.

Simmer on low for 5 minutes until sauce thickens. Stir occasionally.

Serve stew warm over orzo with fresh crusty bread. Sprinkle some red pepper flakes all over if you like.
Notes
How to make perfect avgolemono:
Remove the pot from the heat to let the broth cool a little. Let it sit for 10-15 minutes.
Whisk the eggs well. Add the lemon. Keep whisking, and with a stream like a thin thread, add the broth. About a cup should be enough.
Add the avgolemono, like a thin thread, to the pot while stirring to incorporate evenly.
Let the food simmer on low heat for a few minutes to thicken the sauce. Stir once in a while. Don't let the food to boil. Keep an eye you don't want the sauce to break and curdle.
If you feel the sauce is too thin for your liking, you can add a little cornflour to thicken it. The best way to do it is to mix one teaspoon of cornflour with a little broth and return it to the pot. Stir and simmer on low till sauce has your desired thickness. I rarely need to do that; I feel the sauce is pretty perfect without it. 
Nutritional Info – Please keep in mind that the nutritional information provided is only an estimate and can vary based on the products used.
Nutrition
Calories:
562
kcal
Carbohydrates:
23
g
Protein:
51
g
Fat:
25
g
Saturated Fat:
7
g
Polyunsaturated Fat:
3
g
Monounsaturated Fat:
13
g
Trans Fat:
1
g
Cholesterol:
229
mg
Sodium:
659
mg
Potassium:
1032
mg
Fiber:
5
g
Sugar:
9
g
Vitamin A:
409
IU
Vitamin C:
39
mg
Calcium:
96
mg
Iron:
6
mg
Tried this recipe?
Mention @thegreekfoodie__ or tag #thegreekfoodie__